This Wednesday a group of us Edinburghlitas met up for fun and cake eating. There were five people in attendance overall - me,
veilchenblau,
a_solitary_soul,
skyblue_pink (who travelled all the way from Glasgow for it) and
yuka02.
cryoflesh sadly had to drop out at the last minute as she was busy with uni etc.

Now, onto the pictures!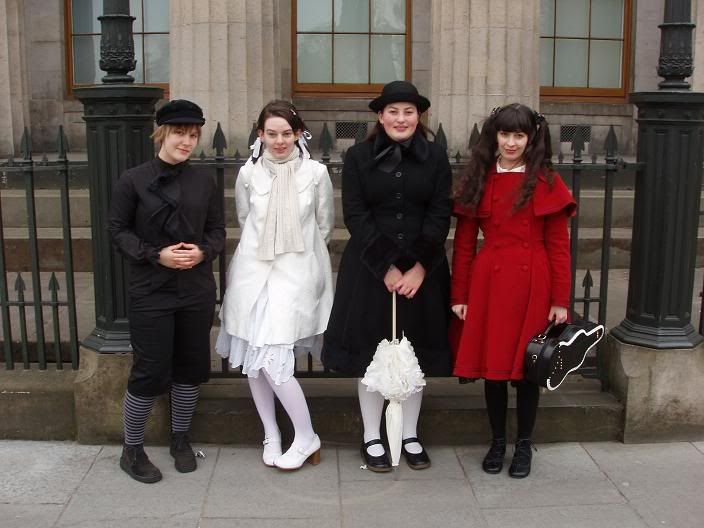 Group shot by
veilchenblau
. Pictures are by a mixture of me and her.
We started off at Plaisir du Chocolat, a delicious, if cripplingly expensive tea room that serves what's possibly the best hot chocolate in the world. Sadly
yuka02
couldn't attend this part of the meetup, as she was still at school.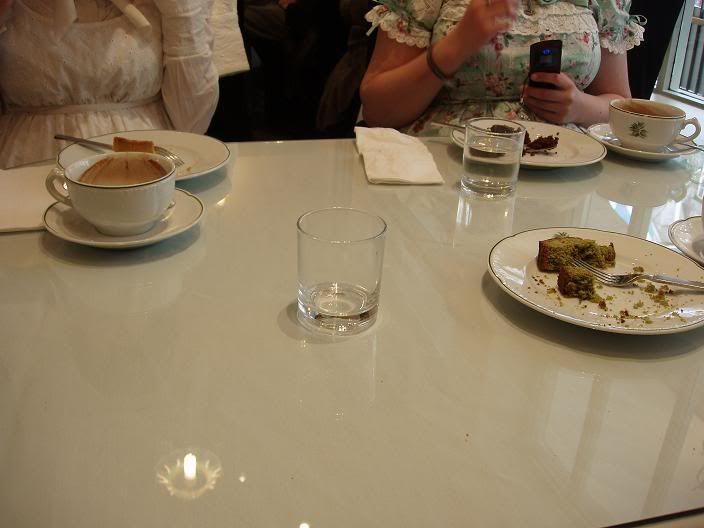 When the cakes arrived we kinda forgot to get a picture of them before we'd all tucked in, so here's a picture of our half-eaten tasties. And
skyblue_pink
and I's tits.
I'm the resident fatty-chan of the Edinburgh lolita group, and here I give a demonstration as to how I got that way :P. Plaisir du Chocolat get a mixture of kudos and hate for not only actually having gluten free cake, but also having gluten free cake that doesn't taste rank...thus, my diet dies a painful death under a tonne of chocolate icing.
Lolis full of cake are happy lolis. In this pic you can see
skyblue_pink
's pretty cravat she made from ribbon. I'm stealing her idea.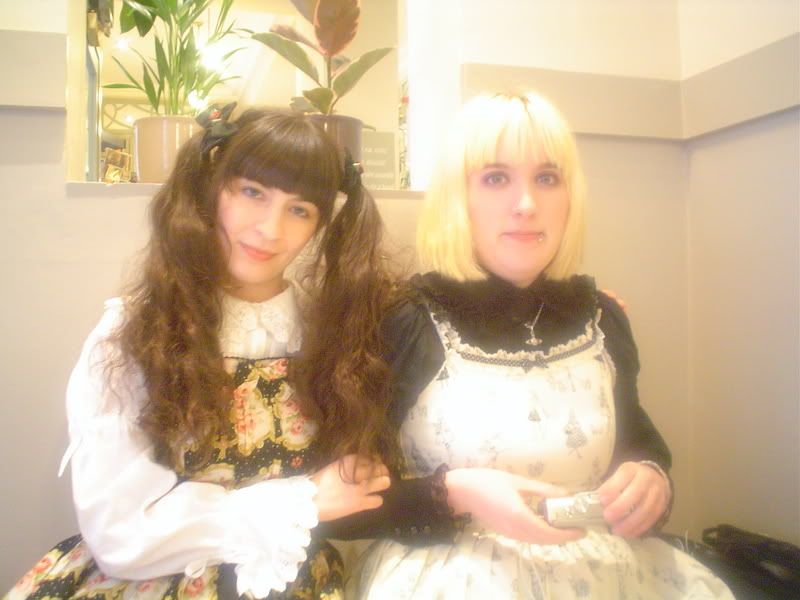 veilchenblau
and
a_solitary_soul
glow like radient loli angels. Or because my photography skills suck. Don't they look cute together?
veilchenblau
s hair is bright leik xbox power light.
Working out the bill. Maths r rori?!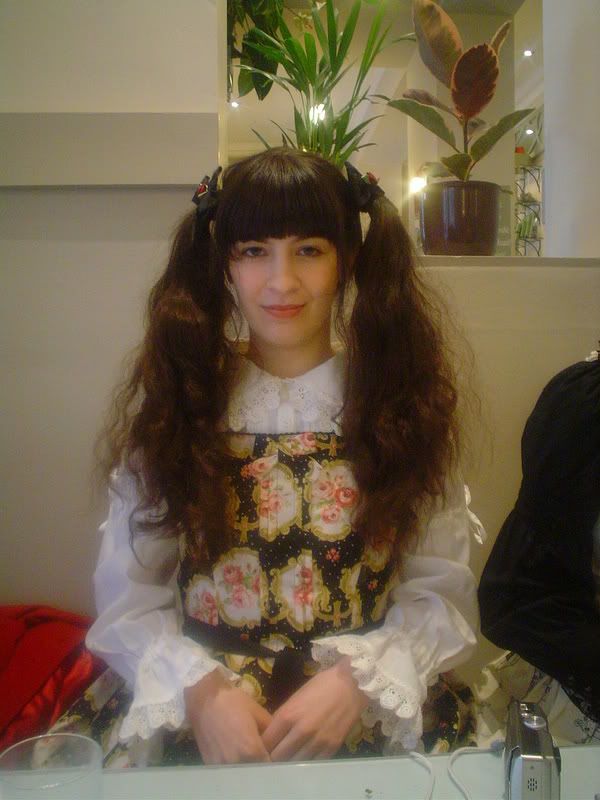 a_solitary_soul
always dresses perfectly. She's one of the best-dressed lolis I know.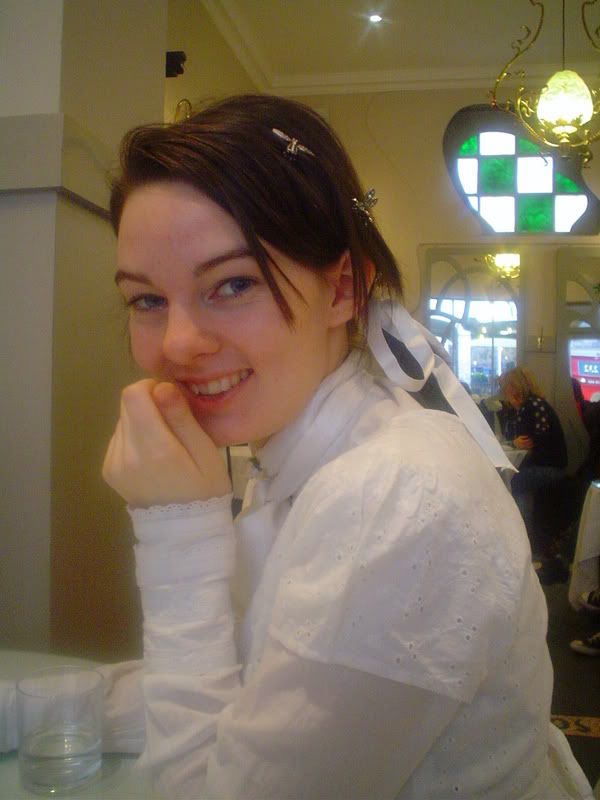 skyblue_pink
looking cute in shirololi.
After that we headed into town to wander aimlessly around the shops for a while.
veilchenblau
bought an awesome new hat and some obnoxious fat kid in Harvey Nicks asked us what we were dressed up as. And a tramp shouted stuff at us. And some tourists wanted their pic taken with us. Anyone else find they get far more attention in a group of lolis than on their own? We also met up with
yuka02
in Jenners.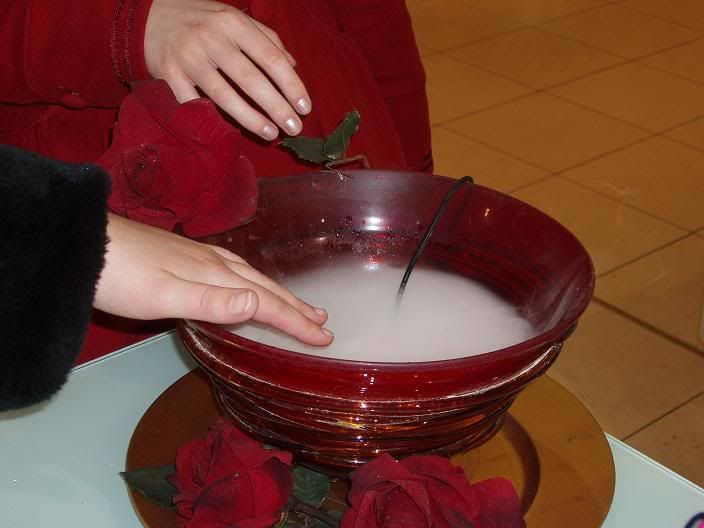 This is a cool bowl...thing that was full of dry ice and sitting on one of the perfume counters in Jenners. The hands belong to me and
a_solitary_soul
.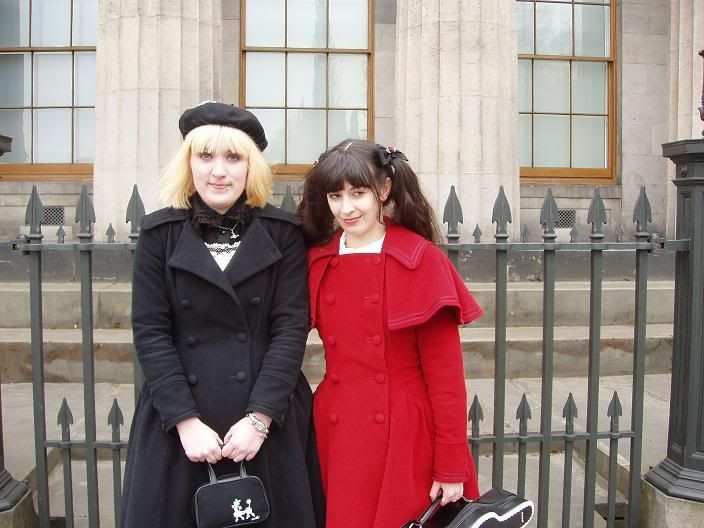 Matching VM Beth coats.
I was egged on by
veilchenblau
to act a little crazy around this sign but I don't know why.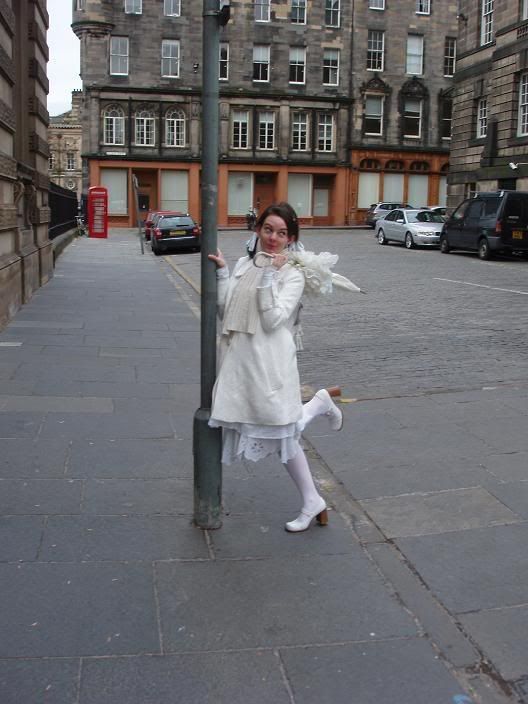 Then
skyblue_pink
got roped into it.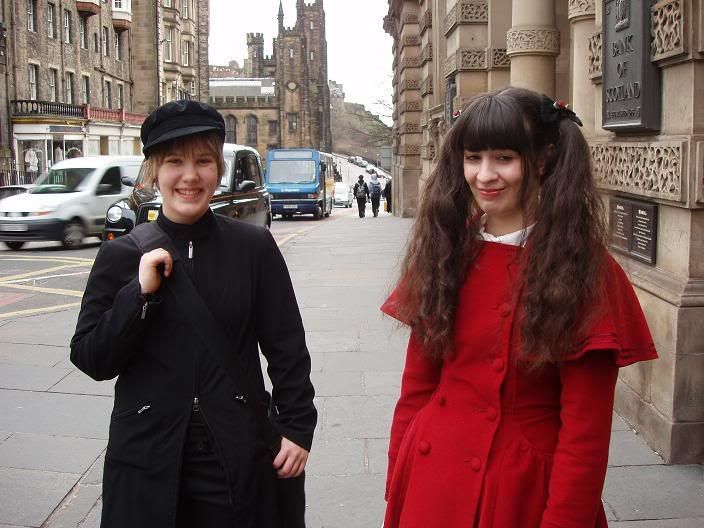 yuka02
and
a_solitary_soul
were bemused/unimpressed by our antics.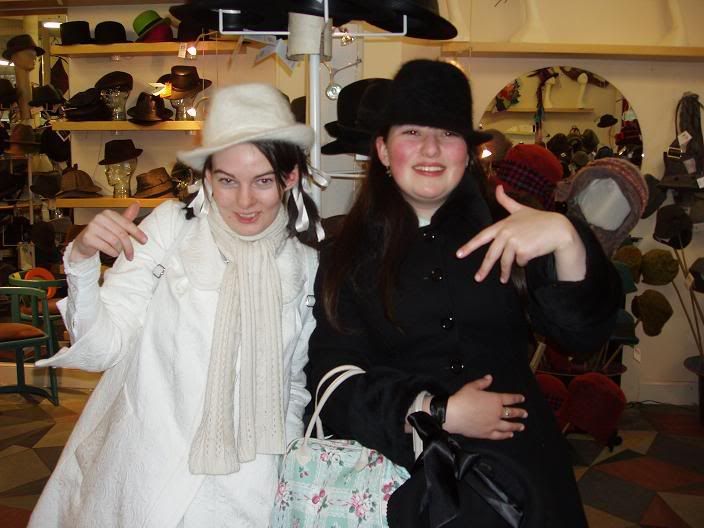 We went to a posh hat shop in the Grassmarket area and had fun trying on the merchandise. They had minature Russian hats, pirate-style tricornered hats, top hats, a strange cow hat that
yuka02
looked really cute it (anyone get a pic?) and all sorts. Here,
skyblue_pink
and I do some kind of gangsta style loli twin thing. Blingin' it loli style. Kuro, shiro, east side, west side...Morningside? I actually own a trilby but it doesn't get worn with loliwear. And it's not all that fluffy.
Then, we headed to the wonderful Meadowood cafe for dinner and bubble tea. We were joined by
veilchenblau
and
a_solitary_soul
's non-loli flatmate, Claire. But she looks good in it, and she will be assimilated, soon. Oh yes.
Overall, the meetup was a resounding success. Hopefully we can have another formal one in a few months!
Now, the outfit run-down:
kvlt_kitty
:
Coat: FanPlusFriend
Hat: Innocent World
Handbag, parasol and dress: Baby, The Stars Shine Bright.
Tights: H&M
Mary Janes: Doc Marten
Jewelry: off-brand (please note the Wacken Open Air wristband though \m/!)
veilchenblau
:
Coat: VM Beth
Hat, beret: Milk
Jumperskirt: Emily Temple Cute
Blouse: Innocent World
Tights: off-brand
Mary Janes: off-brand.
Jewelery: Vivienne Westwood+off-brand
a_solitary_soul
:
Coat: VM Beth
Jumperskirt: VM Beth
Blouse: VM Beth
Socks: no idea
Shoes: Innocent World
Hairties: Innocent World
Bag: Baby, the Stars Shine Bright
yuka02
:
Hat: Linney (bought from Hattrix)
Blouse: BHS (found in charity shop)
Jacket: Next (found in charity shop)
Shorts: Monsoon
Socks: (Ingliston Market :D)
Shoes: Ravel (found in charity shop)
skyblue_pink
, can we get some info on your outfit please :)?