I have the habit of buying items and then noticing I have nothing to match them. Such is this case (TДT)
I have problems with my fingertips freezing all the time during this season so I went to go buy gloves (finally). They had these fancy Mitten-gloves at the store. They`re Gloves-inside-mitten so you get a double-layer and get full protection from the cold for your hands. My fingers now do not go wax-doll white anymore so it`s proof that these mittens block out cold at all costs.
These Mittens are no-brand but made very well.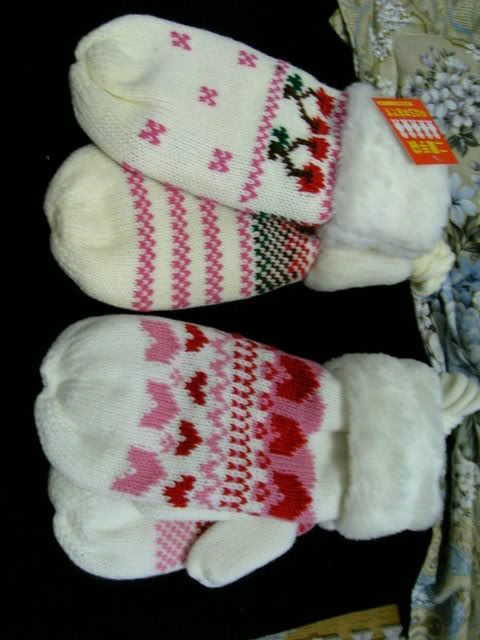 I found it adorable and bought three without giving another thought. I regretted it when I came back to my room and went D: PINK? I OWN NOTHING PINK! Or anything considered Sweet lolita! So the white one with the cute hearts are going to have to leave me ;_;
The other one with Cherries was a mistake ;_; I thought I grabbed the ones with Strawberries (I don`t care if I end up not wearing em-they`re Strawberries and I like strawberries) on them but apparently I didn`t and I ended up with these Cherry-mittens. I`m selling this one off so that I have the money for Strawberry mittens.
Please note that the Cherry one is more of an ANTIQUE (CREAM) WHITE. The heart patterned one is the default White.
The one I`m keeping, if people are curious, is a black version of the pink hearts shown in this photo: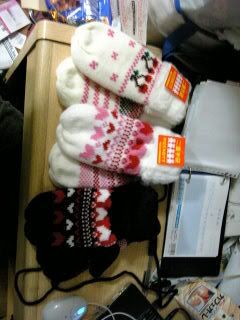 I`m selling them at $13.50 each plus shipping to your country. EMS costs $13 to US, The UK costs $15 for shipping. There is no paypal fee so the item price + Shipping is all you need to pay.
Status:
Cherry -
Hearts - On Hold for
lacrimadverto
In case there are more people interested in them, I may be able to find more but it will take my time as I don`t remember which store I got these from ;_;
Edit: I am ASLEEP for the next 6 hours D: It`s 0:00 here and I will not wake up till 6:00 Please book mark this temp if you`re wanting them and waiting for my response. I will get to it if my internet does not fail me in the morning D: If it does, I will make sure that I send you a response in the next 24 hours.
If you`re really up to bugging me about it, e-mail paranoiadworks (at) t (dot) vodafone (dot) ne (dot) jp. If you didn`t catch me while I was sleeping I should be able to send a response instantly because you`re waking me up via my cellphone.