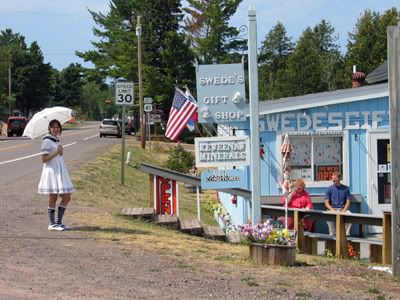 I recently realized I never edited my photos from my vacation back in August. I found a few photos of me in egl I thought I'd post. Feels kind of strange since I *always* post photo shoots where I'm all dolled up and my bf spent all day editing. Posting random photos I edited myself feels strange to me O.o; Oh well! On with the show!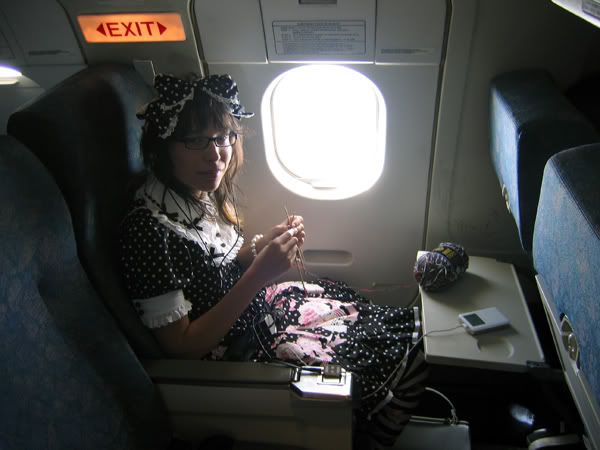 Knitting on the plane while wearing my Angelic Pretty pastel a la mode dress. I was too scared to pack my favorite dress so I wore it instead! BTW Those socks I was knitting are totally not done yet! Me ftw!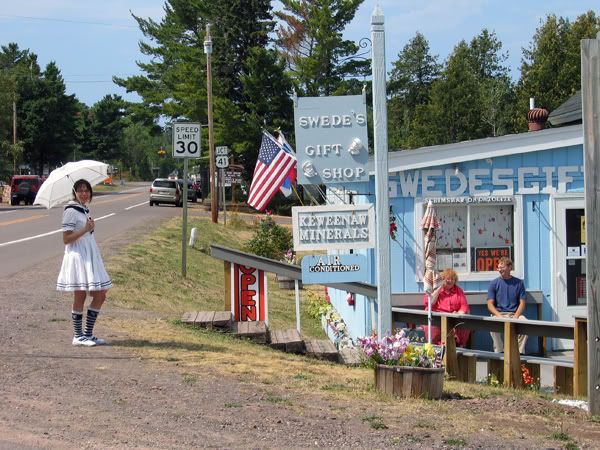 What better time to wear a sailor dress than on vacation while boating? Unfortunately while boating the skirt flew up over my head and fluttered about insanely. I of course refused to wear it until we reached the harbor. I had to pull my socks down a little since unfortunately I had hives.

A side note about that couple! The place in that photo had a permanent population of like 20. After some talking with the couple they asked me if everybody in Los Angeles dressed like me. I told them no and they asked me why I wore it then. I told them I thought it was cute. They gave me a long hard stare that screamed "In no way is that dress cute" Dur hur hur.

And oddly that tiny town was the only place we found vegetarian food the entire time we were in the UP.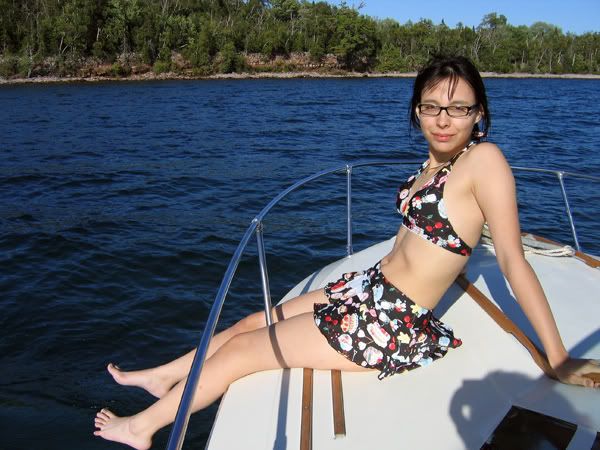 I debated posting this. I'm sort of shy and I've lost weight since then. And not to forget I was trying not to shoot off the boat and into the water. And nobody is at their most flattering after swimming and boating all day. But since there's like no pics of people in their sweets bathing suits I decided to anyway. I'll have to do a real shoot at the beach sometime.

Another side story! This is actually an island pretty far from shore in Lake Superior. Its so damn creepy! We kept thinking we'd see a flock of birds rise from the trees as we would hear a horrifying animalistic scream. Then we we'd see some terrifying shaggy humanoid creature with giant fangs and claws come running out onto the beach and start swimming towards us.

Hope you enjoyed the few photos and my incoherent ramblings!