I'm selling my Baby, the Stars Shine Bright
pink
parfait jumperskirt. :( I don't really want to part with it because I've wanted it soooooooo much and lost so many auctions until....I decided to spend a good part of my savings on it! xD BUT....I also feel very sad each time I see it hanging prettily in my wardrobe... because I know that I will not wear it. I am more of a skirt + blouse person and also own the skirt version of the same collection.... but the jsk is so pretty, I couldn't resist :(
Official BtSSB pictures in blue (didn't find the pink ones...)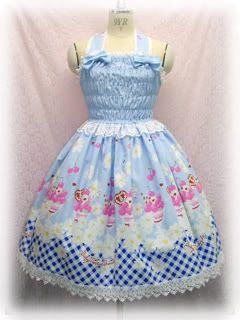 I am selling the
pink
jsk.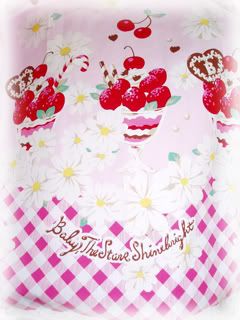 Here is a picture I found among all my lolita pictures... (not mine though) On these pictures, the dress looks very wrinkled but mine is in way better condition! Like New!
Detail of front bow and bottom lace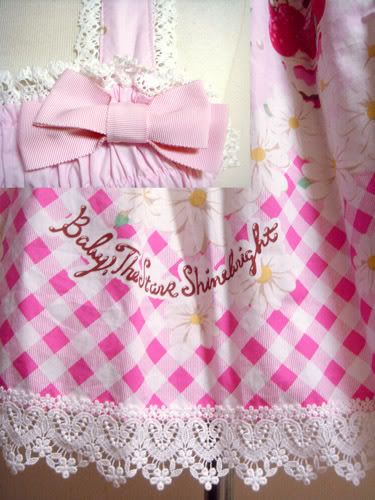 Description
: Beautiful shirred pink jumperskirt by Baby, the Stars Shine Bright with very pretty lace-up back. Can be worn like a normal jumperskirt, with detachable shoulder straps or can also be worn as a halter dress! Also detachable. Beautiful lace used at the bottom of the skirt, around the waist, in the back with the lace-up and also all around the top of the dress and on the contour of the halter part.
Condition
: Like NEW! Previous owner wore it once. I tried it on for a few minutes.


Measurements
: front body: 9.5"
back body: 6"
skirt (including bottom lace ~1"): 22"
waist: 24"-32"
bust: 26"-36"


Please make offers over $250.
I originally paid over $300. This dress is not sold by BtSSB anymore!
I accept direct paypal.
I have a few
feedbacks
on my sale journal.
Trades? Only for items on my
wishlist
.
Shipping from Canada. Dress will be shipped with insurance and tracking. To USA, it will be $20. Other location, please inquire.