Hello!
I've been debating selling these socks ever since I got them, but I think it's time for them to finally go. I love them, and think they're beautiful but they're just not useful to me. They've sat around in my closet being neglected for long enough. I'd like to sell them so someone can actually get use out of them. I wanted them to go with a pink velvet dress I have but the pinks didn't match well and there was no white lace on the dress or headdress so it looked a bit strange. Recently I got a pair of pink socks that match the velvet perfectly so these really aren't needed now.
Anyway, I'm selling
PINK Baby, the Stars Shine Bright knee-high socks
today. They have lovely white lace and pink ribbon decorating them. They are in perfect condition, they even still have their little sticker from when they arrived to me. They do not have tags, but they are new.
Pictures: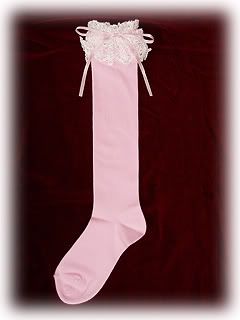 This is the official baby picture.
This is my picture. They haven't been worn.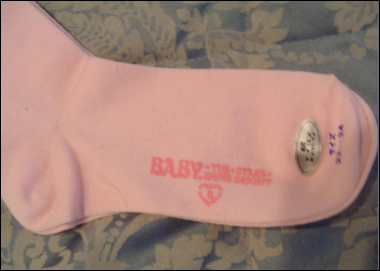 Their sticker from Baby is still on and the logo is perfect.
I placed a book under the lace to show the details. It's lovely lace, and the pink ribbon is just adorable. The ribbon can be tightened or loosened to ajust to calf size.
Price:
32 SHIPPED (to US and Canada)
Payment:
Paypal only please
Shipping:
Shipping is included in price. Socks will be shipped ASAP after payment.
Feedback:
http://community.livejournal.com/loligoth_dbs/3554.html#cutid1 and then on ebay I just recently got my account (and don't use it very often) so I have only have three under bebeonmars
Thank you!