O hay guyz. It's raining here and I was bored, so I arrogantly thought you might be interested in what I have in my kaikan closet.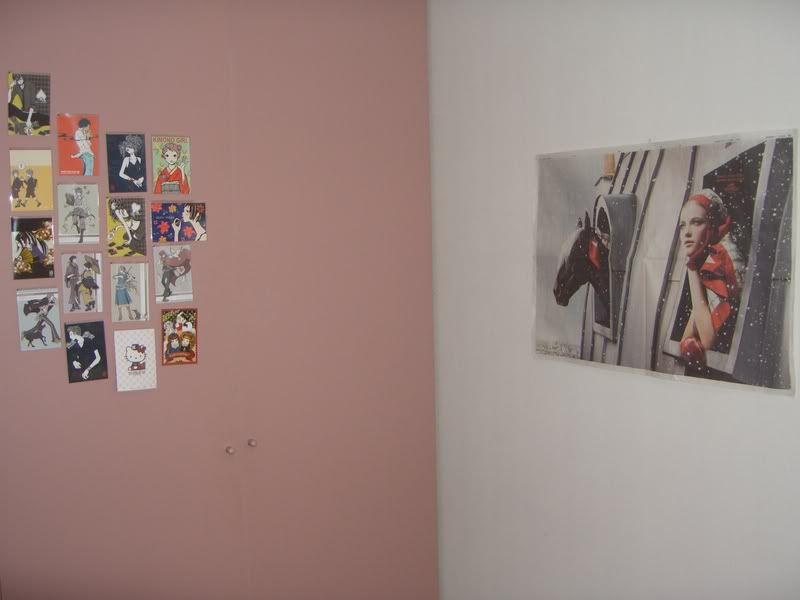 So here's the outside of my fetchingly salmon-coloured closet. I have tried to personalise it, as you can see, but to be honest I kind of dig the institution/military-chic they have going on in this place with the beige, beige, beige, omg SALMON colour scheme, so.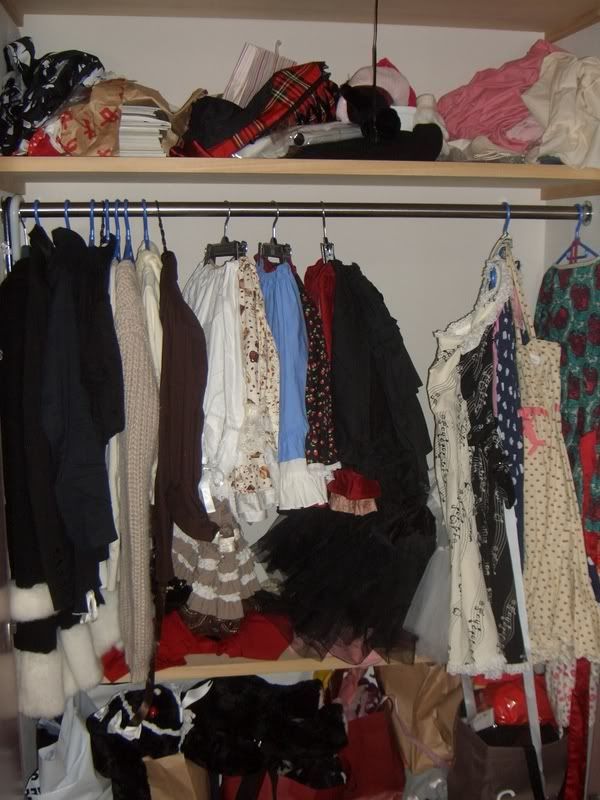 Please ignore both the mess and my porn collection on the top shelf.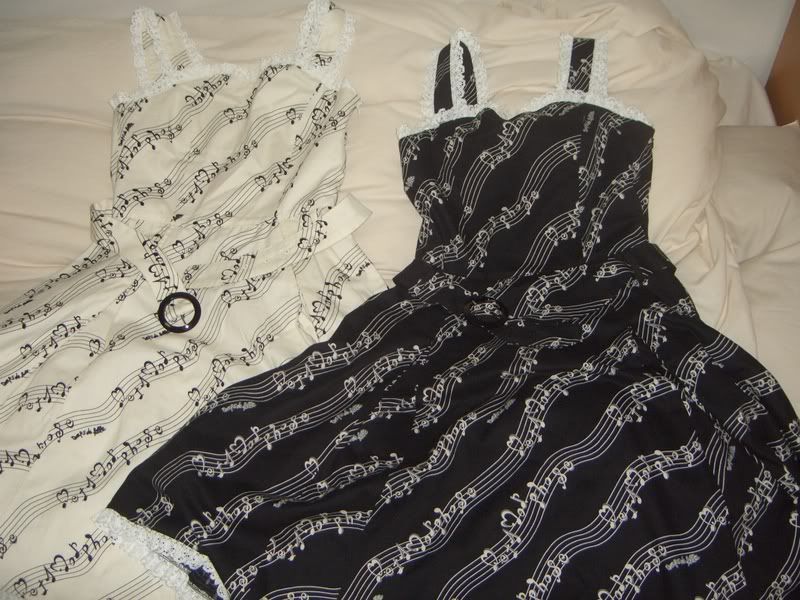 TELL NO ONE that I bought this in both colours. First the cream from
glass_bubblegum (♥) and then I found the black in Closet Child the other day and couldn't resist. I just love this JSK in a very physical way. I recommend it to any and everyone because it's just beautiful material and a lovely cut.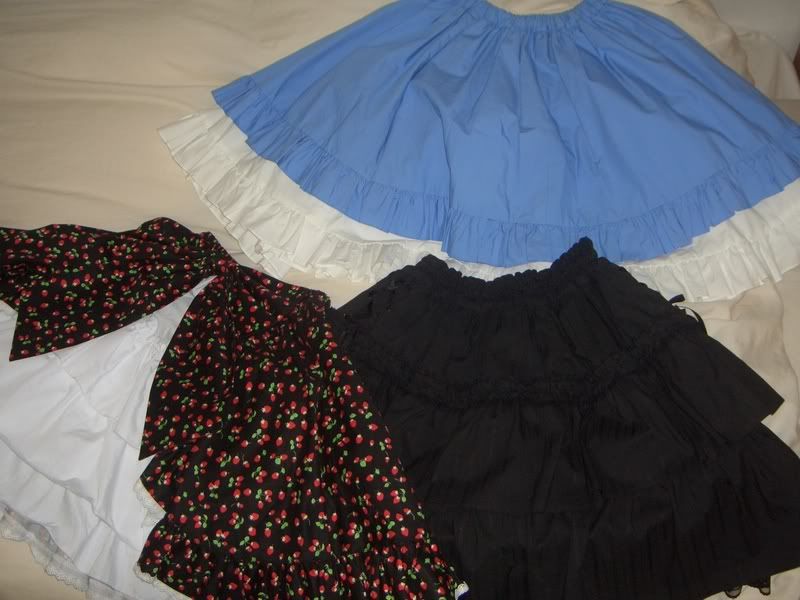 Clockwise from top: blue MAM skirt that matches NOTHING IN THE UNIVERSE; black, stiff Marble skirt that can stand up by itself and is probably capable of autonomous thought, rather short; OMG BODYLINE bustle skirt with strawberry print (I loves me some ichigos and some bustle).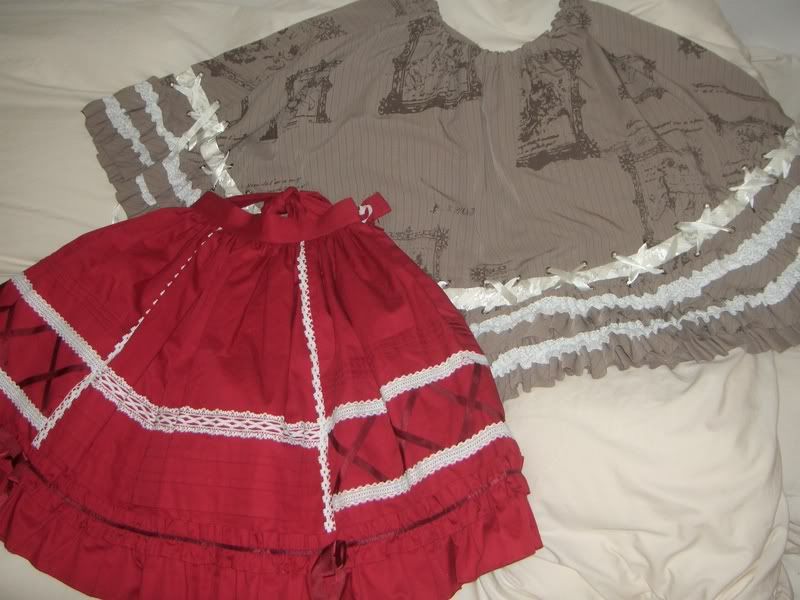 Brown H. Naoto Frill skirt (this picture in no way does it justice; it's gorgeous, if a rather difficult shade of brown); and my Dream Skirt by Angelic Pretty. This is the reason I stopped eating for two weeks.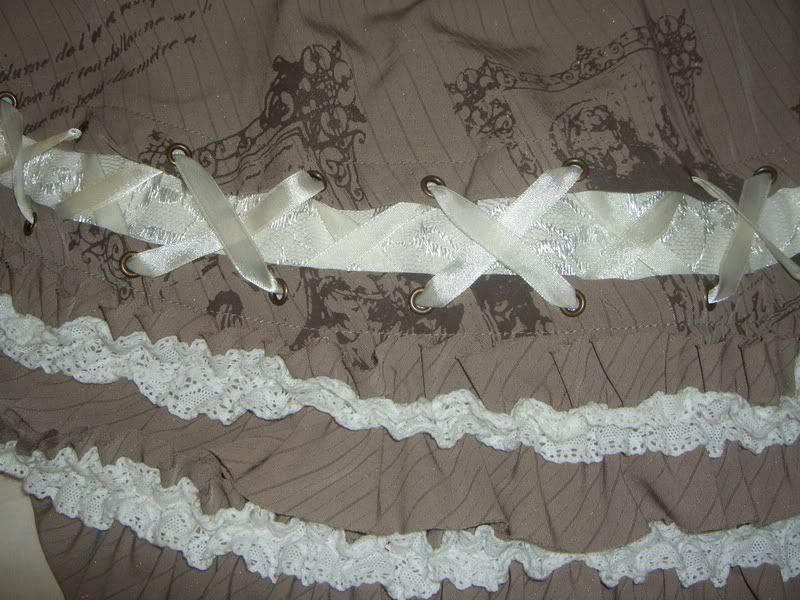 Close-up on the Naoto skirt hem.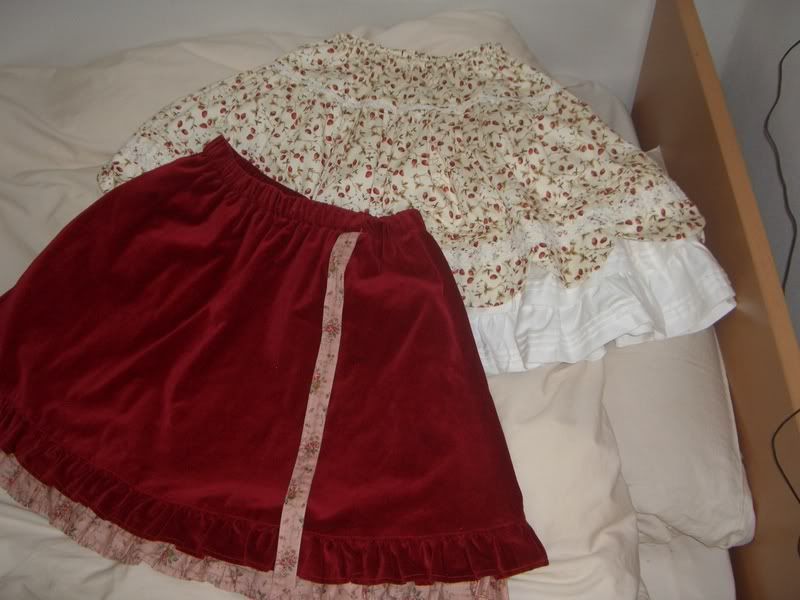 Cream flower-print Chocochip Cookie skirt, the first thing I bought in Japan (all those months and ichimanyens ago *sigh*). Plus a red velvet Putumayo skirt from waaaay back in the day when they used to make stuff that was actually pretty!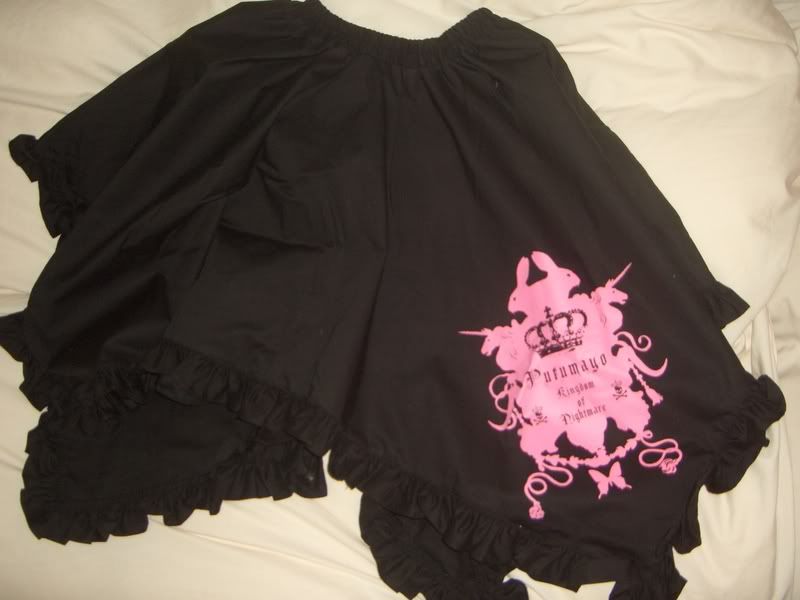 Asymmetrical ruffle-hem Putumayo skirt from the current collection (the difference between this and the former is quite extreme, n'est pas?).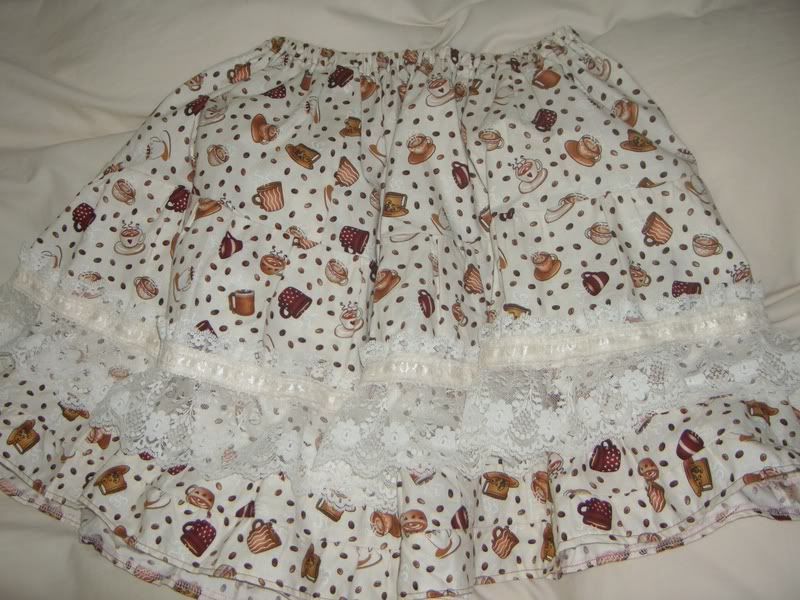 Off-brand skirt that I am proud to include here. It's super love and was made by
mienkintosh. I'm often asked here what brand it's from. MAD PROPS YO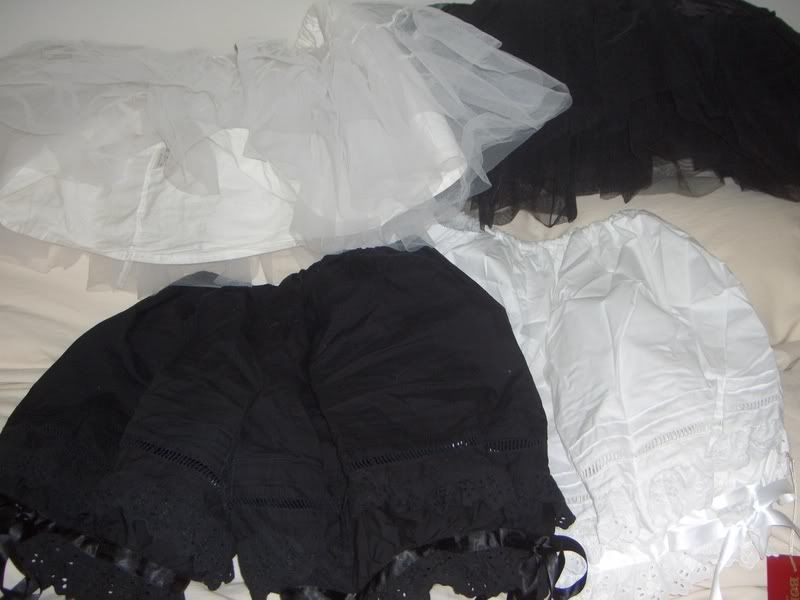 Boring basics: MAM petticoat in white, Bodyline (!) petticoat in black for my Kera days, and two pairs of Bodyline (!) bloomers. I like the bloomers a lot, and the quality is pretty damn good. Now I just need those mocha ones by Meta.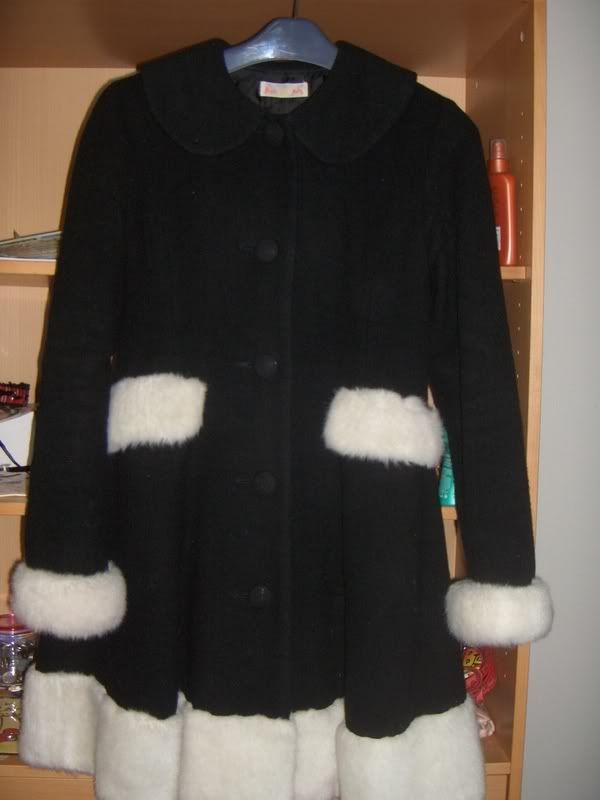 ♥ I would marry this Angelic Pretty coat if it were legally recognised. Far and away the most expensive thing I've bought and it was worth it. The photo doesn't do its floofiness justice in any way. And I'm such a sucker for huge buttons. It's very warm, too.




SHIRO ATTACK. Left: Peace Now cream ribbon cutsew. Top: off-brand Japanese hoodie. Right: Meta sweater from back in the daaaaay which I love to bits.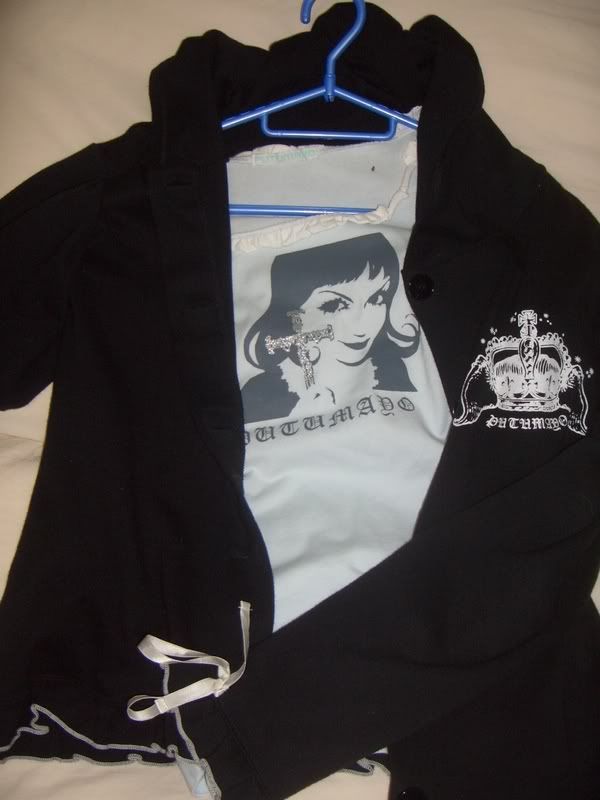 Crap photo. Black and white Putumayo crown logo hoodie with ribbon at the wrists and big sleeves over an old Putumayo blue cutsew that I bought because the chick is a dead ringer for Amelie. And of course it didn't match that goddamned blue MAM skirt. -_-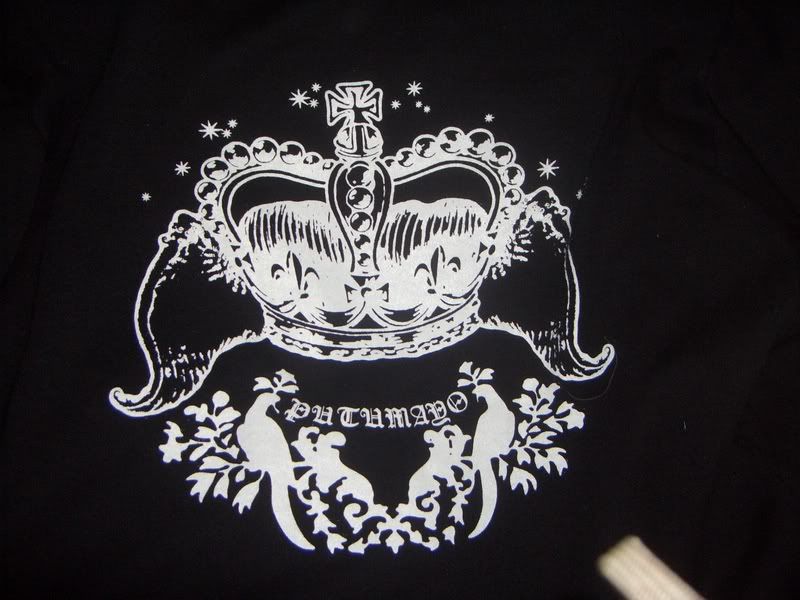 Close-up of the crown logo on the back of that hoodie. I really think Putumayo have gone downhill recently with their current collections: they used to make such pretty things!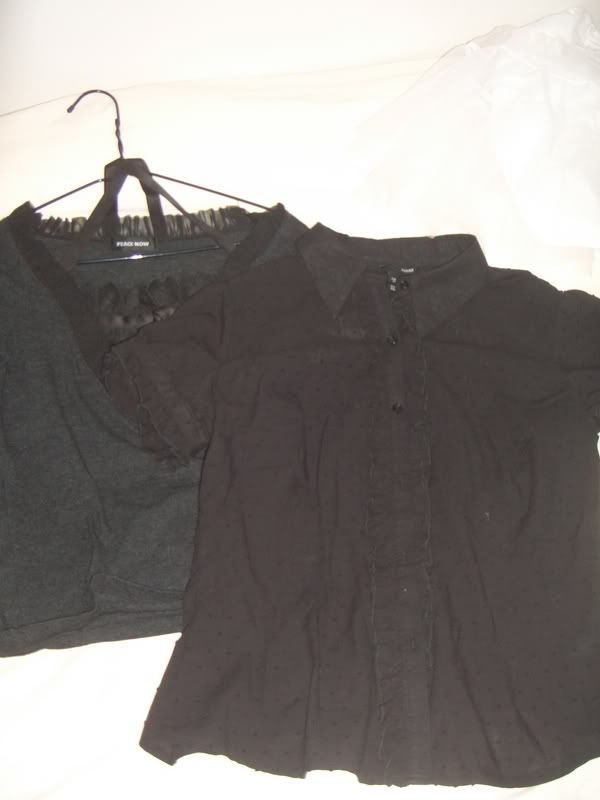 Yes, I do seem to have a problem with buying the same thing in multiple colours. Black Peace Now ribbon cutsew with a frankly awesome H&M blouse which I saw an almost exact replica of in AP or BtSSB, can't remember which. Can't argue with £9.99!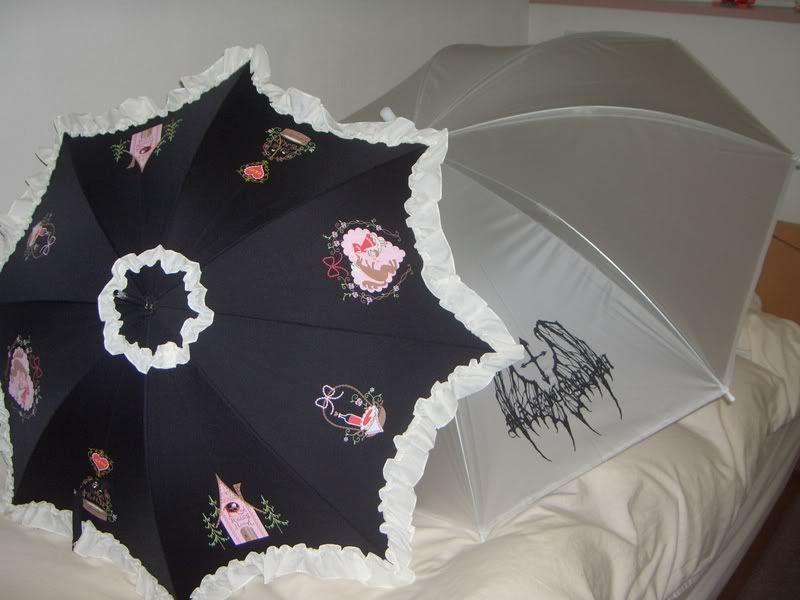 BtSSB Red Rid(d)ing Hood (god, I wish they hadn't spelt that wrong because I'm a total Nazi for spelling and grammar and this conflicts utterly with my rampant love for that line) umbrella to tide me over until I get the red skirt and/or JSK. Plus a huge see-through MAM umbrella.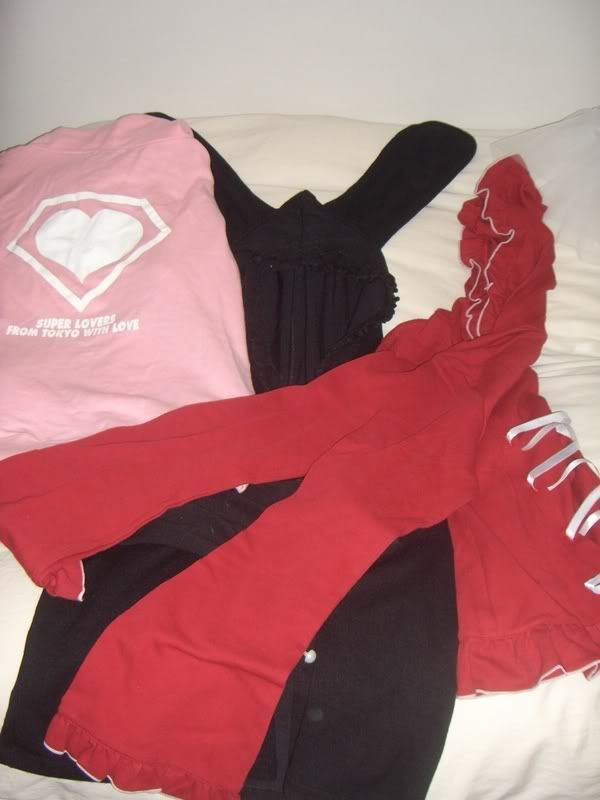 And finally, some more casual hoodies: a pink Super Lovers one which I got dirt cheap, a black bunny-ears one which I ADORE and got from Y!J, and the red x white version of that Putumayo hoodie I just sold in black x pink.

And that's it for now, until I receive my recent purchases from some of you peeps from the comm: a strawberry print AP JSK, a black fukubukuro Meta JSK, and a red/black check Kera-ish skirt, as far as I recall, but there may be more; my memory sucks. Didn't bother including socks and shoes in this impromptu photoshoot because a) I refuse to buy brand socks on principle and b) my EGL shoe collection ain't nuthin' special (yet): a pair of the ubiquitous black rocking horses, some brown leather lace-up Victorian boots, and a pair of Harajuku Shoes' black MJs with detachable ribbon. PLUS, as I just remembered, a pair of pink HeartE shoes that would totally match that new frill-hem Putumayo skirt! \o/ Oh, life is good when we roll in the K to the I to the CHIJOJI.

And now should I end this like an episode of MTV Cribs and tell y'all to get offa my property?