Hiya. I've got some serious shopping problems combined with a negative bank balance, so here we go!

BRAND NEW Antique White Metamorphose Blouse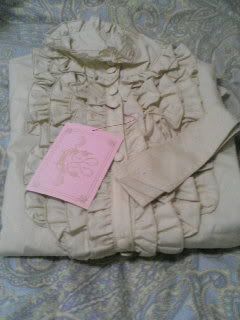 original page

Sizing is slightly larger than your average loli blouse, with a max bust of about 38" and max waist of 36" or therabouts. The sleeves are also nice and long ^_^

This blouse is brand new, never worn, with tags still attached! It retailed for 18,690 yen, but I'll let it go for $100 + shipping!

Dark Red Baby the Stars Shine Bright Velveteen Jumperskirt SOLD




original page

Bust: 37" max
Waist: 31" max

There is no shirring in this dress, so these measurements are it! It does have a tie in the back for cinching the waist to fit smaller gals though. I'm 36"/29", and there's plenty of breathing space in the bodice. Probably the most comfortable dress I own, though it is rather heavy on your shoulders....

USED (worn twice), perfect condition. Retailed for 23,940. My price: $150 + shipping! Save $50+ on buying it new!

Cream Angelic Pretty Couderouy Jumperskirt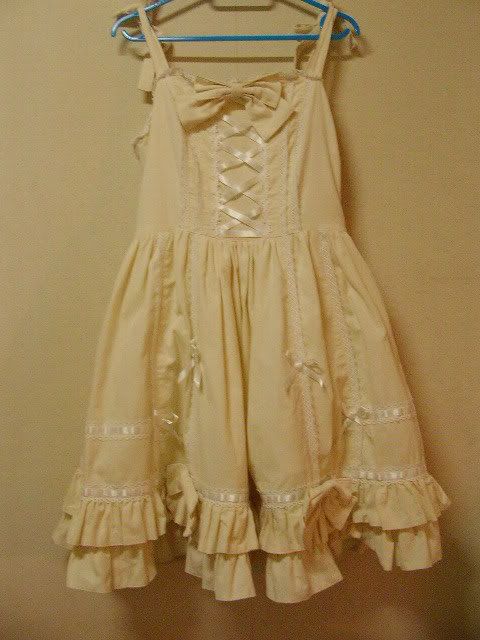 original page

Bust: 35.5"~40" (I reccommend the lower end of this range though)
Waist: 28"~34"

This dress is USED, only worn once, but has had a run-in with rainwater.... It was in my suitcase when I got caught in the rain, and got a little wet. The places that got wet have a slight brown staining. It isn't really noticable unless you know it's there, but it is a rather widespread smattering of brownish stains, stretching from the 2 bows along the bottom ruffles...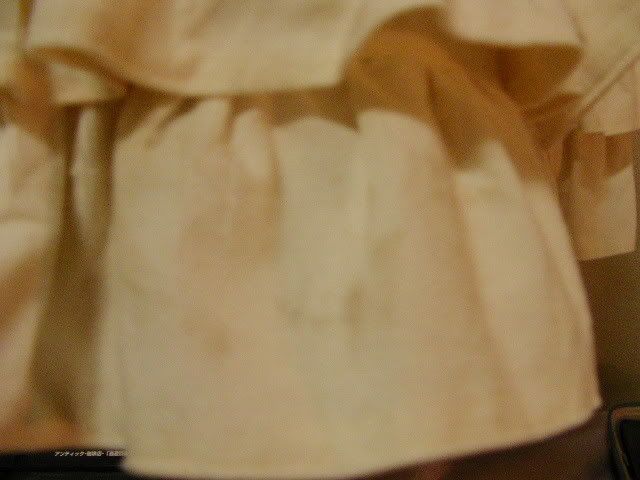 It can most likely be cleaned and most of the stain removed, but as I said... negative bank account, so I can't afford to do it myself.

I will consider offers above $100 + shipping. This dress retailed at 20,790.

Lavender Angelic Pretty Velveteen Jumperskirt ON HOLD




original page

Sorry, so personal picture of this dress because it is living at a friend's house right now...

Bust: 30" (est: 37" max)
Waist: 27" (est: 33" max)

USED, worn once by me, twice by my friend. Perfect condition. Skirt has built in pannier, so it is VERY full. We're talking serious floof. Back is shirred, but not extremely stretchable...

Retailed for 24,990. My price: $150 + shipping! Save $50+!



I accept PayPal, of any kind.



*note* - I will most likely have many Innocent World items up for sale at SERIOUS discounts in a while... I'm expecting 2 fukubukuro that I can't afford to actually keep. Damn rent.