First of all, HAPPY NEW YEAR!

I hate to say it, but when I look in my closet before going out in lolita, I find that a lot of what I see just isn't my style anymore, or isn't flattering to me at all.


1) Atelier Boz altered replica by
vitalritari


This is, by far, one of the most flattering garments I have ever, EVER owned. It's comfortable, it's slimming to a fault, and it's incredibly well-made. It has a steel busk and six steel bones for light support, with shirring in the back to fit anywhere between 75cm and 100cm, according to
vitalritari. I've only worn it once for a few hours to Otakon 2006, and twice for quick 5-minute showoff photos. This skirt is made of very heavyweight materials, so rather than a traditional petticoat, the best idea would be to use something like Leg Avenue's knee-length petticoat, which is being used in the above photo. My issue is only that my tastes are almost completely geared toward sweet lolita now, with a touch of classic, and this is a very dark piece, imo.

I would like $80 plus shipping to anywhere in the world for this. I repeat, however, this is a very heavy skirt, so shipping within the US via Priority Mail will probably be at least $7-8. SOLD!!!!


2) Angelic Pretty Mode Girl replica by In the Starlight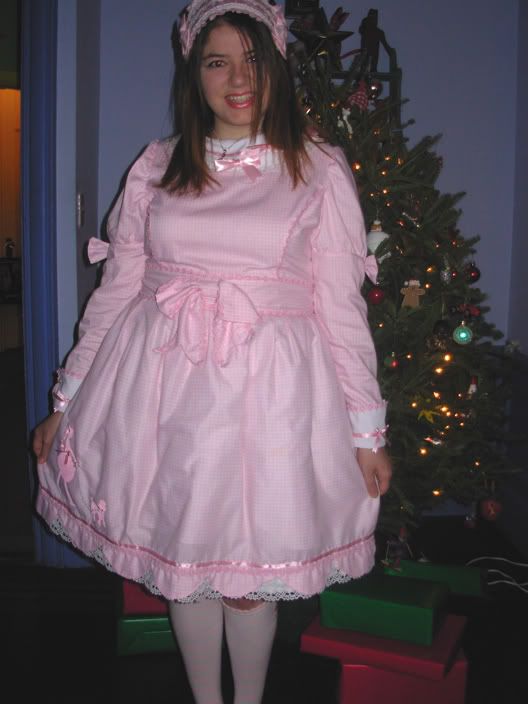 A very well-made and cute replica by Leah of In the Starlight. My only issue with this is that I like CRAZY amounts of poof if I can help it, and this dress fits better over an A-line petticoat (i.e. In the Starlight's Princess Petticoat). The bodice and sleeves are fully-lined, and the bows and pearls on the collar are removable--and no, the bottom bow isn't missing a piece, it just got tucked under and I was too dumb to notice before photos were taken. xD This was made for measurements of bust 41" and waist 36". It zips up in the back with an invisible zipper of better quality than brand, and the collar closes in the back with two cute pearl buttons. The applique on the bottom of the skirt is not going anywhere, either. I only wore this once for a few hours to a party with some friends--no exposure to sweaty bodies, alcohol or smoking!--and once for my little Christmas "photoshoot" for about ten minutes. Nevertheless, I will wash it before shipping out to put the buyer's mind at ease.

I would like $145 plus shipping to anywhere in the world for this. It is a very lightweight garment, so shipping within the US via Priority Mail will be no more than $4.50.


3) Handmade punkloli red plaidxblack set



This was my first lolita skirt, and that was my first alice bow. Both are made with high-quality materials--the plaid is a good medium weight, and the lace is cotton and very fine, much like brand laces. The waistband will go no larger than 45", and it best fits a 34"-36" waist. The alice bow, the shape of which is better seen here, also has grommet tape as an accent, thus where the punkloli comes in in the title.

Because this was my first skirt ever, I only want $40 for the set. Individually, I would like $25 for the skirt and $20 for the bow. These prices do not include shipping.


4) Fanplusfriend red overdress



Highly unflattering on me. :|

As you can see, this dress isn't flattering at all on me. The original F+F images can be found here. A bust of 40"-41" is favorable, but this would look much better on someone with a 33"-34" waist. Please note I'm not selling the underskirt. I also replaced the elastic in the sleeves; the original elastic was much too hard and small. The sleeves will now fit upper-arm circumfrences of 12" and up.

Because I'm not including the skirt, I only want $45 plus shipping to anywhere in the world for this.


On a side note,
cobwebclutter--do you still want the blue Payless shoes? I haven't heard a word from you about them.


Methods of payment accepted:
1) Paypal (CC, personal, e-checks)
2) Checks (item not sent out til check clears)
3) MOs
4) Concealed cash (AYOR, US only)

My paypal address is talentlessmoo @ imaterrorist.com (without the spaces lol). Thanks for looking and happy buying!