Rules on the Lolita
Rules on the Lolita


I want to become a lolita, you say.
So become one, I reply.
What can I do to look like a lolita?
I have no words with which to reply to this.
You need a headdress, don't you? And a pannier.
Is this coordinate strange?
Is it not wrong for lolita?
Why do you want to do lolita?
Because it's trendy, because my friends do it...
If that's the case, you have no right to wear lolita.
If you just do what the others do, you will look like a lolita.
But I want you to think about something.
Who do you live for?
You think you want to be yourself, but you are afraid of isolation.
You yell that you want to be free, but you take comfort in following convention.
When you are praised for something you don't even feel comfortable with, are you really satisfied?
Girls who wear Vivienne Westwood but don't even know the Sex Pistols.
Even when wearing a jersey, a princess is a princess.
My lolita rules are mine alone.
So you are the only one who can find your own lolita rules.
My god and your god are different, aren't they?
There are angels who wear elegant dresses and play tamborines,
But there are also angels wearing armor and carrying swords whose job it is to fight.
I can't answer your question.
But there are a lot of hints all around you.
You just haven't noticed yet.
What you feel is right is your answer.
Sew frills onto the hem of your heart!
Put a tiara on top of your soul!
Have pride.


By
Takemoto Novala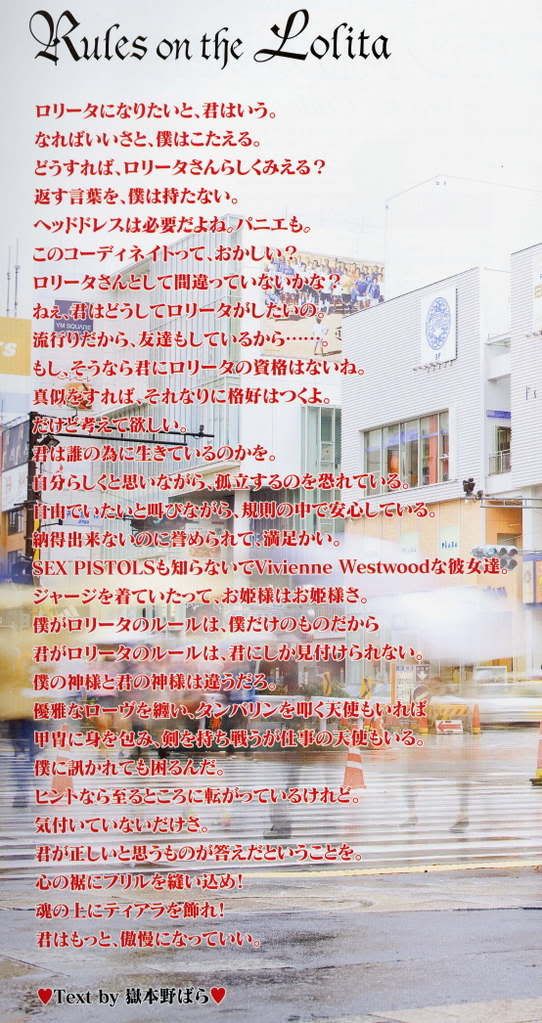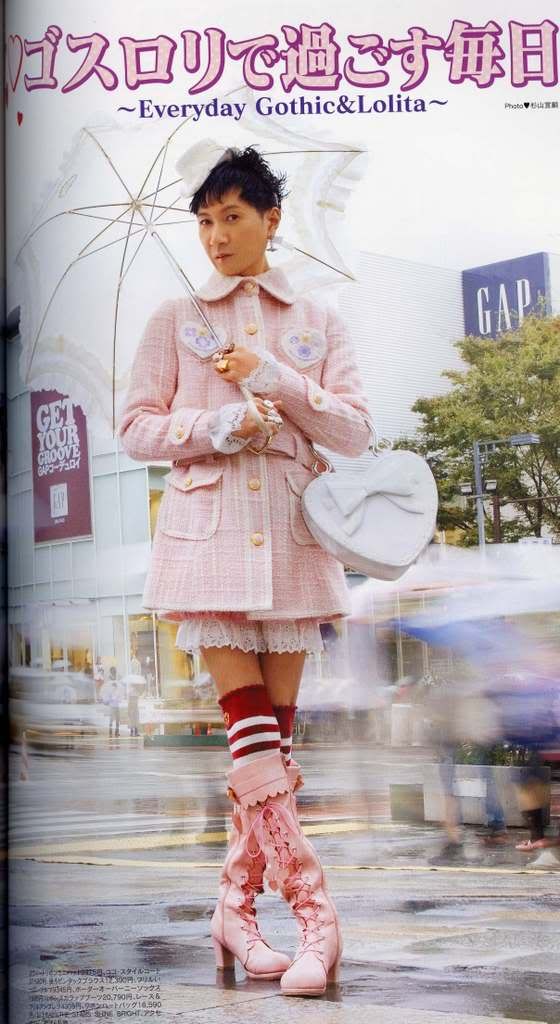 (Takemoto Novala wears all Baby the Stars Shine Bright. He wears:

Sweet Ribbon Mini Hat
The "Koko Style Coat" which is no longer available on the site,

Back PinTuck Blouse(Can't you see it? The 3 cm of sleeve you can see at his wrists? XD),

Frill Ippai Bloomers,

Border overknee socks,

Scallop Ribbon Boots(in pink, no longer on the site),

Frill and Lace Umbrella,

Ribbon Heart Bag,
and accessories from his personal collection (which means of course Vivienne!).)

(Don't ask me why I did that. Just felt like it, I guess - I'm very weird!)

Thank you
muier_noir for the scans! <3<3

Thanks for reading! <3<3