Hello! I'm looking to sell these very strange looking shoes. I used to be into punk lolita, and wore these once with an outfit (sorry, no pictures from that time...). I never wore them outside though, since I wore the outfit with a gathering of friends in my kitchen (punk tea party...very strange). They are in perfect condition, and have no marks or anything!
Anyway, I'm now not into punk lolita at all anymore (I discovered I looked very bad in it, and I liked other styles more). So I'd like to sell them.
Here are some pictures.
They are a 4.5" heel in the back and 1.5" in the front.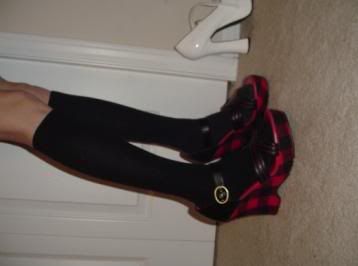 They look really good with knee-highs in my opinion!
These are size 8. They were a gift, so I honestly don't know how much they cost. So I'm accepting offers.
Thanks!