Paypal only, must be able to pay within 3 days of sale end. I ship worldwide.
Selling to best offer received within 24 hours - sale ends 7:30am Eastern USA time.

USA shipping : $2 any one item (First Class). $3.85 for any two (Priority). $5 for any three (Priority). $8.10 for all four (Priority).
International shipping : One item $3, two items $5, three items $8, 4 items $10.

1.) Simple black tiered skirt. Not made by me. Worn and washed a lot, but no holes, stains, or seams coming apart. Shown with handmade petticoat underneath which is NOT INCLUDED. Best suited for size small/those with 36" or smaller hips. About 20-21" long (hard to measure with all the tiers and gathering). Minimum offer : $5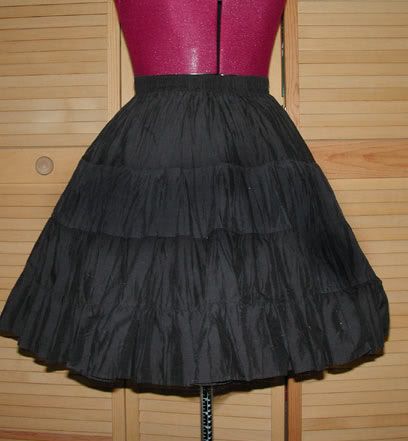 2.) Pink skirt with black punky ripped mesh overlay and raw edge ruffle. Sorry, just realized looking at the pic how wrinkled it was >_<. Shown with a light petticoat underneath - can fluff up more if you want with a regular loli petticoat, but petticoat is NOT INCLUDED. Waist stretches from 20-40" and it's 19" long and ~72" hem circumference. Looks way cooler in person; the camera and lighting make it look crappy. More pink in person, baby pink, not a super bright bubblegum pink, not the pale pale icy pink in the pic. Selling because I don't look good in pink. Minimum offer : $12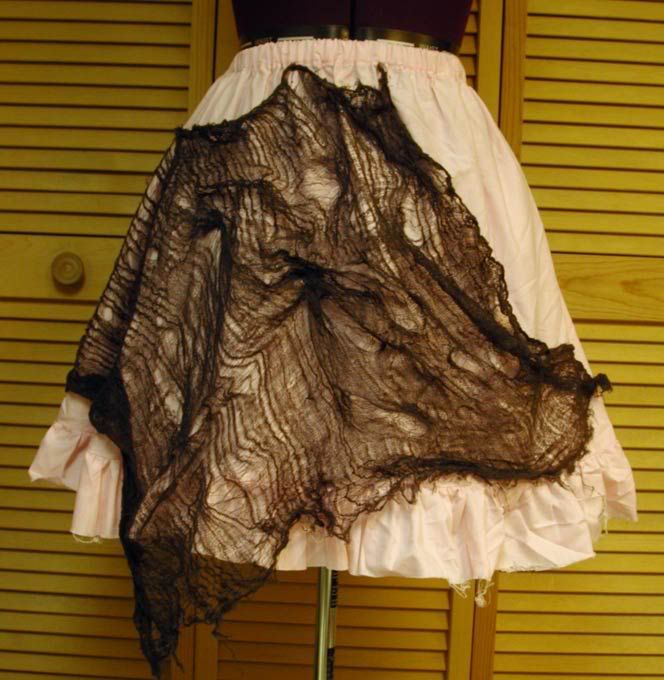 3.) Black mini hat trimmed with lots of Venice lace, ribbon bow, fake rose. Not the cheap pressed felt ones you find at craft stores, a nice velvety one. Bought it from an EGL'er who made it whose name I forget and never wore it. Minimum offer : $10


http://img.photobucket.com/albums/v80/stinekitty/Sales/minihat-side.jpg

4.) Metal thorn tiara. Got it from a costume shop but it's pretty decent quality, not flimsy easily bent metal (except for the comb like ends, they're flexible but not brittle). Never got around to wearing this, either. Minimum offer : $5.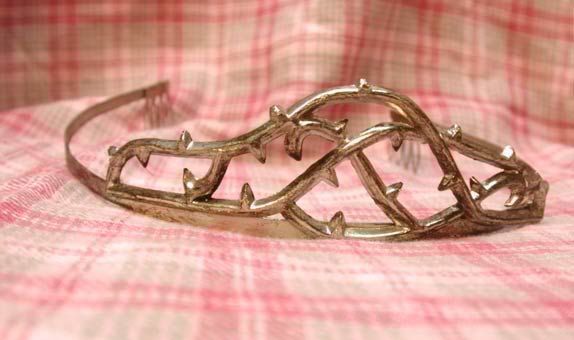 5.) Simple black maryjanes, Steve Madden brand, size 6 or 6.5 (no label actually on the shoe, but those are the sizes I wear). Wore them a couple times, but I'm really more of a mega-heels kinda girl. These are only 2.5"; the inside shoe measurement is just shy of 9.5". I'm not sure whether these are actual leather or not. Some slight wear on the straps which you can sort of see in the picture that's a close up of the buckle, but otherwise in very good condition. Minimum offer $5.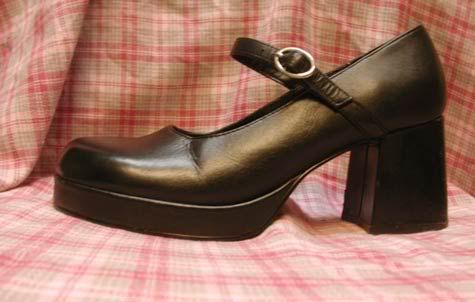 http://img.photobucket.com/albums/v80/stinekitty/Sales/mjs2.jpg
http://img.photobucket.com/albums/v80/stinekitty/Sales/mjs3.jpg
http://img.photobucket.com/albums/v80/stinekitty/Sales/mjs4.jpg

Please comment with serious offers and questions only. If you really like them but are broke or won't fit, that's no fun, but don't tell me about it. ;)