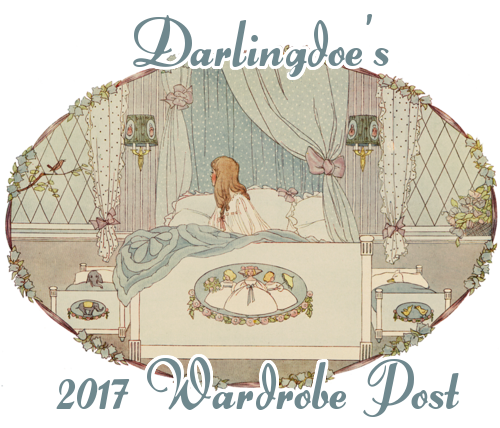 I started fulltime work at the beginning of the year, so there wasn't as much time to devote to my wardrobe post as I would have liked. I didn't want to skip a year documenting my wardrobe progression. No time like the absolute last minute!
You can view the previous years here:
2016
,
2014
(silly me forgot to include these when I first published the post!)
Let's begin, shall we?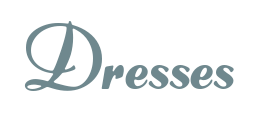 I noticed blue is starting to dominate a good percentage of my wardrobe, so I wanted to start with all my blue dresses. Surprising as my favorite color is actually pink. :P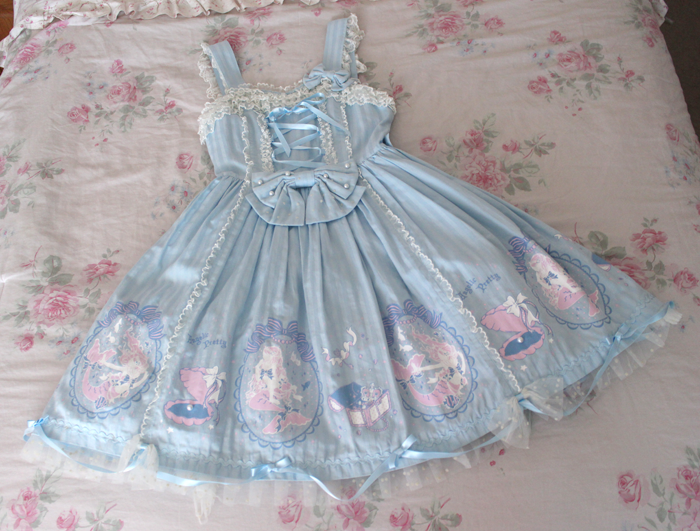 Angelic Pretty Twinkle Mermaid JSK
This dress was on my list of "love but will probably never own" until a month ago. This cut/colorway was my first priority. Probably
the
best
addition of 2016.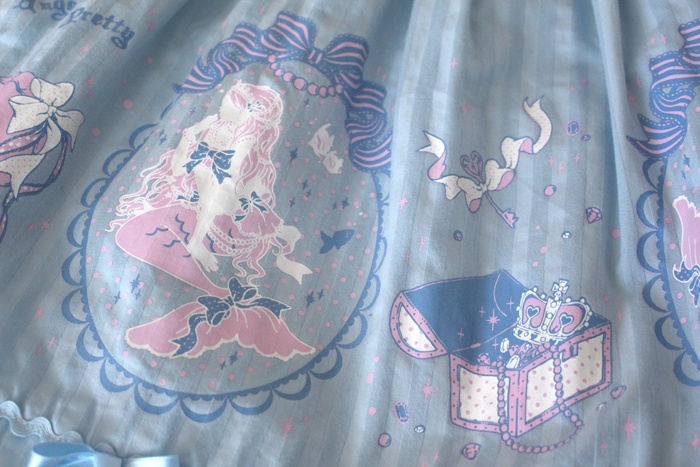 The print is still in excellent condition.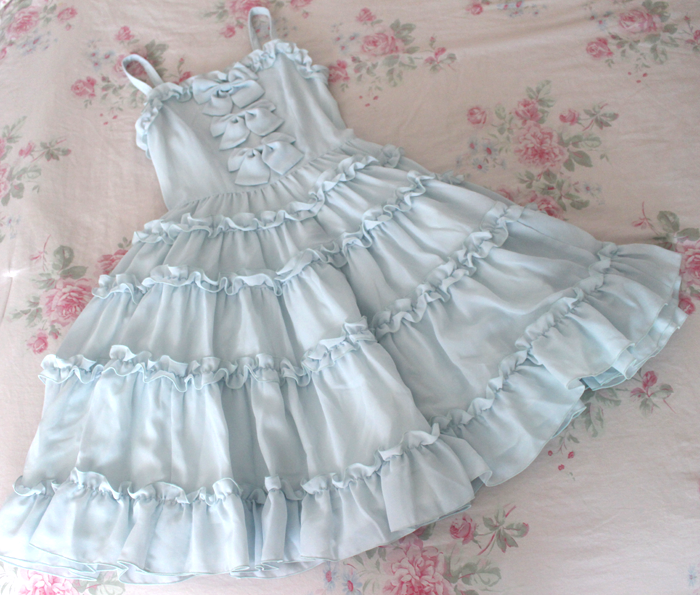 Innocent World Crepe Weave JSK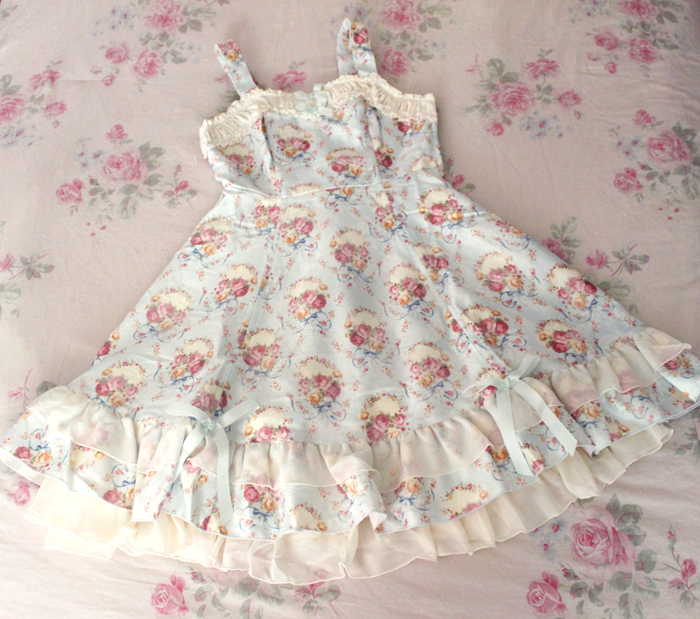 Bodyline Flower Bouquet JSK (L571)
I got this for 1,333 yen. 1,333 yen well spent.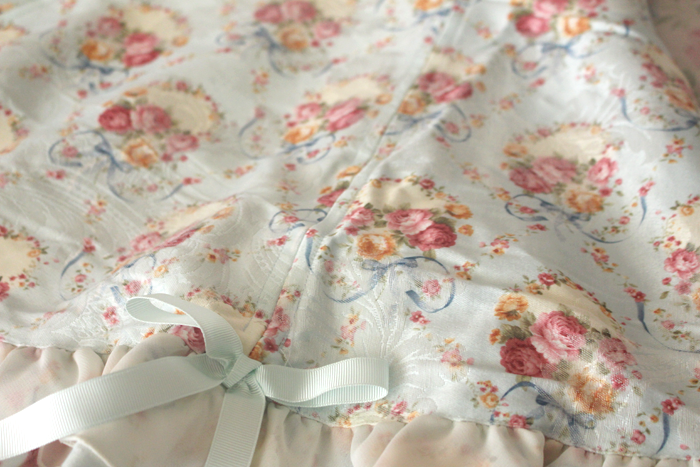 The print has a jacquard type embossing on it. I had no idea because it didn't show up in any of the coord pictures I saw.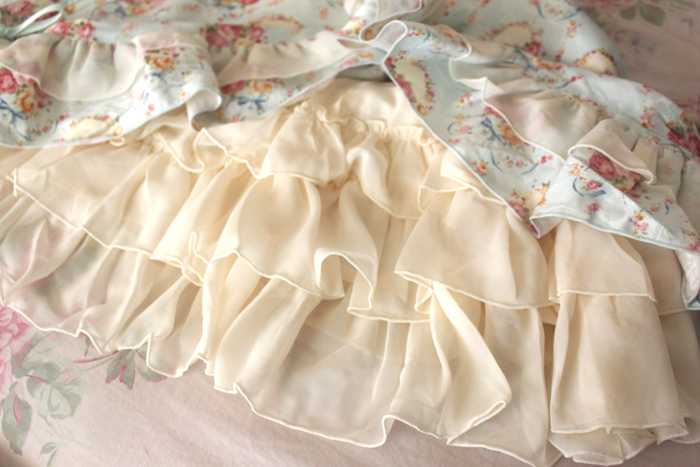 The dress has drawstrings in order to give it a ruched appearance and expose more of the beautiful ruffles at the bottom.
Metamorphose Majestic Princess
I got this dress from the Metamorphose booth at AWA 2016. It was missing the rose that belongs on the bow on the strap and the pearl chains so the price was heavily discounted. I don't miss the rose, but I will try to make replacement chains as I find they look very pretty.
I love the lavender and darker gold shades in the print.
Bodyline L510
Metamorphose Mermaid Princess Ribbon Shirred JSK
I was excited to get this, but I may sell it as my heart pines for the OP version...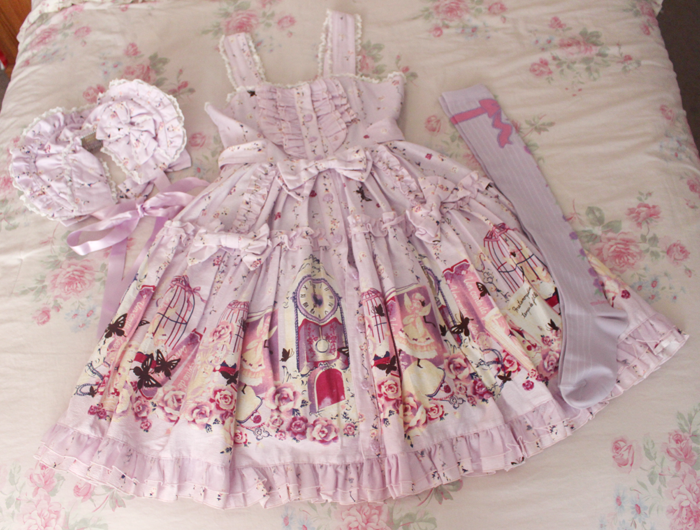 Metamorphose Fairy Tale Pinafore JSK
Behind Twinkle Mermaid, this dress ties with Time of the Roses as my second favorite dress.
Bodyline L379 Halter JSK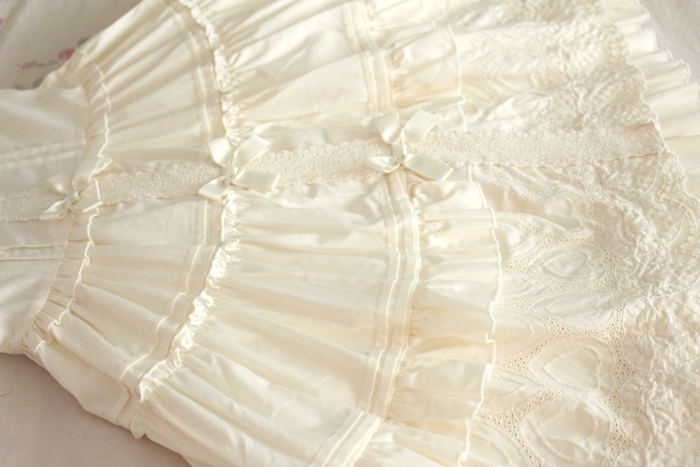 Innocent World Strawberry Field
I think what draws me to this print is the way the art looks like it may have been done in watercolor? The fabric has a certain feel to it and the creamxred color combination is charming. It's a perfect piece for country lolita.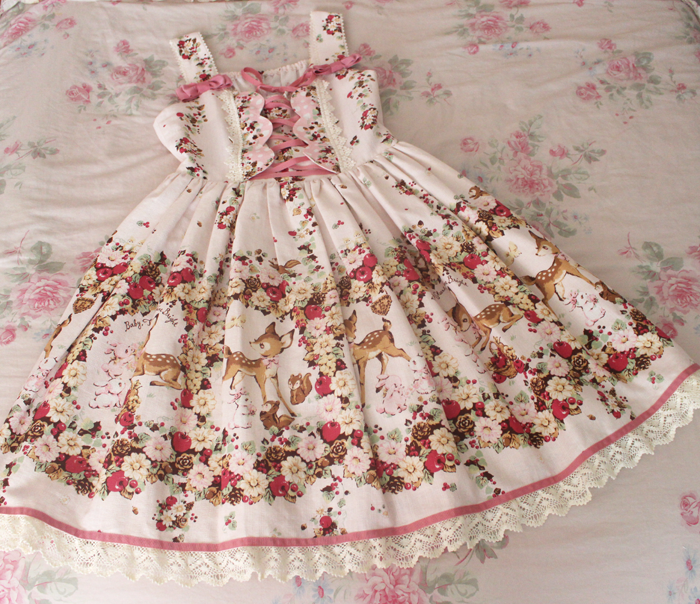 BtSSB Bambi de la Forêt Secrete ~Petite Princesse de la Forêt
I stayed up all night to order this when it was released and then changed my mind while checking out. I regretted it shortly thereafter. Nabbed it as soon as I saw it on Lacemarket. I like this colorway and the blue equally. I'd still like to own the blue someday.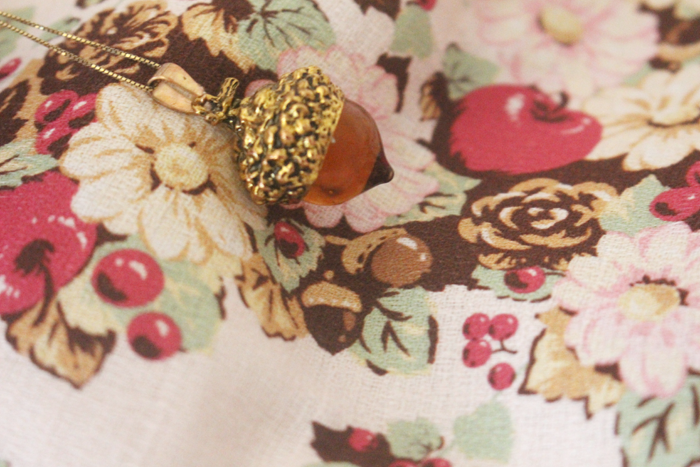 This print has motifs I like to coordinate my jewelry with. Acorns, apples, pinecones, deer, et cetera.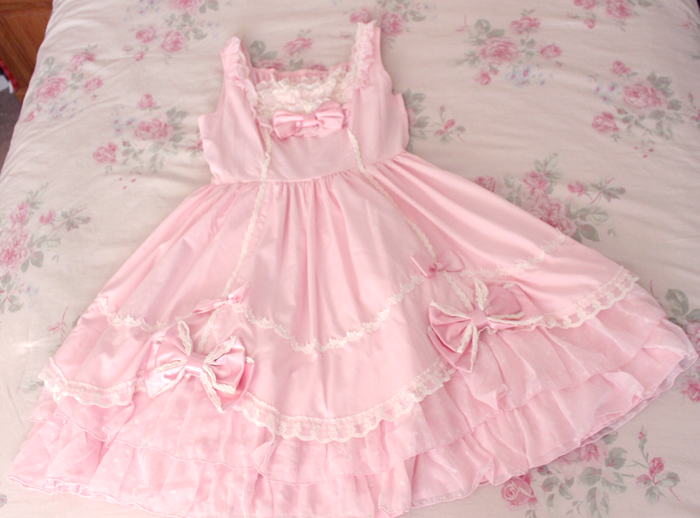 Bodyline Heart Tulle (L329)
Yeah, the satin bows are
still
there.
Metamorphose Blooming Garden
I think I prefer Angelic Pretty's Powder Rose in yellow to this dress because I'm favoring chiffon pieces lately. I'm weird and don't want two yellow dresses with roses/flowers in the print because they feel too similar.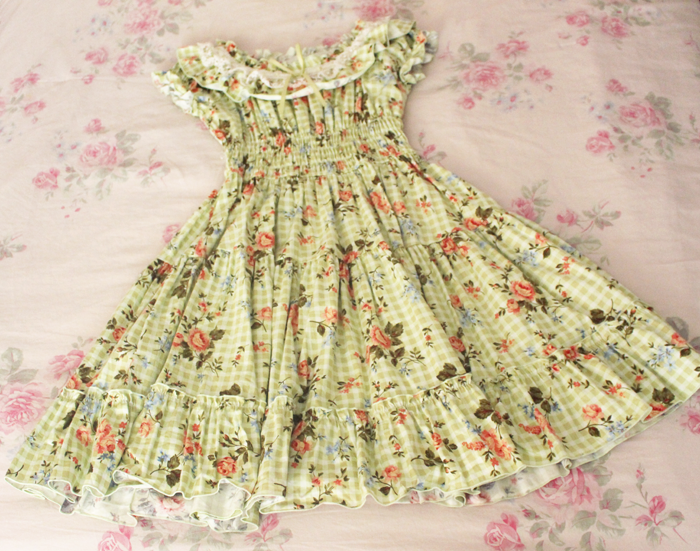 Bodyline L411 OP
I want to get an apron to coord with this. It's unlined but lightweight and perfect for summer.
Innocent World Anneliese
Alice and the Pirates Time of the Roses
The mint colorway is one of my favorite dream dresses.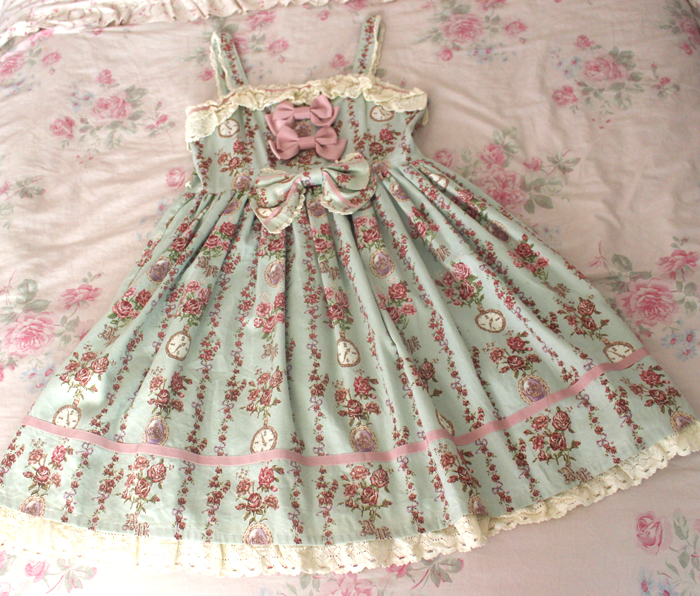 I had to include this picture showing how well the box I keep my lolita detachables in matches this dress.
I thought this dress was navy when I bought it. I was going to sell it but it grew on me. Oops.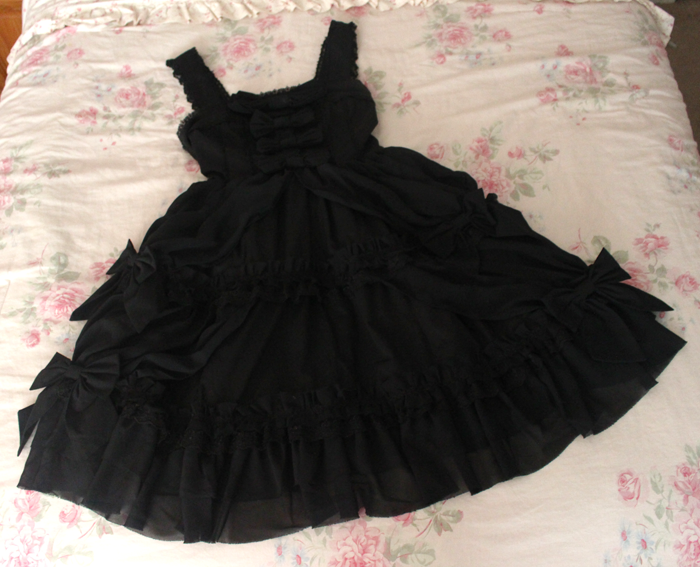 Bodyline L387
Photographing solid black pieces is hard.
I adjusted the brightness to allow for the details to show.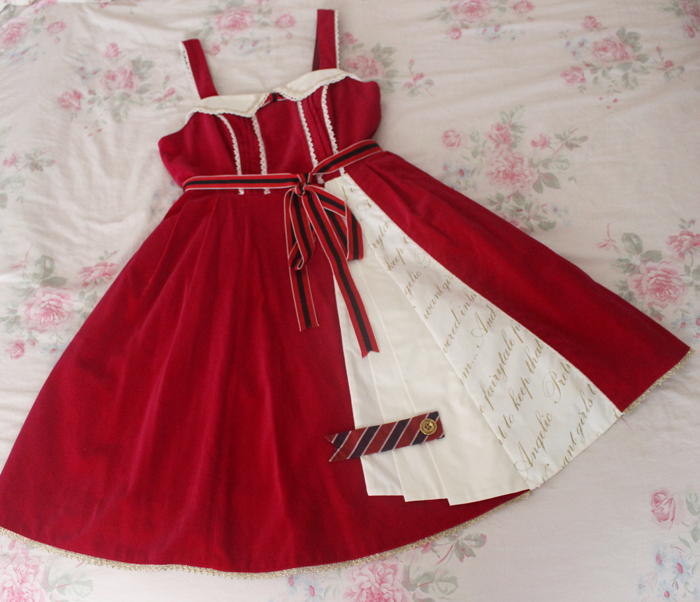 Angelic Pretty Bookmark
This was a major dream dress acquistion in 2016, the second best after Twinkle Mermaid. I am beyond ecstatic to have it in my wardrobe.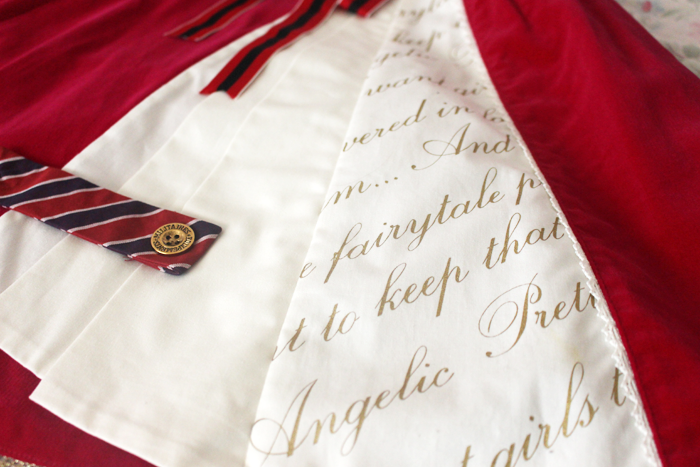 It would have been cool to have script on all the "pages"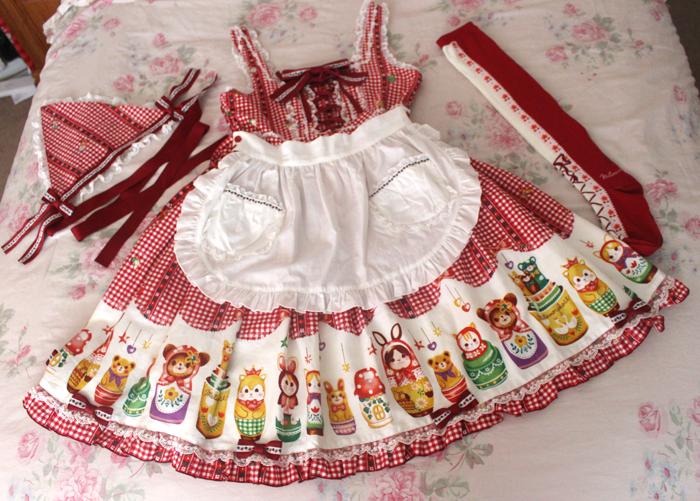 Metamorphose Nostalgic Matryoshka Doll
I annoyingly stalked the Metamorphose booth at AWA 2016 for this set. Fashion show models have first dibs on the items they wear so I had to buy it 5 minutes before they closed the dealer room on Sunday. I originally wanted only the kerchief and socks, but I fell hard for the matryoshkas.
Look at this very smol cat matryoshka. LOOK AT IT.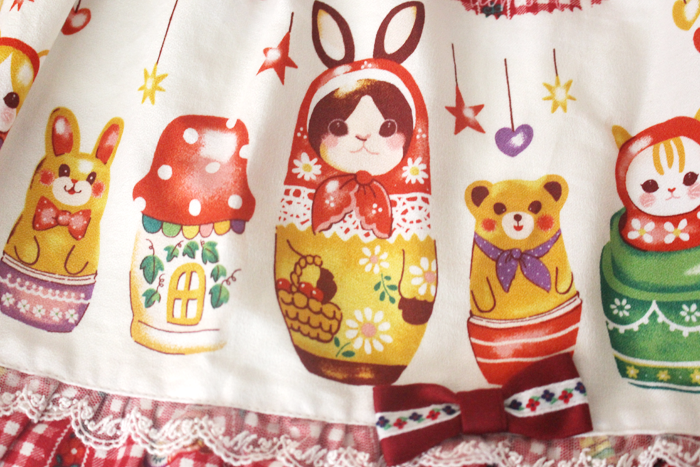 Mushrooooom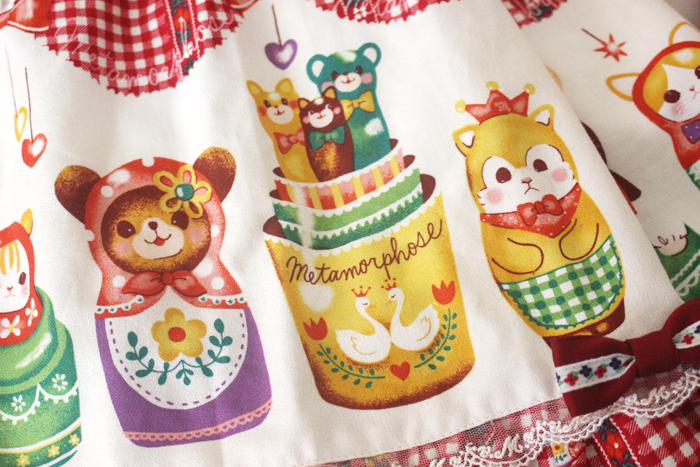 An all around A+ print
Innocent World Rose Panel (Long) JSK
I orginally wanted this in burgundy, but I like the dark chocolate brown color. It coords nicely with my Innocent World violin totebag.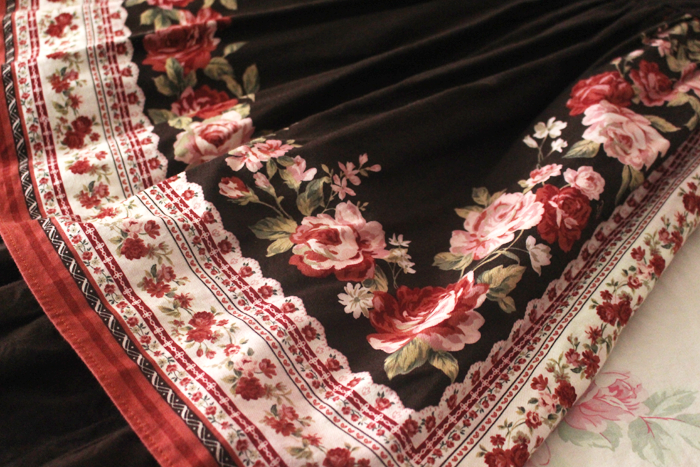 Mmmm folk-y print goodness.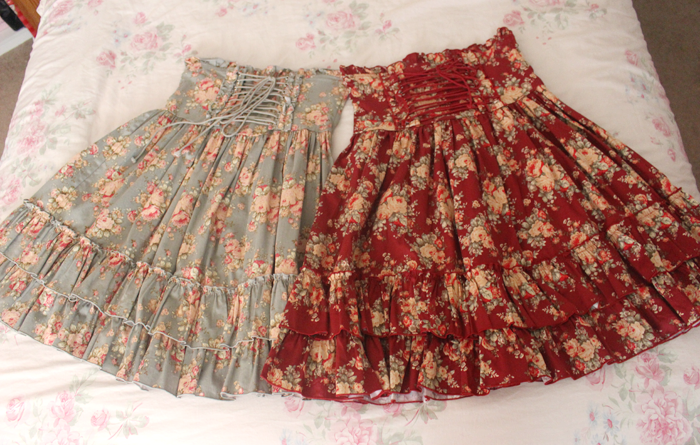 Bodyline L353
I picked up the wine skirt in 2016, but I still like the olive green one the best of the two.
Bodyline Chocoberry
This is still one of my favorite sweet strawberry prints!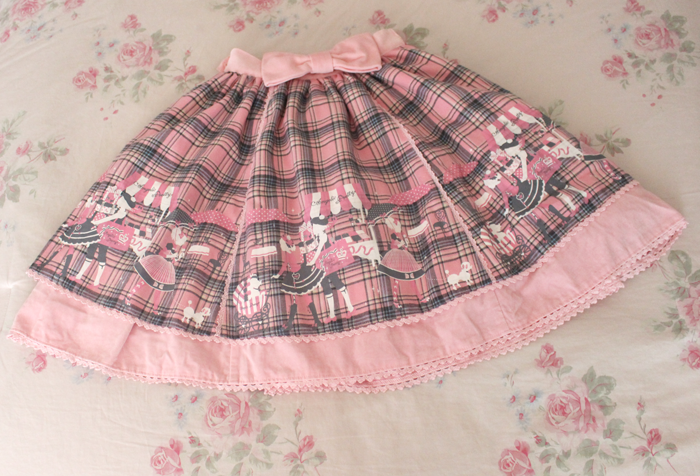 Angelic Pretty Osanpo Candy-chan Skirt
I
just
got this in the mail. The winter has been so mild this year, I probably won't get to wear it until November or December. I couldn't decide between this colorway or the black version, so if you see the black, hit me up!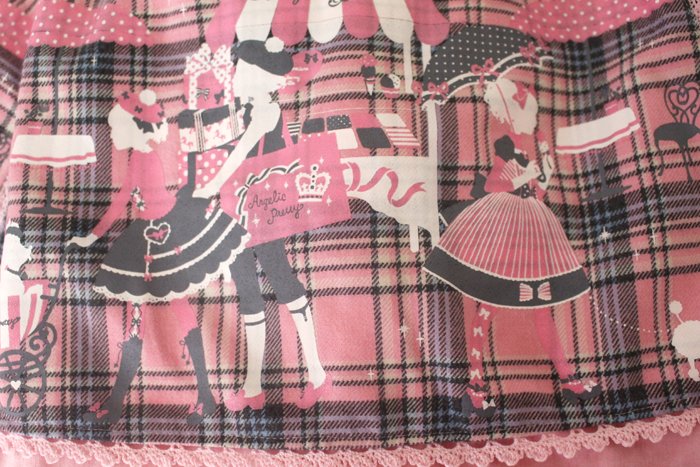 I love Imai Kira's AP collaborations. There is subtle glitter in the print that feels ultra girly.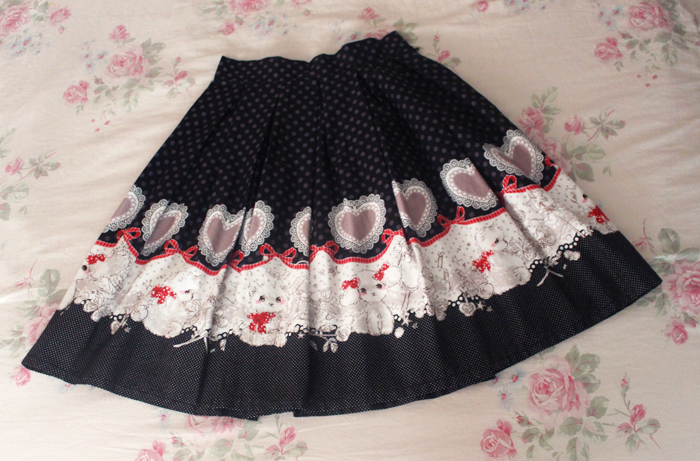 Bodyline Puppies Skirt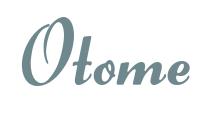 I could honestly make a separate wardrobe post with just otome clothes. I included my brand print otome pieces here.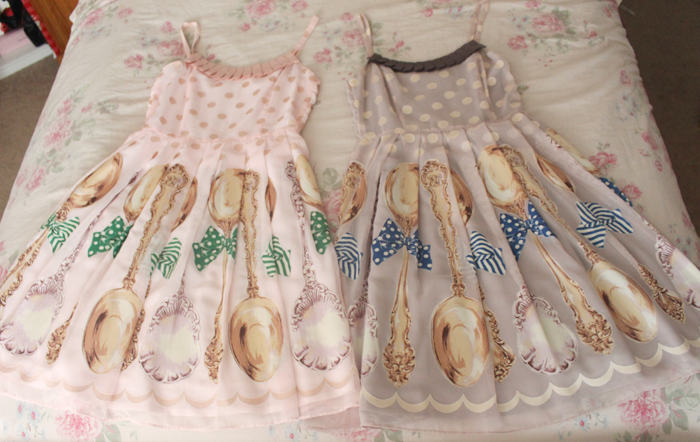 Emily Temple Cute Teaspoon NOPs
Out of everything I own, this print garners the most confused looks. Last year I said this print was the most lightweight piece I own, and it's still true. Soooo great for hot spring/summer!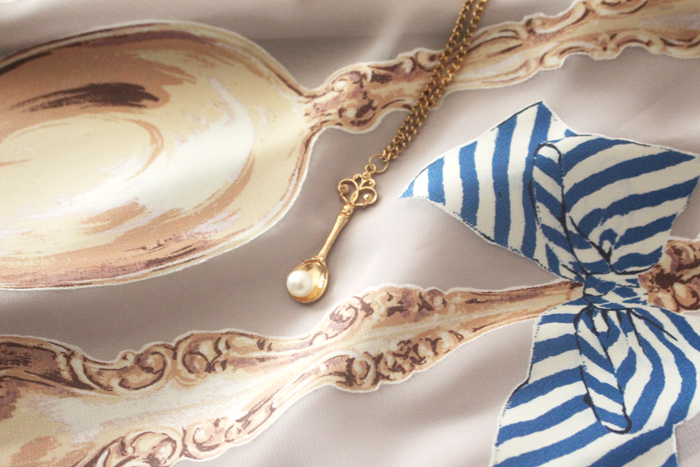 Obligatory spoon necklace.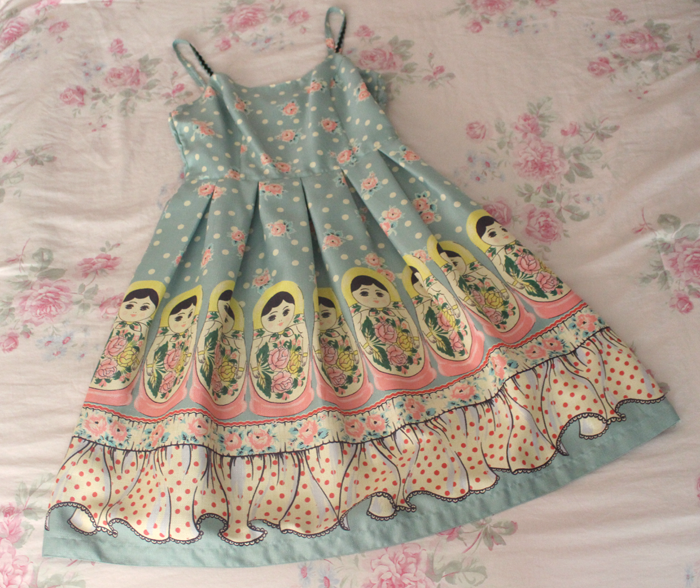 Emily Temple Cute Matryoshka Print
While I love the colors and print, this dress's fabric has an unusual, crepe-like texture that I don't care for. I considered selling it, but I like matryoshkas so I'm holding onto it.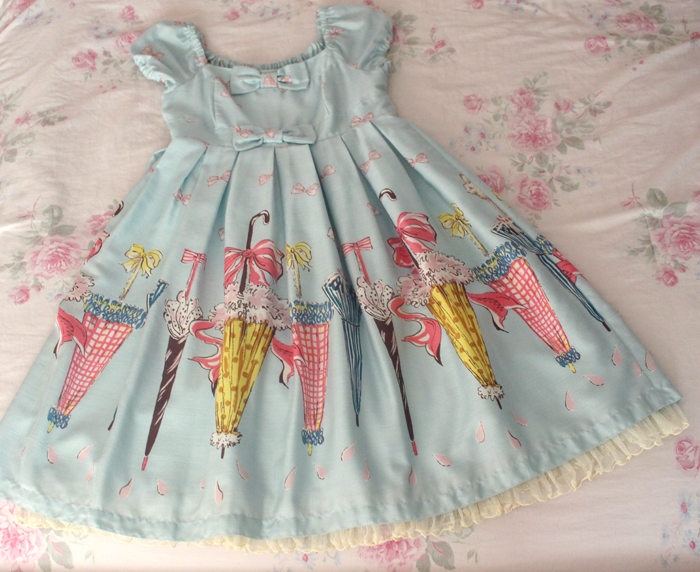 Emily Temple Cute Bunny Umbrella OP
I don't wear this as often as I would like. Maybe I would wear the skirt version more?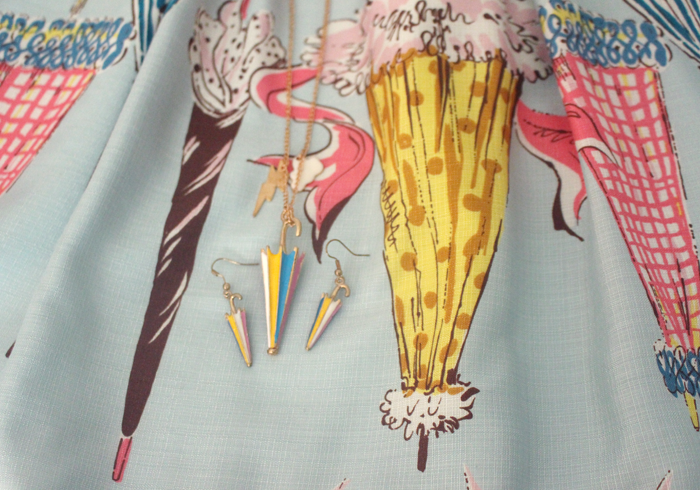 In my 2016 wardrobe post, I mentioned wanting the matching necklace, well, here it is haha.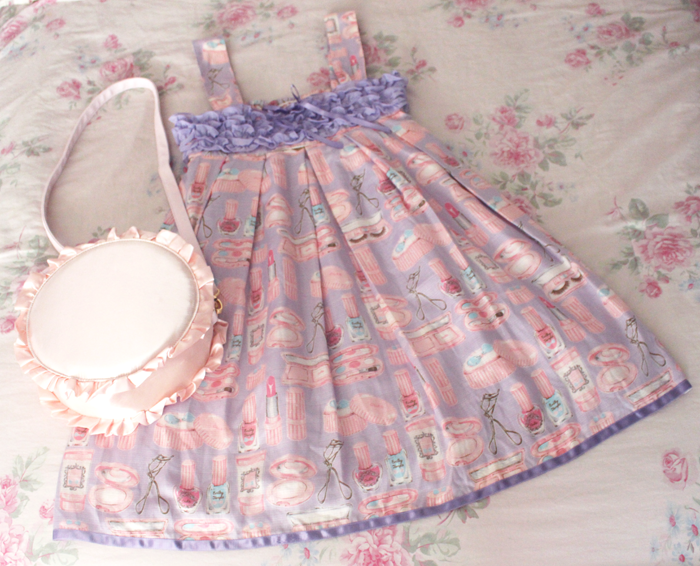 Emily Temple Cute Cosmetic PrintWEGO x Larme/Risa Nakamura collab bag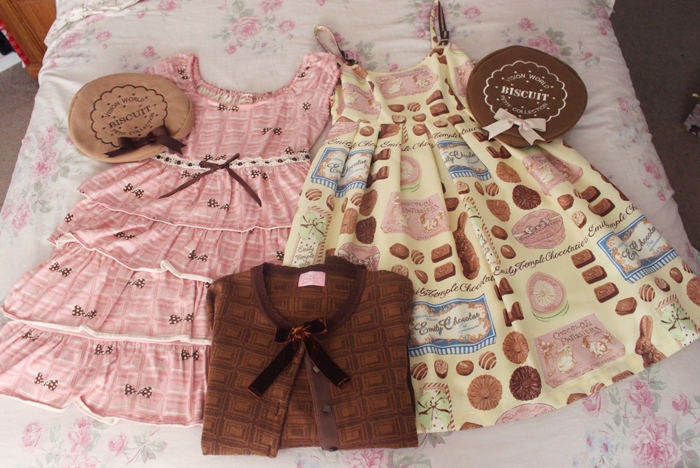 Left:
Emily Temple Cute Chocolate Ribbon OP
Right:
Emily Temple Cute Chocolatier NOPAngelic Pretty Melty Royal Chocolate CardiganBerets from Vision World (Taobao)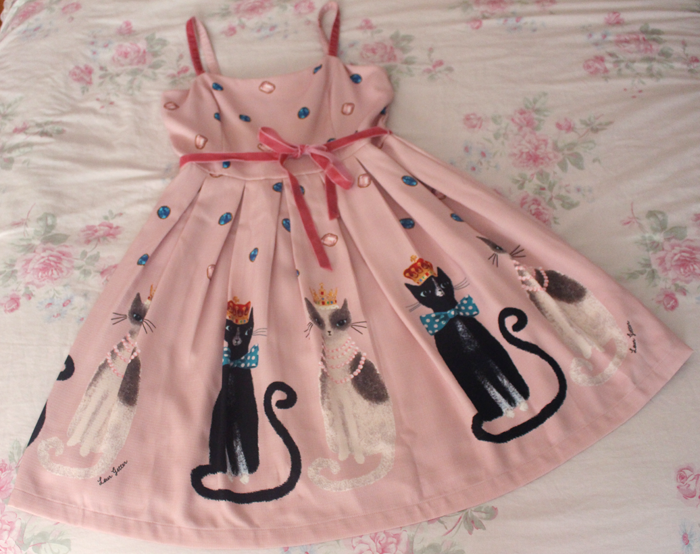 Leur Getter Royal Cat
I like the velvet straps/belt on this dress. It adds to a decadent, regal feeling. I want the matching socks, too.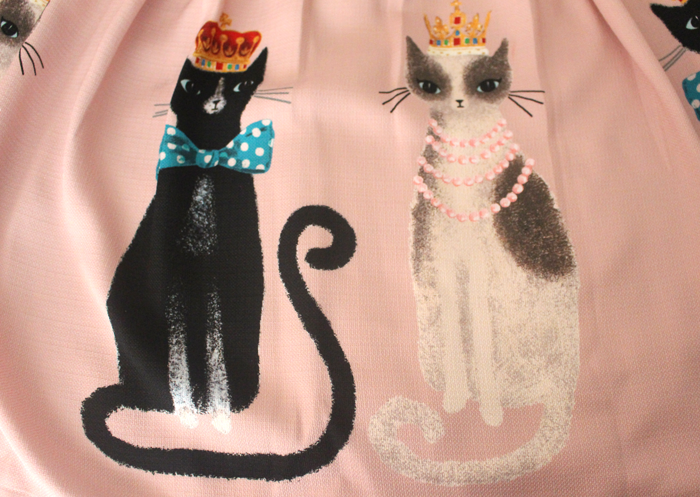 These sassy cats never cease to entertain me.
Emily Temple Cute Fragrance Print NOPs
Yes, I added the green version to my collection. I still like the apricot one the most.
These bottles remind me of Penhaligon's perfume bottles.
"Avocado"
I didn't lay my blouses out properly because I expect a major rehaul in 2017, so have this picture instead.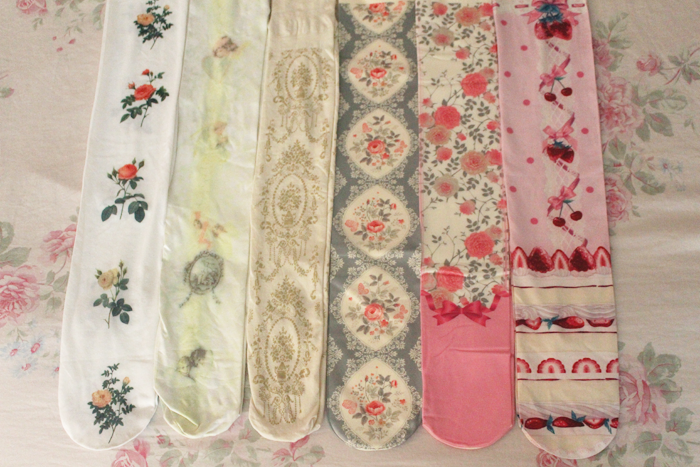 Most of my tights are lacey and/or floral. These are the more interesting ones.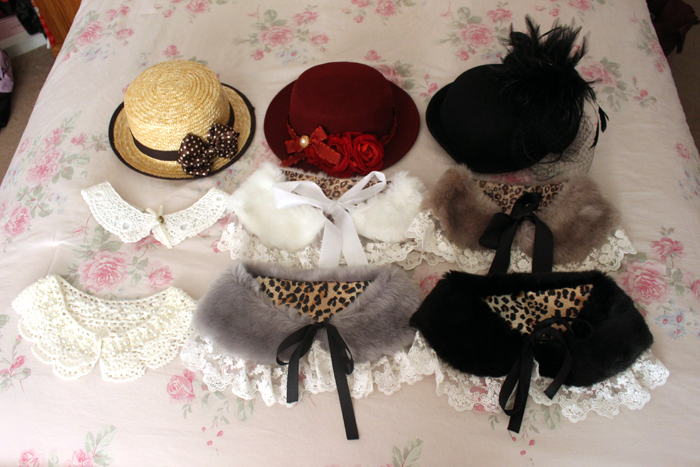 I lost the brown straw hat I had in last year's hat picture. :(
I like to use belts in otome coords and sometimes lolita. These bow belts are absolutely perfect.
I didn't picture all my accessories as it would be an exhaustive process, just some of my more used ones. If you'd like to know where something is from, let me know in the comments!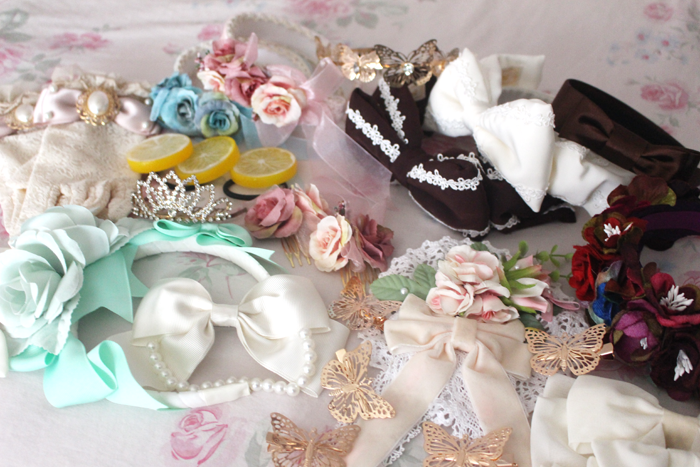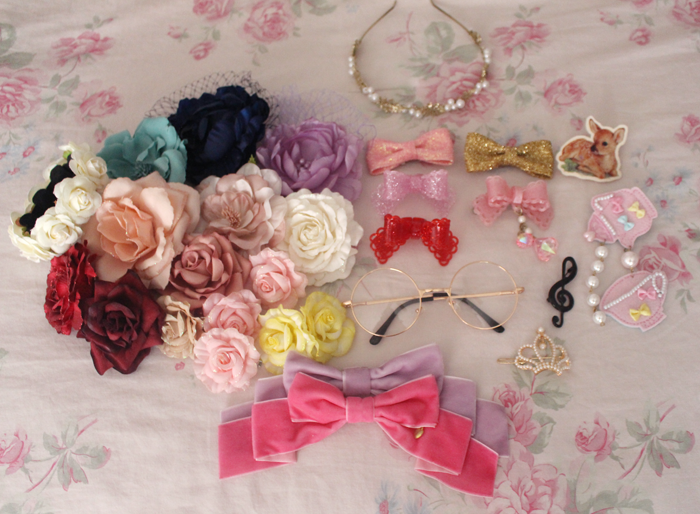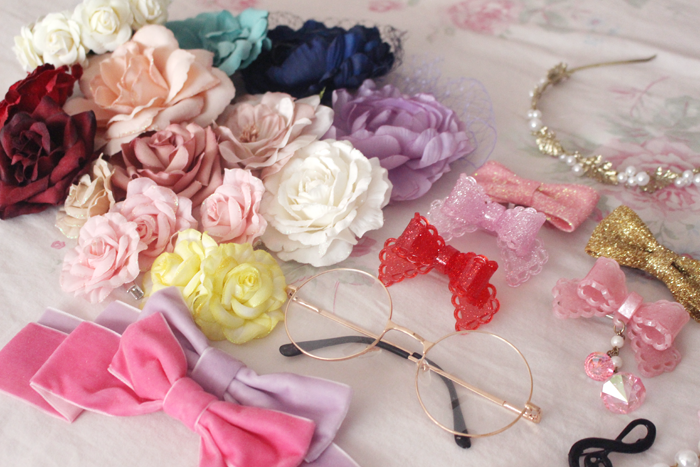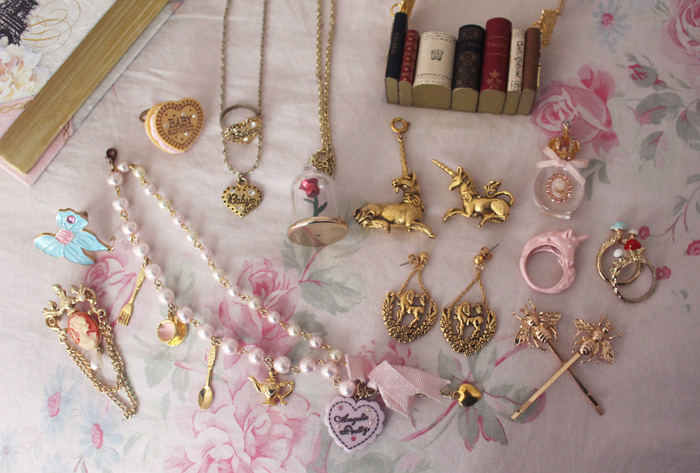 My more favorite/lolita jewelry pieces.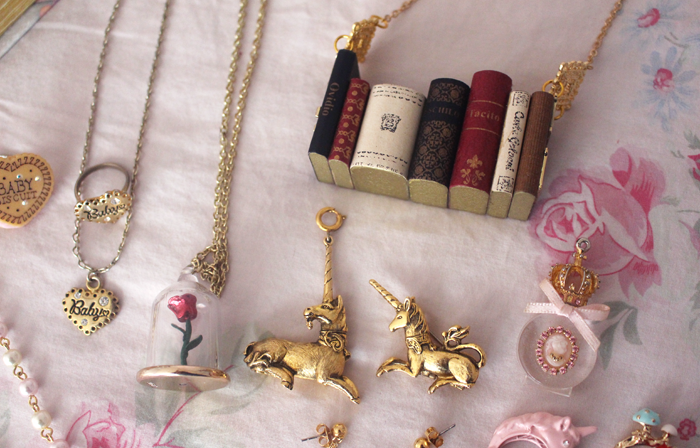 Can you tell I adore unicorns? My wardrobe is lacking in unicorn dresses. I hope to change that come 2018.
Guilty of reusing last year's purse picture... My lolita/loliable purse collection has not changed since last year other than a couple small novelty bags.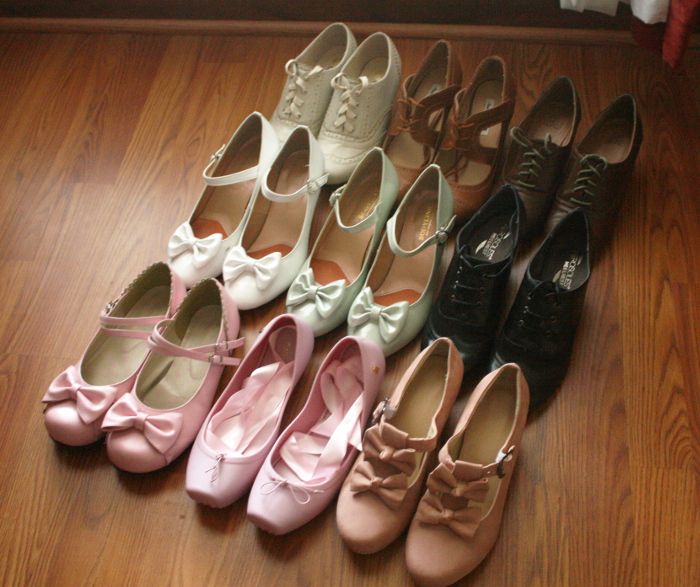 Also guilty of reusing the shoe picture. Same story, no new lolita/loliable shoe acquisitions worth cataloging.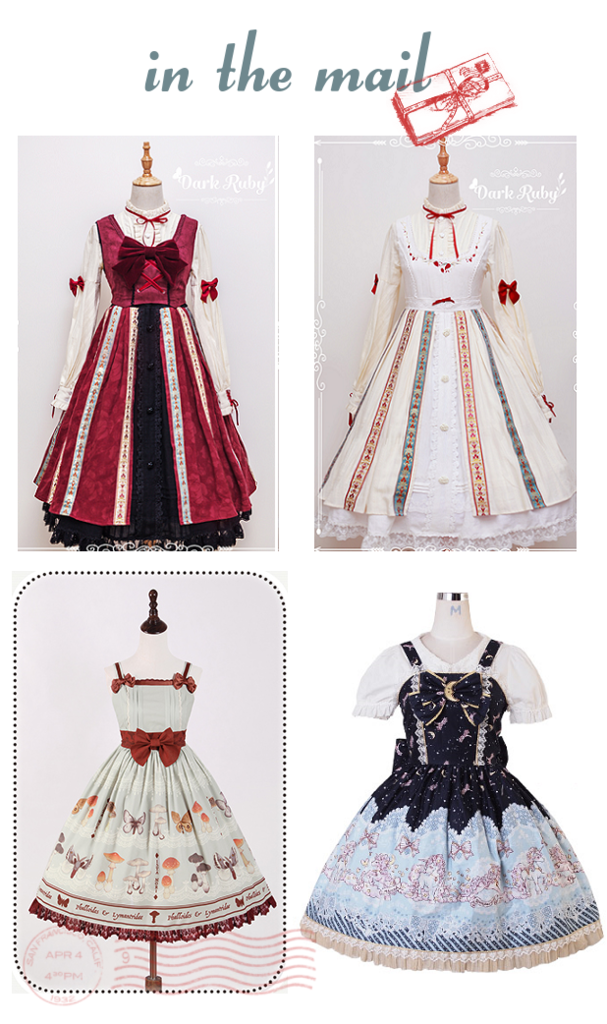 Top row:
Dark Ruby (Taobao brand)
Song of Bagpipes short versions
While looking up the English name of this series, I came to the horrid realization that the vest was not included/a separate item, and the preorder has long since closed. I may sell these dresses, so let me know if you're interested.
Bottom row:
Ista Mori Phalloides and Lymantriidae
,
Bodyline Unicorn JSK (L579)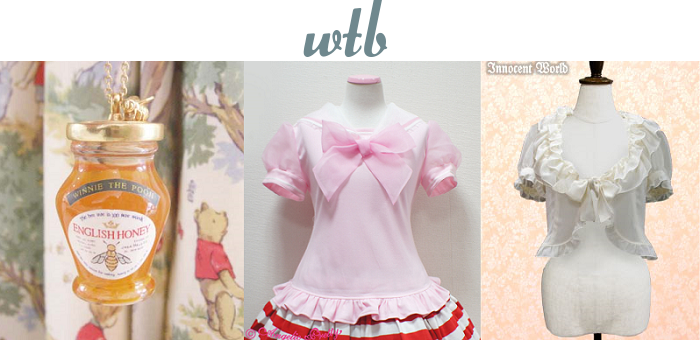 Top:
Jane Marple Winnie the Pooh Honey Bottle necklace, Angelic Pretty Fairy Marine Cutsew pink, Innocent World Chiffon Frill Bolero size L
Bottom:
Either cut of Emily Temple Cute's Bambi print dress in brown
Aspirations for 2017: Still more fawn items, some dang red shoes (I keep putting this off), still making custom jewelry to match coords, acquiring the remainder of my must-have dream dresses/items, and filling in gaps in general.
Follow me to see my coordinates and inspiration:
Instagram
Tumblr
As always, thank you for taking the time to view my wardrobe this year,