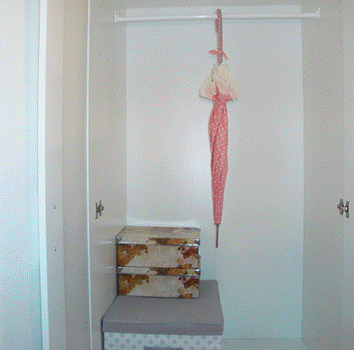 Hi everyone!

It's been another year to open my wardrobe for you. Because I have a 3 month old girl to take care of I only took pictures when she was sleeping aka I only had pretty bad lightning in the evening. I tried my best to compensate with detail shots.
My wardrobe has pretty much grown a lot. It's more cohesive than before and I try to continue that way.
Also in two months ahead I will be moving from this place, so I need to refrain from buying anything on request from my mother as I need a kitchen and a lot of new furniture xD I never knew that curtains would be so expensive because 200 Euro+ I've only spent on dresses so far xD

As you will see, my wardrobe is mainly very casual and easy to wear pieces (And I finally took the opportunity to do that kind of GIF in the beginning xD). Last year I tried to wear Lolita very often even though I was pregnant and I even got the chance to attend an event in Berlin in my 7th month. At the moment I can't wear Lolita at all, because my little girl is very demanding. I love her really very much and I hope when I grow old she wants to inherit my stuff :')

So enough talk, here are some... pictures :)





BTSSB Alice Looking Glass JSK
I'm usually not very fond of Alic prints but I like this one. The Alice Print is very subtle and it's a flocky print on chiffon. I only dislike those bra-straps.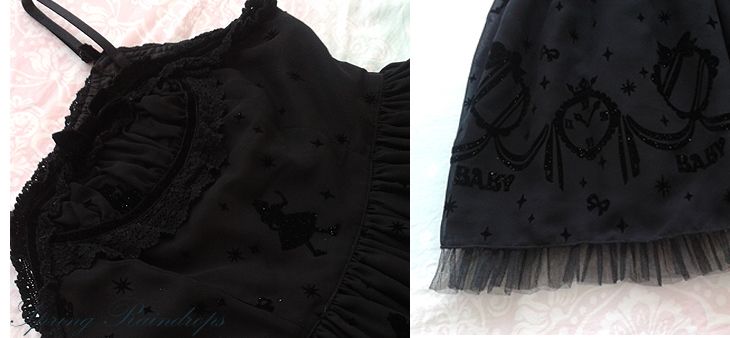 Angelic Pretty Dolly Cat Low Waist JSK
One of the newer additions in my wardrobe. I'm also one of those people liking cat prints a lot and I never thought I'd be able to own this one too. Low waist cuts are really flattering and good to wear casual. Blouse by a.r.w.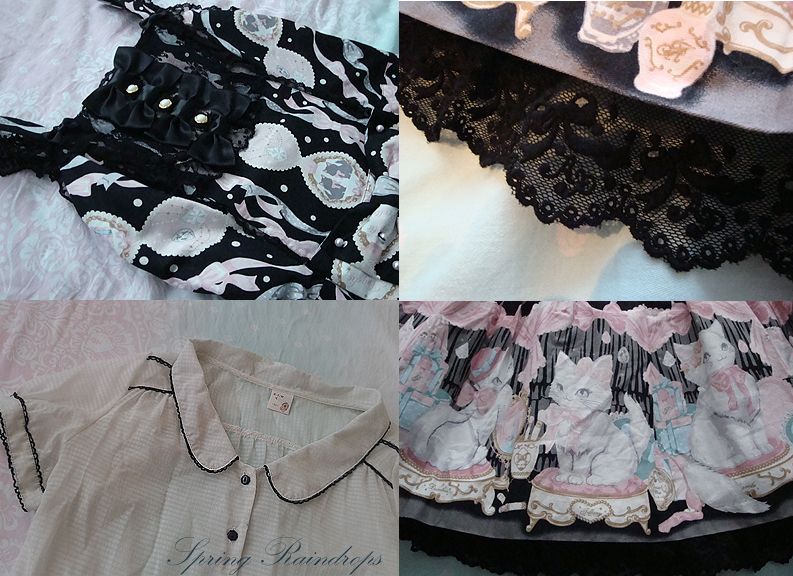 Angelic Pretty Navy Girl JSK
I'm not sure keeping this dress. I kind of feel that it's not really my style. It's very pretty and so, but I do not feel me in it. I never wore it outside so far. I paired it with a Bodyline blouse as it fits this dress best.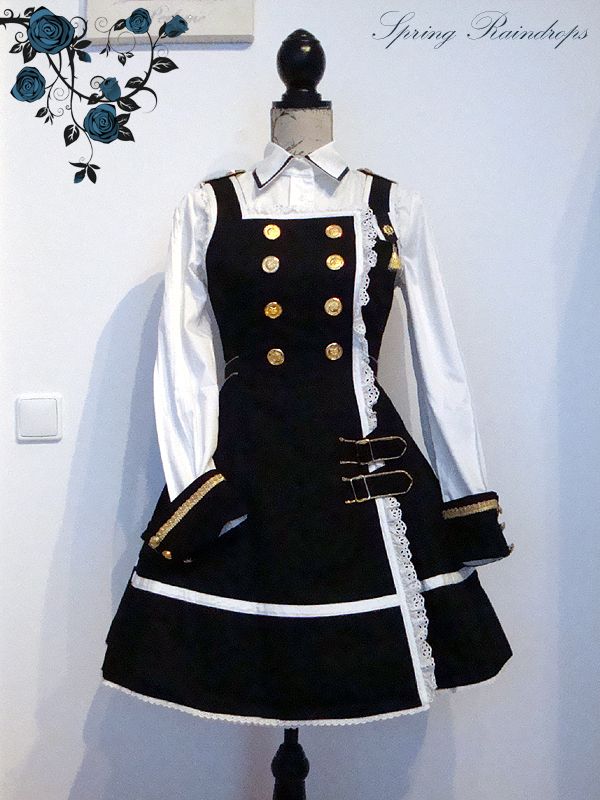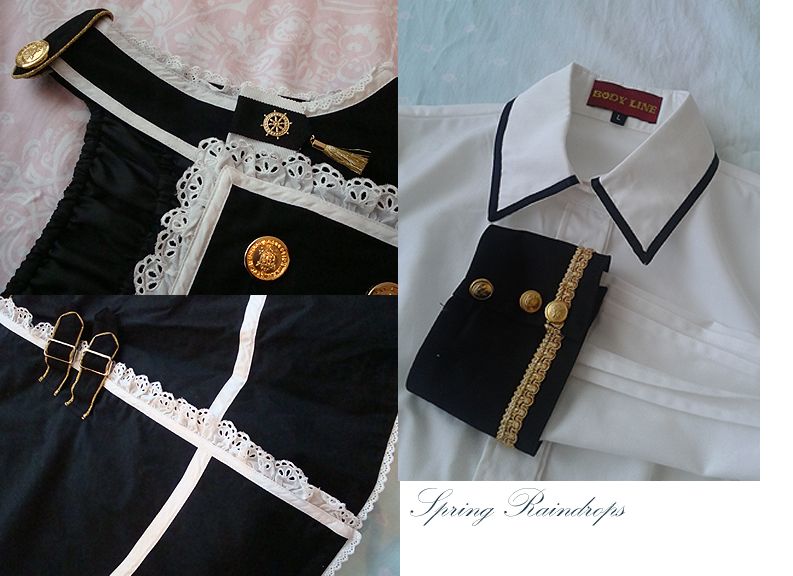 Bodyline Bolero Style OP
I bought this back then when I was pretty big and pregnant. Now it fits quite losely. I hope to find an oportunity to wear it sometime.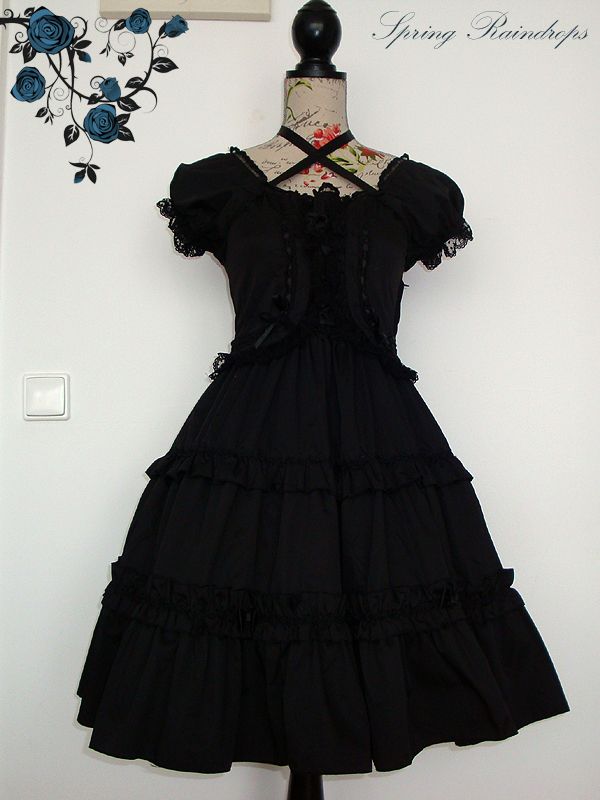 Alice And The Pirates Monochrome Rose JSK
This is such a pretty dress but the shirring is very, very tight. I like the flocky print paired with the grey and black pattern.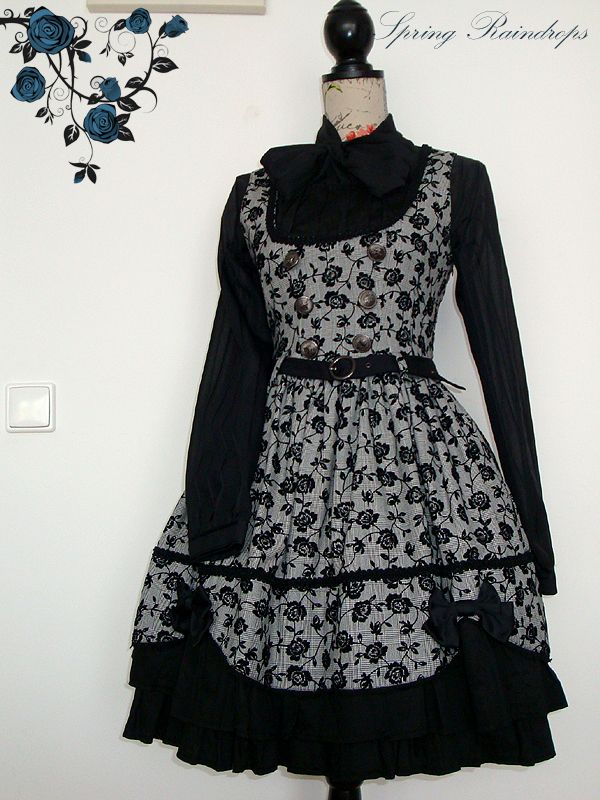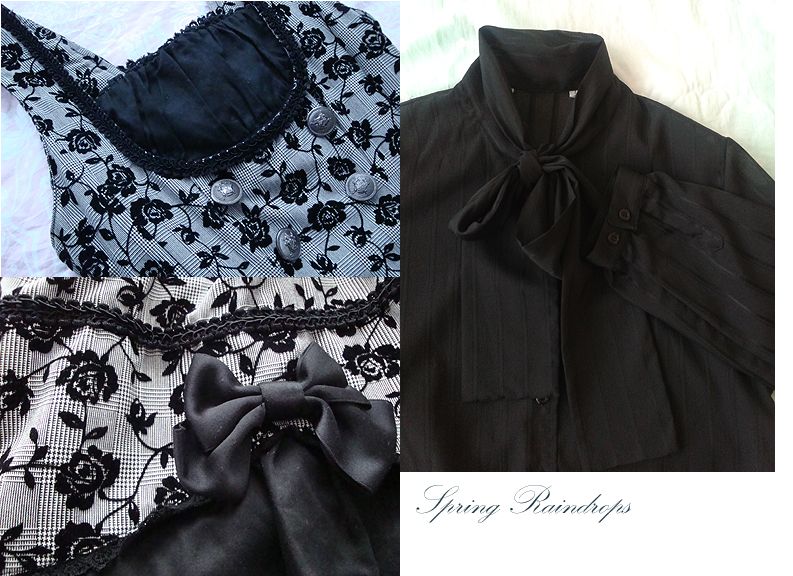 Metamorphose Sailor OP
This dress is special to me because back then I modelled it at th Meta TP in Vienna. And it's very comfortable too thanks to the back shirring. There was not even a problem when I had my baby bump.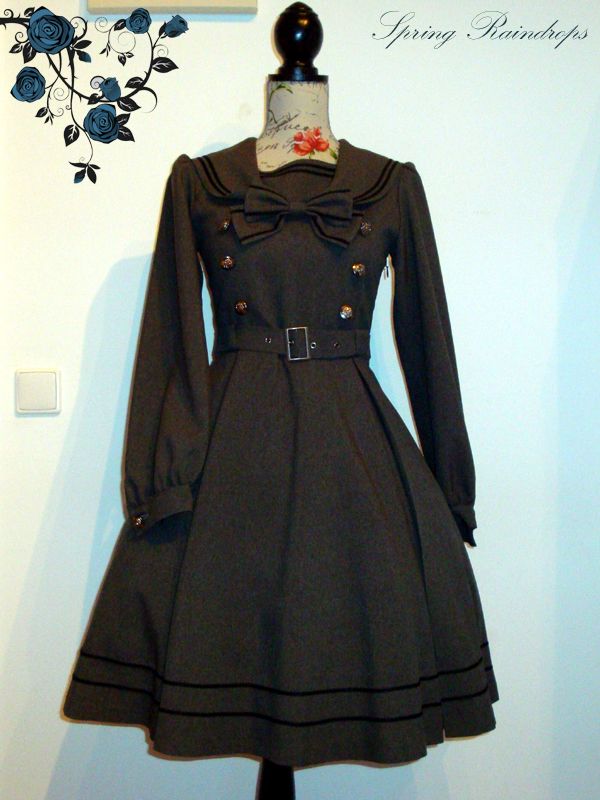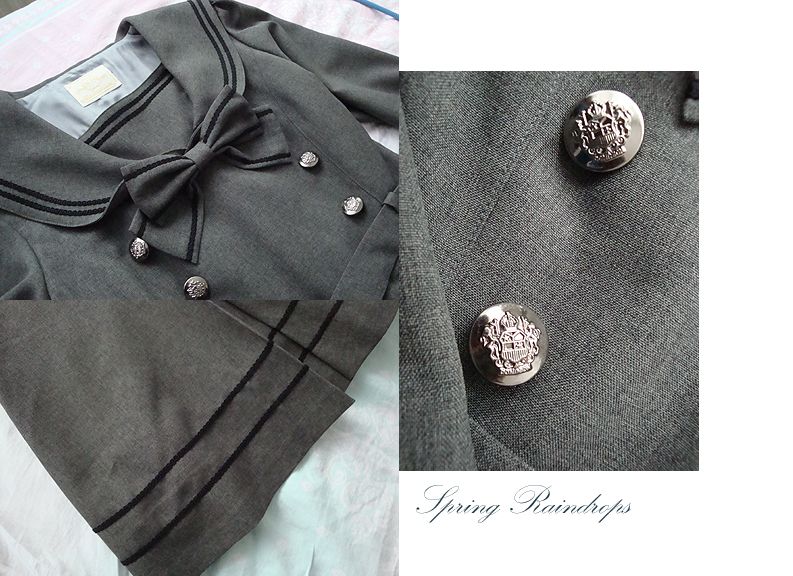 BTSSB Milky Way JSK
I wanted to wear this for Christmas but I guess it will be worn this year's Christmas when I stopped breastfeeding (guess I'm all about my baby atm).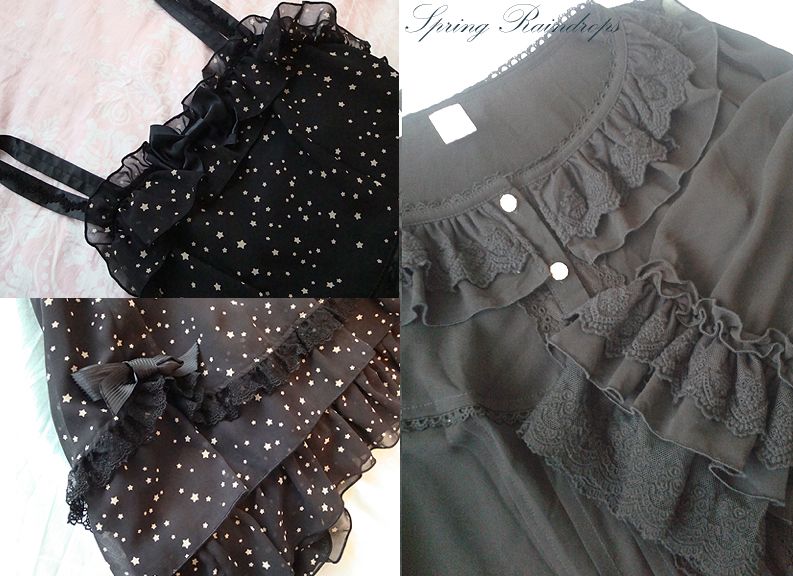 Bodyline Teaparty JSK
I've had this pretty long now but it has not the most flattering cut. It's the first dress I've ever twinned with a friend so I do not want to let go of this.




BTSSB Tulip Bouquet JSK
Definitely a fav dress. I can't wait until my boobs shrink to wear it again. Unfortunately it has no shirring... Blouse is from Infanta.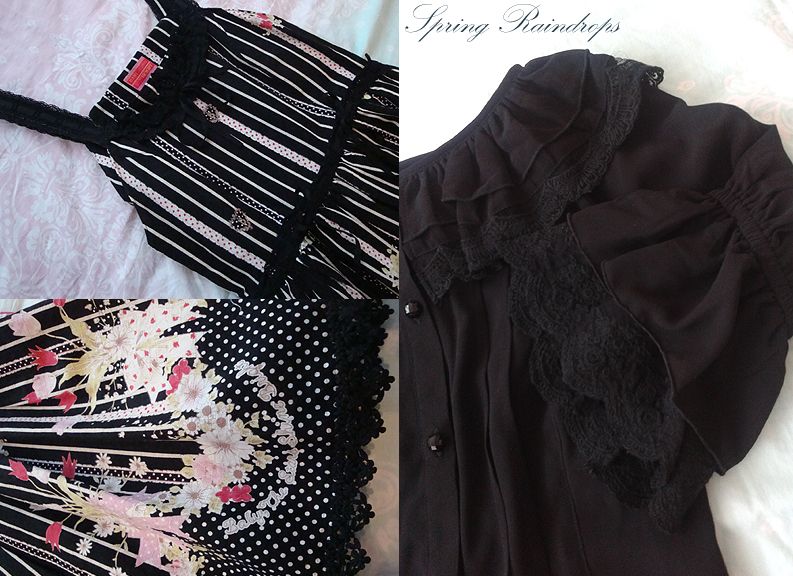 Angelic Pretty Vanilla-chan Round JSK
I love this dress though it's another no-shirring dress. Fuu... but there will be a time I'm going to wear it again. Bolero by Yilia (Taobao).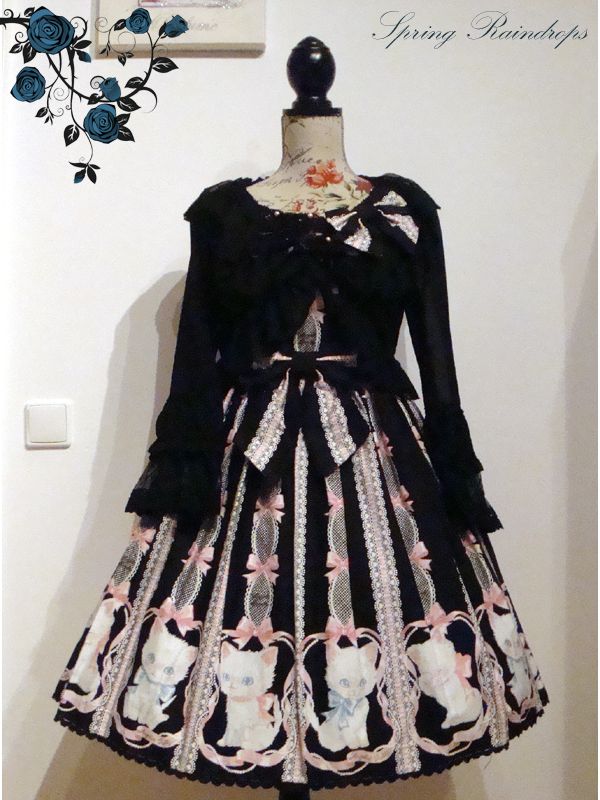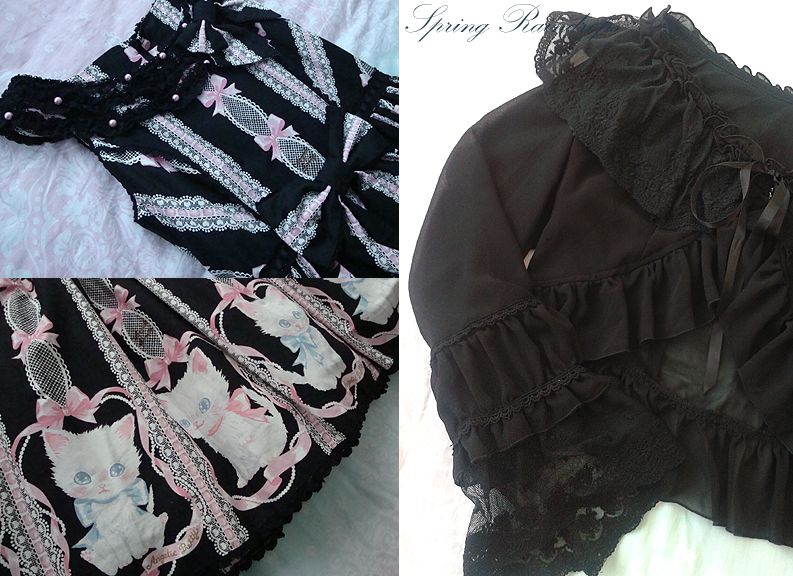 BTSSB The Wizarding Platform〜Steam Engine and the Illusion of the Foggy Town JSK
I'm honest I had to look up that name. For me it's just the Hogwarts Express dress. I love the HP series so I wanted it and it has an interesting cut. Paired with a Yilia blouse (Taobao).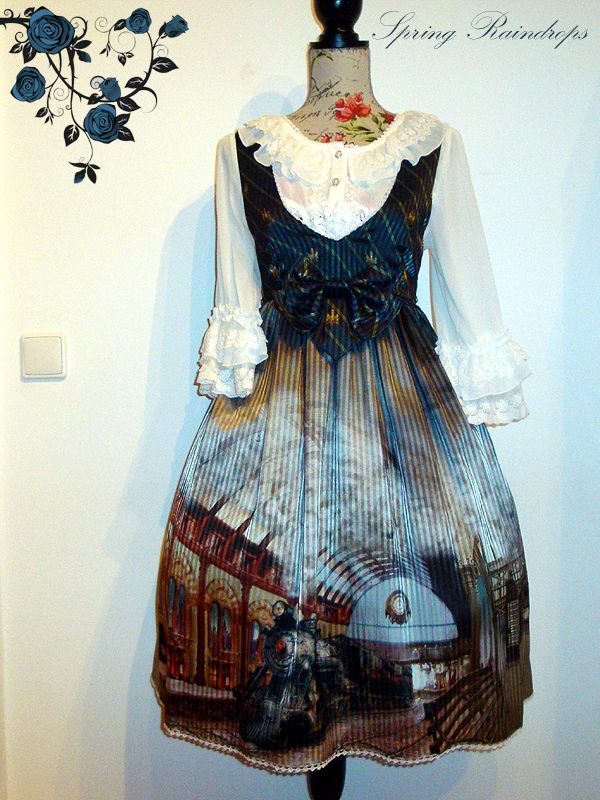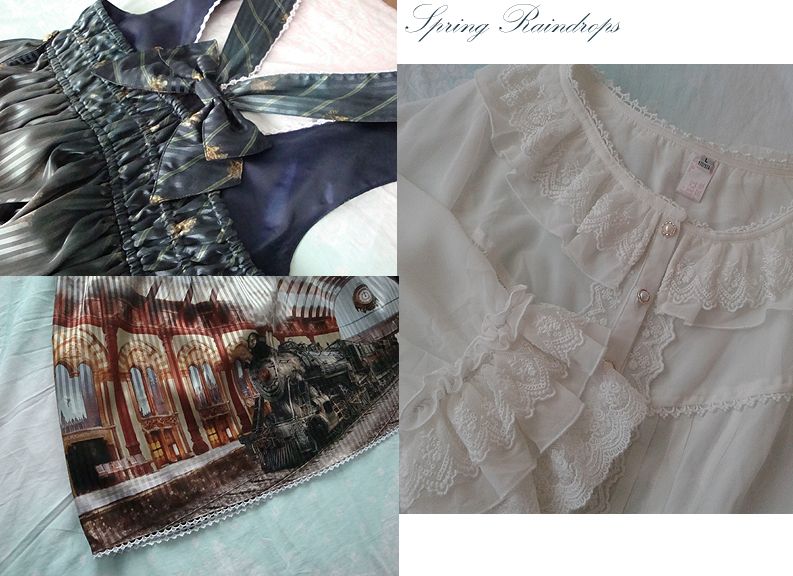 Alice And The Pirates Victorian Cards JSK
Another no shirring dress I won't ever sell. I had my last exams wearing it, nice memories =) Cutsew is from Taobao.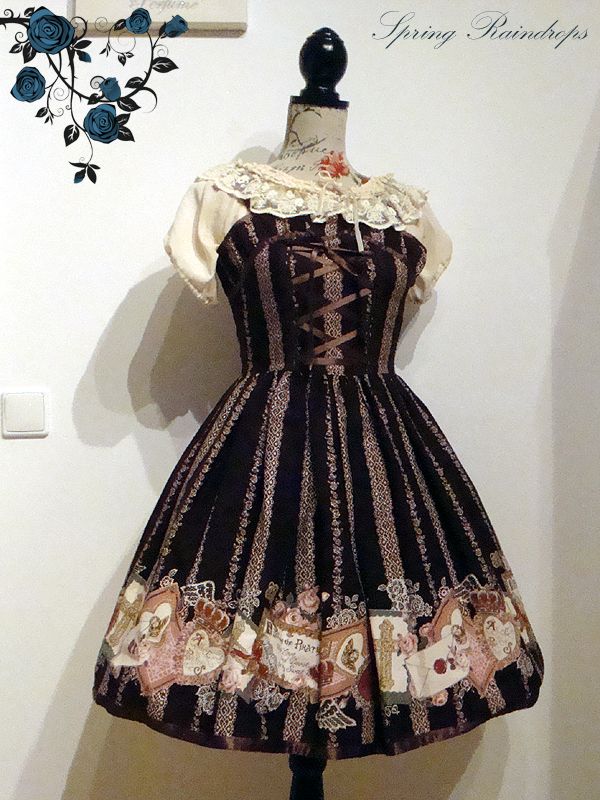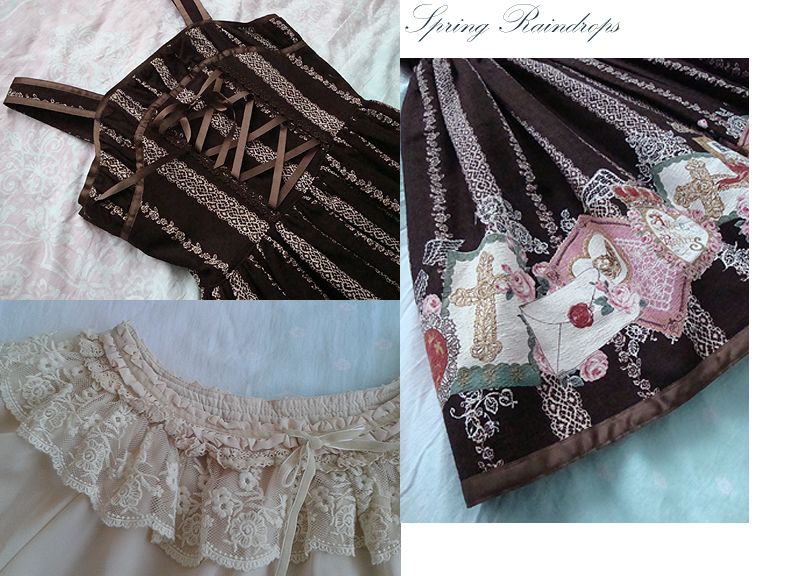 Angelic Pretty Classic Fairytales JSK
Newest addition to my wardrobe. I saw and I bought it. It's very very detailed and I love it. Fun fact: A friend wanted it as well and bid on it but I simply bought it with the bbuyout price and snatched it away >_<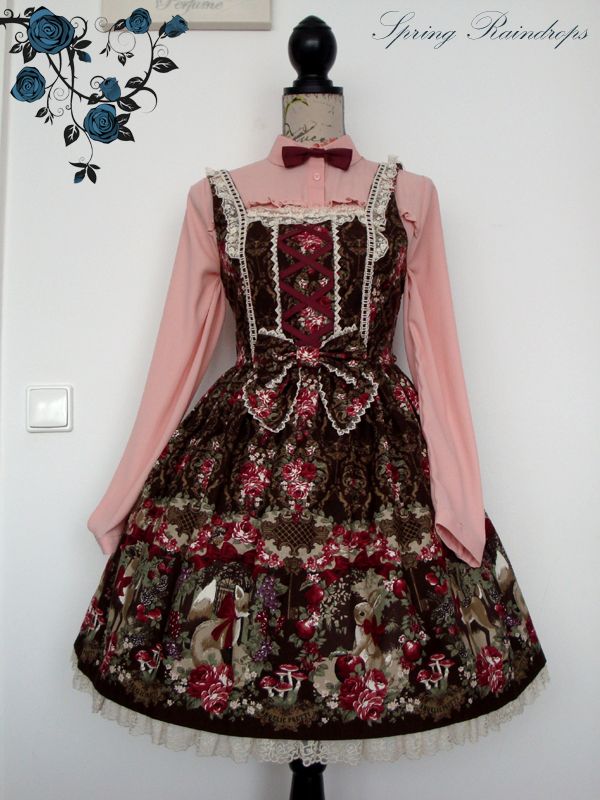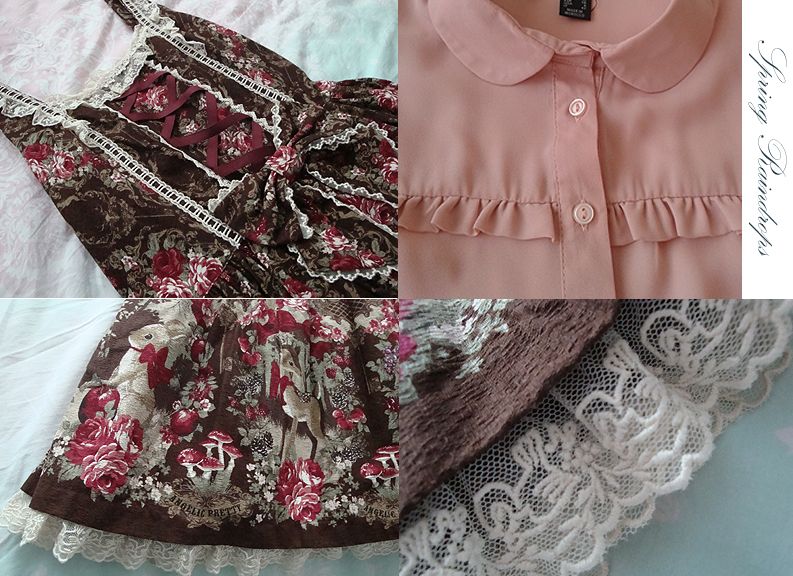 Innocent World Night Bear JSK
It' zipper is kinda broken so I haven't worn it yet. But it's really cute and has sturdy fabric. I'm usually not a fan of bears, but this one is an exception. Cardigan is from Emily Temple Cute.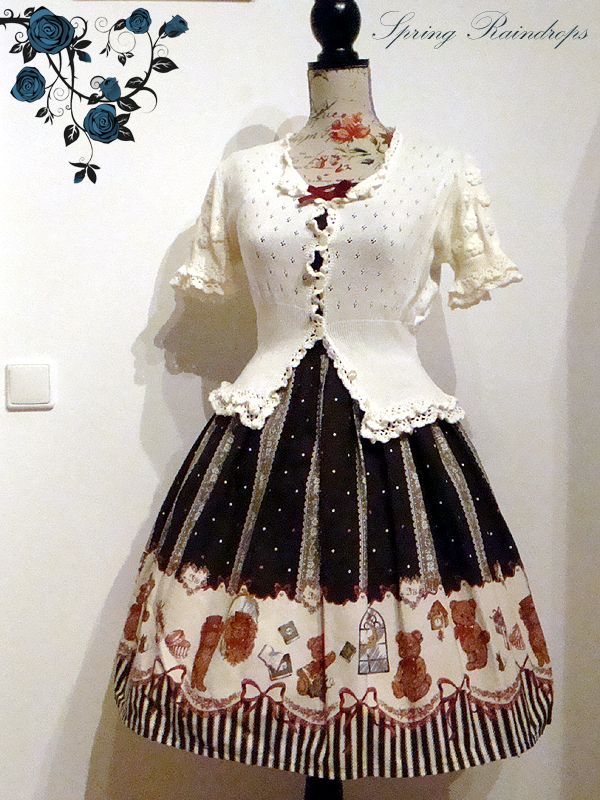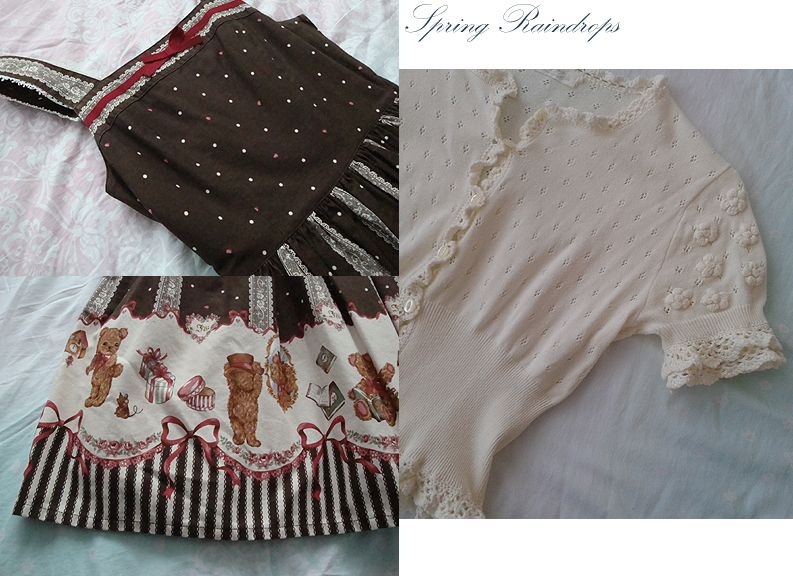 Metamorphose Window Print Underbust JSK
I bought this from a friend and never regretted it. Red is a bit lonely color in my wardrobe xD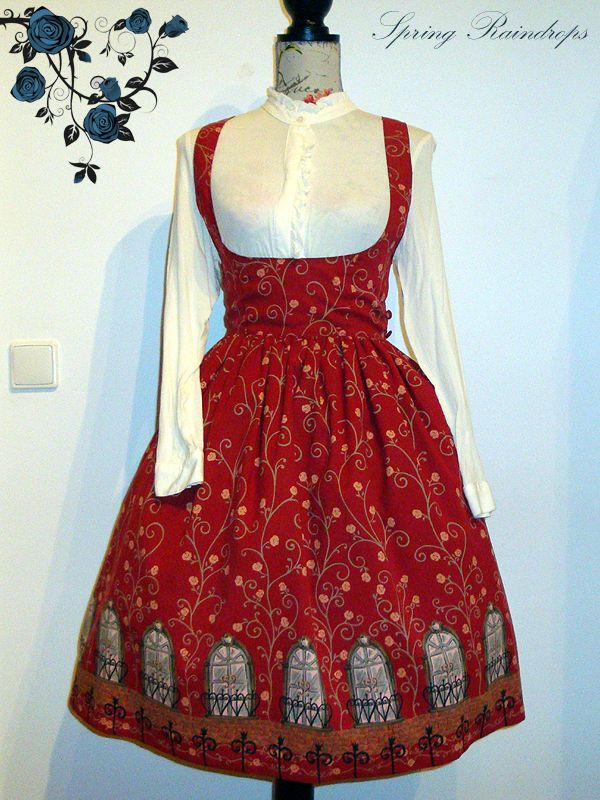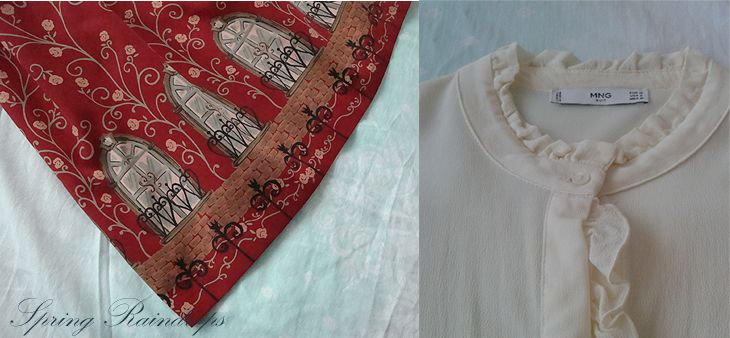 Metamorphose Noble Tea JSK
This is a very light dress suitable for summer. I never have worn it and I hope to wear it soon. I do not have many lavender items.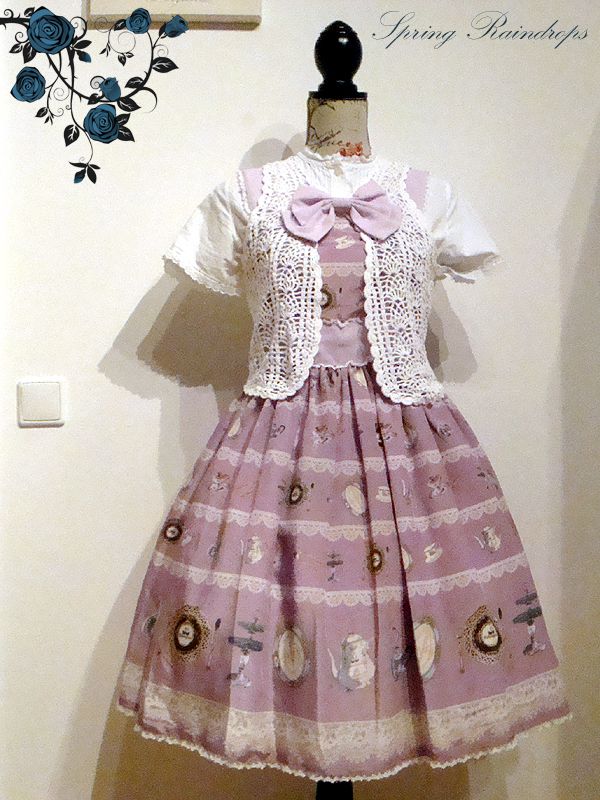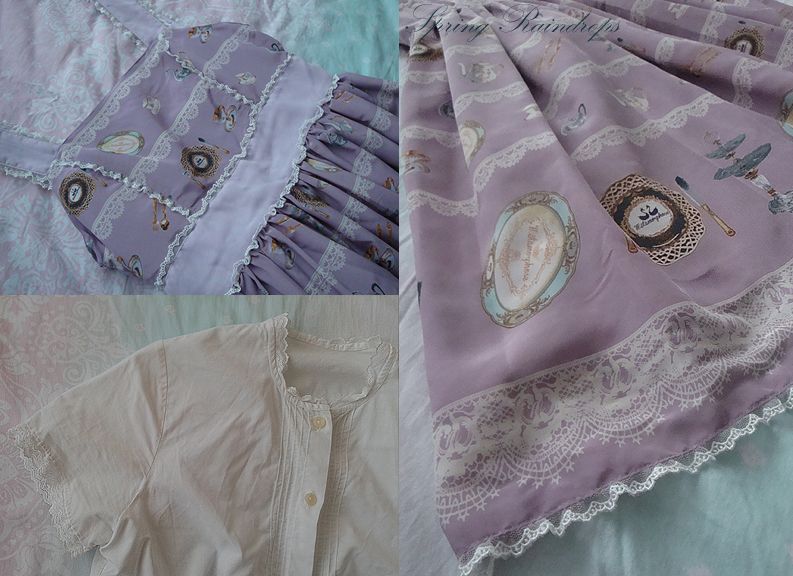 Angelic Pretty Blue Tartan Low Waist JSK
It's very blue and stands out. I also liked how the back looks and it's good for casual wear as it's short. I wanna be pretty in my Angelic Pretty xD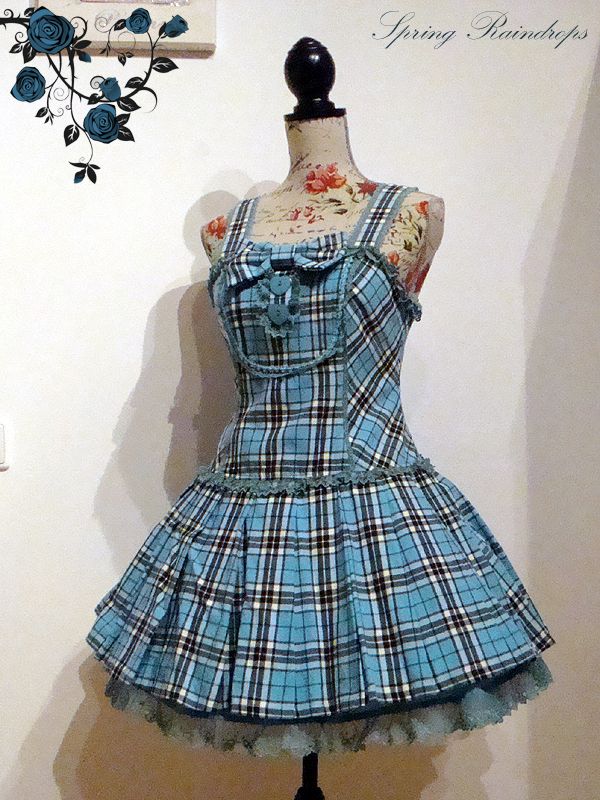 Innocent World "Bertie" Bertille Rose JSK
I found this at Violet Blue for a good price. I need to add more underbust dresses to my wardrobe. No more boob problems xD The bip is detachable which is always good :)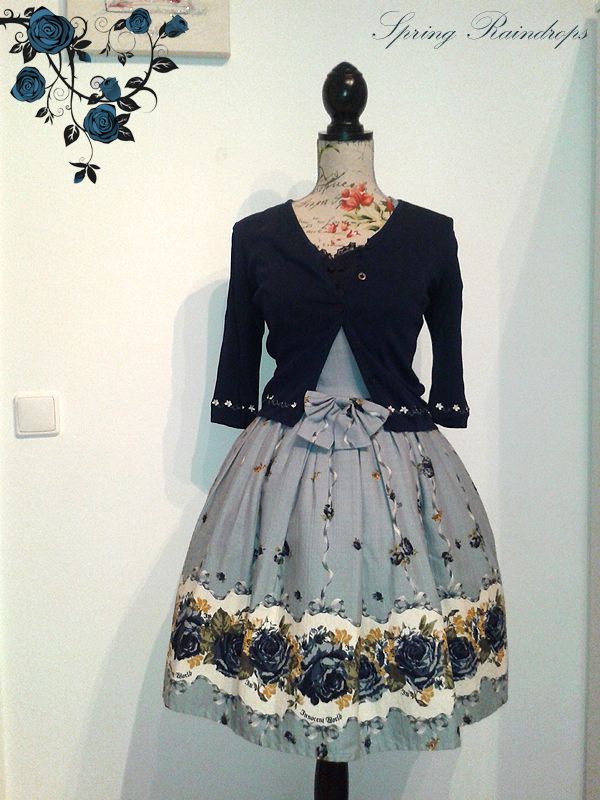 BTSSB Ribbon Ribbon Salopette
Another casual dress. I like that it has practical pockets and good shape on it's own. It's not too short. Paired with my Chess Story blouse.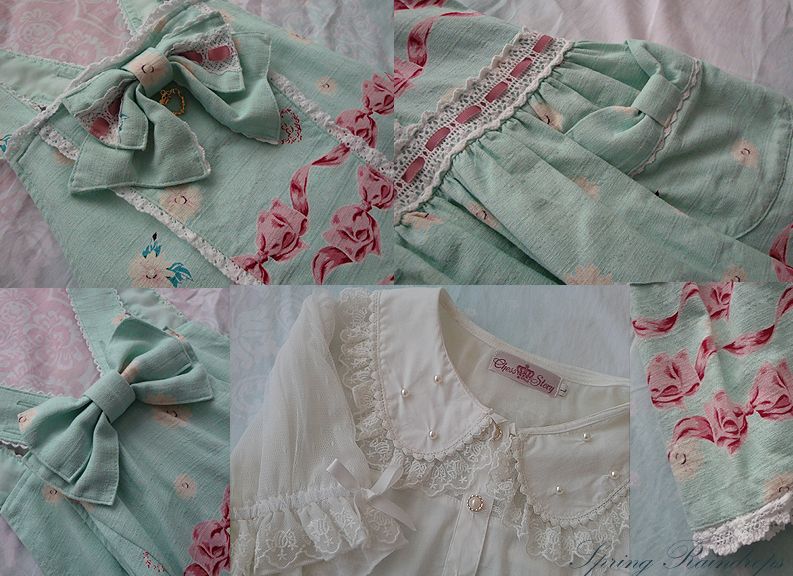 BTSSB L'Oiseau Bleu JSK
A really loved dress with a very subtle print. That's why I like to wear it a lot. Blouse is also from Chess Story.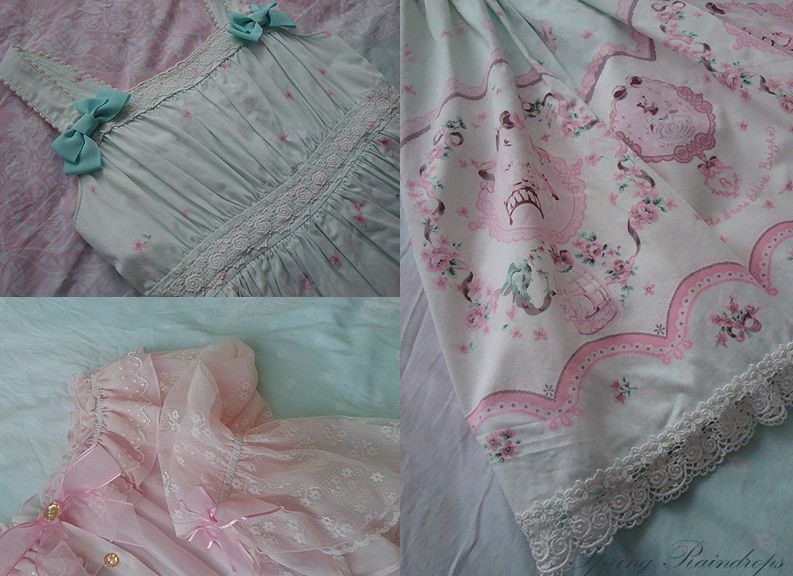 BTSSB Ronron Mimine Miel JSK
This is one of the dresses I wore to the event in Berlin. It has great details on it. Usually they go missing in pictures ;_;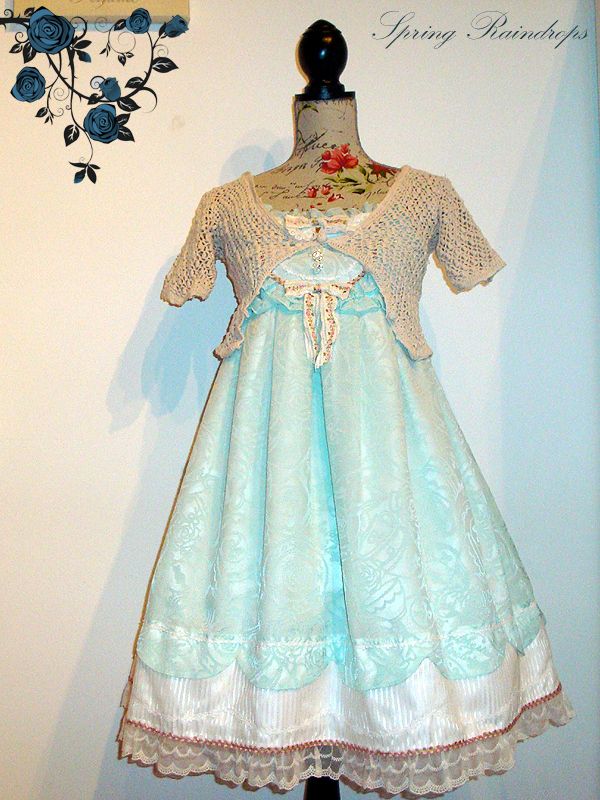 Alice And The Pirates Le Claire JSK
Here continues my love of mint. It was worn on the 1st day of the Berlin event. It's a nice summer dress, but sadly the chiffon already got some pulls... Paired with a Yilia (Taobao) bolero in white.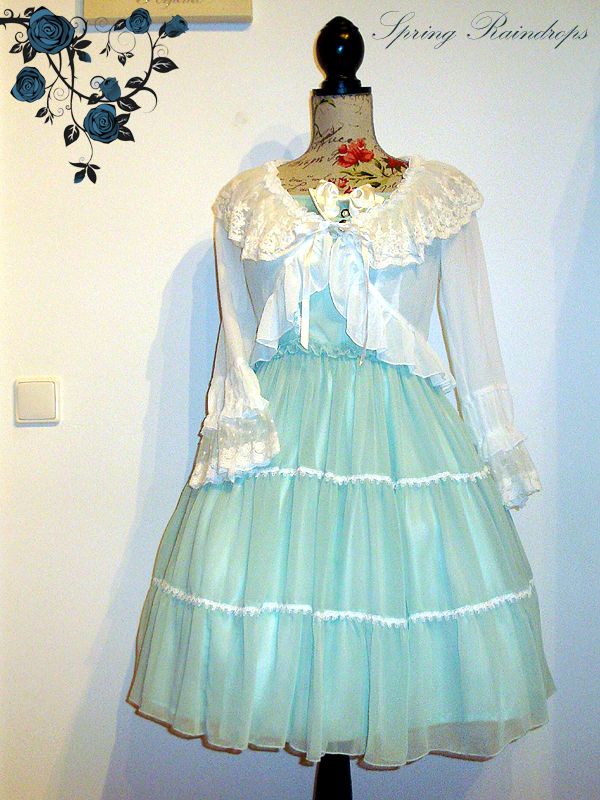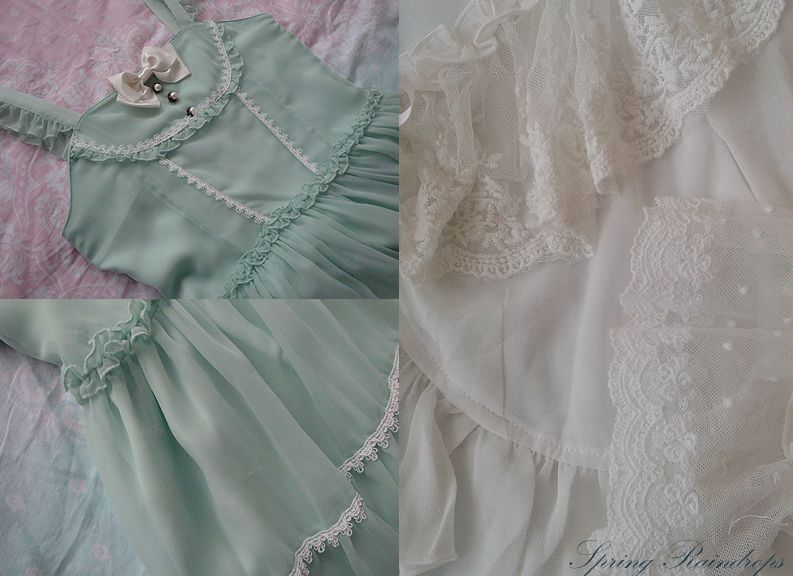 Angelic Pretty Nostalgic Karami Tiered JSK
One very easy to wear dresses as it has a built in petticoat. It just sucks this one has no zipper xD Paired with an Angelic Pretty blouse.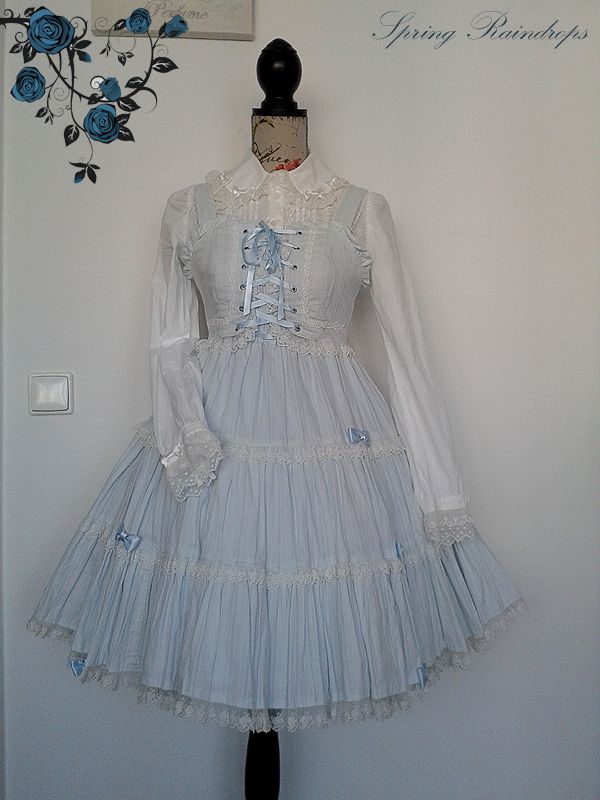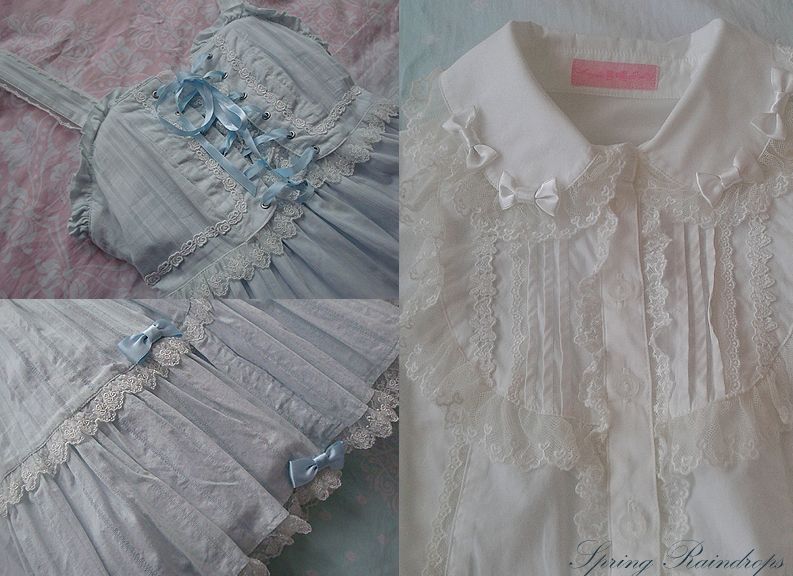 Innocent World Flora Basket JSK
I like it's pattern. You need to be close to the dress to get it. The blouse has been modified by me to fit the fashion.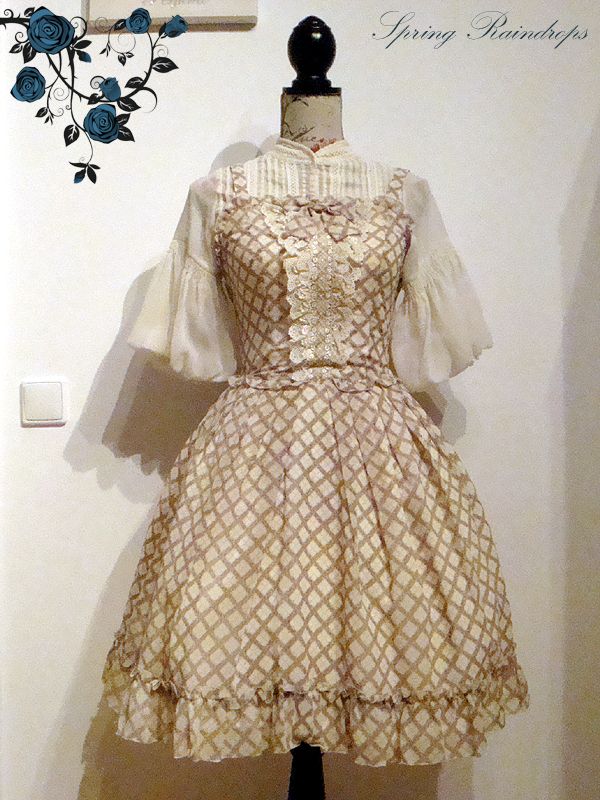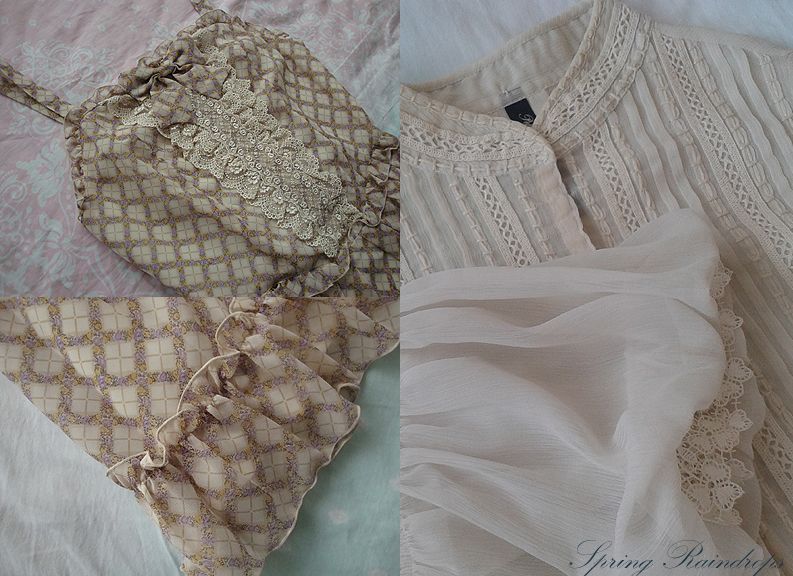 Innocent World Flora JSK
It has a nice back design and can be worn casually. But at the moment it's a boob loaf dress for me xD Bolero is from BTSSB. I bought this at the B&B back in August.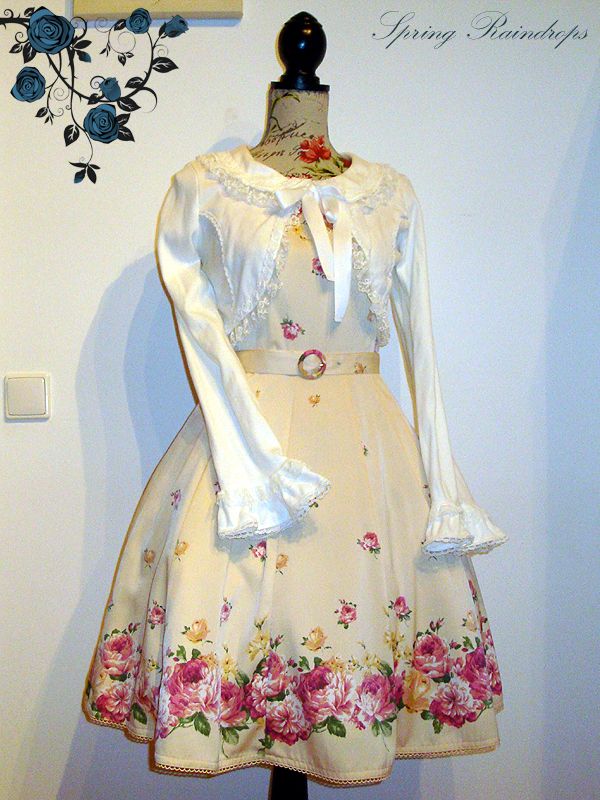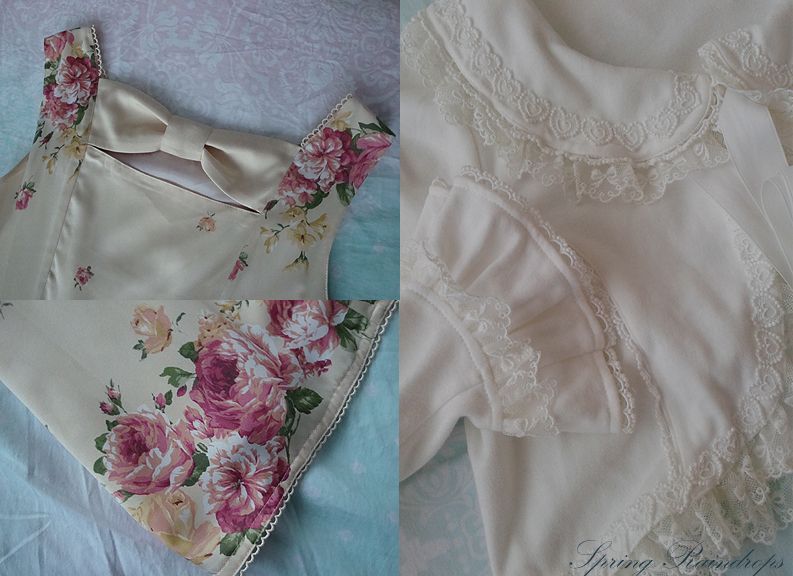 Magic Tea Party Porcelain OP
Nobody wanted to buy the dress so I have to keep it. It fits now a bit better than before. Only the sleeves are a bit of a problem because they'd need a elastic and not just stiff unmoving fabric.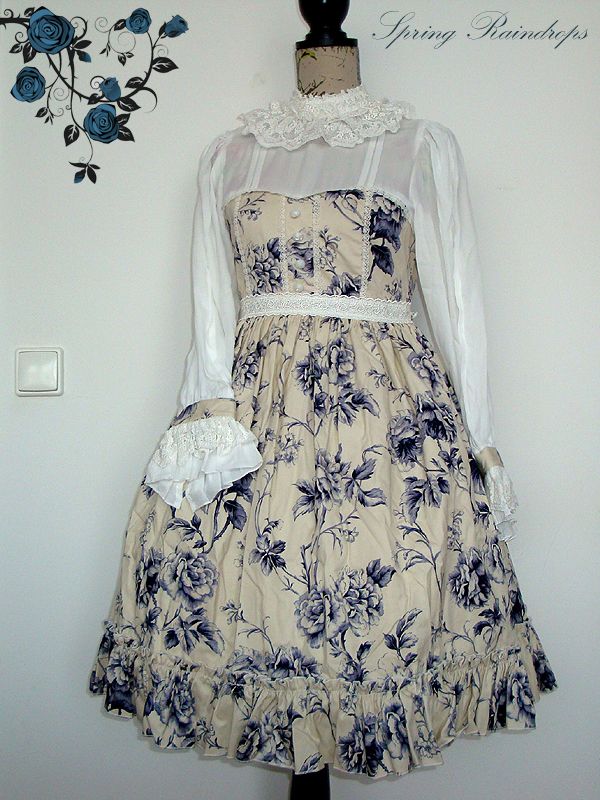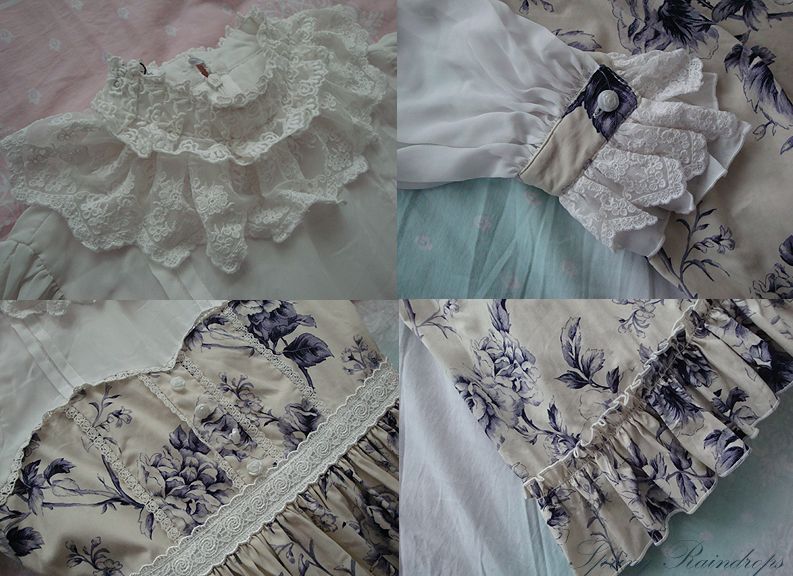 Metamorphose OP
If I find the name again I will add it. Again this one from Meta is super comfortable. Thanks to the friend who sold it to me ;)





Dear Celine Summer Breeze OP
I'm glad it's in my possession as I like to wear this in hot summers. And so pretty lace too.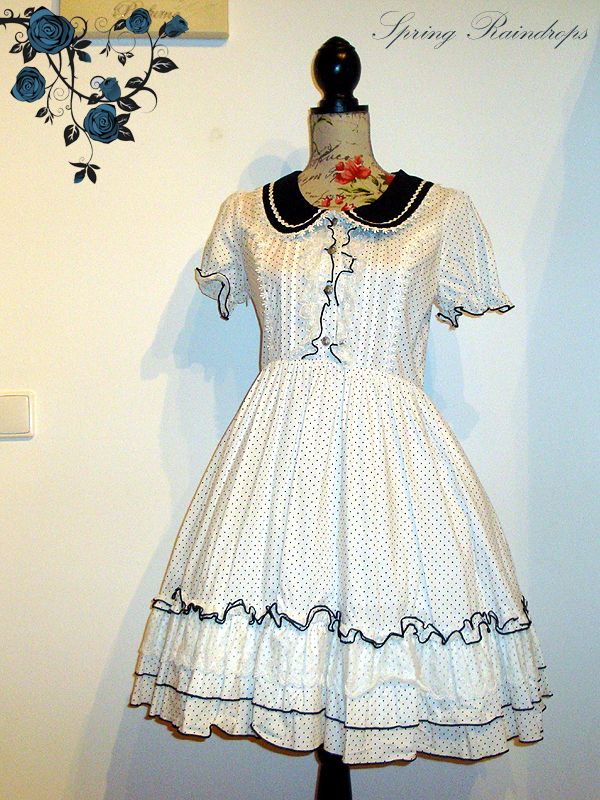 Excentrique Camisole JSK
I hope to be able to wear it in summer. Shirring is super tight and my boobs get squeezed a lot. Bolero by IW.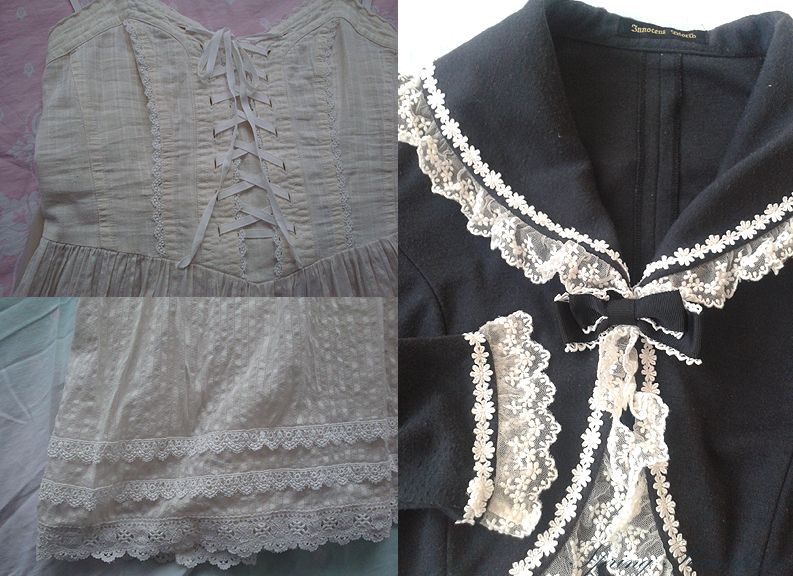 Metamorphose White Full Shirring Skirt
Usually used as underskirt bbut can also worn on it's own. Here with an sheer overdress from Little Dipper and an offbrand shirt.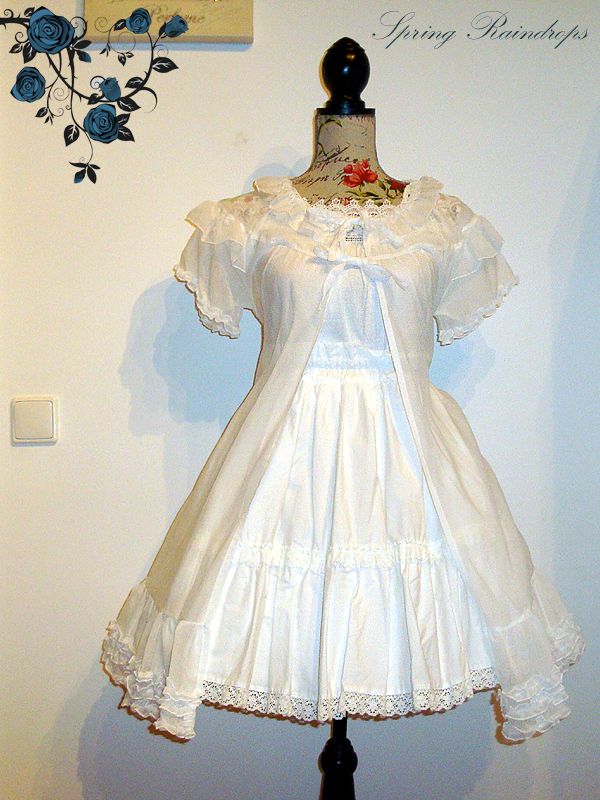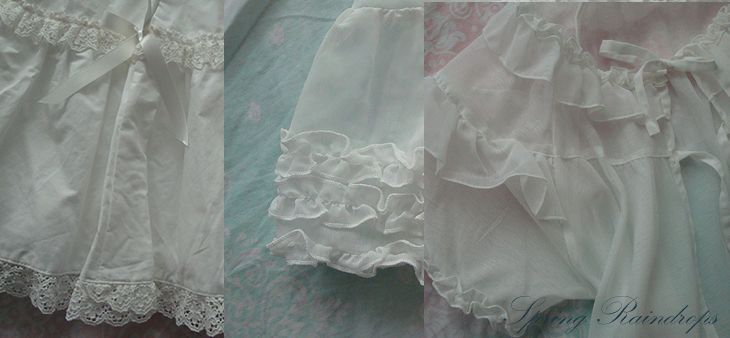 BTSSB Salon De Minette Skirt
Have I mentioned that I love kitties? ;)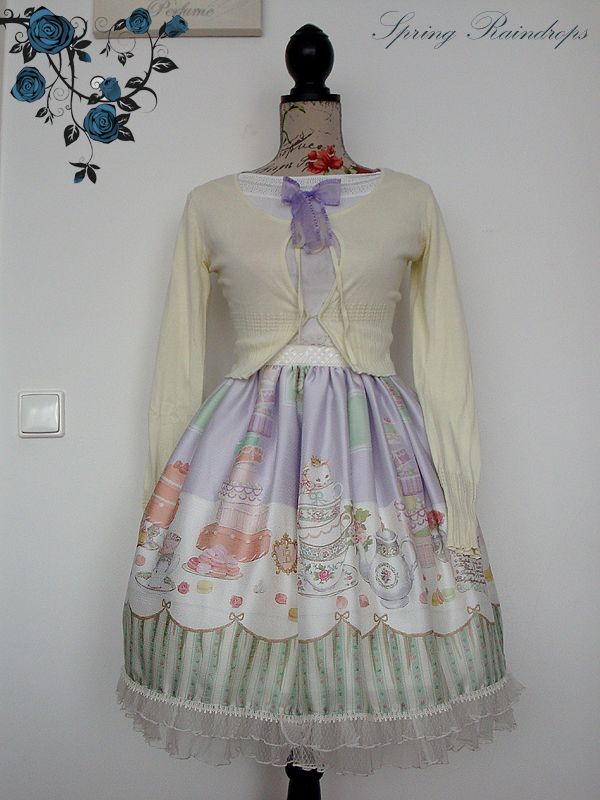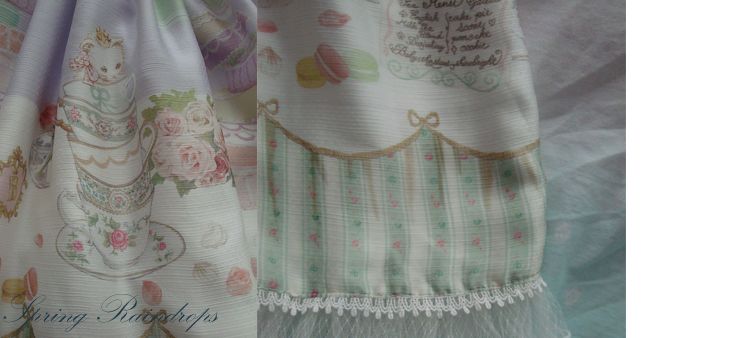 Angelic Pretty Melty Donut Skirt
Even with matching cutsew. But it's pretty short!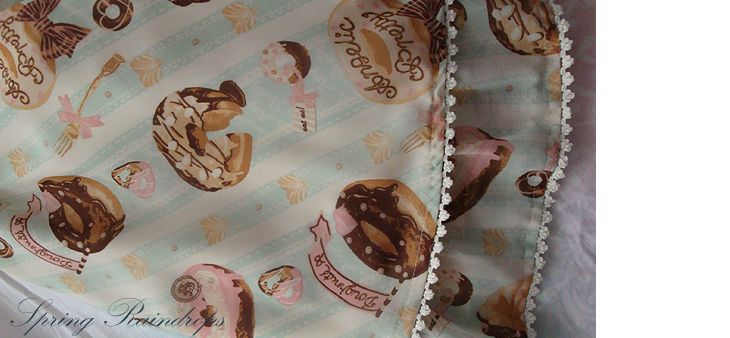 Alice and the Pirates Last Note in Faint Spring Skirt
It's very light and a little bit longer. Perfect for spring and summer :) I found the grey cardigan in a thrift store.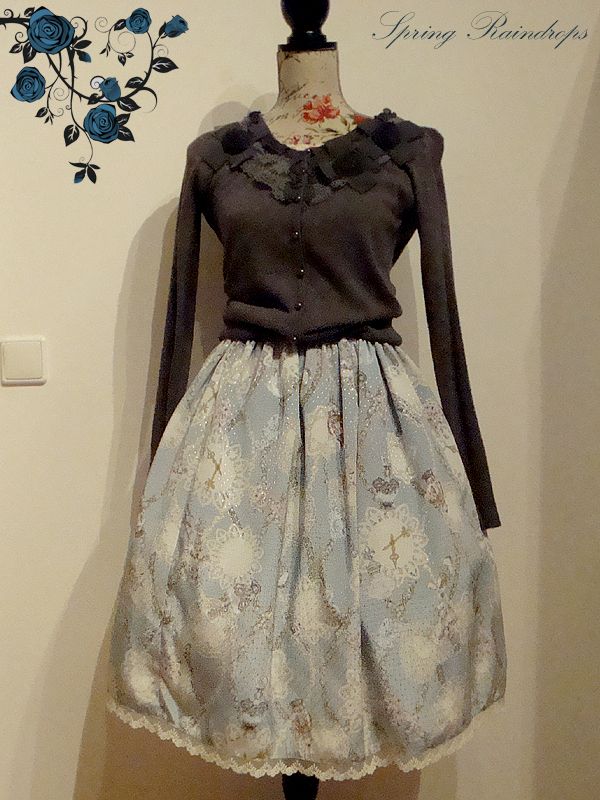 BTSSB Ranunculus Skirt
I'd like to own the JSK as well. I like how this one looks. One can never have too many rose prints or stripes :p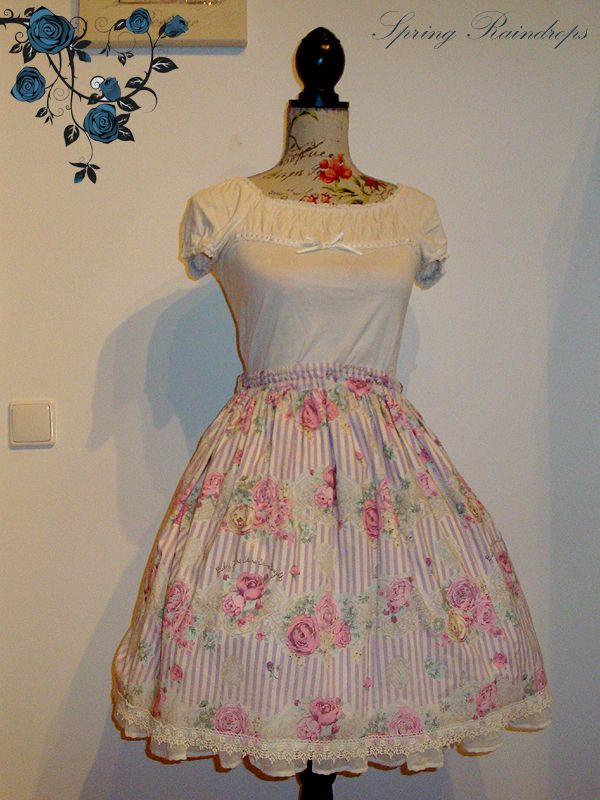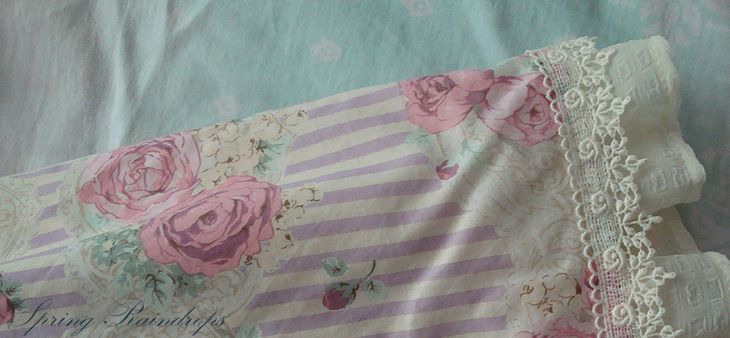 BTSSB My Favorite Things Skirt
Okay another bear exception... guilty. I need to alter the waist back. It currently has kinda 80 cm but I only have 67 cm waist xD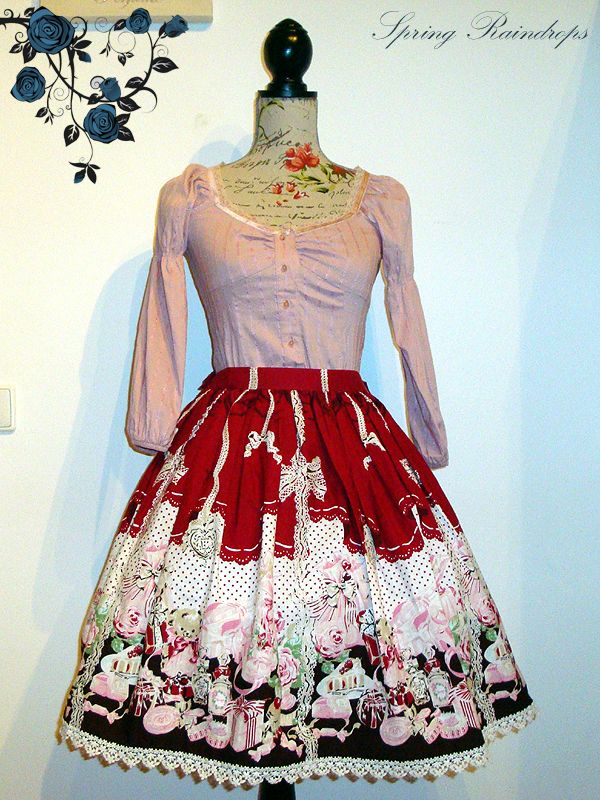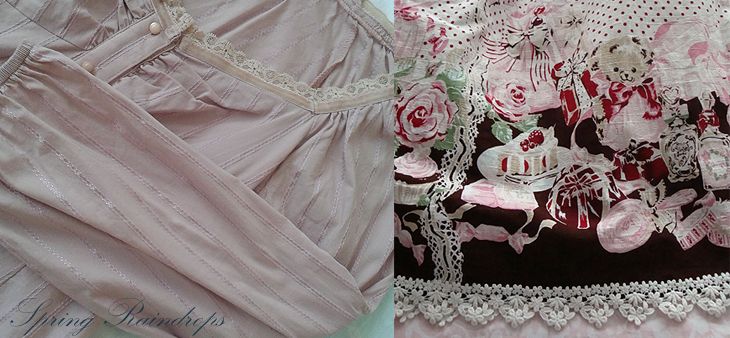 Innocent World Beatrice Skirt
Oh I love this skirt as it's comfortable. Unlike some other skirts from Innocent World the shirring even accommodated my baby bump back then :D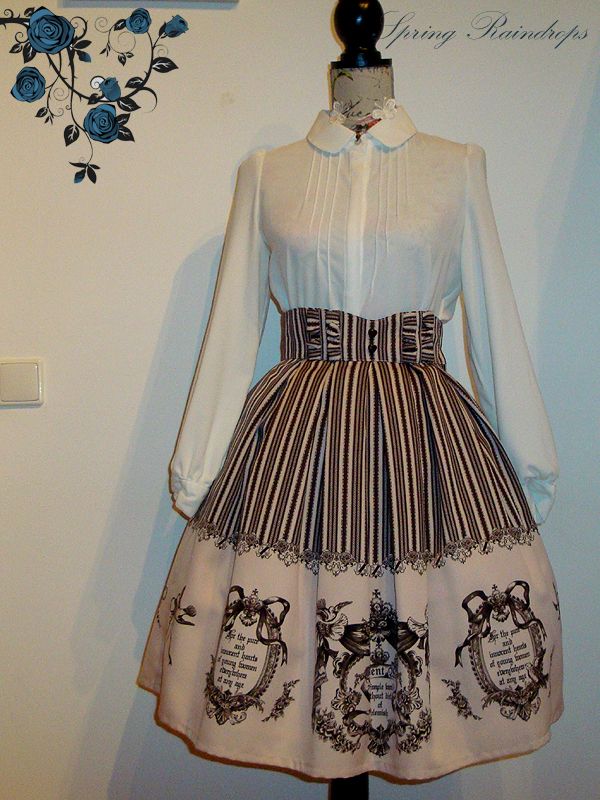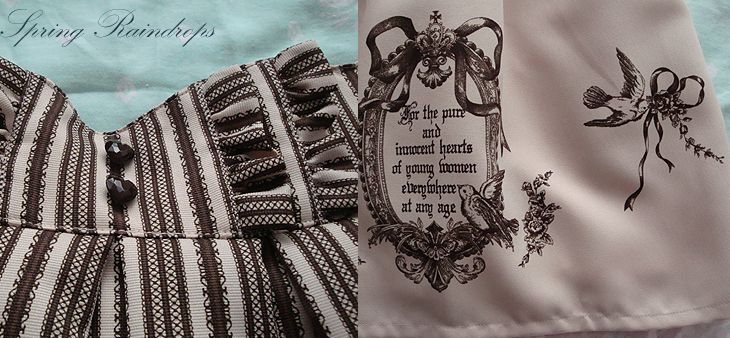 Bodyline Love Nadia Skirt
Still new, but it was cheap as f*** :p Cutsew by Innocent World.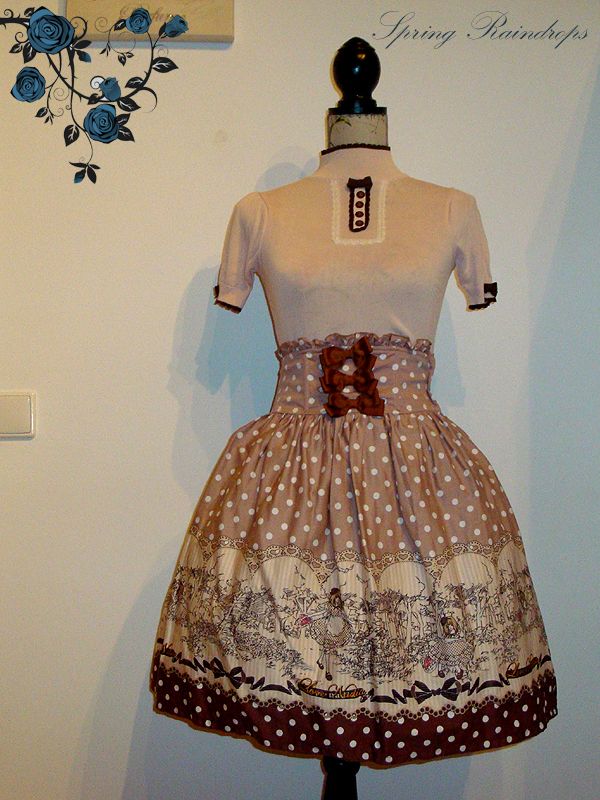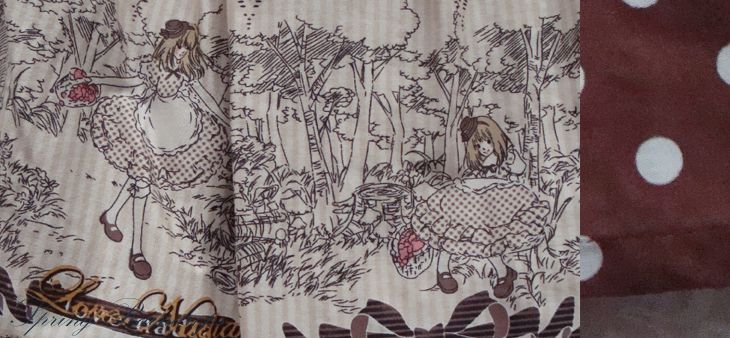 Angelic Pretty Dot Skirt
Very short, not sure if I keep it. The pink is very odd and matches nothing like the brown color.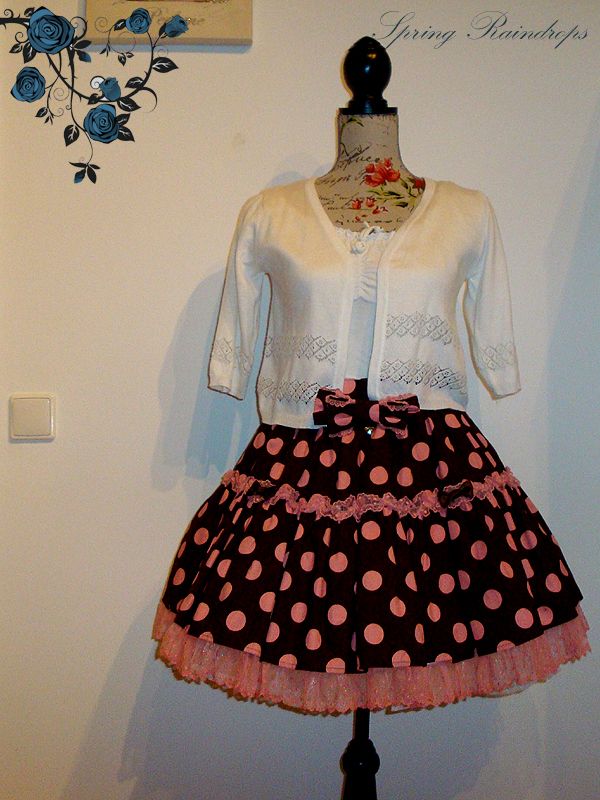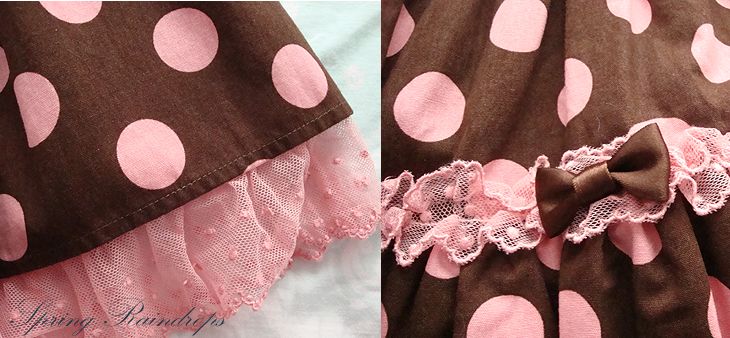 Angelic Pretty Musee De Chocolate Skirt
Finally a chocolate themed item in my closet again. And the bear is also an exception lol Jacket by Liz Lisa.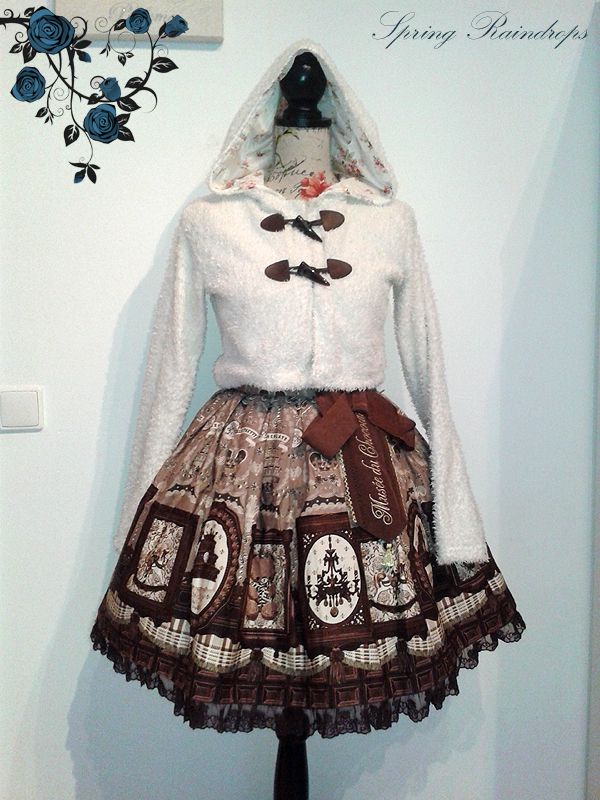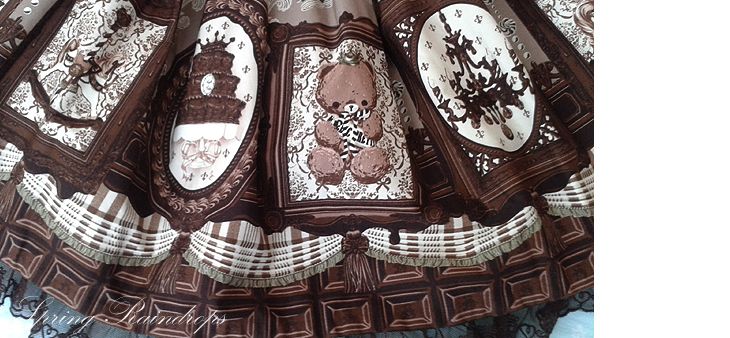 Bodyline Rose Bouquet Skirt
One word: Cheap xD
Cutsew is offbrand.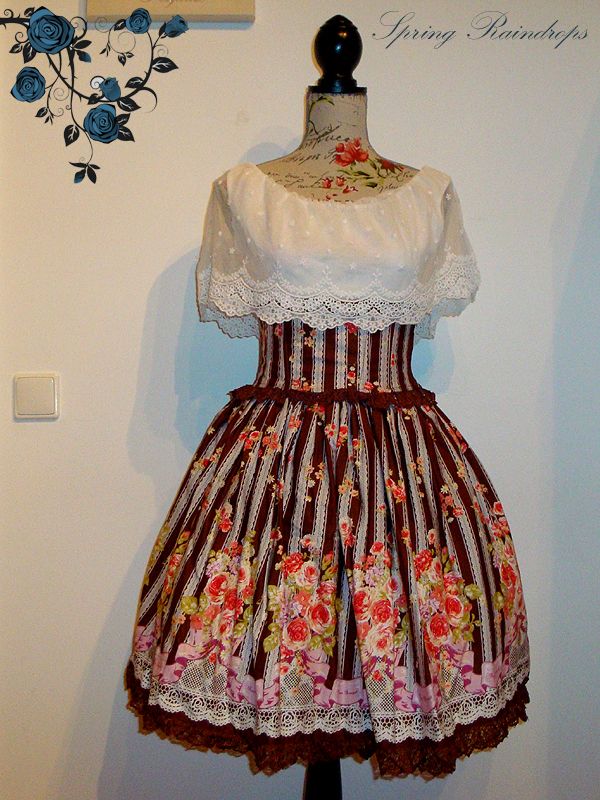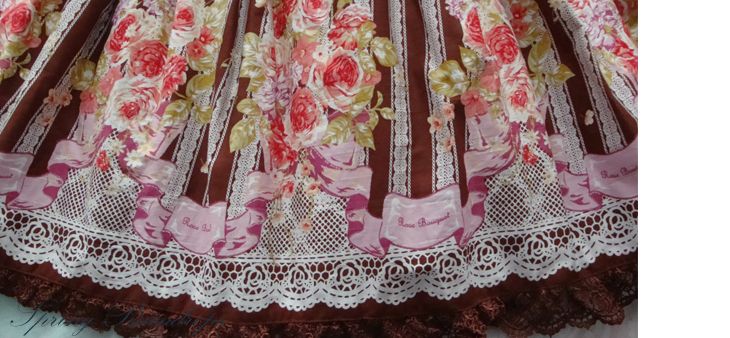 Putumayo Cat in the Window Print Skirt
Finally I own the original. Took me some time but I got it at the B&B in Berlin. Cardigan is from AATP and named "Teufel von Hameln".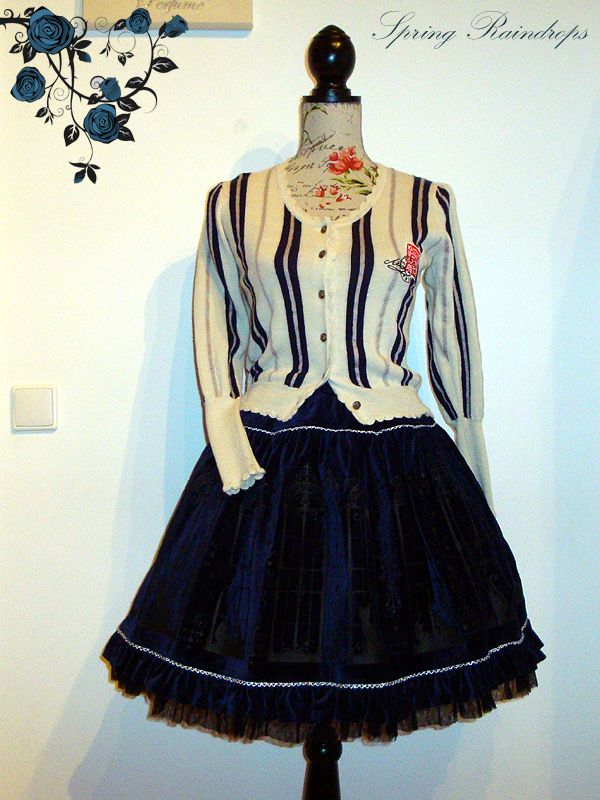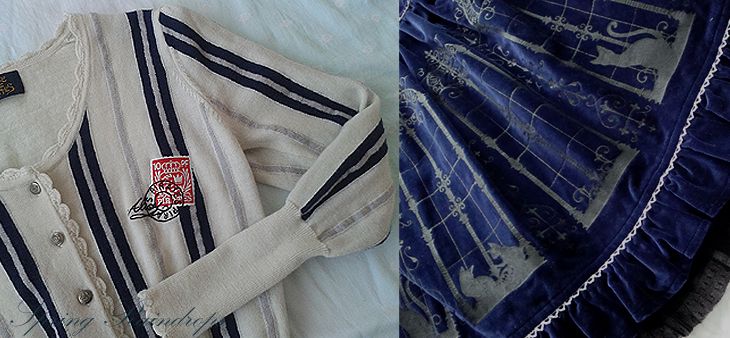 Metamorphose Suspender Skirt
Another super casual skirt. I love suspender Skirts and hopefully will find some other like this one.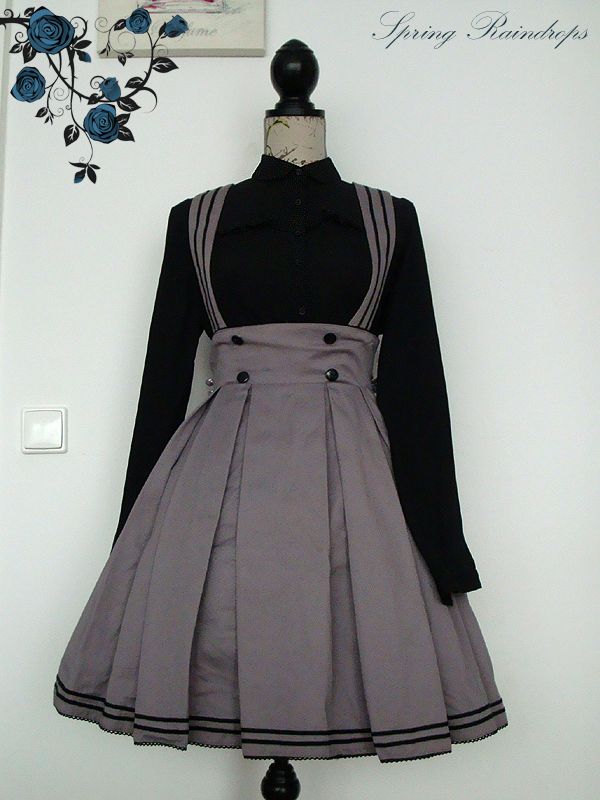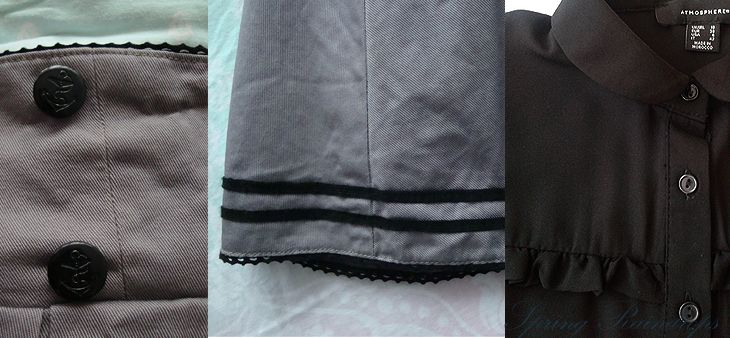 Angelic Pretty Heart Marine Skirt
Once I sold this skirt, regretted it and now I own it again :)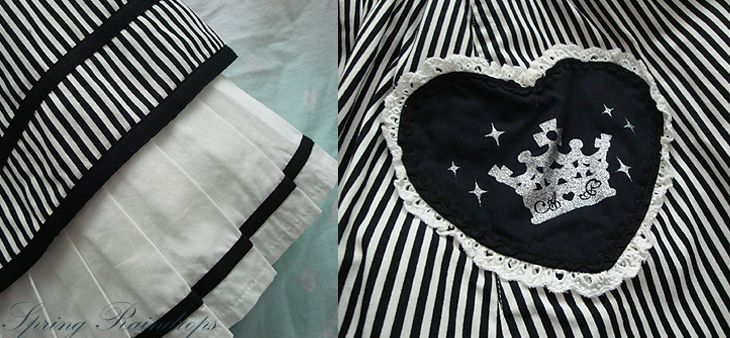 Bodyline Rose Boudoir Skirt
Cutsew by Innocent World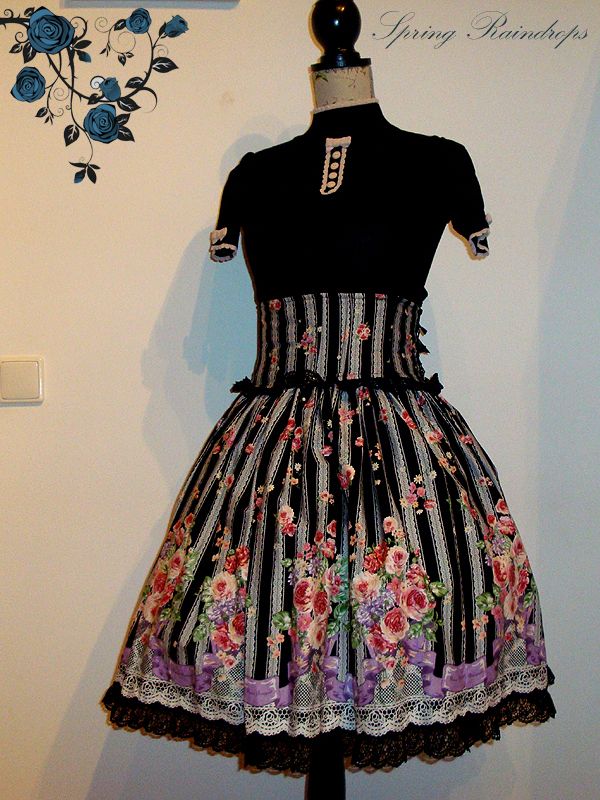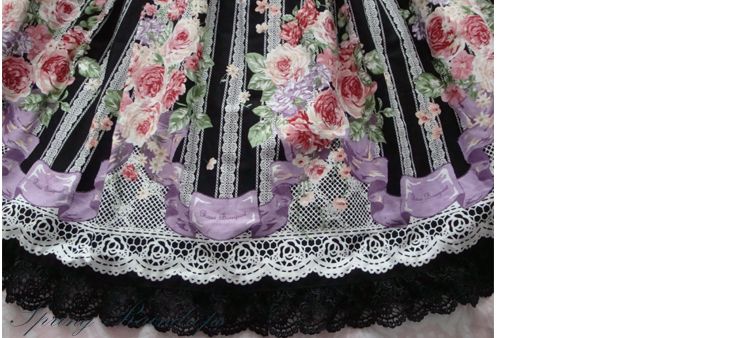 Metamorphose Cat Skirt
Got this for cheap at Violet Blue. I wanted to alter the length but it's pretty perfect as it is. And another one with cats xD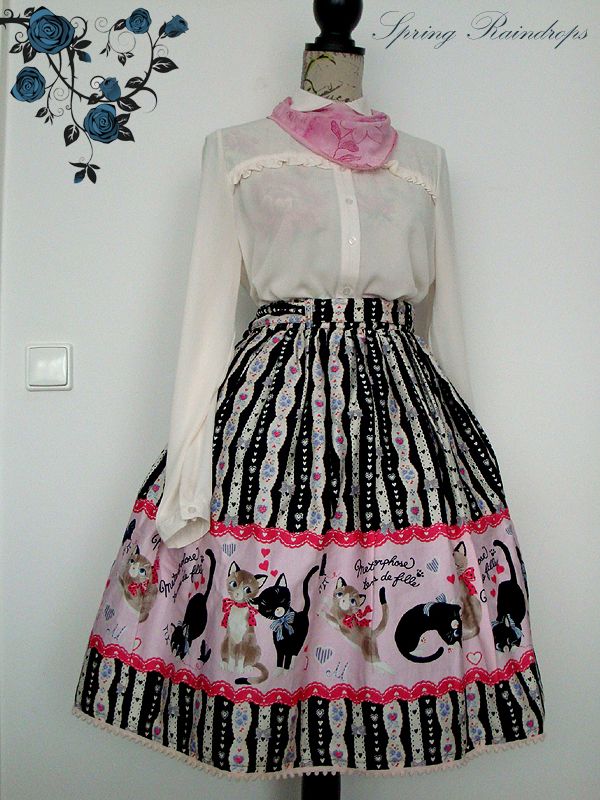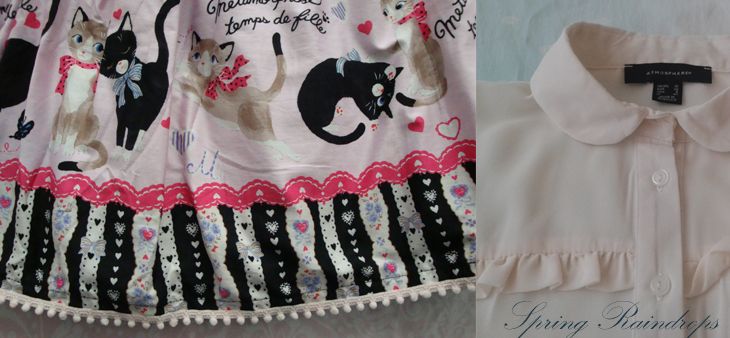 Innocent World Rose Lace Skirt
It's been there since my first wardrobe post and before. Never letting go this old friend <3 Coord is prety bad because I can out of top wear... :o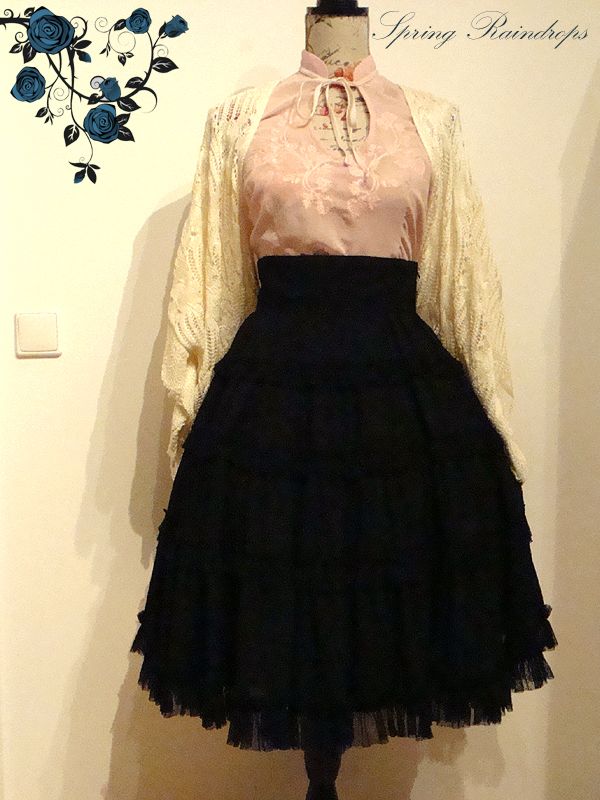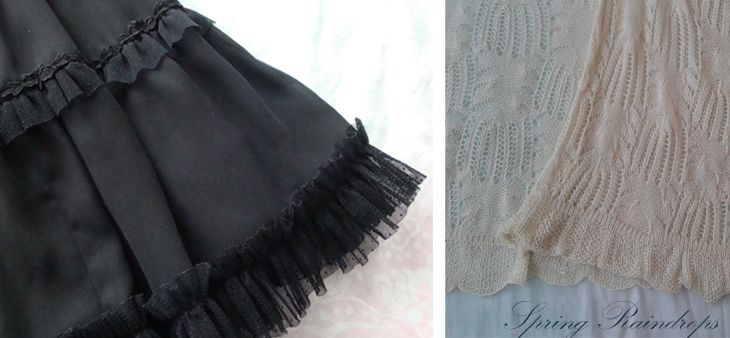 Left to right: Offbrand, Taobao
Marple, Chess Story, Bodylline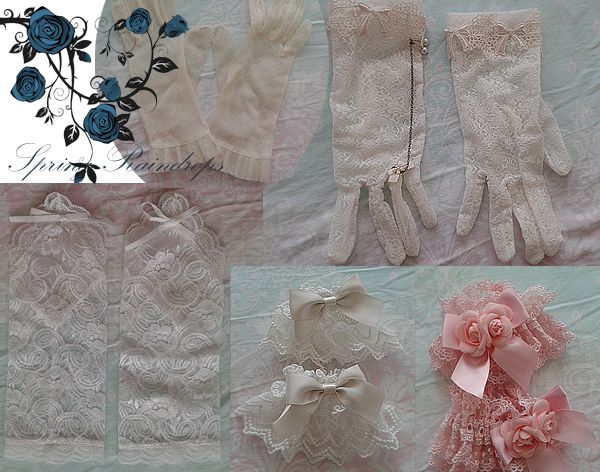 Bodyline, Taobao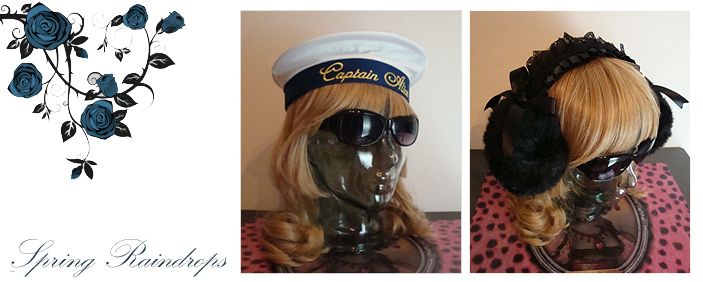 Angelic Pretty x2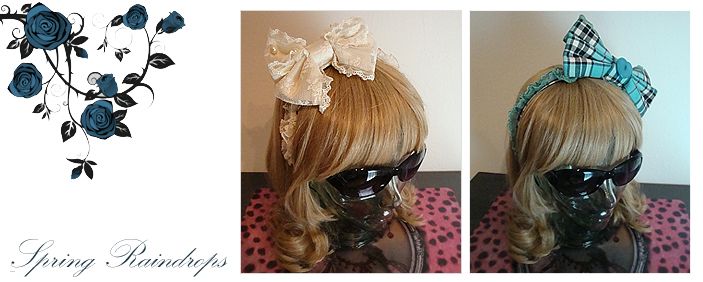 Innocent World, BTSSB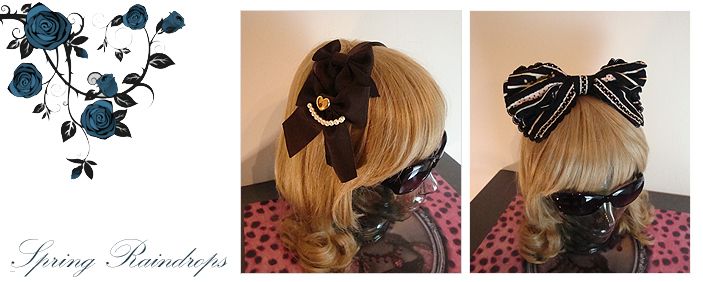 Metamorphose, Innocent World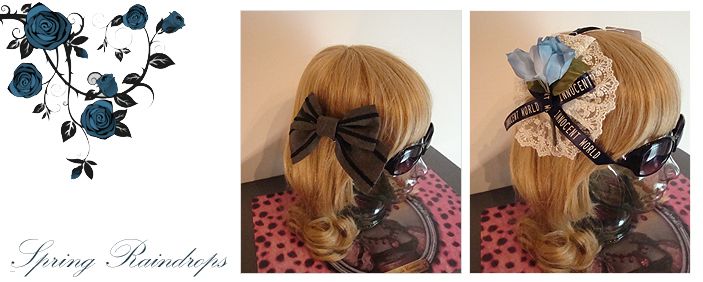 Innocent World, Bodyline


Handmade, various offbrand items, MTP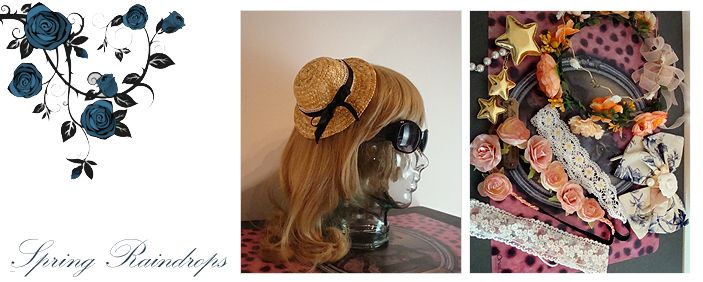 Innocent World x3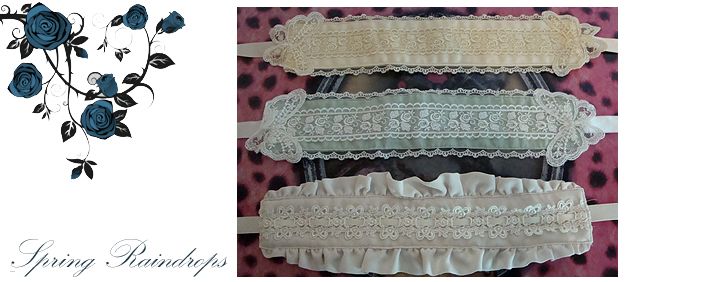 BTSSB


Metamorphose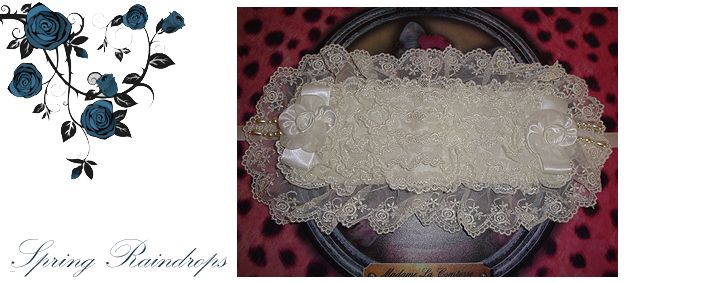 Taobao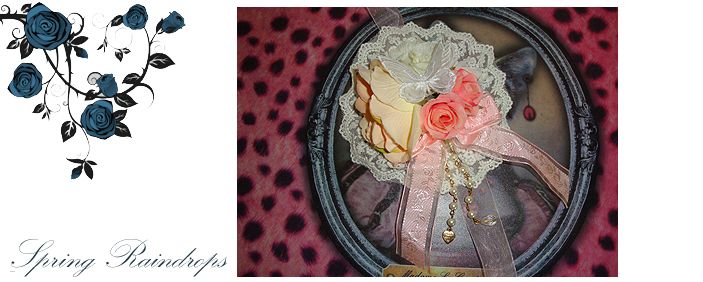 Angelix Pretty x7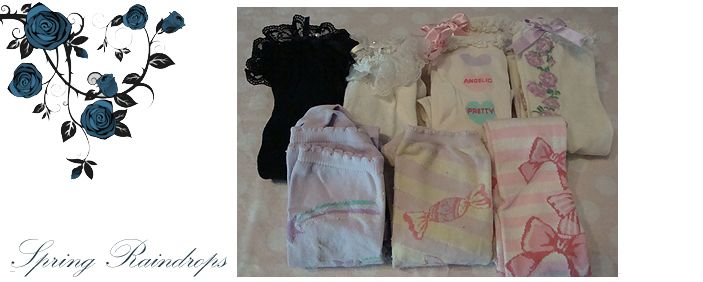 Metamorphhose x5


Angelic Pretty x2


Innocent World x3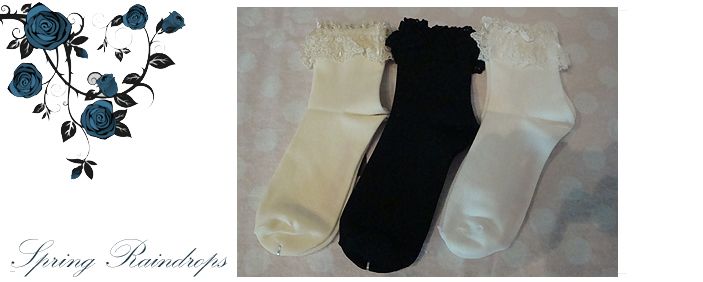 Innocent World, Chess Story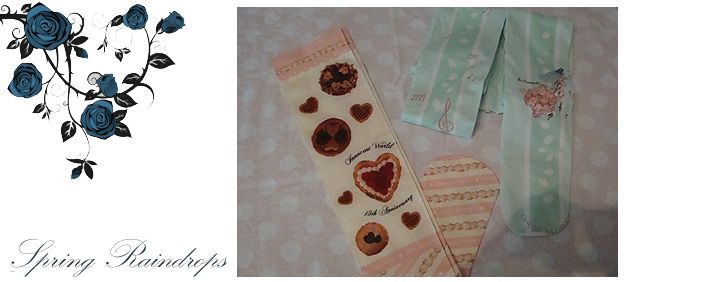 Bodyline, Taobao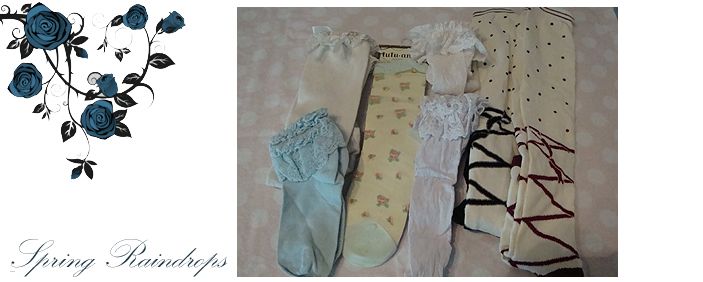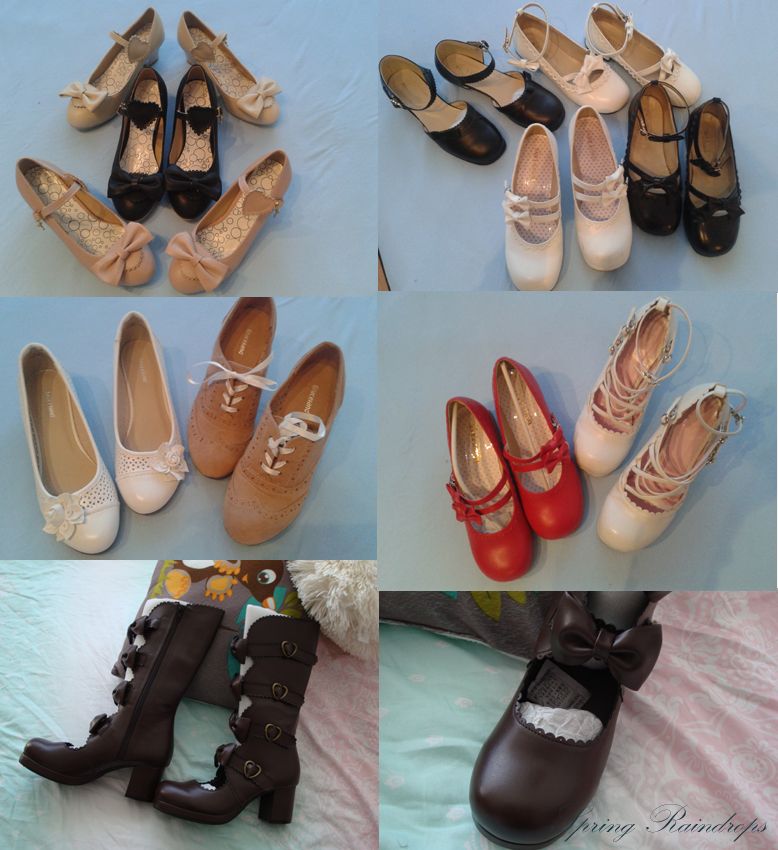 1st pic: Taobao
2nd pic: Bodyline
3rd pic: Offbrand
4th pic: Bodyline, BTSSB
5th & 6th pic: Bodyline




Axes Femme x 3, Lazy Swan


AATP Name of the Rose Print JSK (not the halterneck version)


Things I did not include are bags, jewellery... and sales items as well as one salopette I have at my parent's house.

Hope you liked my post and see you again next year.

Feel free to follow me on FB :p