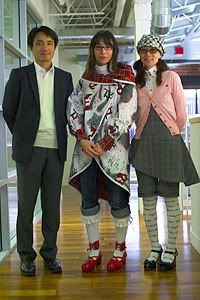 I just got home from the best vacation ever! I had done promotion for the Kamikaze Girls (Shimotsuma Monogatari) movie at San Diego Comic Con. Yesterday when the designers from Baby the Stars Shine Bright were in San Francisco they had a dinner for the movie promoters, interviewers, and some local lolitas.
Since I had also came from Los Angeles I was allowed to come early to the Viz building to meet them. I arrived during some interviews which I was allowed to sit in on. After the interviews I got to have a quick portfolio review! It was my first review so I was so nervous my hands were shaking. Even if I don't design lolita I can't think of better designers to have first review with. The jacket is a sample of my style btw.
(
Collapse
)
Also making the week my best vacation ever was the fact its my 3rd year anniversary with my boyfriend!