This is my 6th wardrobe post
Here are my posts from previous years
2015
2014
2013
2012
2011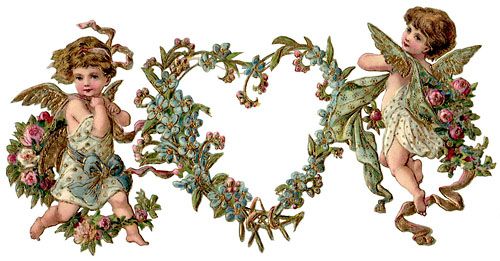 I almost didn't post this year because its so much effort to create a wardobe post but when I realised how much my wardrobe had changed I was quite shocked, I never realised I'd sold and bought so much although the overall feel is much the same.
I thought I'd post again as it gives me a good overview of my wardrobe.
This year I just recycled my old post and added in the new things I'd bought in 2015.
I would say my style is classic and otome but I like gothic lolita too.
Last year my goal was to creat a wardrobe that contains wearable pieces with a few fancier ones for special events, I think I have acheived what I wanted and I'm quite happy with my wardrobe.
Goals for 2016: downsize a little, I just don't get chance to wear lolita often sadly and I have too many unworn or underworn items
I'd like to find a couple of things I used to have that I miss such as AATP pirate Alice or castle of nightmare and Btssb Trianon OP.
My wishlist is quite small, its mostly Otome dresses and old JetJ, I'd like to aquire a few of them this year if I can find them.
Otome

Emily Temple Cute knit jewelry JSK in brown
I now have the beige colour so I'm selling this one
ETC cutsew
Syrup tights
Jane Marple bag
ETC chiffon OP
I got this last year after seeing it in Closet Child in 2013 and passing on it which I regretted
Its so light and the print of cherries and flowers is pearlscent and glittery which was hard to pick up on camera
shoes are Btssb, bag is Long Ears sharp ears and accessories from Tokimeki and Syrup.
I bought the tights this year from Meno Harajuku
Emily Temple Cute OP (unknown)
Syrup tights
hand decorated shoes
hand made necklace and collar
Not strictly lolita but more casual with CPK influences
ETC donuts OP, cardi and tights
I just have the mint now
ETC Tea tins jsk, ETC cutsew and socks
This is one of my favourite of the recent ETC prints
I think it would look nicer with a bright cardigan to match the socks
Jane Marple Anniversary Frames
I love all the little prints on this!
blouse and bag, Jane Marple
I'm not sure if I like this coord or not but I didn't have much time to try different ones
Emily Temple Cute Paris Bakery JSK and necklace
AP cardi
Sakizo tights
Innocent World pie tote
Leur Getter royal cats JSK and socks!
IW bag
2015 is the year I fell in love with Leur Getter
Leur Getter crown stripe OP
ETC shoes
IW bag
the cats socks again! they go well and a lot of my socks are just the wrong colour of blue or wine
Jane Marple Violin JSK and socks
Swimmer bag (I sold this and got the AP accordion bag instead)
everything else is off brand
Jane Marple Fairy tale books
I love the details, every book has cute illustrations on the front <3
IW bolero
Grimoire socks
VW three strap heels
Mulberry Chronicles mushroom dress
I love mushroom motifs so this was a must have
Sadly I'm not so keen on nthe fabric for this edition
IW bolero
Milk heart bag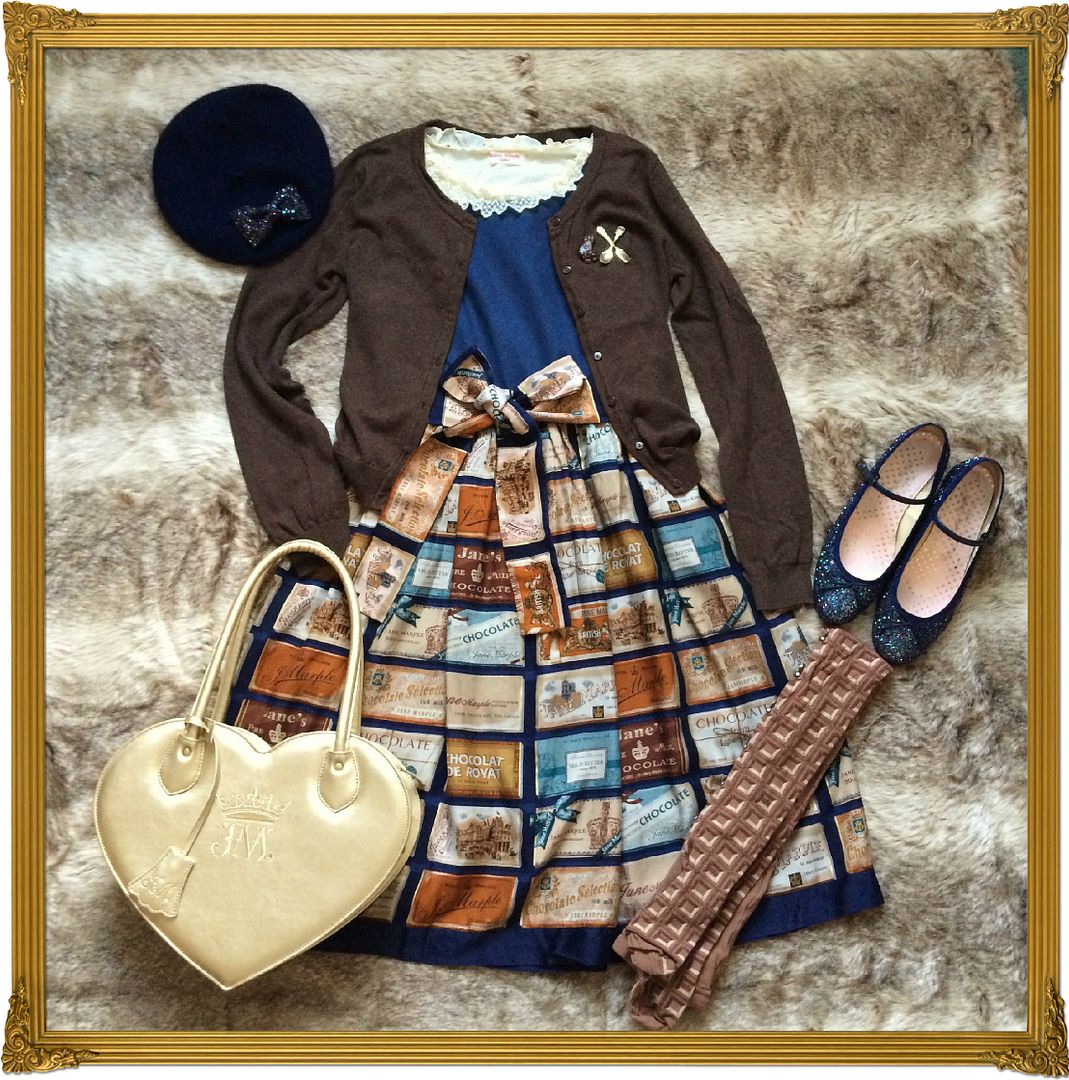 Jane Marple Vintage chocolate
This is cute, I dont normally go for chocolate prints much but I love this
I would really like to get the short sleeve OP version of this in wine too
Lolita
Classic lolita coordinates
Alice and the Pirates Jokers Trump Party special Harajuku edition OP
Triple Fortune Edwardian hat, this hat matches this OP so prefectly!
Mary Magdelene Antionette Fleur
I love this dress, its so perfect
Grimoire tights
Hand made hat
Juliette et Justine Soupir d'ange
The photo isn't the best, this dress is very beautiful irl
This was my ultimate dream dress so I had to get it, I wish I could have got two!
The only thing I'm not sure about is the colour of the ribbon that was chosen for the blue.
The headress is fromTaobao
Alice and the pirates this is my blood JSK
This was one of the first prints I wanted and it took me years to find it.
One day I'd like to find it in black
blouse is AatP, bag is from IW and the socks are from Grimoire
The necklace and hat are handmade
Juliette et Justine Robe du Marie Antoinette
Btssb blouse
Triple fortune bonnet
Grimoire tights
Victorian Maiden boots
Juliette et Justine
Le Cachet Sculpté du Bouquet
I fell in love with this and had it in the other colour which sadly didn't suit me, I feel lucky to have found it again so quicky
blouse JETJ
necklace and shoes are IW
headdress is by Morun Muuna Stoik
Juliette et Justine parfait et un Manege JSK
Ophanim tights
hand decorated shoes
Two Penny Toast headdress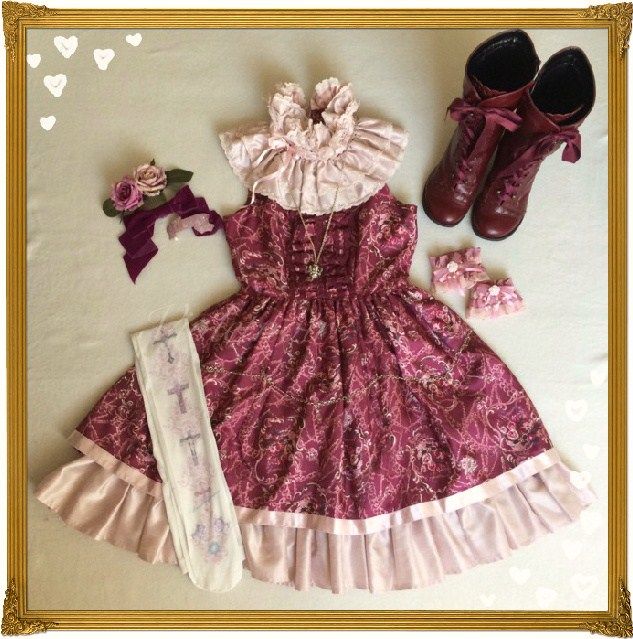 Alice and the Pirates Chain Bouquet OP in pink
I've decided to sell this, I've never worn it yet
off brand tights
Innocent World boots
Krad Lanrete marriage du borgoine
I really love this but the print is quite faint
blouse is Btssb
IW chiffon corset JSK
IW blouse
Btssb underskirt
JetJ tights
VM boots
The hat is made by Minori, I feel so lucky to own one of her items <3
JetJ La Dame a la Licorne
JetJ blouse
ETC shoes
This dress was on my wishlist before it even came out! I have wanted a dress with Mon sul Desir on it
for ages so when this was released it was a must have for me
My only regret is not getting two of them
Innocent World British tuck flare JSK
IW bolero
IW blouse
handmade headdress
I love this dress so much, its one of my favourites to wear casually
Violins!
After seeing this skirt on the Grimoire blog some time ago I was lucky to find it for sale on the sales comm.
Vintage skirt
Offbrand blouse
Victorian Maiden boots
Grimoire tights
handmade headdress
Victorian Maiden velvet JSK
Victorian Maiden boots
Anthropologie tights
Handmade stamp dress
This year I want to do a lot more sewing
Angelic Pretty Mercators antique shop special set
I love this colour
It's one of my favourite AP prints and I wouldnt mind finding the skirt in black someday too
Juliette et Justine Valentin Robe
I used to have this but sold it to my friend, I traded her my JM royal libary to get it back haha
milk bag
Attp blouse
handmade headdress
Moss Marchen necklace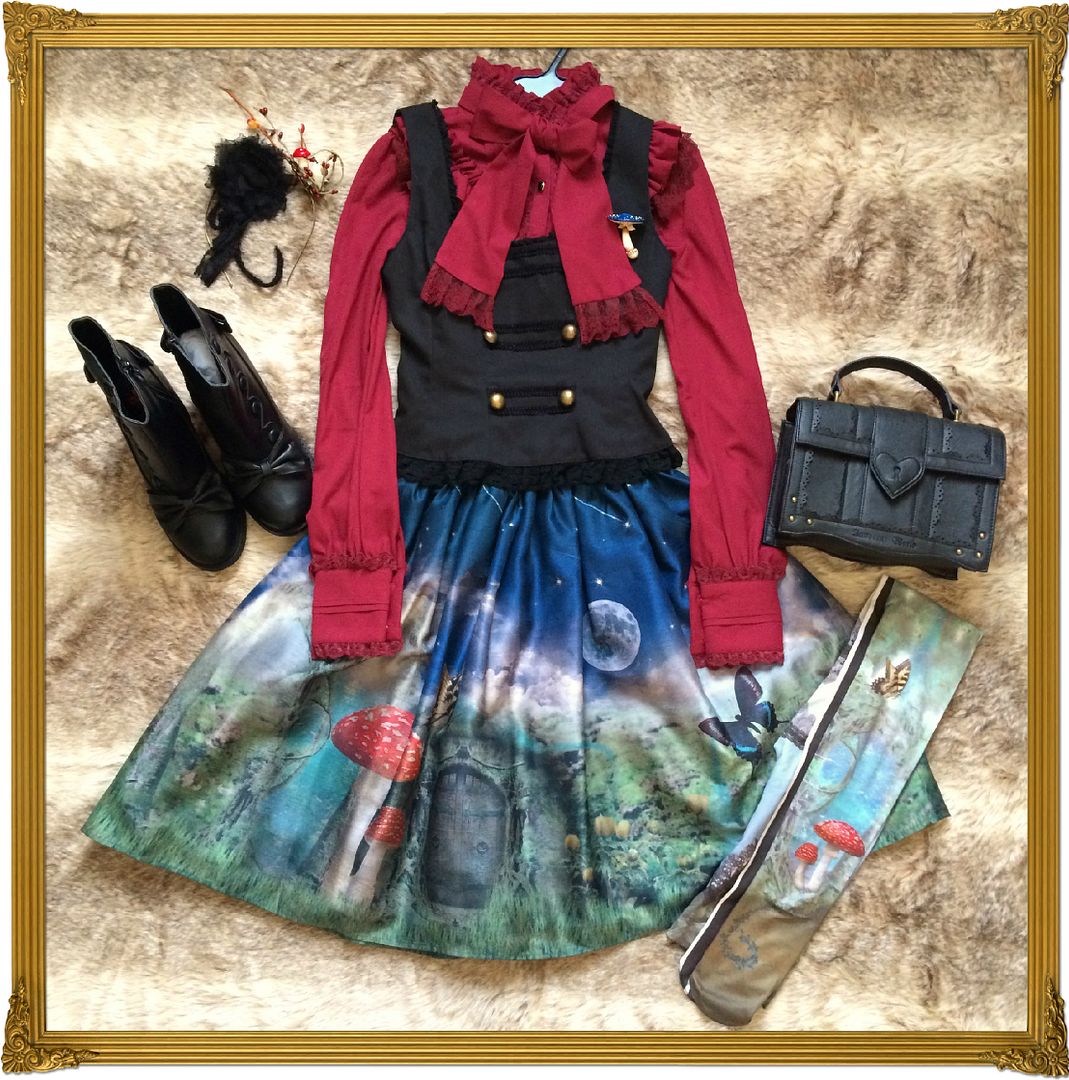 Morun Munna Stoick mushroom print skirt and tights <3
IW bag
Everything else is offbrand
Angelic pretty Castle Mirage
I wanted this during the first release but only after news of it had been out for a while so I missed the chance to buy it
I was going to pass on the re-release but then the princess sleeves happened so here it is >_<
Gothic lolita coordinates
Alice and the Pirates Hymn long JSK this took me a long time to find, I still haven't worn it :(
I think because its navy it's harder to coord than the ivory or black
shoes, blouse and headdress all Aatp
Grimoire socks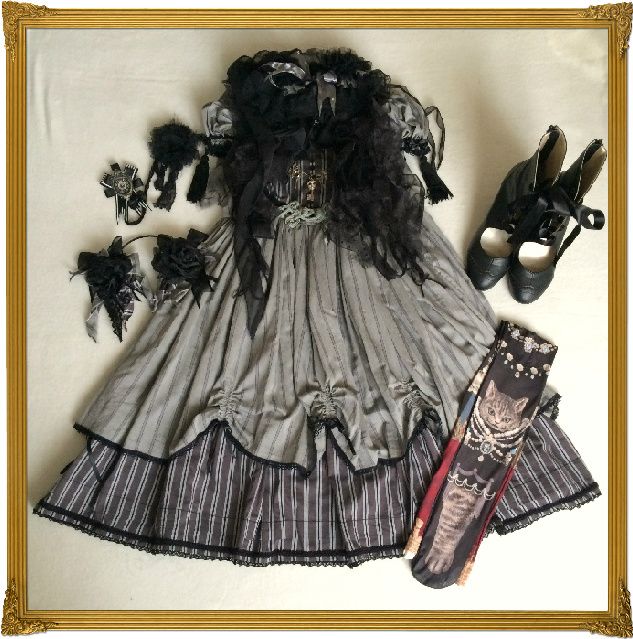 Fidel David OP set with headdress and collar
Fidel David is the most amazing designer, his work is so unique!
The tattered collar was handmade by a friend
handmade key necklace
Lilly tights
Juliette et Justine La fille de la Foret
I used to own this but I missed it so when it came up again I snapped it up
necklace by JetJ
IW bag
tights by Lilly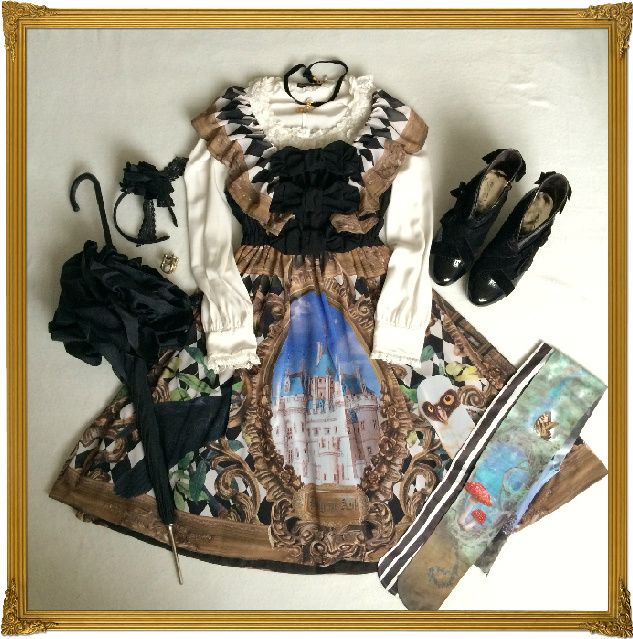 Juliette et Justine Robe de collage un Chateau
Morun munna stoik tights
Innocent World blouse
Vintage parasol
Btssb headdress
Juliette et Justine Robe de la Prevue de Vie and Moss Marchen necklace
Grimoire OTK stockings
Triple Fortune small bonnet
This is one of my favourites dresses, the fabric is so beautiful.
Alice and the Pirates Starlight Carnevale JSK and headdress
I think this is going too, I love the cut but I'm not really bothered about the print
Aatp shoes and blouse
Metamorphose socks
Alice and the Pirates Chiffon gathers Yokohama special set
I was sad I couldn't get this but then Octavekitten alerted to me to a set on Lacemarket so here it is!
Chiffon Gathers was one of the first Alice and the Pirates dresses I fell in love with.
The measurements are sometimes too small on these for me so I never bought one until now
Handmade JSK
Little Dipper underskirt
Grimoire tights
Yosuke boots
Angelic Pretty Drained Cherry coord
I love this series so much
I finally found the special release OP to replace the skirt :)
Leif Sacred Night JSK
I used to own the orginal but I sold it due to the odd length
I prefer the original fabric so much more, I regret selling it now since I could have easily altered
the length but I never thought of that until afterwards >_<
Victorian Maiden crown emblem JSK, and VM tights
Aatp blouse and parasol
AP headbow
Queen Bee boots
This JSK is one of my oldest items and its going to stay in my wardrobe for years I think or at least while it fits!
Innocent World Heidi JSK
A simple black JSK for anytime!
Bolero and bag are IW
tights are JetJ and the headdress is handmade
Innocent World Napoleon Gathered Flare Onepiece
IW tights and bag and handmade headress
Angelic Pretty Katrina OP
The photo does this dress no justice at all, its so beautiful
Black Miquiri OP
Not sure if this is lolita or more VK
I think I'll be letting this go soon
Shoes and headdress are AatP
socks are enchantilic enchantily
Bag is IW
Brooch was a gift from a Friend and is by My Inspiration
Atelier Boz OP
I'm in love with this, it's perfect
The hat is by Peacock Allorum
tights are Teja Jamilla
Necklace is Moss Marchen
shoes are AatP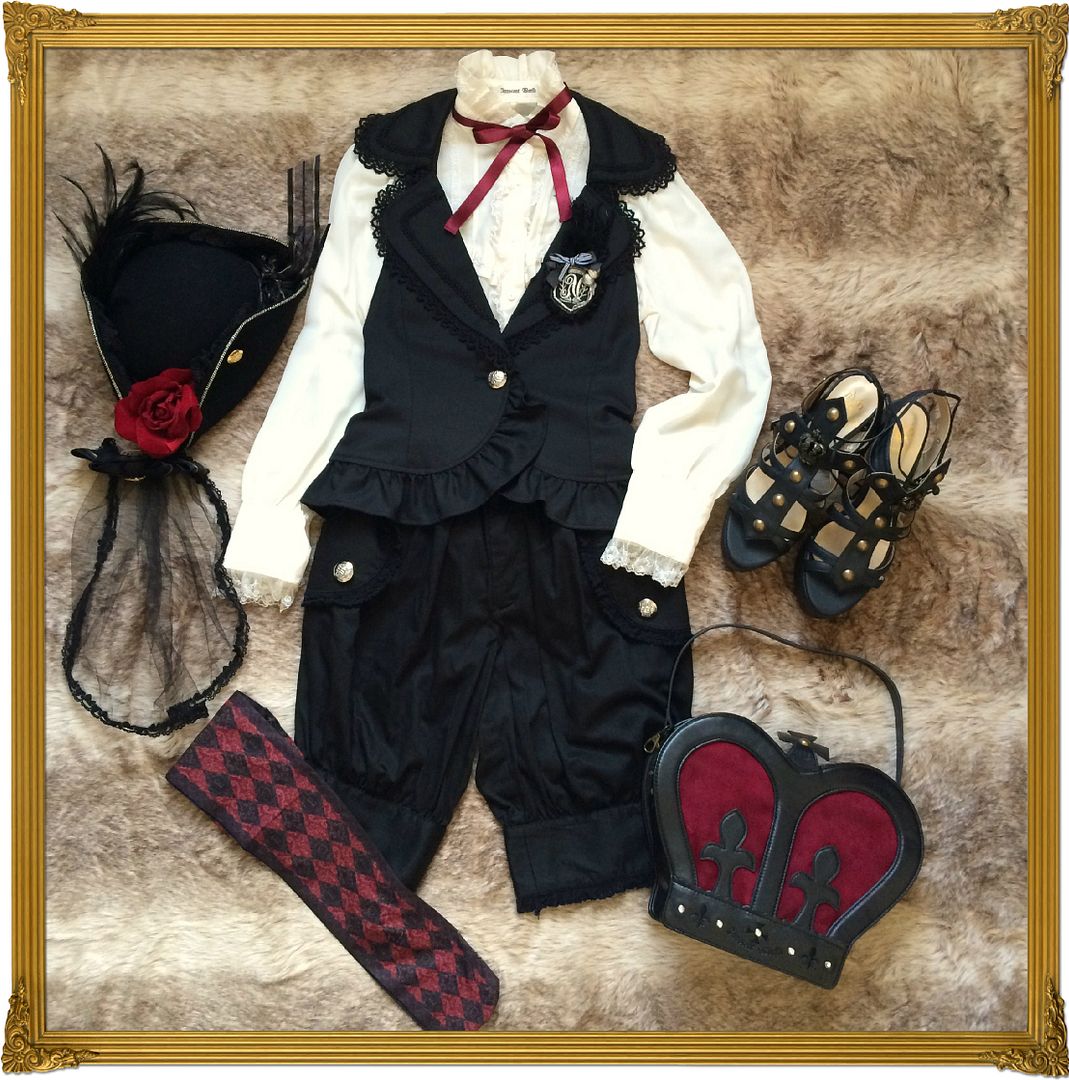 Alice and the Pirates Ouji vest and pants
AatP hat and shoes
Outerwear

ugh terrible grainy photo D:
Atelier Boz roland jacket
Garland dress coat
Ive had this for ages but I have shortened it a little, I still need to finish the hem by hand though
Victorian Maiden coat
Bodyline coat
A very recent purchase and I'm quite suprised at how nice this is
Black peace now velvet coat
Juleitte et Justine coat (unknown)
This coat is stunning and is the most amazing coat I've ever owned
Its very heavy and is made from a lot of fabric, the hem is huge!!
It was a great Closet Child find and wasnt too expensive because the belt is missing
Shipping was a killer though!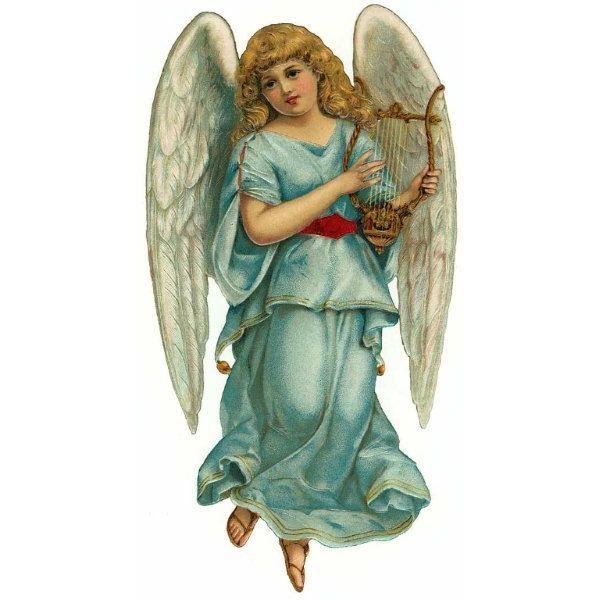 My tights collection
from left to right
Eat me meshimase, offbrand, offbrand, Ophanim, Victorian Maiden, Syrup, Icing Sugar, Victorian Maiden,
Syrup, Syrup and Alice and the pirates
from left to right
Grimoire, Fairy Wish, Grimoire, Grimoire, Victorian Maiden, Juliette et Justine
Grimoire, Grimoire, Retronlulu, Grimoire and Anthropologie
From left to right
Morun Munna Stoik, ETC x 2, Sakizo, Grimoire, Grimoire Emi & Lilly, Grimoire, Enchantilic Enchantilly, Angelic Pretty,
Franche LIppee, Grimoire, Teja Jamilla, Angelic Pretty
Across the bottom: Juliette et Justine an finally Grimoire
This year I didnt buy many pairs of new tights, I think there is room for a few jewel toned pairs though.


I have a few items on the way too
IW antique Pansy which I've owned before, JetJ paysage, 3 Taobao dresses and a blouse

Thanks for looking at my post, I hope you enjoyed looking through my collection