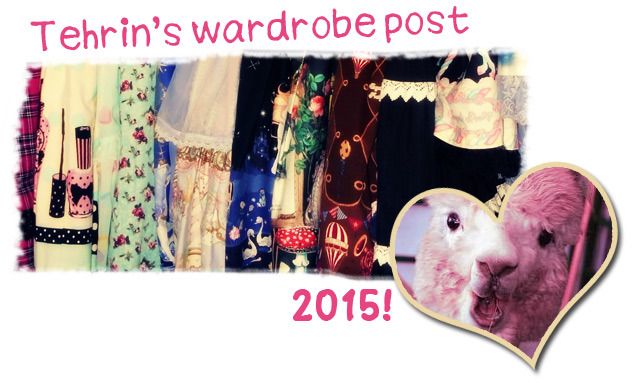 Welcome to my 2015 wardrobe post!
I wear mostly sweet and some classic as well.

During 2014, I ended up buying a LOT of new things. However at the end of the year we decided to get a house. So that meant it was time to sell off most of my stuff so we could afford a good down payment, furniture, repairs all that lovely stuff. Before I started selling I had about 30 main pieces. I ended up keeping my favorite pieces and more versatile items. I was building up the classic part of my wardrobe. Unfortunately, I ended up parting with most of the classic pieces, because as a rule of thumb I decided if I needed to buy more things to wear them properly, I had to let them go (and I really need more classic boleros and blouses). I'd like to build the classic side up again during this year, but I will probably try different brands.

So for that reason, you'll see some holes in my wardrobe, items that don't really go with what I have for main pieces. I'm still figuring out what I want to sell based on items I want to buy. I just ended up including them anyway.

Also my post isn't as nice as I was hoping it was going to be because, well, moving! I have a room specifically for lolita and crafting. I also use it for my office space. It's much nicer compared to a cramped shared closet!
About me:
Age: 33
Location: Ohio, USA
Started Lolita: 2012
Past Wardrobe Posts
http://egl.livejournal.com/19486051.html (2014)
http://egl.livejournal.com/19071426.html (2013)
Jumperskirts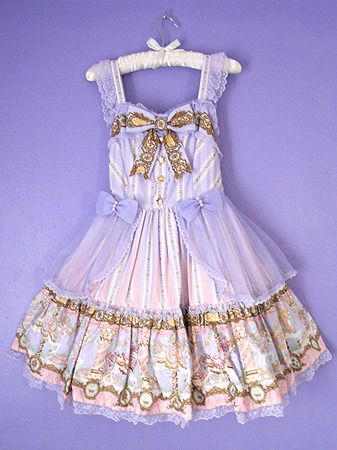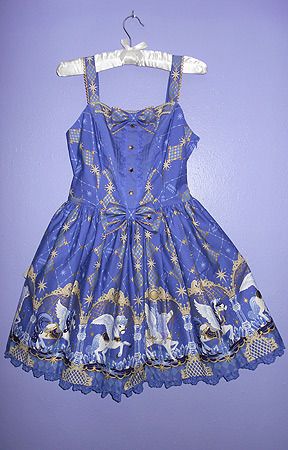 Angelic Pretty
Day Dream Carnival and Crystal Dream Carnival Special Set
I have a huge thing for ponies and carousels.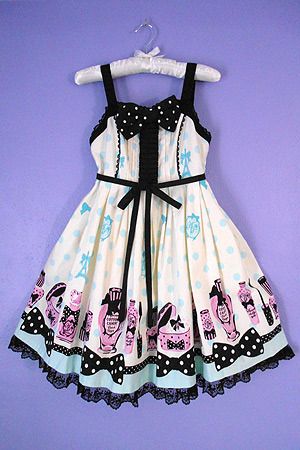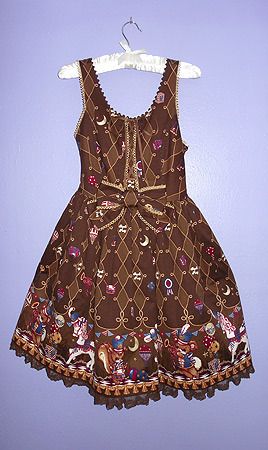 Angelic Pretty
Fantastic Dolly and Toy March Special Set
Two prints I really love. I was really excited to obtain them this year!
Angelic Pretty
Sugar Hearts and Cosmic
I really love AP chiffon pieces, especially with high waisted a-line cuts.
Metamorphose
Twinkle Journey
I finally obtained one of my huge dream dresses this year!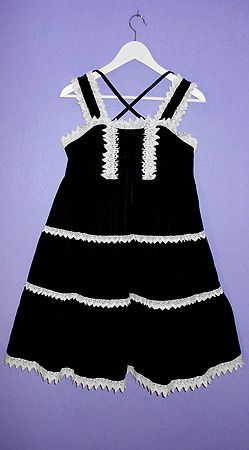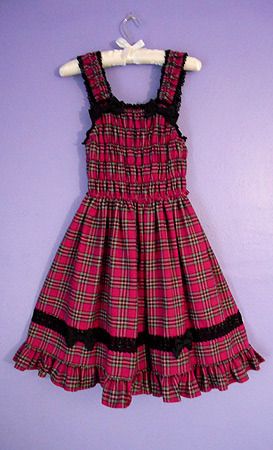 Baby The Stars Shine Bright
Triple Tier Karami and Tartan Check Shirring
Simple versitle pieces! I also want to dabble in old school as well.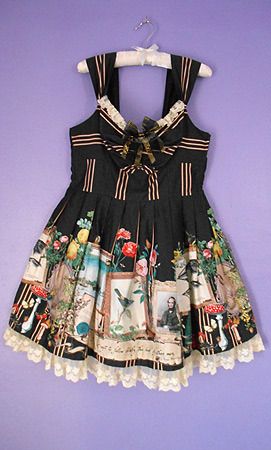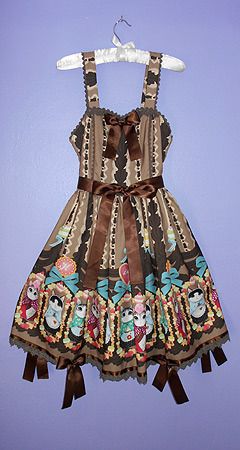 Belladonna and Haenuli
Ode to Darwin and Whipped Cream Kitty
This release from Belladonna was love at first sight. Also, I can't say no to cats prints!
(well I can, I sold one of my favorites in favor of getting it in another colorway sometime)
Skirts
I'm not much of a skirt person, but I own a few.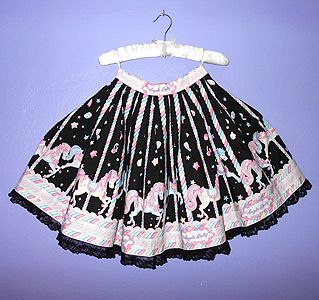 Angelic Pretty
Sugary Carnival
I found this for a really good deal awhile back and it's one of my favorite prints. Eventually I'd like the JSK version.

Metamorphose
Bubble Bath
Cats. in bath tubs. Cats. In. bath. tubs.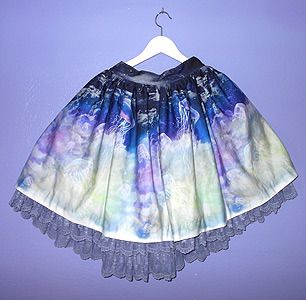 Belladonna
Twinkle Jelly
This print is so pretty. Unfortunately I'm having issues coording it properly. One day I will wear it.


Blouses and Tops
I was running out of time to get this post done. I only added a few new blouses this year.
Photos after the first one is from last year's post.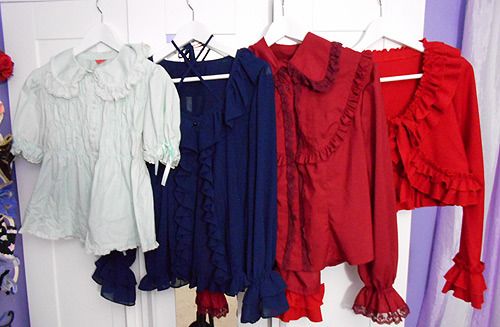 2014-2015 blouses - Left to right:
BTSSB, Floral Notebook, Fan + Friend, Bunnyhouse

Metamorphose



Bodyline and Fan + Friend


Offbrand thrifted finds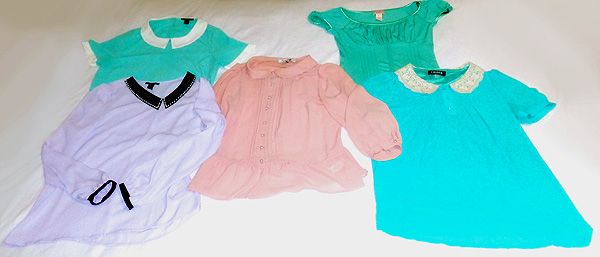 Offbrand
Mostly forever 21, also thrifted and the neon teal is a taobao (it's actually not that neon)

My goal this year is to replace the Bodyline blouses with nice chiffon blouses and boleros.


Bags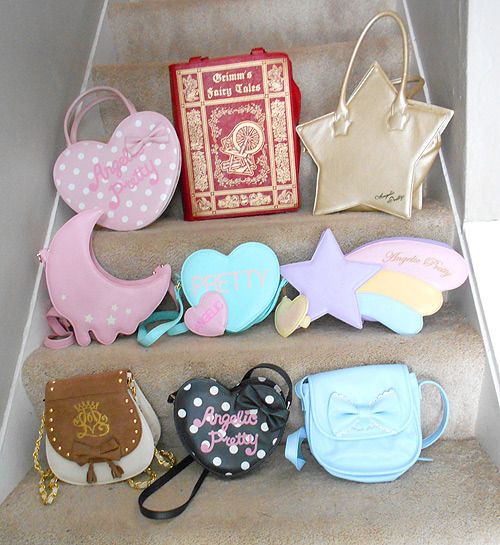 Mostly Angelic Pretty. Also restyle.
I use some offbrand bags too from time to time.

Shoes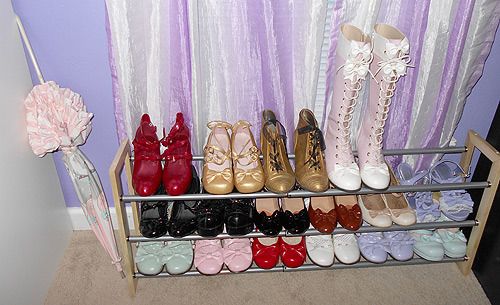 1: VW x Melissa, Customhouse, Offbrand, Bodyline
2: Offbrand, Bodyline, Bodyline, Bodyline, Offbrand, Dream V
3: Offbrand, Offbrand, Bodyline, Offbrand, Offbrand, and Bodyline
Also pictured is my Kira Imai x Lumiebre cat carousel parasol

Hair Accessories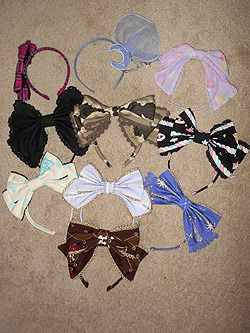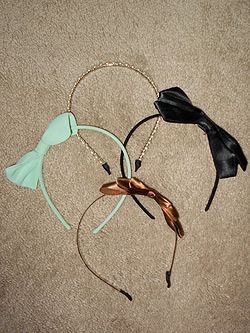 Headbows
Matching headbows to my main pieces.
Also, an assortment of headwear when I don't want to be called little bo peep.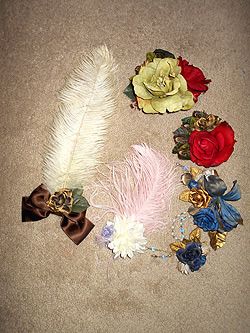 Handmade floral and feather hair accessories
My favorite is the blue and gold one. I'd like to make more like it sometime.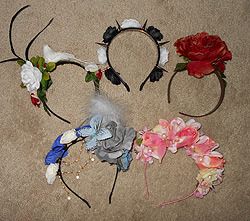 Floral headbands
because they are so 2013 geez get with the times!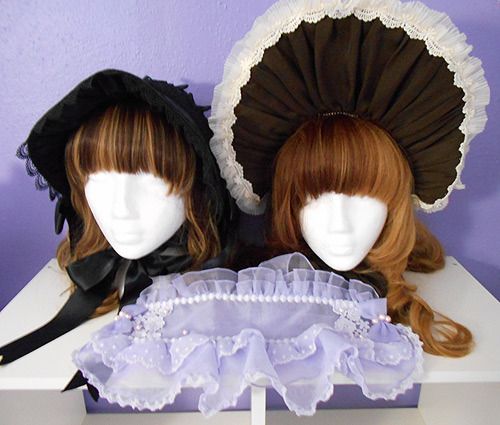 Bonnets
Surface Spell, Belladonna (commissioned), Angelic Pretty (Day Dream Carnival)
One day a Triple Fortune bonnet will be in there.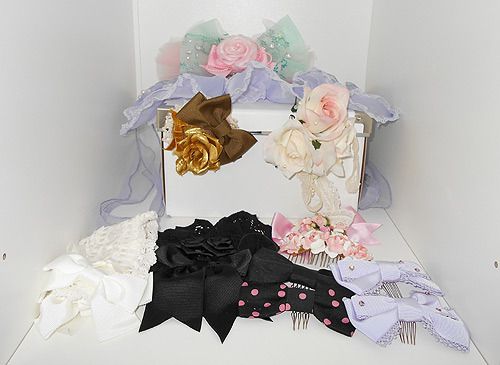 Combs and other headwear.
Baby Headdress, Bodyline Canotier, AP bow combs.
Hair accessories by Sweet Mildred and Moss Marchen
And other items obtained through etsy/sales comms.
(also my DDC bonnet again but decided to photograph it with the other bonnets)

Legwear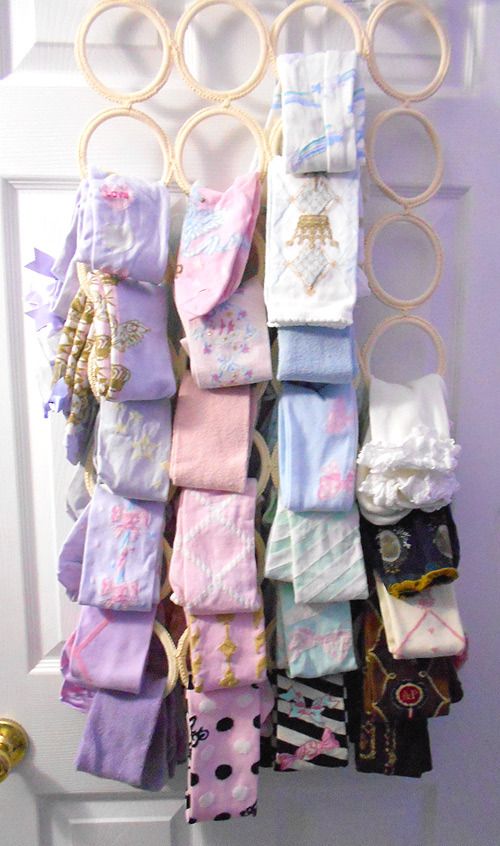 Socks
left to right by row:
AP, bottom two are Meta and Sock Dreams.
AP, Baby, Sockdreams, the rest AP
AP (white), Sockdreams (sax), the rest AP
Baby, Grimoire Verum, IW, AP, IW


Tights
Top: Daruma, taobao, Ophanim, AP, Rawrtiger
Target, Fan + Friend, Forever 21, sockdreams, offbrand.
I don't know if I'll use those cat ones in anything, but they were too silly to pass up.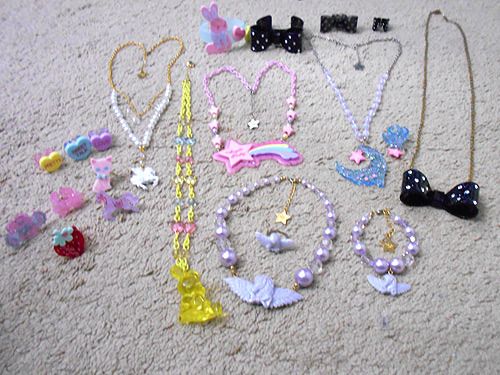 Angelic Pretty and Chocomint
Made of plastic. They are fantastic. :DDD

Random sweet jewelry
Artist Alley Finds, Cute can Kill, Chocomint, Paradise Rose, Magical Tea Time... and others.
Also random gifts that were sent to me through sales.
and yes there is some Claires in there, I know, Father Mana-sama I have sinned don't send me to Mr. Yan hell.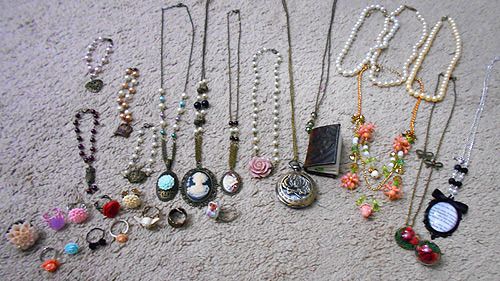 Classic/Mature jewelry
Victoria's Clockwork Emporium, Belladonna, Paradise Rose, Magical Tea Time
Belladonna, Betsy Johnson, Thrifted pearls.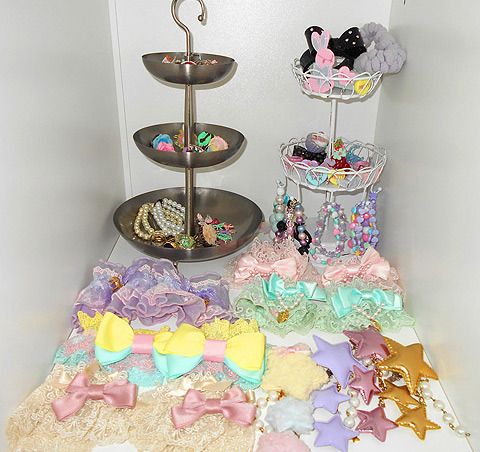 Jewerly Displays (inside wardrobe)
Wristcuffs are AP and IW.
Chocomint Bonjour Honey star clips.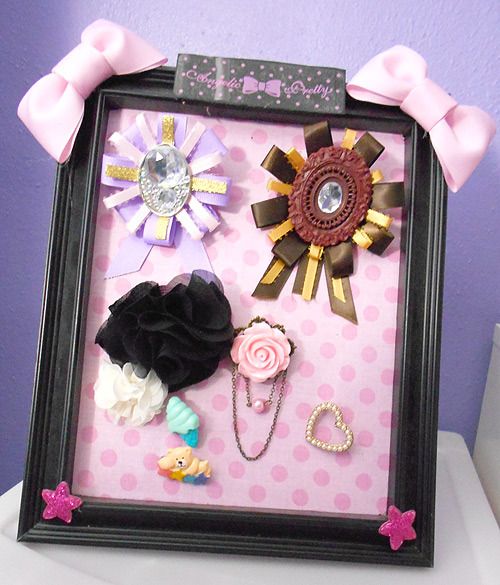 Rosettes and Pins
I originally made this goofy frame for my AP necklaces, but it's good for pinning things to.
Rosettes are from Magical Tea Time.
Pink rose is from Victoria's Clockwork Emporium.
The rest are Forever 21 and random sales gifts.

Storage
I was hoping I could include a room tour, but unfortuantely my room isn't quite ready yet. Next time though!
Here are a few pictures of things I can share!

The Wardrobe
This is the side for the main pieces. I also have bags down here.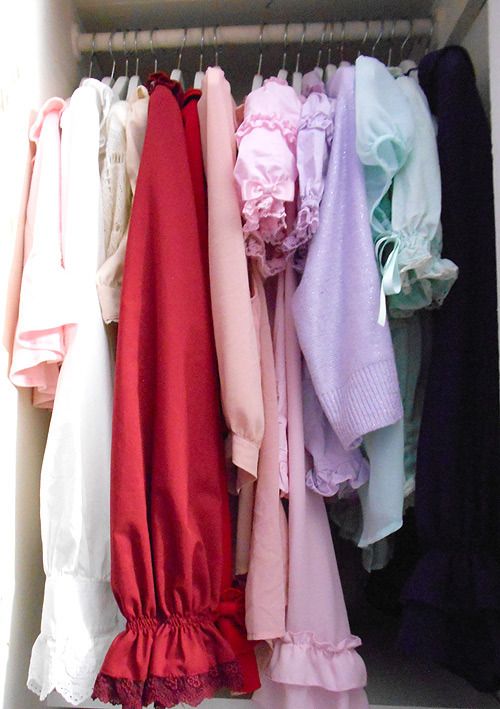 Tops and Blouses
These are actually in the closet because there's no room in the wardrobe for them.
My closet has two sides with drawers and adjustable shelves,
but the other side is going to be dedicated to cosplay stuff.

Headwear
The Kompliment hook thing from Ikea is great for storing headbows and socks where you can see them!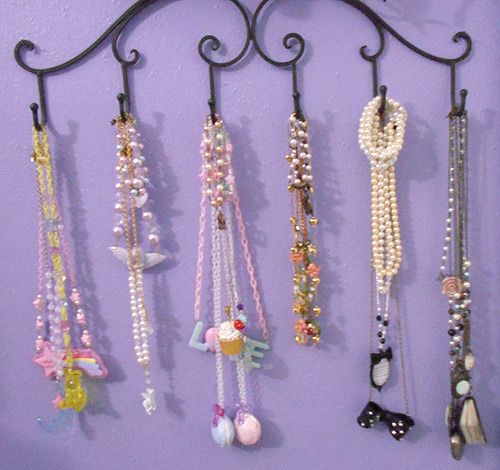 Jewelry
Here's how I store and display my accessories


That's it! Thank you for viewing!