I love this time of year on egl - thank you to everyone who has shared their wardrobes so far, and I can't wait to see the rest.

This is my 11th(!) year as a lolita, but I sold almost everything back in 2009 before coming back to the fashion in 2010, so I guess this collection is about 4 years worth. I hope you enjoy looking through it!




Moi-Meme-Moitie Iron Gate OP
Well, this was the purchase of the year. I lusted after this when it was released in 2006, but I was a student then and couldn't have imagined footing up 40,000 yen plus fees for one dress. Ironically it costs a lot more than that second hand, but I have no regrets: it's a collector's piece that I'll treasure.




Moi-Meme-Moitie bag, Metamorphose shoes
I have always loved old-school platforms in lolita. I picked these ones up to wear to Revelry last year, where Metamorphose were the guests of honour. Here's a snap of it all worn together.




Moi-Meme-Moitie Royal Gate Jumperskirt
Royal Gate feels like Iron Gate's casual cousin - it's a lot more wearable for day-to-day. I really like the subtlety of the flocked print compared to Iron Gate.




Artherapie bag, Jeffery Campbell shoes
I probably wouldn't buy another pair of Jeffery Campbell shoes after they arguably stole a design from indie lolita designer Cloudberry Lady, but do still like these. The spikes are actually pretty vicious!




Angelic Pretty Holy Lantern Special Set Jumperskirt
I'm still a goth at heart, so I love this cheesy print. If I ever manage to find the other version with the corset lacing I'll part ways with this one, but for the time being I'm happy with this.




Real Ma*rs choker
This is actually from a gyaru brand, but I wear it with goth outfits - I'm not cool enough for gal!




Alice and the Pirates Gloria Jumperskirt
This one can be dressed up to be either gothic or classic- somehow my style always ends up being somewhere between the two. The details on this dress are particularly lovely.




Hysteria Machine stained glass crown headdress
Absolutely in love with this headpiece. It's so well made and surprisingly comfortable to wear - I would highly recommend her as a seller. I believe she takes custom orders too. I need to be careful not to spend too much money on stuff like this though, because I would only ever wear it to a big event!




Baby the Stars Shine Bright Koitsukihime Skirt
This is from the original 2006 release, not the Alice and the Pirates re-release - I much preferred the slightly softer colours in this series. This was the co-ordinate I wore to the Revelry tea party.




Innocent World cardigan, blouse and jabot
Both the cardigan and the jabot are very special to me: both were Christmas gifts from 2013, one from my brother and the other from a friend in Tokyo. I adore Innocent World's lace and indeed the quality of their clothing in general.




Baby the Stars Shine Bright Alice Chess Skirt
I know this is a sweet print, but I can't stop gothing it up with platforms and leather. I think it kinda works, although I know it won't be to everyone's tastes.



Offbrand blouse and choker
Wish I could've got a decent picture of the leather belt since that's a bit more interesting, but the choker came out a little clearer so here it is instead. The blouse was an off-brand find.




Moi-Meme-Moitie OP (not sure what this one is called)
Everyone needs a little black dress, and this is mine. I suppose it looks a little boring next to all the flashy prints but I wear it a lot to nice dinner dates and more formal events. It's really comfortable too.




Baby the Stars Shine Bright bolero, Roberto Cavalli scarf
As I get older, I find myself wearing some of my lolita clothes in more grown-up, not-quite-lolita outfits. Sometimes throwing on a silk scarf is a good way to make my frills look more mature.




Victorian Maiden Beth Ribbon Star Doll Skirt
One of the things I love about doing a January wardrobe post is that it forces me to pull out all the stuff in my wardrobe I don't wear. I actually tried to sell this skirt last year but now I'm looking at it in this co-ordinate, I think it's actually pretty cute and I might be inclined to keep it.




Milk bag, Leur Getter shoes
There's a slightly better picture of these shoes on my Instagram. How gorgeous are they? I only got them a couple of weeks ago and am pairing them with just about everything I can at the moment.




Juliette et Justine Petite Robe de être et le Néant Jumperskirt
This would have to be my second favourite purchase of 2014. If I'm being honest though, I probably wouldn't buy another dress from their premium range: much as I love the print, I don't feel like the quality of the construction and fabrics really justify the cost. But I'm glad I got this one, because the print is spectacular.




Pocket watch necklace, offbrand
I should get more long necklaces like this pocket watch one, because I end up wearing it with everything. Do you have go-to pieces of jewellery too?




Innocent World Chess Pattern Jumperskirt (long version)
I like this dress because it's "normal" enough to wear on casual days at work (without a petticoat, obviously). I've worn this co-ordinate to the office a couple of times.




Belt, offbrand
This jumperskirt came with a ribbon belt but I think this wide elastic belt makes it look a little more interesting. I'd like to find one with a fancier buckle though.




Grimoire Celestial Closet OP
So glad I picked this up: I was on the fence about it, but it's turned out to be one of those dresses that I wear all the time. It's great for those weekends where I want to look cute but can't bring myself to wear a petticoat on public transport.




Pocket watch necklace, offbrand
See, there it is again!




Jane Marple Winter Rabbit OP
The flocked print on this OP is gorgeous, but I wish I had the skirt version instead - the OP hangs a bit like maternity wear. It's not so bad paired with a cardigan or a belt, but I don't wear it very often because of that.




Angelic Pretty cardigan, offbrand necklace
My initials are AP, so I like to imagine that Angelic Pretty's clothes were monogrammed for me!




Innocent World Violin Jumperskirt
Another really simple co-ordinate, but that's the style I like best.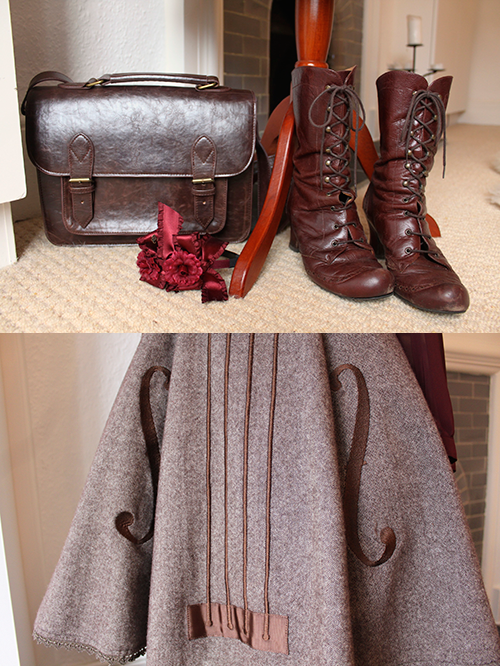 Offbrand satchel and boots, Innocent World hairband
Please excuse how battered my boots are looking - as you can tell, they get worn a lot.




Juliette et Justine Biblioteque Skirt
One of my favourites. On casual days I can wear this to the office, and it's really comfortable. It seems to get a lot of compliments from old ladies too!




Innocent World blouse, Topshop jacket
The jacket was one of those lucky off-brand finds quite a few years ago, in Topshop of all places.




Juliette et Justine Belles Pierres Skirt
Beautiful as it is, I didn't wear this skirt much last year - it might be on the list to go this year. I can never co-ordinate it in a way I'm happy with, although I guess this looks alright.




Offbrand birdcage necklace
Not the pocket watch again, but it kinda looks like it! I think this was from Wonder Rocket.




Baby the Stars Shine Bright Velveteen Royal Antique Jumperskirt
This one is even nicer in person than in photographs. I love the rich red colour, especially for winter.




Moi-Meme-Moitie blouse, Jane Marple necklace, Vivienne Westwood bag
This is my favourite blouse at the moment - the lace collar is beautiful. Also, my go-to handbag for just about everything, lolita or not.




Emily Temple Cute Bambi Forest Skirt
This one gets worn a lot in autumn. It's got a fully elasticated waist too, which is a bonus when it's getting colder and you want to eat more.




Metamorphose bolero
I picked this up last month because it's a colour that doesn't often show up in lolita. I'm not quite sure which bits of my wardrobe it'll work with at the moment, but we'll see.




Baby the Stars Shine Bright Snow White Jumperskirt
Probably the oldest thing in my wardrobe, released in 2004. I really don't wear sweet any more but feel like I should keep it for nostalgia.




Baby the Stars Shine Bright blouse, Emily Temple Cute bolero
The ribbon lace on this blouse is really cute but, again, it doesn't get worn very often...




Metamorphose Kimono Print Tiered Skirt
Since I was in Japan for New Year this year, I thought I should get something suitably Japanese to wear for Hatsumode! I wasn't so keen on this year's kimono print, but I found last year's in Closet Child at a very reasonable price.




Victorian Maiden corsage, offbrand beret and scarf
2014 was the year of the beret for me. I apologise for how many times they're appearing in these co-ordinate photos too - I can't help myself!




Emily Temple Cute Cherry Print Jumperskirt
This is a Summer favourite of mine. When I was still living in Scotland, I really didn't need any Summer clothes at all - we got maybe a week in a year where it was warm enough to wear them. Now I'm in London though, Summers are much longer and warmer so I might need to pick up a few more warm weather pieces before June.




Anya Hindmarch bag, Leur Getter shoes
Yes, I bought these shoes in two colour ways. They're just that comfortable and flattering.




Emily Temple Cute Biscuit Jumperskirt
Another Summer favourite! I feel like it doesn't really fit with the rest of my wardrobe, but I still like it.




Vivienne Westwood bag
This bag was a Valentine's day present...from me, to me. In the words of RuPaul, if you can't love yourself, etc etc.




Victorian Maiden Coat
A Closet Child find - I seem to remember this being quite cheap. It's so light that I'm always scared of getting it stained though.




The lace details on this are so pretty. It would look really good with a retro vintage look too.




Mary Magdalene Coat
I like this coat because it has a hood, which you often need in the UK! It also came with a detachable caplet, but I've packed that away since it gives me rugby-player shoulders.




The fit of Mary Magdalene's outerwear is always so perfect - you don't lose your waist in it like some other coats.




Mary Magdalene Coat
Although it's the least interesting, this coat gets worn the most. I wear it with non-lolita clothes too, including to work.




It came with various detachable bits too, including furry cuffs but I've removed them since they were prone to getting in the way. All three of these coats are really nice and warm, and stand up well to the British winter.

Phew! That always takes a lot longer than you expect. For those who saw last year's post, you'll see that my wardrobe didn't grow much but I did stick to my resolution to get rid of (most of) the sweet stuff and replace it with more gothic and classic.

This year it'll be the same: I don't have much space for more dresses, so instead I'll be on the lookout for a few rare collector's pieces as well as more blouses and accessories to pair with my existing wardrobe. Perhaps next year I'll find the time to take pictures of those as well as/instead of doing co-ordinates like these (although I know I said that last year too).

I sometimes post co-ordinates on Instagram and I love to follow other lolitas, so please do add me there if you're interested! My username is 4ilsa.