First wardrobe post ever, and first EGL post as well.
I've just been lurking around for over two years!


After 2.5 years in the fashion, I'm finally making my first wardrobe post! Are you excited? Well, I am!
This kind of wardrobe doesn't happen overnight.. this GIF shows the development! First GIF I ever did.. did it turn out fine? <(o.O)>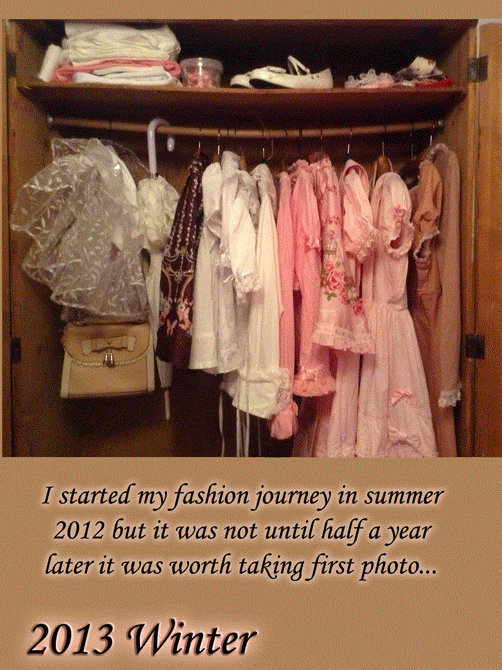 Lets start with the main pieces...
Baby the Stars Shine Bright. The blue Floral Lace Ruffle and the tartan JSKs are two dresses I wear the most outside at autumn and winter. They're toned down, warm and universal. I think no daily wardrobe is complete without a tartan piece! So perfect for autumn. Then theres a black cutsew OP Cherry Patterened Mesh which I wear to university exams and a white cutsew OP from cotton which makes for perfect sleep wear! Uh oh, putting black and white piece on one photo turned out badly -.-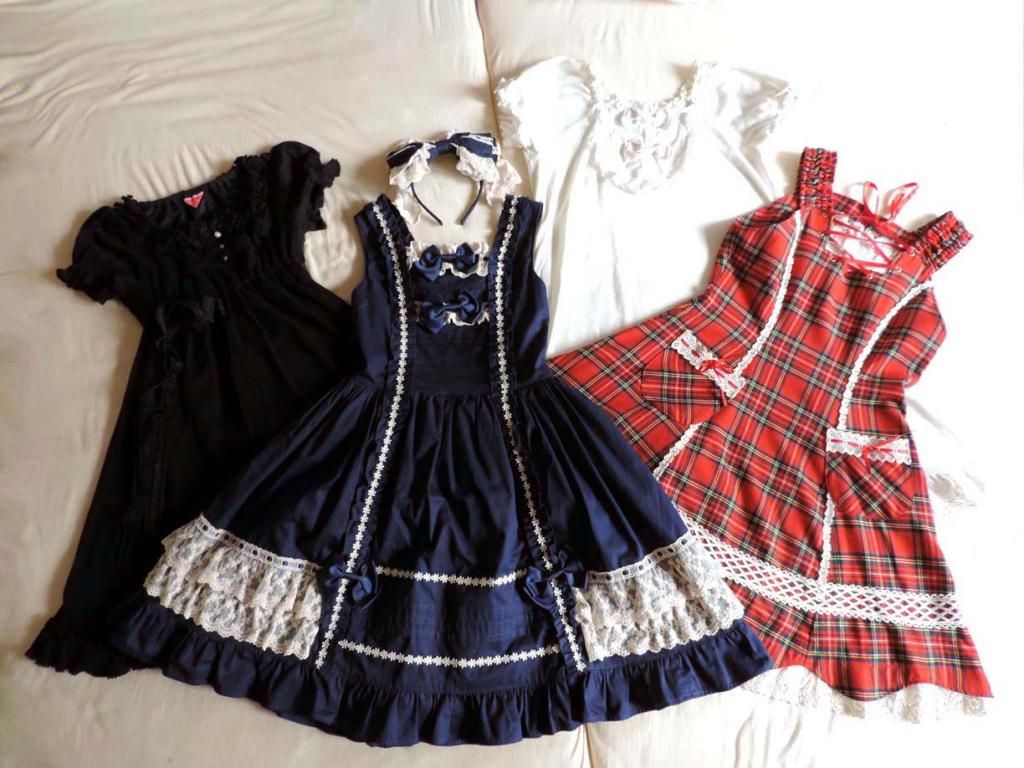 Angelic Pretty. Dreamy Horoscope JSK in navy, with white barette. I love this dress so much if my room was aflame and I could take with me just one dress, it would be this one! Its lightweight and perfect for summer, birthday parties, meetups.. the sweetest dress I own. To the left is Precocious Lady OP, a summer piece with high waist and dusty white jaquard layer. To the right is the first AP dress I bought, Dolce OP in baby pink. Since I got it, I've never put on myself my pink Bodyline OP again! The difference in material and making is just so stunning the Bodyline cannot compare to it... sorry Bodyline.




Innocent World. The Florence OP to the left was my first lolita dress ever, not only first brand! Pretty cool. Simple, but I didn't dare to frill up more than that back then. To the right is Bouquet Doll OP I wore to the Innocent World Tea Party in Vienna. Its one fancy classical piece.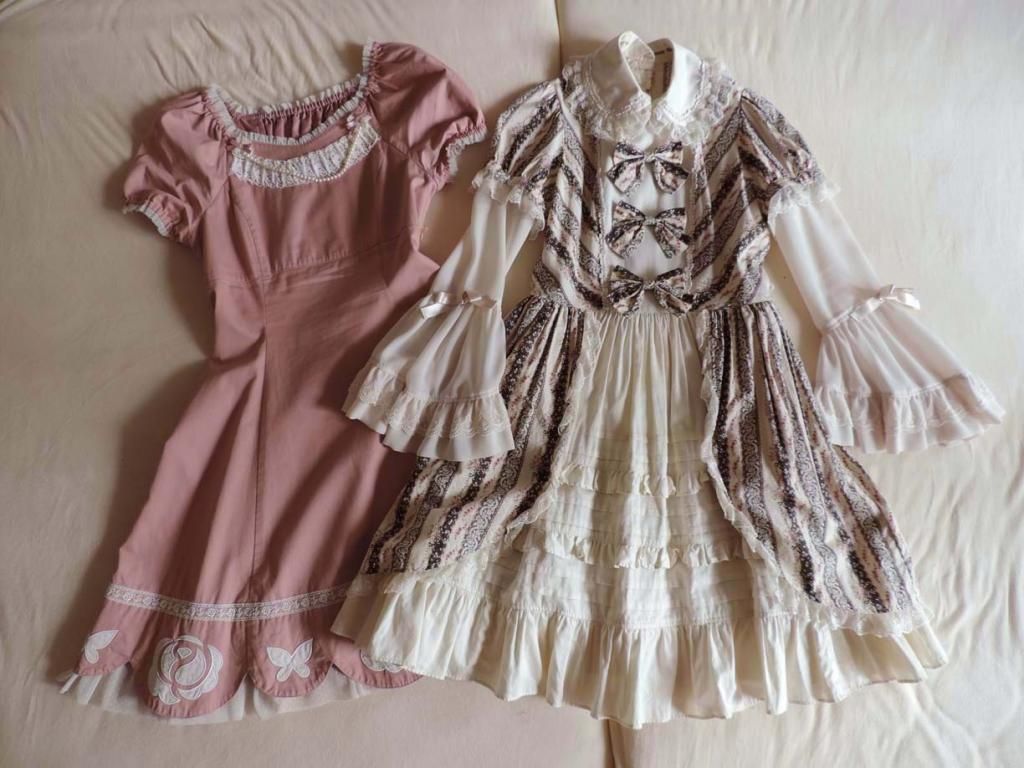 Offbrand. As a daily lolita, I need some padding in my wardrobe. From left to right.. pink Bodyline sailor piece, my first baby pink dress. It looked so fancy to me back then, before I got my baby pink AP. Now it just sits in my closet. Chess Story Marriage d'Amour is my dream wedding dress. I was looking for it for a year till I got it secondhand.. the print is just awesome, and its easily my longest dress, reaching well past my knees. Sax replica of Milky Planet from DoL... because, you know, you gotta wear something when you go out with trash. Or to children's carnival and other messy places. Next is Dear Celine black and pink OP. Its light chiffon dress conservative enough even for a fancy dinner or when I just don't dare to go full lolita for an important occasion. Last comes Bodyline's floral piece L510. The fabric is thick cotton, its comfortable and hardly ever wrinkles. It makes for arguably the best dress for my daily chores around the house. I'd say its also one of the best Bodyline's pieces regarding material and quality.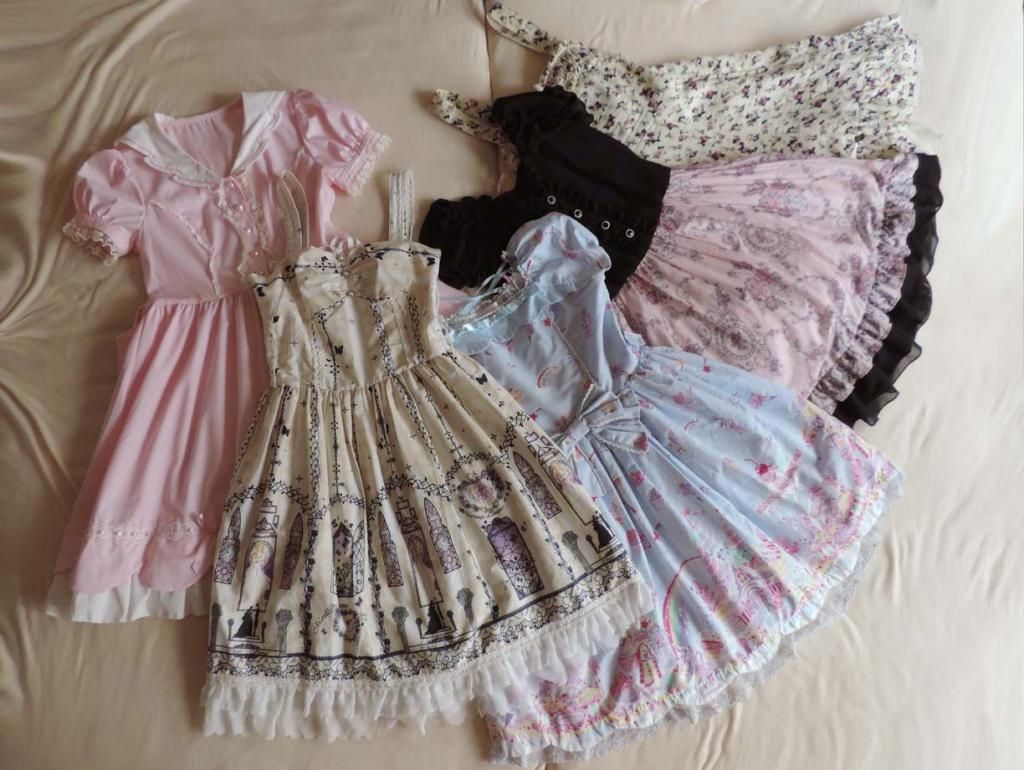 Here comes skirts! Or rather, my only brand skirt. I prefer dresses when going out, but it pays to have one nice skirt when you know you'll need to redress outside. Great for shopping clothes, in the rare cases I need to buy normal clothes... that was what, three times in two years? Something like that. I was looking for the sax Wonder Story for quite a time, always wondering whether I should get it or not.. in the end, I got the skirt. The color is a bit dusty blue, but it suits the skirt better than pure sax tone. The clip bow has little golden cutlery on the ends!
Allright, the rest of the skirts. All offbrand. From the black one in mathematically positive direction (against the clock's, I never got why really but it is so!), the black skirt is HMHM and has little stars embroided above the string of embroided bows. Although I don't usually wear much of black, this one is cute. Then comes Bodyline, Bodyline, and Bodyline (wheew, no Mr.Yan appeared beside me for saying that!) The floral skirt in offwhite is another great, forgiving piece for daily chores, as is the peachy pink Anna House skirt with lots of white lace. The Anna House skirt is quite short as you can see, too short for me to dare go outside! The only sax piece is replica of Sugary Carnival. As with the Milky Planet replica, the print quality is plain out awful and the fabric is rigid and .. well, I bought it only because I didn't plan to go in it further from home than to the trash bin. It still looks better on picture than in person though.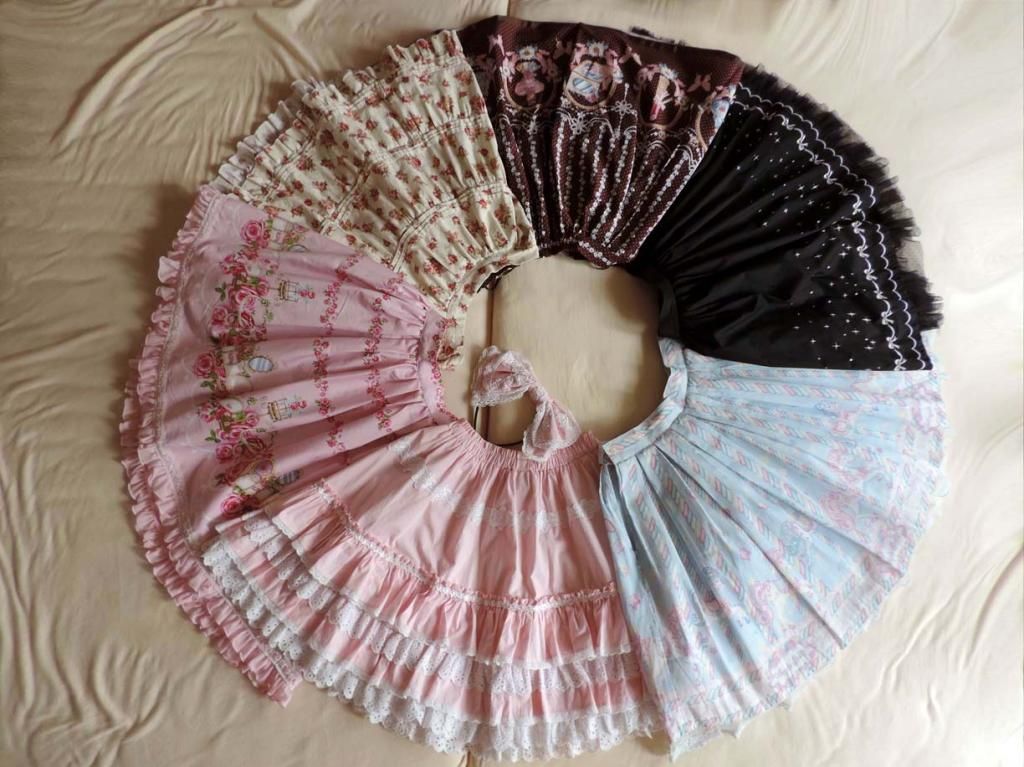 Its tops time! My only two brand tops are BTSSB cutsew with lots of pretty lace in dusty pink and the long Innocent World cutsew in old rose. The IW cutsew has the exact color and lace of the Florence OP! But I really want a brand blouse sometime.. before I got one I liked I was stocked on offbrand blouses till the end of my frilly life!




Short sleeve blouses. Offbrand, Bodyline, Anna House, Bodyline. The pink Bodyline blouse is super cute, but I end up wearing mostly the offwhite Anna House blouse. All blouses I have from Anna House have good lace and are comfortable.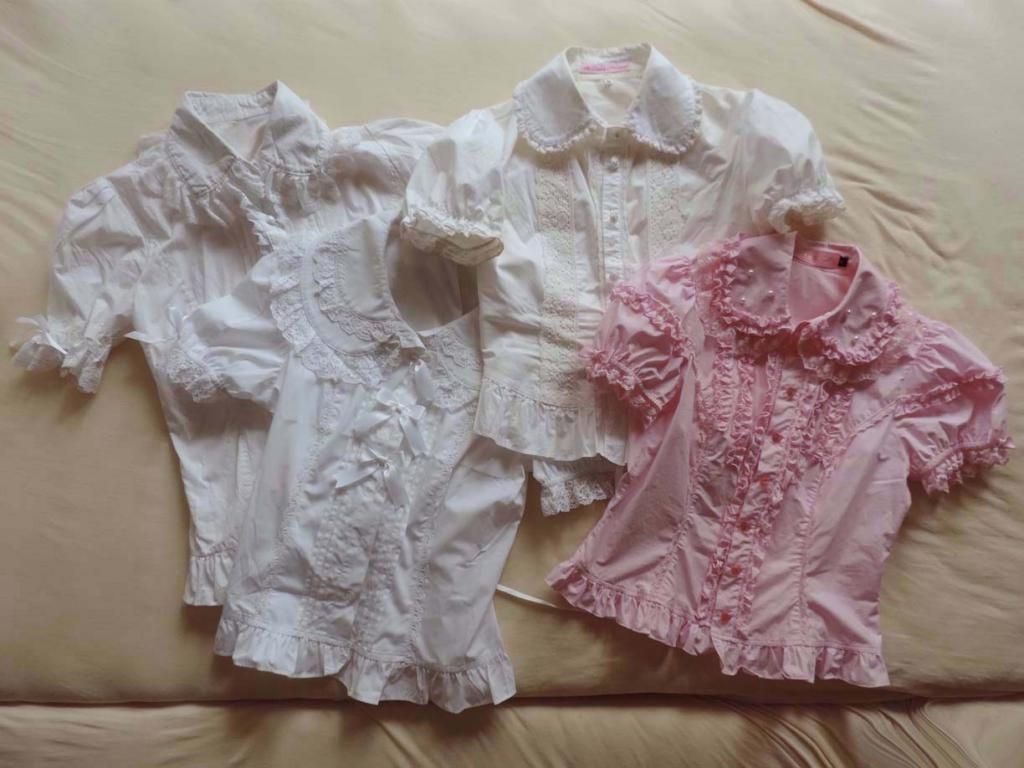 Long sleeve blouses. Black Bodyline blouse with detachable sleeves, black Infanta blouse, white and offwhite Bodyline and white Anna House. Offbrand blouses are just great for padding the wardrobe and for protecting the brand above them xD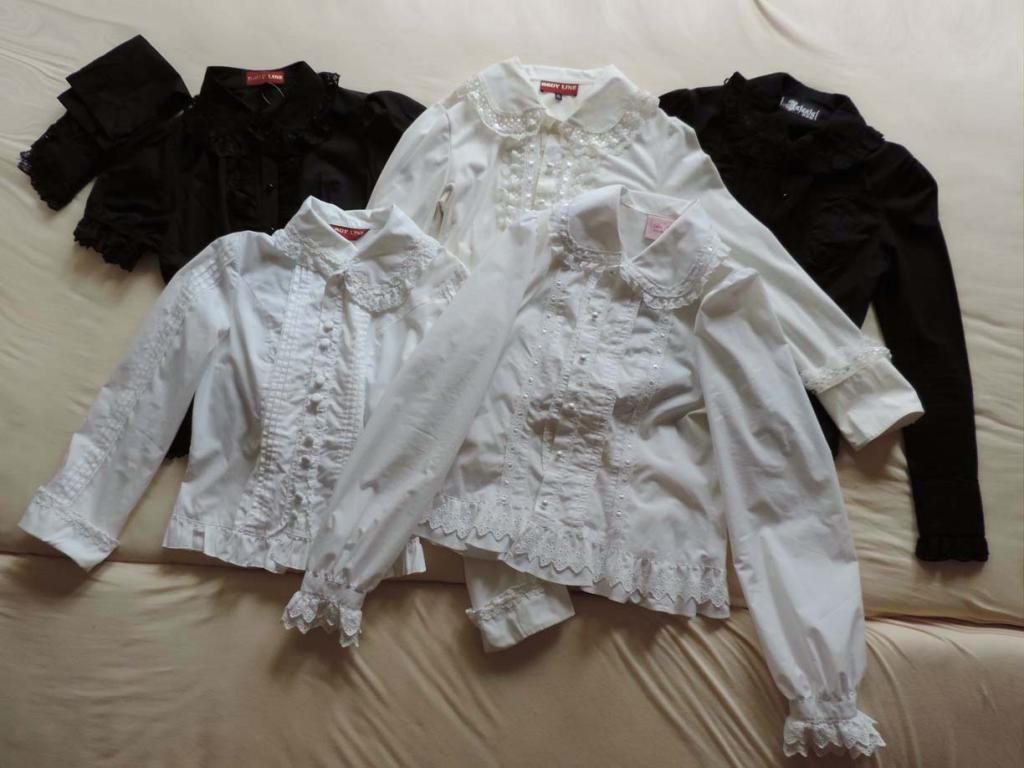 Cardigans. After I put them together, I realized its all Bodyline! No really, thats some nice, simple cardigans, and the pink one is my sweetest, I love it, all those details! Hard to imagine even that is made by Bodyline.




Loliable tops I use with my lolita clothes. Two nice turtlenecks, a sweater with 3/4 sleeves, an offbrand cutsew and some shirts.




Done with the tops in my wardrobe. Its socks time! Heres my brand OTKs and other printed socks. From left, BTSSB knee socks with lace, then Metamorphose OTKs, Innocent World OTKs, Innocent World OTKs with lace. The rest is simply Secret Shop or offbrand.




Wearing lolita on daily basis makes one go trough a lot of hoisery quickly.. so Ive a padding of plain cotton tights, a stack of white woolen OTKs and random socks, some with lace trim.




Shoes! Just some basic shoes, Bodyline and An*Tai*na. I really love how tea parties look, Id buy them in all the colors if it was just up to me! I really need to get some boots for winter, but everything nice seems to be on heels side the engineer boots, which look a bit bulky.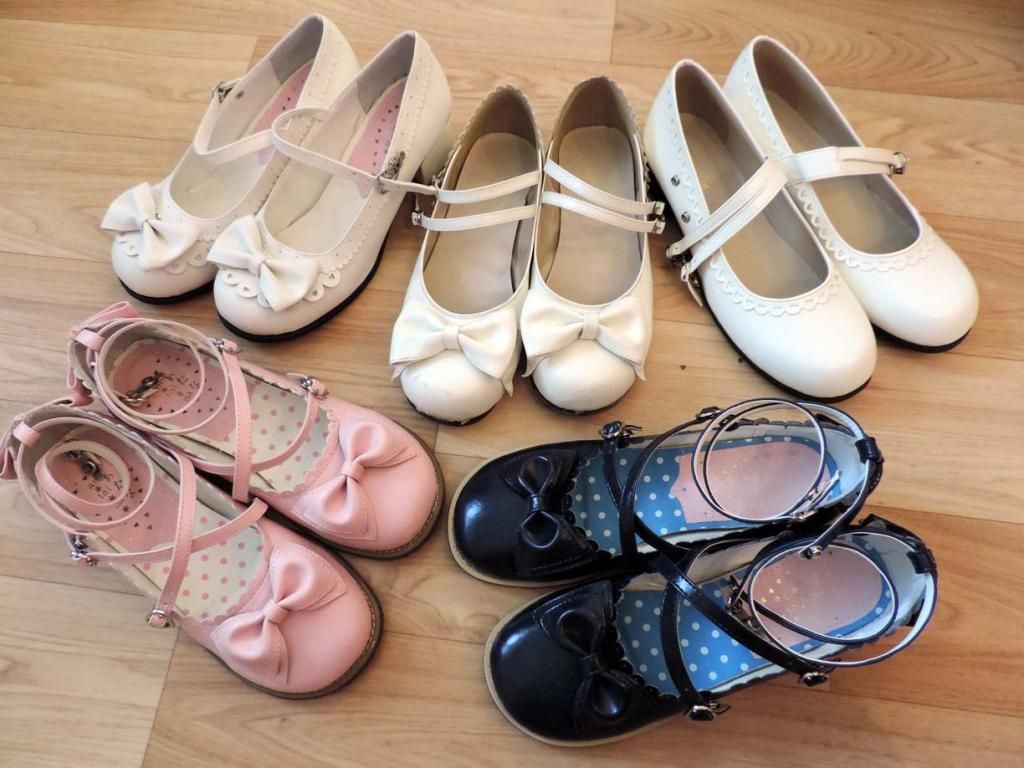 Accessories. I need more of those.




Bags I use. Everything is offbrand.




Petticoats, offbrand, Bodyline, and Bunny House. The pink Bunny House petticoat is a monster, I went for middle poofiness and its still too poofy to be able to fit under like half of my clothes! xD Some skirts with it look just like theyre about to take to air and float silently away.




Stuff I couldnt fit anywhere else. A parasol, some bloomers - also Metamorphose bloomers. Nothing like putting a brand bloomers under your otherwise entirely offbrand outfit! A wig I didnt yet learn to put on correctly, and one lolita magazine written in japanese which I cant read. I guess every lolita has at least one of those? At least its got pictures!




Thats all! I hope you enjoyed yourself reading through my rant, and here you have one final picture overlooking my new clothes closet!