Recently I got old issues of the Daisuki magazine (german manga mag). Two of those had articles about Lolita (gothic and sweet), it were these that got me interested in Lolita back then.

For nostalgic reasons, let me share the scans. Lolita was an entirely new thing in Germany (probably for the rest of us "westerners", too) back then.





Bonbon-pink in Harajuku: Gothic Lolitas



Princesses and little Dolls
They have nothing in common with the premature girl by best-selling author Vladimir Nabokov: japanese Lolitas are cute, innocent and most of the times as sexy as a wedding cake. Their dresses are more colourful than those of their soul sisters, the "elegant Gothics", in tender buttercreme-colours or deep bordeaux, with tartan or flower patterns. They don't simply wear dresses, but robes and jupes (french for skirts). And several dresses and manteaus (french for coats) have wonderful names like "Pleasure de Luxe".

Everything is very tender and romantic, this style knows no "too much" (anticipating OTT Sweet, lol): if there is space for ruffles and lace, there are ruffles and lace, and where one could place a little bow, there will be put a little bow. Or two, or three. And pompons, flowers, hearts and pearls.

Lolitas want to look like victorian dolls: ringlet wigs and hats or tiny blankets (rectangle headdresses?) definately have their place upon the head. Under the knee-long dress one has to wear a petticoat, and additionaly Mary Janes (shoes with buckles) with plateau soles or boots. For the whole outfit, the rule is: everything goes, if it's cute or in the "Gothic & Lolita Bible".

Photo caption: two little angels

Style-icon Kana
Pop singer Kana (21) is the style icon of Lolitas and sweeter than a marshmallow. She targets every Lolita trend: strawberry, fairy, bride, princess, Alice in wonderland, or fairytale figures like little red riding hood.

Kanas hair has been coloured in every colour of the rainbow, her trademark are two little buns above her ears. She models quite often for the GLB.
Because she can look so incredibly cute, one doesn't take offence that her music sometimes sounds a little like Sex Pistols on helium.

photo caption: Kana - star of the scene
photo caption: lots of gloss and an innocent look: Lolita Make-up



Styling and make-up


Ringlet wigs are en vouge in every hair colour, and if you prefer Kanas style, you can wear your hair straight, and maybe in pink or light green.
A straight fringe is definately an obligation, hanging a little over your eyebrows or combed across your forehead. Make-up has to be as naturally and innocent as possible - fake lashes are an obligation - nothing makes your look more innocent than long lashes. For a porcelain teint, use matte make-up with very little powder and some pale pink rouge. Add some gloss for your lips: finished!

photo caption: dressed good and warm on cold days, too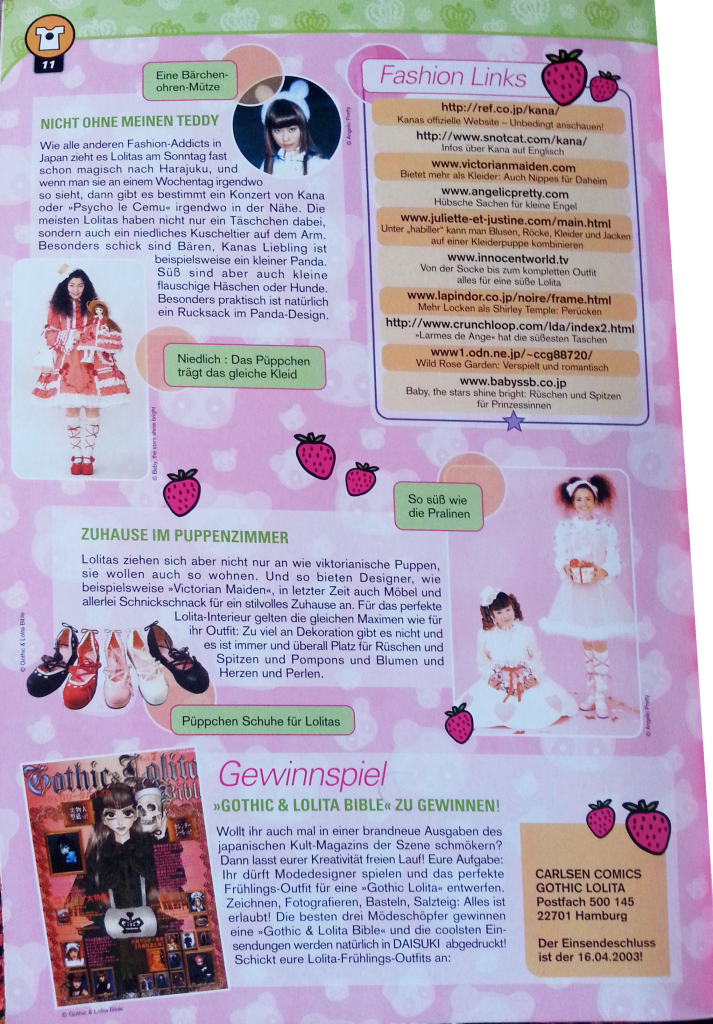 Photo caption: a little-bear-ears cap
Not without my teddy bear
Like any other fashion addicts Lolitas are drawn almost magically to Harajuku every sunday, and if you see them on a weekday, then there's surely a concert of Kana or Psycho le Cemu nearby. Most Lolitas don't only have little bags with them, but also a cute cuddly toy. Especially chic are bears - as an example, Kanas favourite is a little Panda. Also cute are little fluffy rabbits or dogs. Very practical is a rucksack looking like a panda, of course.
photo caption: cute: the dolly wears the same dress
photo caption: as sweet as pralines
- Kana: kanas official site: you gotta have a look!
- Kana: infos about kana in english
- Victorian Maiden: having more than dresses: also tchotchkes for your home
- Juliette & Justine: in the section "hablier" you can combine blouses, skirts, dresses and jackets on a mannequin
- Innocent World: from socks to a complete outfit everything for the cute Lolita
- Lapin d'or: more curls than Shirley Temple: wigs
- crunchloop: "Larmes de Ange" has the cutest bags
- BtSSB: "Baby, the stars shine bright": ruffles and lace for princesses
At home in a doll room
Lolitas don't simply dress like victorian dolls, they want to live like one, too. And so lots of designers, like Victorian maiden, sell furniture and tchotchke for a stylish home recently. For the perfect Lolita-interiors, there are the same rules like for their outfit: there is no "too much decorations" and there is always and everywhere a place for ruffles and laces and pompoms and flowers and hearts and pearls.
photo caption: dolly shoes for Lolitas

Raffle
design a spring-outfit for a "gothic lolita" and win a GLB issue (GLB Vol. 7 pictured)