I've bought a lot of bags recently (a Swimmer biscuit shoulder bag, an Alice and the Pirates book bag, and an offbrand clock bag), so I thought I should post a review of the services and shipping times I recieved. Review is under the cut!

ETA: I wanted to add pictures, but I still don't have a working camera. However, I have added a few extra notes on the bags now I've owned them for a while - I've been using the clock bag as a daily bag since it arrived and the print hasn't scuffed or worn at all, and the strong smell I noticed did fade.




Swimmer Biscuit Bag

Stock Picture: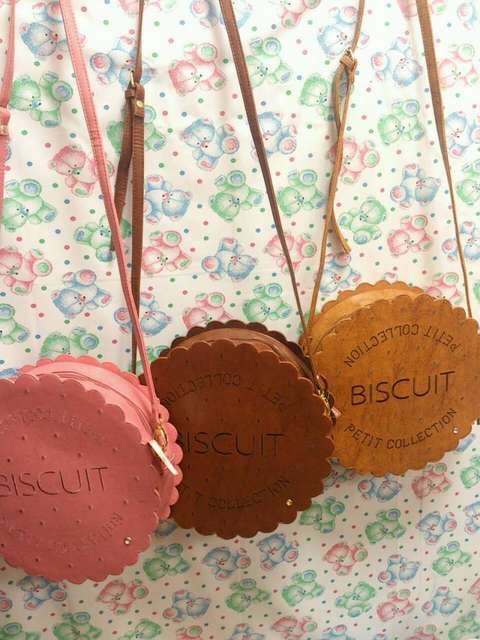 My Pictures: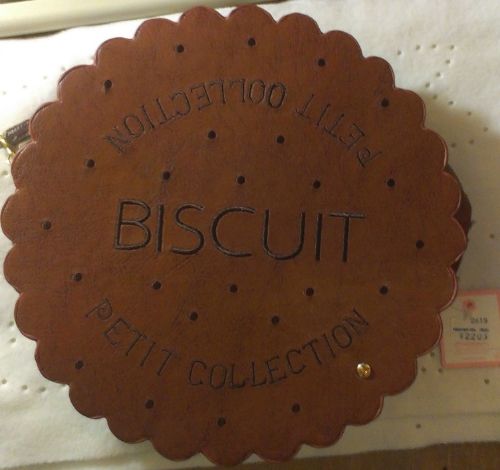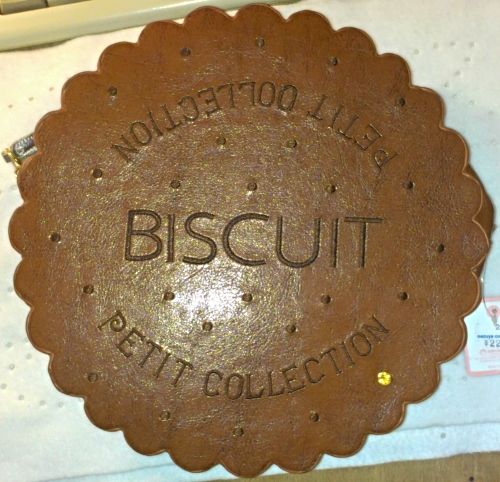 I apologise that I have no worn photo or photos with the shoulder straps attached; I managed to break my phone just after my order arrived, so I only have the photos taken on unboxing. The first one is with flash, the second is without flash. At first I wasn't sure about buying the 'bitter' (dark brown) version of the bag, because I wanted the 'plain' (light brown) version more as I thought it looked more realistic. However, since I want to eventually own both colours and the bitter colourway was the only shoulder strap version on mbok, I bought it anyway - I might not see a genuine Swimmer shoulder bag in 'bitter' for quite some time if I didn't get this one, and replicas don't generally come in the dark brown colourway, whereas if I couldn't find a genuine 'plain' bag it'd be easy to buy a replica. I'm glad I bought it now because dark brown matches three of my brown pairs of shoes, whereas the 'plain' version would only have matched one pair of tan An*Tai*Na* boots.

Timeline:
Saturday 18th January: placed order through Japonica Market with only 14 hours to go on the auction (couldn't figure out how to mark it as urgent without an account number)
Sunday 19th January: recieved and paid invoice for 3141 JPY (3000 JPY bid plus the PayPal fee), Japonica Market placed bid, I won the auction
Thursday 23rd January: was notified that my item had arrived at Japonica Market's offices and was asked if I wanted a final invoice. Replied asking for invoice
Saturday 25th January: sent email asking why I hadn't been sent the invoice yet, was told to wait my turn because there had been a rush of orders recently
Monday 27th January: recieved and paid shipping invoice for 3,326 JPY
Tuesday 28th January: recieved email saying item had been shipped via EMS
Wednesday 29th January: parcel leaves Japan, arrives at UK customs (Coventry ParcelForce)
Friday 31st of January: leaves UK customs, item "processing at delivery post office"
Saturday 1st February: got a letter telling me to pay customs charges online and that the parcel would be delivered the next working day after I paid. Immediately paid the charges, but was told the next delivery date would be Tuesday, not actually the next working day (Monday)
Tuesday 4th February: item successfully delivered
Total time: 17 days

Experience with Japonica Market
I'd read reviews saying Japonica Market were a good shopping service, and they provided good service at first, even though I'd caused them extra hassle by not marking an auction that was due to end in 14 hours as urgent. Their responses were initially pretty prompt, and I won the auction, but after I recieved the email saying the parcel had arrived at their offices I didn't hear from them for several days even though I'd replied back asking for an invoice. This was very irritating (what's the point paying for fast shipping if they're going to take ages to ship it?), but I just assumed that there'd been a mix up and sent a polite email asking for confirmation. In reply I recieved an email that came off as quite rude (although it's hard to accurately read tone in an email) simply saying "wait your turn", and they didn't send me the invoice until a couple of days after that. In all it was 5 Japanese working days between me replying to their email confirming that I wanted an invoice and actually receiving it. Luckily I didn't need the bag for a meetup or anything, but that was pretty irritating considering how little time an invoice takes to send. However, once I paid they shipped out the next day, and I recieved my parcel a week after that.

I was pretty annoyed because of the were a hassle Japonica Market caused me with customs by either making a mistake or rounding up to the nearest thousand yen when filling out the forms; they said in their emails that they'd mark the declared value as the auction total but actually marked it higher. I paid 3000 yen for the bag at auction, which including domestic shipping came to a 3580 yen auction total, but Japonica market marked the parcel as worth 4000 yen (plus 2000 yen shipping). This placed it JUST over the UK tax threshold for gifts of £36 (literally, it was only over by about 18p, and at the current exchange rate it's actually under), which meant I had to pay tax on it that I wouldn't have had to pay if the parcel was marked correctly. I got charged £7.59 import VAT (fair enough) and £13.50 in handling charges (twice as much as in actual tax!) I'm technically entitled to a refund on the tax if I can prove what I originally paid, but that's hard to do when the transaction history on my bank statement does total over 6000 yen because it includes PayPal and shopping service fees (they're services not goods and therefore technically not part of the item's value for tax purposes). Because I didn't want to get into trouble for having the parcel falsely marked as a gift I didn't bother trying to claim a refund, but I was still annoyed that Japonica Market's mistake/rounding up cost me as much in taxes as the bag was worth.

To make matters worse, I sent a polite email to Japonica Market once I recieved the parcel and saw that the goods value had been marked as 4000 yen and not 3000 or 3580 and they never replied. I wasn't expecting or asking for a refund, but an apology or clarification that it was company policy or something to round up to the nearest thousand would have been nice. It's been three weeks since then and I still haven't recieved any sort of reply, so I don't think I'll be ordering off them again.

Japonica Market did package the bag well, inside a box with lots of bubble wrap round the bag and a foam rectangle inside it to stop it crumpling during transit (the sides still got folded a little because the foam didn't hold it all the way open), although the box was far larger than necessary - the bag would have fitted inside a padded envelope and shipping would probably have been a lot cheaper if it was packaged that way.

Overall, I spent £60.18 - three times as much as the bag cost new. I really like the bag - it's so cute and I've wanted a Swimmer bag ever since I first saw them - but paying three times what it's actually worth is ridiculous and I'm not sure if I should feel foolish or not... About £20.45 went on the actual bag (bought at auction for slightly more than the original price), £19.14 in shipping and shopping service fees, and £20.59 in customs fees. However, if the value of the bag had been declared correctly on the parcel, I wouldn't have paid any customs fees and would only have paid £39.59, which would have been much more palatable.

ETA extra notes:
The adjustable straps are handy, but it's hard to get the straps to lie flat. Now I've had the chance to use this bag a few times I've found that the straps twist round very easily (the metal thing they're attached to that attaches them to the bag can rotate), which is kind of annoying but not a big problem.


AliExpress Clock Bag

AliExpress link:
http://www.aliexpress.com/item/Pg-beauty-3376-networks-fashionable-casual-clock-pocket-watch-one-shoulder-cross-body-women-s-handbag/1585085588.html

Stock Picture:



My Pictures: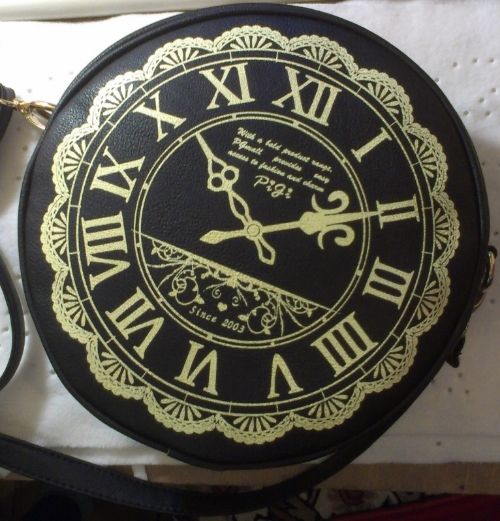 I love clock bags and having missed out on buying Alice and the Pirates' latest one (and not knowing at the time that restyle.pl sold them), I went looking for a cheap, simple clock bag on AliExpress. I liked the look of this one (there were a couple of similar ones but this seller had the best feedback and lowest prices), so I ordered it in black.

Timeline:
Sunday 19th January: placed order and paid
Tuesday 21st January: shipped out via China Post Air Mail
Wednesday 29th January: delivery attempted, but I was out
Thursday 30th January: picked up parcel from the local post office
Total time: 10 days

10 days is pretty fast for free shipping via airmail, especially since it got opened by Chinese customs on the way here (they didn't damage any of the items or repack it badly so I don't mind). it actually took the same amount of time as my EMS packages because it wasn't delayed for long in customs and I because airmail goes via Royal Mail once it's in the UK I wasn't forced to wait over the weekend before ParcelForce would redeliver (ParcelForce charge an extra £12 for Saturday delivery, so if you get your customs invoice on Friday you have to wait until Monday to get your parcel, whereas Royal Mail just leave it at the nearest post office where you can pick it up on a Saturday morning). Oddly, the tracking number seemed to stop working after the parcel left China - it was two days after the parcel had arrived at my house before the website thought it was even in the UK yet! I didn't have to pay any customs charges because the total cost was below £36 (marked as 150 RMB on the parcel and $26.95 on the website) and the package was marked as a gift by the sender. Shipping was free so overall this was a cheap purchase for such a nice bag - only about £15, cheap enough that I'm not going to save it just for lolita, and in the first two days since I started using it about 5 different people asked where I got it!

The bag was fully lined, with two small side pockets for small items that need to be accessed quickly (I use one for my phone and one for my medicines) and a zipped pocket for concealing flat items like sanitary towels. I was pretty pleased with that since for a cheap bag I was worried it wouldn't come lined at all, and definitely wasn't expecting pockets. It's got a larger capacity than the last handbag I had, which couldn't even hold a hairbrush properly, but the lack of compartments is frustrating - I don't like getting my earphones and my hairbrush tangled, or having my keys scratching other things in my bag. When it arrived, it had an air cushion thing inside to stop it from folding and the sides from creasing, but it had a pretty strong acrid plastic-y smell (from the printing of the design, I think?) but that faded after a couple of days of use. The print itself is yellower than it looked in the stock photos - perhaps slightly too yellow to be considered cream, but I think it could still be worked into a black x cream coord although it probably wouldn't work with black x white. When I bought it I didn't look closely enough and kind of thought it was gold in some colourways and cream in others, but nope, yellow. Overall though, it's a great bag because it's versatile enough to be used every day out of lolita - eyecatching yet normal enough to be worn with mainstream fashion. Plus it wasn't so expensive that I'm afraid to wear it out!

Since it was my first AliExpress purchase I also got an email with a $5 off voucher from AliExpress purchases over $25 a couple of weeks after I left feedback, which was nice.

ETA extra notes:
I didn't have any of the twisting-strap problems with this bag I did with the Swimmer bag, even though this one's straps can also rotate they don't seem very inclined to do so - possibly because the straps on this bag are slightly thicker? As I predicted, the strong smell of the bag did fade om a few days. I've now been using this bag as my regular daily bag for two months (containing a keyring, big purse, various bus/train passes, earphones, hairbrush, tissues and a few other items) and it's held up fine; it looks pretty much the same as when it first arrived, and I was pleased to find that even though it spends at least half my lessons on the floor rather than on the back of a chair the print hasn't scuffed, faded, or been scratched at all. I usually hold it on my lap during my travel on public transport, but it's been accidentally kicked around the floor then too and still suffered no damage.

PLEASE BEAR IN MIND that your email might be sold to spammers.. I never used to get spam emails, ever and shortly after buying off AliExpress I started getting them (just a few a day). It's not necessarily them as I had signed up for/bought off several sites during that time, but they're one of the possibilities so please be aware.


Alice and the Pirates Fairy Tales Pochette

Lolibrary Link:
http://lolibrary.org/apparel/fairy-tales-pochette-2013

Stock Pictures:


My Pictures: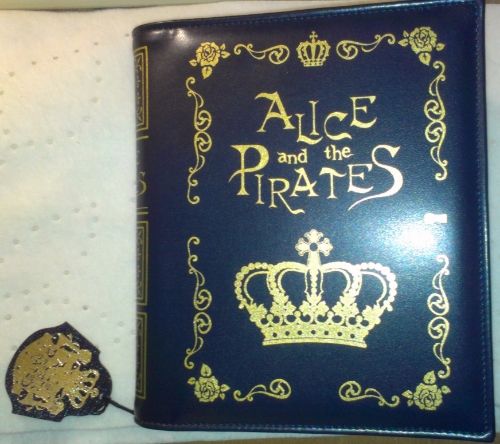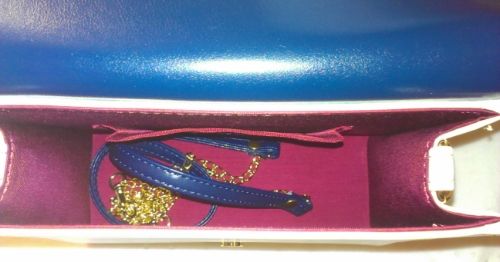 All photos except the third and fifth were taken without flash. Again, I apologise for the lack of worn photos and the bag with the straps attached; when I get my camera back I will edit some into this review. I'd considered buying the white and gold version (when I first saw this bag only navy x gold and white x gold were still in stock), but white x gold sold out before I got paid and would only have matched one specific dress I owned anyway so in the end I chose navy. I really like the black x gold and white x gold colourways as well though! I think the red is a little bright, as I prefer wine reds, so for a red and gold book bag I plan on buying restyle's Grimm's Fairy Tales one instead.

Timeline:
Monday 27th January: placed order
Tuesday 28th January: recieved and paid invoice
Wednesday 29th January: parcel shipped out via EMS, leaves Japan
Thursday 30th January: arrives at UK customs (Coventry ParcelForce)
Tuesday 4th February: leaves customs, "processing at delivery post office"
Thursday 6th February: got a letter telling me that the parcel would be delivered the next working day after I paid the customs charges. I immediately paid the charges and selected delivery on Friday (actually the next working day, this time, not the day after! Luckily also my mum's day off work.).
Friday 7th February: missed delivery, picked parcel up from post office instead.
Total time: 12 days

I actually missed the delivery of the parcel because my mum had gone out to get shopping, but rather than come back for redelivery ParcelForce just left my parcel at the post office and put a "you've missed us" card through my door telling me where to collect it. This was kind of surprising because they're actually supposed to charge you £1 through the website to choose post office pickup over free redelivery, but I suppose it was cheaper in petrol costs to leave the parcel at the post office and forfeit the £1 than to drive all the way back to the depot 40 miles away and then drive back again for redelivery. Anyway, they left it at the local post office/newsagents only a short walk from my house rather than the central one so I took the card and picked the parcel up as soon as I got back from college.

Shipping was reasonably fast because it went via EMS, although it was still marginally slower than cheap Chinese airmail because I got charged quite a lot of customs fees. The bag itself was 16,590 JPY (~£99), but including shipping Baby's PayPal invoice was 19,590 JPY (£119.50). Then I had to pay £22.52 in VAT, which is to be expected, but then ParcelForce's extra but £13.50 (annoying; Royal Mail only charge £8.50) as a clearance fee, so £36.02 in total in customs fees. Overall, once you include shipping, customs fees, and other miscellaneous fees this one Alice and the Pirates bag cost me £155.52! I can safely say that this is the most I have EVER spent on a single (non-electronic) item. I'm kind of apprehensive about buying brand dresses in the future because on purcases worth over £135 you have to pay customs duty as well as import VAT, and end up paying about a 32% rate of tax. I was originally going to buy this rococo umbrella in black as well as the bag, but if I had done that my order would have been pushed over the £135 tax threshold (and cost a lot more to ship) so I would have ended up spending nearly £200 in total! That £25 umbrella would have added £60 to the cost of my order, so I decided it wasn't worth it.

The print was really gorgeous though. It was so sharp (I'm used to blurrier prints), and the glitter doesn't rub off at all. The gold is glittery in a gorgeous, subtle way and I'm pleased because from the website photos I'd been worried the bag would be an overly bright royal blue, but it's actually a true navy in real life and when photographed without flash. Everyone who sees it hung up in my room is amazed (not only at the novelty of a realistic-looking book bag but at how fancy it looks in general), but it was so expensive that I don't want to wear it without the perfect coord. Luckily, several of my planned purchases, like Infanta's Rose Cathedral Chiffon OP, Magic Tea Party's Cross Love Song JSK and Swan Lake Winter Dance JSK, and Rose Melody's Cathedral Church OP come in navy x gold, so even though it's a very fancy bag it should be quite versatile.

Baby the Stars Shine Bright sent my order in a big box with lots of bubble wrap. The straps of the bag had been detached and placed inside the bag while it was in transit. It was a nice touch that they also sent me a folded-up plastic tote bag (standard, I know, but I got excited about it...) inside the box, but even though the print on it is gorgeous it's difficult to store folded-up without creasing and yet too fancy to really use...I hear a lot of lolitas just pointlessly hoard brand bags, and I think I'm going to end up becoming one of them.

ETA extra notes:
I haven't really worn this bag out (it's just hung on the back of my door) but I did notice while trying it on with a new dress that non-adjustable straps aren't very convenient because they're longer than they look in the stock pictures. Even when worn as a cross-body bag rather than a shoulder bag the long straps mean that this bag will be hanging low enough to squish your petti on one side if it's got heavy things in it.

The tote bag: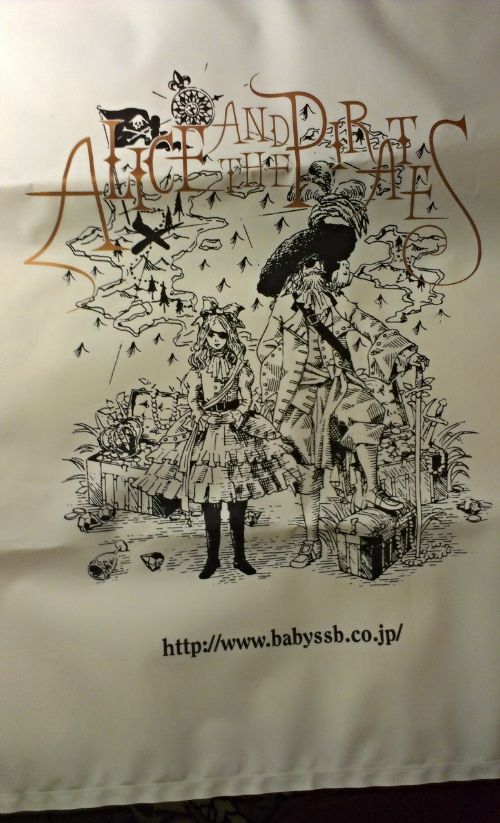 Anyway, that's about it. I have only one other bag, an offbrand floral tote I got at Matalan years ago, so it's not really worth mentioning. If anyone would like to see worn photos or all the bags hung up together I can edit them into this post later.

In conclusion: Alice and the Pirates good (yes, we knew that already), AliExpress good (suprising) and Japonica Market not so good in terms of communication (slightly surprising given all the positive reviews I'd seen of their service).