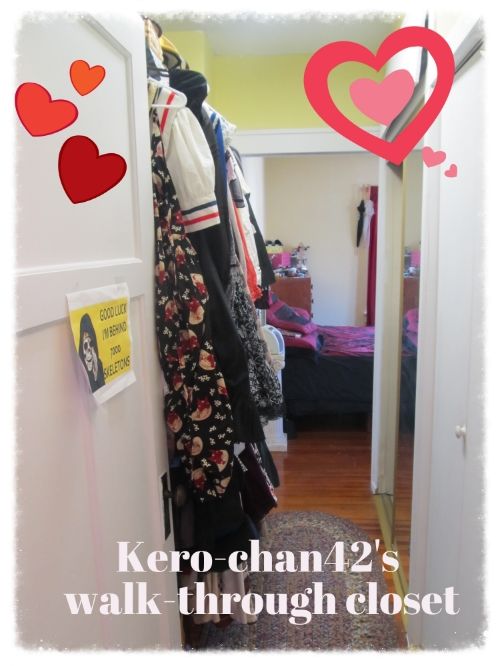 Apologies in advance for the un-rotated or poorly cropped photos and mispelled words. Photobucket ate a lot of the edits I did to my pictures on the final look-through...



I haven't done one of these since 2011, because they are realllllly involved. Last summer we moved into a nice 1904 Victorian farm house, and my bedroom was still relatively clean from the move. Added to that, my boyfriend offered to help. So I actually squeaked by right under the wire for 2014's January Wardrobe theme. Sort of. We'll pretend it is still January , somewhere. . . I've been wearing Lolita for almost 9 years, and wore it almost daily for a good 1/3rd of that. So here is in all its monstrous glory. It is the opposite of a finely curated wardrobe. More like the wardrobe of a spastic hoarder, so.....

First though, is 5 little pictures of my 7 year old daughter's little wardrobe, because she grows so fast! Just scroll down a tiny bit for my clothes.
Cherry skirt is A+Lidel, purple is The Gap, black with hearts is one of my old lolita skirts (so old-school)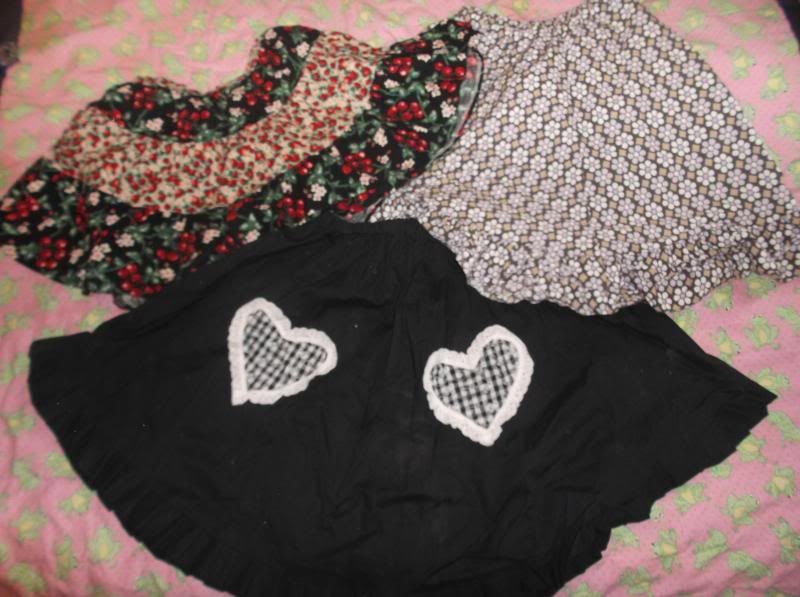 skirt is vintage, both JSKs are Bodyline: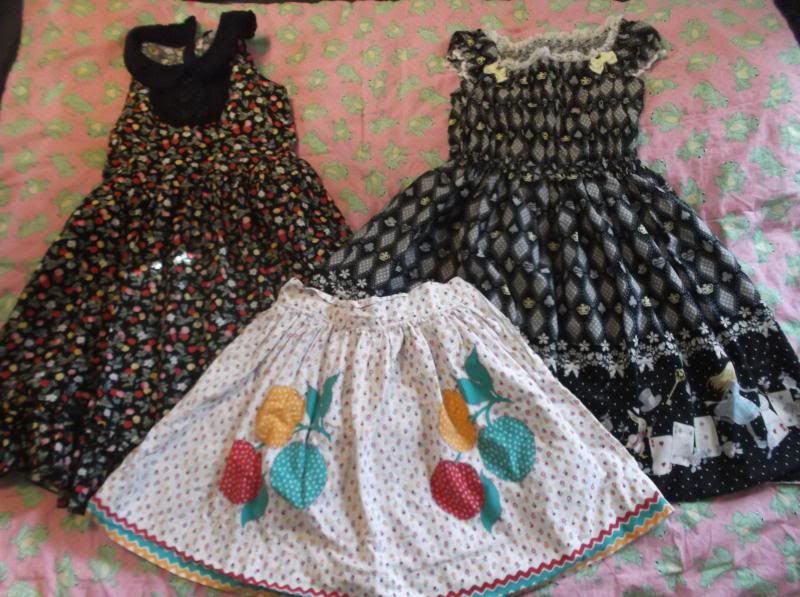 Top skirt is thrifted, bottom is blasphemina's closet, now Smantha Rei. Pink JSK is bodyline.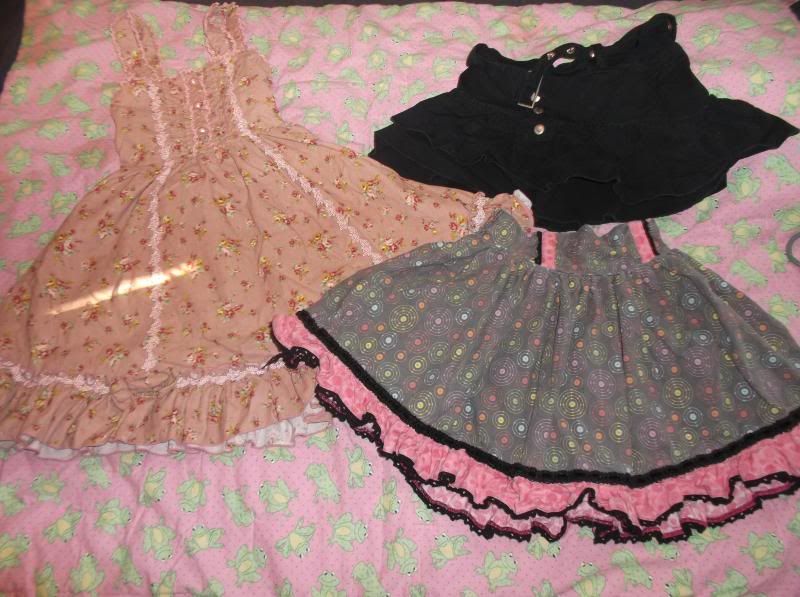 Grey JSK is Gymboree, 2 velvet JSKs are Bodyline.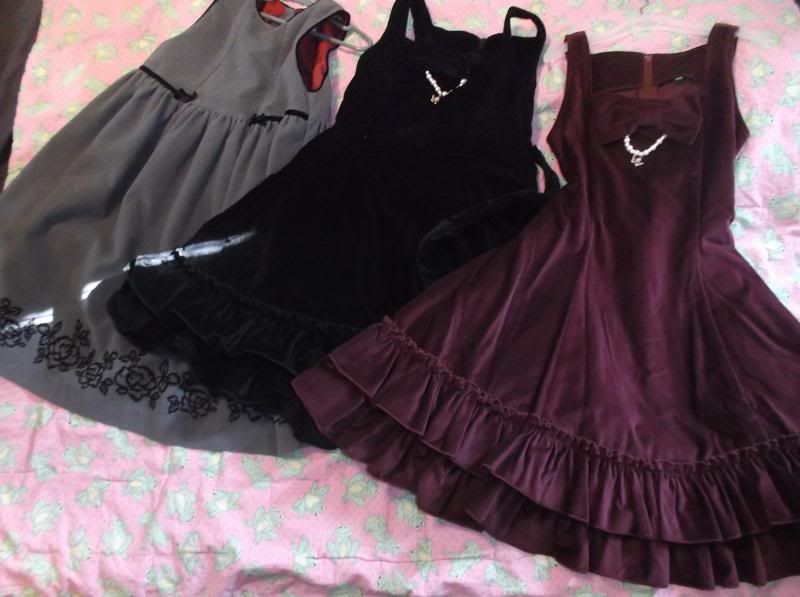 OP is MILK, skirts are Western brands: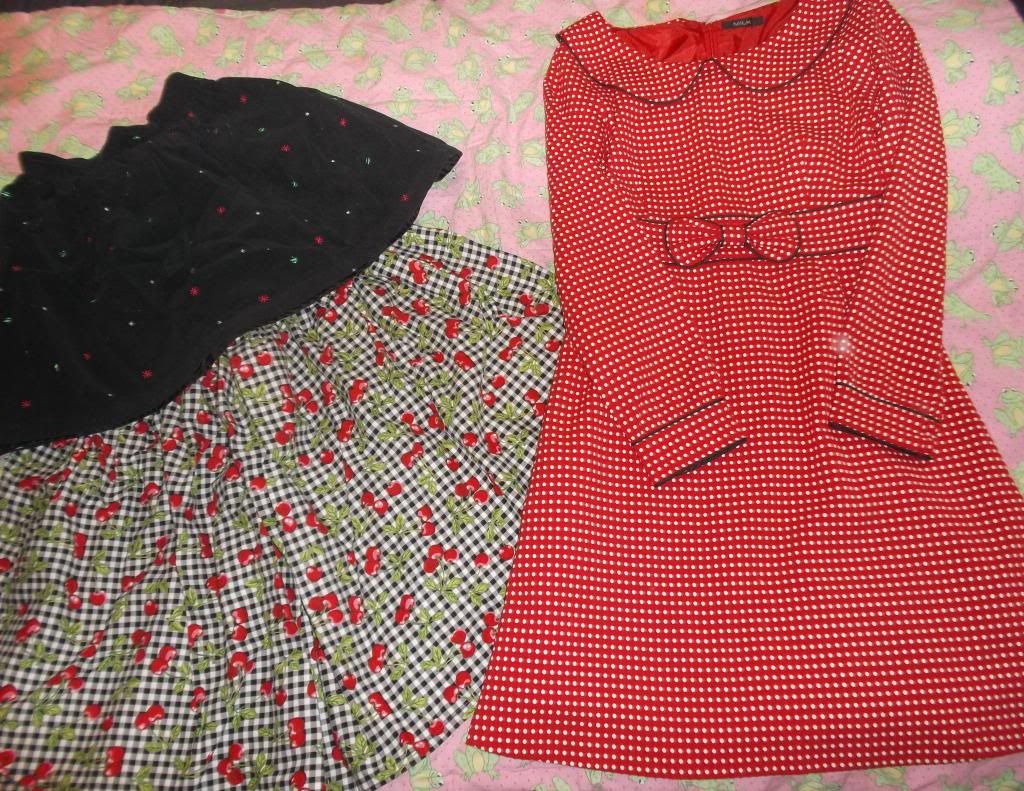 Shirts and purses, all non-brand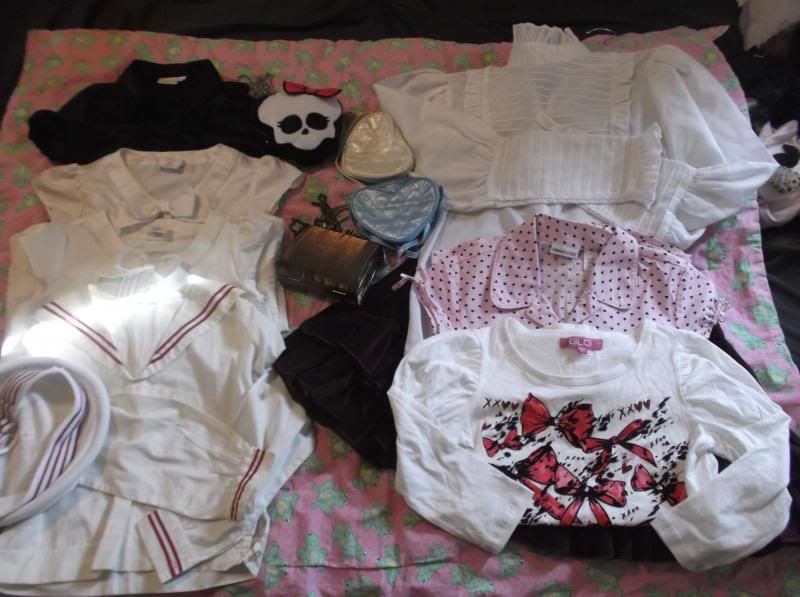 My closet is in the hallway to the master bedroom. Like so:


What the top of my dresser looks like. . .


Tiny outpost of accesories. Where my favorite pieces live so I can put them on quickly before I leave.


I have more stored in my guest bedroom. A lot of it is things to be mended/ironed/sold. THe inevitably NEVER happens, so it just sits up there, amassing. Slowly.


FINALLY, ACTUAL PICTURES OF MY LOLITA CLOTHING
My Coat:
This gets used A LOT, because I live in the upper Midwest of the USA, and it gets really cold all the time. We've had 2 polar vortexes this year so far. Good times!
Brand: Innocent World



Sets:
Left to right:
Lillies of the Valley Unicorn skirt amd headdress. She made the skirt to have the matching belt, like the JSK version for me. :)
Right is an awesome ICK by Industrial Kitty set. Bloomers, purse, headbow and skirt. Soooooooo comfy.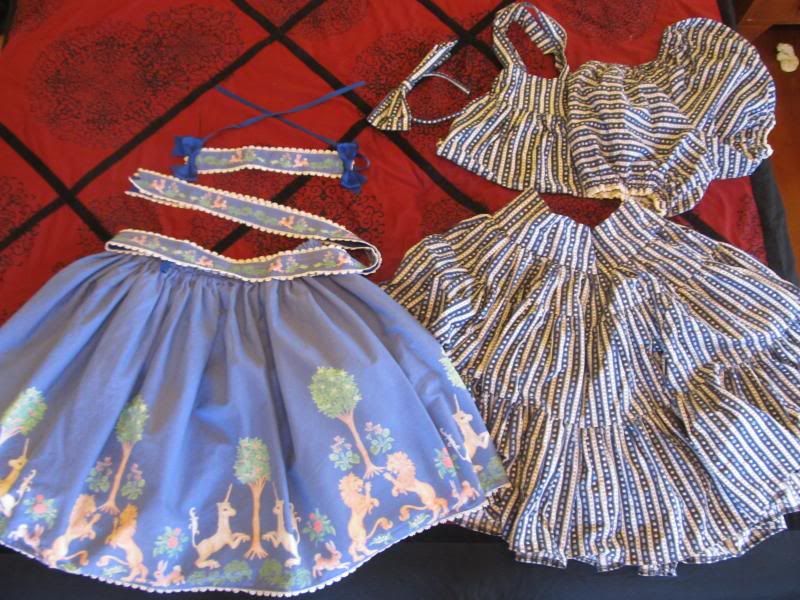 Innocent World Bordeaux Velvet Pieces:
I collect Old-school lolita pieces that are this shade of bordeaux velvet from Innocent world
All IW, but the socks are secret Shop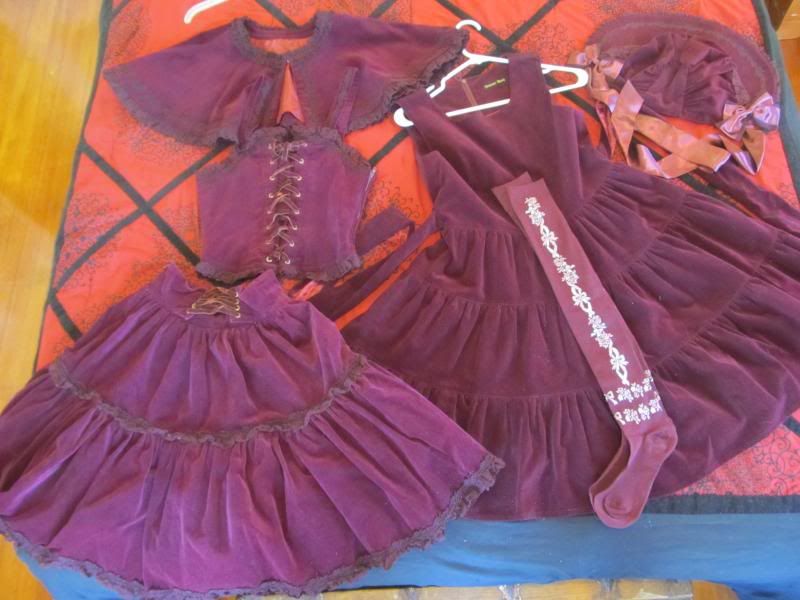 Alice and the PIrates Vampire Requiem Long JSKs and headdress. Red is 1st release, black is first batch, second release


Miho Mastuda Skirt and Top, Metamorphose Top and shirt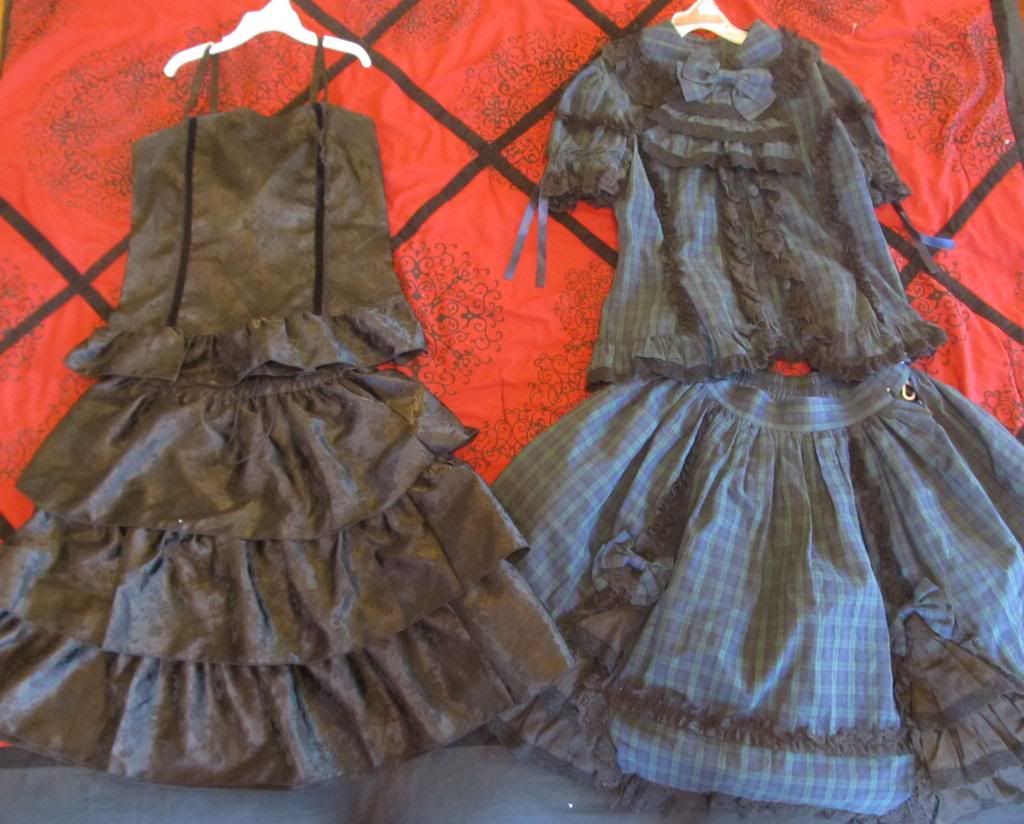 Carnia e Arlequin skirt and capelet (sub-brand of Atelier Pierrot), Bodyline set



Dresses/JSKs
Victorian Maiden OP and JSK with matching removable Yoke collar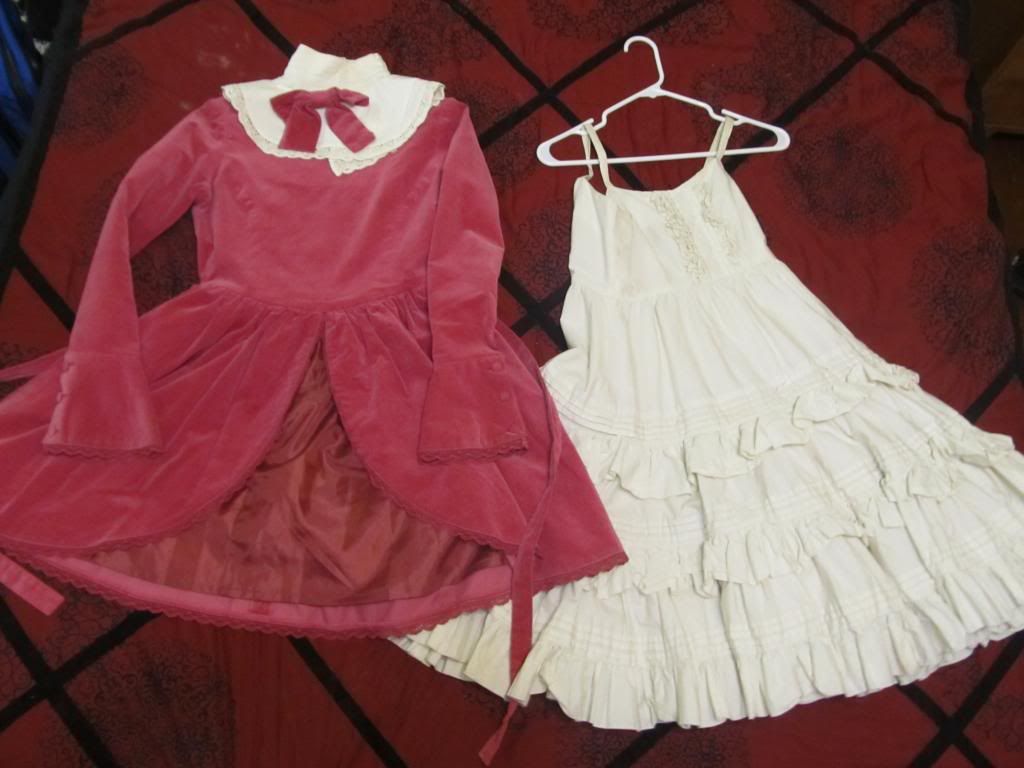 BTSSB Trick or Treat JSK and Megan Maude design JSK with removable pouch.




h.Naoto JSK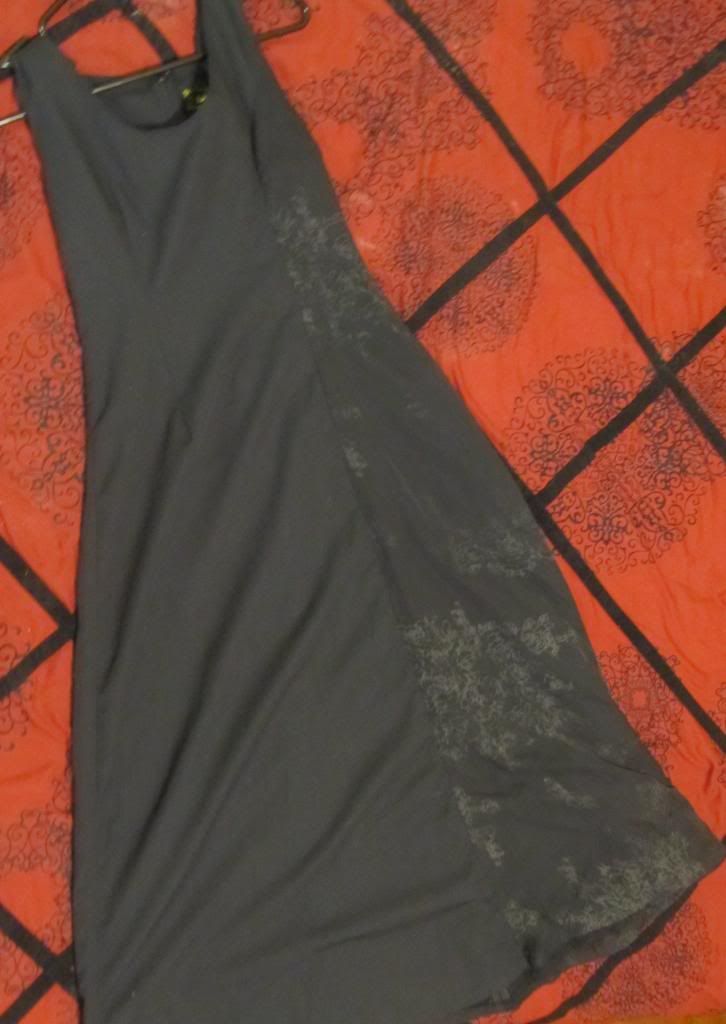 BTSSB Marie Antionette Print JSK in blue, original release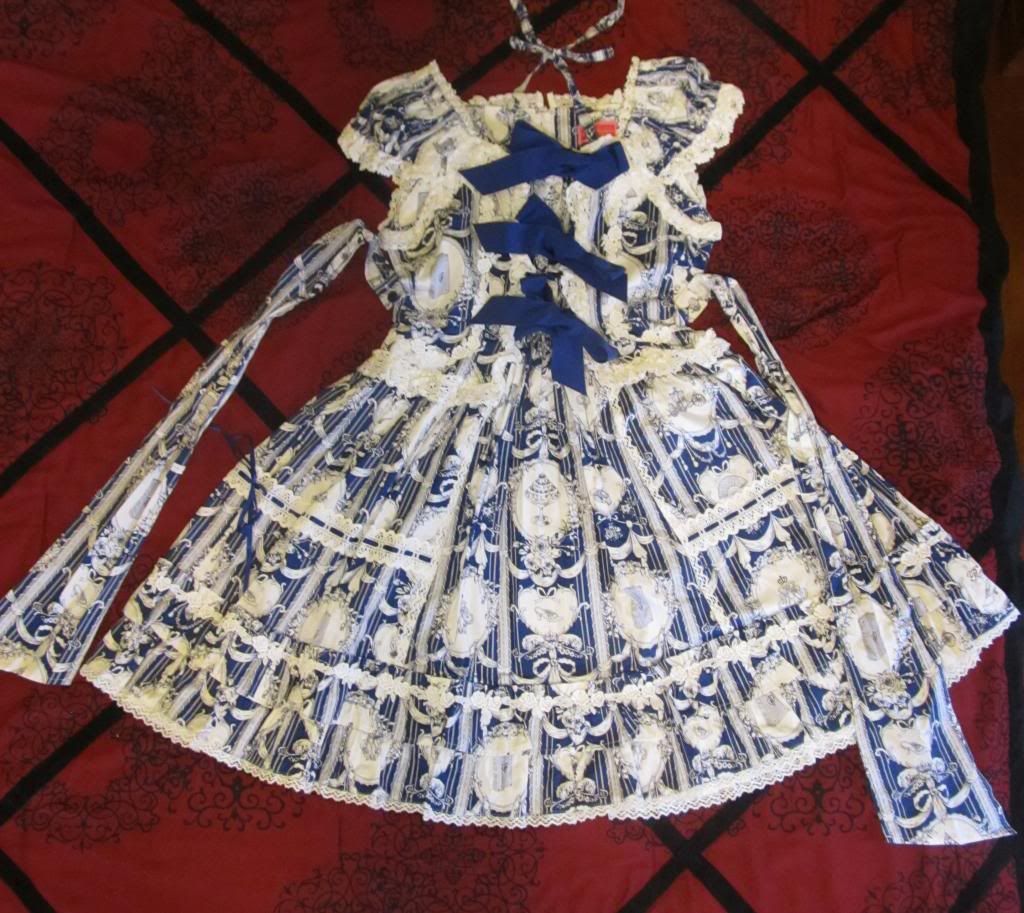 Red Wool Putumayo JSK. This is nice and warm for cooler weather, and for layering.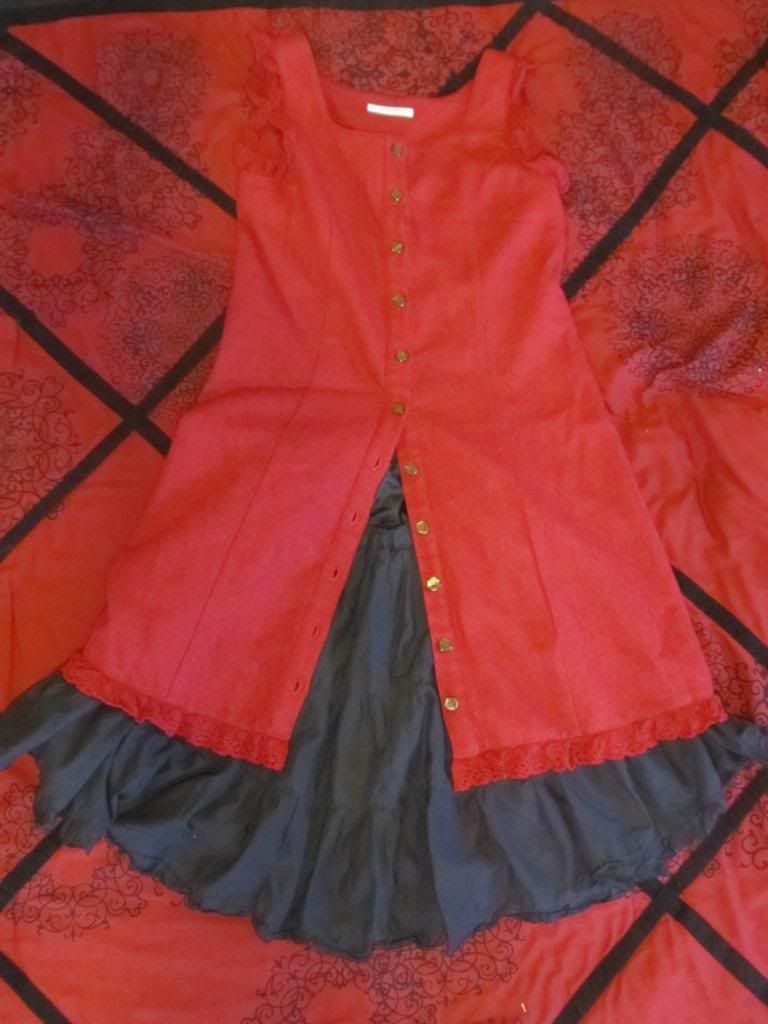 Handmade by one of my local lolita community members. :)



Metamorphose Luckypack OP. I wear this a lot for Christmas and Valentine's Day.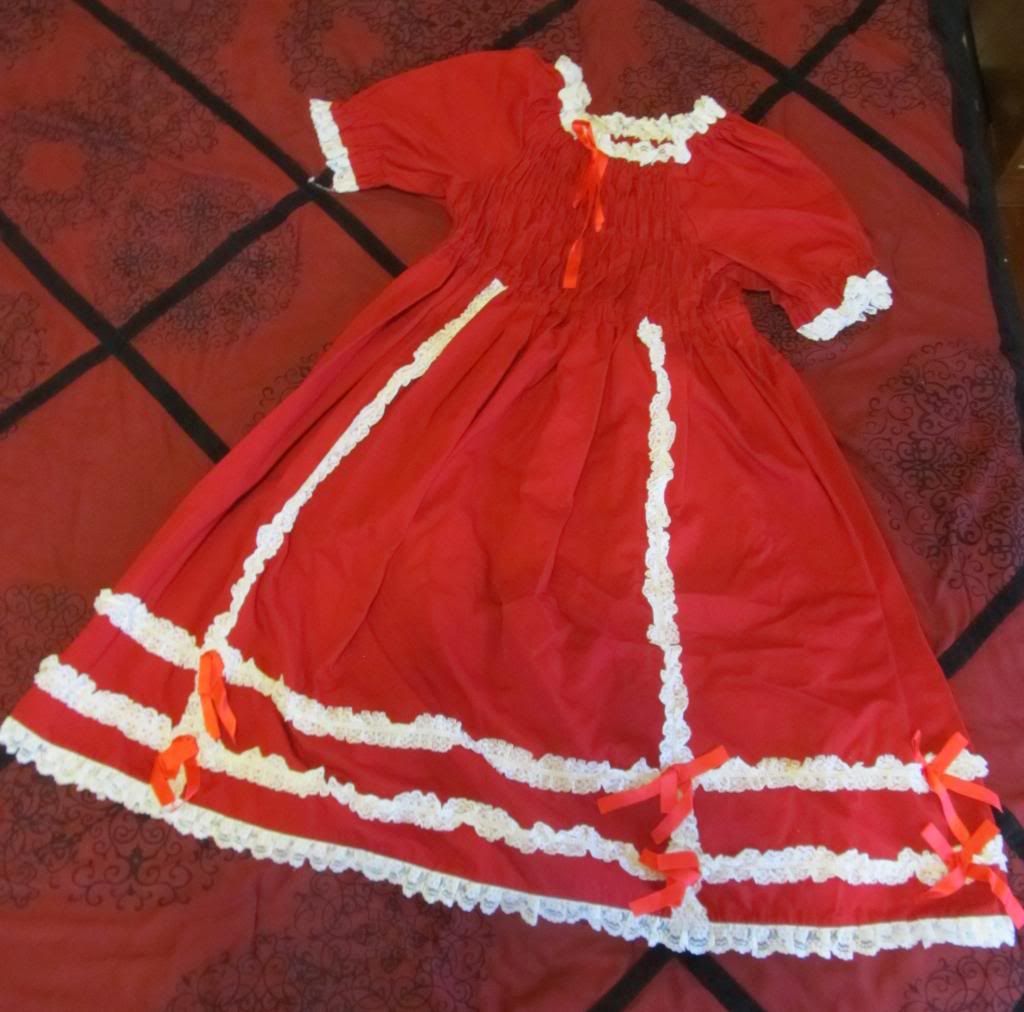 BTSSB JSK and BTSSB Velvet OP. The JSK on the left was my first ever brand item. :)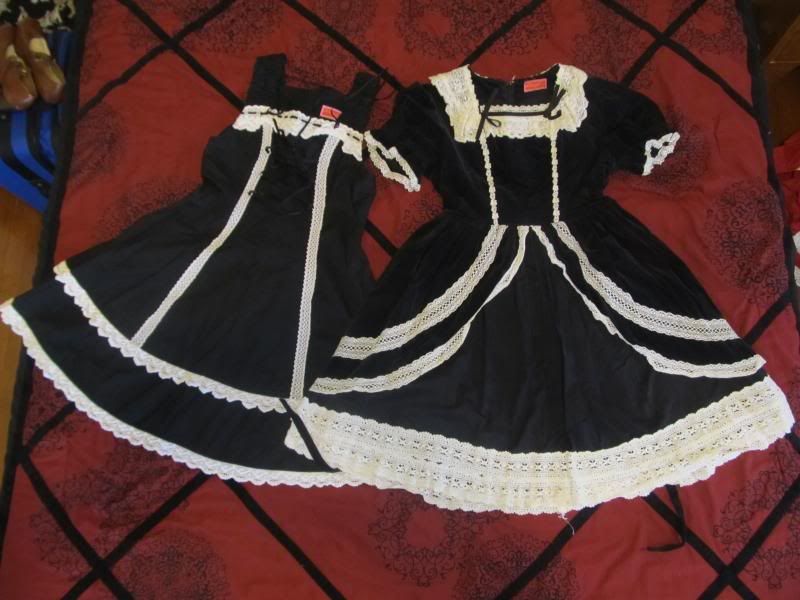 Innocent World Plaid JSK Bought this on sale a year ago, and it is one of my new favorite pieces.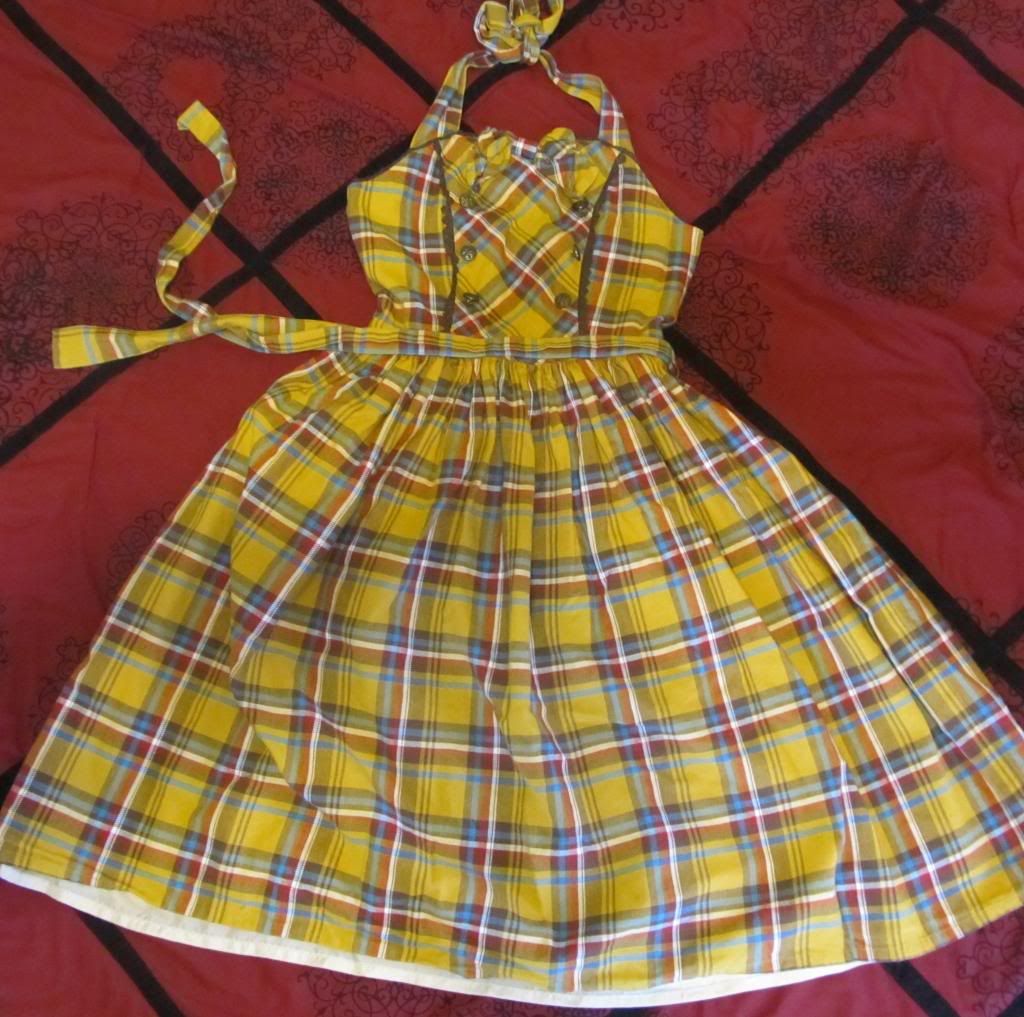 Emily Temple Cute OP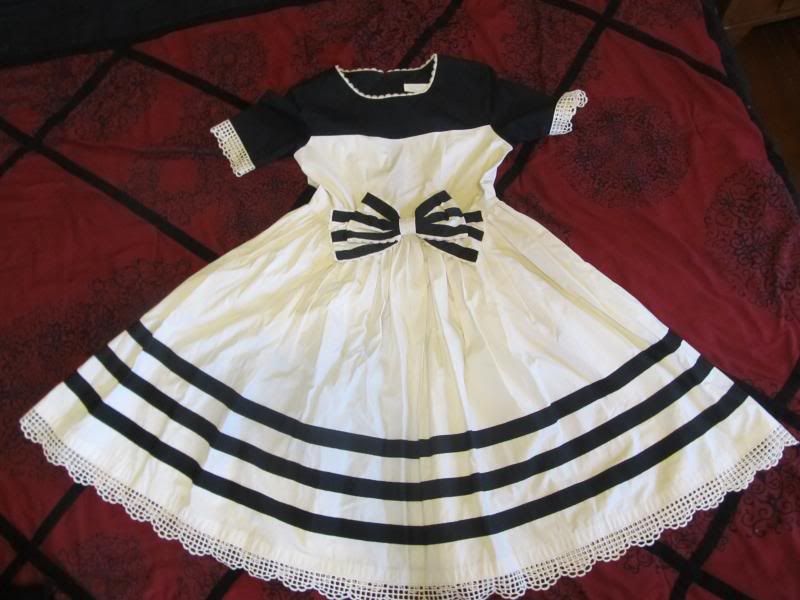 Mossbadger Arcane Print JSK. So glad I was able to get this! I love this print so much, and wear it to play D&D with my gaming group all the time.
(Elf bard, of course. Though we're playing X-Crawl at the moment, so it is a bit different. . .)


Detail shot:







Krad Lanrete Morazbic Chant Long JSK in grey: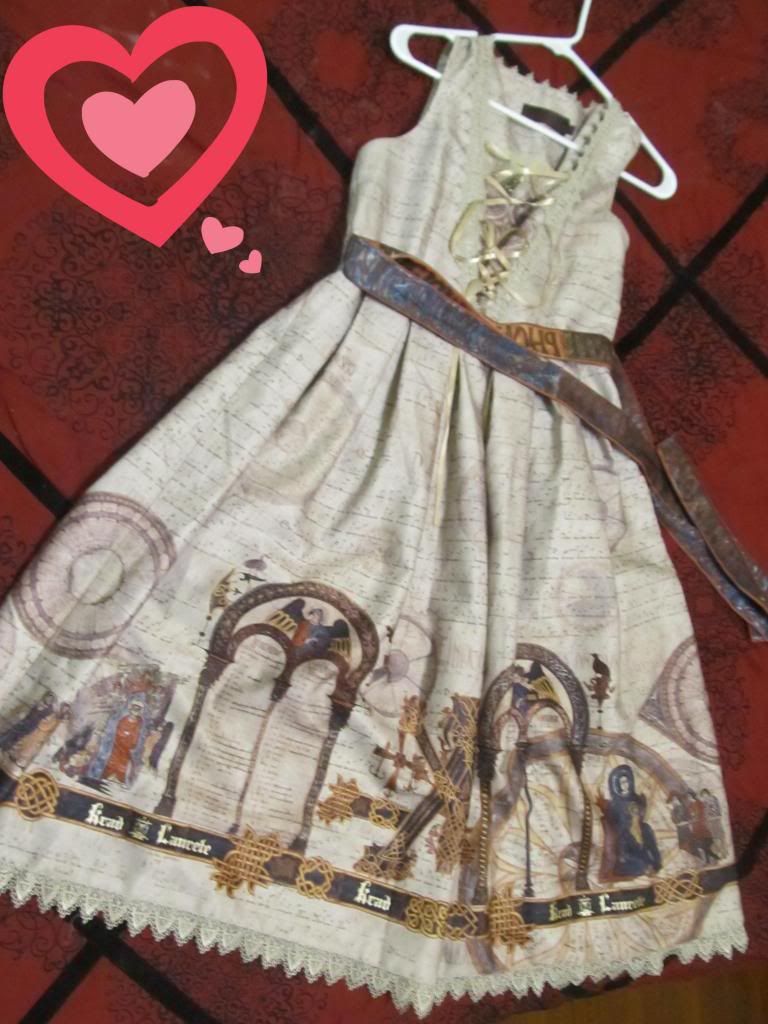 Bodyline Clock OP and tote (hy do I still have this I never wear it!?!) and thrifted: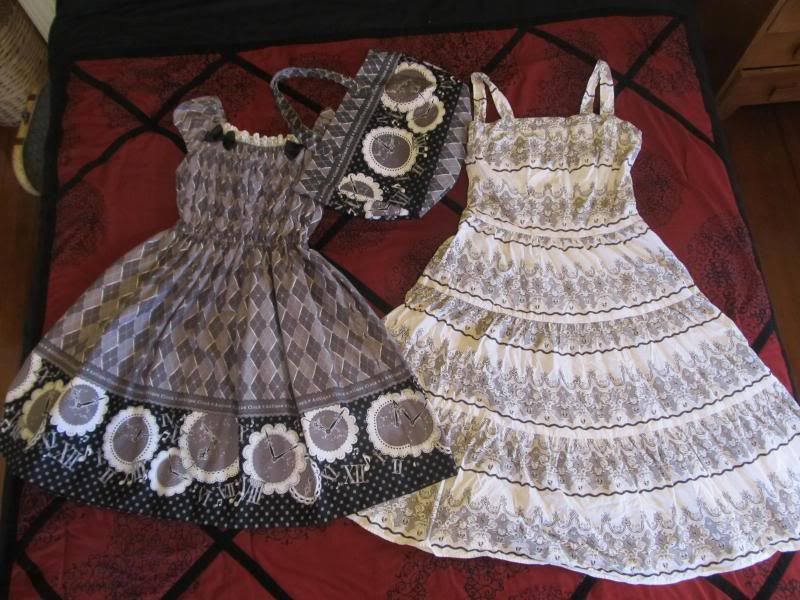 Sailor Things:
Blouse, Metamorphose, skirt: Hell Bunny, JSK: Fan+Friend



Vintage mettalic gold and cream Wa-lolita dress. Bought while I was living in Monterey., CA.


Blue and white striped set. This looks as nice on the website as it does in person, which is unusual for F+F. I want it in black too. I alrady have the mini-hat.




Black Innocent World JSK: I want the greyxblack version of this too, but it is older and no one ever sells it! ;_;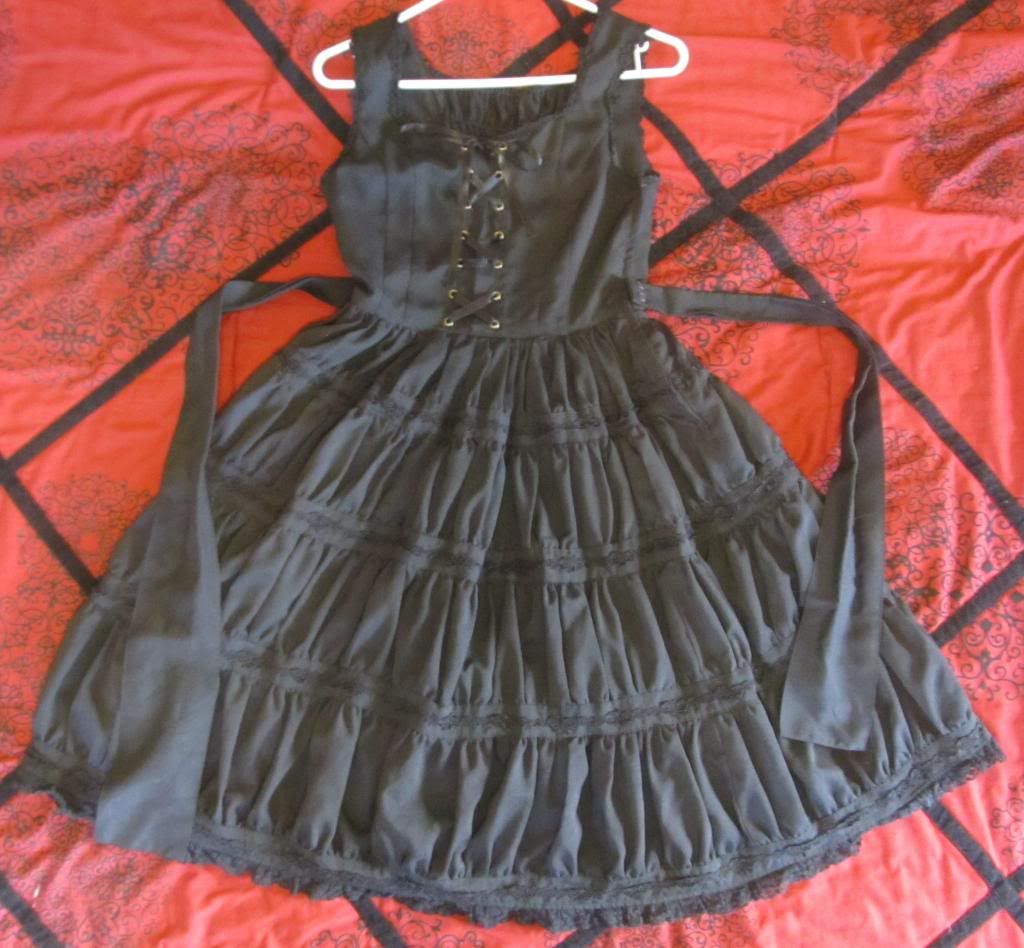 Gratuitous Cat JSK: Modcloth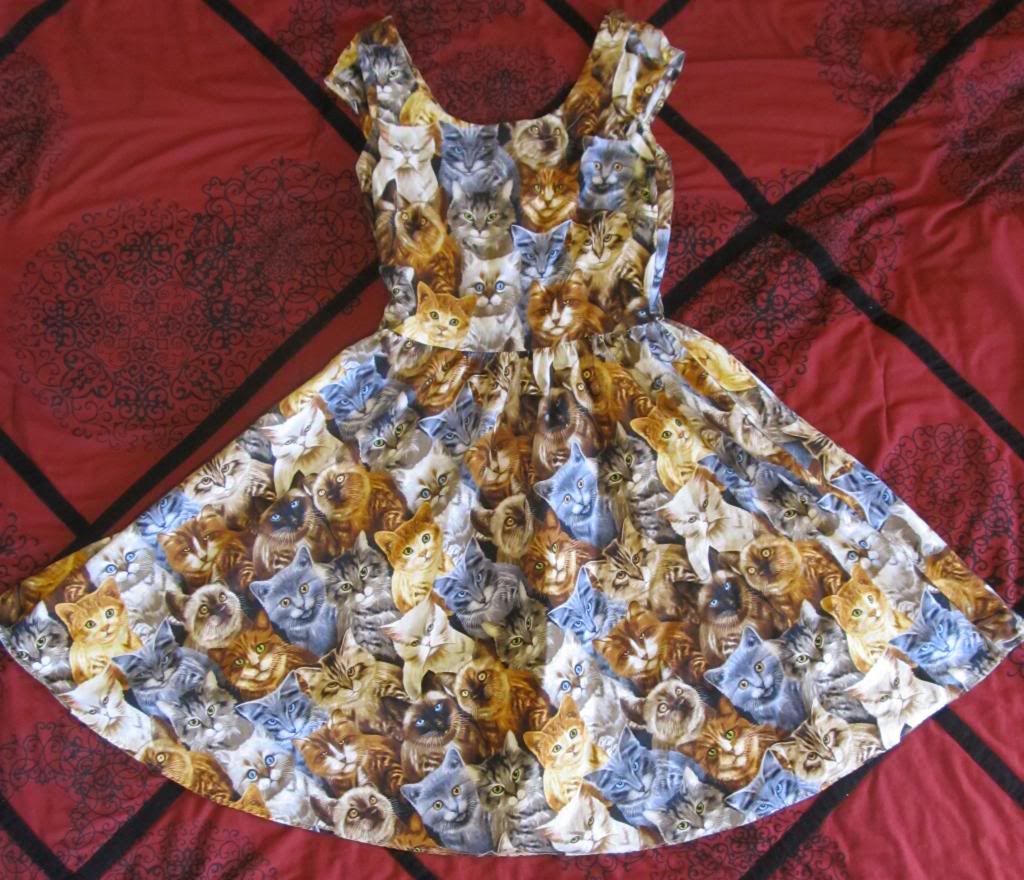 Innocent World JSK. I bought it because I liked the color.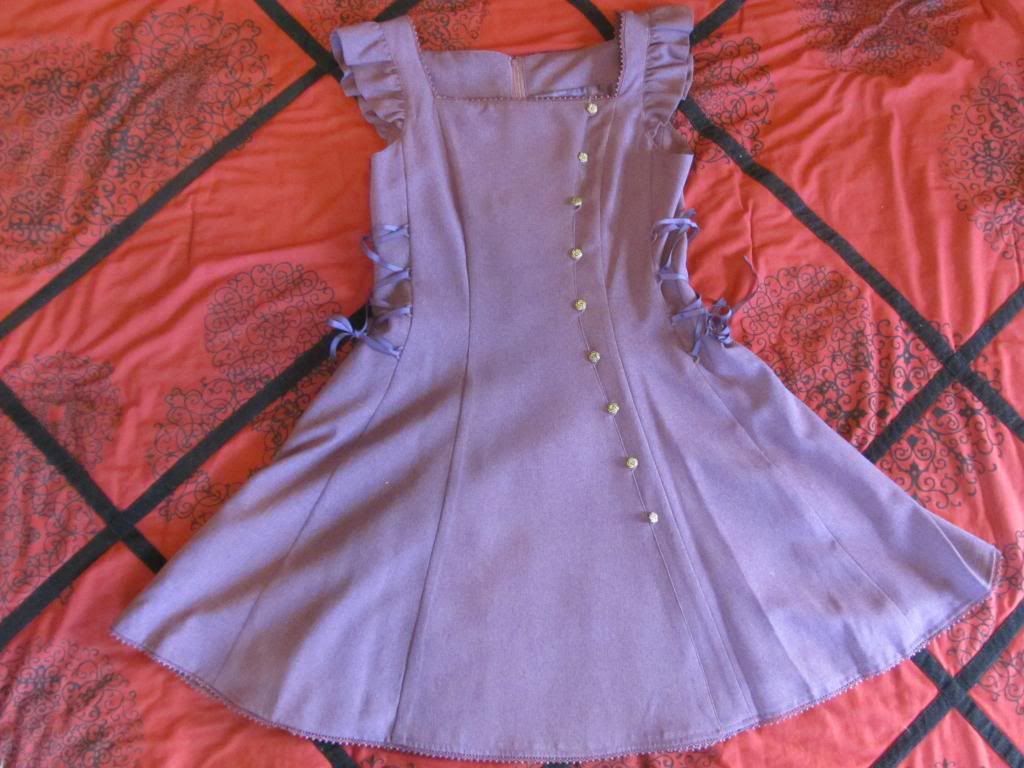 Left, Metamorphose OP. Right: Bodyline Sailor OPs. Liked it soo much I got both colors.




Blue and black JSK: Fan+Friend. Nice basic maiden length JSK cost me 40.00USD



Left JSK is Laura Ashley. Its wool and warm. Perfect for Classic lolita in winter! Right is a Old 1970's dress modified by me! :)




I bought this through The Snow Field, so I don't remember the brand. I'd been wanting a stained glass print JSK for a while, and MMM is a bit rich/tiny for my tastes.


Samantha rei, formerly Blasphemina's Closet Spider Print JSK I wore this to a NIN concert last year and everyone wanted to see it and touch it. :)


Vintage "Mad Lady Scientist" JSK. I love the buttons on this dress, and that its taffeta.


Unknown Replica of MM dress (bought off EGL Sales back when it was still in the EGL main community)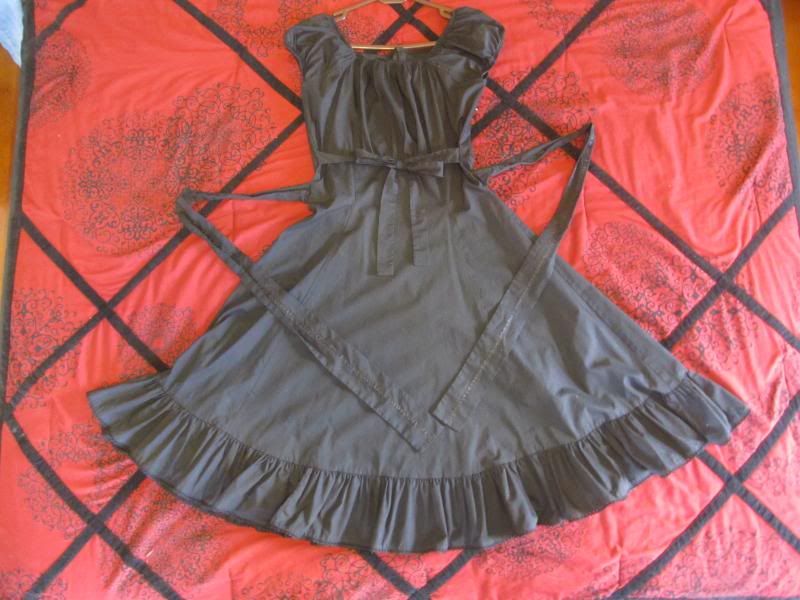 Samantha Rei, formerly Blasphemina's Closet Grey Science Print JSK. My daughter has a mathcing skirt with pink trim. Love it!


Detail of the print, velvet trim and ruffle fabric. <3 <3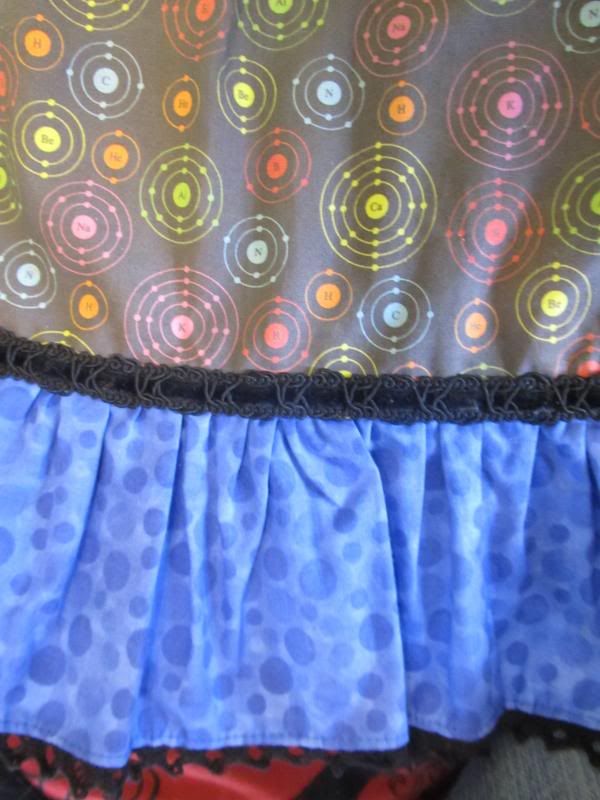 Vintage OP. The pattern is not printed on, but is sewn onto the fabric.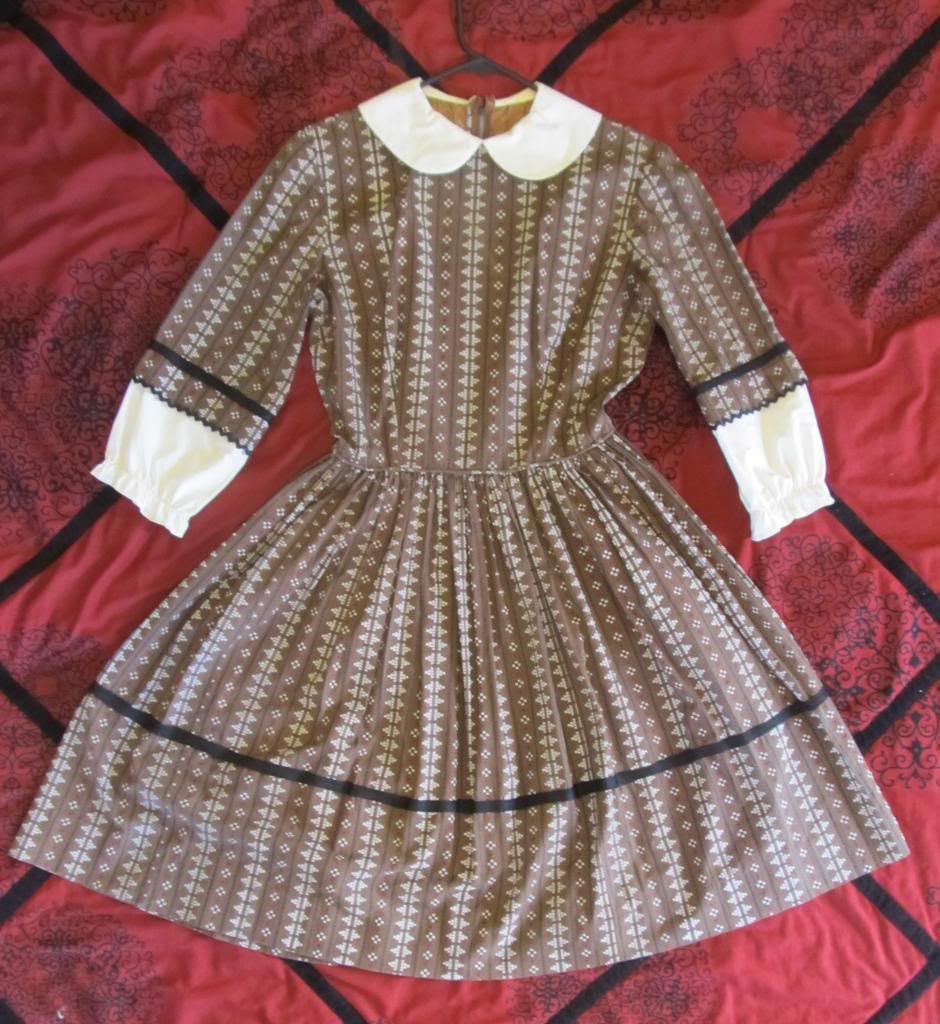 Metamorphose OP


Jane Marple OP, a bit more Otome Style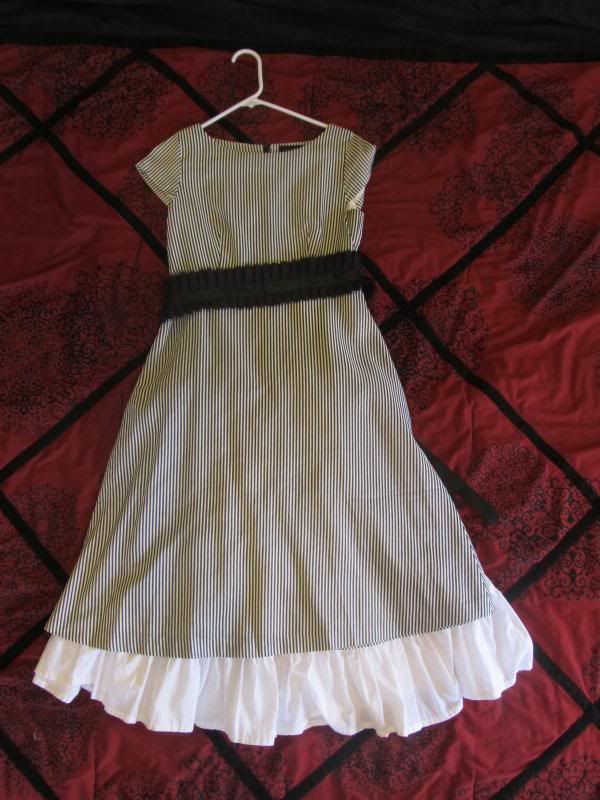 Vintage Sailor Dress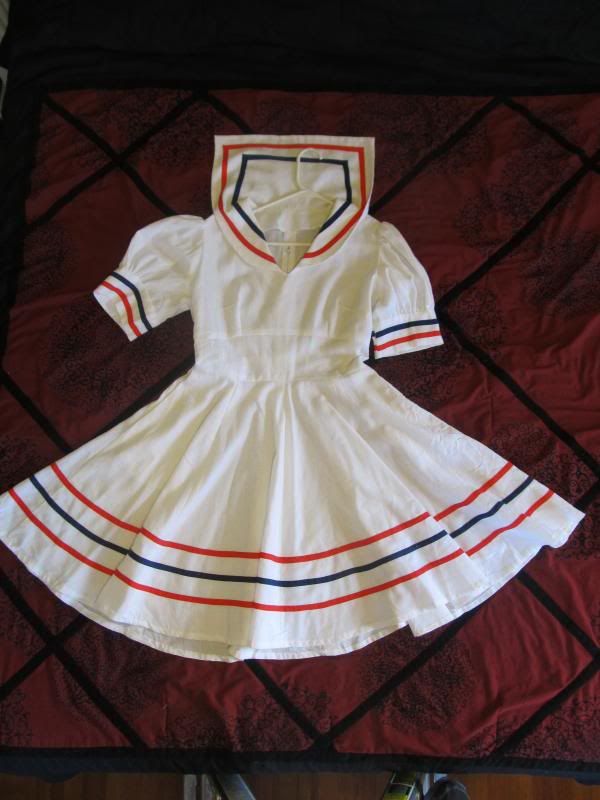 Metamorphose Old school Floral OP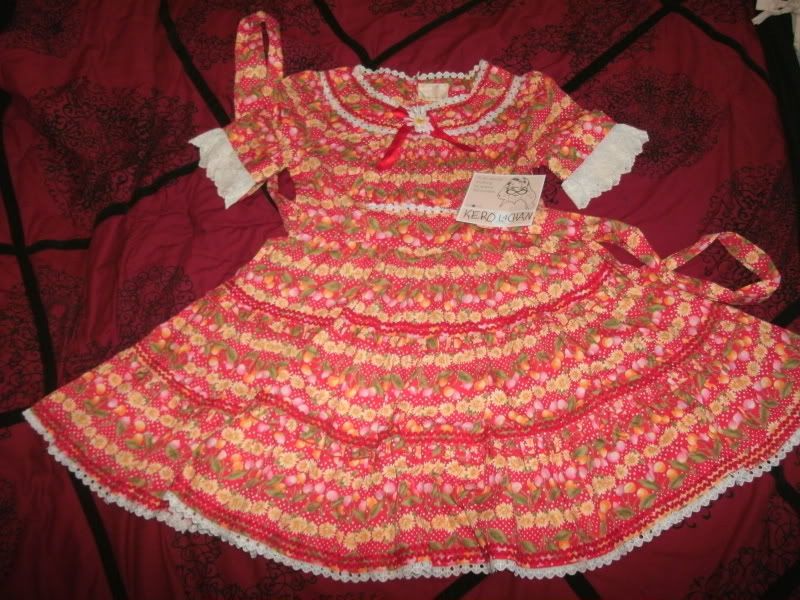 BTSSB Gingham Rose OP


Handmade OP. This needs a LOT of poof to keep it up!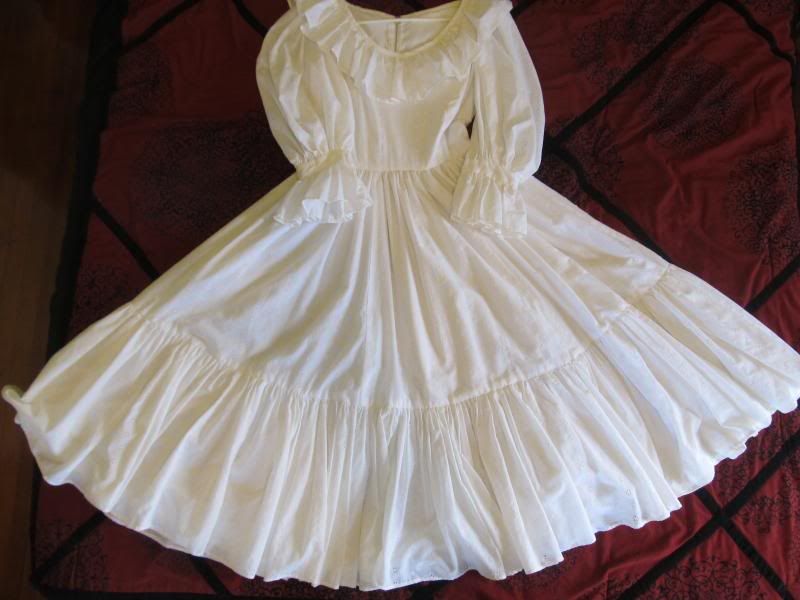 I Do Declare Blue Velveteen JSK


Innocent World Long Black and Silver JSK. Sorry for the poor picture, these are the ones my SO took...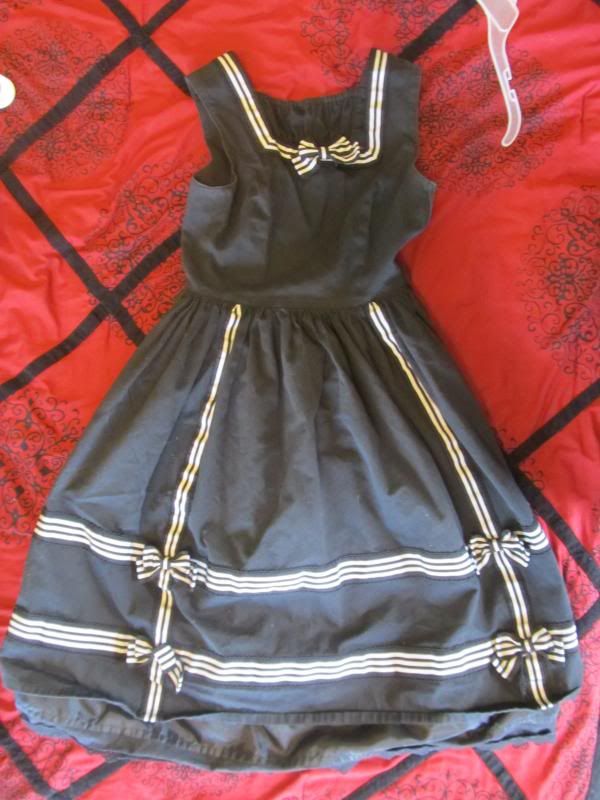 Metamorphose Window Print Underbust JSK in black. This is the dress that got me into Gothic LOlita. The story is on my 2011 wardrobe post, for anyone with inquiring minds, who wnat to know.










Skirts:

Innocent World Cat bustle skirt with matching headdress






Metamorphose Biscuit Print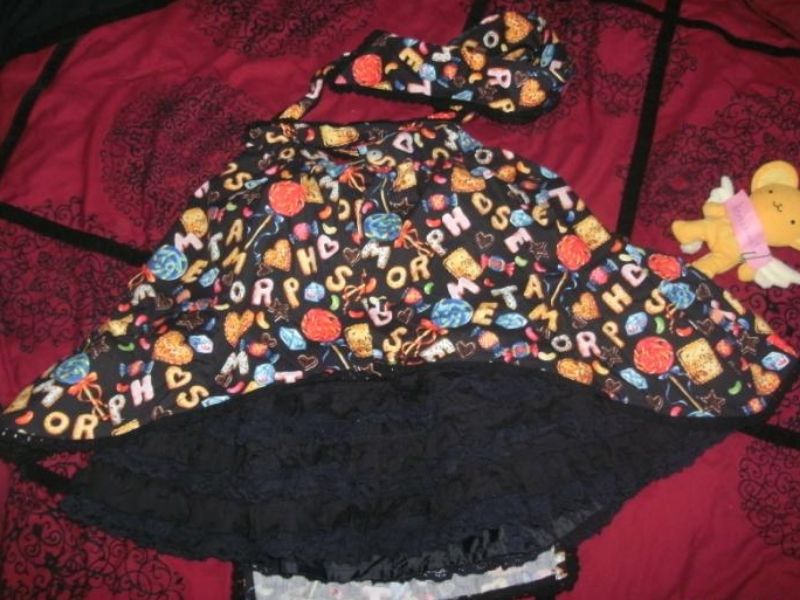 Bodyline's Butle skirts with matching corsets. I liked it soo much I got it in 3 colors. I still need the 4th one, though. . .



Angelic Pretty. The only non-accesory/non-blouse piece of theirs I own. Just not a sweet lolita fan. Though I realllllly want something from Holy Lantern. :)


Emily Temple Cute: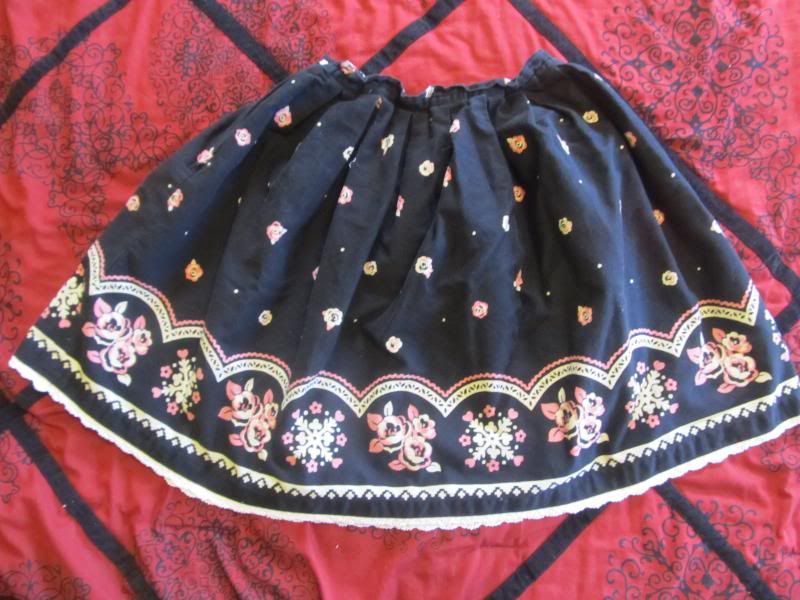 Kimch and Blue Bustle Skirts in White and Green. Not strictly lolita, but I only ever wear them with my loltia clothes, so....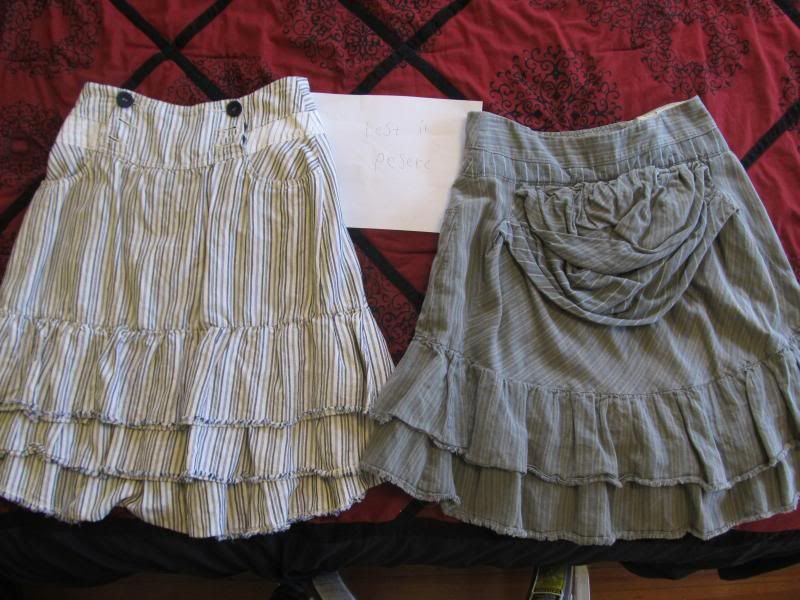 Innocnet World Antique Book:


Lady Sloth skirt, custom "maiden" length


Putumayo skirt I love punk lolita, and don't care how tacky it is!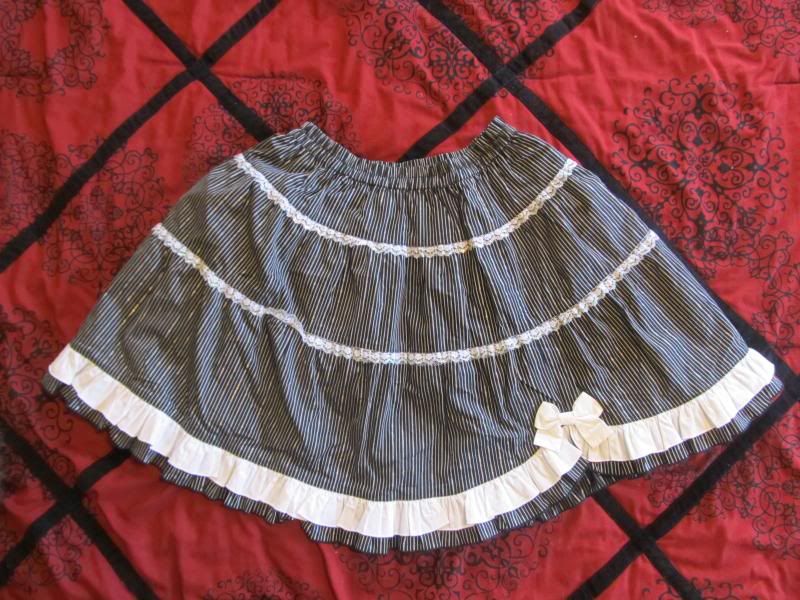 Emily Temple Cute Skirt: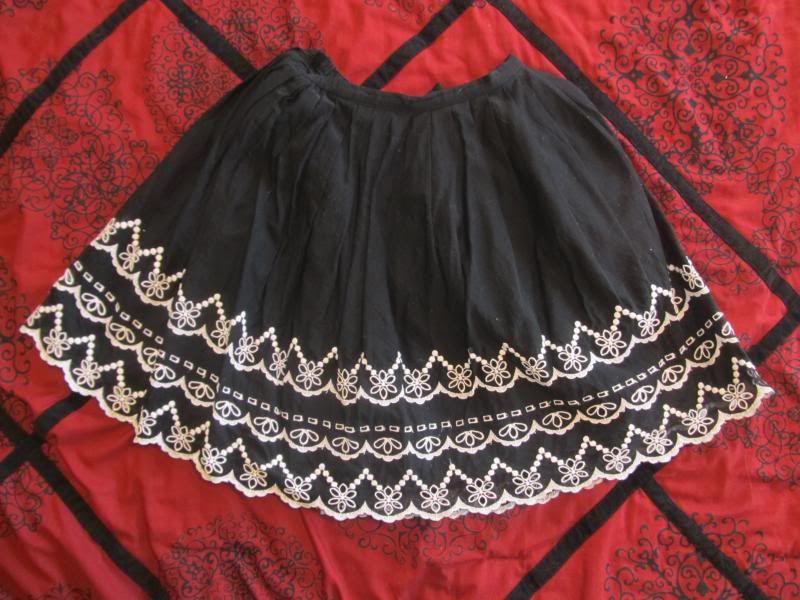 Chantilly Skirt, bought at ACEN last year. Thequality is SO NICE!


Fan+Friend cream skirt:
Samantha Rei, formerly Blasphemina's Closet "Party Monster" skirt. The print is illustrated by Tomoko Taniguchi, my favorite manga-ka, so I knew I HAD TO GET IT!


Innocent World Bear print Skirt, long length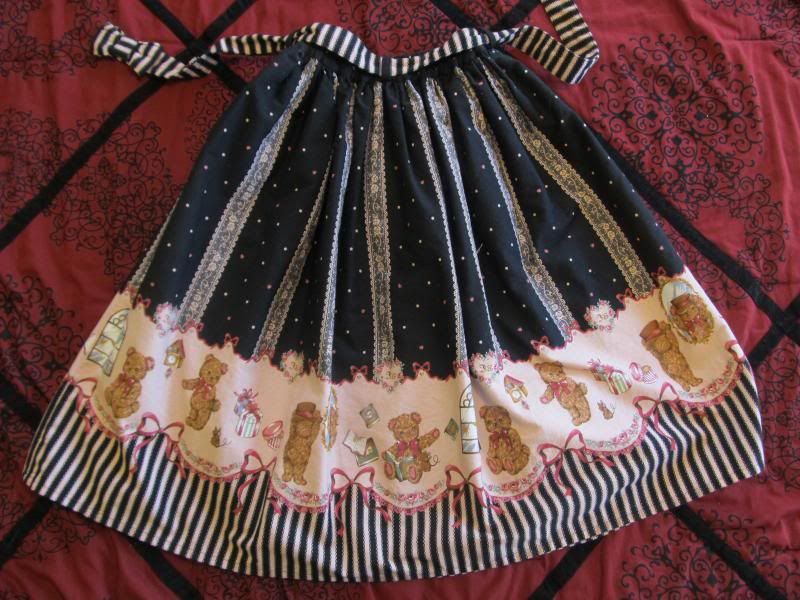 Lady Sloth clock print, made to "maiden length"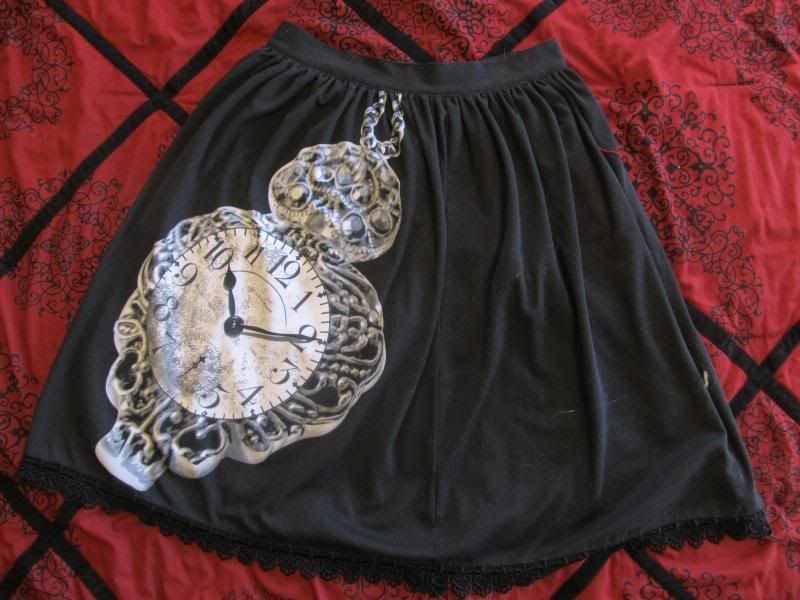 Several skirts: the bottom right is vintage, the rest are all Victorian Maiden


Innocent World Catterfly aka "Little Lady" skirt. Long skirt in Blue


Alice and the Pirates "End of Immortal Eden" skirt in blue


Blue silk velvet tiered skirt, vintage: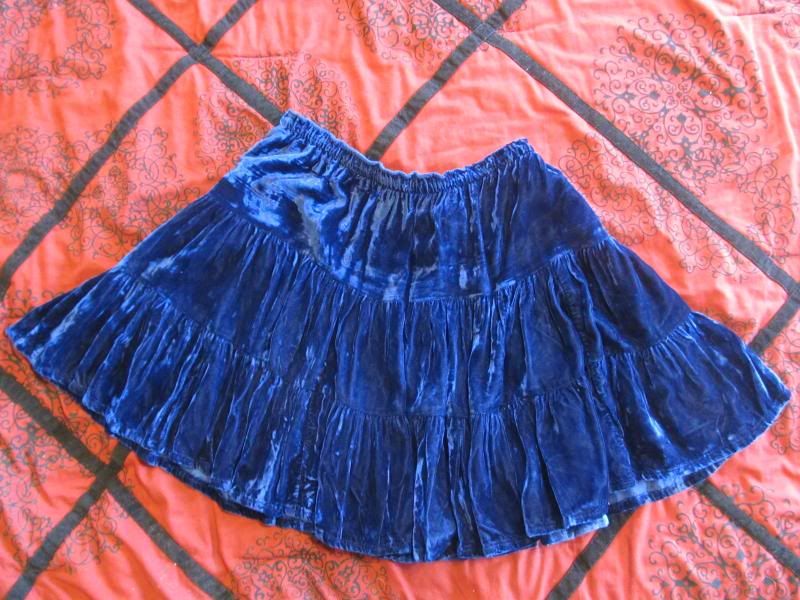 Blasphemina's Closet, Now Samantha Rei's "Kirkos Metalon" skirt, long length in red. I have matching bloomers. The bearded lady is my favorite, she's so sassy!


Innocent World Brown Cherub A-line shirt. Soory for the cat, all my other pics didn't turn out. That is Maia, BTW.

Detail:


Blasphemina's Closet, now Samantha Rei, red striped skirt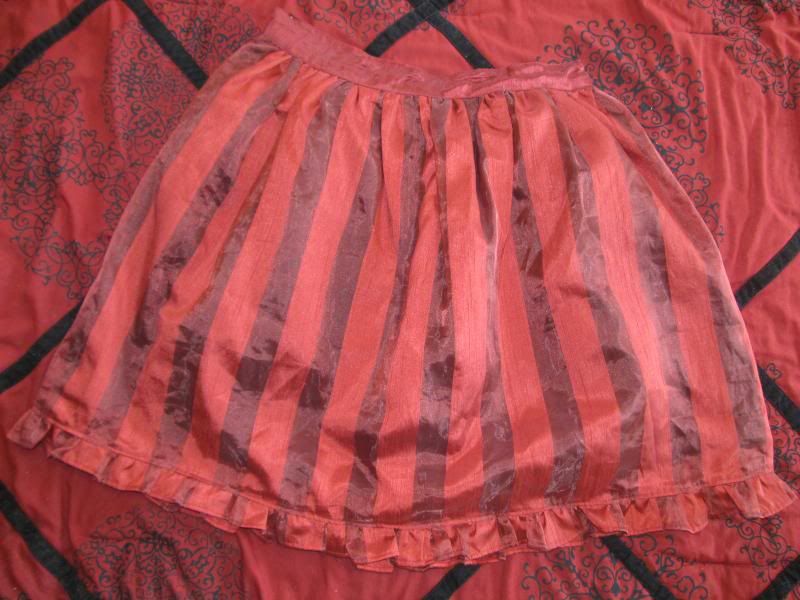 H.Naoto Gramm skirt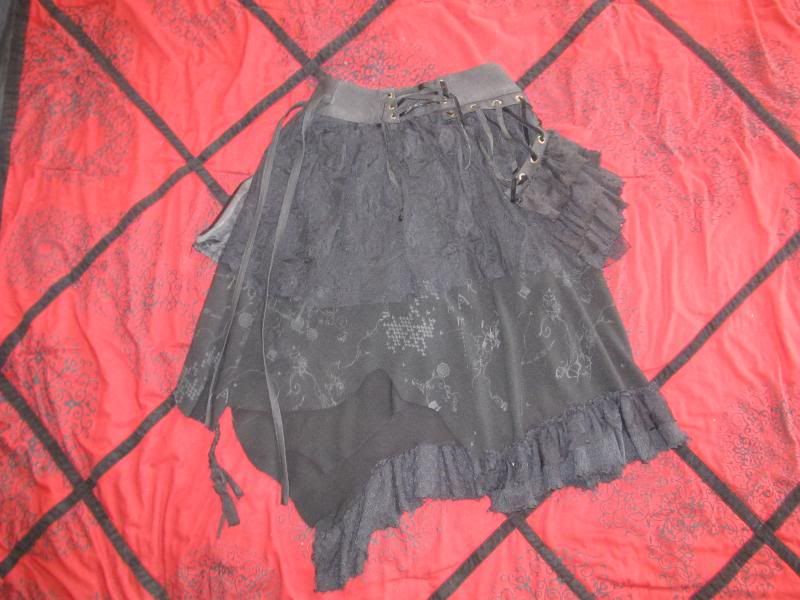 Innocent World Antique Library print in Green skirt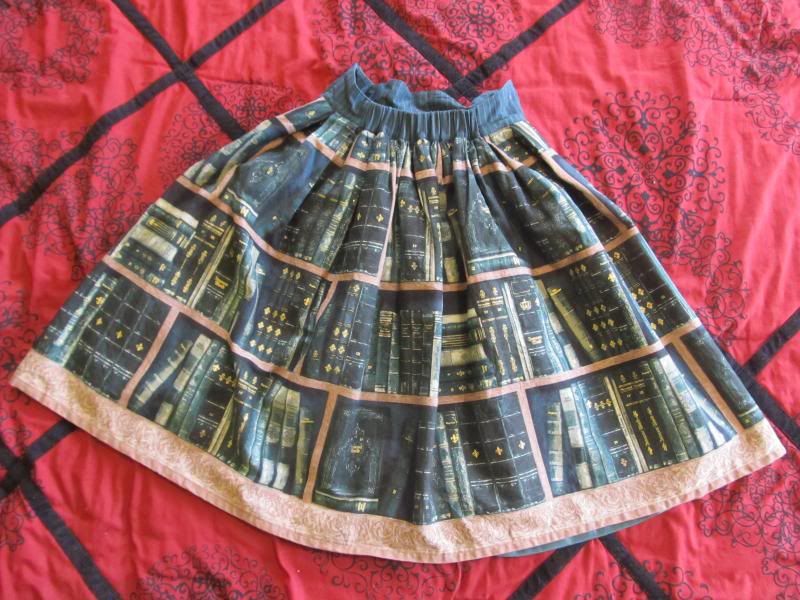 Thrifted long skirt in grey, "maiden" length. This is a great classic loltia skirt, in my favorite color, GREY!


The Snow Field Skirt in grey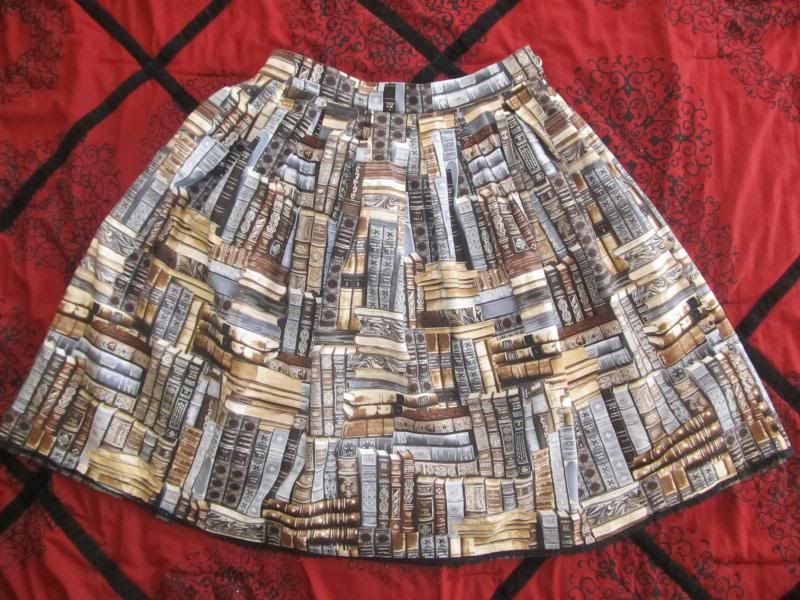 Land's End skirts. I wear them with otome style outfits.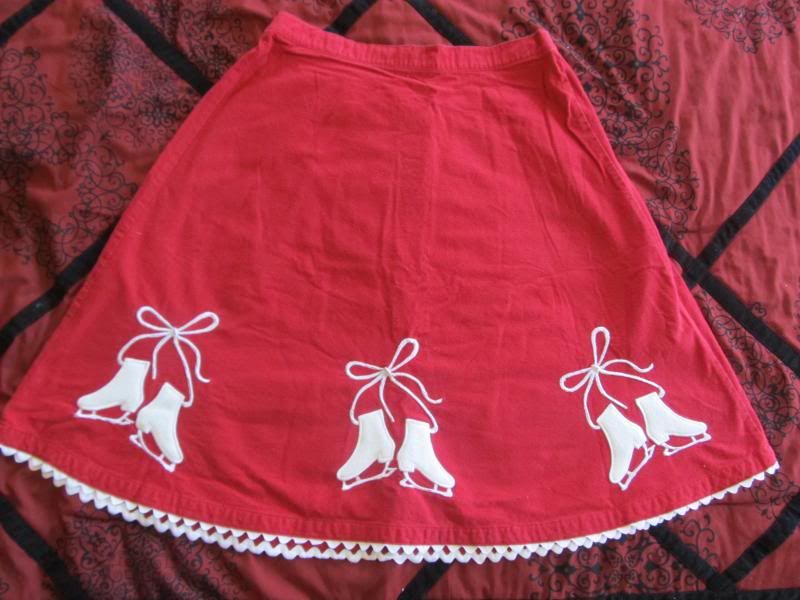 Bodyline skirt. This needs ironed, really badly.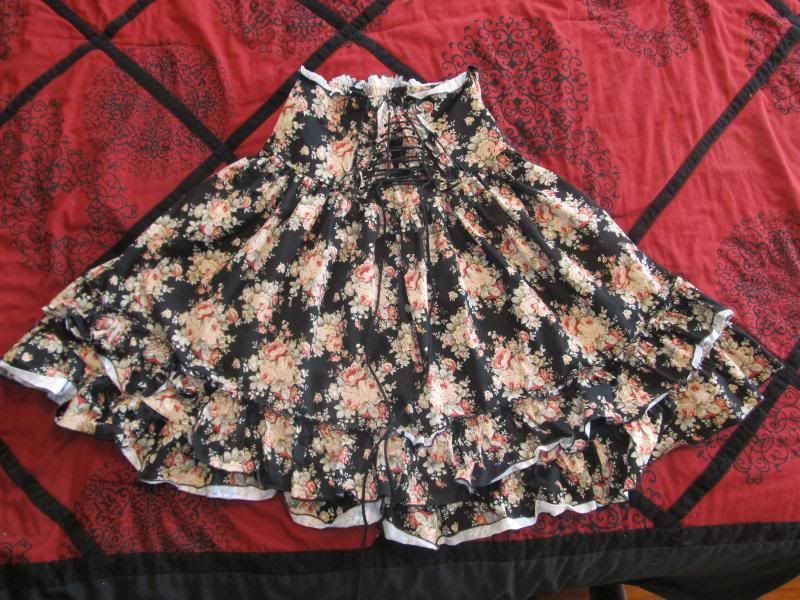 Thrifted. Trust me, with a good petti under this and a cute cutsew, this is a great lolita skirt. Super comfy!


Some Meta pieces I forgot to take separate pics of:




Innocent World JSk on the left, Pink House OP on right:
For more natural kei, see here and HERE. All Pink House.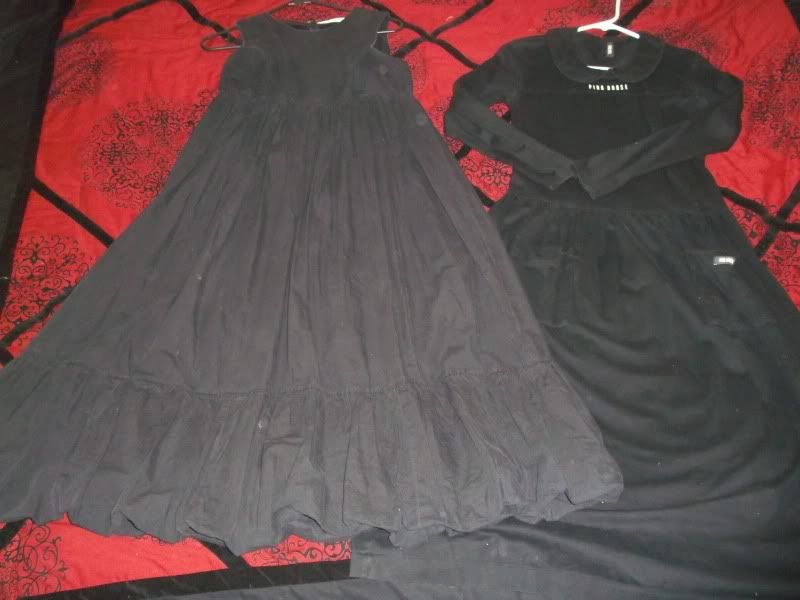 Left to right:
ETC OP I missed, Innocent World OP I missed, another pic of the Above BTSSB velvet OP



Some of my Blouses and Cutsews (I ran out of time!):
Angelic Pretty:


More blouses: Top: Black Peace Now, middle: thrifted bottom: Emily Temple Cute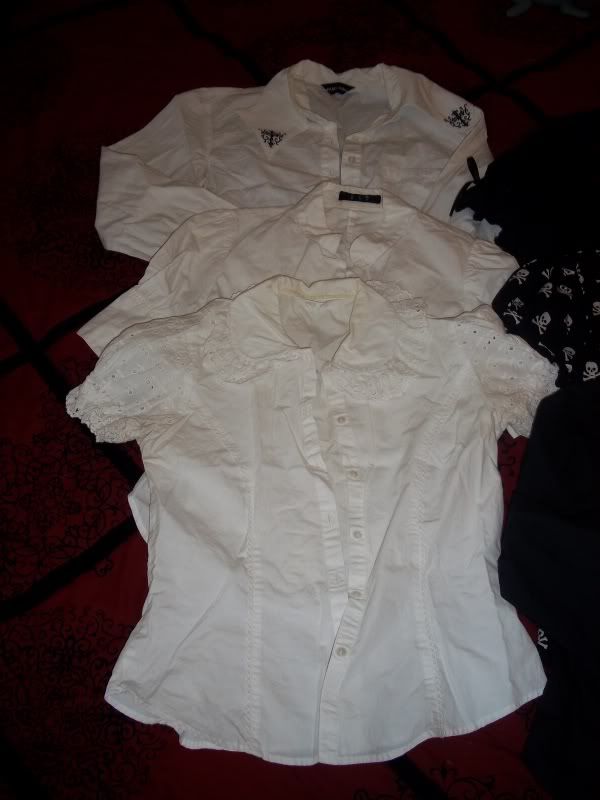 Repeat of my Carina e Arlequin set. Grey blouse is Victorian Maiden, red/burgandy one is Metamorphose

Cutsews:
Back Row: Milk, Metamorpose, Emily Temple Cute
Middle Row: Jan Marple, Emily Temple Cute, Maxicimam
Front Row: Peace Now, Black Peace Now, Axes Femme




Bunch of cutsews and sweaters:
Back Row: Ba-Tsu Battle Royale Top, h.Naoto frill, Alice and the Pirates
Middle Row: H,Naoto, h.naoto H.Jelly, ??
Front Row: Metamorphose, Vintage, and Banana Republic




Close up of Meta Mode Girl Hoodie in black and red. These are so cute! I have the tote in red, too. :)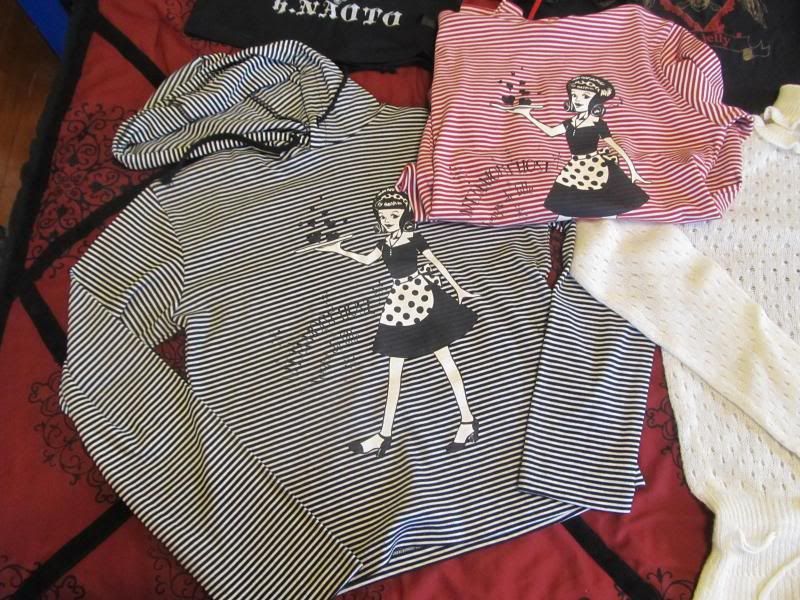 A few more blouses:
top: MAM, middle: thrifted, bottom: Moi meme Moitie


Cardigans and Boleros:
Back Row: Miho Matsuda (its black velvet, honest!), Candies, and Candies
Front Row Express, unknown (bought off mbok), Sloosh!



Jackets and Sweaters:
Back row: Forever 21, ebay, vintage
Front Row: April Cornell, Bodyline (I have this in gold, brown, and red too, they didn't get photos this year), Jane Marple



Capelets:
Back Row:Metamorphose
Middle Row: Black Peace Now, Bodyline
Front Row: H.Frill, Fan+Friend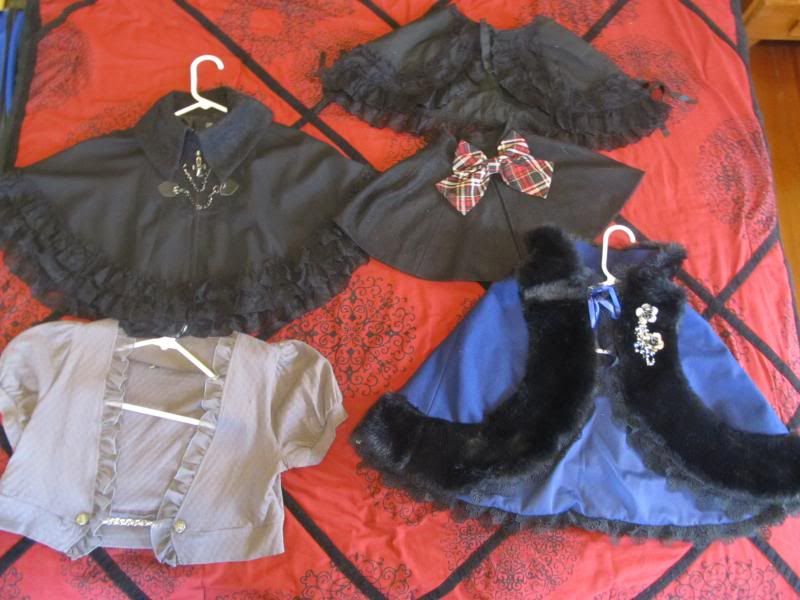 Accessories:

Purses:
Top Row: Thrifted, Forever 21, the rest are BTSSB
Bottom Row: All Innocent World but the Red one (Infanta)



Gloves:
The white lace ones are from mbok, listed as "Angelic Pretty". Honestly have my doubts, but who knows? They are really nice, at least. The white half gloves are Fan+Friend, the rst are from Western brands and vintage.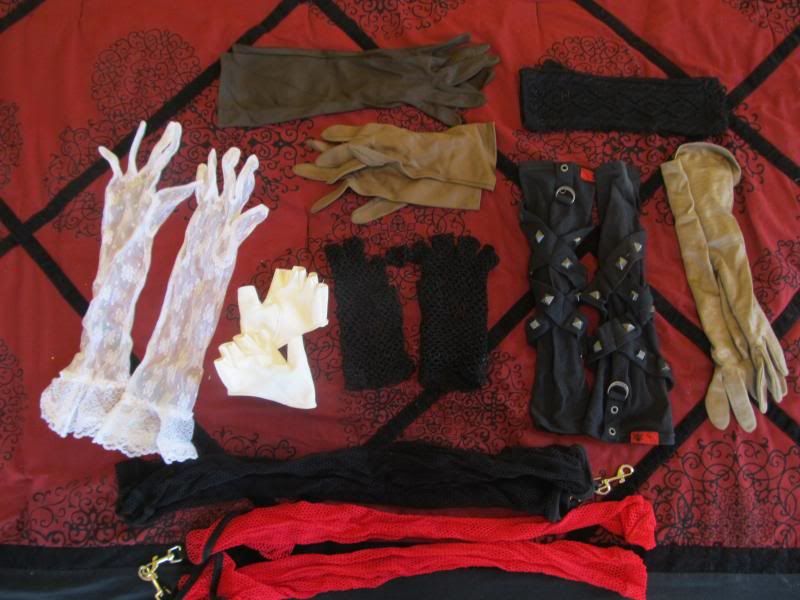 Headdresses:
Top Row: made by me
Middle Row, Innocent World, BTSSB, Meta, Meta, Handmade, Bodyline, Bows top to bottom: BTSSB, Innocent World, ??? (Egl sales)
Bottom row, made by me.... my first lolita piece ever. kept to remind me of my days as a baby lolita. Vintage wool headdress.
Wrist cuffs are both Bodyline


Hair accessories:
The little black velvet hat is PATCHY, antlers are I Do Declare, the crown is Atelier Angel, the big black fabric headdrss is Chantilly, the bat wings are Suppurate System,
the white headdress is Meta, and the pink one is Angelc Pretty. The rest are thrifted or Western Brands.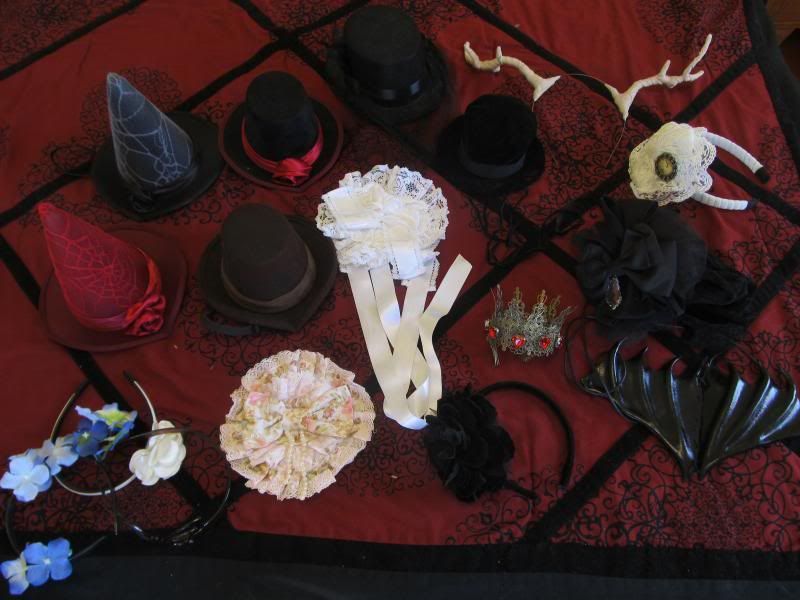 Some of my "fancy" bloomers (the rest are boring):
Fan+Friend, ICK, Garaus, ICK, Metamorphose, Blasphemina's Closet now Samantha Rei, ICK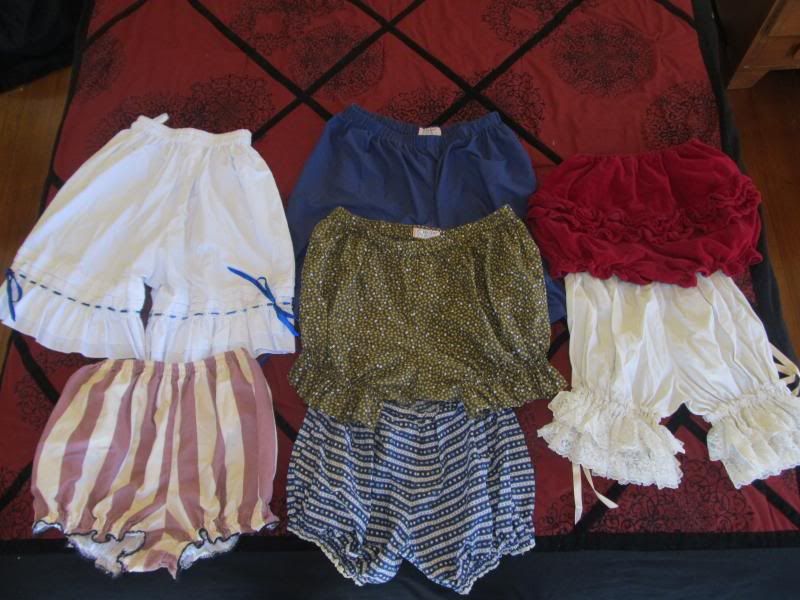 Vests and waistcoats:
All Western Brands and thrifted. I wear them all the time to turn skirts into JSKs. Its like magic! If you have a question about a specific one, let me know.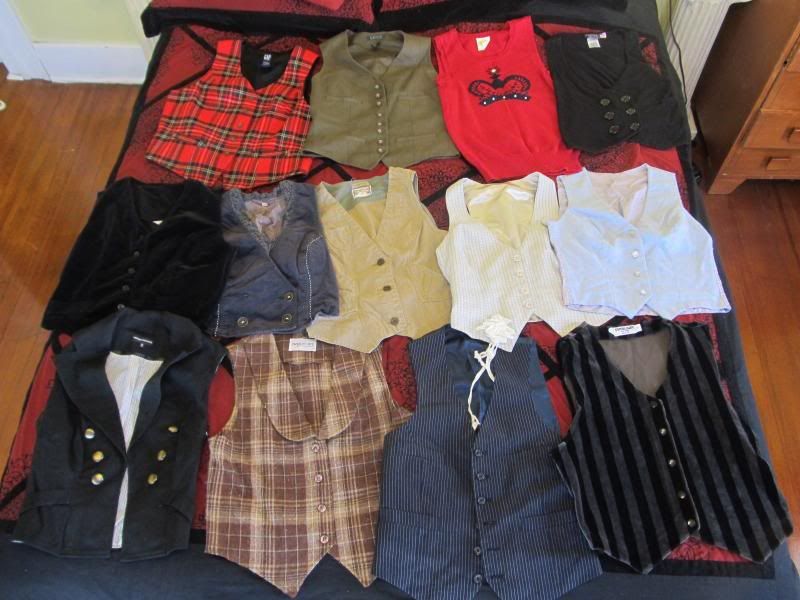 Underskirts and skirts/pettis (The straight up pettis are boring, no one wants to see those!)
Top Row: Fan+Friend (not reccomended, get one form KinkiKitty, instead!). Bodyline, H.Naoto (this is a skirt that can be worn as a petti. I honestly only ever use it as a petti)
Bottow Row: Putumayo (same as the H.naoto skirt, only ever used as petti, though its super cute!), Metamorphose, from th Antique Boquet. Added for Nostalgia factor.


Tights: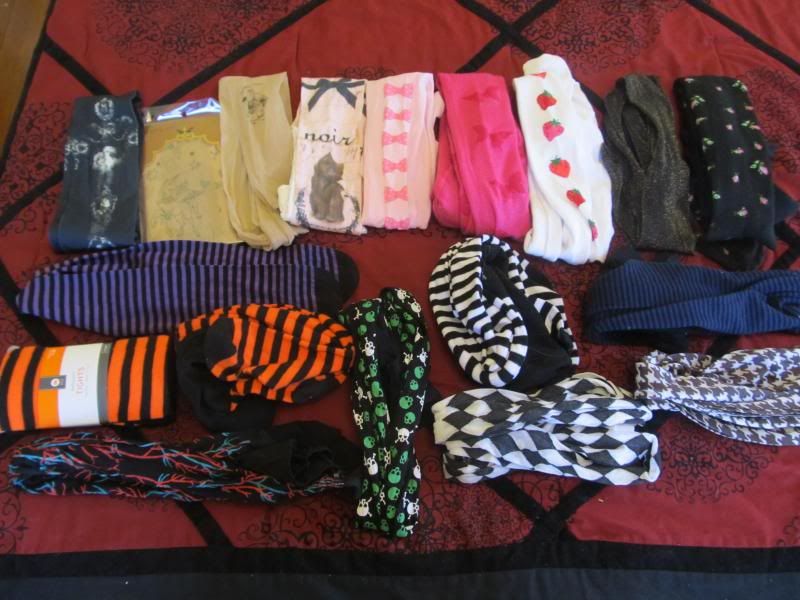 Corsets and bustiers:
Top Row: Metamorphose, Miho Matsuda, Bodyline
Middle Row: Louise Black, bracers hand made, Bodyline & Bodyline
Bottom Row: Thrifted, Mo Meme Moitie, Electra Designs


Aprons:
Top Row: Vintage Edwardian, THrifted
Middle Row: unknown (bought off mbok), Metamorphose, Bodyline
The black apron is Pink House a natural kei brand


WARNING FUR, 2 pieces are REAL (both vintage and gifts)
Top: whit scarf: Atelier Angel
Middle Row, ebay, World Market, Fan+Friend & Fan+Friend
Bottom Row, Thrifted scarf, red collar is ebay, fur collar given to me by family friend. It was their grandmothers.
Fur stole: gift (vintage)


Bonnets and Canotiers:
Sorry this is so dark. Burgandy, white, black and white bonnets are Innocent World. Lace black one is Metamorphose, regular black one is Bodyline.
Black and blue mini-canotiers are both Fan+Friend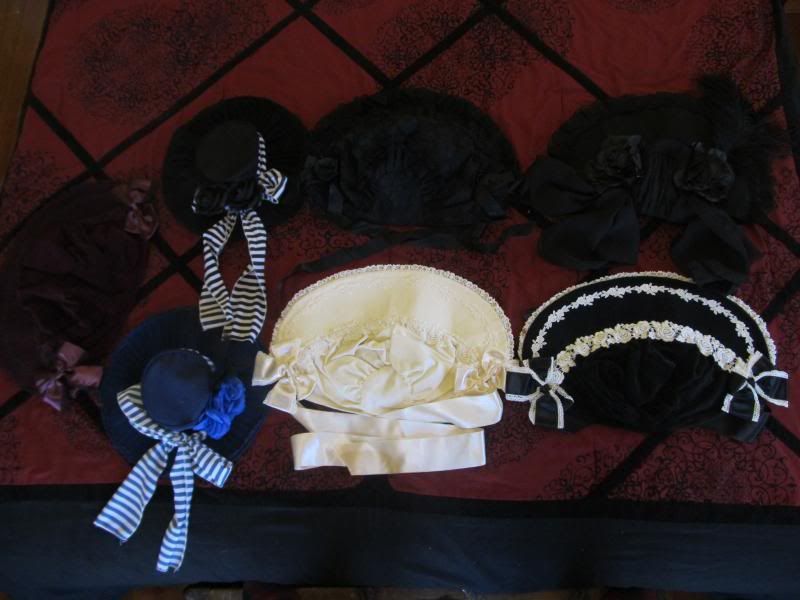 Socks:
Not even going to try and label them all. Same as above, if you have any questions about any of them, let me know, I know 90% of their brands/where I got them. :)
Th red and brown ones on the side are ERGI. I love them so much I got extras.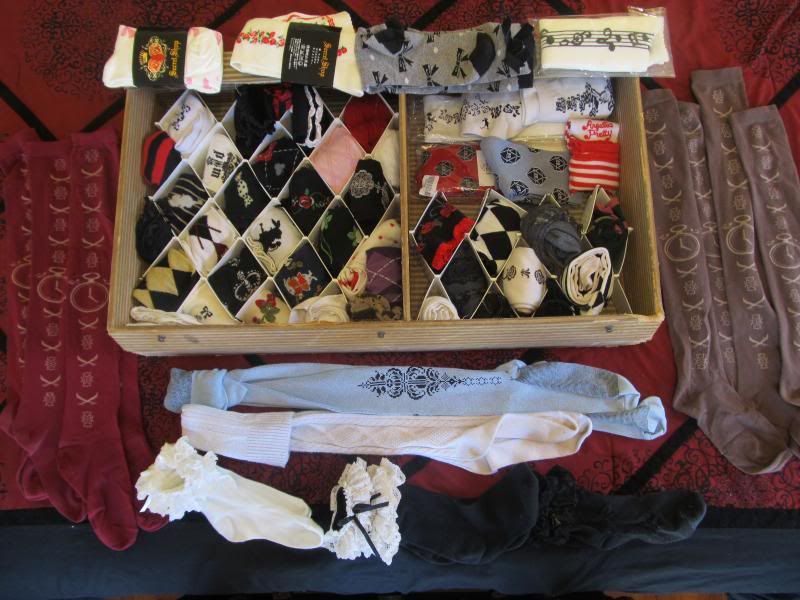 Collars, neck ties, and Jabots:
Back Row: Bodyline and Nemeth Wild, a fellow Iowa Lolita :)
Middle Row: Black Peace Now, Innocent World, Vintage
Forward Middle Row: MAM, Bodyline, Merryjellybelly, Meta, handmade by my boyfriend's grandma
Front Row: Handmade, Putumayo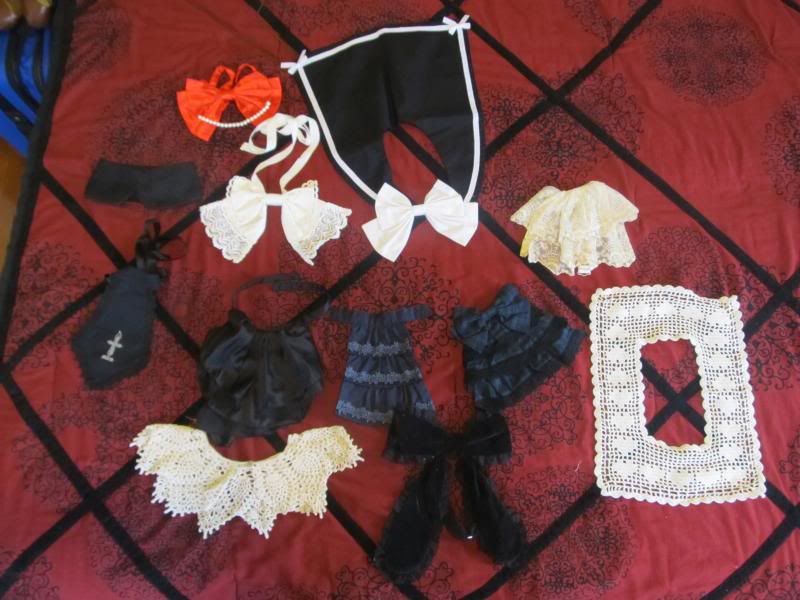 Shoes:
The white boots are meta and the white, red and brown shoes in the back row are Bodyline. The rest are Western brands or Vintage.
The red velvet shoes in the first row are the most recent addition to my wardrobe.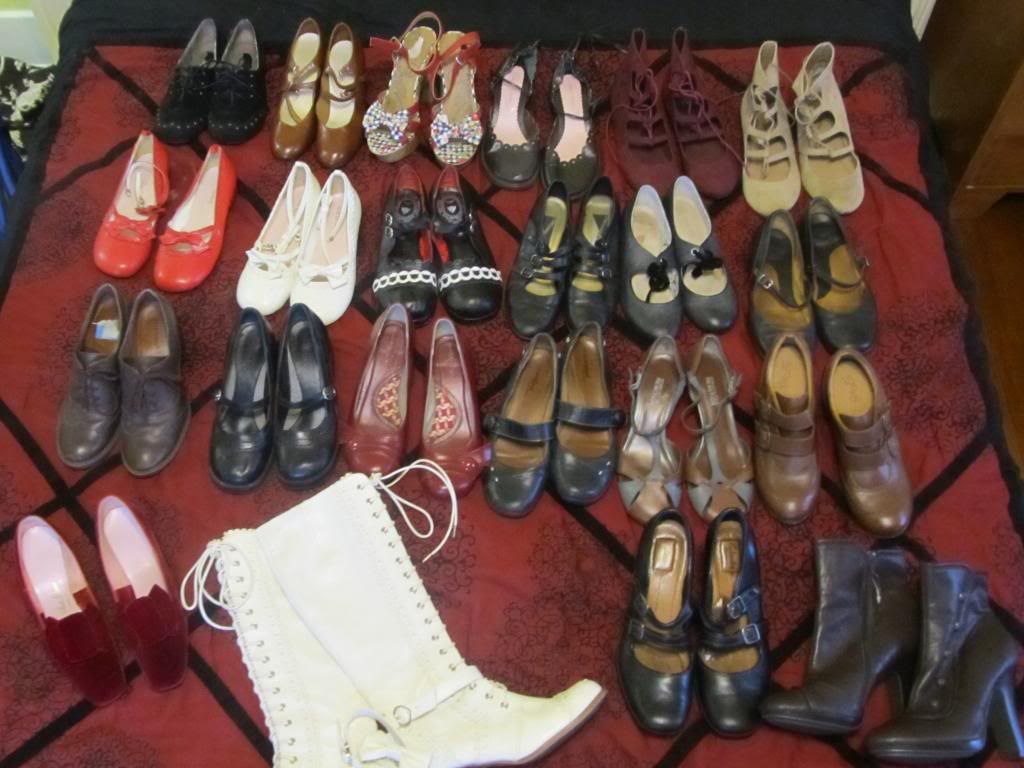 The black and white polka dot flats in the back row are BTSSB, the rest are Western brands or vintage.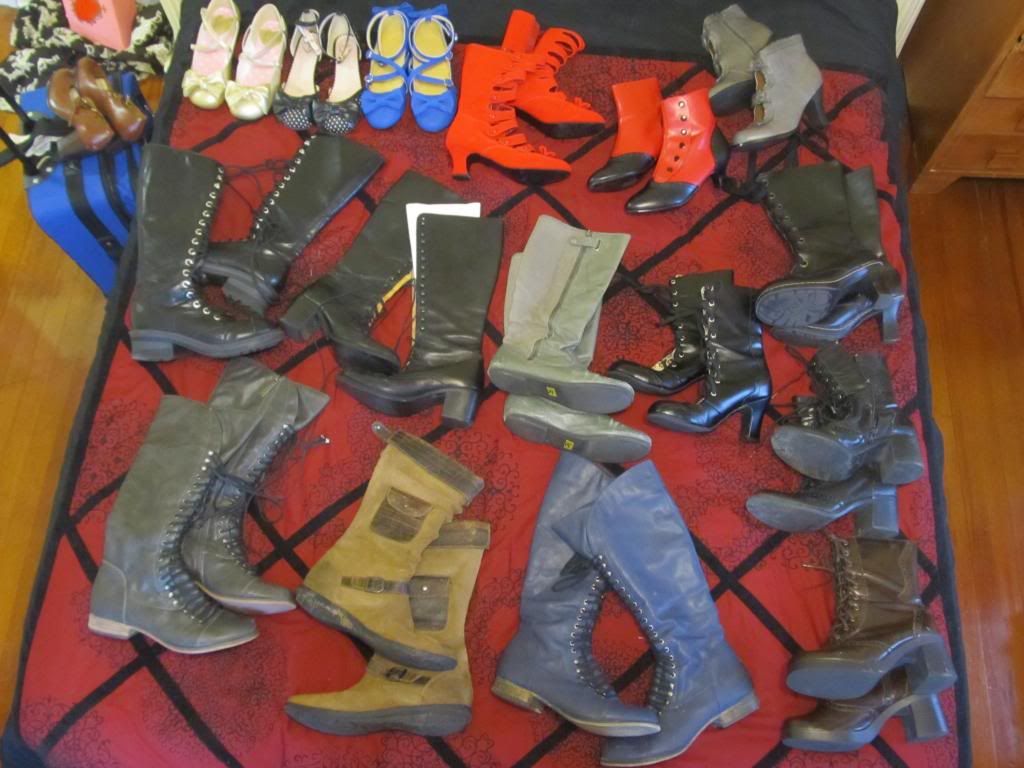 I'll leave you with two of my "fandom" lolita ensembles. Left is Agent Coulson from the Marvel Cinematic Universe. Right is Dr. Strange.
The bluetooth earpiece is the exact brand Clark Gregg uses in the Avengers movie, and Strange's amulet of Agomotto was lovingly made by me. :)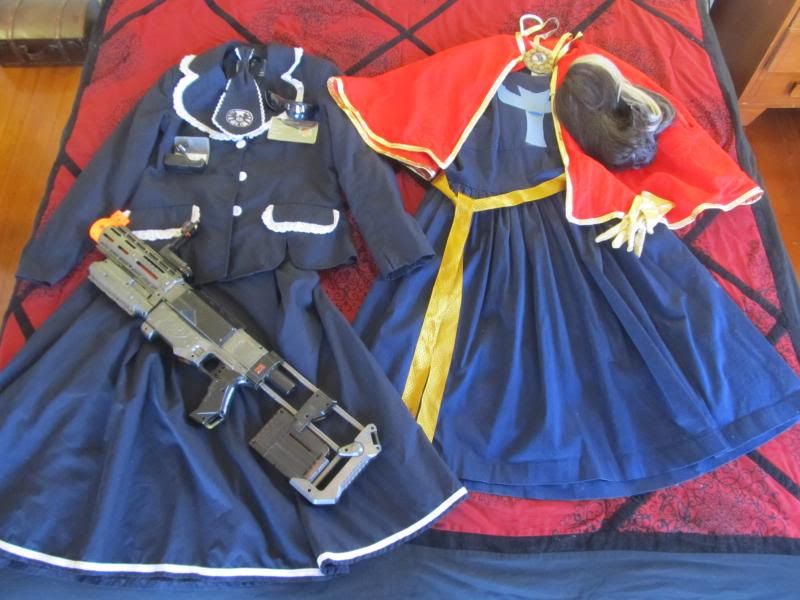 Things not pictured, due to time crunch:
most of my Coats/Jackets/blazers
underskirts
jewelry of any kind
most of my blouses
Things I'm planning on selling in the immediate future

Thanks for looking, see you all in 2-3 years!