Hey everyone! Welcome to my 2014 wardrobe post! I was so busy with my new job that I wasn't able to make as good as a post as last year, so I did what I could; I hope the pictures came out okay~
I apologize in advance if any of the photos are of poor quality (even though I know some of them actually are...)

Okay, so let's start~
One Pieces up first!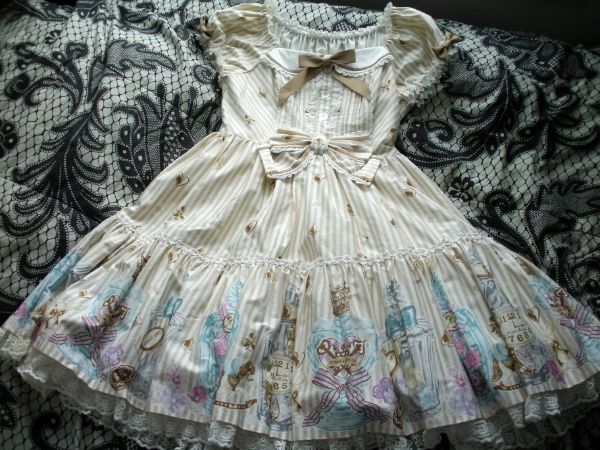 Alice's Glass bottle of Tears Ivory by Angelic Pretty





Phantom Merry-go round Ivory by Enchanlier EnChantilly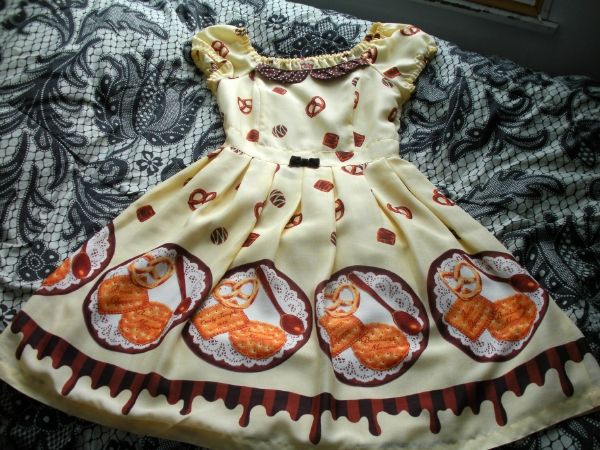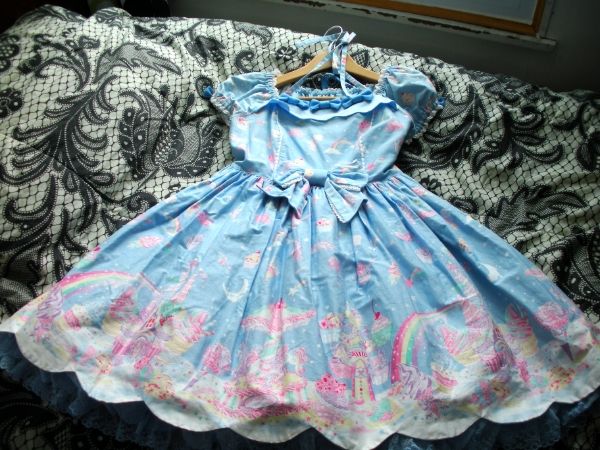 Milky Planet Sax 1st release - by far one of my favorite prints!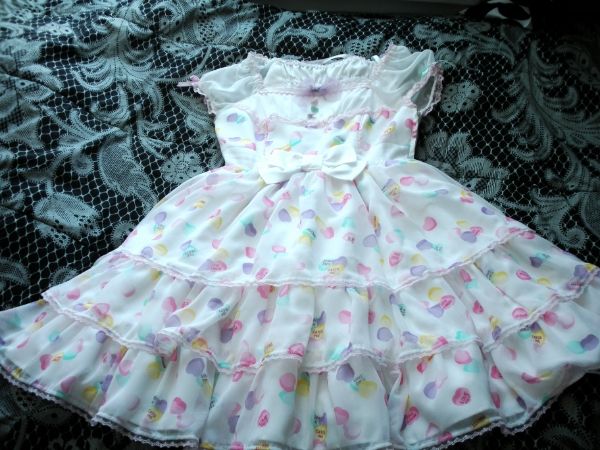 Sugar Hearts white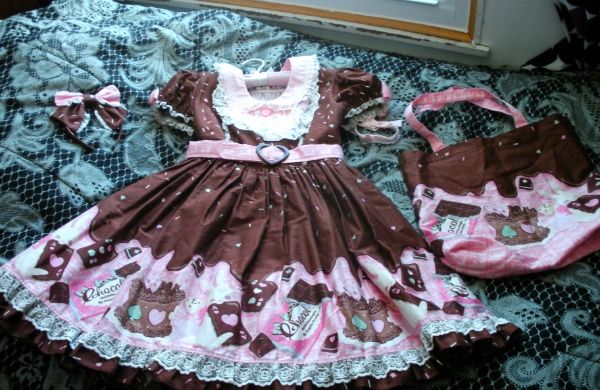 Melt Choco Lapin Special Set



Metamorphose Dim Light

On to JSKs!


Angelic Pretty Starry Night Theater bare JSK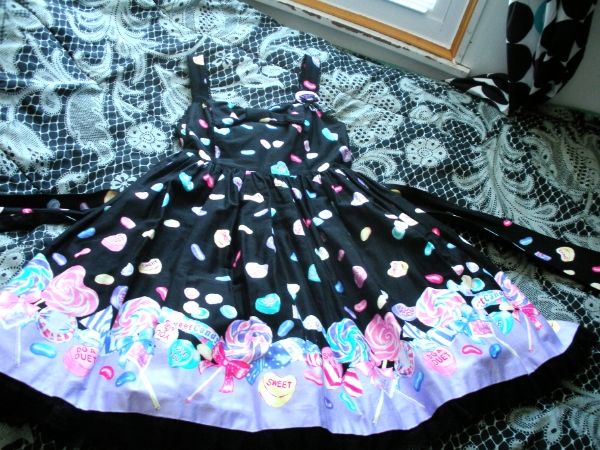 Angelic Pretty Candy Treat



Angelic Pretty Chocolate Rosette 1st Release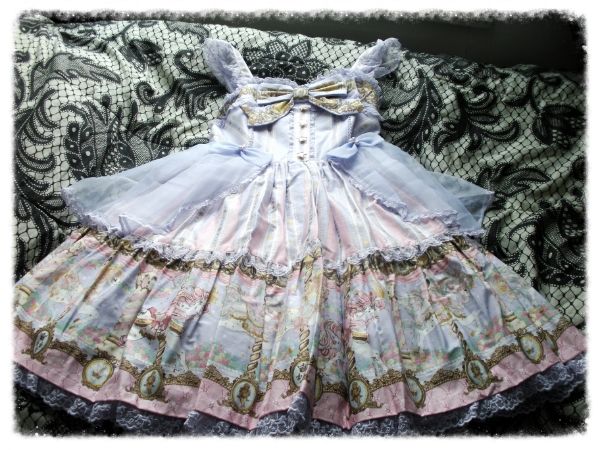 Daydream Carnival Tiered JSK



Left: Angelic Pretty High-waist Fruits Parlour Mint JSK
Right: Angelic Pretty Odekake Tea Time JSK -That 2011 AP Lucky Pack was really worth it. I adore this tea-themed print!

Angelic Pretty Cat's Tea Party Special set



Angelic Pretty French Cafe



Angelic Pretty Puppet Circus JSK Ivory



Angelic Pretty Decoration Dream Bustle-back JSK



Angelic Pretty Gloria



Angelic Pretty Magical Etoile





Left: Angelic Pretty Dream Sky re-release OP
Right: Angelic Pretty Dream Sky 1st Release JSK



Angelic Pretty Dream Sky Salopette



Angelic Pretty Chess Chocolate Bustier JSK





Angelic Pretty Mussee Du Chocolate



Angelic Pretty Holy Lantern JSK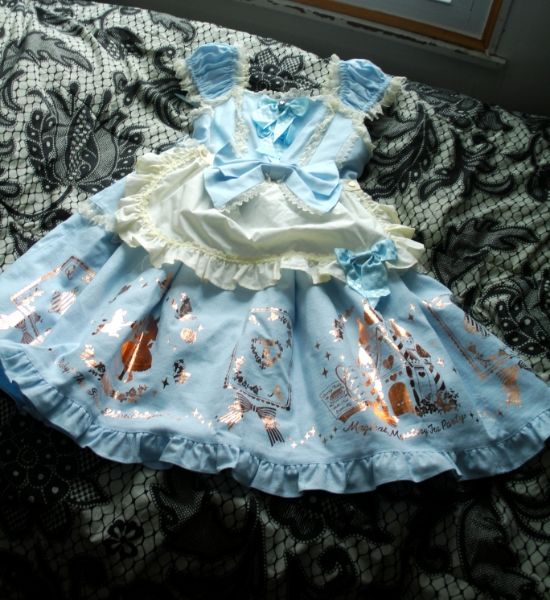 Baby The Stars Shine Bright Magical Mystery Tea Party



Alice and the Pirates JSK II and Bonnet



Baroque Pearl Drops on the Dry Flowers JSK


Moving on to Skirts:



Left: Baby the Stars Shine Bright Clockwork Tea Party
Right: Baby the Stars Shine Bright Unico in Bloomland



Angelic Pretty Dreamy Horoscope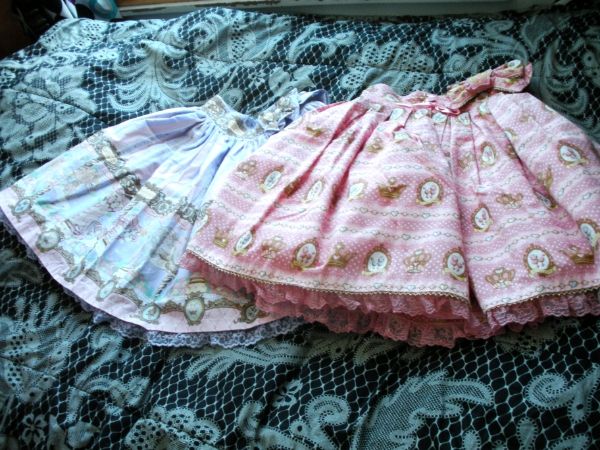 Left: Angelic Pretty Daydream Carnival
Right: Angelic Pretty Royal Poodle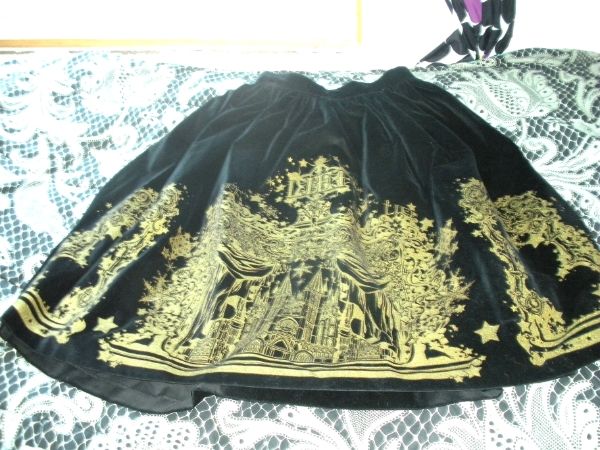 Lief Sacred Night

Outer wear has not changed since 2013 aside from getting one or two new items so I'm going to use some old pictures


AP Capelet (came w/the Tea Time LP in 2012) and Kids YoYo hoodie



DreamV cardigan, Angelic Pretty Dream Sky hoodie, and Kids YoYo (I forgot I already had a pic of it...)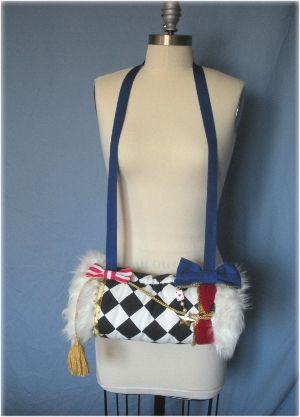 And here's the new item that I acquired this year! It's a muff by
idgal at least I believe it was made by her, I got it in a set with my SNT JSK and I seem to remember her selling these because I had wanted one, haha)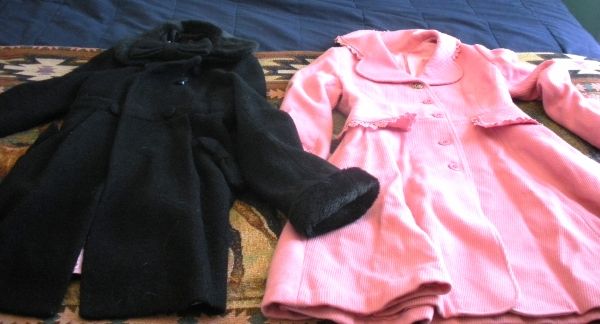 Left: Bodyline winter jacket
Right: Emily Temple cute jacket - my sister got this for me for Xmas! She's so awesome!

Blouses and cutsews - These also have not changed at all so I"m just using the old photos



Dear Celine and AP 2012 LP blouse



Offbrand, Meta Chiffon blouse (from the 2011 summer LP) and Bodyline



Bodyline and Meta (I lightened this pic a bit so you could see the detail on the black Bodyline blouse)



Btssb Cutsew

New blouses - these pictures are just awful, I took these as an afterthought from my PG b/c I forgot to photograph them- please bear with me!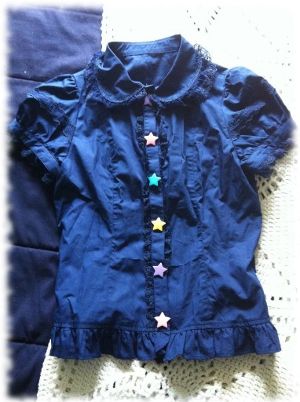 Angelic Pretty Navy Star blouse



Horrible picture of an Adorable Anna House blouse



Bodyline pink long-sleeve blouse

Headbows and other head accessories!


Top Row: Baby Unico in Bloomland, AP Daydream carnival, AP glass bottle of Tears
2nd row: AP Decoration Dream, AP Odekake Tea Time, AP Sugar Hearts Baby the Stars Shine Bright Magical Mystery Tea Party
Bottom row: AP French Cafe, AP Pupptet Circus, AP Triple bow lavender, AP Starry Night Theater


Top Row: Baroque Pearl Drops on the Dry Flower headdress, Meta Dim Light, AP Chocolate Rosette, AP Chess Chocolate
Middle: Bodyline Veil. Meta Headband, Shirley Temple cute mini-beret, Baby biscuit cookie barrette, Chocomint 2-way clip, AP dream sky barrette, Dream sky chu chu, AP pink barettes, Dream Sky large barette, Baroque Barette




Angelic Pretty Radiant Candlelight veil
Royal Rabbit Triple illusion veil





Baroque Pearl Drops on the Dry Flower Barrette, Swimmer candy barrette, AP Creamy Mami barrette,
BtssB cookie barrette, AP biscuits barrettes, Paradise Rose




Wristcuffs! (last years pic since they are the still the same)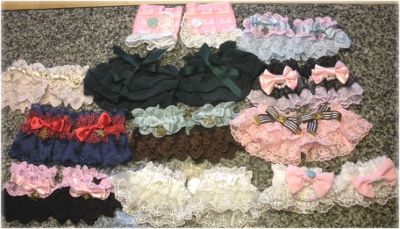 Angelic Pretty, Innocent World, Metamorphose an
bunnykittymk
Let me know if you want me to identify anything in particular.


Tights! (I'm using the picutes from last year for both tights and socks since they haven't changed at all - a strikethru it put through the ones I've sold)


Left to Right: Holly Tea Time, AP Gloria, AP marionette, AP sweet cream
(the first two are wrinkled because I just got done hand-washing them, sorry!)


Socks!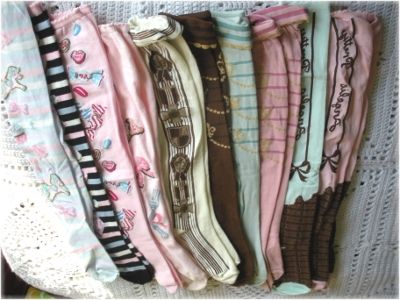 All Angelic Pretty in this picture-
Left to right - Decoration Dream, Wonder Cookie, Candy Treat, Odekake Tea Time, Chocolate Rosette,
Chess Chocolate Brown, Mint, and Pink, Royal Chocolate mint and pink



All Angelic Pretty in this pic as well:
Left to right: mint knee socks, Toy Parade 2nd release, Glitter Trump pink and sax, Dreamy Horoscope,
Shooting Star, Starry Night Theater marionette and circus, Cinema Doll



Left to Right: Alice and the Pirates gold lame, Scent of Rapunzel, Metamorphose Swan candle holder,
Meta Victorian girl, Meta Typewriting squirrels, BtssB see-through glitter OTK, see-through flower knee socks,
Emily Temple Cute black and pink ribbons, Bodyline blue stripe, poodle, pink stripe, Secret Shop shooting stars, offbrand (I think Target?)

The the new ones this year:


AP stripe ribbon, AP French Cafe, Grimiore Butterfly tights (Forgot the name), Taobao cat tights, AP DDC tights, Holly tea time, AP Dream Sky (and two more AP dream sky - pink and navy still in package)
Also still in Package: Rosenrot BJD tights


Parasols/Umbrellas!


Meta Sax swan logo, Btssb "Dantarian no Toshokan" umbrella (I bought it because I liked the look-but apparently it's from a Gainax anime collab?) and AP Frill Polka dot w/tote
The new ones I got this year are below: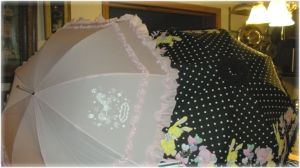 AP dreamy pony, and AP Toy Fantasy



Necklaces, Rings, Etc: (I took some new pics this year but they didn't come out so I'm just gonna use last year's pictures-the new items that I got were just Dream Sky and Milky Planet jewlery)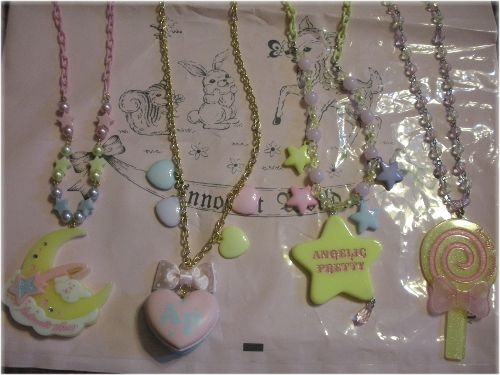 Automatic Honey moon necklace, rest are AP


AP Chess Crown and Melty Chocolate bracelet



My AP pony collection! I love ponies!



Rings! If you need me to identify something just let me know! It's a mixture of brand, offbrand, and handmade!



Bracelets: Meta and chocomint



Two-way clips and other goodies~

I actually have a LOT more necklaces and jewelry but I didn't have the time or patience to photograph it all :(

Bags:


AP boston bag, Pink Maccaron chihuahua purse, AP Fancy Bunny, BtssB poodle, AP pink heart,
AP Sugar Hearts, AP Decoration Pony, AP Shooting Star, AP Chocolate bar, BtssB Alice clock purse

And new this year:



Alice and the Pirates Gold x brown coffin bag



Milk Heart bag



Tote Bags! All Meta and AP except for one offbrand!



! Q-pot and Metamorphose



unknown brand Piano bag - I found this at a thrift store!


And finally....shoes!



Top: Bodyline, Btssb Ballerina Shoes w/flower clips, Anna house, Btssb Heart buckle, Yumetenbo/DreamV, Bodyline
Bottom: Secret Shop black, Secret Shop Lavender, An~Tai~na, offbrand
Front: Secret Shop mint, sax, and Bodyline brown

and new this year to my shoe collection:


Queen Bee pink boots!






Hope you all enjoyed my wardrobe post! I know I enjoyed making it!
Sorry for the lack of good pictures this year, I'm just happy that I got this post finished this year!
<3,
Chunlichan