Thanks for checking out my wardrobe post! To start, here's my last two wardrobe posts so you can see progression:
Year I
Year II

This year hasn't been big for dresses for me so I've mostly been working on accessories. I need to do a large clean out soon though to make way for the new year, I don't even know where to keep all my purses. My cut photo is my new puppy Gretchen, I'd like to have dressed her up more but I just got her so I don't have lolita wear for her yet and she's difficult to keep still for a photo. This coming year I hope to get an ETC dress or four, and try to have a few outfits that are a little more casual.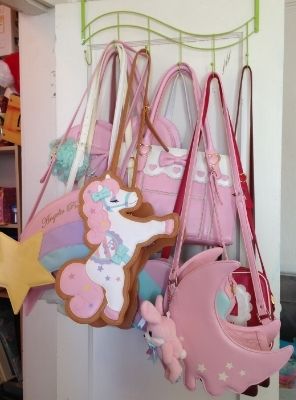 I expanded this corner with a couple Ikea shelves and put up my necklace boards this year. Some parts are looking a bit bare because I recently turned another corner of my apartment in to a lolita corner, and I really don't have enough to fill both areas. Might just try out the minimalist look.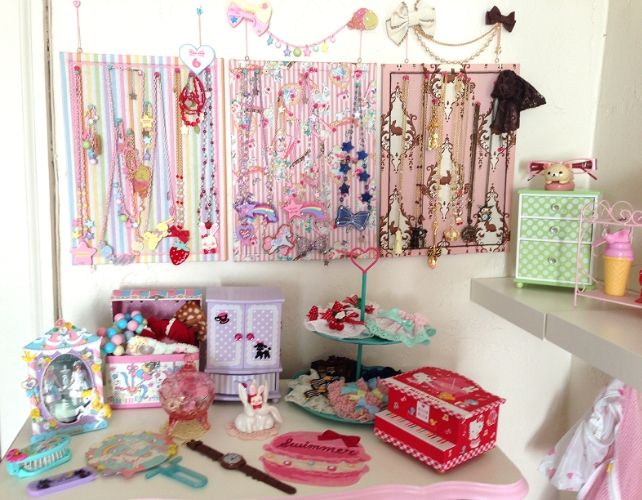 This past August my ferret Franklin passed. He was the last of my three ferrets to go. I decided to make my life a bit easier and gave up owning anymore ferrets for a while, so I decided to move my computer desk to another corner, and turned this one in to my new lolita corner. The nightstand, dresser, floor shelf, and mirror I bought used and painted them, the frame is from Ikea and I painted that too. I'm still organizing this are so it looks a little bare, and I need to figure out exactly how to work with the corner, suggestions would be appreciated! The mirror can't move though because it's hiding my very ugly radiator. The tulle will have to go though, it looked way better in my head.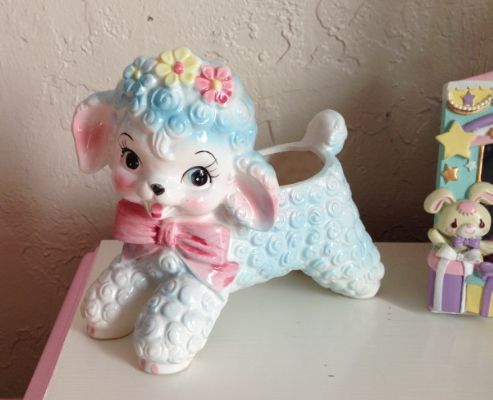 Found this at an outdoor market. The lady said she's been trying to sell it for eight weeks and no one had even touched it.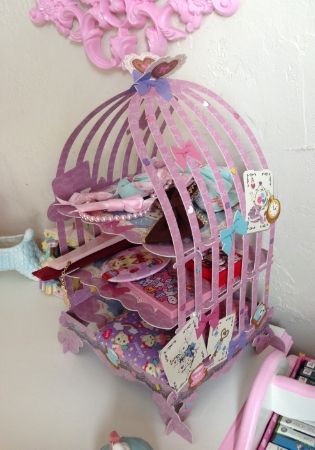 Bloomer Box


I made all but the mint and the strawberry ones, those are Swimmer.

Shelf in my closet to the left.


My closet extends to the right and left. To the right I have a bookshelf for junk and a bunch of storage space for like my vacuum and stuff, but to the left is another closet and this little shelf set-up for more lolita stuff. Mostly seasonal stuff, and detachable items for blouses and such. There's a window in my closet, but usually it's kept covered with a certain so it doesn't fade my clothes.

Dresses


Angelic Pretty's Dreamy Dollhouse and Dream Fantasy
I love how many outfits I can do with Dreamy Dollhouse. It may seem OTT sweet, but I find it to be very versatile.



Angelic Pretty's Milky Planet
The neck Straps on the halter version drove me nuts so I just sewed them to be a JSK. It was great because I almost sold the dress because of that issue, but now it's a favorite.



Angelic Pretty's Starry Night Theater and Dream Sky
I didn't care for Dream Sky much until it was Anime Revolution in Vancouver, Canada. I stalked the AP booth waiting for the leftovers from the fashion show to go out. I saw this would be available and really wanted to try it on, but when I came back from lunch I saw another girl had taken it to the dressing room. To my luck though, I saw her put it back and not a half second after she put it on the rack and pulled her hand away, I had it in the dressing room and loved it. Sorry girl if you had second thoughts!



Angelic Pretty's Dot Angel Pony and Cherry Berry Bunny
Cherry Berry Bunny is another one of those dresses that I managed to put a lot of coordinates together for. It was my first print dress and I love it to death.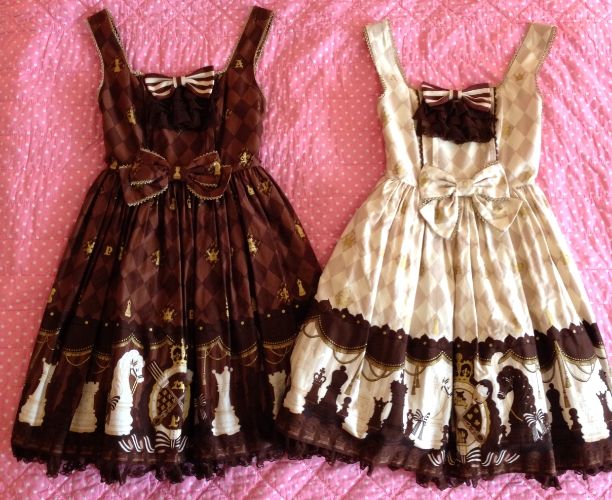 Angelic Pretty's Chess Chocolate
Being a pastry chef who use to do chess club, this dress was made for me. It's gorgeous and I'm so happy to have it in both colorways I wanted.



Angelic Pretty's Twinkle Carnival and BtSSB's Hide and Seek with Missin' Alice
Twinkle Carnival is my most gorgeous dress. I passed it up twice when it first came out, but when I saw it appear the third time, I decided I just had to get it. For the Missin' Alice dress, I went through hell getting it. After passing getting it in San Francisco since I was promised it as a gift I never got, I had a huge ordeal with a girl who sold one to me ripped, smelly, and missing the ribbon for lacing up the back. I eventually found it on mbok. Sadly I don't wear it much, I just don't think Baby is for me.



Chess Story's Chocolate Dress and Angelic Pretty's Melty Royal Chocolate
MRC is just so darn cute. I couldn't be happier with it.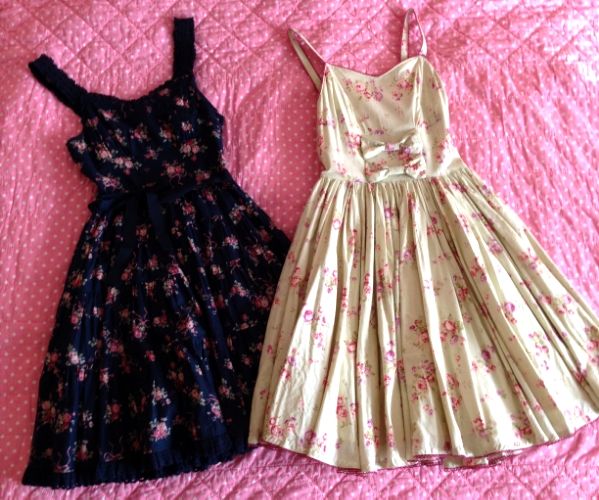 Innocent World

Blouses
Couldn't get good sun for this >.<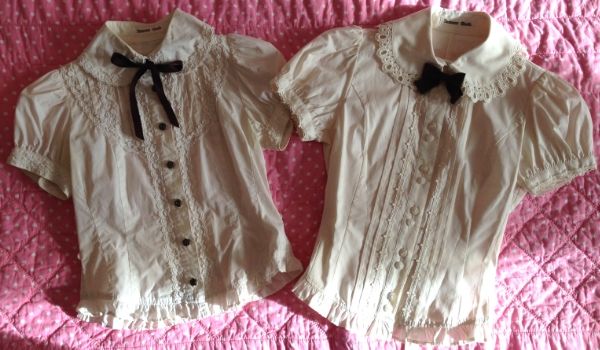 Cardigans and Parkas


Both Angelic Pretty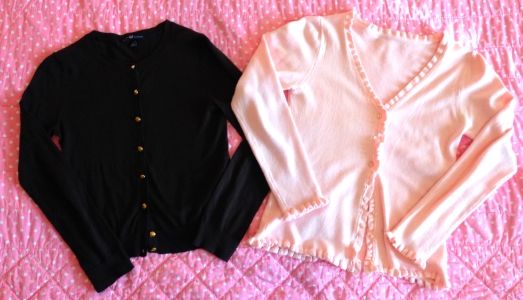 Gap (I changed the buttons), Taobao


Emily Temple Cute


Angelic Pretty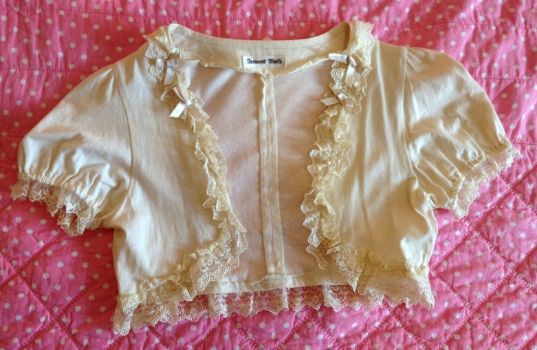 Innocent World

Casual Wear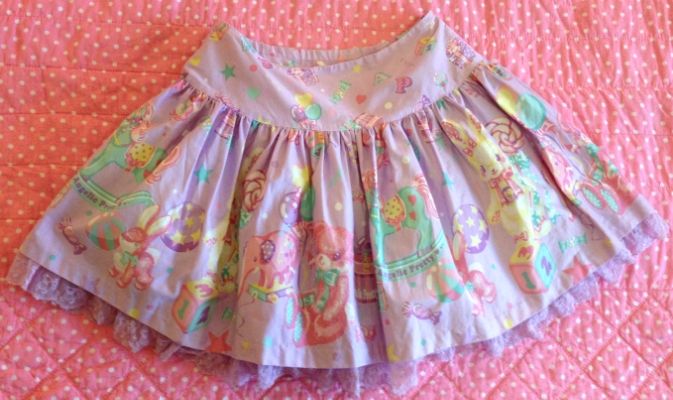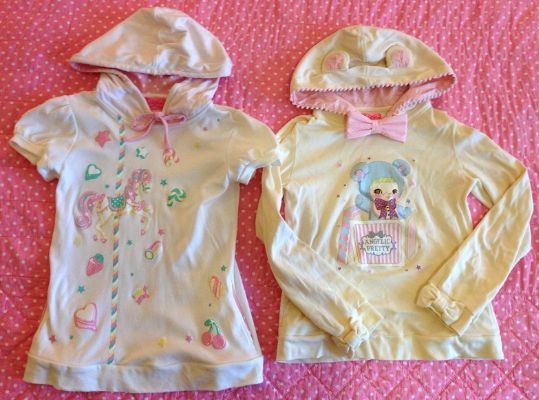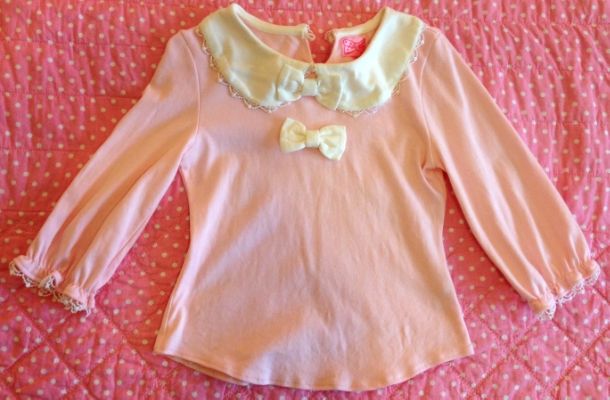 The AP casual wear is something I'm starting to get in to. Not sure if it's for me yet, but I'd like to give it a shot.

Coats/Jacket


Taobao


Angelic Pretty, Chess Story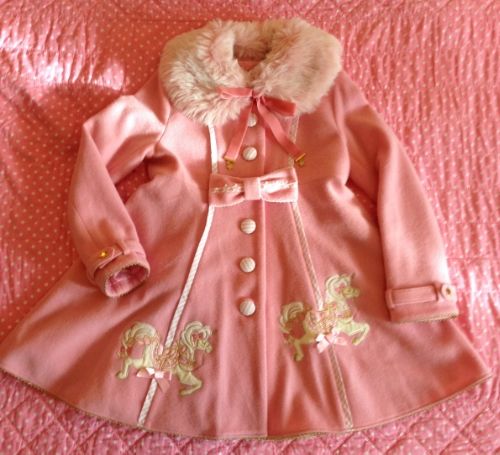 Angelic Pretty


Angelic Pretty

Sock Drawers


Sock clean-out needed~

Socks


One of my addictions.

Tights Drawer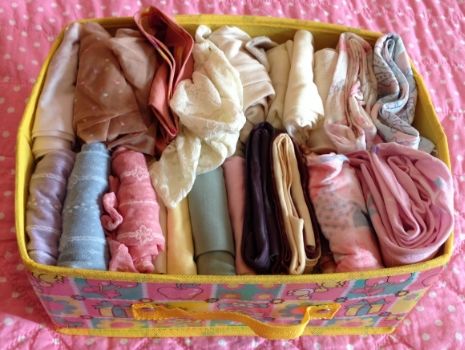 I don't know why I have so many tights, I rarely wear them.

Tights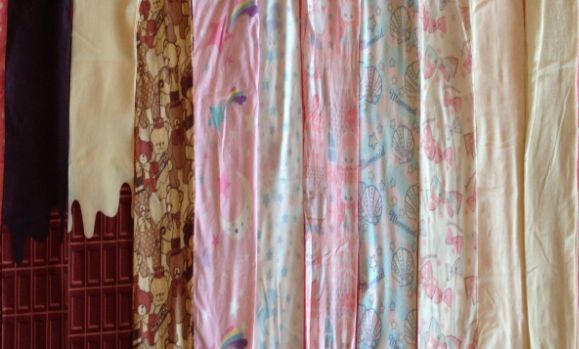 Taobao, Taobao, Swimmer, Angelic Pretty, Taobao, Swimmer, Swimmer, Swimmer, Taobao, eBay
Sorry, tried to flatten these but they refused to. The two to the right that are hard to see, the second from the right is a floral pattern I like for my IW dresses, and the one on the edge has a really light gold shimmer to it that is perfect for Twinkle Carnival.

Shoes


All Secret Shop

Purses


Very soon I hope to pick out 20-50% of these purses to sell. It's my little addiction, but I'm running out of space for them all. I forgot to include my three purses in this pic, but they're below.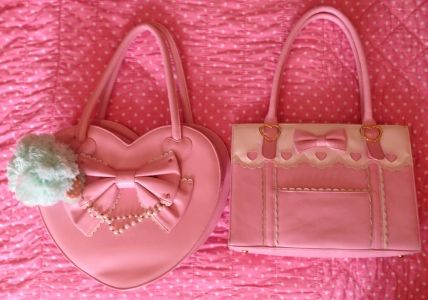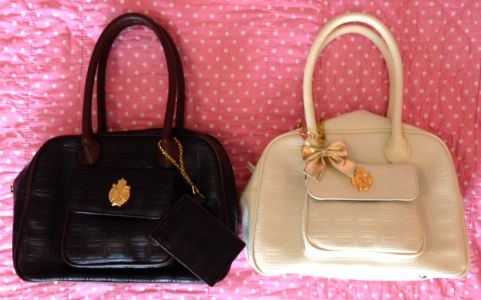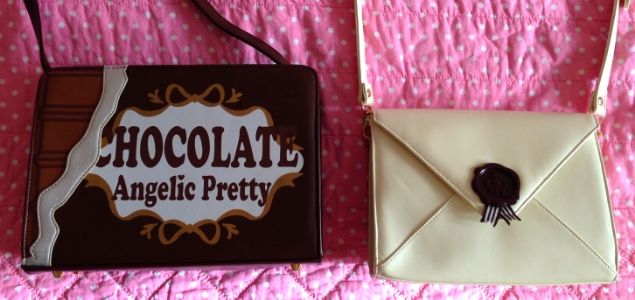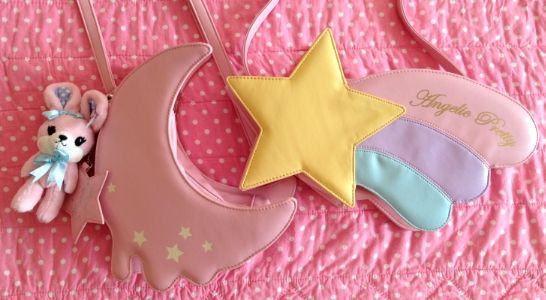 Parasols


Left to right: Swimmer, Innocent World, BtSSB, Angelic Pretty, Angelic Pretty
My favorite by far is the red one. My shopping service said it was the last one in Japan so I felt pretty cool, and it's red polka-dotted with bunnies and a candy-striped handle, what's not to love?

The parasols open:



Headbow Drawer


I plan on putting these on the wall one day, but for now they are nice here.

Headwear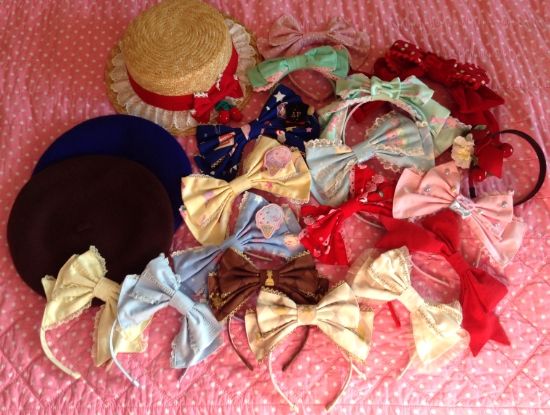 Everything is AP except the two berets, the pink and mint bow at the very top ( I made both long ago), the headband with the strawberry to the right (Chess Story), and the red headbow near the bottom right. That one I made out of neck straps from the dress.

Jewelry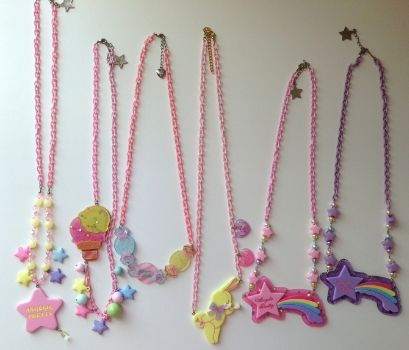 Another thing I need to go through and sell...

Accessories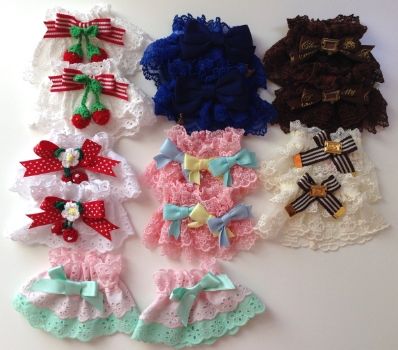 The pokadot strawberry cuffs and the pink and mint I made, the rest are AP.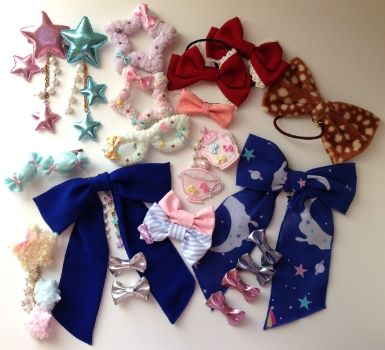 Scarves


The blue one is Taobao, I freakin love it. The brown Alpaca is Swimmer, the white rabbit is h. Naoto Frill, and the star and bunny I both made.

Sample Co-ords:
Here's a few outfits I put together to show.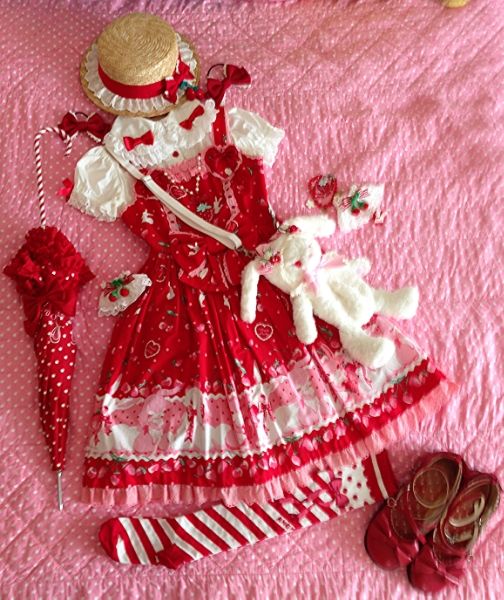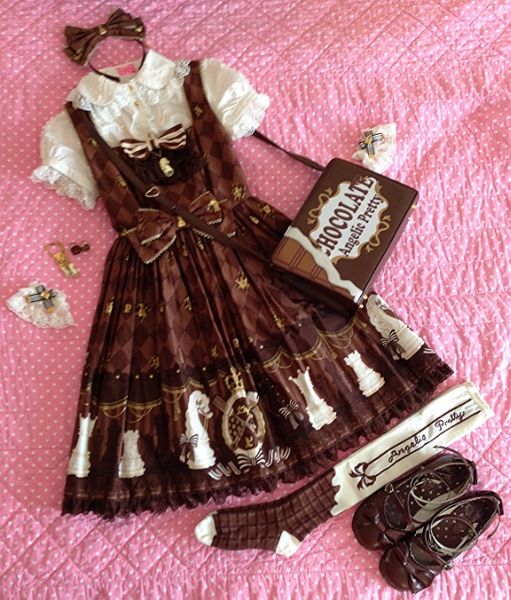 Thanks for looking, see you next year!