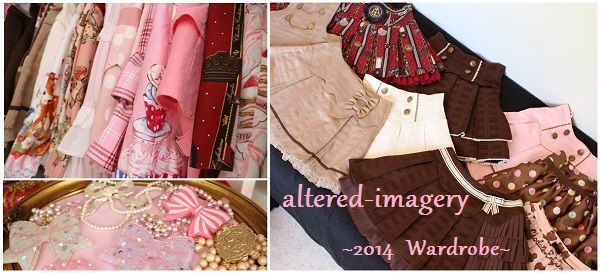 Hi there!
This is my first ever wardrobe post and I've been in the fashion for about a year and a half now.
My wardrobe and my style are a bit all over the place atm but I'd have to say that my wardrobe is very casual.
I own a lot of sweet pieces along with a few more classic and otome items. I've been slowly getting rid of my pastel clothing and instead I've been adding more brown tones and gold accents to my closet. So far I really love where my wardrobe is heading!
Now onto the main event:
~SKIRTS~
My wardrobe is predominantly skirts; I find that they're a lot easier to wear and they can be coorded in so many different ways!




All AP; Royal Chocolate (RC) 1st release, RC 2nd release, Polka Dot Chocolate, Milky Chan, Wonder Party, Melty RC, RC 2nd release
Wonder Party was one of the first purchases I planned on making when I started in the fashion. In the end though I chickened out and passed on buying it. Ever since then I've had a pinning for it in the brown colourway so I was very happy to finally snag it about a year later!

ETC x2; GIngerbread Print, Chocolate Teddy, IW Bambi, IW Forest Animals, AP Loire, Meta Tales of the Wood
The Loire skirt is a very nice old-school style piece and Meta's Tales of the Wood would have to be one of the more underrated faun prints.


All AP; Dolce Tartan, Merry Making Party, Candy Denim, RC 2nd release, French Girl, Twinkle Carnival


AP Chocolate Rosette, IW Flavie Check, AP x2; Moon Night Theater, Fancy Box, Shirley Temple Heart Crown Jacquard, IW Acanthus
Chocolate Rosette was a major wishlist piece of mine for such a long time and I have always regretted passing up on it during release.



AP Wonder Queen, Baroque Missing Rabbit Letter, APx3; Vanilla Chan Applique Skirt, Melty Cream Donut, Petit Patisserie, ETC Donut Print

~Salopettes~


All AP; Melty Royal Chocolate, Sweet Cream House, Clever Tartan x2, Little Bear's Cafe
I'm still not too sure if salopettes suit me or not but I couldn't pass on the Melty Royal Chocolate one.
(I just realised that my Sweet Cream House Apron Skirt has sneaked in there by accident, oops!)

~JUMPERSKIRTS AND OPS~


IW Classical Square OP, French Girl JSK, AP Sweet Cream House Laforet Special Edition JSK, IW Bruna OP, IW Acanthus JSK, Aatp Poison de lamour Princess JSK
The Acanthus JSK was a wishlist piece that I was fortunate enough to receive in an IW luckypack!

IW x3; Flocky Tulle JSK, Beluga JSK, Octavia JSK, Aatp Card Queen JSK, IW Antique Tartan JSK




IW x3; Bertille Rose JSK, Extra Polkadot JSK, Sailor Collar OP, ETC Gingerbread JSK, Shirley Temple Poodle JSK
~BLOUSES~


AP, Dream V, AP x2, IW, Taobao

Btssb, Anna House, Taobao x2, Meta, IW
Taobao, IW x2, Chess Story, Dream V x2
~OUTERWEAR~

SUPER LOVERS, Deoart, Shirley Temple

ETC, AP, VIVID, offbrand, AP, Bodyline, Magical Tea Party, offbrand (op shop)
The last piece is a gloriously tacky jumper. It's made of the softest material and has rhinestone and pearl embroidery around the collar.
~HEAD ACCESSORIES~
~Headbows~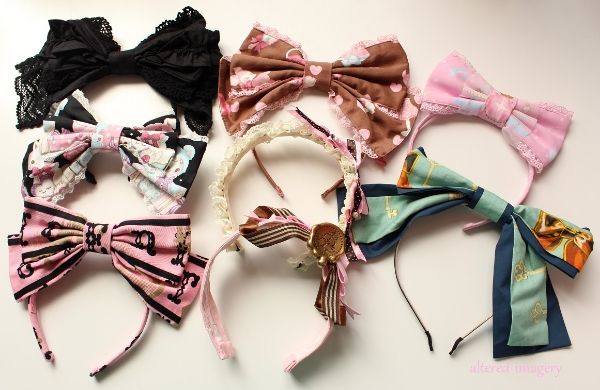 Btssb (name unknown), AP x 4; Milky-Chan, Twin Etoile, Fancy Box, Sweet Cream, Baroque Missing Letter Keys and Rabbit, AP x 2; Moon Night Theater, Royal Stripe
AP x3; Dreamy Bunny, Wonder Cookie, Millky-Chan, offbrand, AP x2; Drop Ribbon, Throbbing/Tokimeki Ribbon
~Barrettes~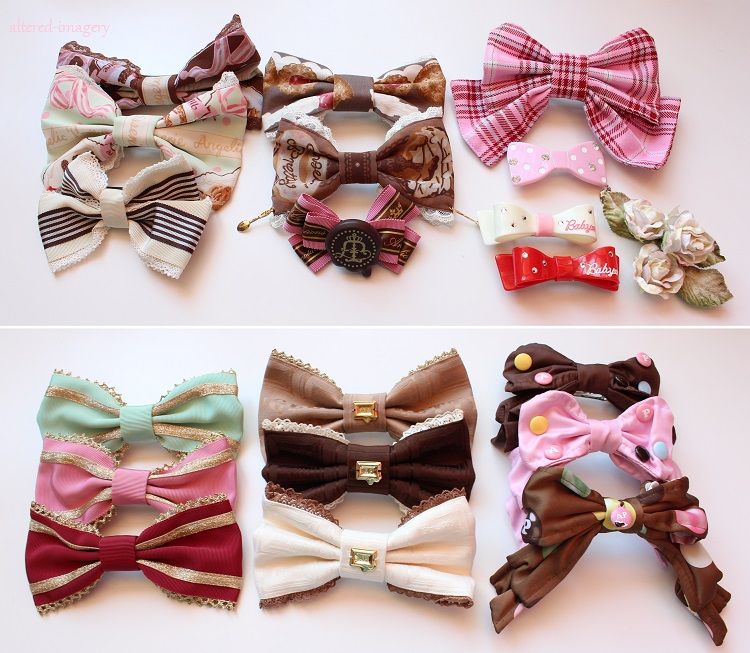 PICTURE 1 (from top to bottom): AP x 8; Petit Patisserie x 2, Striped Ribbon Line, Sweet Cream House, Melty Cream Donut, Melt Crown, Dolce Tartan, Fantastic Ribbon, Btssb x 2 name unknown, offbrand rose clip (handmade by me)
PICTURE 2: All AP; Royal Ribbon Grosgrain x 3, Melty Royal Chocolate, Royal Chocolate x 2, Polka Dot Chocolate Button x 2, Polka Dot Chocolate
Barrettes are my go-to hair accessory since I often wear more casual looks.
~Berets and misc hair accessories~
Meta Sailor Beret, offbrand x 2, AP x 2; RC, Marine Girl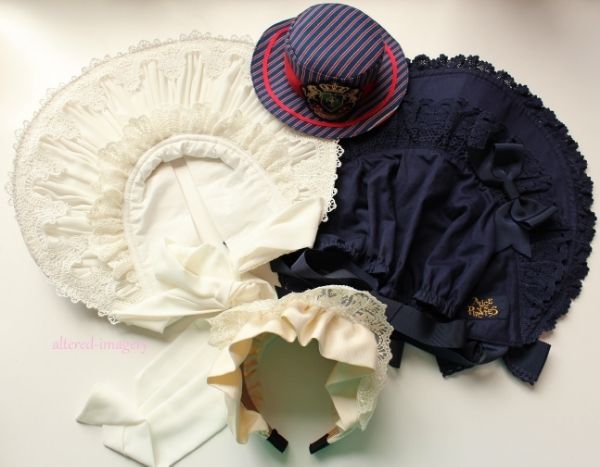 Elpress Narcissus, Aatp x 2; Holy School Mini Hat, Rose Bonnet, IW Ladder Lace Headdress
AP x 4; Vintage Crown Button Combs, Melty Cream Donut Scrunchie, Canotier (name unknown), Ginger Bear Ponytail Holders, IW Vitoria Headress
The rose headdress to the left was a very lovely bonus from a seller! It came with my IW Forest Harvest JSK and it's a surprisingly good match.
~JEWELRY~
~Necklaces~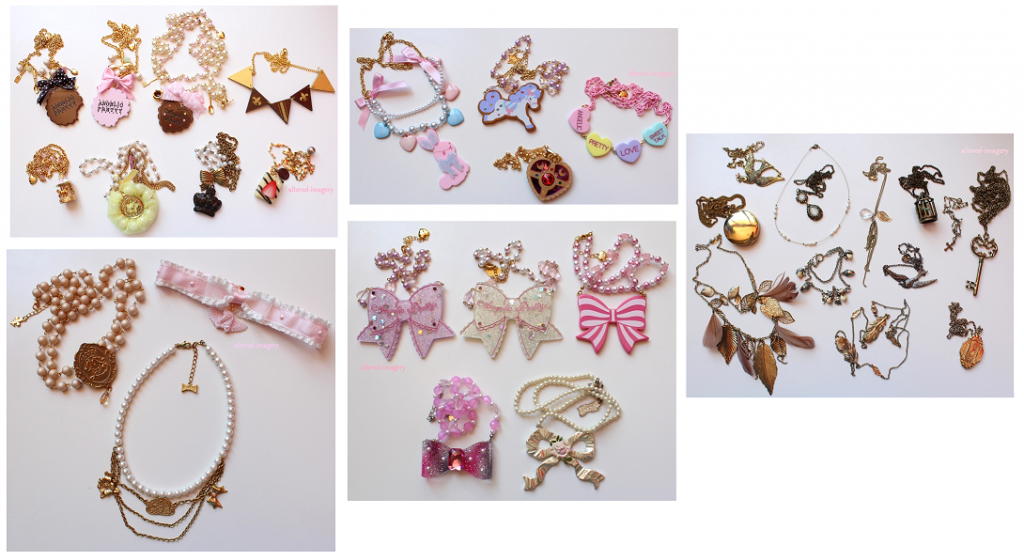 Angelic Pretty, Meta, Q-Pot, Emily Temple Cute, Kuma Crafts, and Offbrand (Diva, op shops)
~Bangles~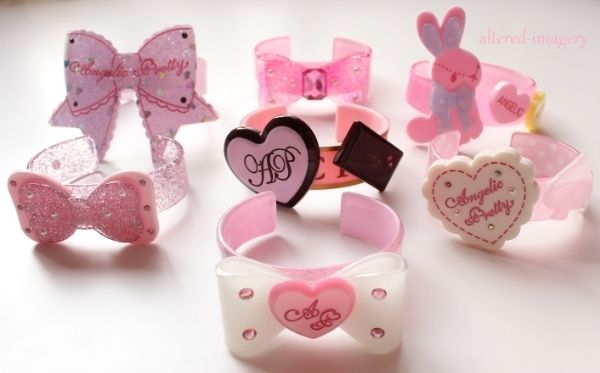 All AP; Throbbing/Tokimeki Ribbon, Aurora Ribbon, Dreamy Bunny, Twinkle Ribbon, Melty Assorted, Wonder Cookie, Drop Ribbon
~Bracelets~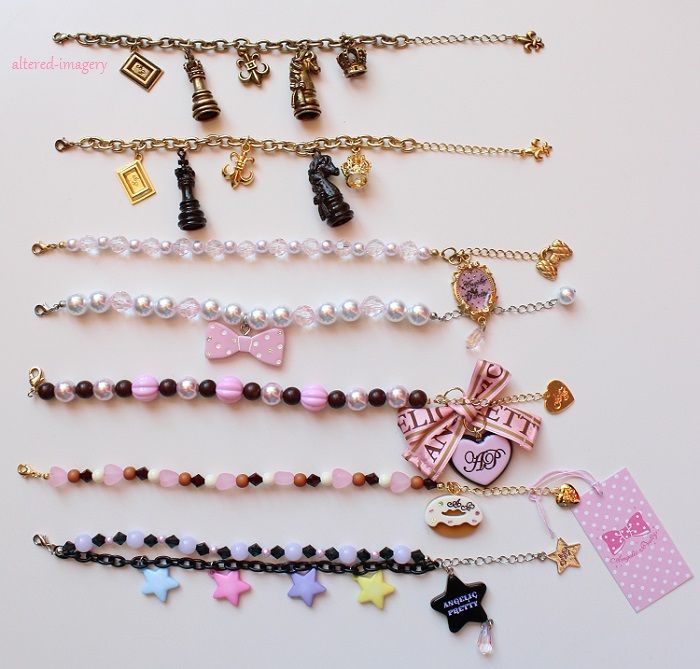 All Angelic Pretty; Chess Chocolate x2, Cinema Doll, Fantastic Ribbon. Melty Chocolate, Melty Cream Donut, Masquerade Star
~Rings~

AP Chocolate Frame, handmade by me, AP Lovely Ribbon, Present Box, Fantastic Ribbon, Decoration Pony, Cinema Doll Frame, Day Dream Carnival, Tokimeki Ribbon x 2, Dreamy Heart Candy x 4, Tea Cup, Chocolate Piece, Chocoalte Ring, Melty Cream Donut, Wonder Cookie, Sweet Cream, Assorted Chocolate, Polka Dot Chocolate. Not pictured: Milky-Chan in pink
~Earrings~

AP x2; Sweet Cream Biscuit and Wonder Cookie
I'm not really a big fan of earrings, I find that the weight of them is often really distracting. Normally, I just wear plain studs or a pearl pair.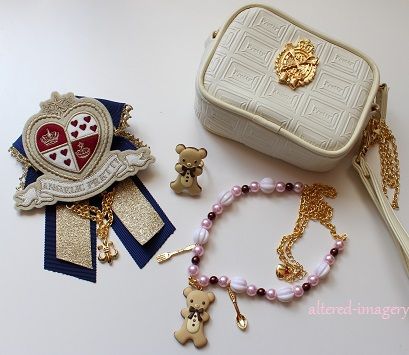 All AP; Wonder Queen Brooch, Sweet Ginger bear necklace and ring, Royal Chocolate Multi Case

A few of my latest arrivals! (sorry they weren't included with the rest of the pics)
~OTHER ACCESSORIES~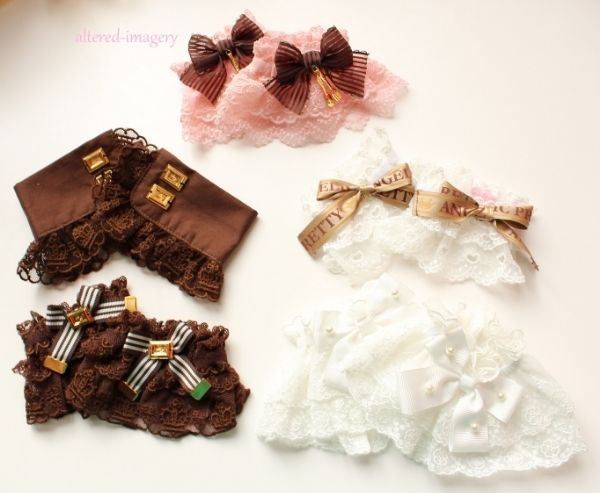 AP x 4; Creamy Donut Cutlery, RC cuffs, Melty Chocolate, RC wristcuffs, Bodyline ACC1031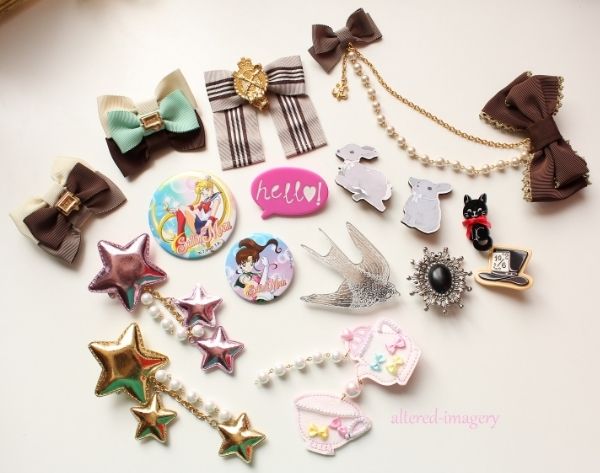 My brooch collection is a mix of brand and offbrand. The stuff along the top is all AP, the stars and teapot are Chocomint, and the Mad Hatter Pin is Btssb.
The cat pin is by Tall Rabbit (a local artist) and the faun + rabbit brooches came from High Treason . The rest were picked up at various local stores or from opshops.

Offbrand (ebay,) Btssb Bunny Scarf, offbrand (ebay,) SWIMMER faun fur collar
The SWIMMER collar was a very nice bonus item that came with my Wonder Party skirt.
~BAGS~

Mainly Angelic Pretty with a few Btssb, Meta and IW pieces. Bottom right are all op shop finds.
For some reason or another I always get lucky at op shops when it comes to bags.
I have to say that the Btssb Heart Pouch is the most impractical bag. Not only is it ridiculously small but it also scratches very easily.

~LEGWEAR~




AP x 2; Coat of Arms, Marionette, IW Air Mail, offbrand (Target,) AP x 2; Jewel Ribbon, Lace Frame, IW x 2; Biscuit OTKS, London Bear, AP x 3; Chelsea Argyle, Coat of Arms, Wonder Party, offbrand (ebay,) AP Sweet Cream House, IW x 2; Biscuit OTKs, Rose and Playing Card, AP x 5; RC in ivory and mint, Melty Cream Donut, Academy Border, Wrapping Ribbon. Not pictured: various plain ankle socks and tights

My favourite socks would have to be the checkered AP pair, I just love the gold thread in them!
I didn't end up taking pictures of my ankle sock or stocking collection because they're all pretty boring.
~SHOES~



A mix of Bodyline, Taobao and offbrand (opshop or Rivers) with one lonely brand pair (Btssb)
~NOVELTIES~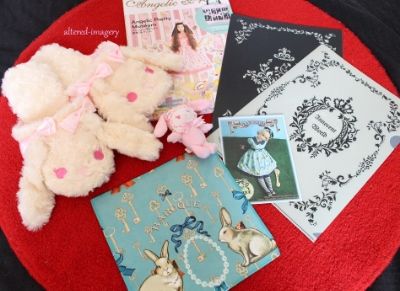 Btssb slippers, Btssb keychain, Angelic Pretty Mook, Baroque cloth and postcard, Innocent World files

~IN THE MAIL~


More chocolate to add to my collection!
_____________________________________________________________

~THEMES~
While I was at it I took a few group shots of the different themes and motifs I have going on in my wardrobe. So, here goes:
~Chocolate!~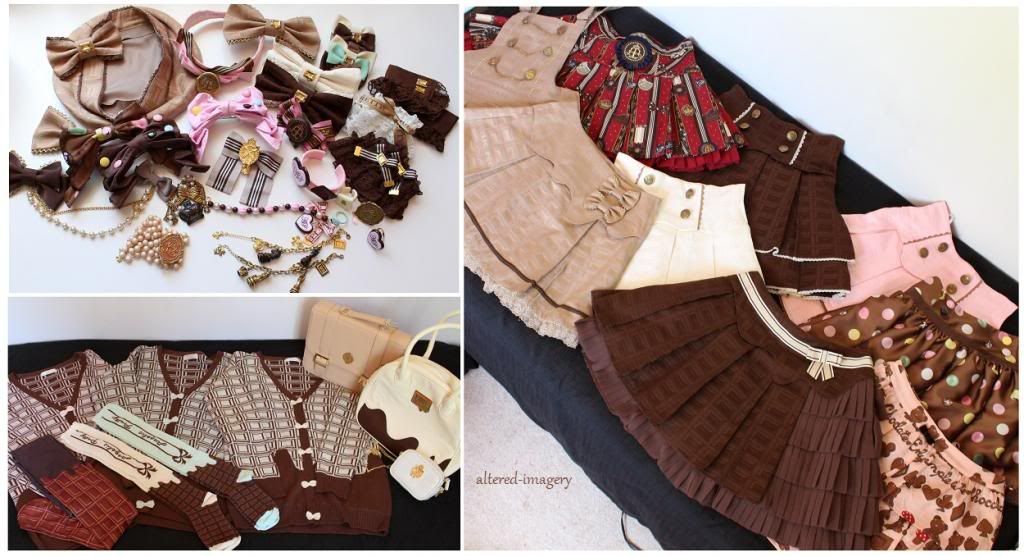 Angelic Pretty's Royal Chocolate would have to be my favourite brand release . The second release skirts are some of my most loved pieces in my wardrobe. I have the mocha one in the mail right now so soon my collection shall be complete!
~Biscuits, Cake, and Other Foods!~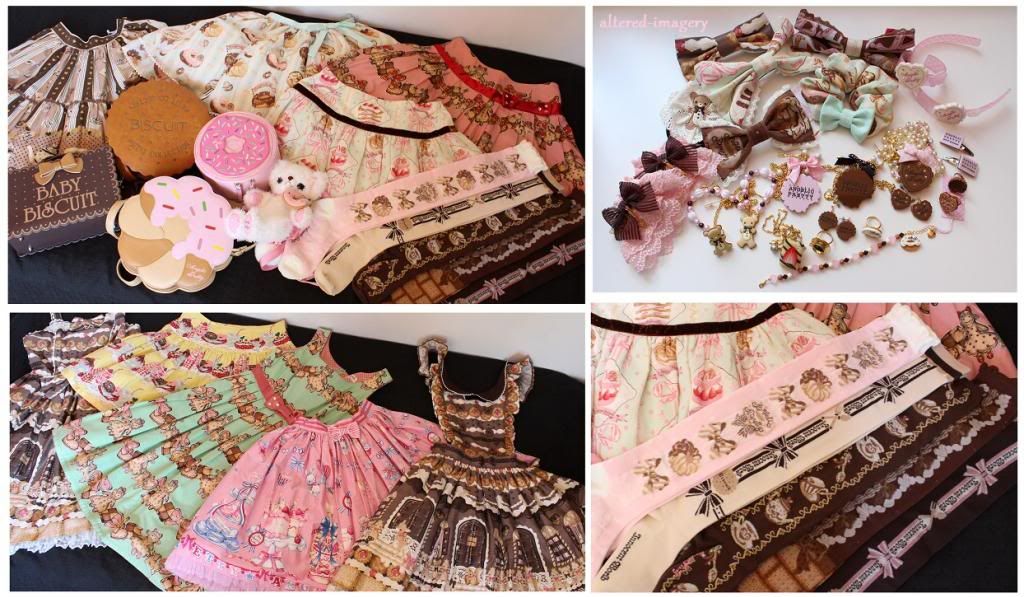 More food motifs in my wardrobe :3


~Forest Creatures!~

I have a soft spot for rabbits and deer, but throw in a few bears and we have a whole forest of animals!
I find it really interesting to see the variation in designs across brands and releases. I think IW with their Forest Animals skirt and Meta with Tales of the Wood hit the nail on the head pretty well, the little rabbits on Wonder Queen are rather cute to.
_____________________________________________________________________
And just quickly, I'd like to show you how I organise my collection :3
My old dollhouse is used for storing my accessories. Some of my pouches go to the top whilst the rest go on the back of my door for easy access. The pink doughnut at the top of the dollhouse holds my plastic headbands (it does a rather good job of protecting them!)
The middle 'floor' of the dolls house holds my necklaces and wristcuffs. The little purple haired figure is Creamy Mami, a character from an anime of the same name. I also had a Sailor Moon figure which accompanied her but it fell from my shelf and poor Usagi was decapitated!!
The bottom shelf holds my bracelets, brooches and badges.
Truth be told the styling is pretty tacky (all that gold with red and pink) but I love it nonetheless.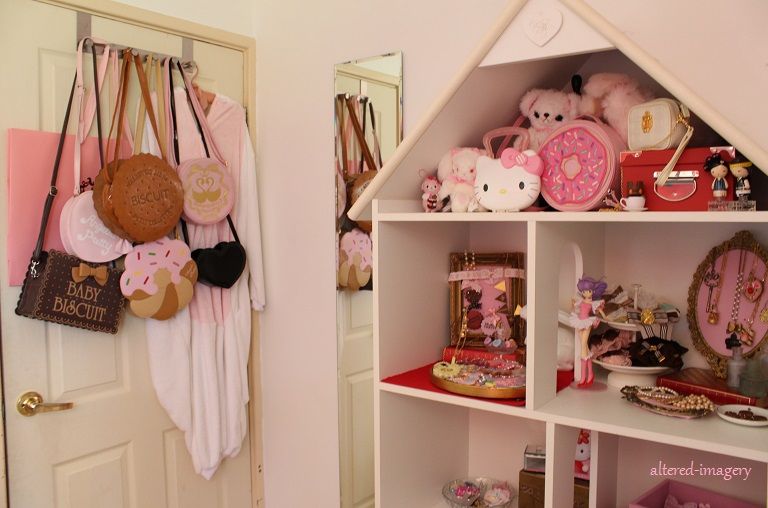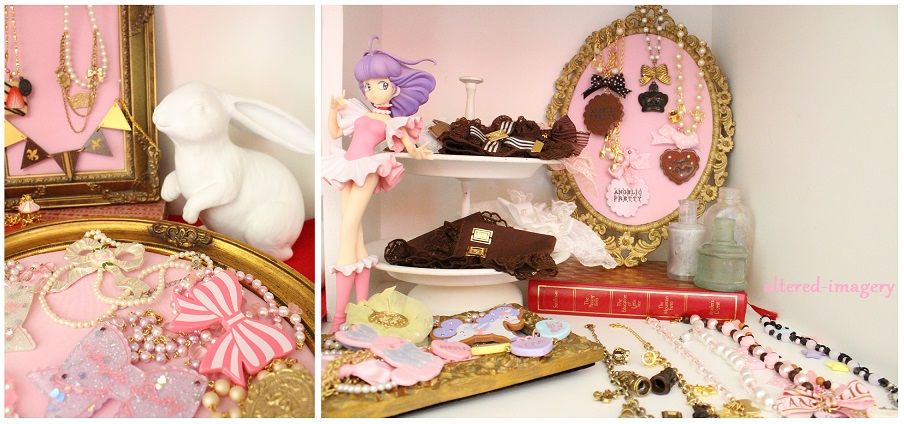 Next to my dollhouse is my wardrobe.
I ended up lining one side with brand bags. The red boxes at the very bottom hold waist ties, larger head accessories and a few other bits and pieces.
On the wardrobe door I hang my most commonly used barrettes.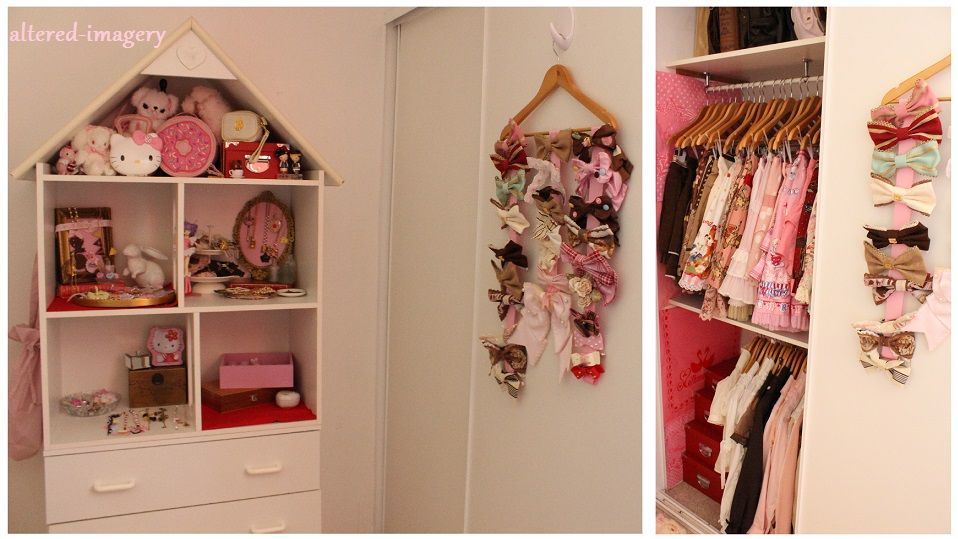 In my wardrobe I keep all of my larger bags up top with my skirts, blouses, and outerwear stored just below.
To the right side of my wardrobe are my JSKs and OPS, I also store my more loliable shoes here.
Finally, a few extra shots from around my room.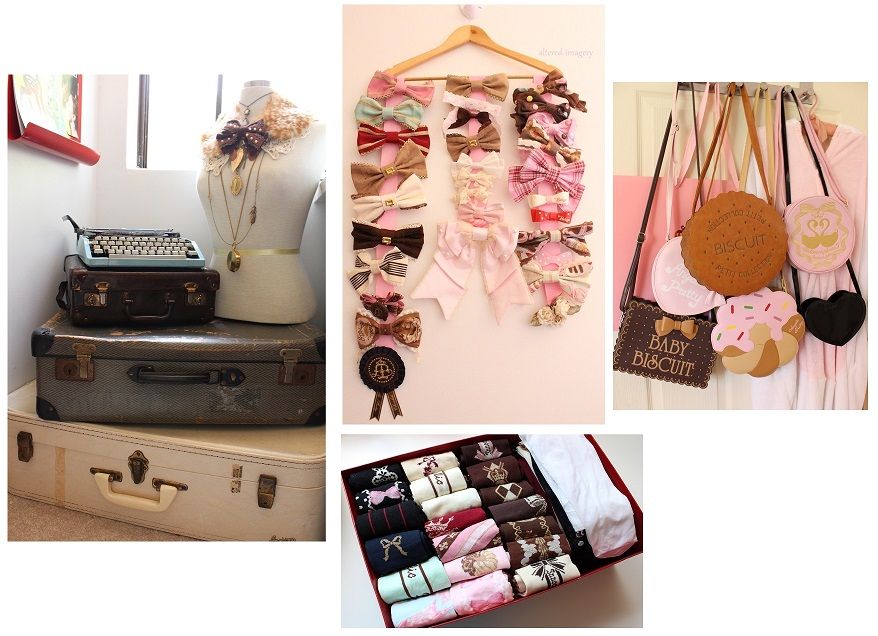 And that's about it for my wardrobe post!
I'd like to think that I've come a far way in such a short space of time but I know I still have progress to make.
I have a few wardrobe goals for myself this year which I really hope to fulfill. I'm aiming to add more blouses, outerwear and shoes to my collection along with some more jewel tones.
Thank you for looking
<3
Links:
My Pinterest (where I organise my wardrobe):
I mainly reblog j-fashion related material but from time to time you'll see my own outfits and hauls on there. I'll also be posting some of these wardrobe pics.