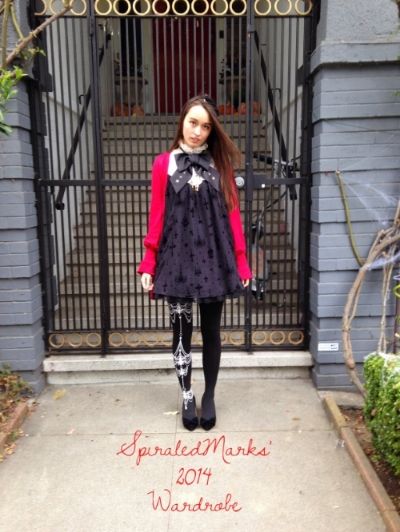 So this is the first time I've ever posted my wardrobe. I'd say I've been wearing lolita fashion for the last two years, and have admired it for the last ten. This field of fashion is definitely where I have the least self control, as I buy more of what I want than what I necessarily need. If anything, my spending habits have laid me flatly in what I think makes my style classically sweet or sweetly gothic. What I included in this post is all of my main brand pieces, so nothing I've thrifted nor found to fit the fashion has been photographed. I hope you enjoy!
Dresses!
(Left to right)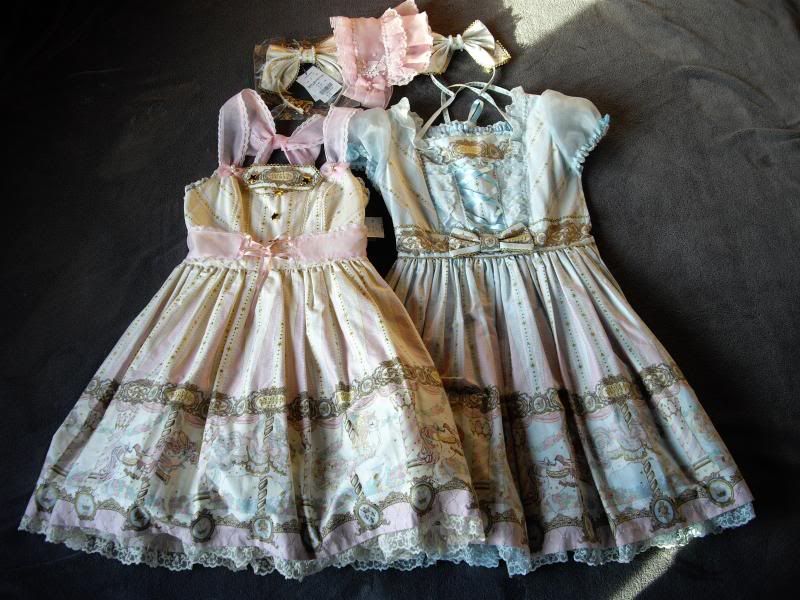 Too highlight my lack of self control, my
Day Dream Carnival JSK and OP by Angelic Pretty
.
I had fallen in love with the JSK and immediately ordered it when they did the make to order, and on the last day of orders, I rushed to place the OP and I am quite pleased with my decision.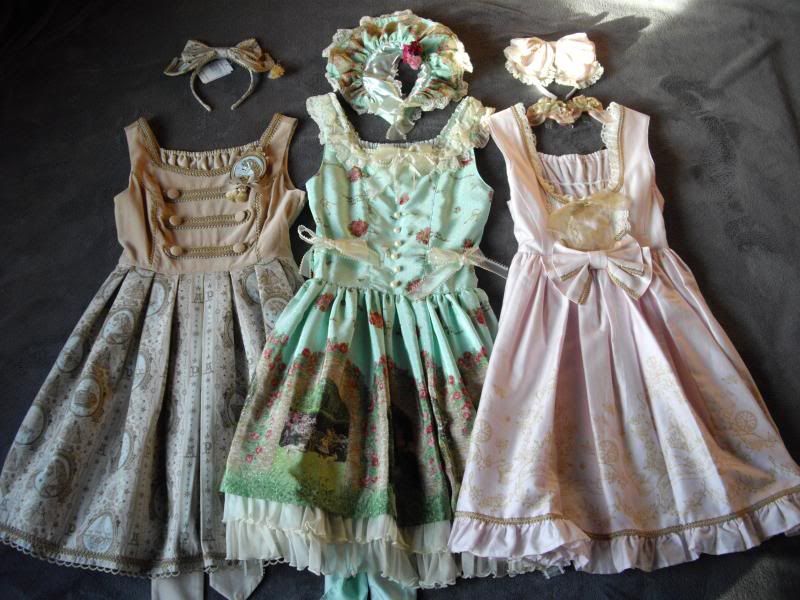 Angelic Pretty's Royal Unicorn JSK, BTSSB's The Rose has a Secret Scent Elise JSK, and BTSSB's Sleeping Beauty Aurora JSK.
Three dresses I am pleased to have as my own.
Angelic Pretty's Radiant Candlelight JSK, Angelic Pretty x Kira Imai Cat's Tea Party JSK, and Victorian Maiden's Rose Greeting Doll OP.
I should have done a solo shot of my Cat's Tea Party, but these three dress are probably my favorites and it felt fitting to do a shot of all of them together.
Angelic Pretty's Sugar Hearts JSK, Dream Sky JSK (Second Release), and Decoration Dream.
Probably the sweetest dresses I own, but I love them each to heart shapped/star shapped/candy pieces.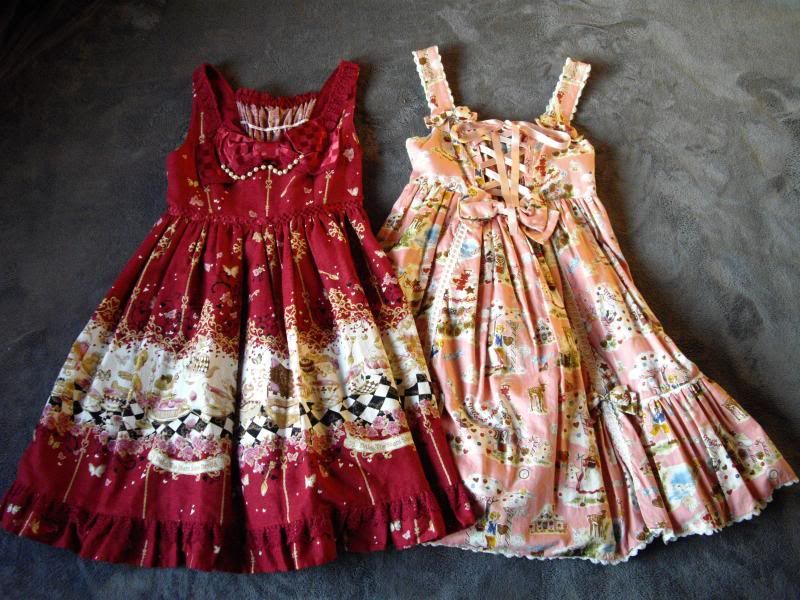 BTSSB's Clockwork Tea Party, and Metamorphose's Hansel and Gretel.
The Clockwork Tea Party has the best story as I literally begged it off the manager of the BTSSB in San Francisco. I feel bad to this day, but I'm so glad I got it as my first real lolita dress. If you look at these wardrobe posts, thank you so much!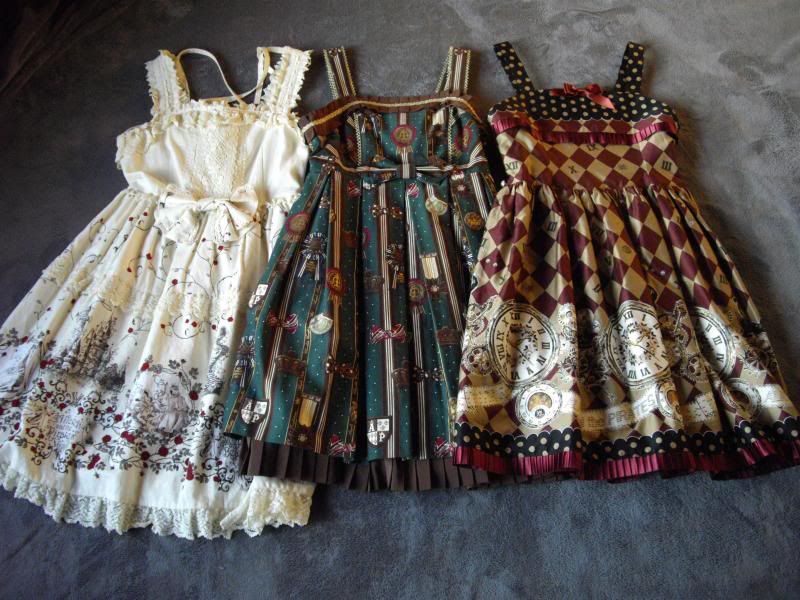 AATP's Sleeping Beauty JSK, Angelic Pretty's Chocolate Rosette, and AATP's Tokeijikake Aristokitty JSK.
Love, love, love. What more can I say?
UH OH, Guess who can't remember the name of item's when there is no print on them?
All Baby, the Stars Shine Bright.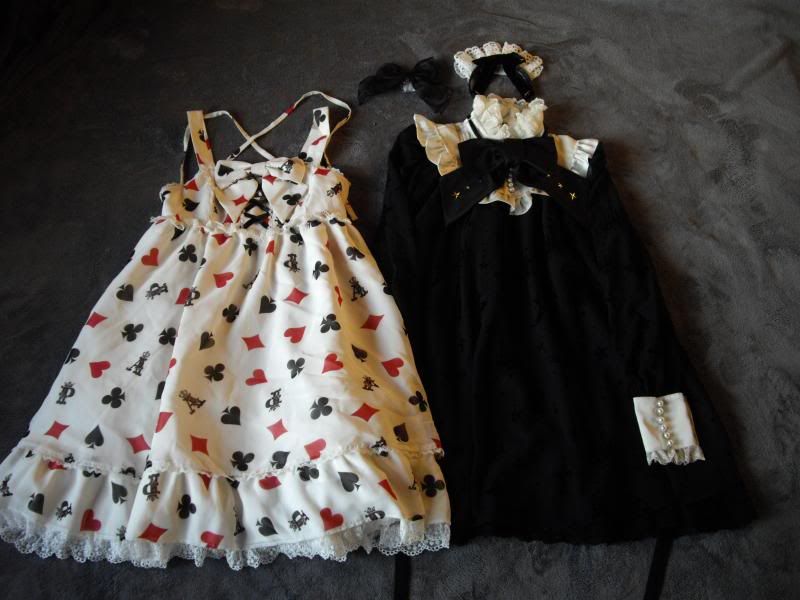 Angelic Pretty's Royal Cards JSK and Holy Lantern OP.
I actually had wanted the OP for the Royal Cards print, but found even I could not justify how shorty that dress ran. The Holy Lantern OP however is a different story.
Juliette et Justine's St. Cecilia JSK and Maria Annunciation Cross OP.
Sort of the crown jewels of my wardrobe. The St. Cecilia I got on a fluke, I swear. I worry that it might disappear from my closet, it is too good to be true. The Annunciation I happened to find in Closet Child and I snatched it up without a second thought.
Capes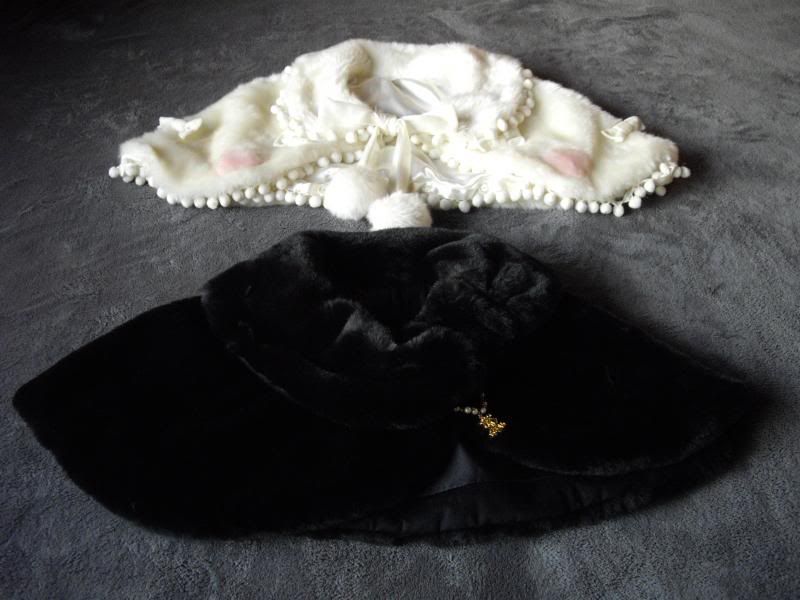 Angelic Pretty's Caplet in ivory, and a AATP's Caplet in black.
Sort of snoozeville after those JetJ, right?
Skirts!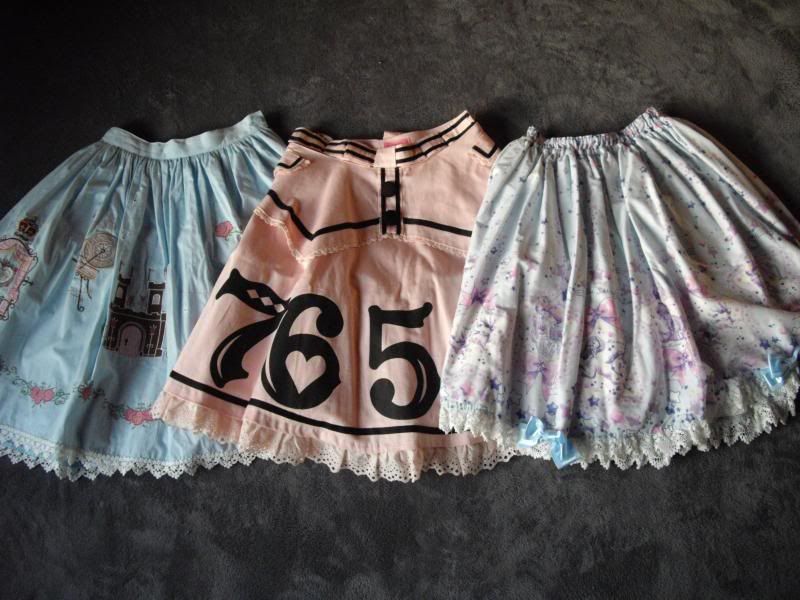 BTSSB's She is Sleeping, Angelic Pretty's Marionette Clock, and BTSSB's Twinkle Constellation and the Stars of Confeito.
Notice the theme in my love of Sleeping Beauty?
BTSSB's Little Red Riding Hood in both print and applique.
My second favortie theme you could say.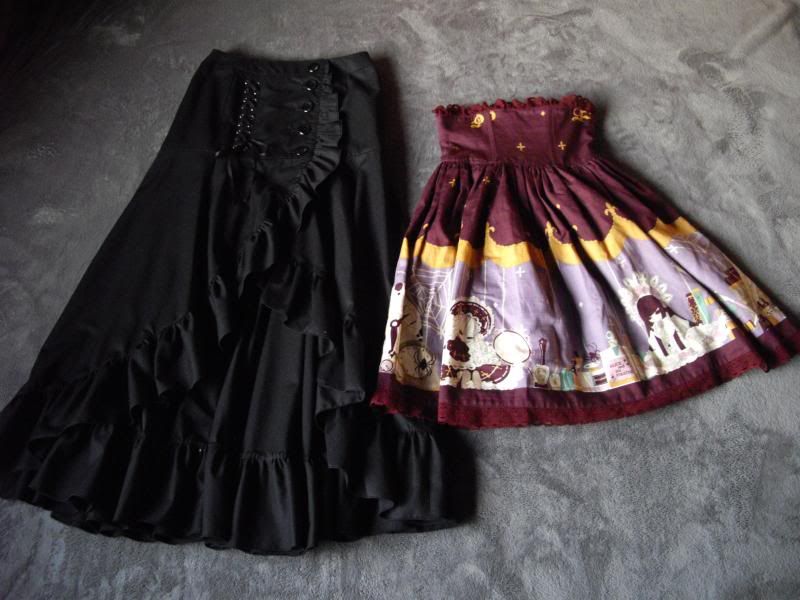 Black Peace Now skirt and AATP's Marionette in my Closet.
I can't deny, the BPN skirt was an impulse buy when they declared bankruptcy. I couldn't stand the idea of not owning something from a brand that I had liked in my more gothier moments.
The last tidbits
My unattached hair accessories from assorted brands.
I know none of their names with the exception of the Katie beret and the Rin Chan bunny ears from 2012's mystery tea party, both being BTSSB.
BTSSB's Heart Purse, Angelic Pretty's Melty Moon Purse, and Angelic Pretty's Trump Purse.
AKA I love these purses, but do I know their real names? No.
My assorted brand accessories.
Most notiably from Angelic Pretty.
And that's the body of my wardrobe!
I had forgotten to take a picture of my blouses, but sometimes I feel if you've seen one blouse, you've seen them all.
Overall, this project has made me really happy with the contents of my wardrobe. With the exception of a few dream dresses, I feel like the only thing I want to work on is obtaining more accessories/bags and getting more non-print items or at least florals and not any major prints, like the items I currently have.
Thanks for looking!