Hi there. This is my first time really posting anything to the EGL community so I guess I should introduce myself. My name is Ira and I am 21 years old. I started wearing lolita in October 2012 and have slowly been building my closet since.

I first saw lolita in 2008 and have always admired the beauty of it, especially Gothic. I was always put off the price but since I got a job and regular hours I finally decided that it was time to build my wardrobe. It's not as big as I'd like it to be but I'm getting there c: My pictures aren't the best, I'm sorry.

So please, enjoy~

SKIRTS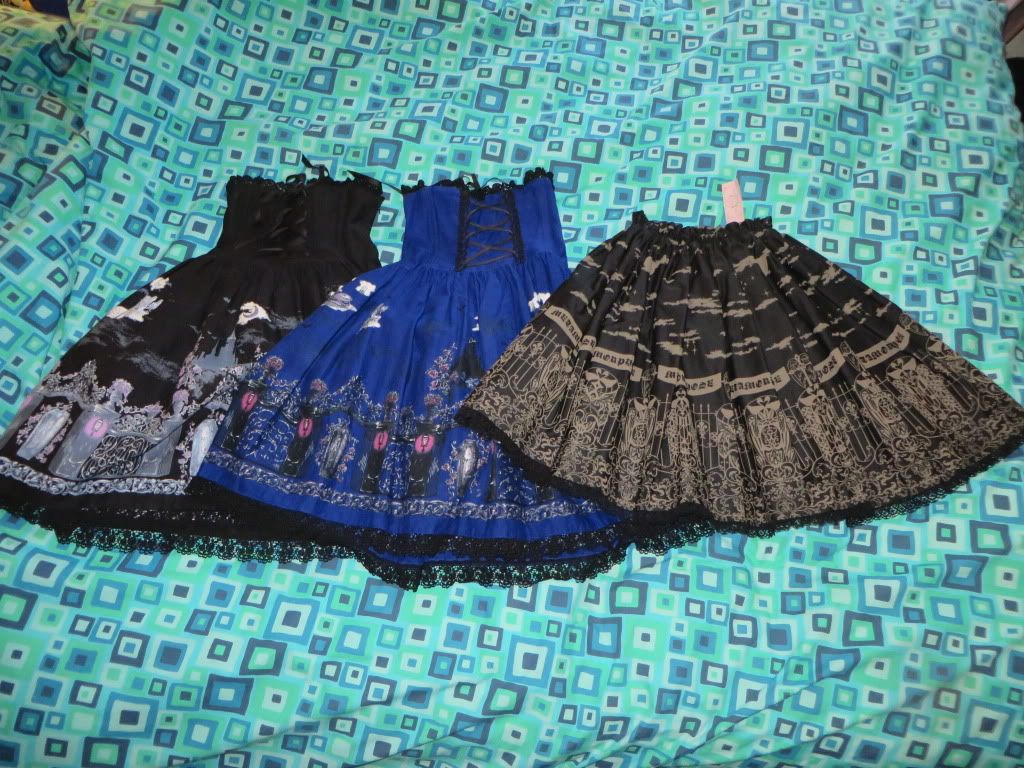 First we have my two Vampire Requiem skirts by AATP (black first release, blue second) and Moonlight Night by Metamorphose (which still has the tag on it). The black Vampire Reqiem skirt was the first item I started searching for. I was lucky that a lovely lolita from New Zealand sold it to me. Ever since I got it I've been in love with the print, so when the blue one popped up I jumped on it. Especially since blue is one of my favorite colours. I've also loved the Moonlight Night series so I was very happy that I could buy the skirt NWT.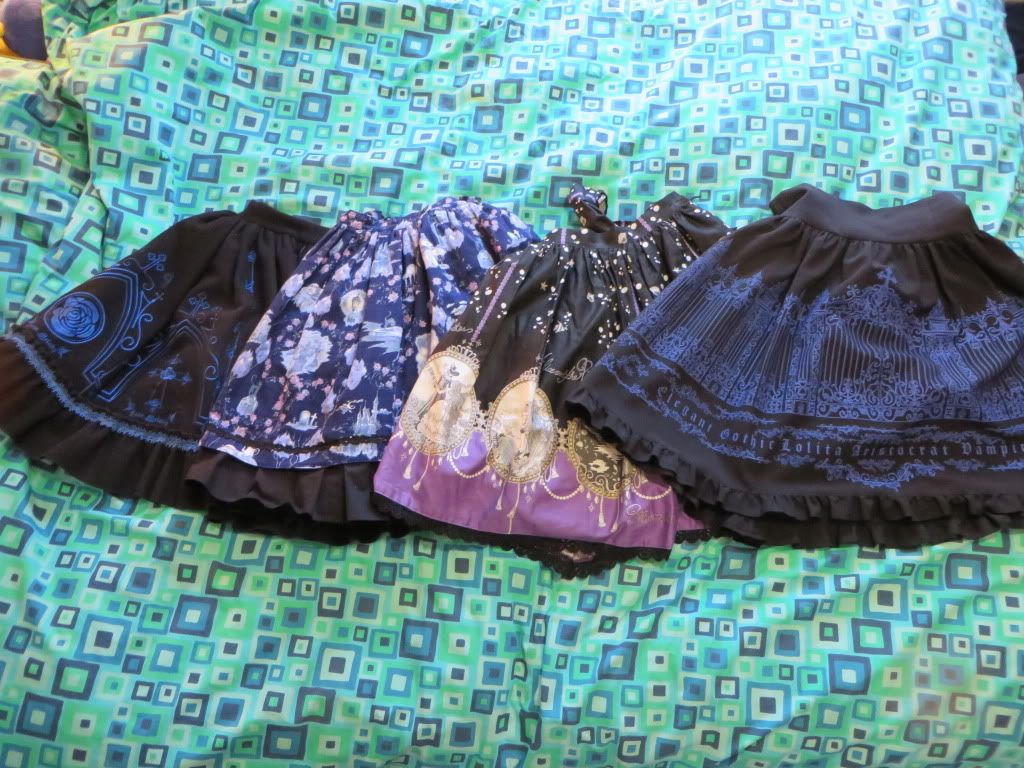 Next is Rose Melodys Rosa Crucifix, AATPs Vampire Forest and Melty Mermaid Princess and Iron Gate from Moi Meme Moitie. Vampire Forest was my first ever lolita item I got. It's not a popular print but I still love t and think it's beautiful. I brought Melty Mermaid Princess off a wonderful friend in my local community. Rosa Crucifix was a must have since I adore black/blue combinations. The first ever lolita dress I saw on the internet was the black/blue Iron Gate OP. I fell in love with it instantly. And knowing my luck my dream print had to be a rare one. When I saw this for sale, I needed it, and the lovely lolita selling it to me offered me a payment plan. After weeks of paying it off I finally have the skirt. And I love it.

JUMPER SKIRTS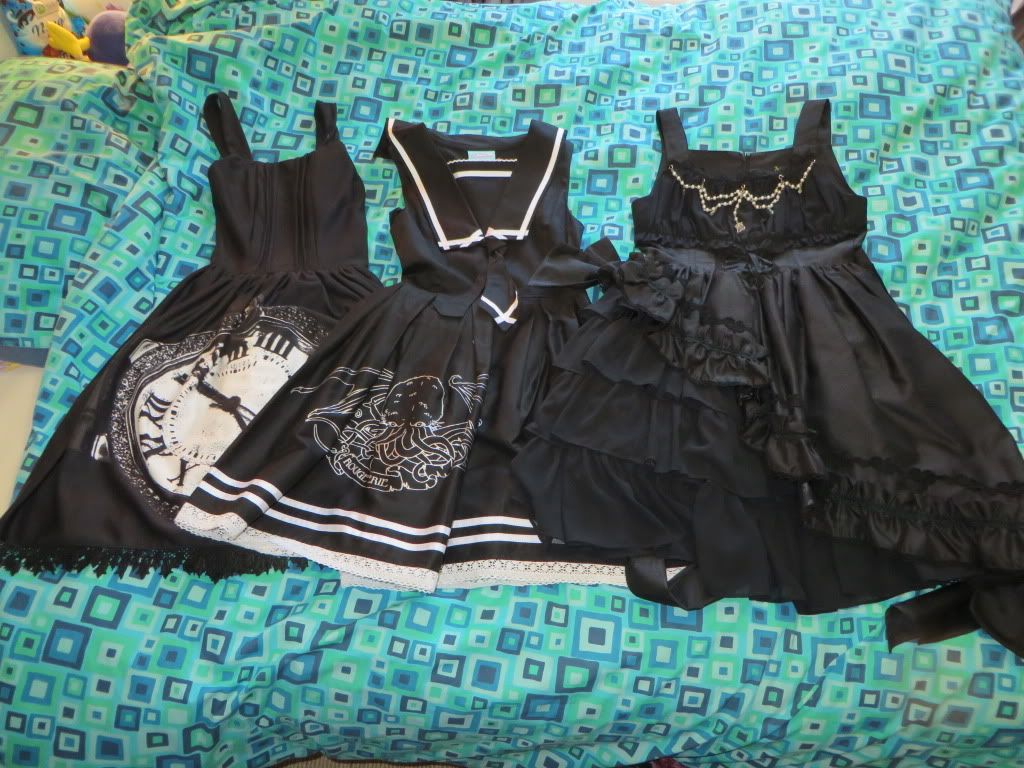 Pocketwatch by Lady Sloth, Nightmare Rising by Rouge Aerie Designed and Chiffon Gathers by AATP. Now I love mythology and mythological creatures and stuff, so when I found out a Cthulhu print was being made I flipped. This dress is so lovely and comfortable and you can use any shaped petticoat~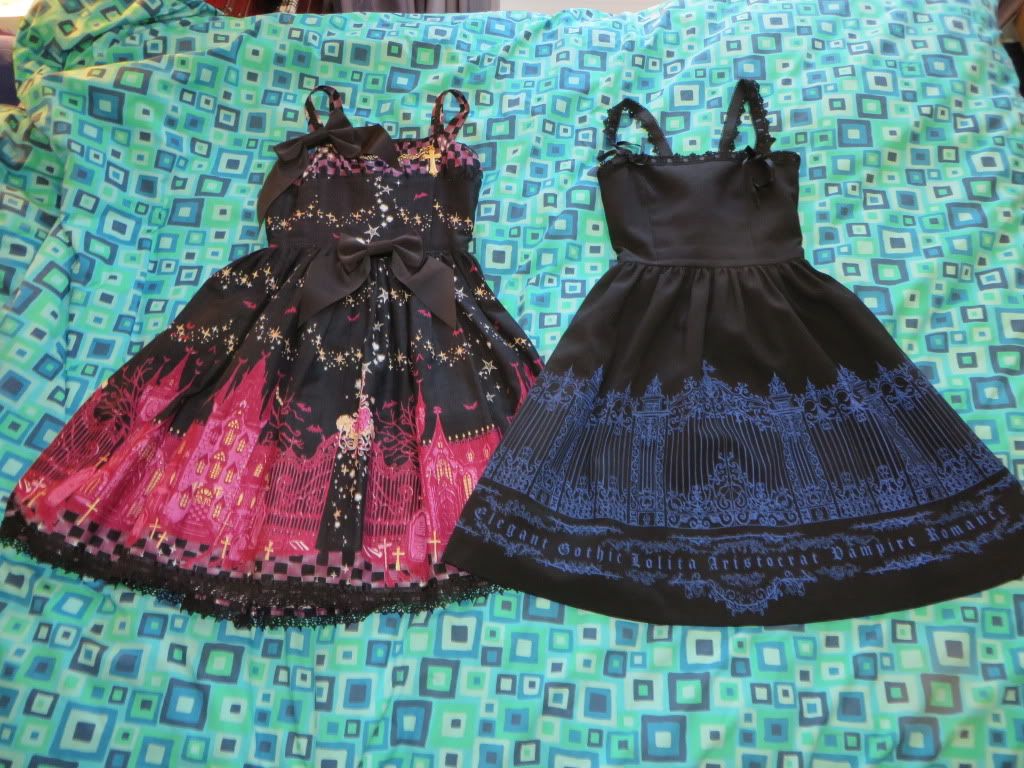 These are my two favorite dresses. Merry Making in the Ghost Town which I got through One Day In Paradise. At first I had ordered just the socks and the bow but when the stock arrived I was also able to afford the dress. I love the print so much. The gold sparkles and the detail on the houses is beautiful. The Iron Gate JSK in black/blue is my ultimate dream dress. It arrived to me on Xmas Eve and I started crying. It's so beautiful and fits so nicely. It also has a hidden pocket on the side. I never though I'd own the dress. It's simply perfect.

ONE PIECES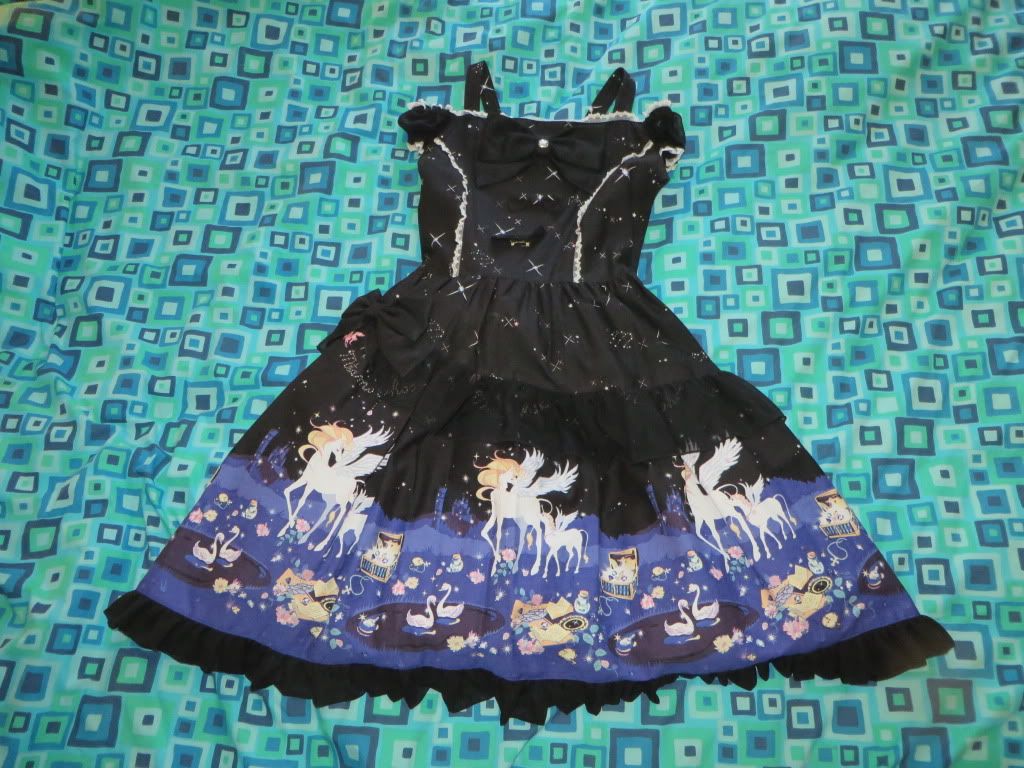 Meta Twinle Journey is the only OP I own, mainly because of sizing. I brought this off a lovely lolita in another state. All I need for this dress is the matching headbow, which is proving to be rather elusive.

BLOUSES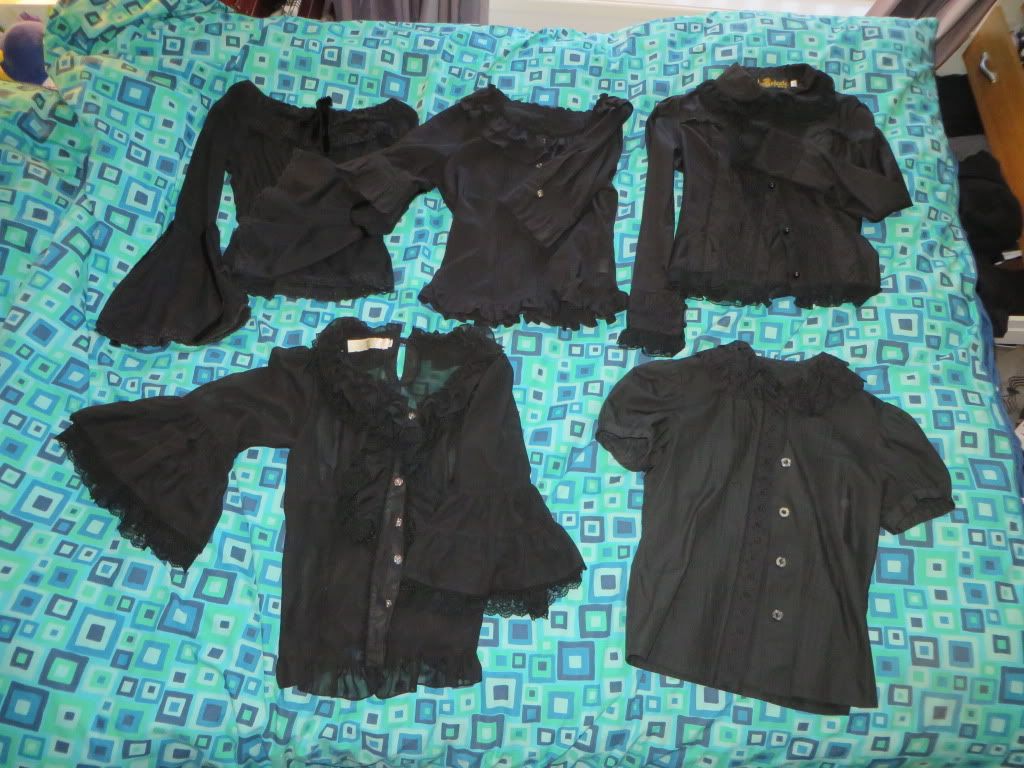 Top Row: Victorian Maiden, 69th Department, Infanta
Bottom Row: Dear Celine, Moi Meme Moitie

I mainly stick to blouses from indie brands since they tend to run smaller. Most brand blouses are too big on me. The Dear Celine blouse is gorgeous. I wish I had a size small rather than a medium but it works anyway.

Caplets and boleros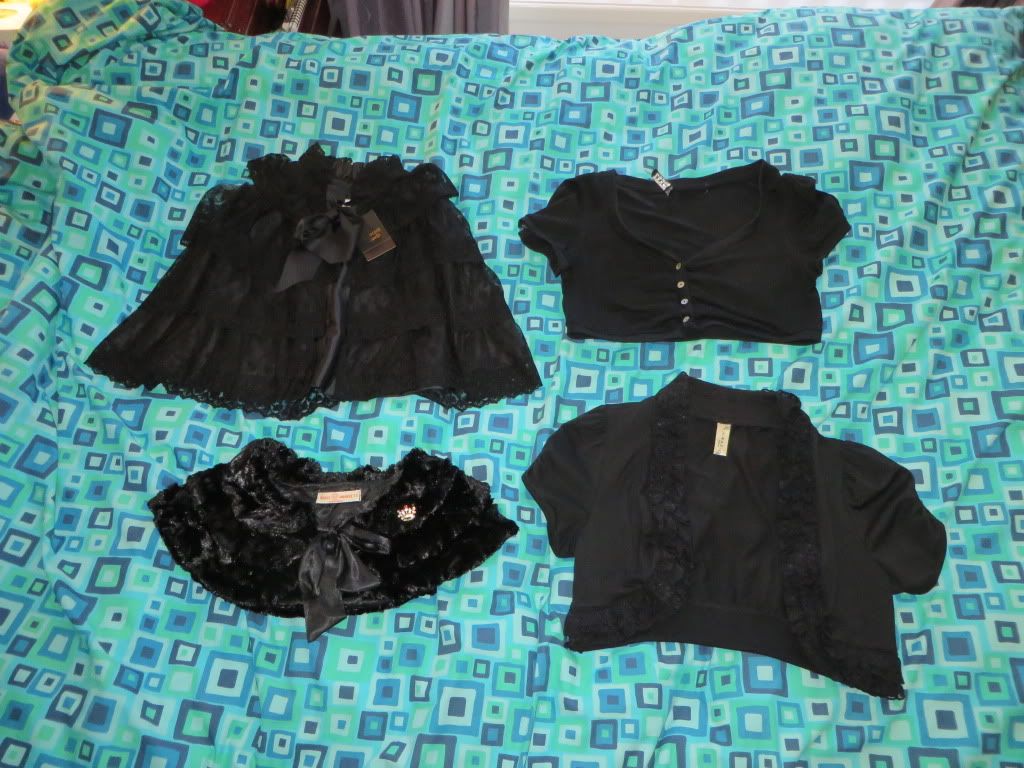 Top Row: Innocent World, thrifted.
Bottom Row: Both offbrand.

SHOES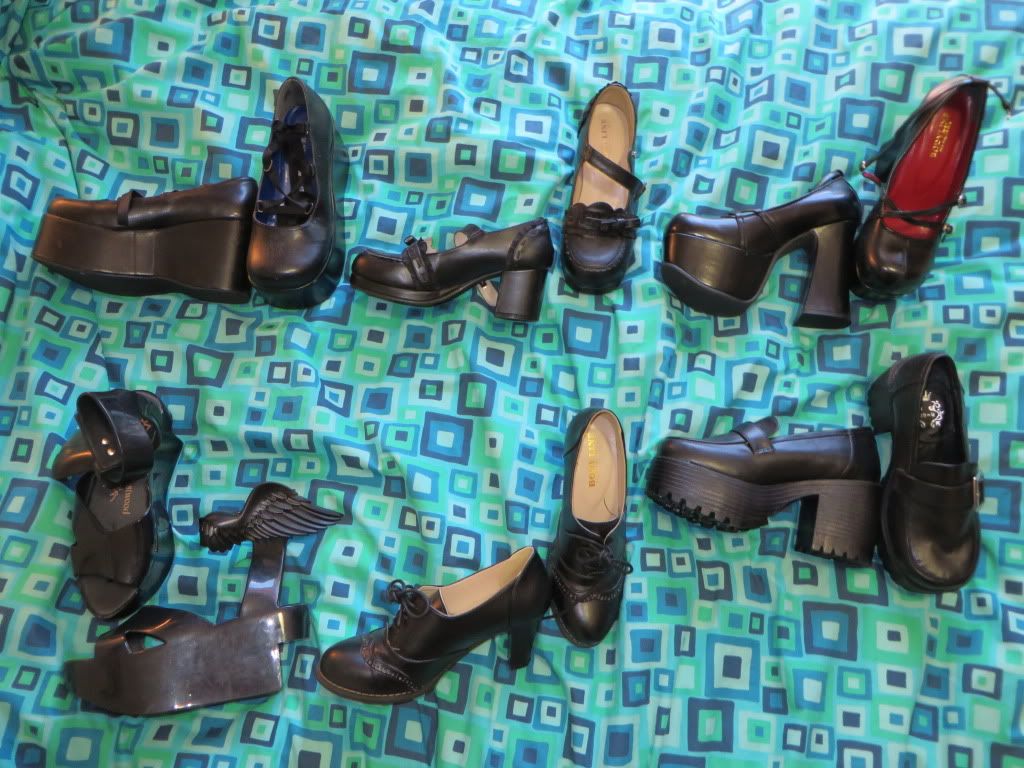 Top Row: Moi Meme Moitie, Bodyline, Bodyline
Bottom Row: Vivienne Westwood, Bodyline, Antaina.

The MMM and VW shoes are my most prized shoes in my collection.

SOCKS AND TIGHTS




Socks: Meta, MMM, AATP x2, MMM, AATP, Taobao, Bodyline.
Tights: AATP, Lockshop

I have a rather large sock collection but these are the ones I use for lolita.

HEADBOWS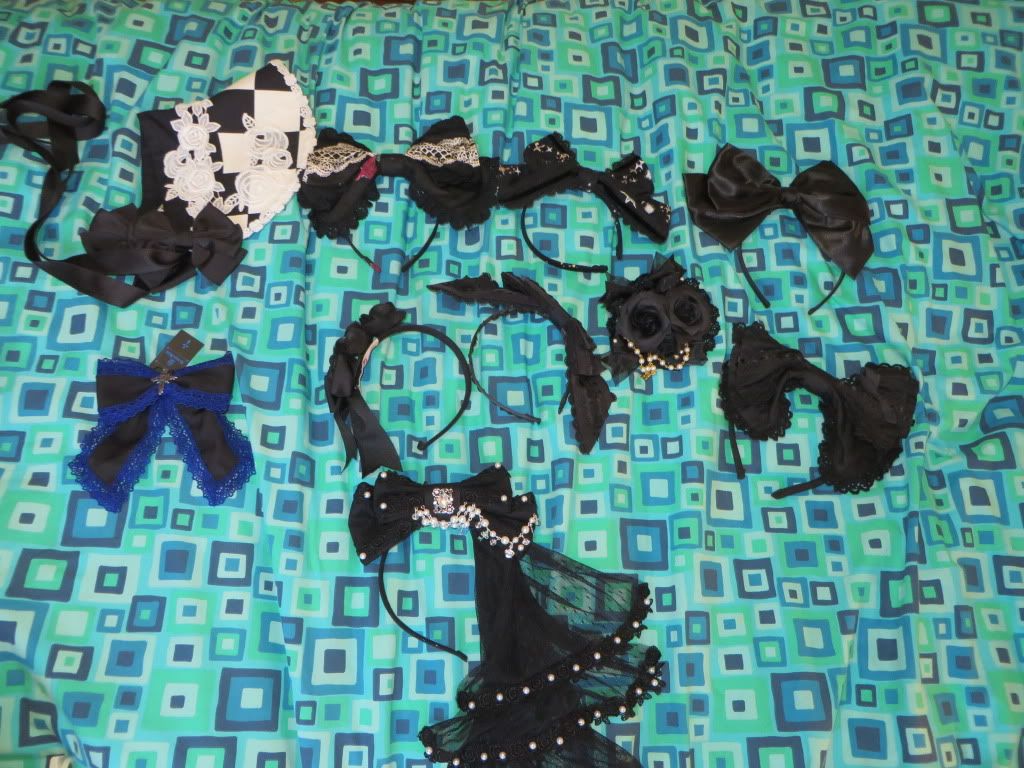 Top Row: Chantilly, AATP x2, Offbrand
Middle Row: MMM, Chess Story, AATP, Rococo Soul, BTSSB
Bottom Row: The Royal Rabbit

I brought the End of Immortal Eden headbow in hopes that I'll fine something from that series one day.

RINGS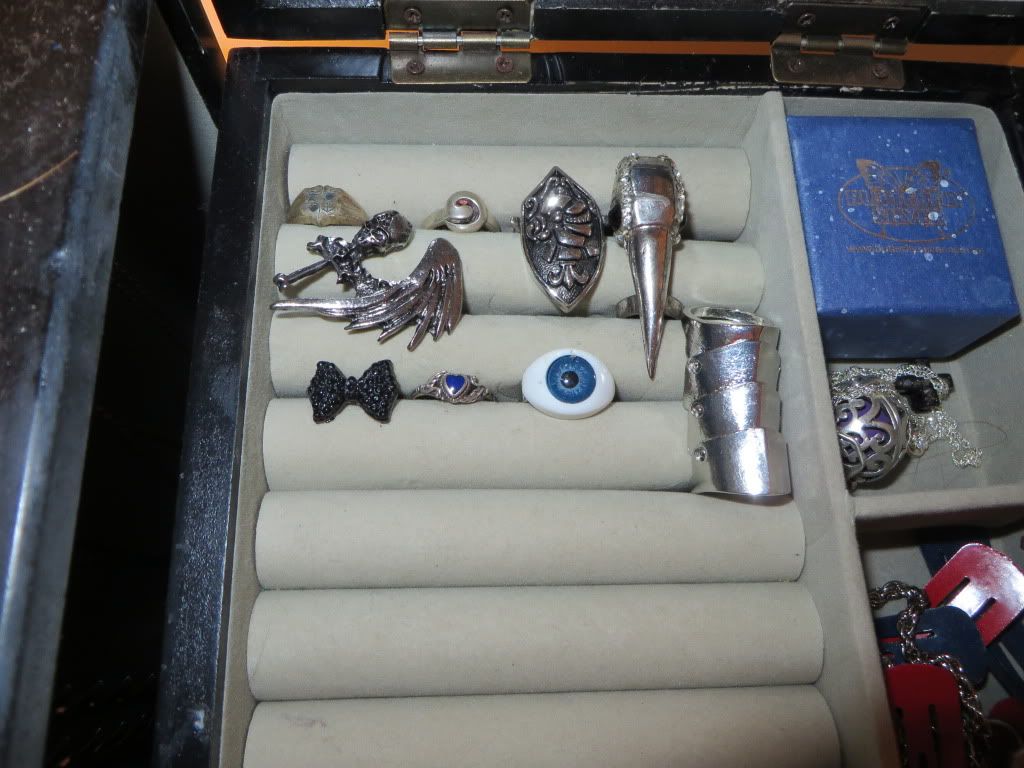 All offbrand. I'm not that find of rings so I dont own many.

NECKLACES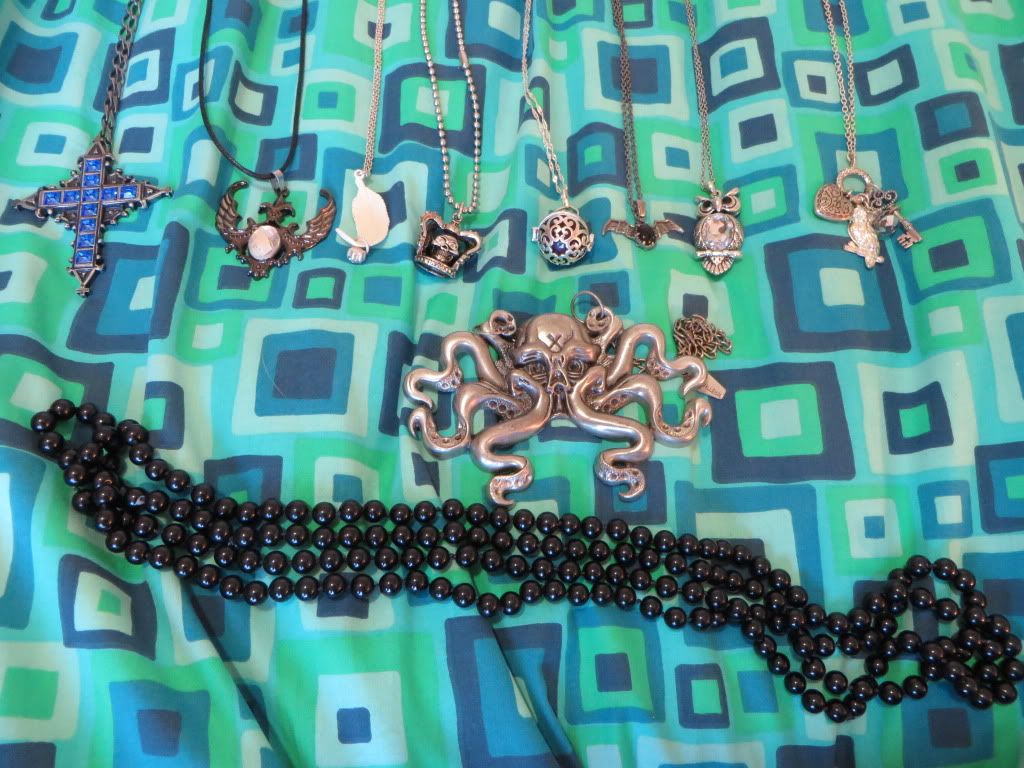 Top row: MMM, Offrand, AATP, Atelier Pierrot, Offbrand x 4
Middle Row: Kreepsville 666
Bottom: Lovisa

Cthulhu necklace purely for Nightmare Rising.

OTHER ACCESSORIES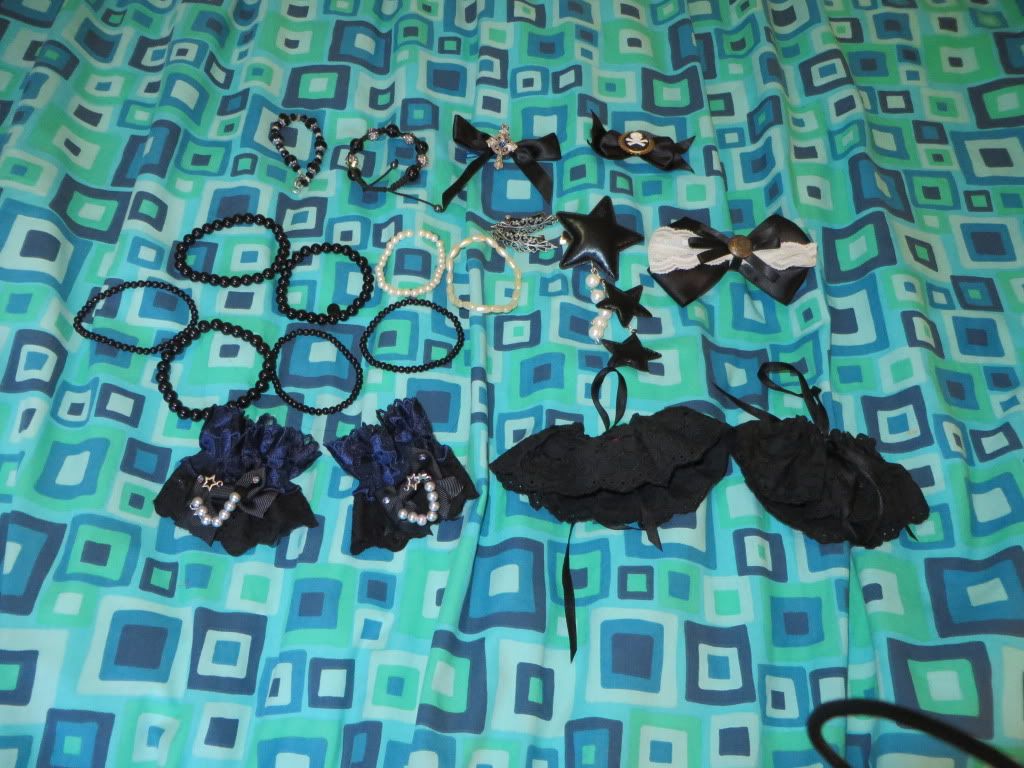 All offbrand except for the black wristcuffs which are from BTSSB

BAGS AND PARASOLS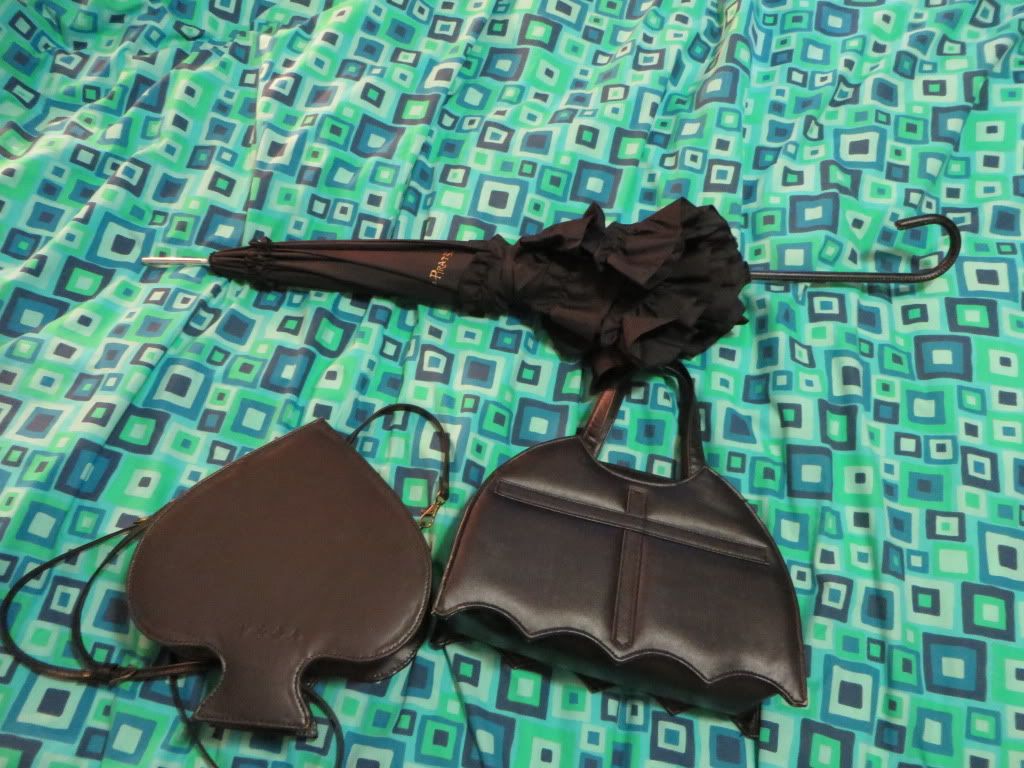 Bat bag: Loris
Spade bag: DoL
Parasol: AATP

I'm currently saving up for a real bat bag.

Thank you so much for looking at my wardrobe post. Not the best but a start C: I hope everyone has a wonderful day and start of the year.

Ira <3