I recently placed an order for English Charm's "Semi-Stiff Bonnet", and thought it would be nice to share my experience with the store!


After eyeing the Semi-Stiff Bonnet on English Charm's website for a while, but finding no reviews on it, I decided to take a risk and buy one for myself. I was looking to buy one by the end of March for an upcoming event, so I emailed Jacqueline, the owner, to check if the turnaround time would be within that timeframe because the website's guide said to allow around 4 weeks for production time.

A quick timeline of my order:

24 Feb: emailed the store regarding my order. I did not realise the store would be on a break from March 1-11, however Jacqueline replied on the same day and said that she would be able to have a bonnet made and shipped on March 8. I placed my order straight after receiving her reply.

26 Feb: Received a confirmation email for my order.

9 March: I didn't hear from Jacqueline the previous day when she said my order would be shipped, so I sent her an email to ask about its progress

10 March: Received a reply from Jacqueline saying that she had missed the post, but my package was done and would be sent the coming Monday. She also upgraded my postage to priority mail for free :)

13 March: I received my bonnet!

Now, some photos: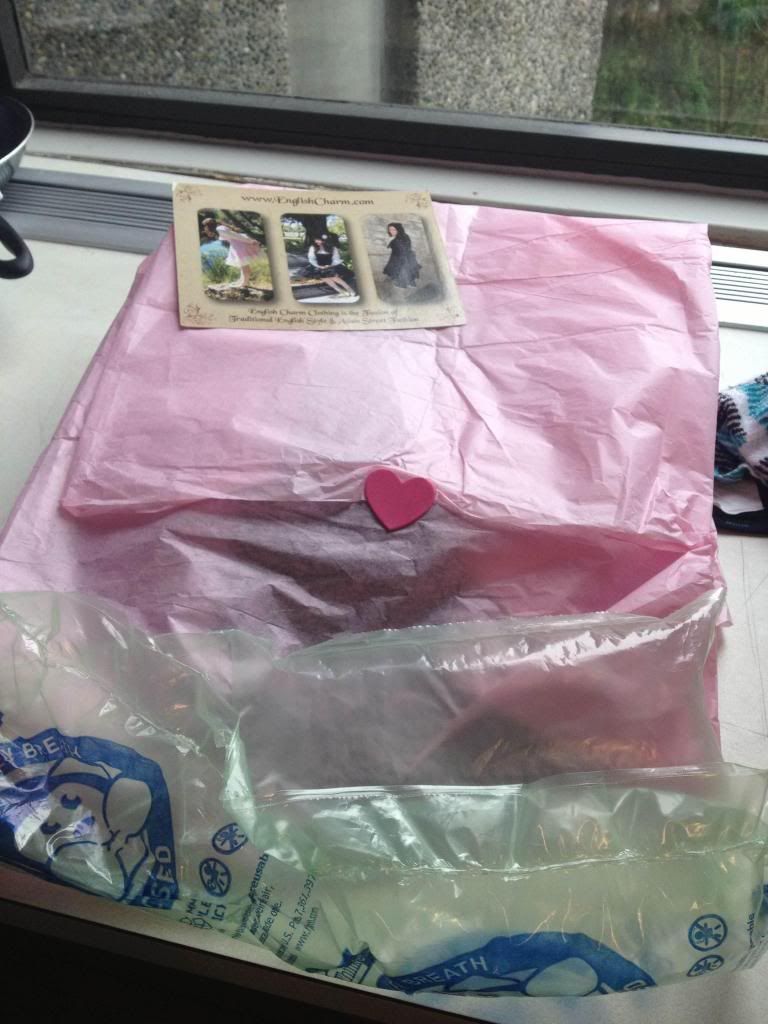 The first photo is the package that my bonnet arrived in. It was slightly dented from the postage and handling, but the packaging was secure. The second photo shows the packaging inside. My bonnet was wrapped nicely in some cute pink tissue paper and the extra package space filled with some packaging airbags (or whatever you call them, haha). There was also an English Charm card card included with a lovely handwritten message from Jacqueline on the back.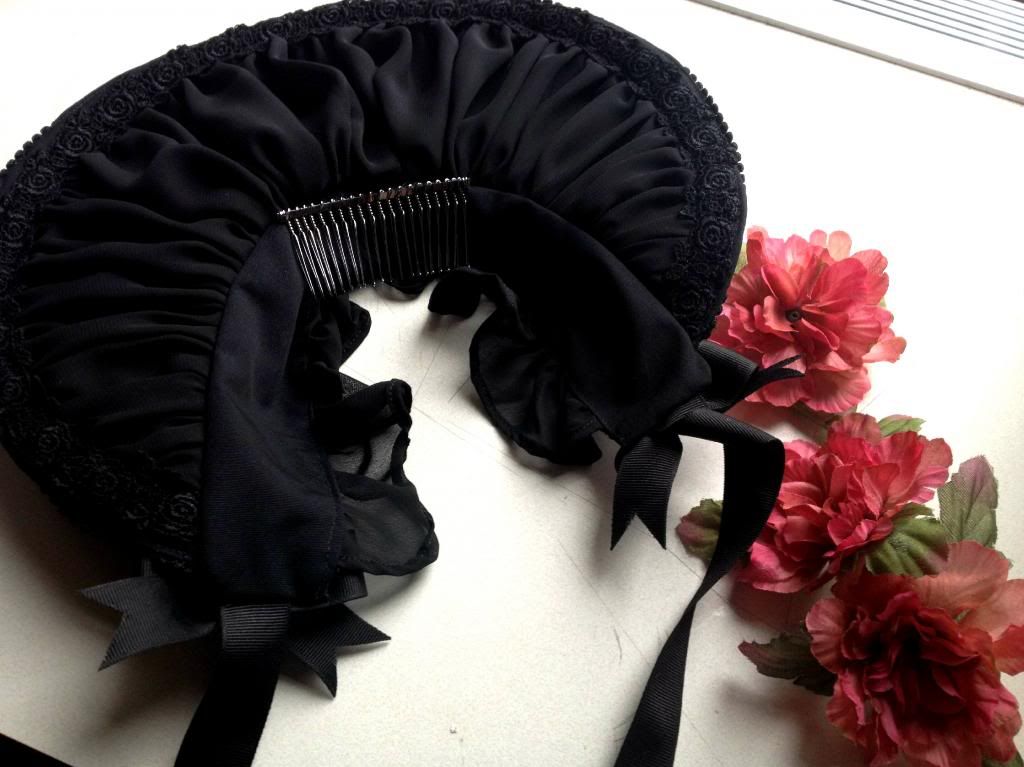 Taking off the wrapping... Tada! The bonnet arrived in great shape, and I was pleasantly surprised that there were two extra flower pins included with my order. They look really lovely pinned to the bonnet~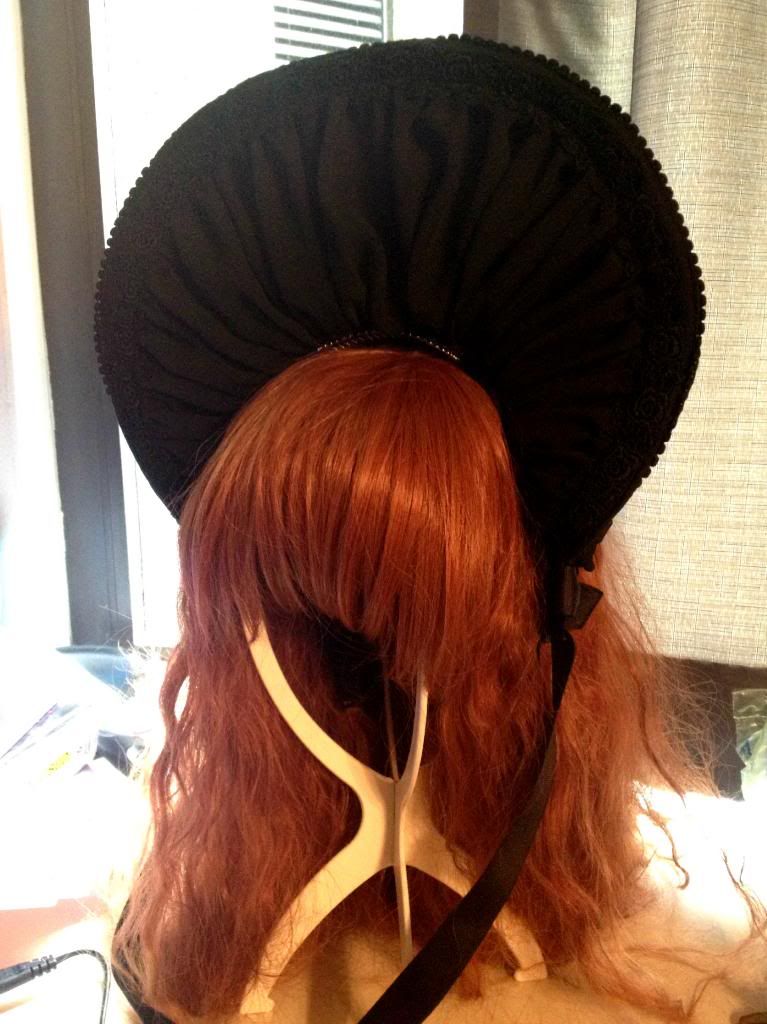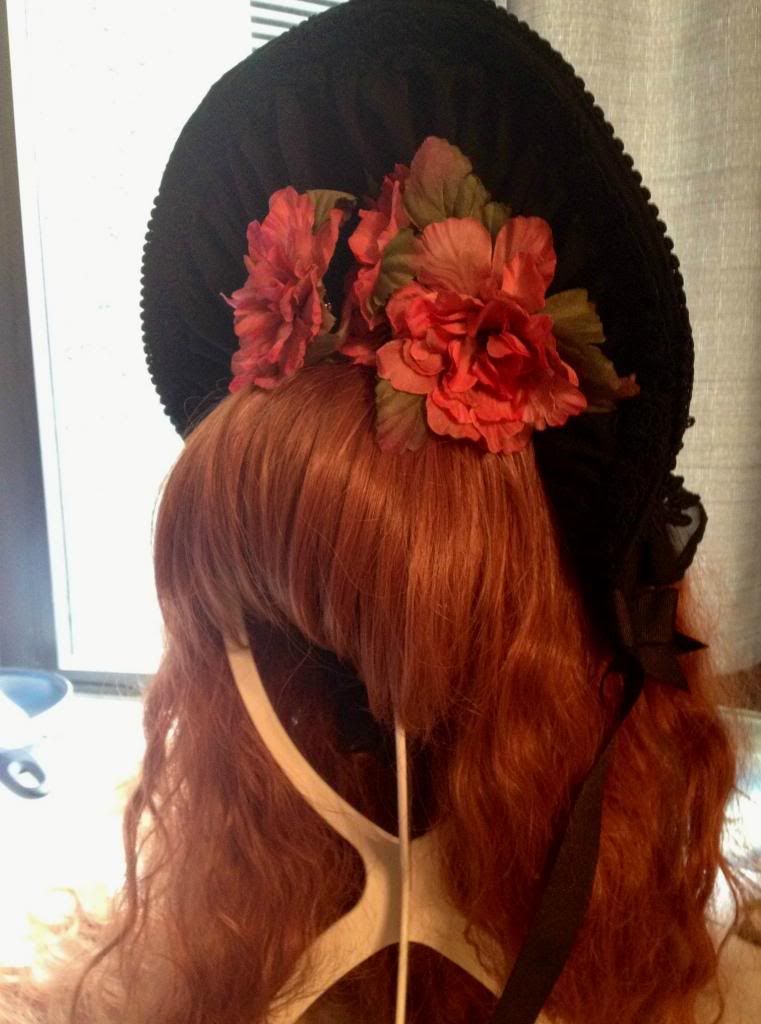 Please excuse the glare from my window (you have to make the most of Seattle's sunshine, right?), but the colour of the bonnet is a true black.

These photo were all taken with the bonnet straight from the packaging. It kept its shape pretty well during transit, and I had to do minimal coaxing for it to stand in a nice shape. I was worried that it would get too flat during transit, however the bonnet stands up really well in a lovely curved shape! Its shape and construction is very true to the stock photos on the website.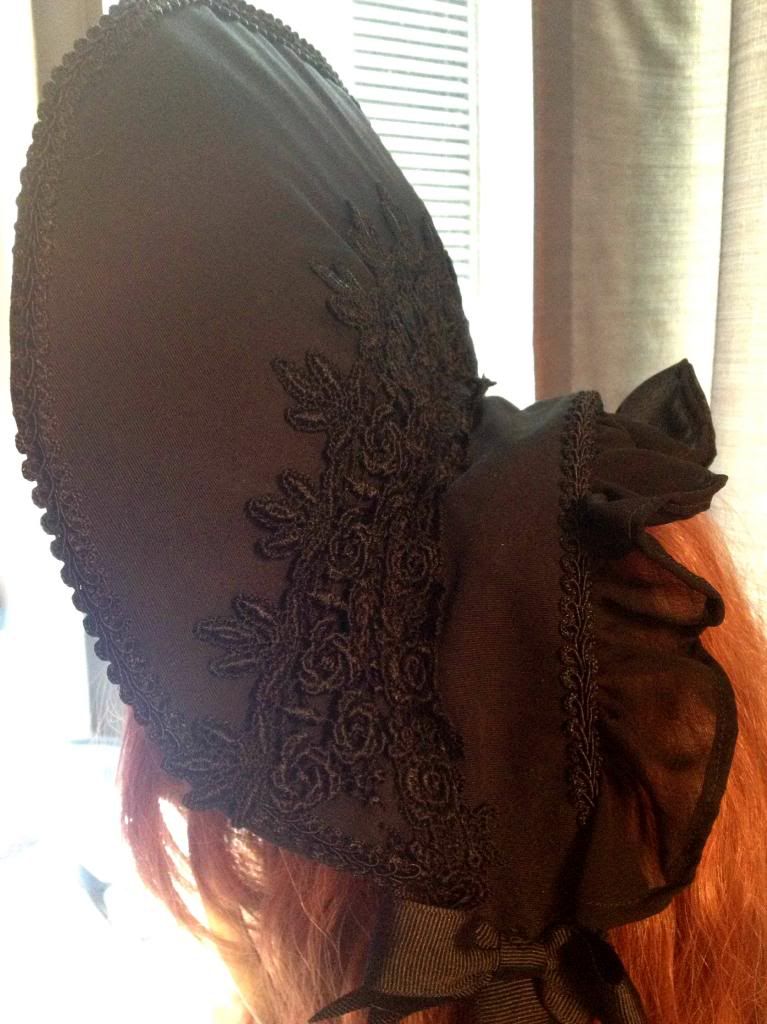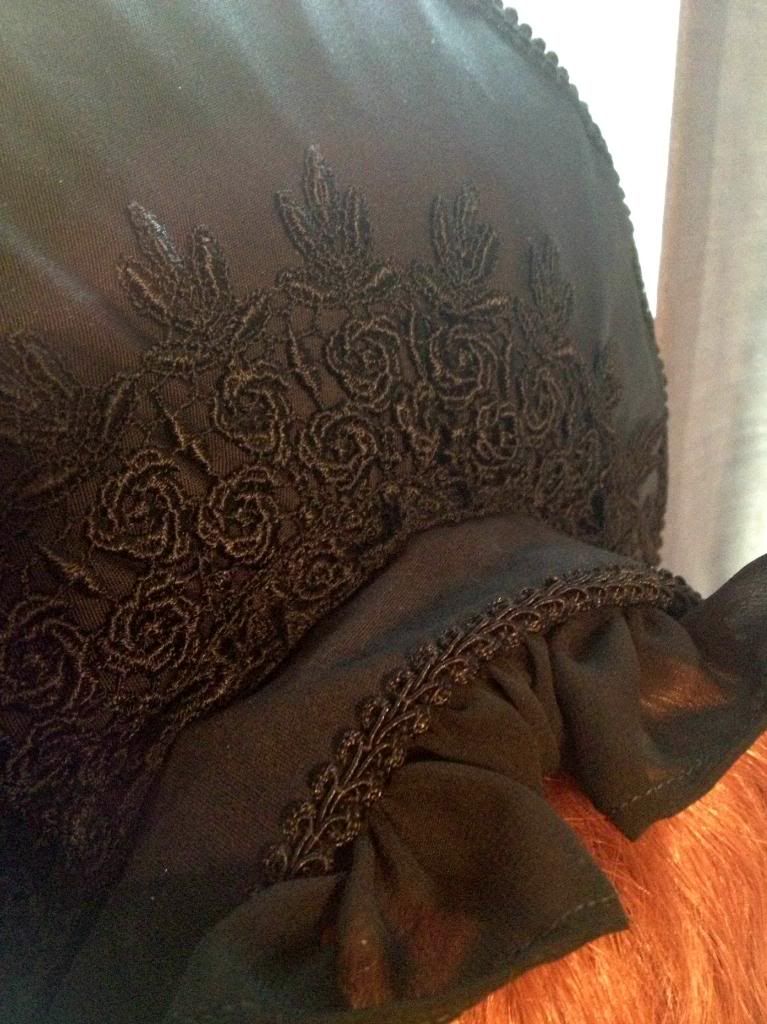 Some detail shots! The construction of this bonnet is absolutely lovely. The chiffon ruffles inside the brim as well as on the back are gathered very evenly, and the construction is all very nice and neat with no stray threads. I'm in love with the rose-patterned lace used on the back of it! The ribbons that tie around your chin match the ones used for the bows on the temples, and are a nice texture and a perfect length to tie in a comfortable bow without too much extra dangling down. I'm one of those people who are a bit iffy about having things around my neck/chin, but the ribbons were definitely comfortable, and the bonnet stands very well without you having to 'pull' the sides in to a curve by tying it really tightly. There is a haircomb sewn very securely to the base of the bonnet, and it definitely helps keep it from moving around on your head. I haven't worn this out yet, so I can't vouch for how it will hold up/stay in place say, during a day at a convention.

Here's a quick worn photo: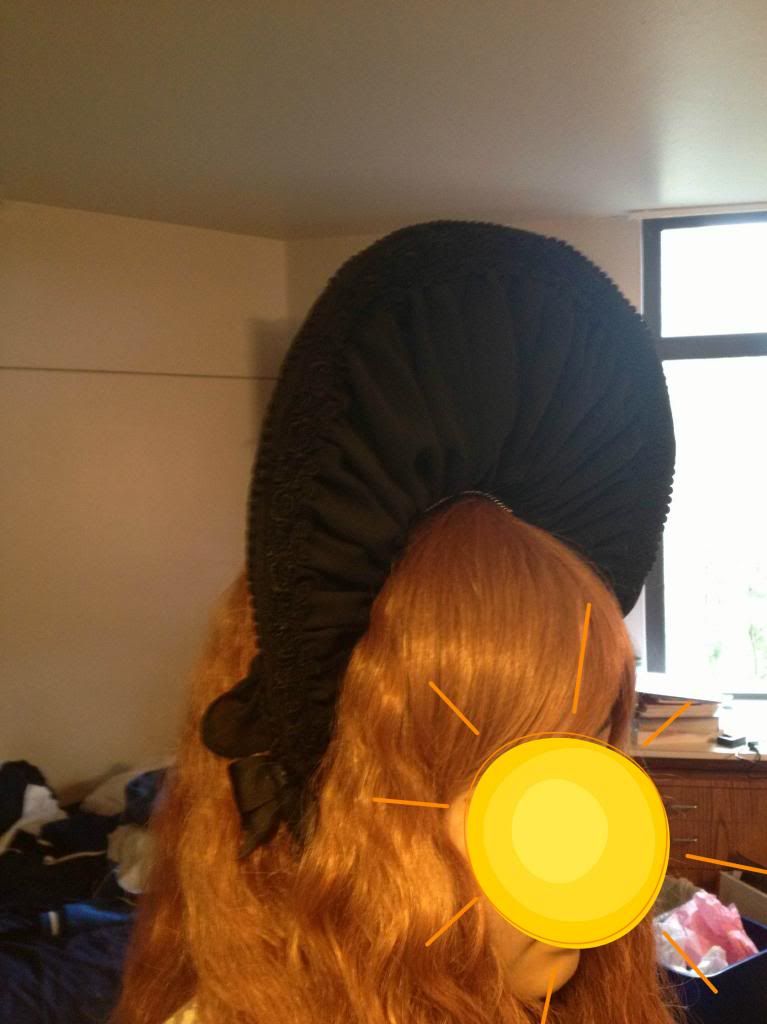 (Blurred my face because I had the most frazzled-by-final-exams expression ever!)

Overall, I'm very pleased with my purchase from English Charm, and would definitely recommend the store for buying a bonnet in this style. It's my first bonnet, so I don't have a point of comparison with any brand or offbrand places, however the care taken with the materials and construction definitely, in my opinion make it a worthwhile purchase for its price!

Communication: 4/5 - a point taken off for me having to contact the store when I did not receive shipping confirmation on the agreed date.
Shipping: 5/5
Packaging: 5/5
Construction: 5/5

Thanks for reading!