Hello, here's my first review, I hope you find it useful =D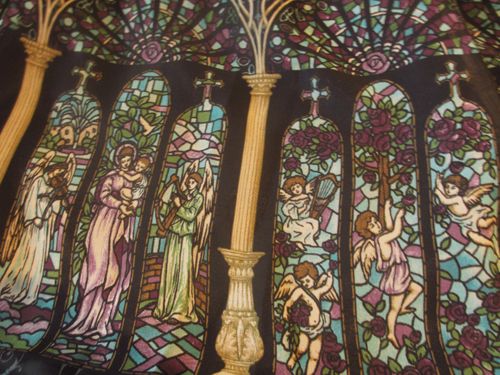 So I kind of wanted a stained glass skirt and orginally wanted Hanueli's St Giles but by the time I decided to get it there was that issue with the image rights and I wasn't too fond of the JSK due to the pattern on the chest. Now I'm kind of glad I didn't get the dress because I totally adore the Gloria skirt and am tempted to JSK now.

I know that the skirt was up on the AATP website still at that point - though not in the colour I wanted - so I got mine from the egl comm sales, from
animerei who was lovely to deal with and I paid around the same price as buying it firsthand. I was actually away when the skirt arrived, the communication was smooth and the entire process two about 2 weeks with the initial queries counted.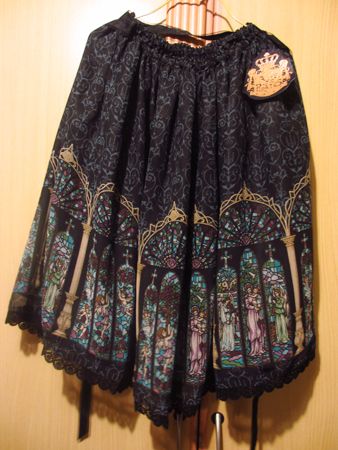 Gloria ~Beautiful glassy saint Mary~Agnes Skirt in black~ (whew what a mouthful)
(lolilibrary info)


Personally I feel that the skirt and print as a whole looks even better in person that any photos I've seen and the material is really soft and has a nice flow to it. The length is also just what I've been looking for - just over my knees without the petti. Since I also recently received my Classical Puppets petti, I just threw together a quick coord.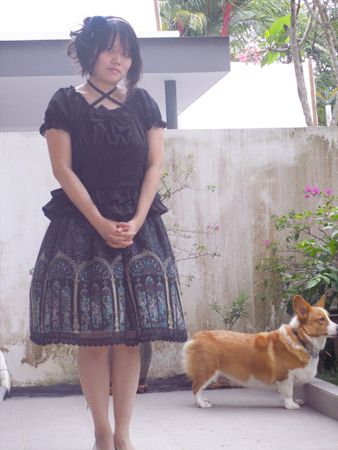 (photo bombed by my corgi, Nimbus who was entranced by the swishy sound <3 That said I randomly recall a corgi owner on the sales comm, so hi if you're reading this, I totally get what you meant by the fur reference~)

Anyway, onto the second review.
I recently made my first taobao order, combined with a friend who took care of everything, so I can't really say much about the transactions. We used Celestial Delinquent's shopping service and she was good with informing us about items being out of stock and taking care of conveying custom sizing details to the sellers so I'd say she's quite reliable from that standpoint. Our order comprised of several items from different shops and we placed it just before the busy Christmas period so everything took a couple of weeks to get compiled for shipping.

Ichigo15 is probably one of the lesser known/reviewed taobao shops, I had only seen one or two reviews on it and thus took a gamble. I had been looking for a music themed print and at that time did not want to pay too much. It's the first dress I've had custom sized too.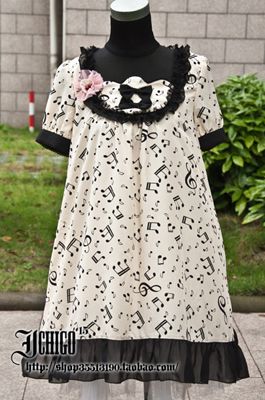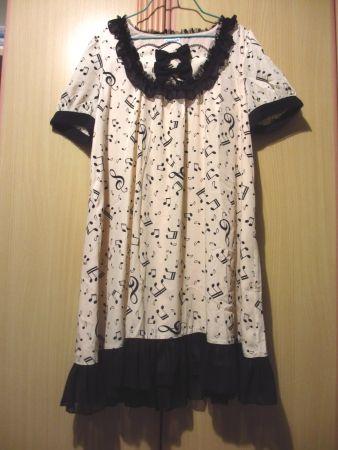 Here is the stock photo and the actual dress. The lightining in my room is not the best, but there weren't any particular flaws on it.
(shop link)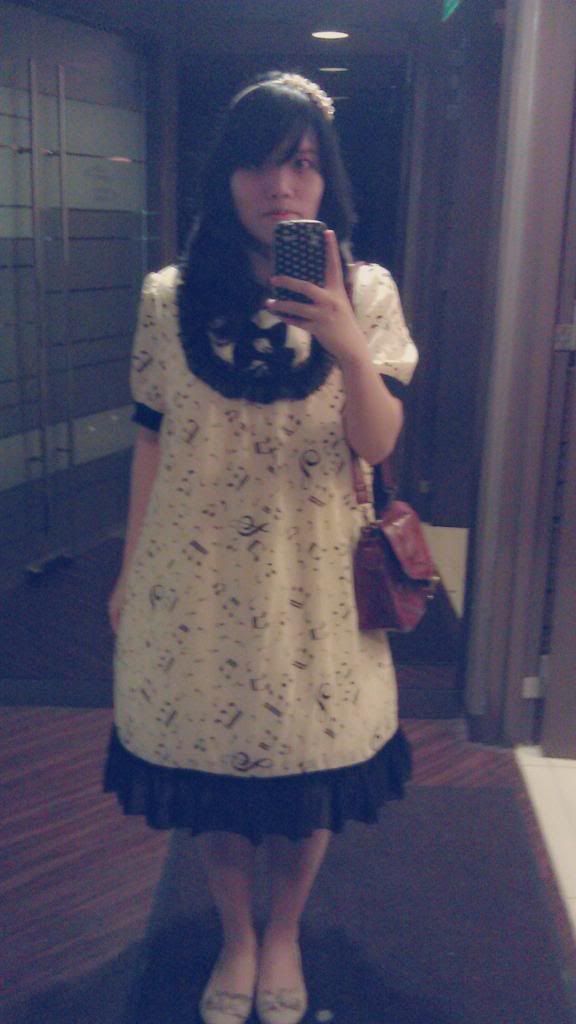 ~ and me in the dress. Sorry for the blurry pic the surface I snapped it from isn't really a mirror. Anyway, I'm pleased that the customizations were done well. I had to pin it back because it is a bit big on me but I did give slightly larger measurements just in case. The material is neither too thick or thin, great for the hot and humid weather here. I plan to buy a ribbon or something to tie it with so I won't have pin it. That said, this store sells mostly gothic and kodona pieces I think it's worth a look if you want something custom sized =D