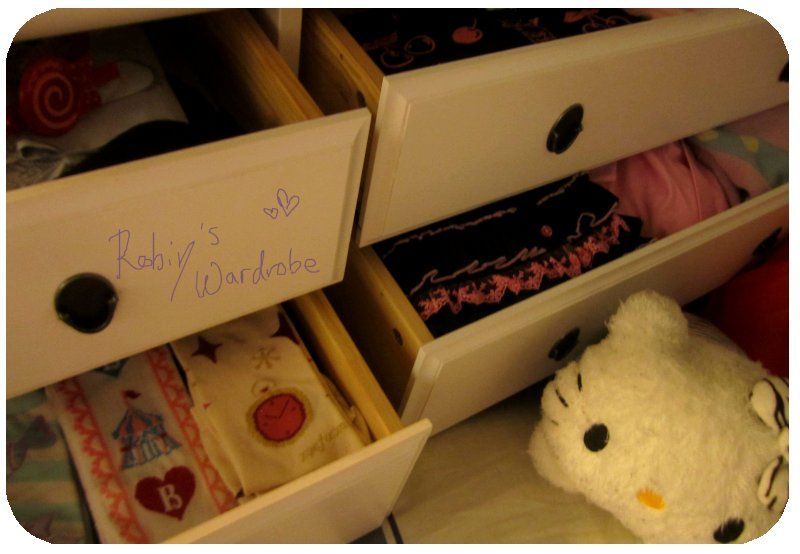 Hi everyone! This is my first post here, so here's a short intro~
I'm Robin, a 23-year-old Swedish dude who's been interested in lolita for a couple of years. After lurking around for a year or so I started building my own loli wardrobe in late 2010. Lolita isn't my everyday style (I dress in way too many random styles...), but I feel comfortable in it and want to start wearing it more frequently this year :3
If you're interested you can see more of my wardrobe on my Poupée
http://pupe.ameba.jp/profile/kWmx9DmSbT0l
I also have a tumblr
http://pumpkinwings.tumblr.com
This post won't show any of my blouses, because I failed miserably at getting good pictures of them <_< Actually, most of my photos are pretty bad, sorry about that! The light in my room is terrible during the winter :c Anyway, on to the clothes~~
Dresses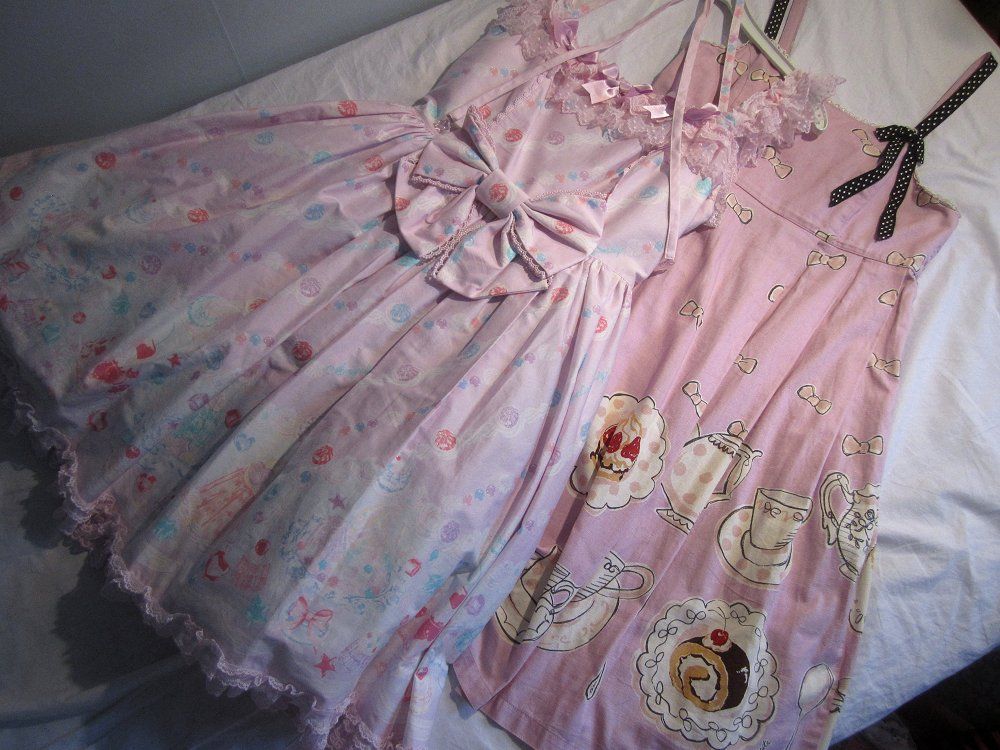 AP - Jewelry Jelly | ETC - Tea and Cake(?)
Jewelry Jelly was one of the first dresses I really fell for!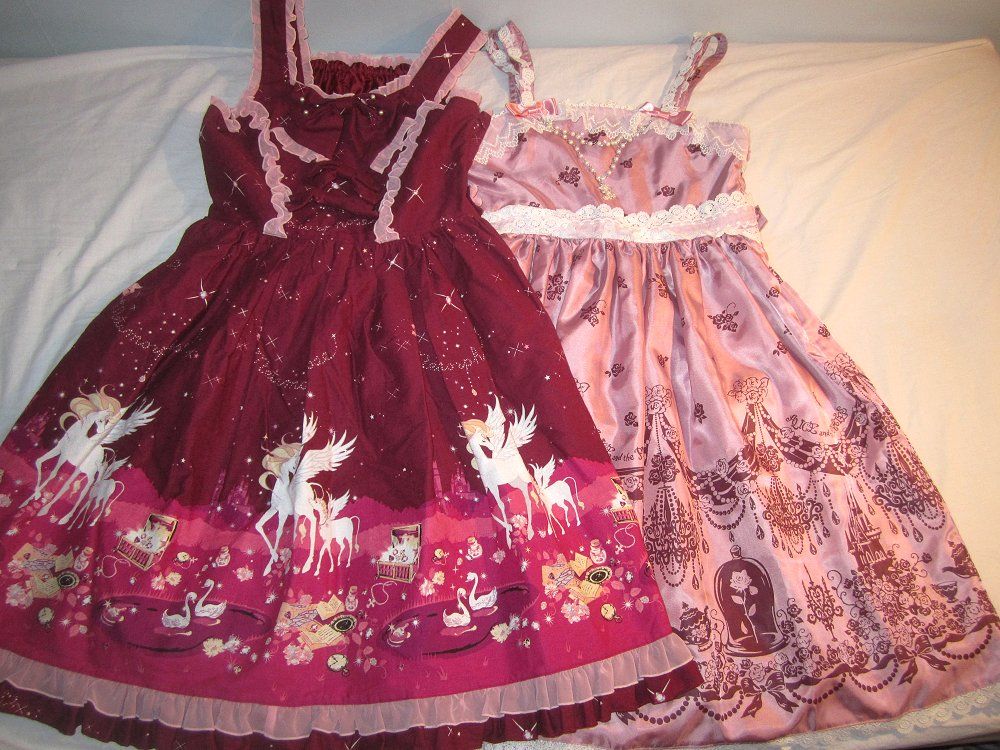 Metamorphose - Twinkle Journey | AatP - Beauty and the Rose Promise
Two of my favourite dresses ever ;u;
AatP - Rose Marine | BtSSB - The World's Most Adorable Dog and the World's Most Delicious Frappe
I do have the front bow for Rose Marine, I just forgot to attach it for the photo D: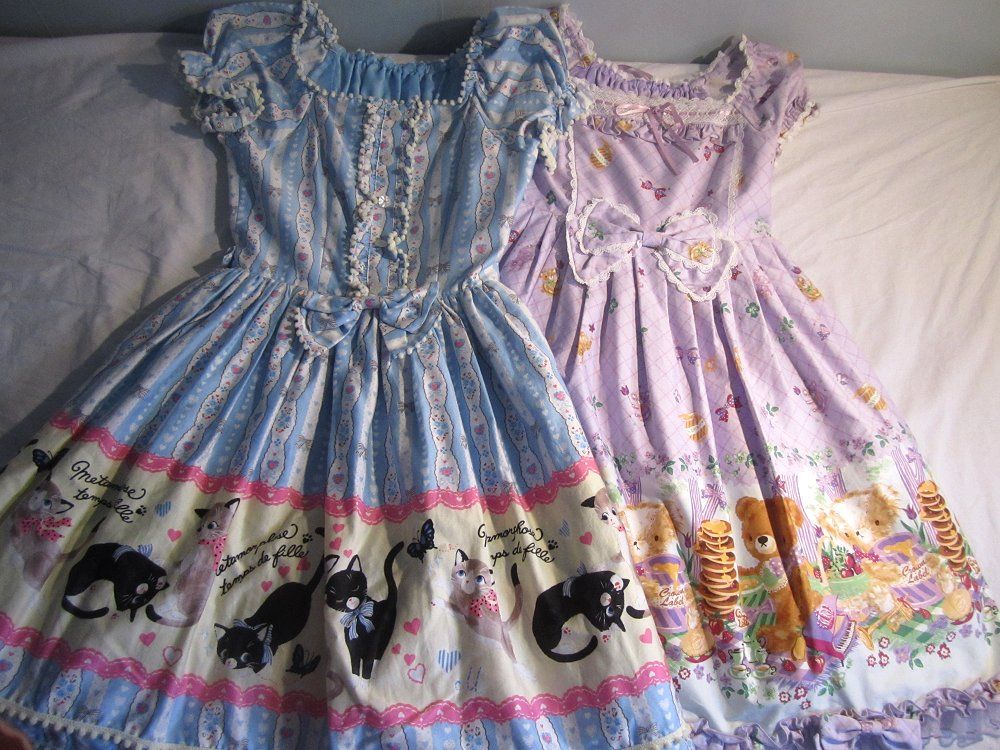 Metamorphose - Cat Print | Metamorphose - Honey Picnic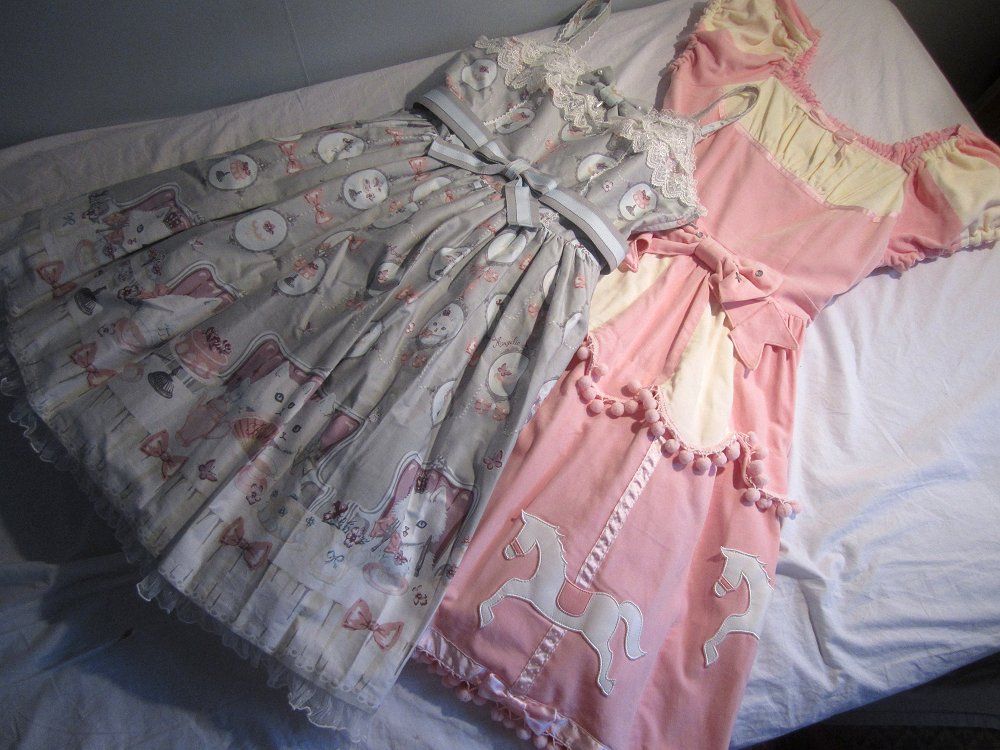 AP - Cat's Tea Party | AP - Carnival
I guess these are the "crown jewels" of my wardrobe. I love them both <3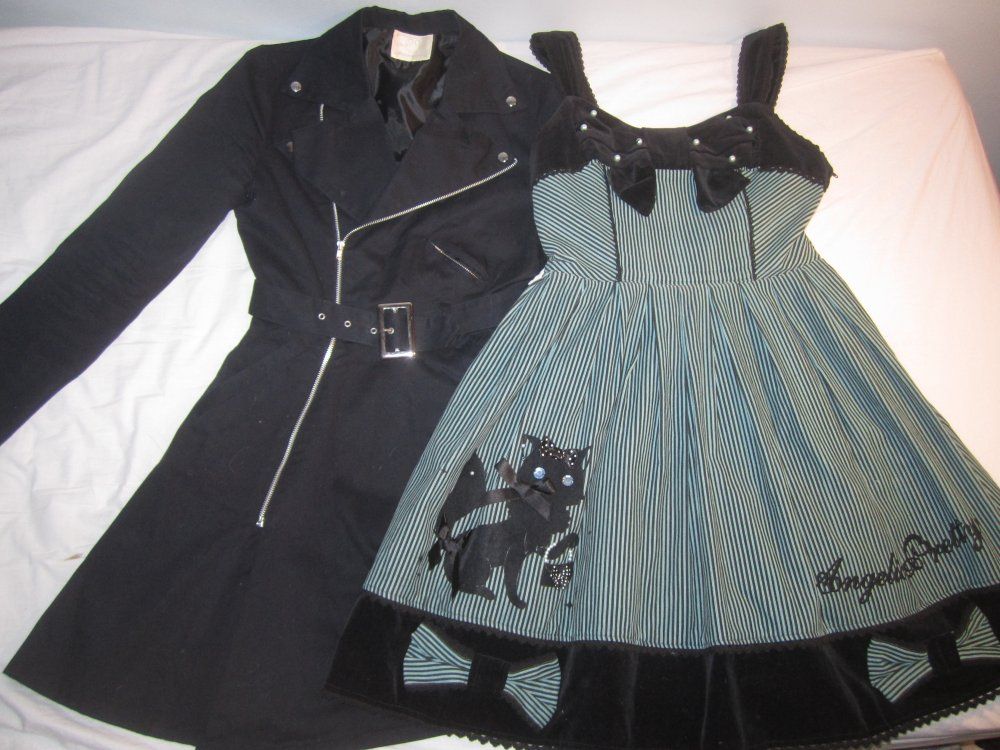 Metamorphose coatdress | AP - Odekake Chocolat-chan
Chocolat-chan is another of my absolute favourites *w*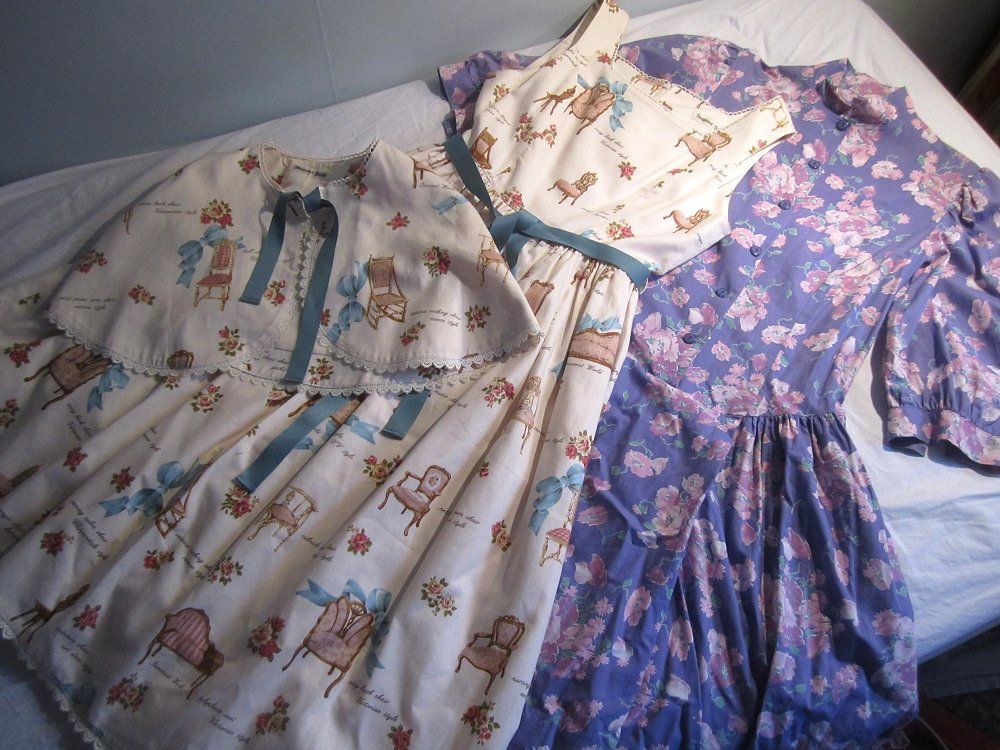 IW - Classical Chair (long JSK + cape) | Offbrand
The purple OP is my mum's old Laura Ashley dress, which I stole as soon as I saw it... I think it's gorgeous!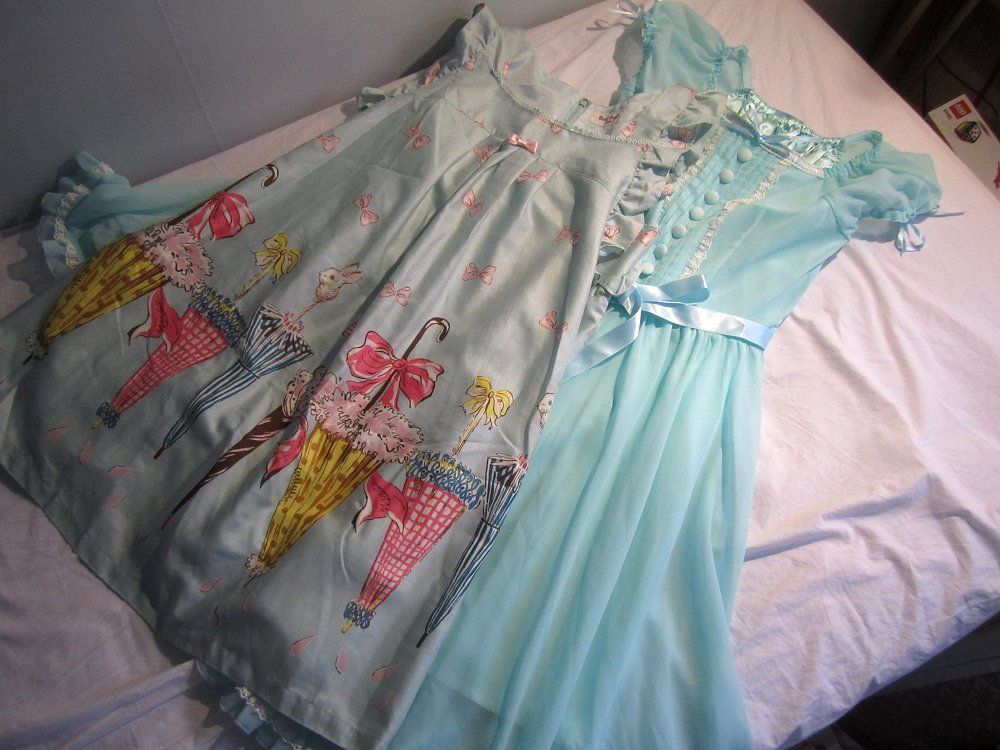 ETC Umbrella Print | Metamorphose Pintuck OP
AatP - Jewelry | MILK
The MILK dress isn't really lolita, but I love it so crazy much I just had to include it anyway...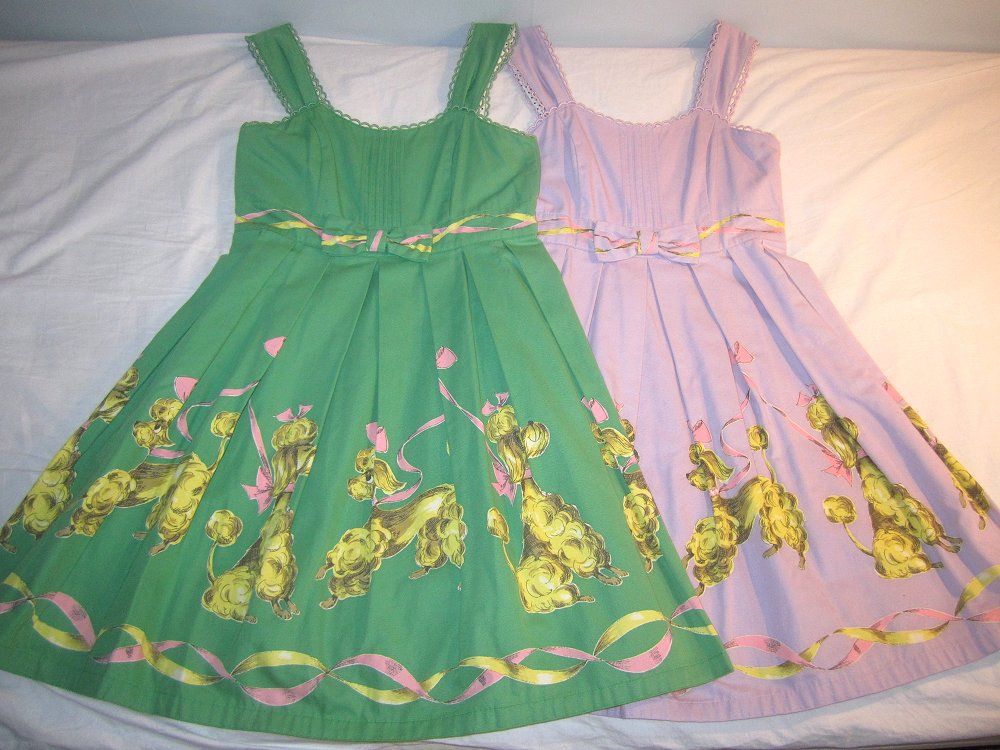 ETC - "Radioactive Poodles" x2
Yeah this is another favourite, I intend to get the black version as well eventually >:3
MAM - Miracle Bunny | AP - POP Check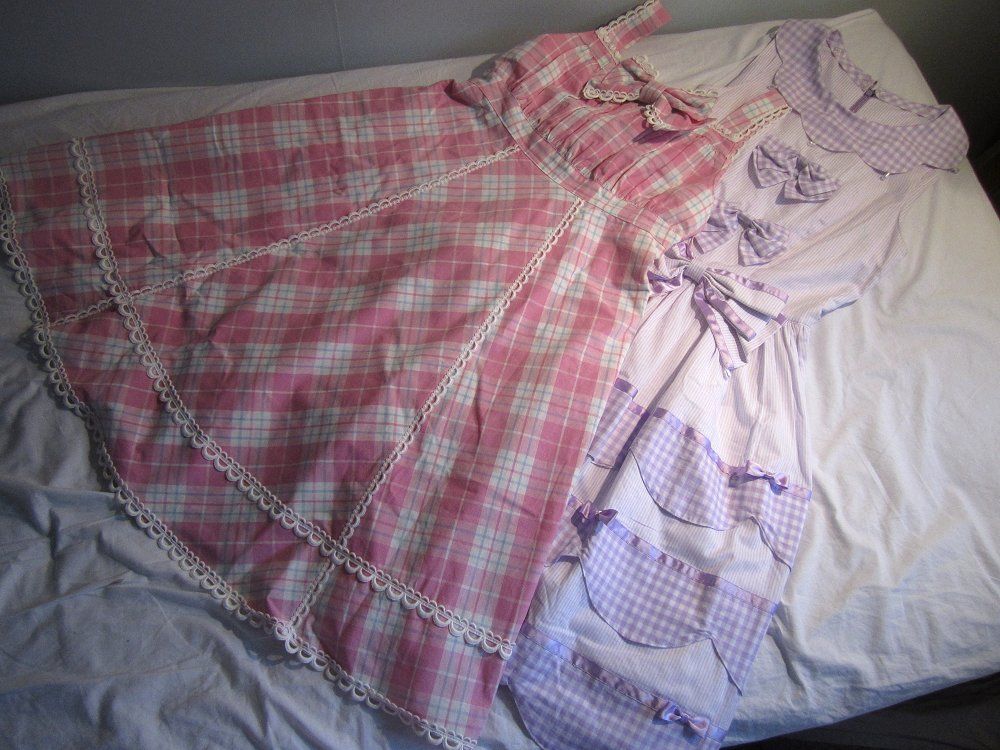 BtSSB - Original Tartan | Metamorphose
If anyone knows the Meta JSK's name, please tell me ;-;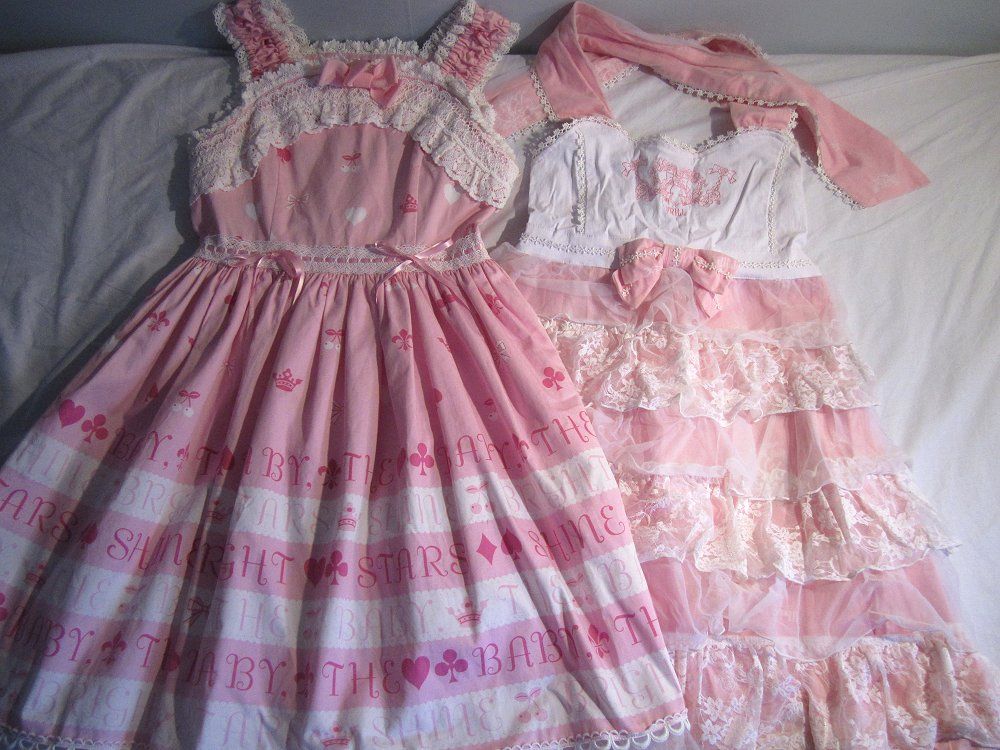 BtSSB - Border Print | h.Naoto FRILL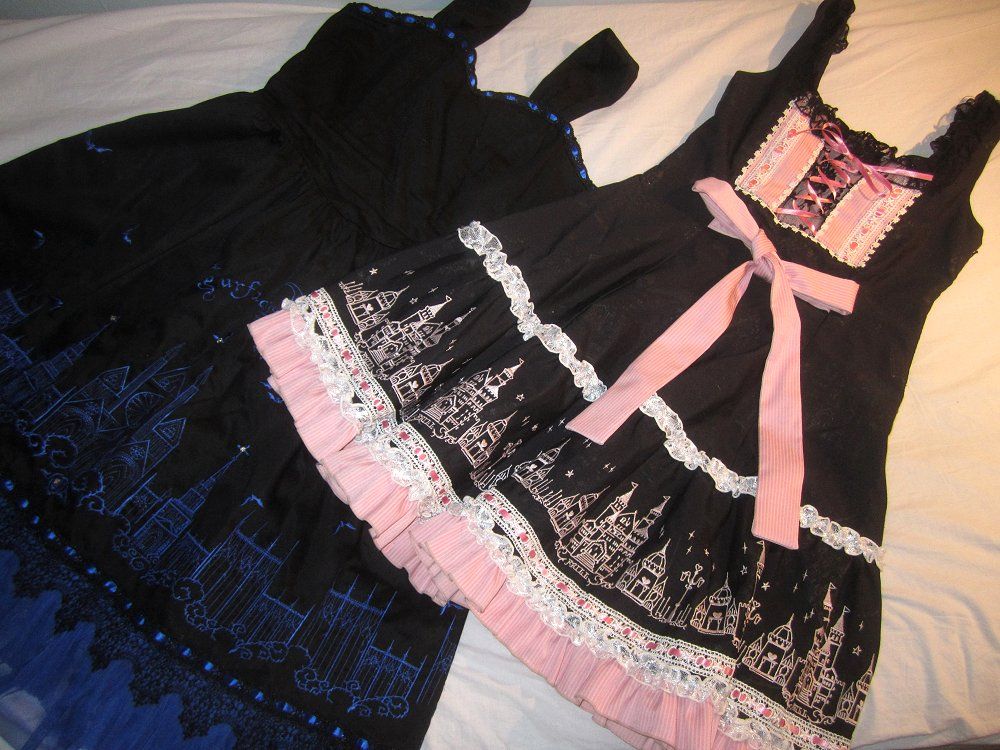 Surface Spell | h.Naoto FRILL
The Surface Spell JSK is supposed to have detachable bows at the chest, but the pins broke on both D8 You'll see them later in this post~
Bodyline x3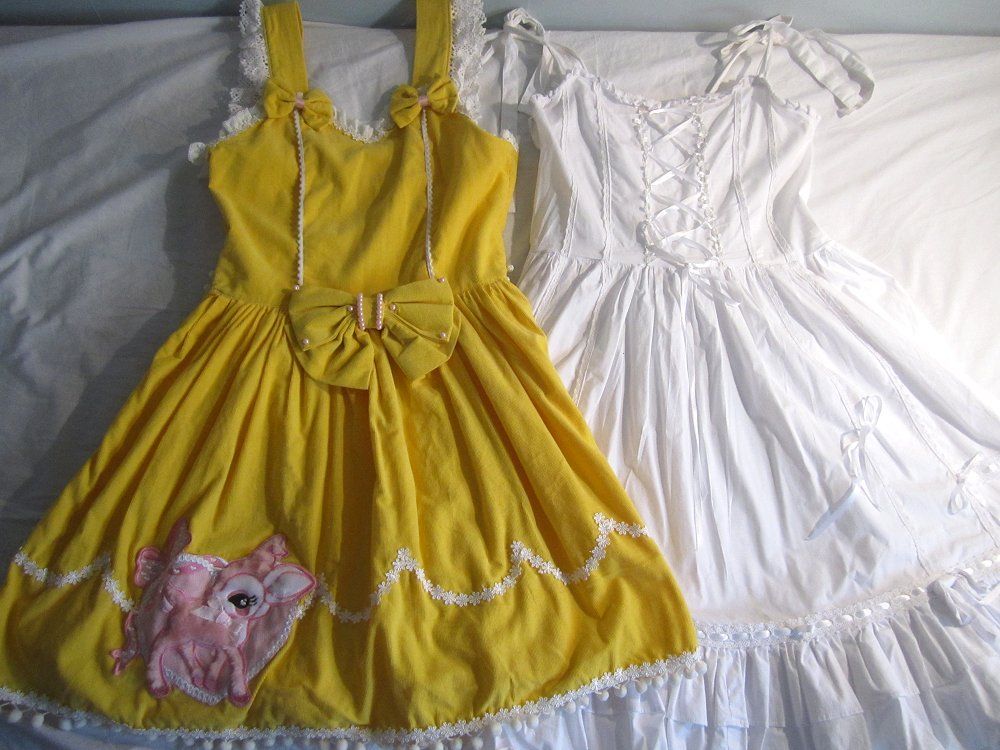 AP replica, unknown
I don't support replicas, but I couldn't resist yellow Milky-chan ;n; Hypocrisy <3 I have no idea where the white JSK is from. It looks quite hideous in the photo, but it's so cute on!
Skirts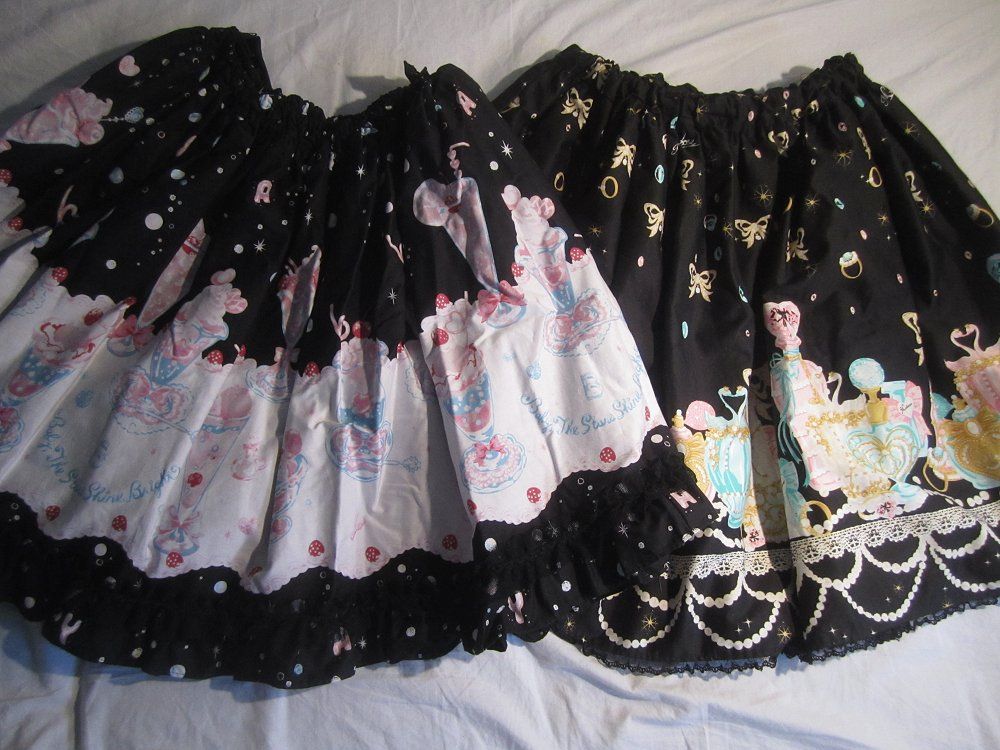 BtSSB - Creamy Soda Pop | Metamorphose - Perfume Bottle
Creamy Soda Pop is another favourite, I want the white JSK so badly! It was gonna be my first brand piece but it sold out ONE day before I got money! :ccc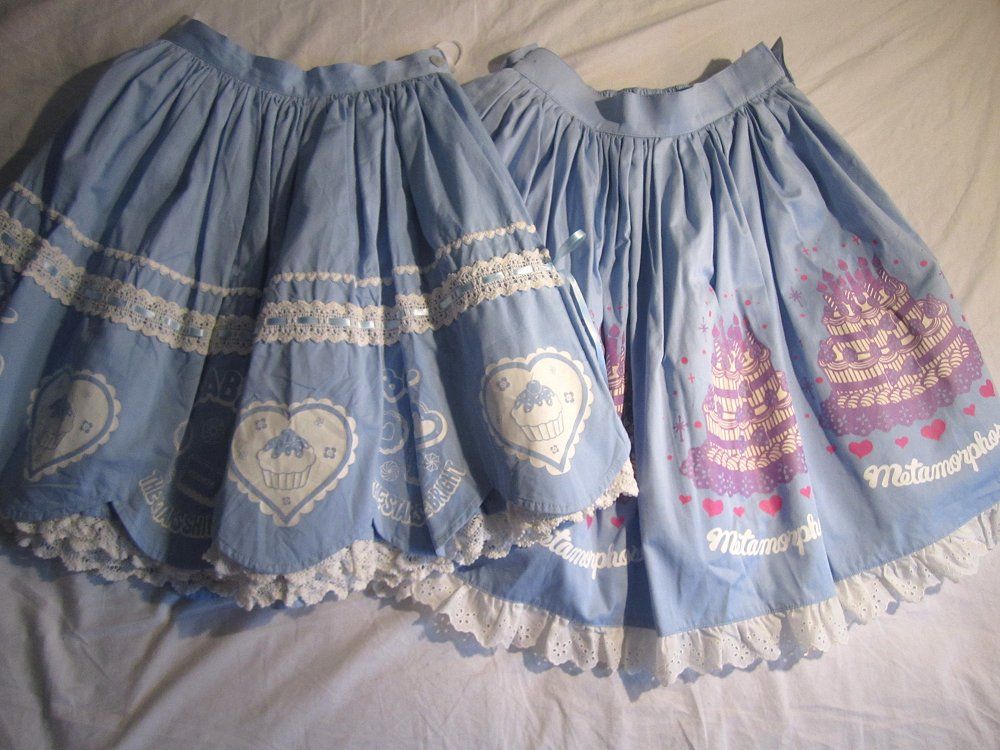 BtSSB - Teatime | Metamorphose - Happy Cake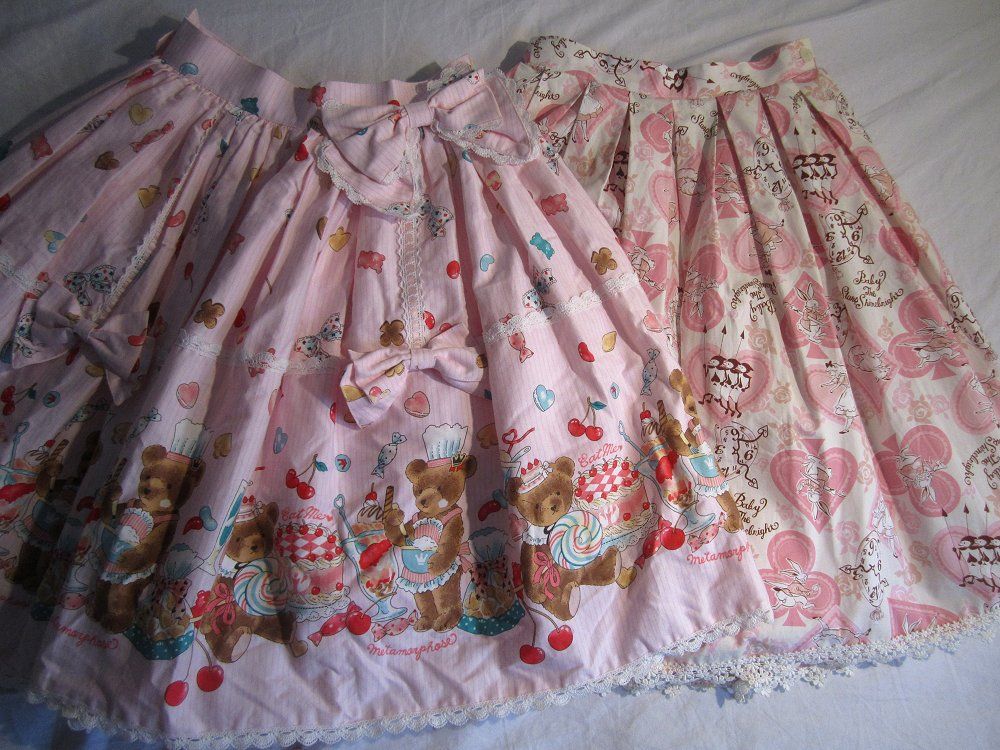 Metamorphose - Teddy Patissier | BtSSB - Sweet Cookies Alice(?)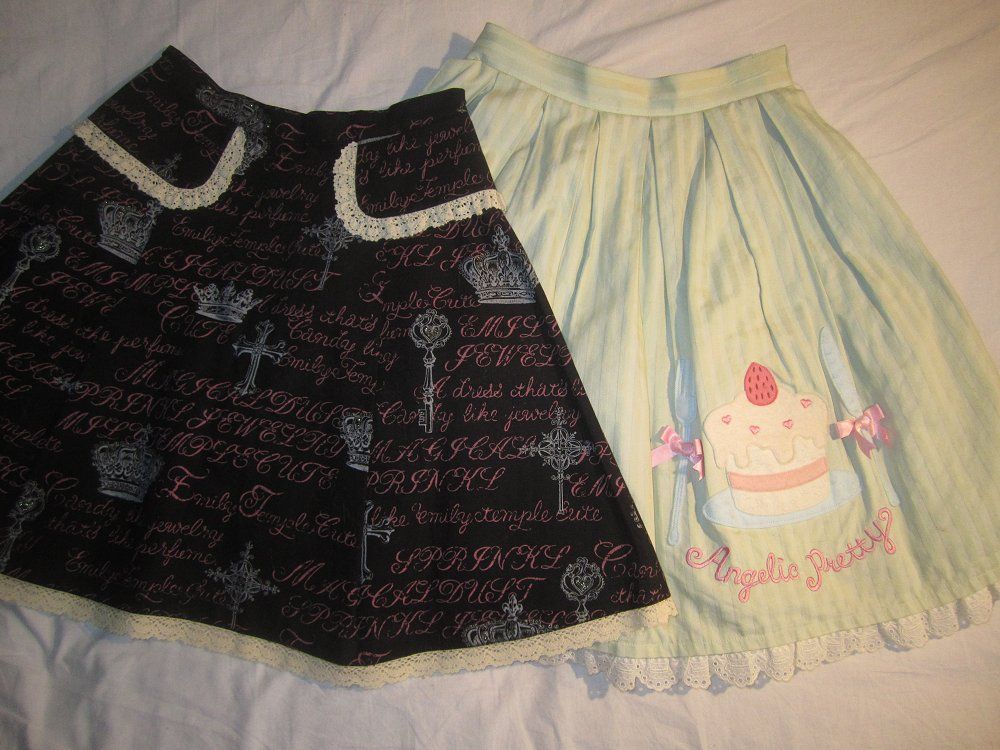 ETC - Key and Crown(?) | AP - Cake Applique
The ETC skirt is so small! I'd like to get the JSK instead.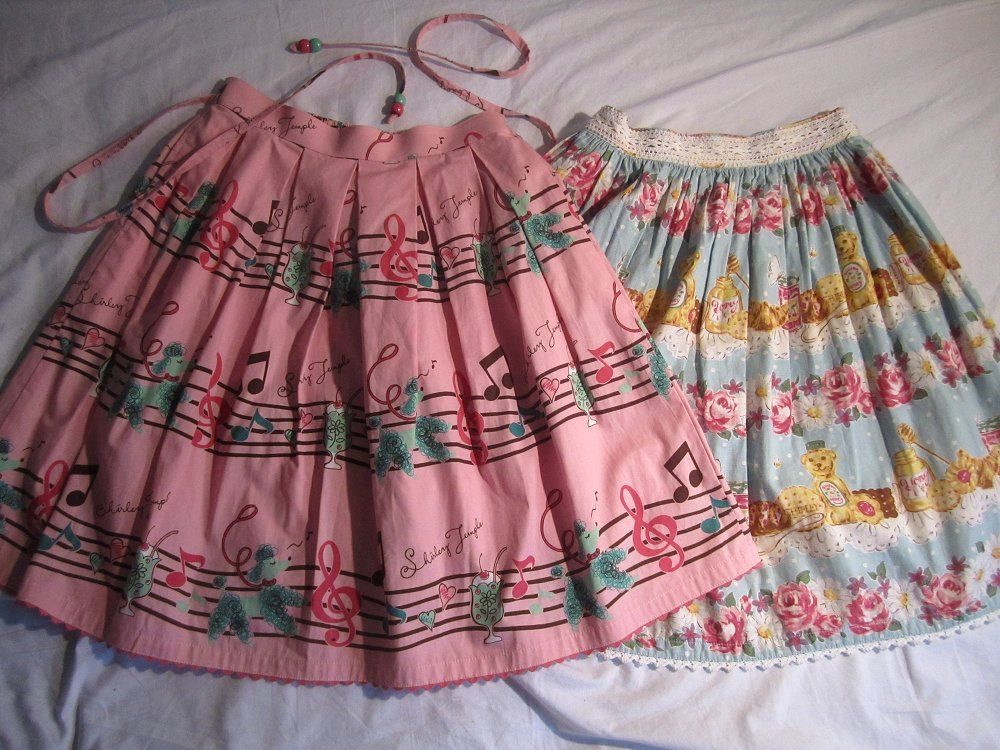 Shirley Temple x2
These aren't full enough for a very poofy petti, but they're great for casual c: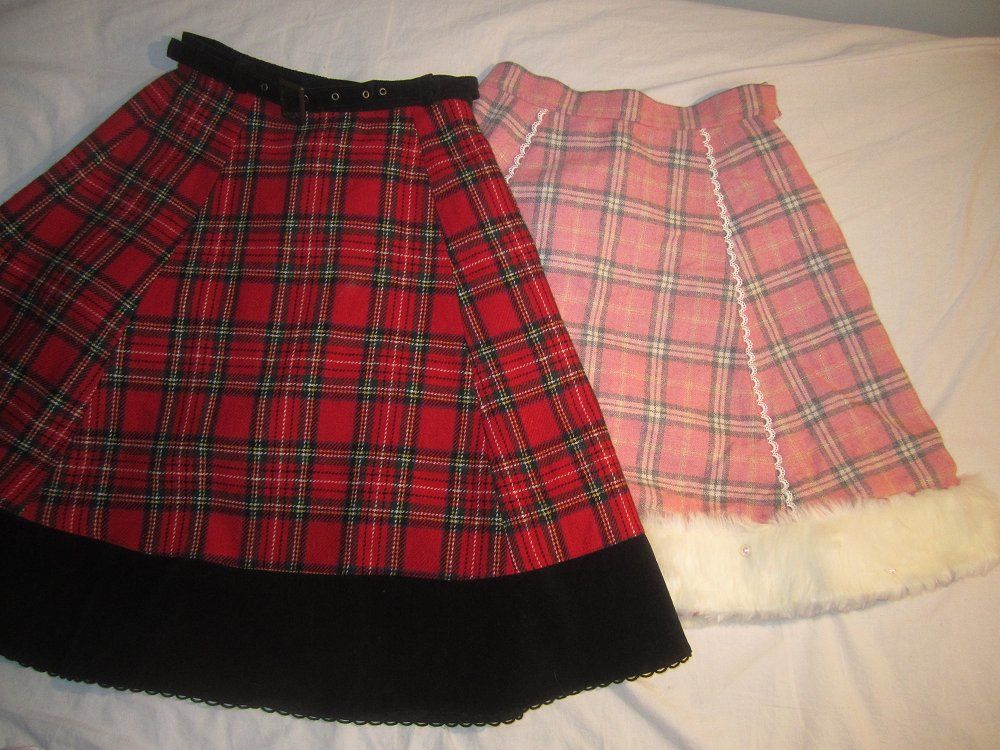 Metamorphose | AP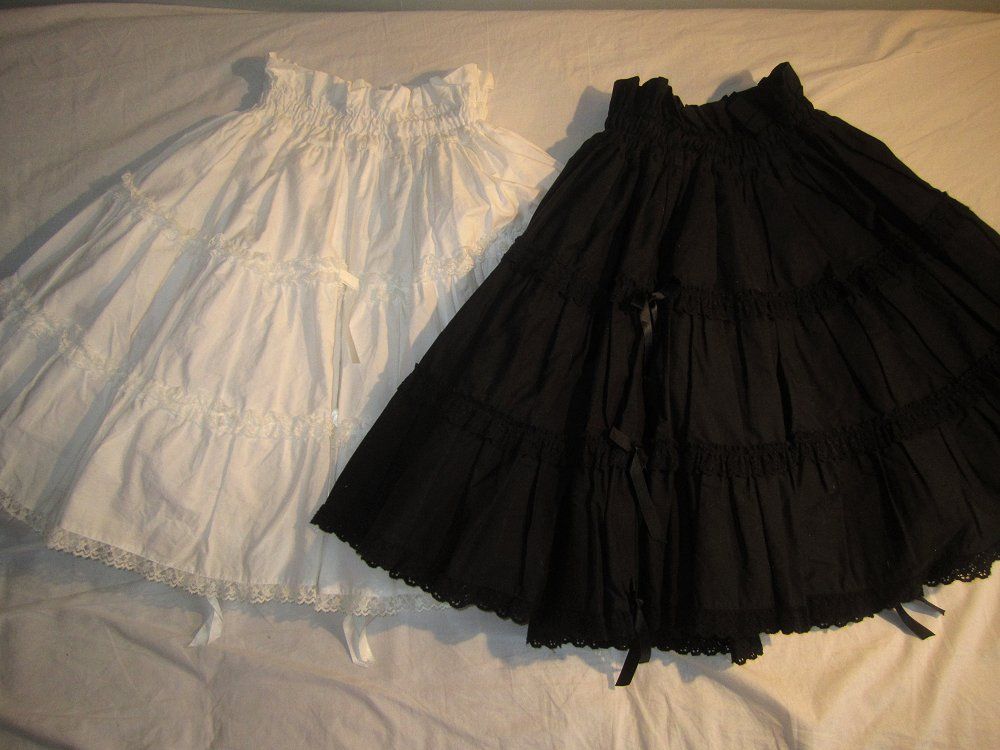 Metamorphose - Three Tiered Skirt x2
These are THE perfect basic skirts imo~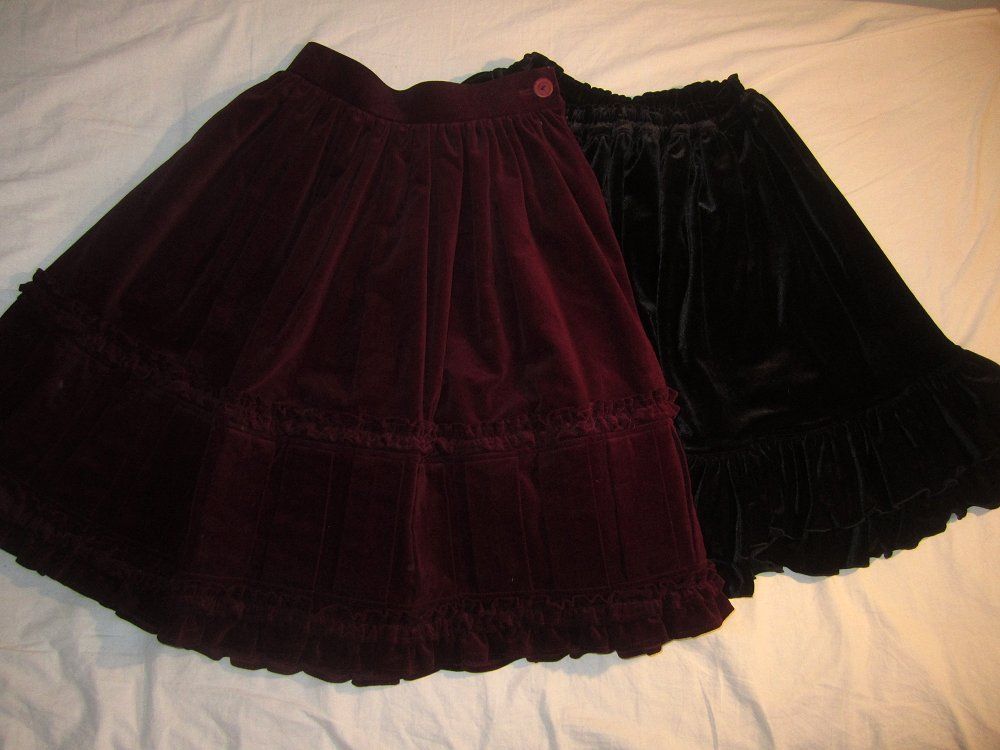 IW | Metamorphose
Velveteen skirts. This photo is so bad <_<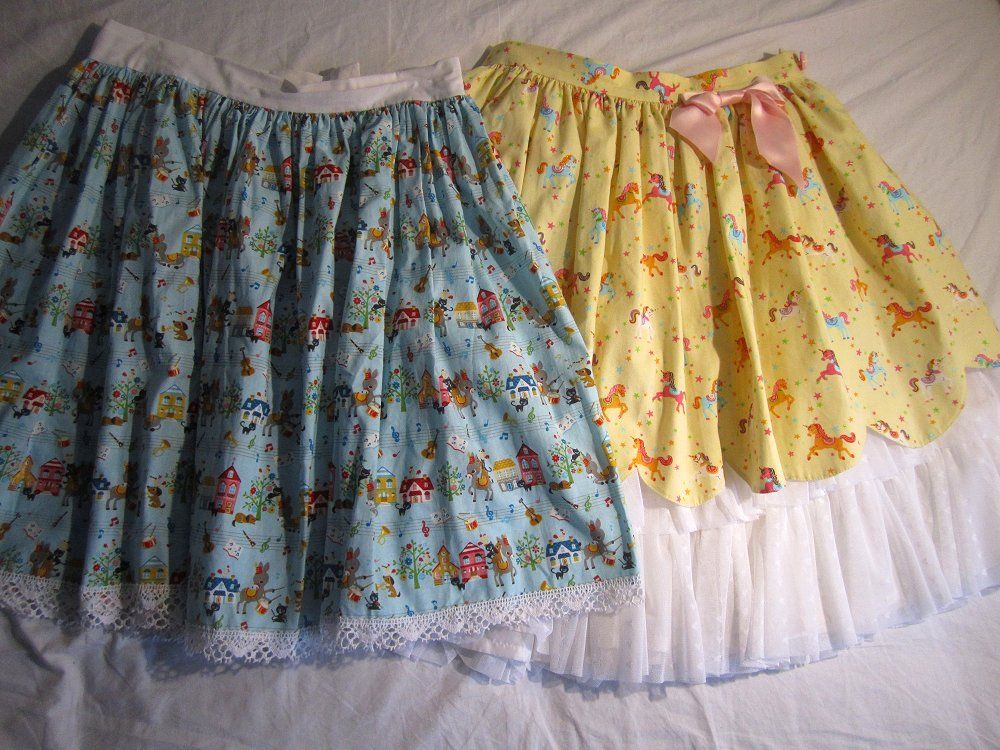 Handmade x2
I don't know who made them, but they're both adorable!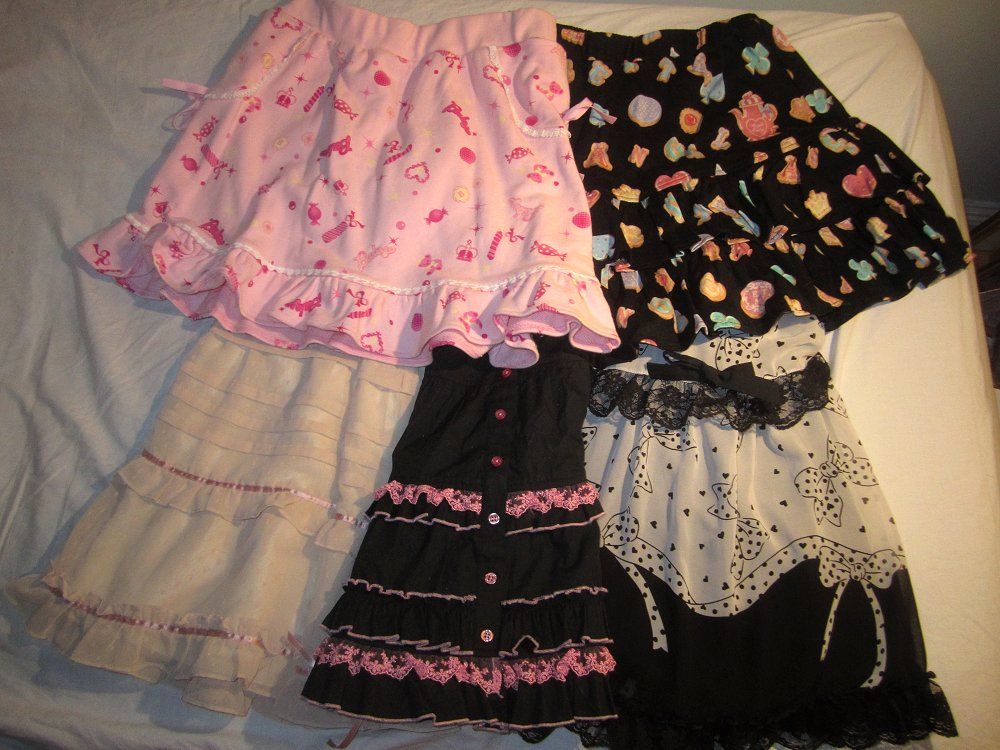 BtSSB - Candy Print | AP - Assorted Cookie
ETC | Putumayo | Milk
These aren't really lolita, but as with the ST skirts: great for casual! I shouldn't had folded the Putumayo one that much, it looks so silly 8(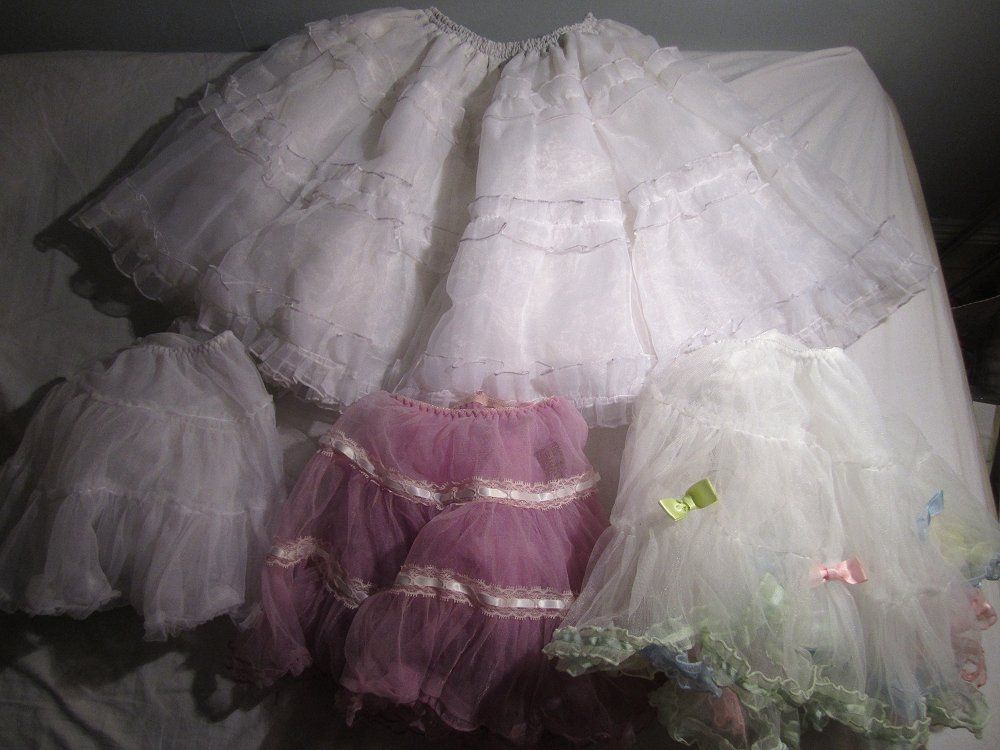 Dear Celine | Bodyline x3
The DC one is my main petti. The BL ones are for other styles, or occasionally for some extra poof.
Salopette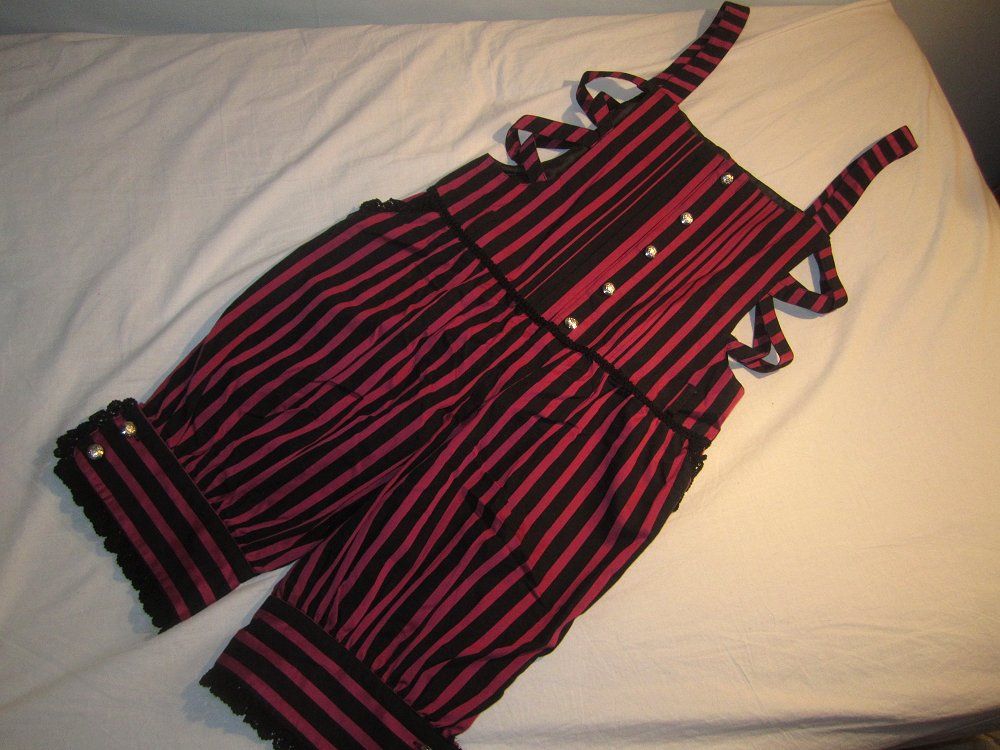 AatP - Striped Crown(?)
My only salopette. I'd like to get more, but I'm so afraid they'd be way too short D8
Outerwear
Metamorphose - Teddy Coat
Offbrand (from H&M)
Metamorphose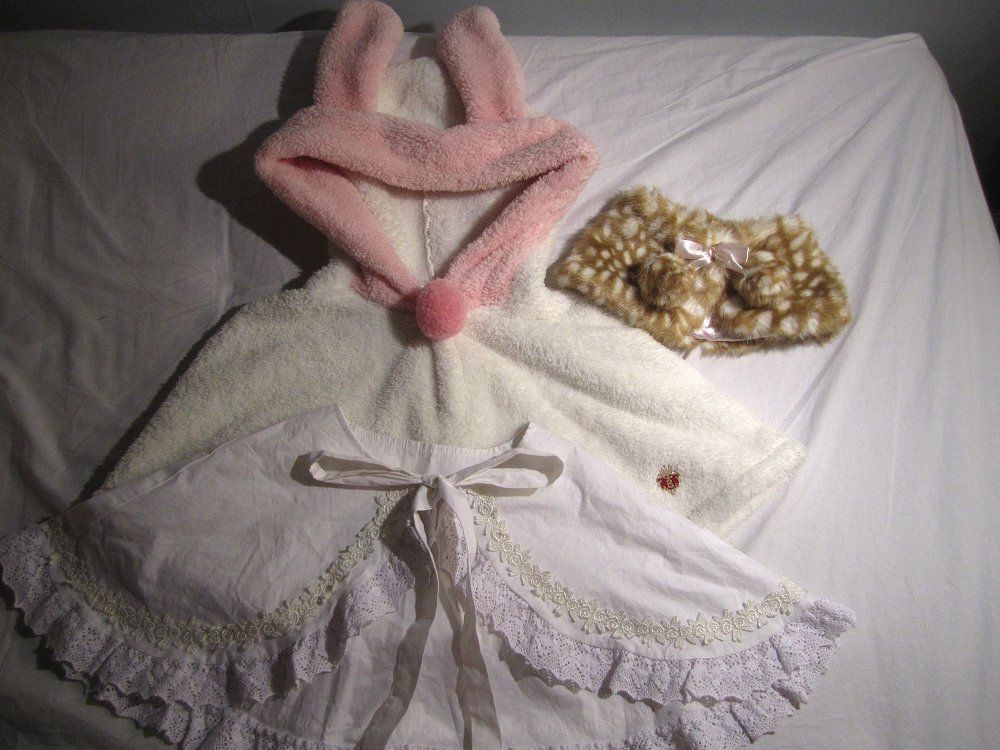 BtSSB bunny cape | F+F (I think?) cape | offbrand (H&M) fur collar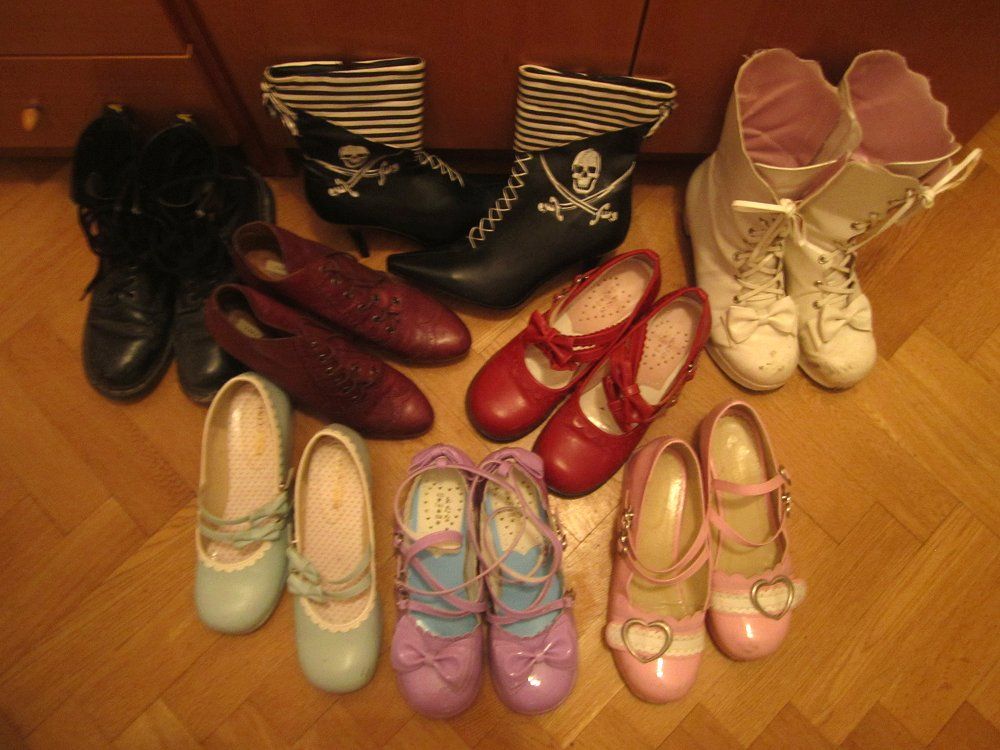 Doc Martens | The rest are offbrand, Bodyline and Antaina
Worst picture ever. Had to take it in the livingroom where the light is even worse -_-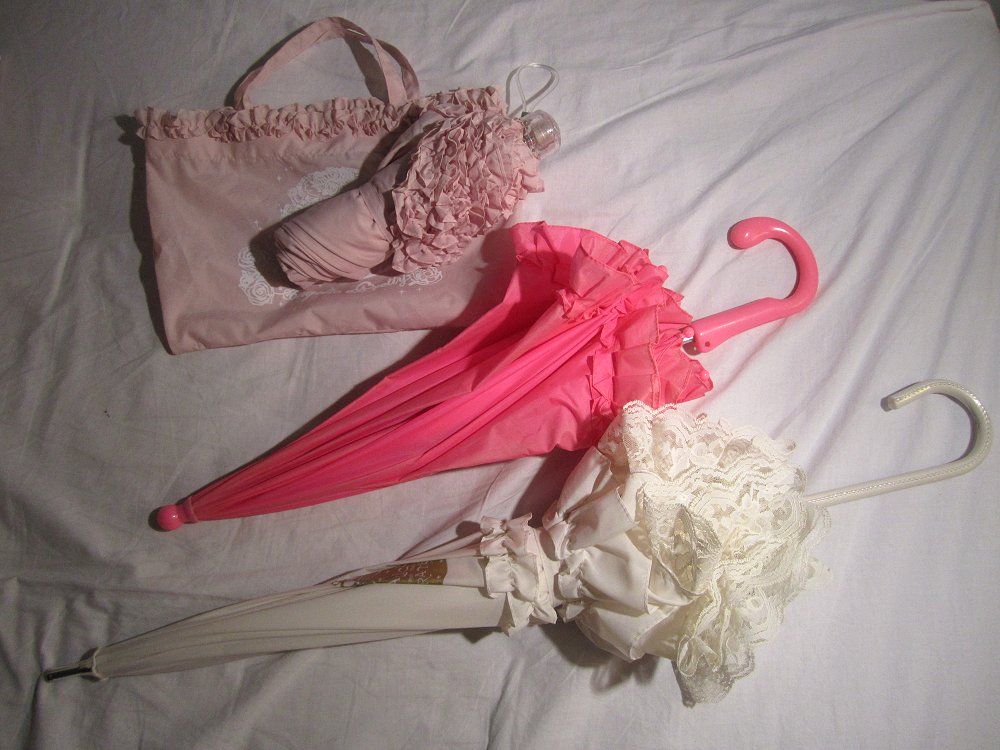 AP | Offbrand | AatP
Yeah, umbrellas are outerwear now. Didn't know where else to put them...
Bags
AP - Fruits Parlor | BtSSB | ETC
AP | Hello Kitty | Metamorphose
Peace Now | ETC
Bottom row all offbrand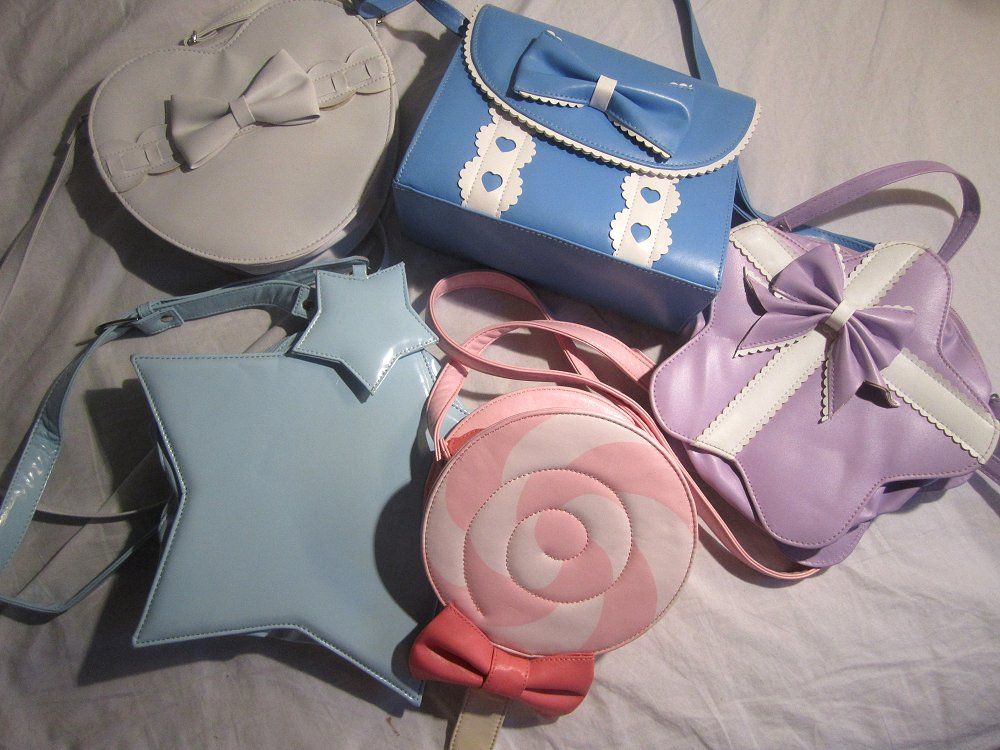 Replicas x5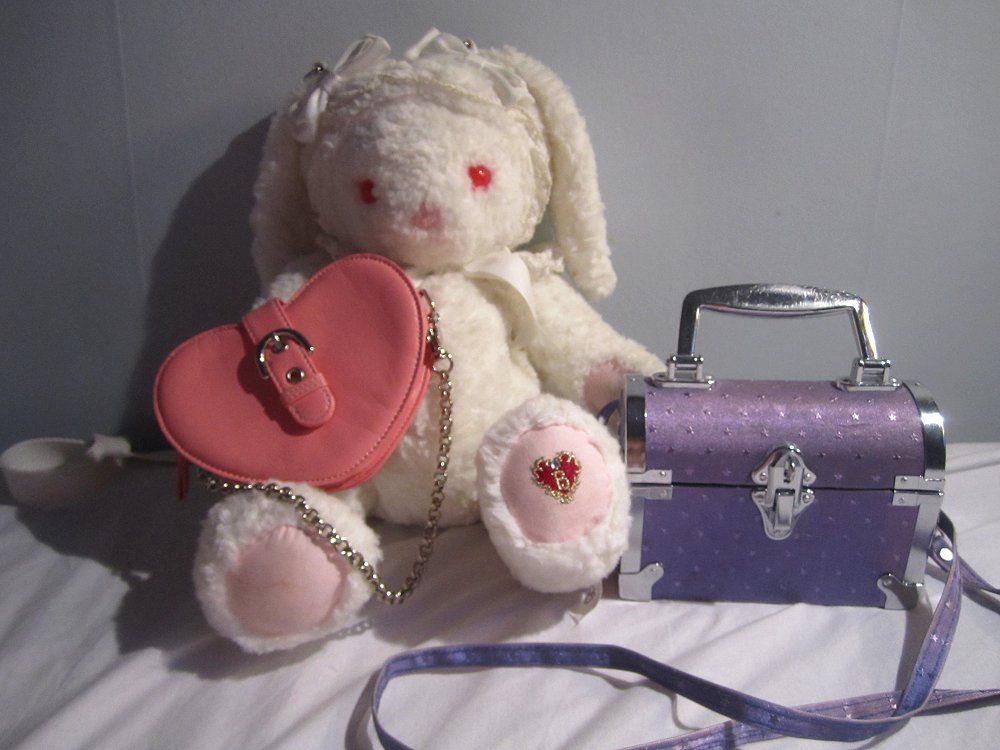 MILK | BtSSB - Usakumya Rucksack (40 cm) | Offbrand
Thrifted the treasure chest for $3. Satisfaction <3
Cardigans, cutsews, etc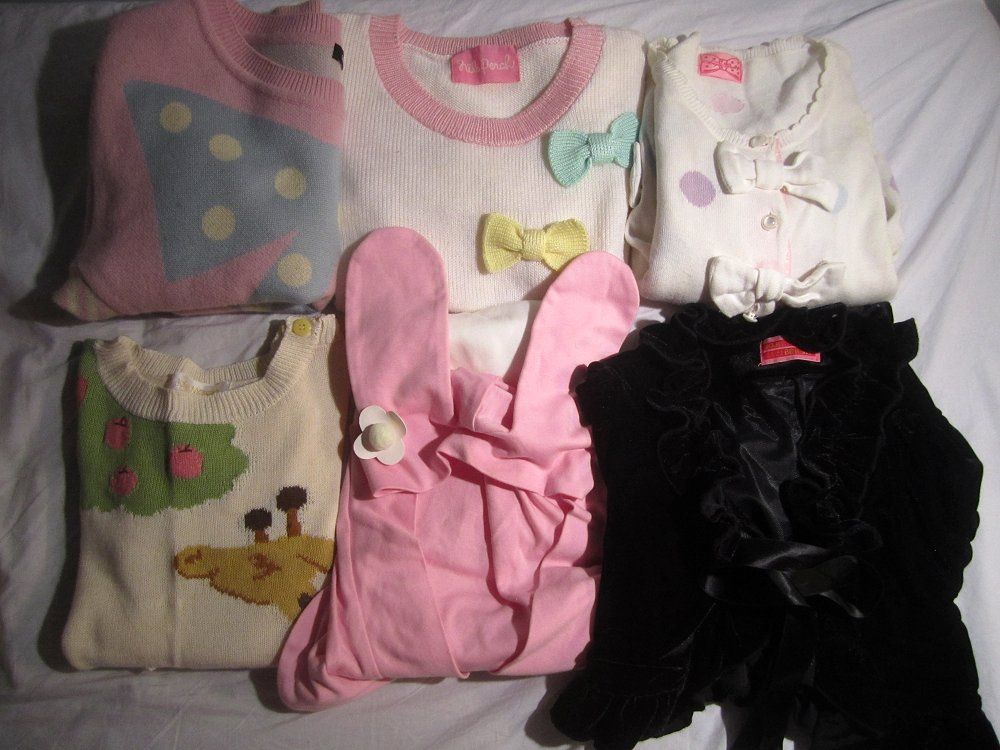 MILK | Nile Perch | AP
Jane Marple | Heart E | BtSSB
ACDC RAG | Offbrand | Bodyline
Offbrand x3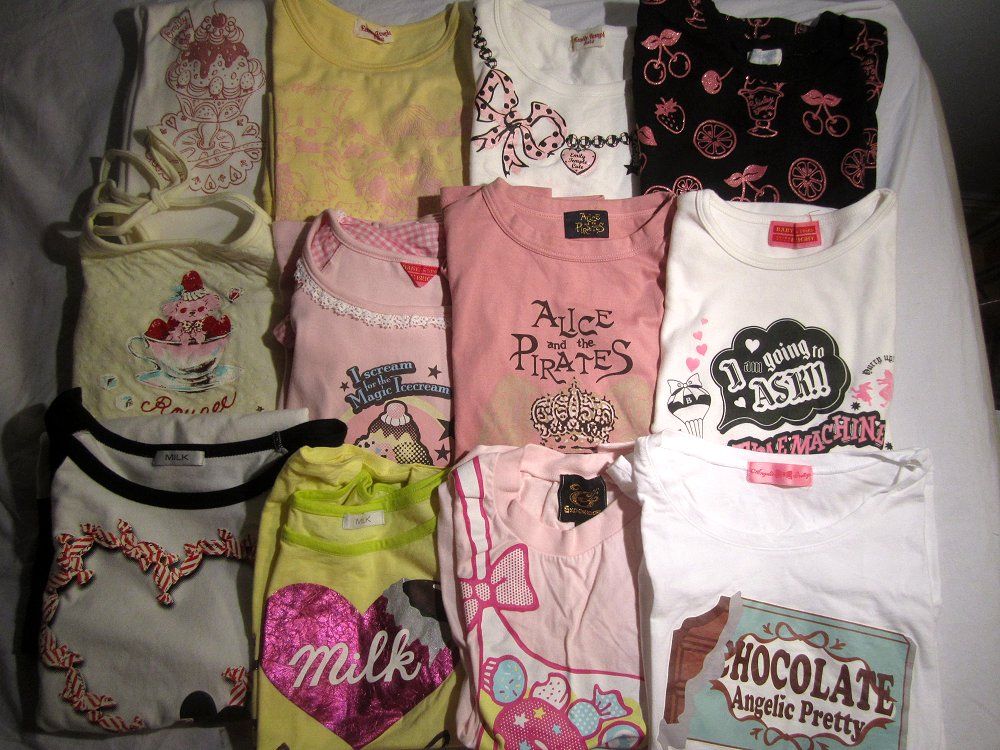 ETC x3 | Shirley Temple
BtSSB x2 | AatP x2
MILK x2 | 6%DOKIDOKI | AP
Socks
All my brand socks~ Not gonna list the brands for all of these, ask if you want to know.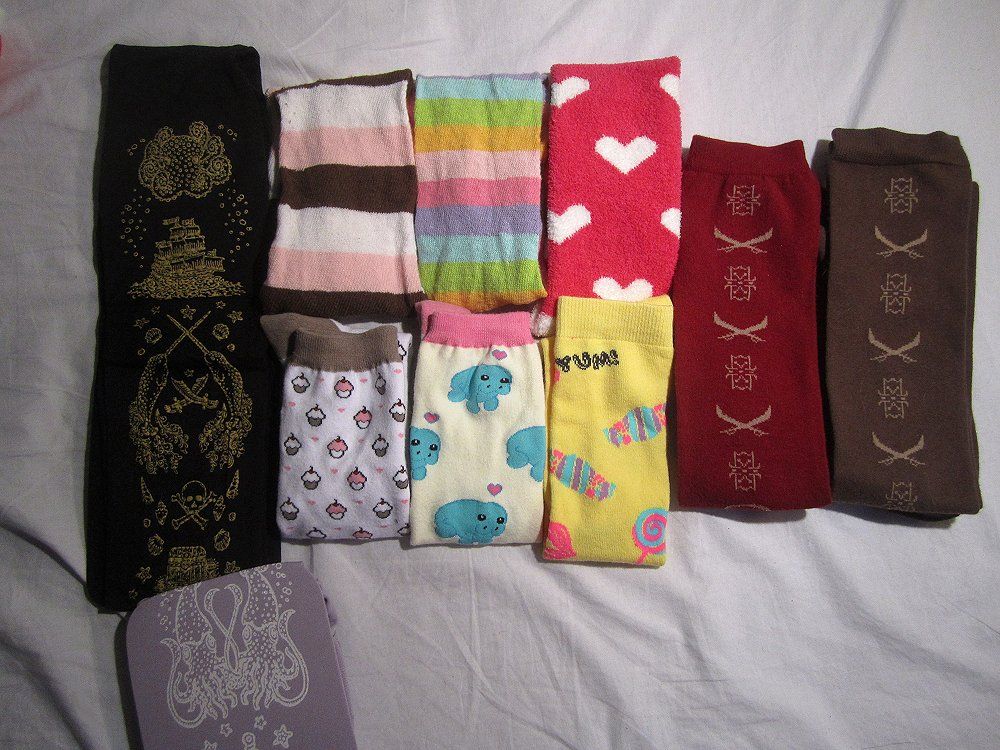 Teja Jamilla | Offbrand | Ergi
Some of my favourite offbrand/indie brand socks (and tights). The awkwardly placed lavender tights have the same print as the black ones.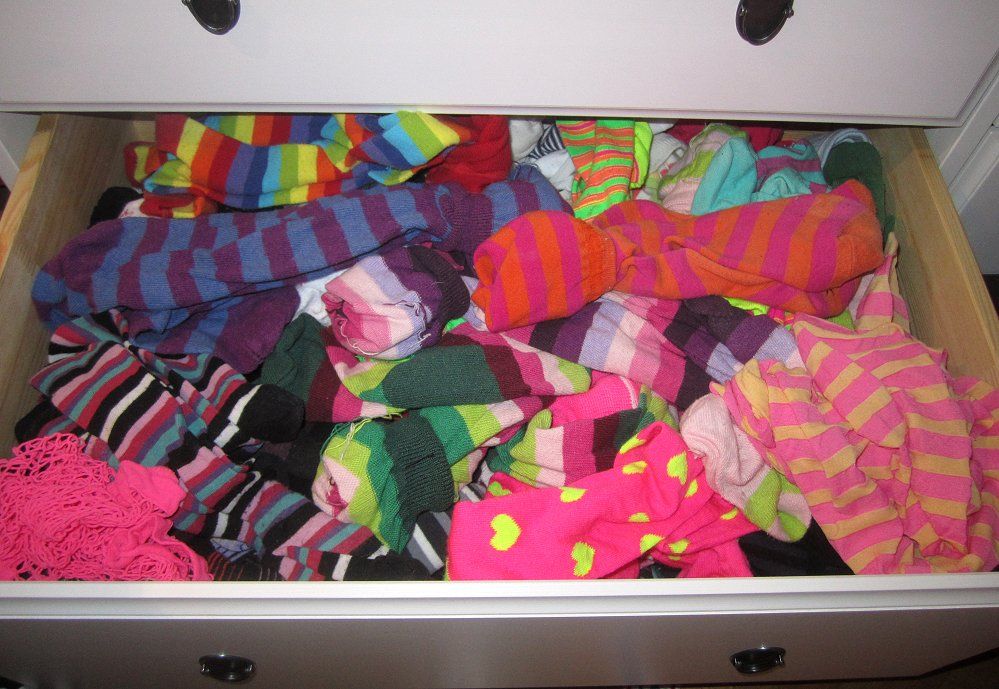 I'm a sock hoarder OK D8 Here's how I store my inexpensive socks which I can't be bothered to photograph.
The visible ones are less than 1/5 of all the socks I have...
Headwear
Brand headbows~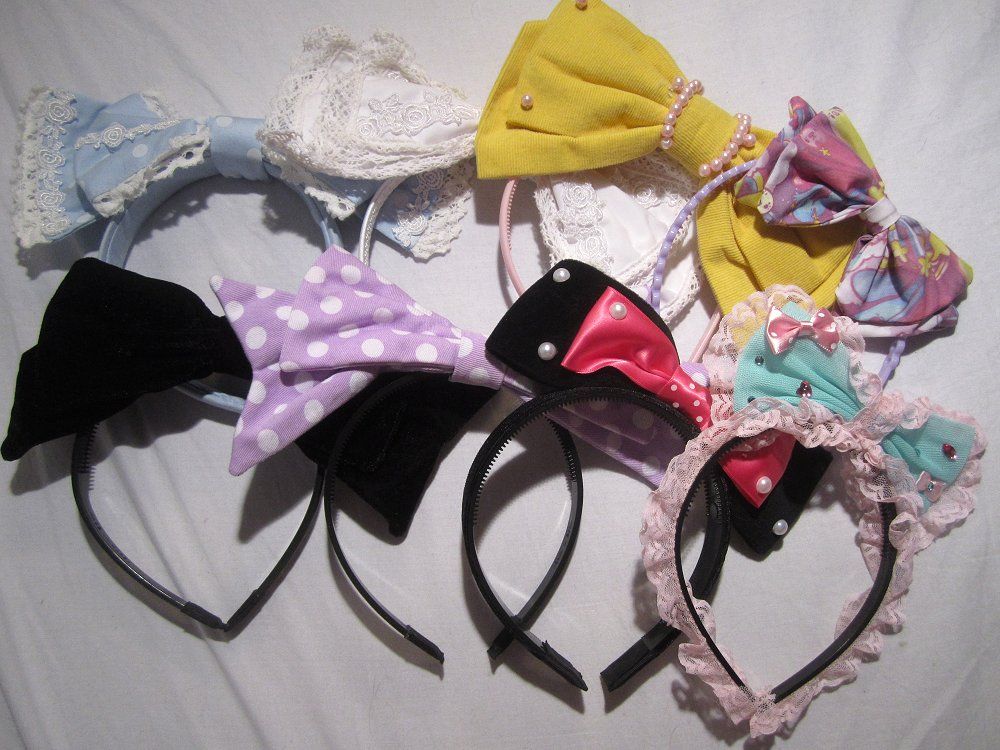 Offbrand headbows~
All the bottom ones are from Chocomint.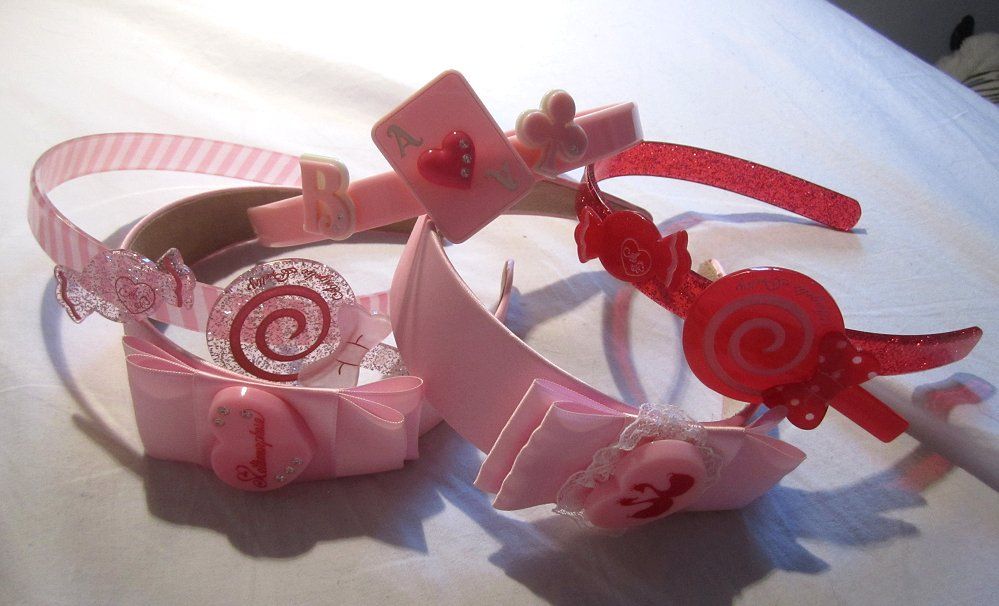 AP (lollipops) x2 | BtSSB (card) | Metamorphose x2 (bottom)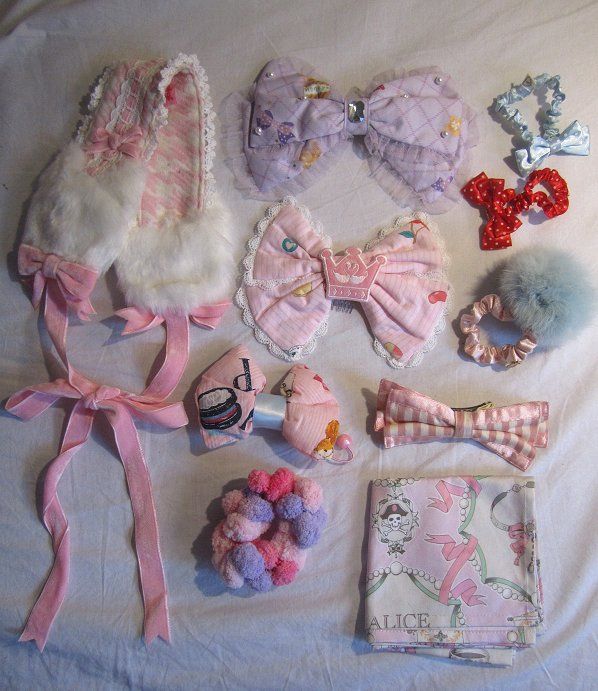 AP (earmuffs) | Metamorphose (all the bows) | AatP (bandana) | BtSSB (top two scrunchies) | ETC (other two scrunchies)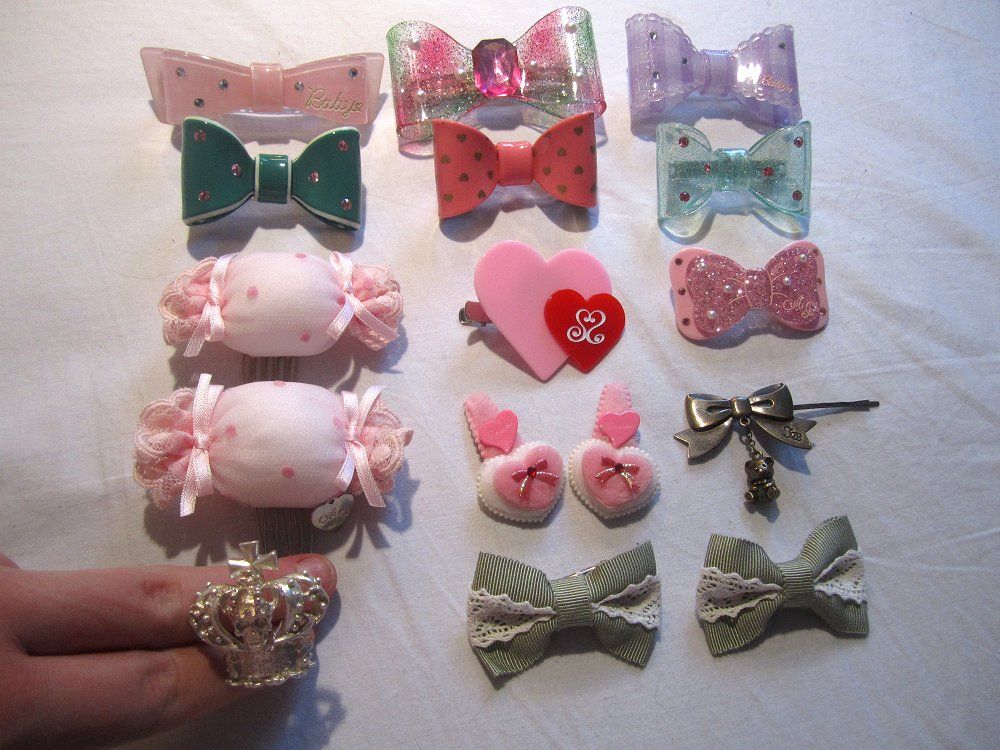 Row 1: BtSSB | AP | BtSSB - Row 2: ETC x3 - Row 3: AP | Metamorphose | AP
Row 4: AP (obviously), Metamorphose, IW - Row 5: AatP | IW
Excuse my fingers e_e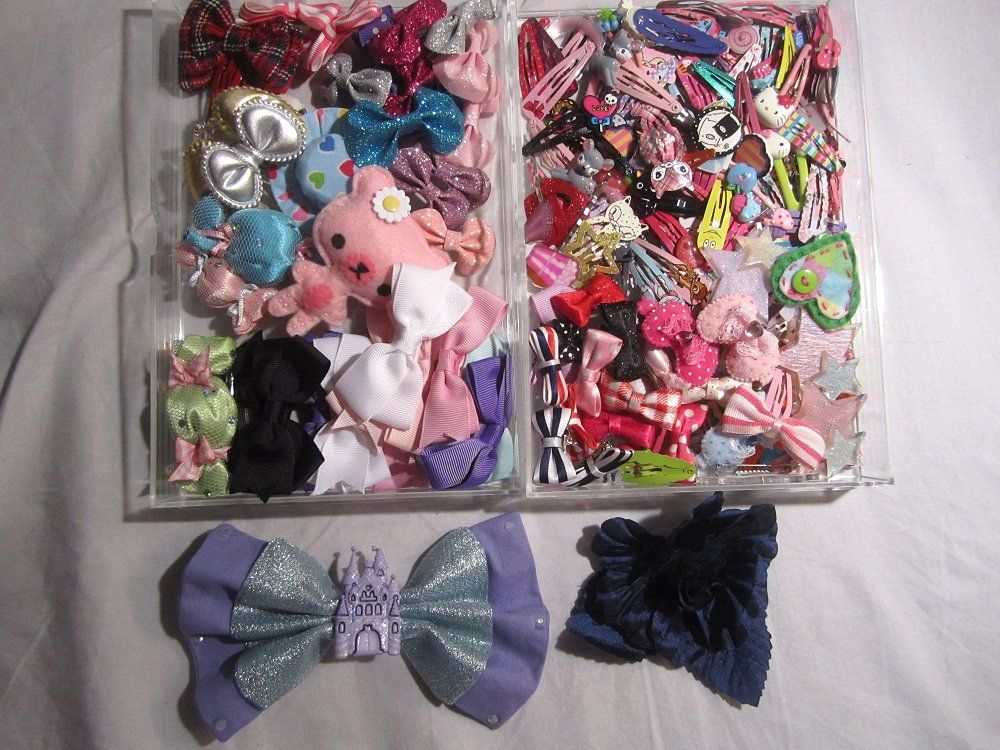 Castle bow made by Tanantii, rose clip from Surface Spell.
The rest are all my offbrand hair clips, including two candy clips also made by Tanantii and a bunch of Chocomint clips.
Except for socks, I also hoard hair clips. The ones in the to the right are really just the surface, there are twice as many more under them...
Other accessories
Metamorphose (hearts and bows) | AP (candy and Whip Magic) | ETC (crown)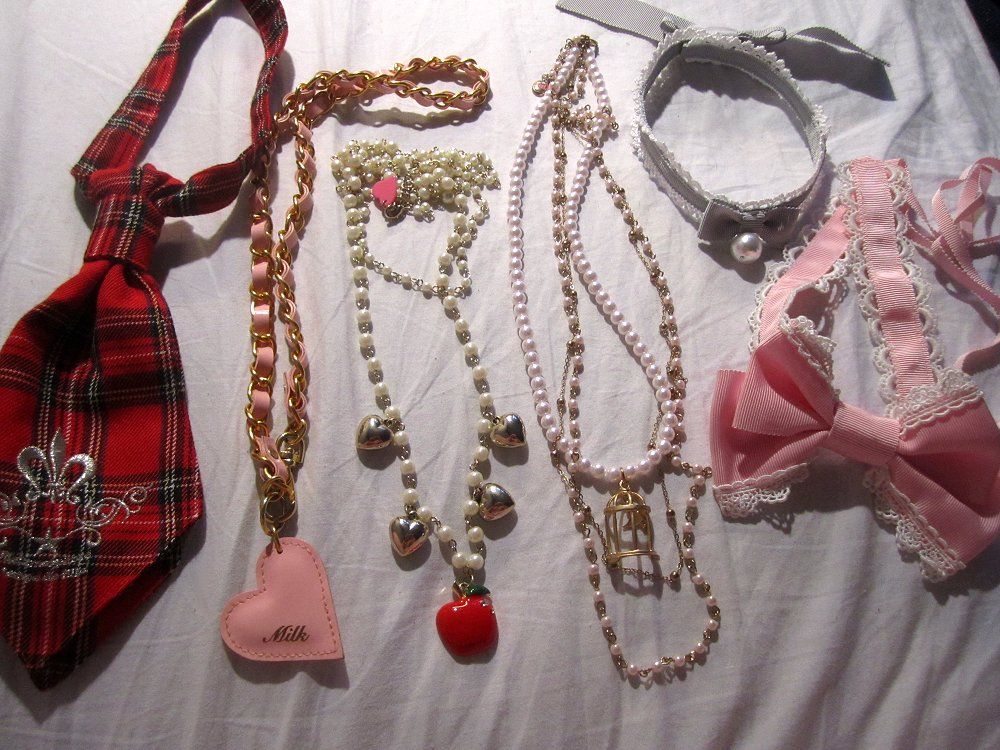 Metamorphose (tie, apple, bird cage) | MILK (heart) | AP (grey choker) | BtSSB (pink choker)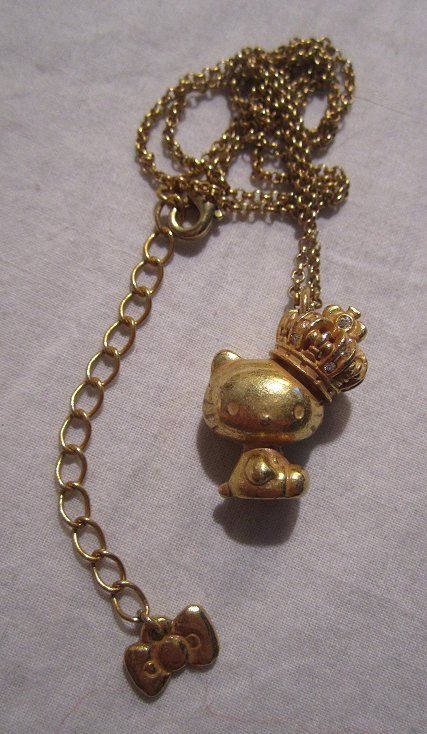 Jane Marple x Hello Kitty
Forgot to include this with the other necklaces, but then I realized it was actually OK because this necklace is a bit special - it's the only brand item I didn't pay for myself.
My mum gave me this for my birthday last year <3 All boys get HK necklaces for their 23rd birthday, don't they? 8)))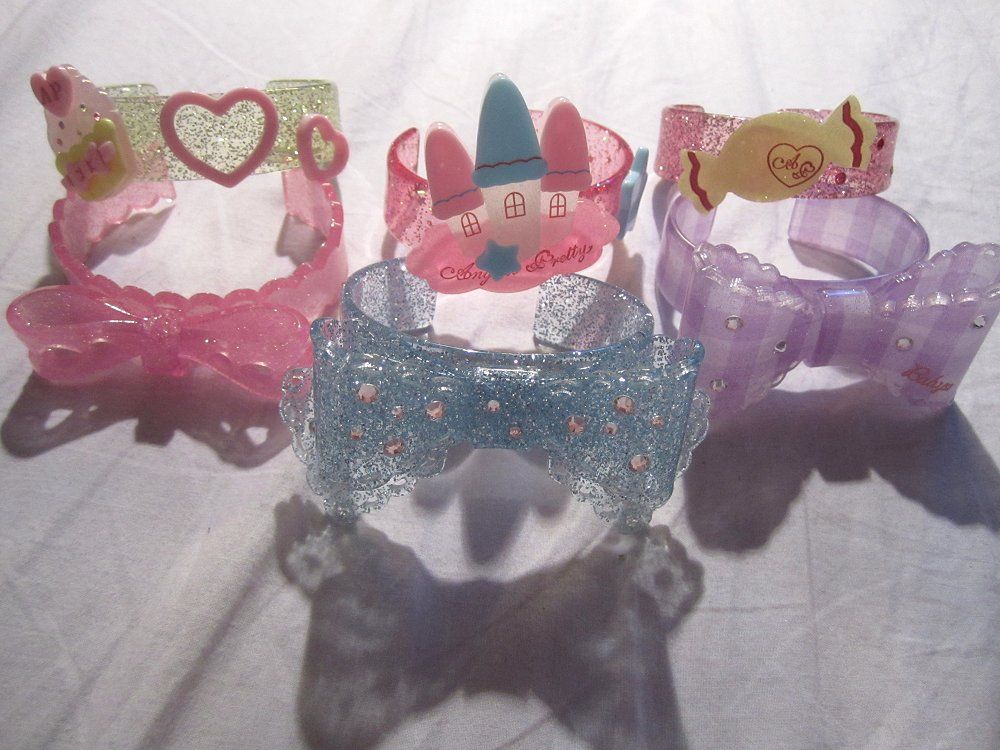 AP x3 (back row) | Metamorphose | BtSSB x2
Bangles~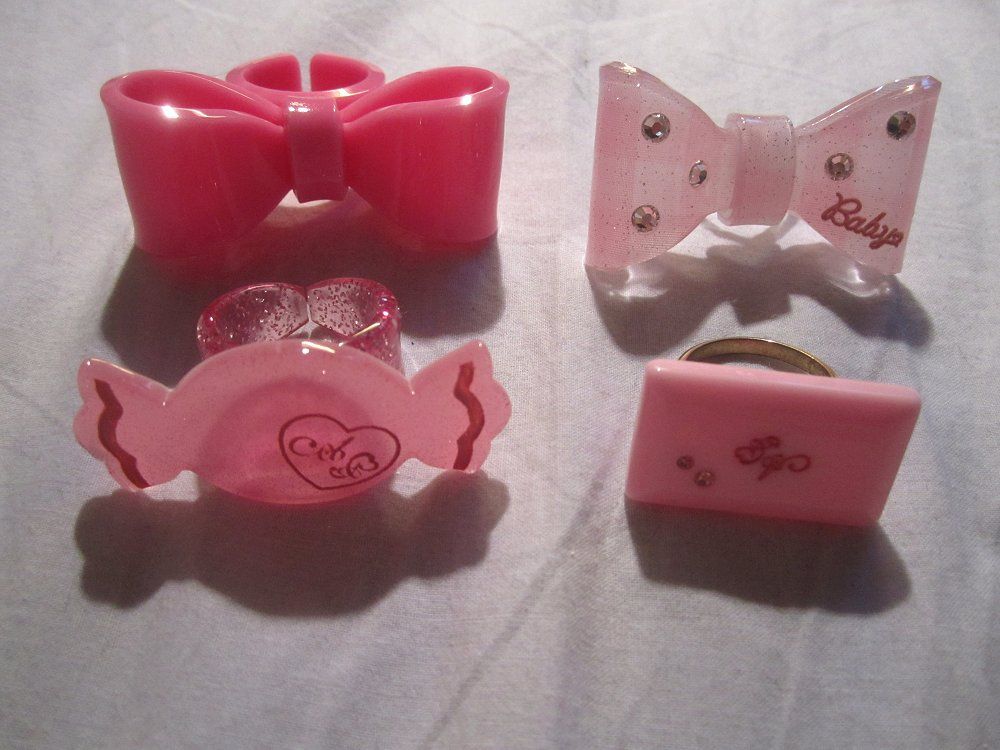 Metamorphose | BtSSB | AP x2 (front)
Rings~ lol I put the chocolate one upside down... OTL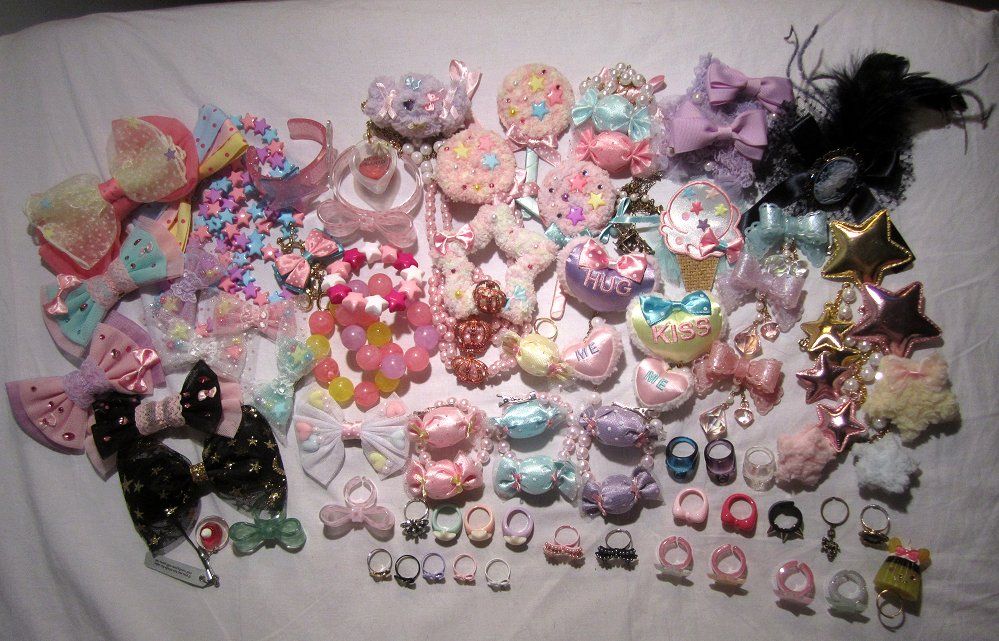 My slightly ridiculous collection of Chocomint accessories <3
Some of my Chocomint items escaped and are posing in other photos instead...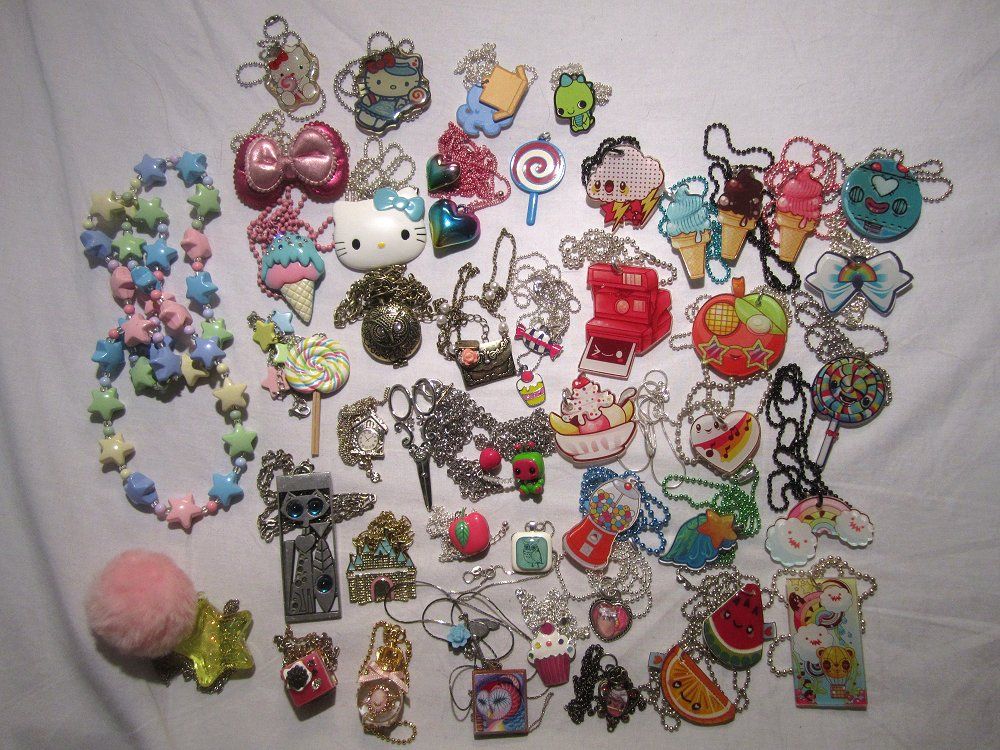 Offbrand necklaces~
See the big metal one with a cat and a fish? My grandpa gave it to grandma long ago. It's so fabulous!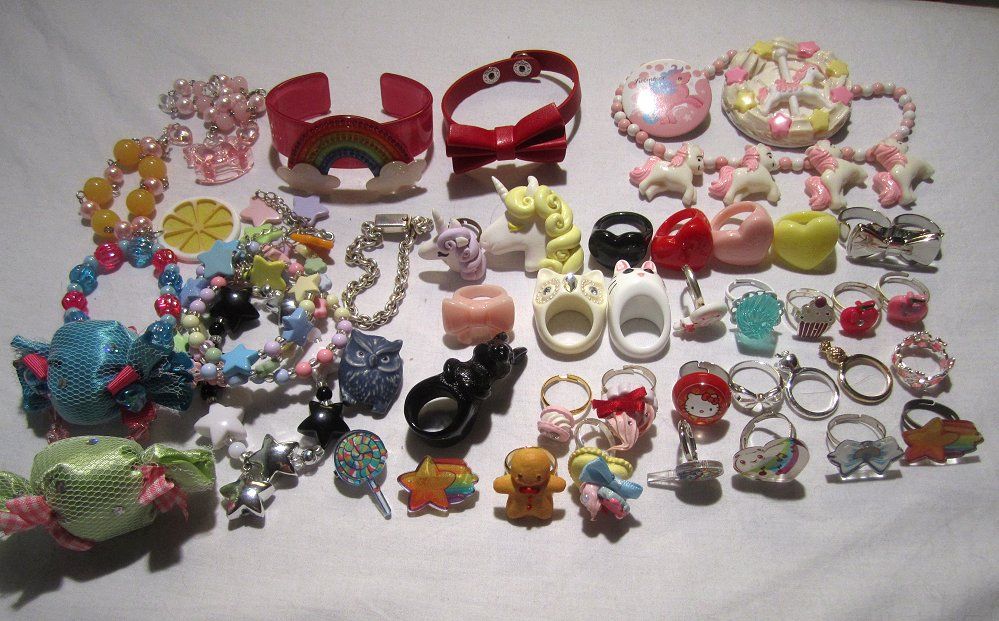 Misc offbrand accessories, featuring an escaped Chocomint ring~

AP x2 | Metamorphose
Accessory sets. Not sure why I thought this was a good format to post them in...
And finally - some random items!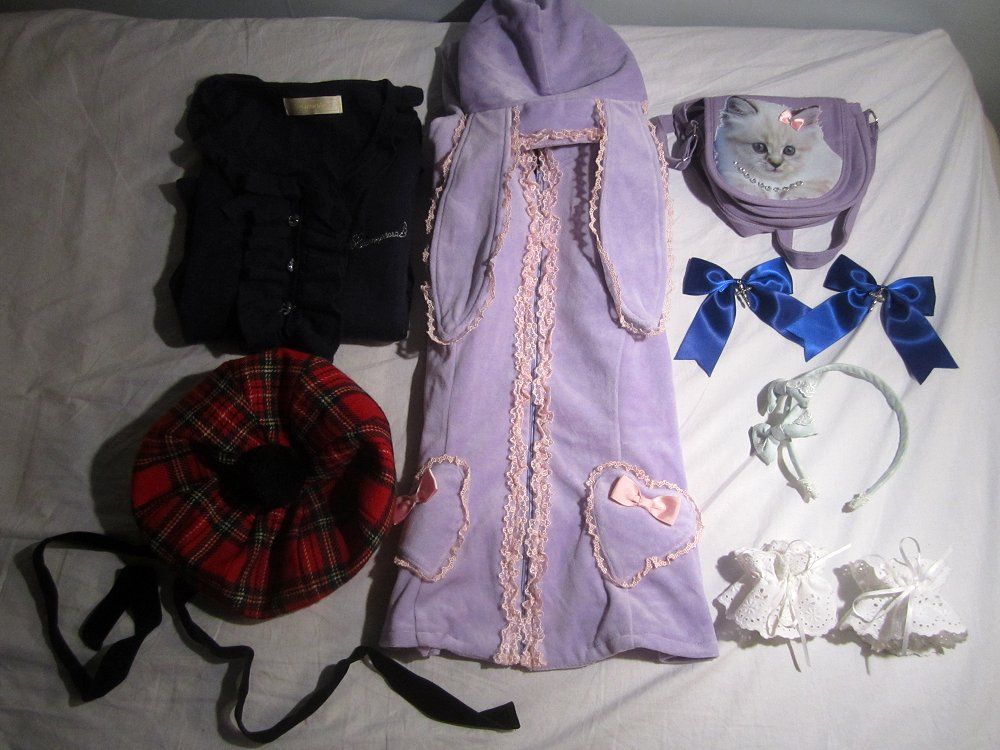 Metamorphose (cardigan and beret) | Bodyline (hoodie) | Surface Spell (blue bows) | Offbrand (bag, headband, wrist cuffs)
This is the stuff I forgot to include in the other photos because they were laying around in strange places 8(
Remember I told you the Surface Spell JSK had two detachable bows which the pins broke on? There they are~
That's all! I hope you enjoyed browsing my wardrobe, even though some pictures really sucked ^-^;
As a bonus, here's my BJD Morgan showing off my Usakumya keychain and pen (great size for him, no?):