I finally decided to do a wardrobe post this year after about three years of collecting. It might be the last day of January here but I made it!
Light Coats and Jackets / Main pieces
Everyone is fond of coats. Maybe when I move to Sydney next week and get out of this flaming molten pit I'll actually be able to wear one.
Atelier Bo Rolandooooooooooooo x 3 Atelier Boz
Black Peace Now, Offbrand, R-Series, Infanta
By The "R" Elegant Flower Pattern, Roger David, Vintage x 2
Gilets & Waistcoats
Proof that I maybe have a problem when these aren't even all of them, just the ones that aren't boring.

Alice and the Pirates Azure Vest, Alice and the Pirates, andmade, Alice and the Pirates Regimental Stripes
Offbrand, Excentrique, Handmade
Offbrand, Alice and the Pirates Teufel von Hameln, Ichigo15, Infanta
Handmade, Offbrand

Heavy Coats and Capes and Cardigan
My collection of elegant flasher coats is coming along nicely.
Surface Spell, Offbrand, Dangerfield x 2
Alice and the Pirates, Handmade
Offbrand, Yolanda
Misc
Not just for girls. No seriously Moitie is the men's size.
Alice and the Pirate Edwardian Skull / Highlander, Moi-meme-Moitie
Blouses
Too hot, didn't wear any.
Alice and the Pirate Griottine, Alice and the Pirate Mad Hatter, Atelier Boz, Black Peace Now
R-Series x 2, Stigmata, Alice and the Pirate Royal Stripe Ribbon
Offbrand, Retroscope, Fanplusfriend, Heavy Red
69th Department, Juliette et Justine
Pants
Boring. There, I'm not even going to arrange them neatly.
Leg wear
Men in tights, I'm bringing it back. Also featured: £59,000 worth of Socks.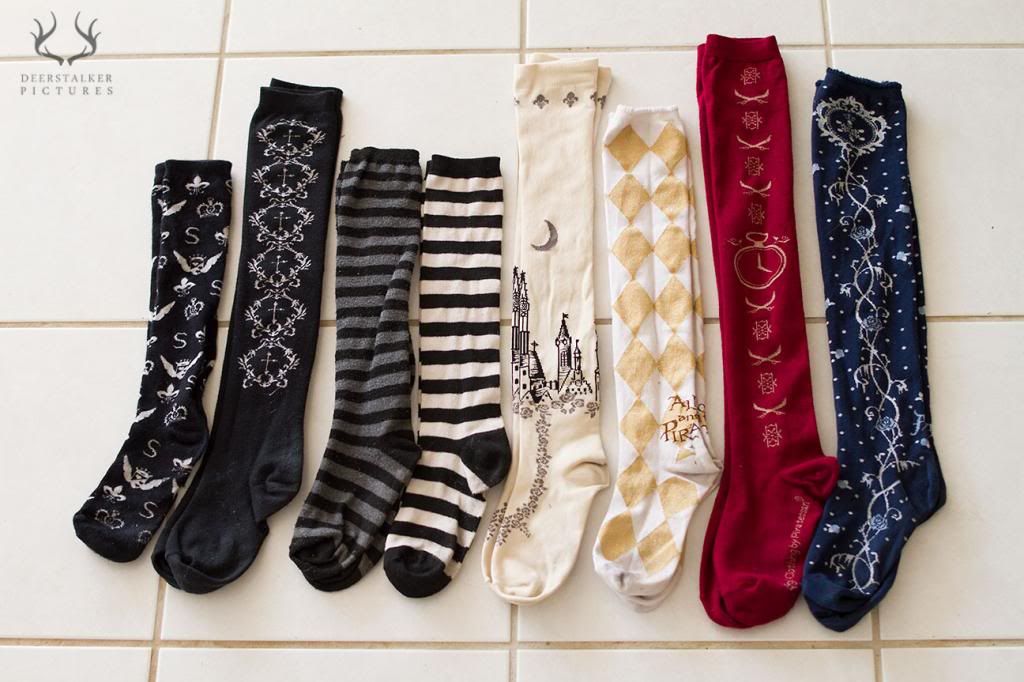 Black Mil Gold Pyramids, Call of Napoleon, Stained Glass, The Last Judgement, Starry Nights, Retro Gamer, Mechanical, Ancient Maps Zohar Chandalier Black Mil Gold Pyaramids Offbrand
Offbrand, Metamorphose, Offbrand x 2, Innocent World, Alice and the Pirates, Ergi, Alice and the Pirates

Jabots and Neck Wear
Forgot to include bowties and scarves :(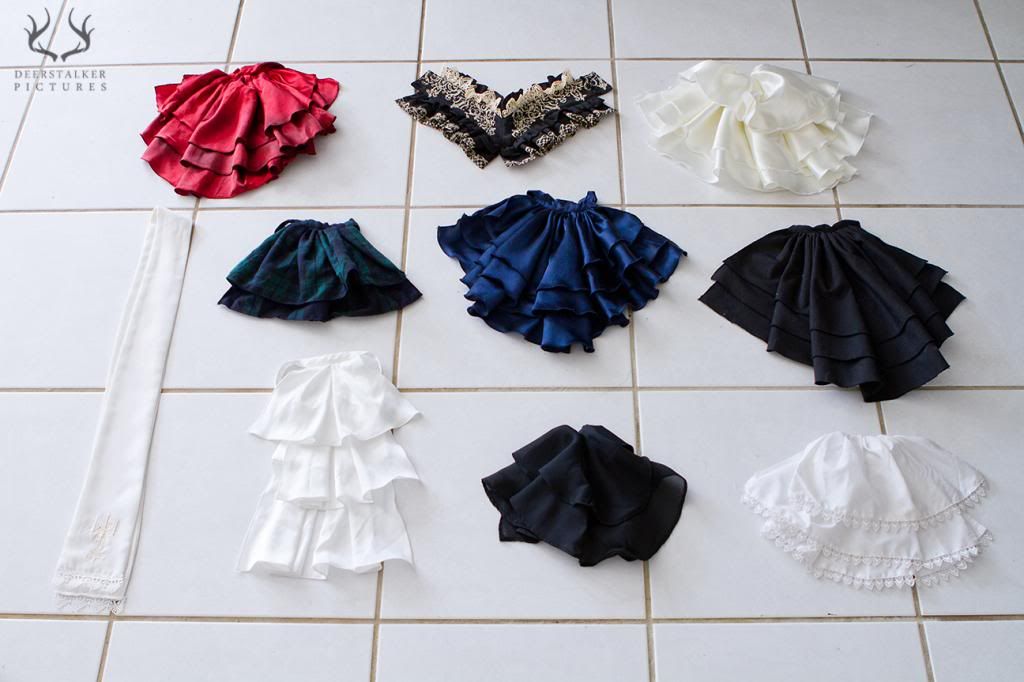 Fanplusfriend, Innocent World, Fanplusfriend
R-Series, Handmade, Retroscope, Fanplusfriend
Atelier Boz, Offbrand, Handmade


Accessories
Thank Diva and their cheap metal. Sometimes I turn earrings into cufflinks.
Also featuring Melody Doll Yen Necklace.
Bags
Slowly turning into a bag lady.

ReStyle, Vintage, Taobao, Putumayo, Alice and the Pirates


Hats
A gentleman does not simply reveal how many hats he owns (read: I forgot to take photos of those).
I guess you'll have to wait until next January to see my Towering Pillar.


Shoes
Mostly go on your feet.



Offbrand x 2, Funtasma, By the "R"
Jeffrey Campbell Zip 2 Stud, Offbrand, American Duchess, Offbrand
Bodyline, Alice and the Pirates, Offbrand, Refuse to be Usual
Thanks for reading. As always, you can find me on the tumblrs