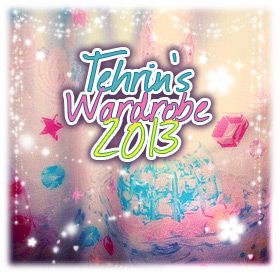 About my Wardrobe: I finally fueled my long-time interest in Lolita fashion in April of 2012 with my first offbrand purchase. However, I specifically started developing an interest in collecting items and buying brand in September of 2012. My wardrobe right now is mostly AP's variety of sweet (with some Meta too), but I'm trying to work in some more gothic/classic items.





Jewelry Jelly Is a special dress because it inspired me to get back into losing weight. I purchased it reading the sellers measurements were bigger than my own. When I got it, it would barely fit. Sofar, I've lost 20lbs, and I can wear it proudly!

Toy Parade I fell in love with this dress and print when I first saw it on AP's website (shortly after I made my first purchase and went around researching). When I finally had the money for it though, it was sold out. I eventually found a really good deal for it practically new with tags in the colorway I wanted! It's currently my favorite item in my wardrobe!

Wonder Party I remember watching this go up on AP's website and hoping for measurements that would fit me. Though I didn't get it right away, I did find a good deal on it and the matching headbow later on. I love the gold details and the little fork and spoons on the ribbon (as well as on the headbow!)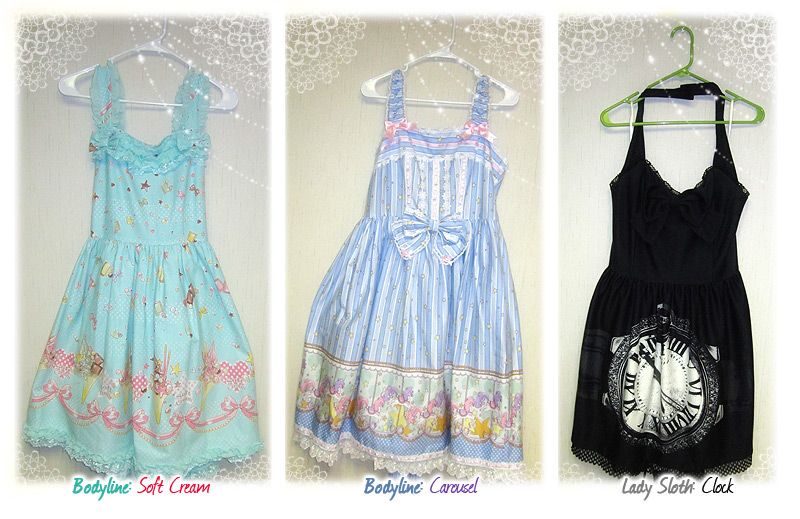 Soft Cream and Carousel Are my two favorite Bodyline prints!

Lady Sloth's Clock was a dress that I really fell in love with. I was really happy to see that she restocked the fabric last summer and I got one commissioned. Though sadly, it's getting to the point where the corset lacing is almost as tight as it'll go since I've lost so much weight! I'll probably need to alter it soon!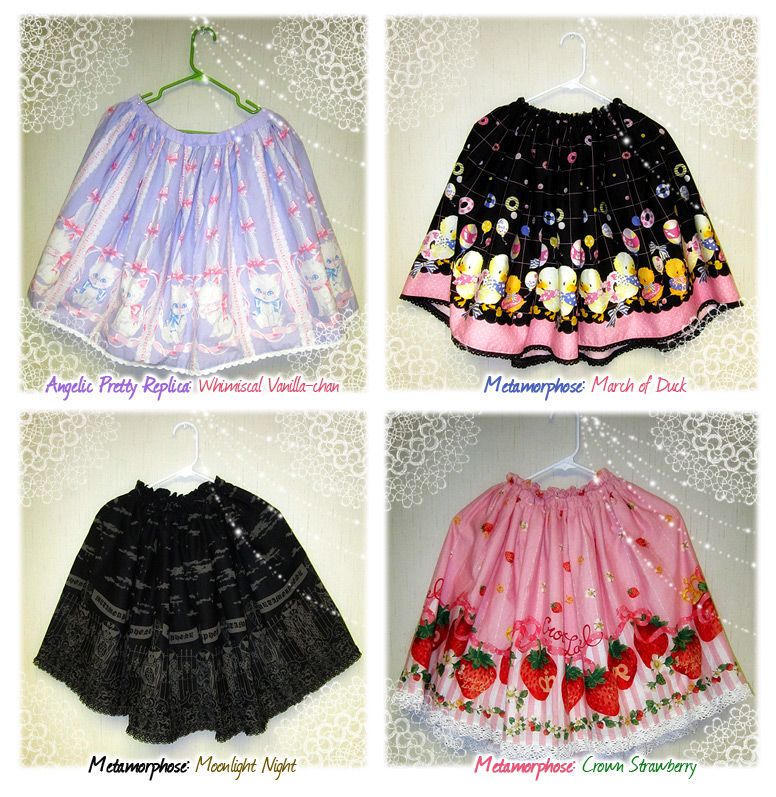 Vanilla-Chan I don't really wear this anymore, but I've only included it because it was my first piece. I purchased it at a convention second-hand along with some shoes. It ended up being too big in the bust and too short on me. So I altered it into a skirt. I'm now hunting down the real tiered version of the JSK, but missed out on it about three times already (always gotta be 2nd in line!) Someday... (more like 5 minutes after you post this, silly)

Meta Skirts March of Duck was my very first brand purchase! I love this skirt so much! Infact, I love that Meta regularly releases so many fully-shirred skirts. I can't get enough of them. I want to add more to my collection. I like to wear casual Lolita once in awhile out and about on my days off, and skirts are my way to go.



My Blouses Finding blouses that fit can be a bit of a pain, but I've been having good luck with Meta sofar! I'm getting down into the range where there's more Bodyline options for me too. Sometimes I find cool things at Forever21 or Thrift stores that work out really well too.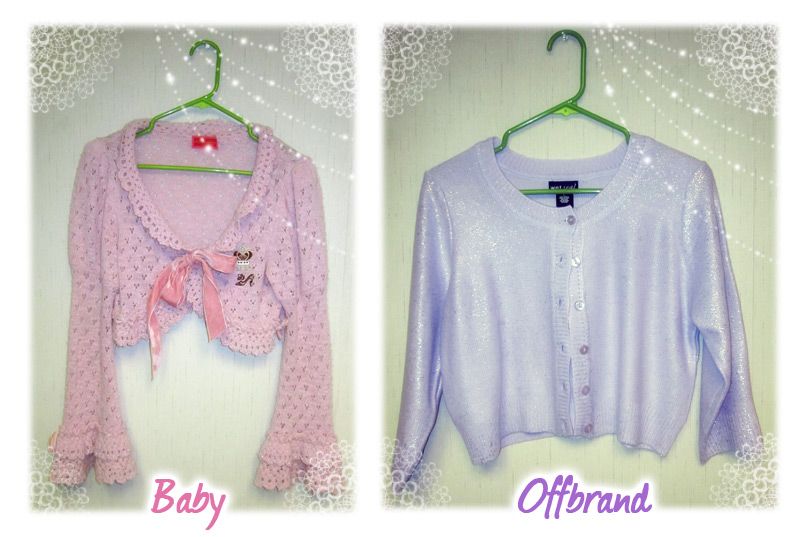 Cardigans/Boleros I got overwhelmed this month and didn't take pictures of my everyday cardigans that I wear with my normal clothes too. They're just your basic long=sleeve crew-neck cardigan in black, white and pink. I also have a pink shrug I've coorded with a few things before.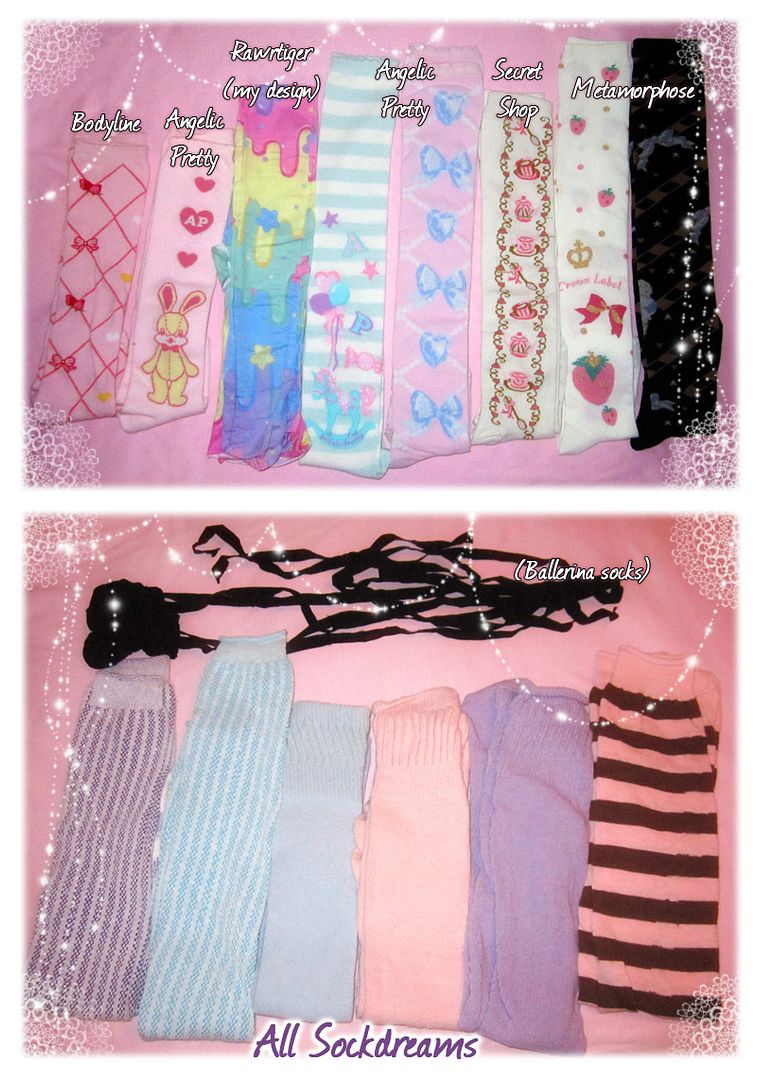 Socks! Pretty self-explanatory. Not pictured are various plain and lace patterned tights from Target and Sockdreams.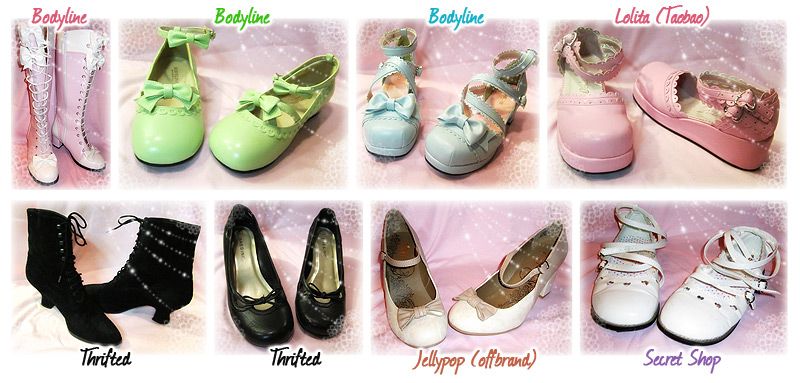 Shoes I'm a shoe addict, so I expect this collection to be growing. I want some RHS (styles without the laces) and some tea parties for sure.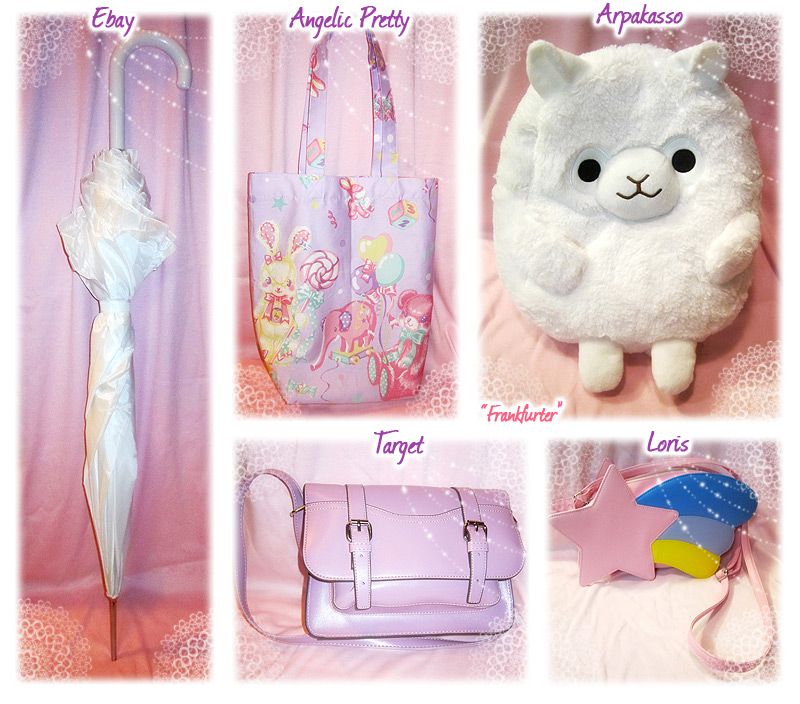 Bags! This is one area where I fell like I'm lacking a little. I have some decent sweet bags, but I'd like to get a few more simple bags, like a nice white and/or black heart-shaped bag. I want to add a few more parasols, but this is a cheap one I picked up in case it was going to rain at an outdoor meetup I was attending in the fall. Frankfurter my Arpakasso bag was a birthday gift from my husband. Some women when they turn 30 want pretty jewelry or perfume from their significant others. Not me, I want cute fuzzy backpacks of farm animals!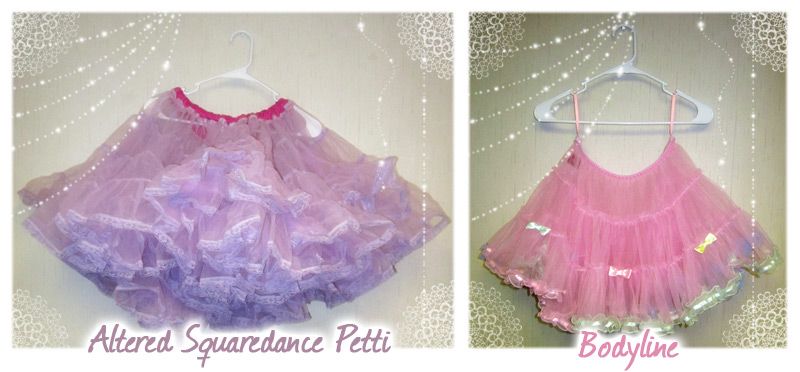 Petticoats Nothing too interesting here. My petticoat is a square dance petticoat I found for really cheap. It was too massive to fit under anything, so I took a layer off and removed the waistband (it was damaged anyway), and shortened it by about five inches. It's amazing, doesn't deflate (even after being vacuum sealed) and still provides mega poof. My Bodyline one I bought for a Fairy-kei outfit I wore to a convention. I use it under my skirts when I go casual for some light poof.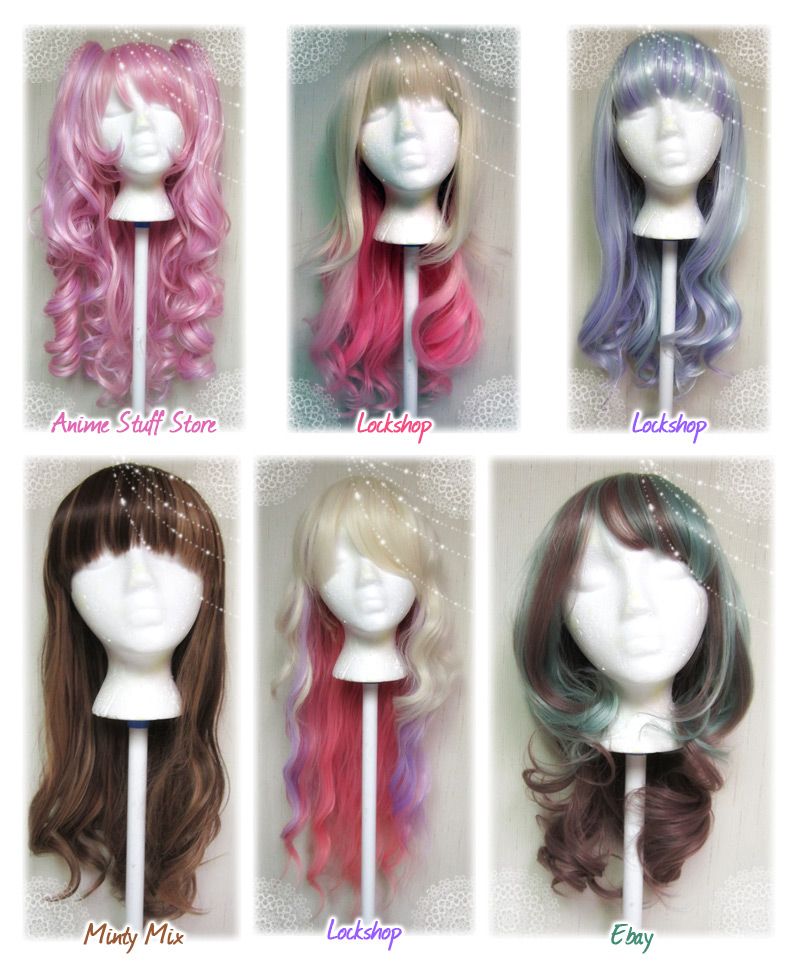 Wigs! Being a long-time cosplayer, I'm pretty addicted to wigs. (Yes, I know... it's not a costume) My real hair can be a royal pain so I prefer to wear wigs unless I'm toning it down. But my brown Minty Mix wig often gets mistaken as my real hair.



Headbows The green Meta one came in my 2013 winter Lucky Pack, and I have nothing to wear it with. I'm holding onto it for the moment though. Otherwise, I have matching headbows to my JSKs and some stuff that'll go with most everything else. I do need a pink headbow to go with my Meta strawberry skirt. Oh, and a bonnet! I love my bonnet! Bonnets are fun!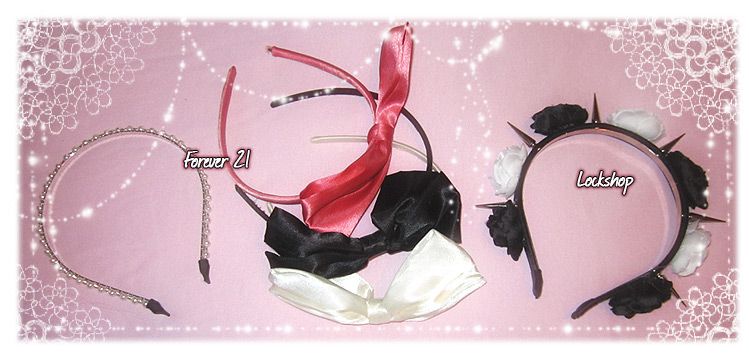 Headbands Forever 21 is my go-to place for cheap accessories, especially when I want to tone something down for everyday wear and I don't want a gigantic bow on my head. The Lockshop one was the first and only thing I've ever won in a giveaway. It's like a trophy for my head.




Hair Accessories I've been known to engage in the practice of attaching random things to my head. Here are just a few of those things.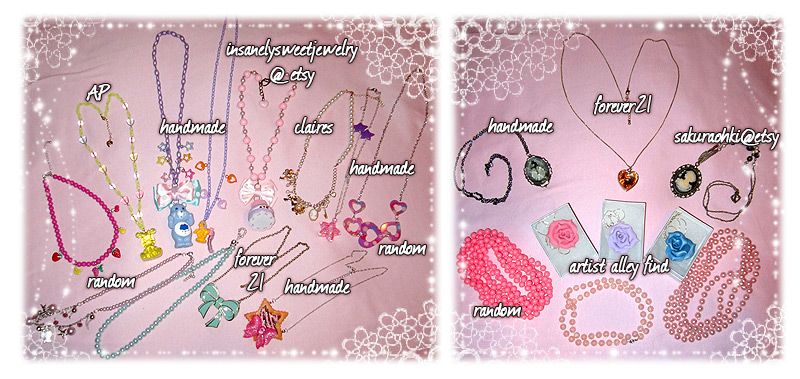 Necklaces I really would like to own more AP necklaces (and rings too) But I have a lot of cute stuff to wear anyway. :D



Bracelets/Wristcuffs Yep. Moving on...



Rings Some of my rings. I probably have more floating around, I swear I do. These are ones I wear on a usual basis... except for the snowflake one. It's too special snowflake to be worn. Hurrrrrr.

Also of note about my accessories, most things that are listed from Etsy shops (except a few of them) were mostly bought at Artist Alley tables at conventions. I'll end up talking to other Lolitas who make stuff and while I'm talking just start buying their stuff because I like it and they seemed like cool people to talk to for a minute!

So yeah, that's my wardrobe! I'm excited to see where I'll be in a year. I'm hoping to obtain a few of my dream dresses. I plan on purchasing at least one new dress with my income tax returns. Nothing in the mail right now as I've been trying to save.

SCRATCH THAT.

Waiting on:





Thanks for looking!