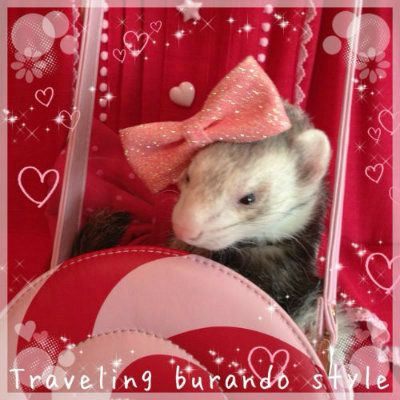 Once again my post features my ferret Franklin. He's sporting the 6% Dokidoki clip again, and he's riding in the Angelic Pretty lollipop purse against the Dream Magic OP from Angelic Pretty. I had other plans for him, but with old age, he has gained a lot of weight in his bum and my poor alpaca's legs could not hold him.

So to start, here is last year's wardrobe post if you are interested: http://egl.livejournal.com/18102779.html
I caught a good amount of sun this year so the photos are much nicer, I hope you enjoy!



I actually chose my apartment for the closet, it's such a focal point in my apartment. Panty rug is from Swimmer. My wardrobe has fallen (actually ripped out of the wall) three times. I used extendable shower curtain rods to give it more support and it's held up for a year now! Yay! I think if it happened once more I'd just move.

The dresses:


Hide n Seek with Missin' Alice JSK from Baby the Stars Shine Bright and Twinkle Carnival from Angelic Pretty
I went through hell to get the Missin' Alice dress. After not receiving it as a gift as promised, I missed my chance to buy it new. I later bought it on comm_sales to find that the dress was missing the back lace, wreaked of BO, and all the seams on the bodice were ripped. Ended up having to return it (to a very difficult seller). Finally found it on mbok. The print is just stellar. It has tea cups and cookies hidden everywhere and the cutest "white rabbit" along the border.

The Twinkle Carnival dress was one I debated on quite a bit, but after having pop up on AP for the third time, I finally decided I had to get it. Only worn it once, but damn do I love it.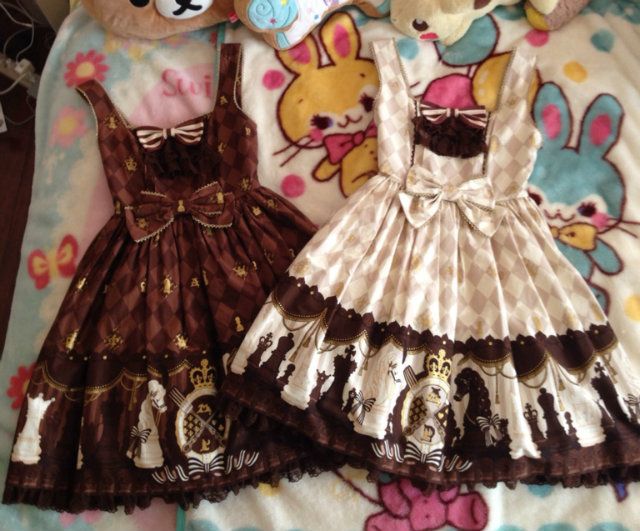 Chess Chocolate from Angelic Pretty in brown and ivory.
I love my Chess Chocolates. The brown one I managed to snag off the USA site when first released. The ivory one I got during the second release. I use to do chess competitions back in school so I fell in love with this print.



Angelic Pretty's Holy Night Story, and Polkadot Angel Pony



Angelic Pretty's Milky Berry and Cherry Berry Bunny
Cherry Berry Bunny was my first print and I just have so many great memories attached to it. Easily one of my favorites.



Angelic Pretty's dream Magic and Starry Night Theater
The Dream Magic I removed the neckties and will be making them in to a headbow soon. I just thought it looked silly with them. Still want to figure out how to lengthen it, but in the meantime I'll just wear tights.



Angelic Pretty's Milky Planet and Dream Fantasy.
I flipped my shit when I bought the Dream Fantasy lucky pack. I had been waking up in the middle of the night several times to roll over and refresh the AP page on my iPad. It popped up about an hour before I needed to be up for work so of course I couldn't get back to sleep. Didn't matter because I had such a shoppers high that day. Bought two other LPs for friends, and customs nearly put a gash through my dress D= Only got the LP bag thank goodness.



Innocent World
I just like to wear these dresses without petti's and with some cute brown shoes.



Bodyline's alice dress, and Emily Temple Cute's deer dress.
The Bodyline dress is the one Bodyline item I just couldn't part with. It's cute and nice to have around. The ETC deer dress is actually child size, but with a few adjustments it will be a cute otome dress.

The cardigans and boleros:


Top row: Angelic Pretty in ivory and wine
Middle: Baby the Stars Shine Bright
Bottom: Kidsyoyo and Angelic Pretty

The coats:


Both Angelic Pretty

The blouses:


HMHM and Innocent world
The HMHM one comes with a giant neckbow, but I don't like it. The IW one comes with a little cameo bow, but I never wear it.



Dear Celine and Innocent World
I think the Innocent world is sadly nearing the end of it's life. It is probably my most worn blouse.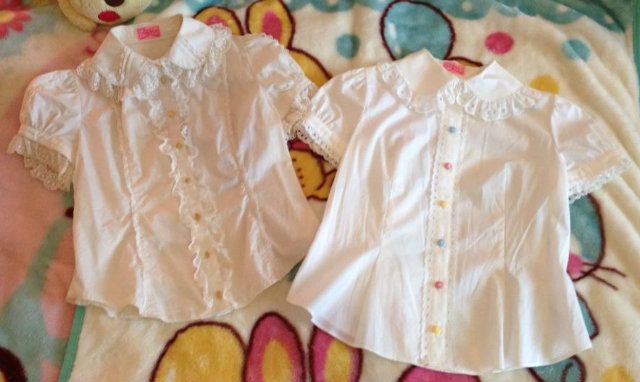 Angelic Pretty
The left one has chess lace and card suit buttons and looks just perfect with Chess Chocolate.



Angelic Pretty
The left one is almost dead... It has lots of patching, but I bought it with damages and I wear it a lot.

How I store my headbows and socks:



Headbows/hat:


The top two I made, and everything else is Angelic Pretty.

Socks/tights: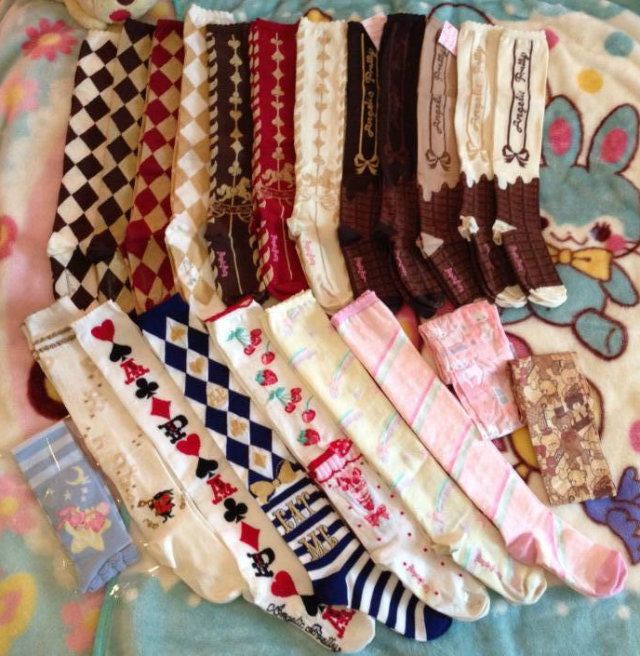 Top row: The left three are Chantilly, the rest are Angelic Pretty.
Bottom row: The Dream Fantasy socks are still in the package because I may not keep them. Next to that is offbrand, then the rest of the socks are Angelic Pretty. The tights are Swimmer. I have a large selection of tights, but not much that's interesting.
In case you didn't notice, I love the Royal Chocolate socks. I plan on reducing my sock collection soon though. I kept tags on a couple since I wasn't sure I'd end up keeping them.

Purses: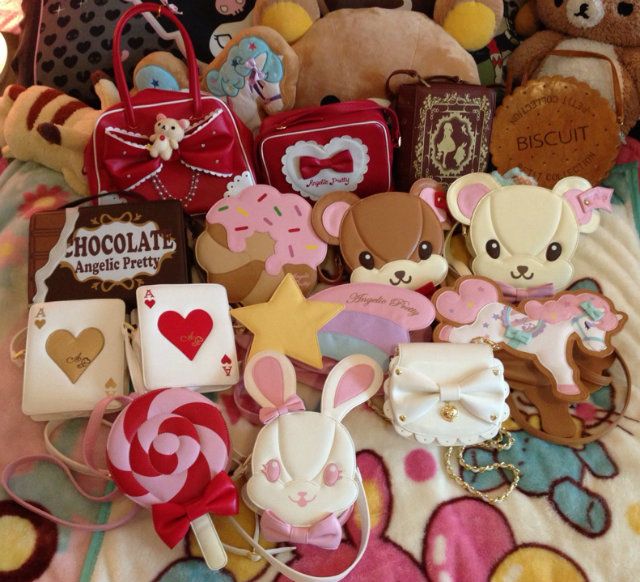 Everything but the top two right are Angelic Pretty. In the top right, the biscuit purse is Swimmer, and the book purse is Taobao.
I love purses that look like things.

Shoes:


Top: Urban Outfitters, Taobao, some mall store, some eBay store (gold heart heels).
Everything else is Secret Shop.

Parasols:


Innocent World, Alice and the Pirates, Baby the Stars Shine Bright, The right two are Angelic Pretty.
I may be selling the AatP one now that I got the IW one. The far right, the red one has candy and a bunny on it. I love it to death.




Accessory Dresser:


Once again the photo frame is empty. Need to print out something for it! The chest and purple storage are Swimmer, green drawers are Target, and the piano is Hello Kitty (still getting rid of it soon). The carriage is Swimmer. I made the necklace hanger things and am pretty happy with them. I got the pink (prescription) glasses just to go with sweet!

Necklaces:


All Angelic Pretty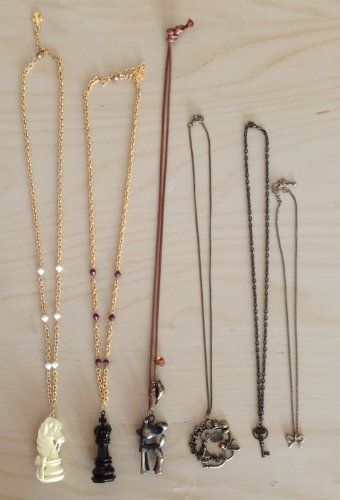 The chess pieces are Angelic Pretty, the ones on the right are offbrand.

Bracelets:


All Angelic Pretty!

Rings: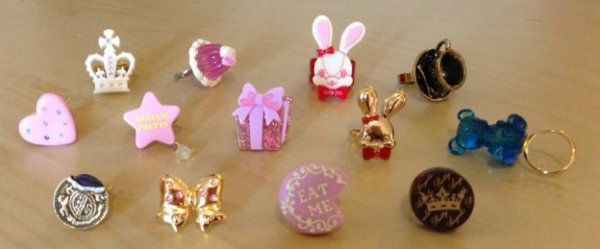 Angelic Pretty with the exception of the offbrand tea cup in the top right.

Brooches and hair accessories:


Uh, there's a lot. The red bows are BtSSB, the pink and blue stars clips and the pink bow are 6% Dokidoki, the fuzzy stars, glasses, tea pot, and blue candy are chocomint, the metallic bows are F21, the rest you can ask about, but the hair ties near the bottom are Taobao.

Other points of interest:


Just a few fun lolita-esque things I'd like to share.
Four pairs of Swimmer headphones, Swimmer cat iPod player, Swimmer iPod case, Swimmer cord wrap, angora bunny charm from the brand that makes the alpacas, Swimmer ice cream fan, Swimmer folding umbrella, Swimmer cake bunny pill case, and "the pill" case I lolified.

My collection history:
I started my collection around June '10. I bought my first Angelic Pretty dress fall of '10, and made my first order from the Angelic Pretty site April of 2011. The first dress release I participated in was Chess Chocolate in August 2011. Since my wardrobe post last year, I've worked on buying things I want new more than things that pop up for cheap on comm_sales. This coming year I hope to clear out a few things I'm not in love with and don't see myself wearing again (or ever). I've caught up on most of the things I've had on my wish list that were very specific, so I hope to buy less in the future.