*many large photos under the cut*
I really enjoy doing wardrobe posts and seeing everyone else's!
Here are my posts from previous years:
2009
,
2011
,
2012
I've been a lolita since 2006 so I've had a bit of time to figure out what I like. I spent the past year in Tokyo, close to 3 Closet Childs! My wallet is so pained but I found so many cool things.
My apartment is so crappy that I don't even have a clothing closet in my apartment so I can't share that, unfortunately.
All my clothes are on boring clothes racks!
Now for the goodies~
COATS
I found this Juliette et Justine coat at Closet Child recently and I'm madly in love! There are so many bits and pieces you can exchange. I don't know the name of it so let me know if you recognize it.
Victorian Maiden Gobelin Coat
From left to right: Target, Excentrique, Miho Matsuda
OPs
Victorian Maiden British Check OP
Victorian Maiden Velveteen Empire Dress
I got this at Closet Child relatively recently and am so happy with it! It's old, from 2001, and is so long and decadent with oodles of velvet reaching down to my ankles <3 It's a darker black in real life but the photo came out pretty light.
Innocent World Rasiel OP
I like using this as a cutsew + underskirt in one!
Victorian Maiden Forest Rose Dress
This dress looks kind of bad in stock pics so I was never interested in it until I saw it up close - it's much nicer!
Victorian Maiden Sailor Doll OP
I love the texture on this dress, too bad it's kind of tight on me.
Mary Magdalene Marie Antoinette OP
This is such a pretty dress that I'm willing to overlook a lot of fit issues it has. The arms are so constrictive :P
Millefleurs Rose Diamond OP (not official name)
JSKs
Juliette et Justine Princesse Dans Foret Robe
I'm perpetually searching for the matching bolero to this dress as my #1 wishlist item! Please contact me if you are selling it!
Juliette et Justine, name unknown.
The corset lacing and deep v-cut remind me of Renaissance ladies!
Victorian Maiden Corduroy JSK
This was my very first VM item!
Victorian Maiden Jacquard Rose JSK
Mary Magdalene Majolica JSK
I really want this in green but cream ain't bad either!
Innocent World Violin JSK
It's not the most flattering cut but it's so comfy! I miss dresses with shirring.
Innocent World Tweed JSK
Black, but shows up lighter here. It's nice to have a plain JSK for showing off tights or other accessories!
Metamorphose Gobelin Underbust JSK
I have to be loyal to my gobelin overlords XD
OTOME
This year I added to my otome collection! I'm loving everything from Jane Marple lately.
Jane Marple Clothing Print OP (not official name)
Jane Marple Tea Party Lace JSK
This is so pretty but I worry about snagging the lace on things so I don't wear it as often as I would like.
Jane Marple Logo Print JSK (not official name)
At first I thought this print was tacky but it's so nice in real life! I'd like to get some of the matching accessories.
Jane Marple Cosmetics Print Skirt
Heart E Red Riding Hood Skirt (not official name)
SKIRTS
I don't have many because typical waistbands are pretty uncomfortable for me.
Juliet et Justine Belle Pierreries Skirt
This skirt is so pretty! It was very tight so I altered the waistband to be larger - best decision ever!
Innocent World Juno Skirt
This skirt has been worn a million times and still looks great (came out a little too light and wrinkly looking here but that's just my camera working too hard).
Victorian Maiden Sailor Skirt (not official name)
It's cream with navy trim but the colors didn't come out quite right.
OTHER MAIN PIECES
Excentrique Vest & Skirt Set
One of my favorites!
Mary Magdalene Yukata
Not so easy to wear since it's not really lolita, but I still love it.
Jane Marple Musical Instruments Bustier & Black Peace Now velvet vest
SOON TO BE LEAVING :(
I'm moving back to America this year so I've got to sell a lot of things to make room. A lot of them are too small but I'd been holding onto them hoping I'd magically fit them or get them altered, but it's better to lighten my wardrobe rather than ship so many things home.
I'm still including them since they are so pretty!
Emily Temple Cute Ballerina Shopping Girl
Innocent World Antique Pansy OP
Mary Magdalene JSK, name unknown
Mary Magdalene Rose Basket JSK (Mint)
Mary Magdalene Rose Basket JSK (Lavender)
Mary Magdalene Old Rose JSK
Mary Magdalene Mille Rose JSK
Alice and the Pirates St. Mephisto OP
MILK Gobelin JSK (just sold)
TOPS
I got a little lazy about taking photos of every blouse and cutsew so here is a representative shot!
These are pics from last year:
blouses
,
more blouses
,
sweaters
,
cutsews
,
more cutsews
HEADWEAR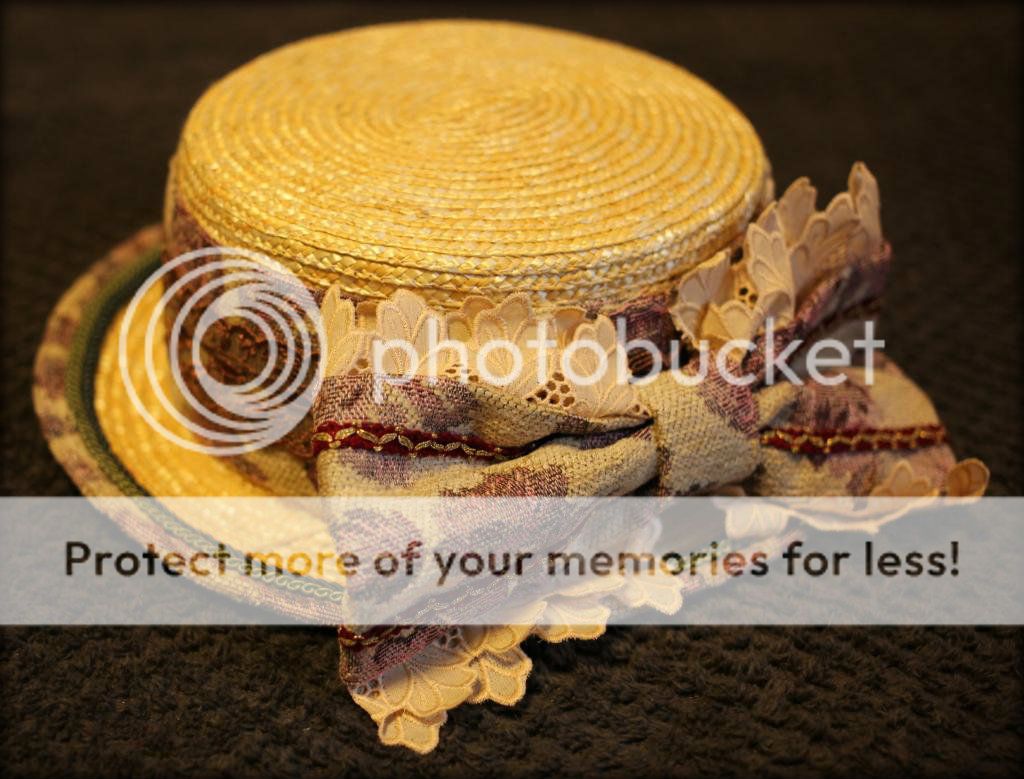 Top 2 - modded by me
Bottom pic - all offbrand except for bottom right: Innocent World
I love hats! Lately I've been modding my own hats - it's really fun!
Triple Fortune bonnet with plastic mushrooms and leaves added by me! I also made the mushroom cage necklace in the center to match.
BAGS
Top row: from Mucha mook, offbrand (Takeshita street), vintage
Bottom row: offbrand (Takeshita street), ahcahcum-muchacha, Swimmer
Top row: All Innocent World
Bottom row: Wonder Rocket, Axes Femme x 2
LEGWEAR
I have two storage boxes where I keep my tights. I didn't want to remove them all so I'm just showing some of the more interesting pairs.
Sources are: JetJ, Tutuanna, 37C, IW, ahcahcum-muchacha, Tabio, Anna Sui, Target, Walmart, Vivienne Westwood
Socks! I don't wear them much anymore and these aren't even all the ones I own :P I also have a bunch of cute ankle socks for summer.
Sources are: Jane Marple, IW, Meta, offbrand, Grimoire Verum
OTHER ACCESSORIES
I made Elizabethan ruffs as part of my and my husband's Halloween costumes. They are so ridiculous and fun to wear with lolita!
Here's a sampling of my hair accessories and gloves (some things are hiding in my apartment).
Sources are: vintage, handmade, indie brand, BL, gifts, IW, VM
This photo didn't come out as well as I would have liked but here's all my jewelry!
Sources are: vintage, handmade, indie lolita brand, Excentrique, IW, gifts
Left photo: pins I wear on my jackets, vintage and JM
Right photo: Meta Nurse Series pass case
Left photo: Moi Meme Moitie handkerchief, Right photo: VM bonnet (just bought!)
SHOES
Here's just some of my more lolita shoes, but since I wear classic I can also use most of my normal shoes.
Back middle: VM, Center: IW, the rest are offbrand
Thank you for viewing! I sometimes post on
my tumblr
too!