So I thought I'd do another one of these - there are a few more additions since last time, and I also have a dress form now!
I'm about to move to another state so going through everything (and consequentially throwing out/selling many things) has been good!
I don't expect too many new additions throughout this year as I'm doing a post-graduate diploma... no time for lolita, and I'll probably have to let a lot of these go, so consider it a kind of tribute to my closet while it's still in tact ;_;
I've been wearing/collecting lolita since 2008 almost daily and have a somewhat classic/sweet wardrobe now.
As always, click image to enlarge. Images are watermarked, do not re-upload without permission.

Fun little video we did just for something different.


Blue and Green
I find myself wearing Perfume Bottle, Le Monde De L'Ange and Biscuit print the most these hot summer days.
I suppose I find them a bit more exciting to coordinate than my usual ivory/pink/brown too.



Mary Magdalene Perfume Bottle, Innocent World Lotta, Innocent World Classical Square OP, Juliette et Justin Le Monde De L'ange
Emily Temple Cute Rue de Paris Biscuit, Infanta, Innocent World Clara, Alice and the Pirate Operetta Bouquet

Ivory, Pink and Yellow


Baby the Stars Shine Brigh Paris Windows Metamorphose temps de Fill Vintage Cherry Innocent Worl Versailles Rose Angelic Pretty
Dreaming Macaron
Innocent Worl Forest Animals Metamorphose temps de Fille, Innocent Worl Cherubim Birdcage/Rose Basket


Red and Brown
I have a weakness for red, even though it's hard to wear out without attracting a lot of attention!


Alice and the Pirate Queen's Coach Alice and the Pirate Scent of Rapunzel Innocent World, Handmade
Kidsyoyo, Alice and the Pirate Rose Jail Innocent Worl Classical Ribbon Dear Celine Misty Morning


Black + Skirts


Innocent Worl Square Yoke Doll Angelic Prett Fantastic Dolly Metamorphose temps de Fille, Offbrand
Baby the Stars Shine Brigh Cinderella Alice and the Pirate Hymn Print Offbrand, Bodyline


Blouses & Cutsews
Vowing to only buy chiffon blouses from now on, because they're cooler, thinner and prettier! Mostly IW, Offbrand and Taobao





Socks & Tights
Love socks. So much. Tonnes of ankle socks for summer! I store them in these cute boxes when my drawer is full. Not pictured, Black Milk ...


Capes, Collars, Outerwear
Not much outerwear. Too hot. I would love to own a Mary Magdalene coat one day though.




Bags, Berets, Hats
And to think I still have three berets coming in the mail >_< They're so easy to wear though! I collect vintage hats also. Queen's Coach bonnet is not pictured.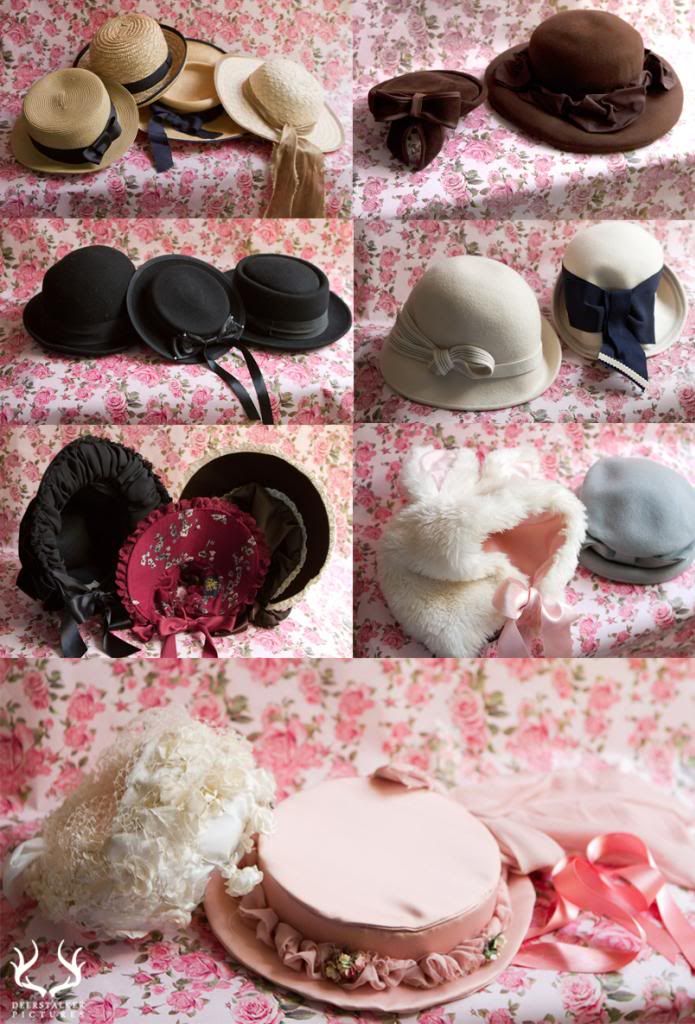 Accessories / Jewelry
I dabbled in fairy-kei a bit but I don't really think it's for me now... But the rest of it has a pretty obvious theme/aesthetic :P





Wigs & Headbows etc
Mostly natural coloured wigs. I also like flowers. I don't really own that many headbows, mostly just small bows, mostly handmade.



Shoes
Who doesn't love shoes? I mostly only wear the two pairs of Naya Jadas (left) since they're my favourite! Can't wait until it's cold enough to wear boots!
I am sad all my brown oxford shoes have been worn through the soles.



Well that was thoroughly exhausting. Hope you enjoyed it! Check back for
technotropism's wardrobe post+video soon!
I will be posting gifsets/images to my tumblr as well :) Thank you!