This is my first review and haul! As a beginner lolita, I wanted to find a lot of things for a decent price, which led me to trying taobao. Here's a review on the shopping service I used and items I got.

The shopping service I used was TaobaoSpree. Many people already reviewed them positively and here's me adding to the stack.

Schedule Rundown:
12/11/12: Sent Order to Susan
12/16/12: Order Confirmed after Cici double checked and I asked some questions. She notified there will be a wait because one item is made to order.
1/2/13: All items were recieved by Taobaospree. I asked questions and payed.
1/3/13: Cici shipped my things with EMS instructions and tracking number. Said it would take about a week.
1/16/13: Package finally arrived. It ended up taking longer because my package got stuck in US customs.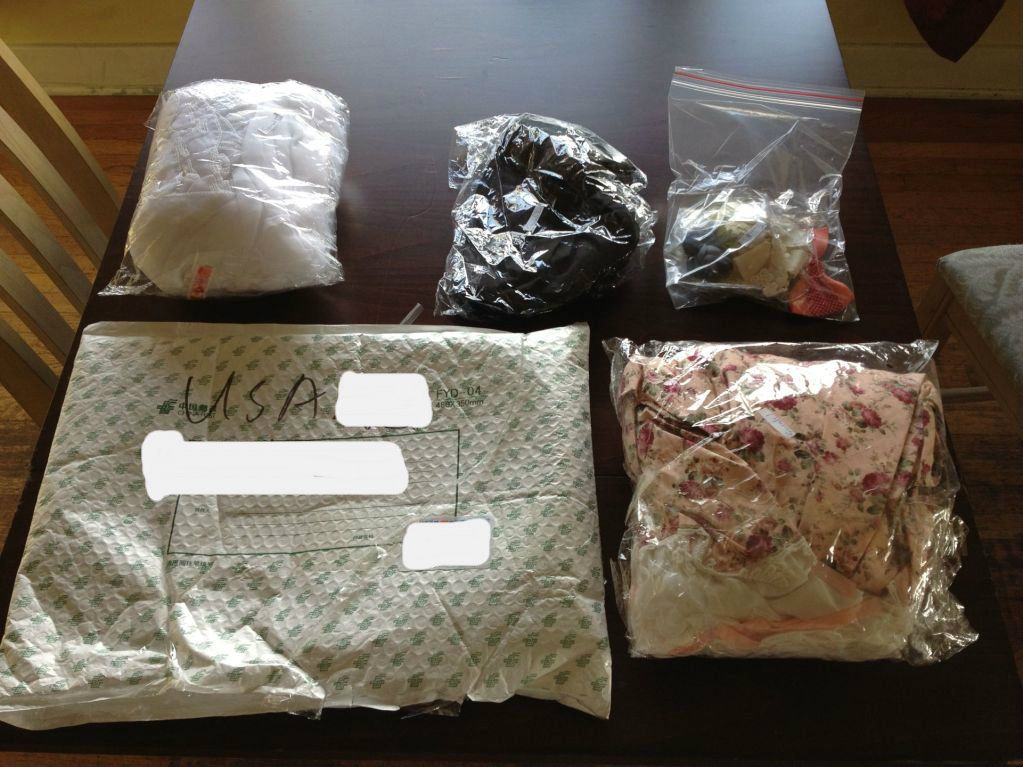 Communication: [4.5/5] My agent was Cici. She was wonderful to work with, answering my questions and order changes quickly, within a day I docked down a little because there was a point when she didn't notify me for three days after she got my first payment. I had to email asking about it, but she did apologize for missing it.
Shipping: [3.5/5] For the cost of EMS, I expected better. Like I said, my package got stuck in US customs for two weeks. Although it wasn't TaobaoSpree's fault, I'm docking because they told me it would only take a week and Cici, although she said she would look into it, didn't respond back when I asked about it. I relied more on checking the EMS tracking.
Packaging: [5/5] The outer packaging was secure with tape-no rips-and each item packaged separately.
Overall: [4/5] Besides the shipping mishap, I was really happy with TaobaoSpree! Their fees/shipping cost were a bit higher than I wanted, but it's mostly average compared to other shopping services. They are reliable and communicate well. I will probably use them again.

NOTE: ITEM NAMES WERE TRANSLATED WITH GOOGLE CHROME OR BING TRANSLATOR (WHICHEVER SOUNDED NICER)



Classical Puppets "Daily A-line" (white)
http://item.taobao.com/item.htm?spm=a1z10.3.1017-189505675.39.8oYKOC&id=10292662400&
[4.5/5]
Material: Outside layer organza(?), lining of polyester
I needed a smaller petticoat and heard of Classical Puppets being great. I'm very happy with it. Elastic makes it comfortable to wear. The only issue was a couple threads that weren't cut. It makes me want to buy all the petticoats!
I will be doing a petticoat comparison (vs. my malco modes 582) later with picture of it being worn.



The 69th Department "Low Waist Pumpkin Pants" (size L, black)
http://item.taobao.com/item.htm?spm=a1z10.3.0.69.hRzI5H&id=2934027583&
[4.5/5]
Material: Cotton
When they mean low waist, they mean low waist! Looking now, I think I should have ordered a size XL, because it is a bit tight at the waist and in-seam. Other than that, they are adorable! Stitching is neat, buttons are secure, and the pockets are deep enough to fit hands, iphone, or other things (I hate really small pockets).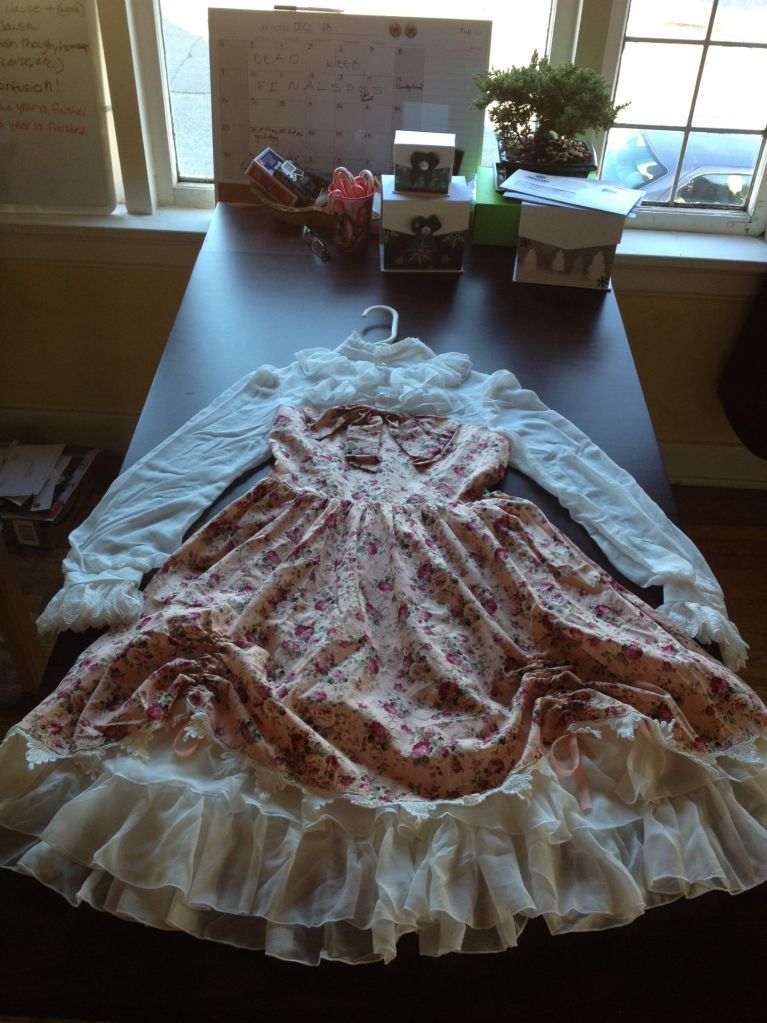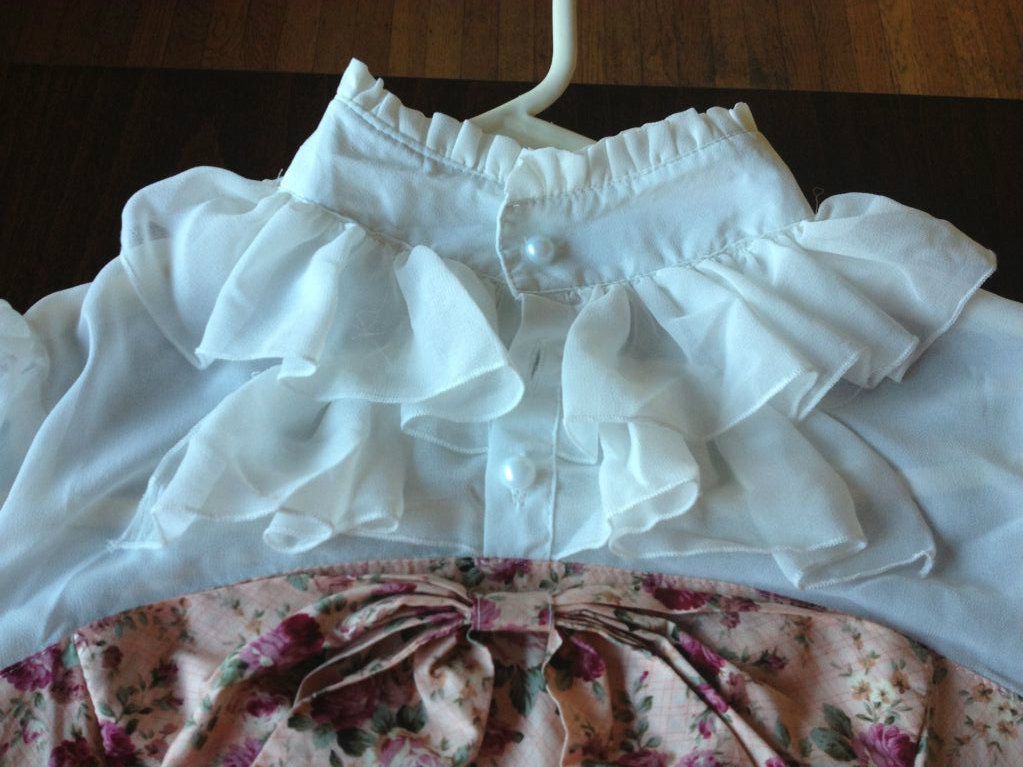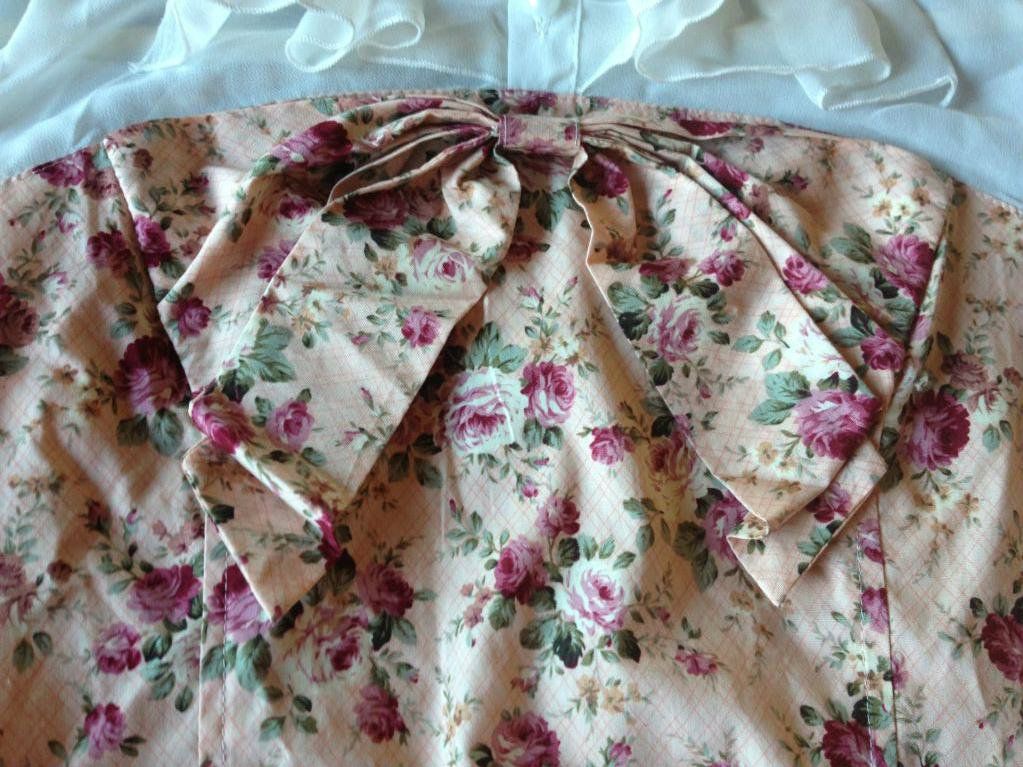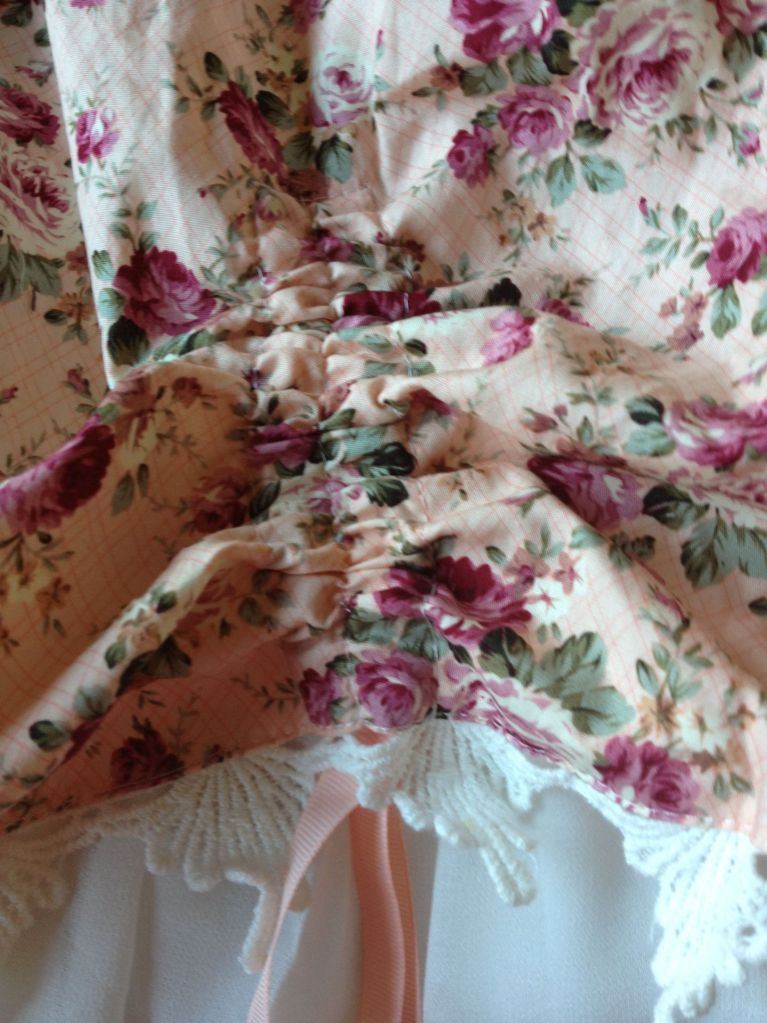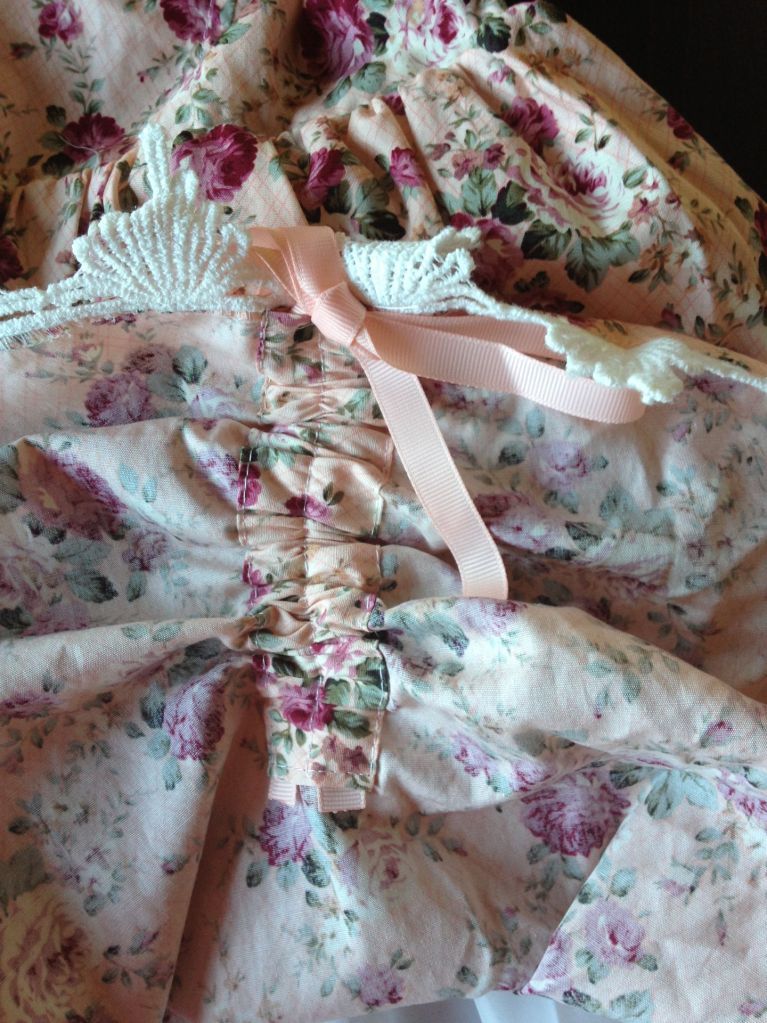 Infanta "Shakespeare Rosa Multiflora Fake Two Piece OP" (size L, pink+white chiffon)
http://item.taobao.com/item.htm?spm=a1z10.3.0.96.NI5s5V&id=16043440923&
[4/5]
Material: Blouse part/lower trim are chiffon, polyester lining only at skirt portion, dress part is cotton. There is a well hidden side zipper and the blouse closes with three half pearl bead buttons.
Pros: I love the dress design so much with its contrast of soft chiffon and bold cotton! And, because it's a clever OP, you don't have to worry about having a blouse. The floral print is really cute and I like the fact that they did line at least a part of it. There is thick, pretty lace at the dress bottom and at the sleeves. Below, there are also four small ribbon channels so you can ruche it if you want.

Cons: Loose threads. Loose threads EVERYWHERE. For the price, I didn't expect as many loose threads as I found. I counted 18 overall with most on the blouse top. The chest bow is a little loose and, although not a personal problem, one of the tails detached from the dress. Additional note: The chiffon is really see through so I will have to wear at least a tank top under it.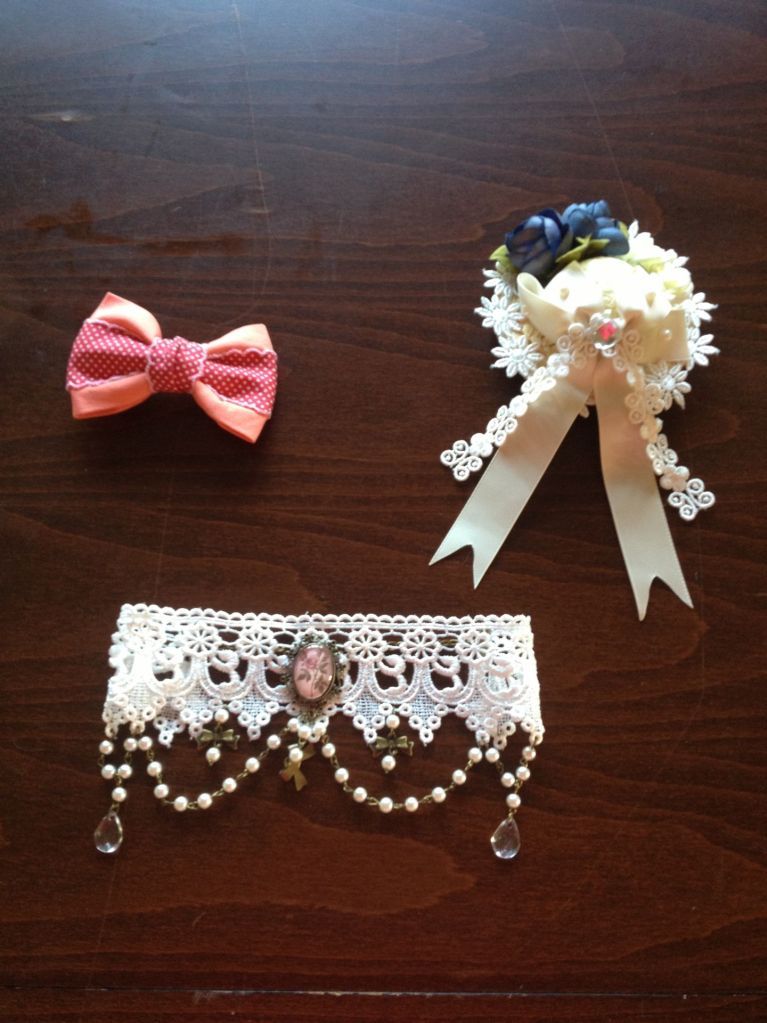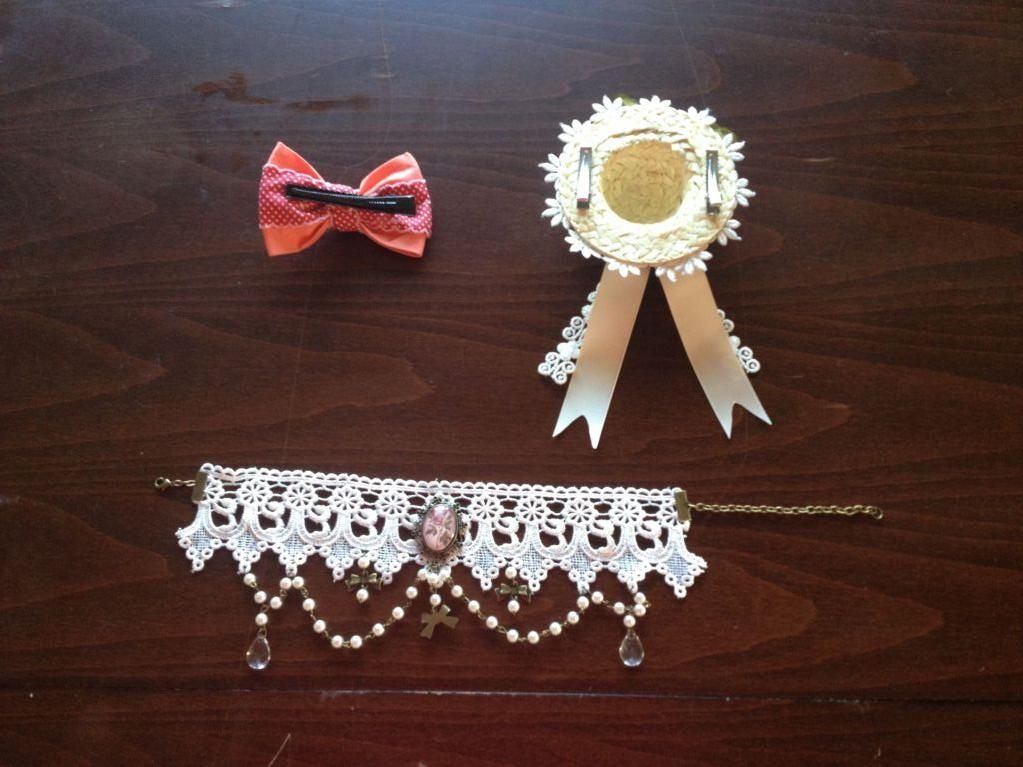 Foxcherry333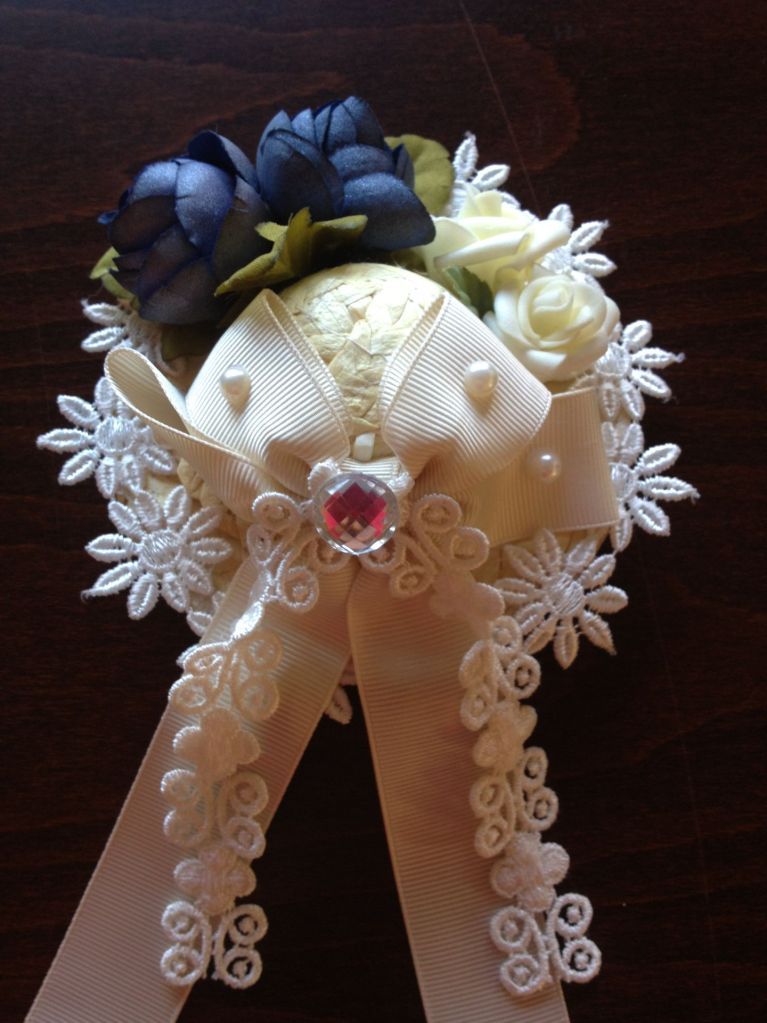 http://item.taobao.com/item.htm?spm=a1z10.3.0.100.GY8bKS&id=17297280529&
[5/5]
Hat: I love all the details on the hat! It has everything from ribbon, lace, pearls, flowers, straw without being so out there that it's unwearable. There are two alligator clips under the rim for extra security (which I need because I have really short hair) and I don't see any obvious hot glue strings.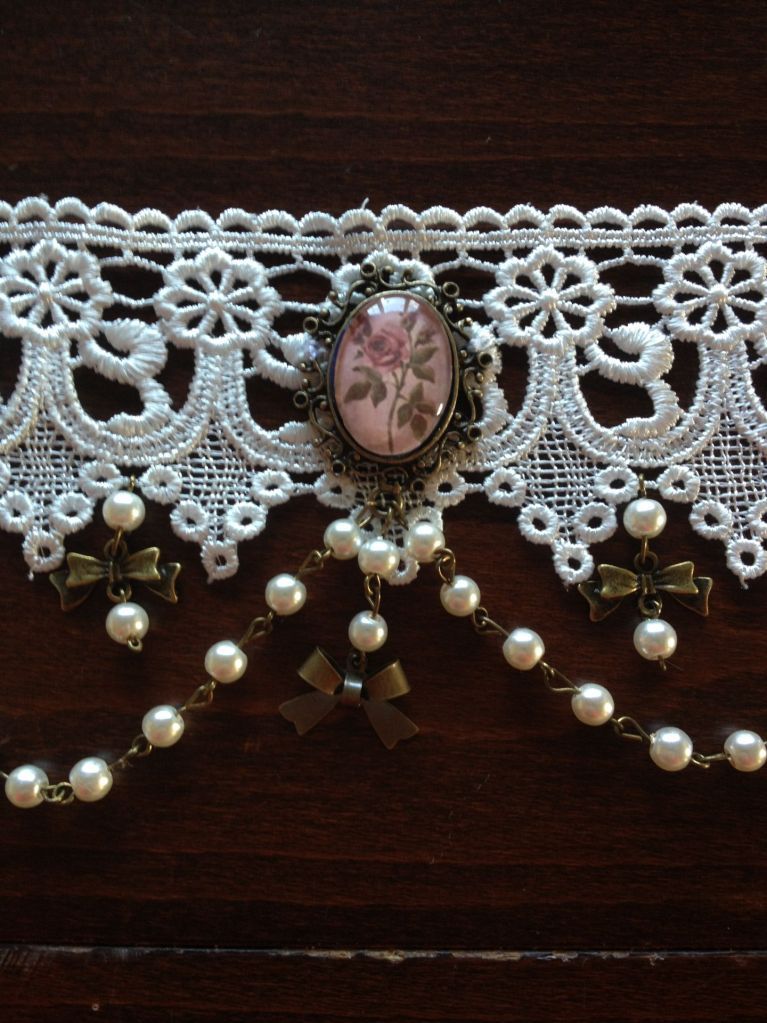 http://item.taobao.com/item.htm?spm=2013.1.0.117.hNkXaf&scm=1007.77.0.0&id=9870252793&ad_id=&am_id=&cm_id=&pm_id=
[5/5]
Necklace: The lace is thick and soft so it's comfortable to wear. I like how there is a chain to make it adjustable. There are a lot of details like the metal ribbon beads (the middle one on mine is another ribbon, not a butterfly as the store pictured), the brooch, and the pearls. Personal problem: it's so pretty and extravagant that I can't see any other time to wear it besides lolita.



Surprise: Not only were the order items great, but Foxcherry333 also included an extra bow clip! It's a simple pink bow with a large alligator hair clip. Only problem is that there is excess hot glue clump from where they attached the clip, but-hey-it was free.

NOTE: Supposedly, Foxcherry333 is on hiatus right now... Can anyone confirm or deny this?