Hello! I'm a loli who had been into the fashion since 2005 (but only really seriously been buying since '07). It's pretty big (spans over two wardrobes after I broke the rail in one, whoops!) because I am really terrible with selling things - I'm too much of a hoarder! I'm slowly moving towards creating a wardrobe that is more flattering in terms of colours and cuts on me, plus things that can be worn in a non-loli or more 'normal' way.




Juliette et Justine owns my soul! I've even persuaded Mari Nakamura to design and make my wedding dress for me *__*
(L to R) Feerie in blue (wish I'd bought the brown version!), Star Money, Murmure de L'ange.




Juliette et Justine
Swanhilde écharpe, Le monde de l'ange
Both are more green than they appear here! Le monde de l'ange is one of my favourite dresses and I adore the shimmery feathers in the fabric <3




Juliette et Justine
La Robe Antique de la Poupee, La Robe Antique de la Poupee Coat
Got these babies in the first JetJ luckypack I ever ordered, which got me hooked on JetJ <3




Mary Magdelene Perfume Bottle Doll, Innocent World Royal Library




Innocent World Ribbon Bustle. One of those dresses that I'd never have bought from just seeing it on the website but when I saw it in person in IW in Japan I had to have it because it was just so beautiful. It's now my 'weddings and other special occasions' dress!




Moi Meme Moitie (can't find the name or link to this I'm afraid), Juliette et Justine Jardin du Soir (mine was a luckypack dress and came without the sashes), Innocent World luckypack dress




Chocolate dresses! I accidentally bought two Chess Chocolates (AP) when they were released after being told by my ss she might not be able to get it I entered a raffle at an AP party to win an early reservation and got both. Whoops! Need to sell one of them but I love both colours. Angelic Pretty Chocolate Rosette (re-release), Angelic Pretty Melty Chocolate (re-release)




Alice and the Pirates Vampire Requiem corset skirt (original release), Koitsukihime/Seraphim/Stained Glass jsk (AatP version)




Alice and the Pirates: Rose Jail (need to sell this, it was a dream dress for ages but doesn't flatter me ;__:), Scent of Rapunzel JSK I (wish I had this in either the green, red, or ivory colourway but missed the reservation and got it off closetchild instead so no colour choice), Night Fairy Fantasia JSK II tried this on in Paris but couldn't afford it, so was very happy to find it on auctions a year later! Such a beautiful colour <3




Mermaids! Angelic Pretty Aqua Princess, Angelic Pretty Twinkle Mermaid (one of the many items I've seen on Herajika that made me want it, ha ha ha), Alice and the Pirates Melty mermaid Princess. I love the illustrations but didn't really like the look of any of the dress designs, however after taking the corset lacing off (I hate corset lacing) it suddenly becomes much more wearable. I kind of want the red version too now after seeing how nice it looks without the ribbon.




Metamorphose Ornament Print, Angelic Pretty Fantastic Dolly, Angelic Pretty Dream Sky




Handmade by a friend, Angelic Pretty Merry Making Party Got this jsk on sale from Maruione when the international website still existed and it's now one of my favourite dresses! Very wearable!, Angelic Pretty Country of Sweets (re-release)




Metamorphose Card Playing Kitty jsk I'm never going to wear the apron that came with this, but the dress cut, fabric and print are wonderful! Bunny brooch made by me. A la Carte Tea Time jsk, Wonder Cookie halterneck jsk.




Angelic Pretty Twinkle Tartan (another admired on Herajika purchase), Metamorphose Punkma biker jsk (surprised this isn't on lolibrary?)




Angelic Pretty Chocolat-chan Going Out Applique This was my very 1st AP dress and has been very well loved <3 I probably need to sell it as I don't wear it anymore (not my style now?) but it's so cute and unique. Juliette et Justine (Regimental striped jsk, can't find name or picture sadly), got this in a luckypack but I was accidently given size 2 rather than size 1 so it doesn't fit D: Excalibur Girls Scotty Dog jsk. One of if not my favourite dresses! Made by a seamstress/indie brand in America. Wonder Story jsk I adore this jsk so much! I made acrylic jewellery and have taken influence from most of the motifs on this dress.




Baby the Stars Shine Bright Original Cinderella print, Innocent World Frederick Trump, Btssb Alice Cards special in-store re-release




Gothic dresses! I realise how horribly paired down everything is in this photo! I took off Silent Moon's ribbon off for washing, Divine Cross's for a party and Vampire Requiem's bow off because I wanted to wear my VW corset over the top. I put all my unused accessories (waist ties, ribbons etc in a box for safekeeping but I'm terrible at reattaching when it's time to hang them back up.
sakurasheff would be furious with me!)
Alice and the Pirates Vampire Requiem (original release), Moi Meme Moitie Silent Moon, Moi Meme Moitie Divine Cross (velveteen edition)




Casual dresses: Emily Temple Cute, Innocent World, Emily Temple Cute




Juliette et Justine Amour d'amants, stupidly bought a size 2 thinking size 1 would be too tight and it's too loose on me :( need to see if anyone would trade. Atelier Pierrot Romeo and Juliette skirt (no lolibrary link, sorry!). Bought this in Tokyo Rebel in New York, I was really impressed with the fabric and print but months after I bought it I discovered that it had a hidden 3-way bustle *__* hidden bustles for the win!




Angelic Pretty Chandelier skirt. Not nearly as popular as when it was released (maybe because of the replica scamming??), but this is the best AP screen print after Puppet Circus imo; the print is sparkly, and there are little crystals on the bow. Very very happy to have found this on auctions!)




Alice and the Pirates print II. This was my very first dream dress, found it 3 years later but recently traded it for the skirt version. Not sure if this was a wise choice as the shirt is just as short on me but I can't get over my hatred of corset lacing!)




Moi Meme Moitie Chandelier print, Surface Spell




Handmade by a friend, Angelic Pretty Fantastic Dolly, Angelic Pretty Wonder Party

And finally, my pride and joys:




I've been incredibly lucky with Puppet Circus, I snagged the pink jsk on auctions for a mere Y17,000 back when Y250=£1 (Now it's about 120-130 ;__;). In the summer this one came up for sale and not only did the first girl in line drop out, but I sold the pink jsk instantly for not too much less. This one feels nearly new, I love it so much *__*
Still hope each year that AP will re-release it though! I'd love a dark green personally <3




This is sort of not quite mine yet. A bit over two years ago, feeling proud of being accepted on my masters course I got the opportunity to buy this (expensive, but still less than a month's uni fees XD).

I bought it as a present to myself and it has hung secretly in my wardrobe since then. I'm not allowing myself to wear it until the graduation ceremony just in case for some reason I don't graduate (although I've got all my results back), but hopefully it will be mine to wear soon. I'll feel weird cutting off the tags though!
(Iron Gate)




Found this surprisingly cheap on Y! auctions.
herajika let me borrow her version for a fashion show several years ago and I've craved it ever since. My lolita-naive boyfriend even said 'that looks nice on you, you should buy it' not realising the rarity of such prints XD (IG skirt)

Currently waiting for:



Angelic Pretty Misty Sky in lavender



Baby the Stars Shine Bright The Rose has a Secret Scent (secret garden) in ivory



Juliette et Justine Cadre du lapin

I love printed tights <3 I have a bit of a Grimoire tights obsession!




Designed by me (faint sheet music as the pattern), Juliette et Justine, offbrand (match the floral Moitie dress perfectly), Teja Jamilia, offbrand (Japanese)




All Grimoire




All Grimoire




Juliette et Justine, offbrand, designed by me to match Star Money (printed got the colours a bit wrong but they look okay worn)

I rarely wear them any more but I used to be an avid sock collector! They're so cute and pretty!




AP, IW, IW, IW, IW, AP




AP, offbrand, AP, Baby, AP, AP, AP, offbrand




AP, AP, AP, Chantilly, AP, AatP, IW, Moitie



I store them in boxes from IKEA but should probably buy another one as they're getting quite crowded!



Headbows. I keep bows which go with sets in the round toiletries box and all others in two Ikea boxes



I love wearing roses in my hair



My more unusual hair accessories!
(left to right, top to bottom) Now, Voyager (x3), teacups by Miwary (made into clips by me), bird offbrand, flower a gift from Lunie chan, chocomint, Victorian Maiden, needle felting done by me, Icing Sugar, cherub made into a clip by me, cakes by Now, Voyager, violin made into a clip by me, deco clip by a Japanese deco artist, 6% doki doki star clip, All chocomint except for steampunk clip made by me, birds by Now Voyager and offbrand, crochet flower got in a craft exchange.



small bows: mostly mix of chocomint, Rococo Soul and handmade/offbrand




Rings: 1st row AP, 2nd row handmade by me (Patisserie Pink), 3rd row Chocomint and other Japanese, offbrand behind that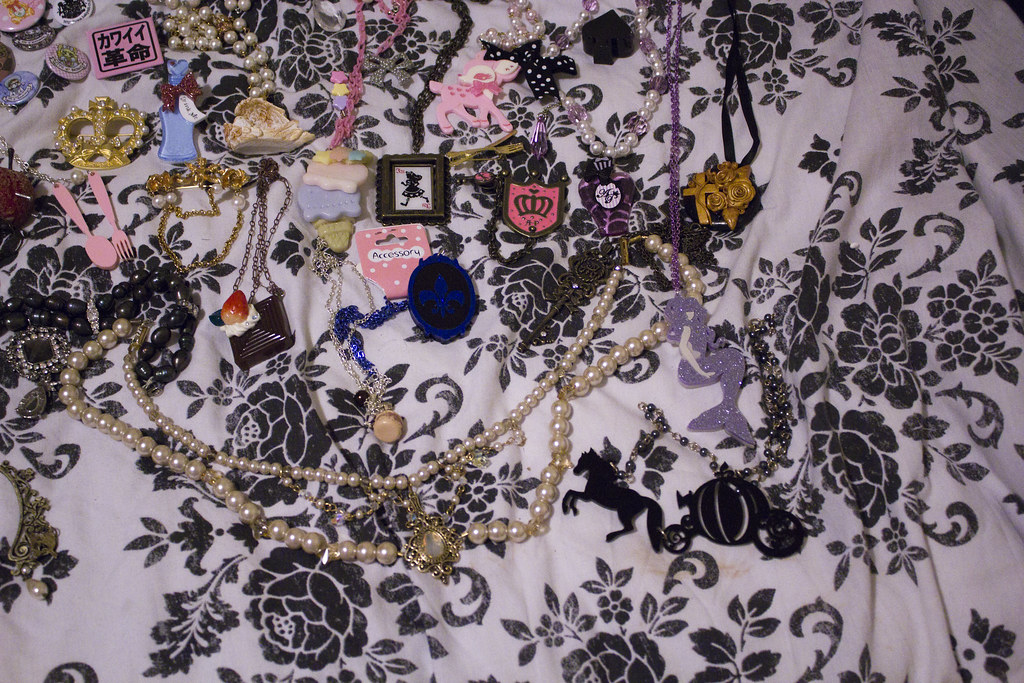 Jewellery! Let me know if you want me to identify something!