Maiden Clothing Review (No Shopping Service)
http://www.maidenclothing.net/

English order page: http://www.maidenclothing.net/mailorder_english.php

Encoding
If you are having trouble viewing it in Japanese, just change the encoding.
Safari
Top bar-->"View"-->"Text Encoding"-->"Japanese (Shift JIS)"
Firefox
Top bar-->"View"-->"Character Encoding"-->"Japanese (EUC-JP)"

If it doesn't work, try choosing a different text encoding, such as Japanese (EUC) in place of Japanese (Shift JIS).

Ordering Process
Jul 11, 2012 ~1 AM
Sent in my order via email after copying and pasting the chart on the order form.
I checked back later in the day (~3pm) and my items have been marked as sold

Jul 12, 2012 ~5AM
I receive a thank you note for my order. The email also lists the total price of my order (not the individual items), the price of postage and a credit charge.

It also states that they will be sending me the invoice through NICOS (which is what closetchild uses as well).
Payment is expected within a week and they will ship my items within one week of confirming my payment.

July 12, 2012 ~9 pm
Email from Nicos received. Email is completely in Japanese, but there is an obvious URL included that you can click on that will take you to the payment website.

The payment website is in Japanese but is fairly easy to navigate. It has a confirmation page with a blue "pay" button on the bottom. The next page has blank spaces to enter your credit card number.

July 16, 2012 ~12 am
Maiden clothing sends me an email confirming my shipment and includes my tracking number.

July 19, 2012
I receive my package in USA.
____________
Postage was 4700 yen for two skirts and a JSK (EMS shipping)
Credit Charge was 200 yen.

General Comments
Items (5/5)
The items were as described, with no flaws. However, the items I bought were either new or "had no major issues."

Communication (5/5)
The turnaround response to my email order was pretty quick.
Through the emails, it was obvious that:
1) They received my order
2) They would send the invoice through NICOS
3) They had shipped my item (and gave me a tracking number)

English was excellent. However, I'm pretty sure that the emails sent were pre-formatted emails, so I'm not sure how they would respond if there were issues regarding my order.

Packaging (3.5/5)
The items were folded and placed in plastic bags. The items were then placed and shipped in a large paper EMS envelope. During the overseas shipment, the paper took ripped in a few places.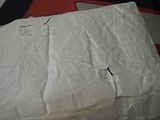 They also included some J-rock flyers in my order. (I pretty sure their main business is selling CDs/DVDs?)



Postage was also 700 yen more than what was listed on the package and on the Japanese Postal website. http://www.post.japanpost.jp/english/fee/intel/ems.html

I will consider it as a surcharge for the extra work to handle international shipments (transportation to the post office, extra time spent etc.)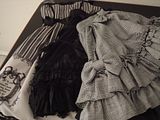 (My pretties XD)

Overall, a very pleasant transaction and I would definitely be purchasing from them again <3
However, if you prefer more sturdy shipping materials or are buying items that are easily scratched, you may want to consider a shopping service or request that they use a box for shipping.