So as the title says, I'm new to lolita (but have admired it for years) and am working on putting together my first coord. However, there are a couple problems I've come across.

Also, could you crit what I have planned so far?



I have this JSK and pair of socks from Innocent World: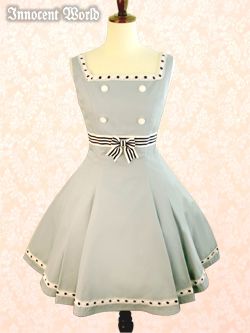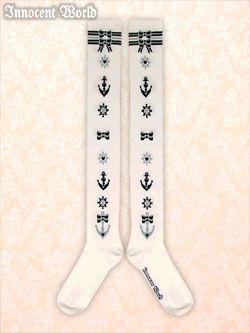 (I don't know if you can tell from this picture, but the socks are black, white and gray.)

I also have an a-line petticoat from English Charm which has a medium amount of floof. I plan to wear a plain black bow clip which is rather large and is meant to be worn on the side of your head, since I have a long-ish face and can't wear all those pretty Alice bows and bonnets as much as I'd like to. I'm not sure about shoes yet, but I'm considering a pair of black Irregular Choice kitten heels I have, which have a pointy toe, a bow and a slightly forward heel. They kind of remind me of something that would have been worn in the 1790's so I fell in love with them at first sight, being the fashion history nerd that I am. I know that you guys prefer decorative shoes and, while these don't sound like much when I describe them, they're quite unusual. I'm not a fan of lolita shoes and have a narrow foot anyway, so I wouldn't consider wearing anything like that. Other than those, I have these Edwardian-style heels from American Duchess (who you should check out if you haven't heard of her). Not sure about bags. Hair is something I'm going to have to consult my hairstylist about since I wear a hairpiece (glued on) for trichotillomania. Does this sound alright, or is it too plain?

I've been having a hard time coming up with what to wear under the JSK, though, and was wondering if anyone could help me find something. There are a couple factors that have been making this particularly difficult:

- I'm very busty with a small bone structure - 32DDD/E. Buttons usually don't agree with me, and most of the tops I've encountered have buttons on them. High necks aren't flattering either, but this seems to be a common feature of lolita tops too.
- I live in the South, but I'm from Cleveland originally and still can't get used to the heat down here even after having been here 11 years. Short or no sleeves would be preferable since it rarely gets cold enough for sleeves imho.
- I have issues wearing certain fabrics. While lolita blouses are gorgeous and I'd love to be able to wear them, I just can't do it. I had to wear a blouse as part of my uniform at school (Catholic school K-12) and it was torture. So I guess I'm looking for a cutsew?
- I'd rather not have puff-sleeves, but this isn't absolutely necessary.
- Buying from a western company would be preferable because of shipping costs and all that, but I'll buy brand or Taobao if I absolutely fall in love with something.
- I'd rather not spend more than $65 but, again, I'll go over if I absolutely fall in love with something.

And as I said before, I'm very new and haven't posted before so please forgive me for any newbie mistakes. I read the rules but admit I haven't lurked much.