Hi! Before my trip to Barcelona, I had posted a question here on EGL about Madame Chocolat. http://egl.livejournal.com/18520880.html

Now that I'm back, I wanted to post a quick report on the shop.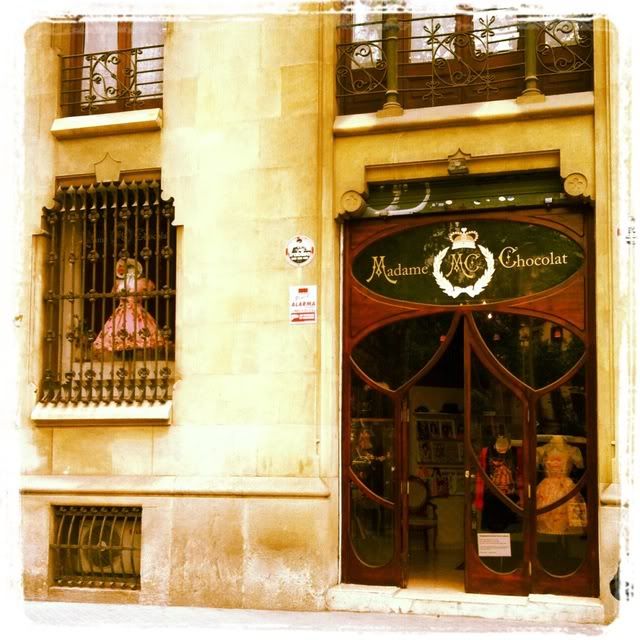 It's a very pretty little shop! Actually, the entire city is full of gorgeous buildings, so it's no surprise that this shop was beautiful as well.

When I asked about the shop here on EGL, people said it looked like the shop sold knock-offs replicas. They do! Well, some are what appear to be replicas--they have tags that say "Angelic Pretty" but look a little off. The tags are sewn in a way that makes them look triangular; I have some AP, and the tags don't look like that. They also sell stuff that is just off-brand but not replicas. For example, simple lolita dresses in solid colors by brands like "Pretty Princess" or whatever. Those don't appear to be replicas of anything. On the other side of the shop, there's a rack of used clothing that's not off-brand but they didn't have any dream dresses. They sell shoes in both the new and used areas.

They have a decent selection of accessories. Not replicas of brand, just simple plastic jewelry for sweet lolita or steam punk. They had a few items from Kreepsville 666, too. I bought a few rings. They were only 2 euro each! They also gave me a pin with the the shop's logo.




The flyer for the shop says they carry gyaru brands but I didn't see anything gyaru. Same for steampunk, with the exception of some accessories, like goggles and jewelry. They do have stuff that could be considered fairy kei.

They also sell dolls and doll clothes.

If you're visiting Barcelona, I'd recommend visiting the shop! It's in a cute neighborhood that I wouldn't have visited otherwise. It's only a block from the brick Arch de Triomf and walkway. There's a cute outdoor cafe on the corner across from the arch where we had espresso drinks.

*Sorry for the Instagram/Stitched pics!

EDITED TO ADD LINKS:
http://madamechocolatbcn.blogspot.com.es/ --> blog
http://www.madamechocolat-shop.com/ --> on-line shop
http://aliceroombcn.blogspot.com.es/ -->The website for the alice room
http://dolly-market.blogspot.com.es/ --> dolly market website

Thanks
kaisui_san !