Hello, hello! Dear lolitas worldwide,
I wanted to share my experience organising and attending the Moripop Afternoon Delight High Tea Party
that was held in mid-April in Adelaide. Inspired by the very exciting tea parties held by Angelic Pretty and
Baby, the Stars Shine Bright, we decided to hold the tea party at a lovely restaurant called Swish,
which is found at the Stamford Hotel in Adelaide CBD.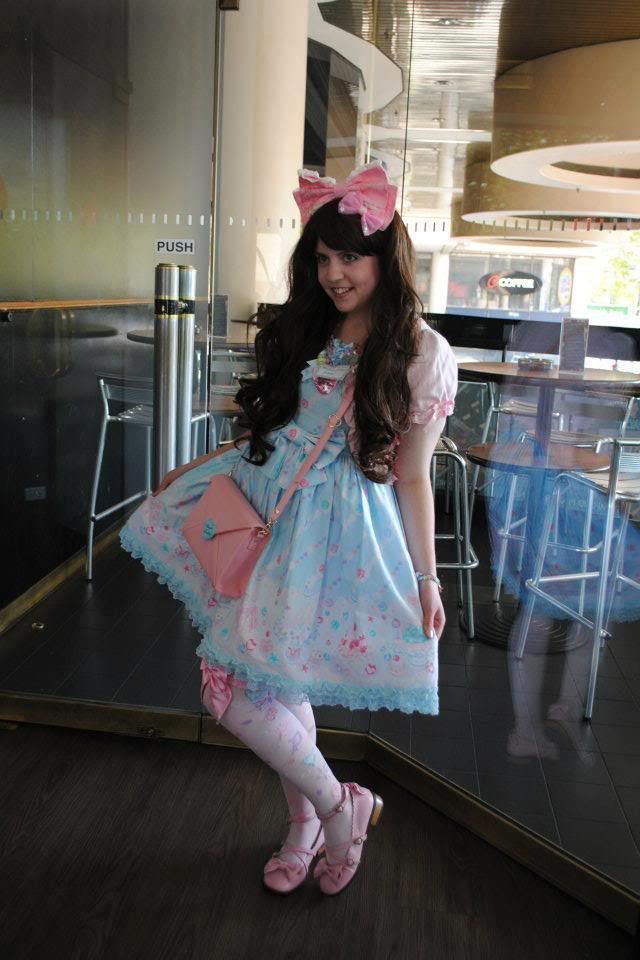 My sister (
Moripop
) and I (
2tspofsugar
) were the main hosts for the afternoon, and we decided to twin
in Angelic Pretty's chess chocolate. But we had the most lovely team of prize contributors:
Lauren in Metamorphose's Tales of the Woods (
SparklePeach
) and
Lindzi in Angelic Pretty's Jewellery Jelly (
Hologram.world
) as well as
the very talented artist: Thaleia in Innocent World's Grazia Crown (
her tumblr
)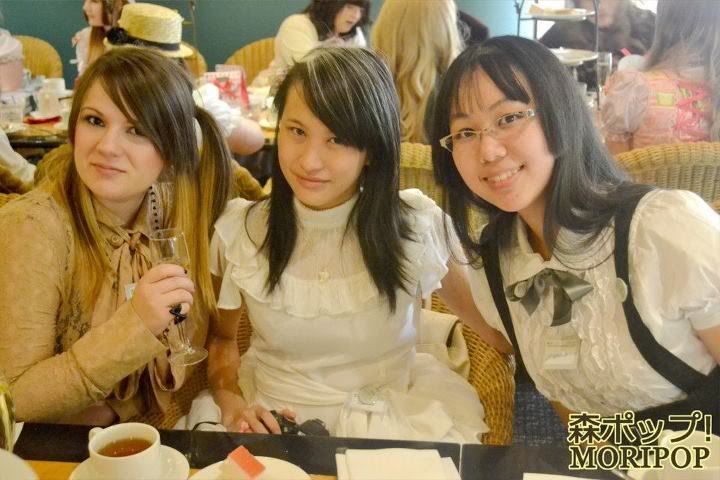 Each attendee was presented with a small gift bag upon arrival which consisted of a menu and event programme,
an events pin (Moripop), bow hair tie (2tspof sugar), plastic bow ring (SparklePeach), a specially design
postcard (Thaleia) and a handful of sweet chocolates. Everyone looked so beautiful in their preferred lolita style~
After a glass of complimentary champagne, we were served three tiers of very delicious high tea food.
Beginning the the savory sandwiches, curry puffs and mini quiches, we quickly moved onto some scones
with jam and cream and some cute mini strawberry waffles. To finish the meal, we enjoyed a mini fruit
tart, and the choice of a chocolate tart, strawberry mousse slice or fruit pie. Perhaps the downside was the
actual tea; we weren't given any choice and it appeared overly weak. But the overall, thee food was very good~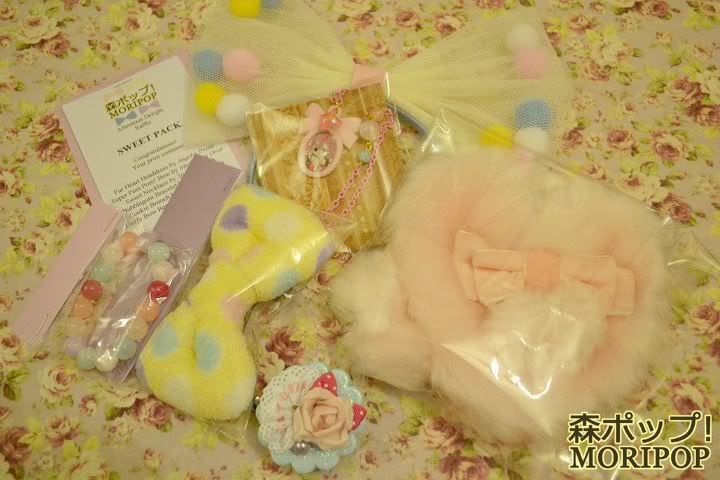 Sweet Pack: Angelic Pretty fluffy heart headdress, pompom headbow by Moripop,
polka dot bow barrette and cookie brooch by Hologram.world, cute cameo necklace and
bubblegum bracelet by SparklePeach.
Classic Pack: Baby, the Stars Shine Bright red tartan headbow, floral crown headdress and teaparty
teacup brooch by 2tspofsugar, rose necklace by SparklePeach and a cookie brooch by Hologram.world.
And here are the winners of the Sweet pack and the Classic pack, Marian and Lulu looking
super excited and happy with their gifts~ Well, I guess crossing your fingers and toes really paid off!
The Grand Prize: Metamorphose Sweet's Time JSK and matching barrette, a cute Morning Glory pink bear
rucksack, a teaparty teatime brooch set by 2tspofsugar, up up and away brooch by Moripop
and some cute nail polishes donated by SparklePeach. The very lucky winner of the major prize
was Anna! Congratulations, my dear!
If you want to see more photos from this event, please check the Moripop facebook page
here
~
Thank you to all those who attended, I hope you all had a wonderful time!