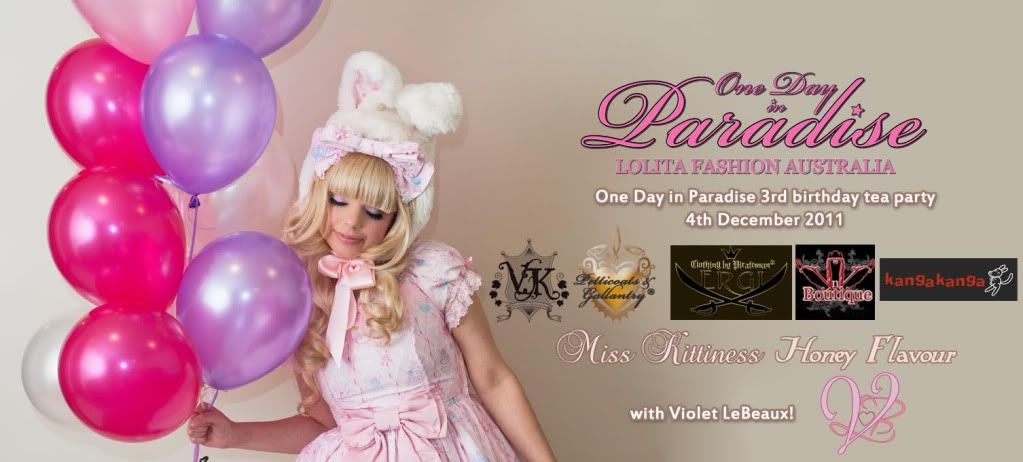 One Day in Paradise
celebrated its 3rd birthday with a fantastic party on Sunday 4th December 2011!
40 members of the Melbourne lolita community crammed into the
Visage n Vice Boutique
and caught up with friends and met some new people!
Many thanks to the fantastic sponsors for this event:
Miss Kittiness
,
Ergi
, Honey Flavour,
Kanga Kanga
,
Petticoats & Gallantry
,
Victoria's Kingdom
and of course, One Day in Paradise.
we caught up with friends (we got 30 people in the back at one stage)
ate lots of mini cupcakes and macarons
watched some card tricks, courtesy of Jorge and Jess...
and danced the afternoon away to K-pop! Special thanks to Mitchell for his sounds and skills.
below is a video of the event (please excuse my excitement, shown with a wonky bunny hat throughout)
and I would like to thank everyone who supported this store in 2011, either by attending the booth at one of the 8 conventions it attended, supplying stock, commissioning items, buying or letting their friends know about the store.
Shortly I will be making an announcement that will see me stay in Australia for quite a while yet, putting off my long held dream to live in Kenya... and will ensure this will be One Day in Paradise's biggest year yet.
Please join us on
Facebook
,
Twitter
and
Tumblr
so you can be the first to know!
permission to post given by
milkteamilk