Hey everyone, I hope no one minds another review post ~
This time I'll be looking at Coquettish Tiara. I stumbled on the online shop some time ago and I do recommend checking them out if you haven't already. They have a really wonderful selection of handbags that would work very nicely with Lolita and other fashions, which is awesome, because I always have the worst time when it comes to finding handbags and shoes to go with an outfit.
I hadn't seen too many people reviewing the shop, and all of the feedback that I found about them seemed relatively positive. They were having a sale [ I believe it's still on going ], and since they had a bag that would work for what I needed, I decided to give them a try and share my experience with them here.
Jan 27: I placed an order for this bag [ link ] in white with Japonica, since Coquettish Tiara doesn't ship directly to the U.S. I sent them an e-mail with the details of my order using their Order Form format and received an automated response within the hour that same day saying that they had received my e-mail. [ If you have never ordered through their service before, or find the process a little confusing, I recommend checking this link out. It breaks everything down very nicely: link ]
Jan 28: I received a bill through PayPal for the bag, which was the sale price of the item, plus the tax, plus the PayPal fee as well. I paid this on the same day I received it.
Jan 30: I hadn't received any messages from them other than the automated response, so I decided to send them an e-mail of inquiry to see how things were going. They returned my message that same day to tell me that they had just placed their order for my item, and they would send me a Packing/Paypal invoice as soon as the item arrived at their office. They gave me a membership number to be used in the mail subject field when it was time to make my deposit. [ There are step by step instructions on their site regarding how to properly fill out the deposit field
Jan 31: I'm not sure what my brain was smoking, but I accidentally sent them an additional payment of ¥1,200. They refunded me that same day, so I'm glad they were honest about returning money that they could very easily have snuck into my order somewhere.
Feb 1: I got an e-mail saying that my item arrived at their office and that they would be sending me an invoice the following day. Yay!
Feb 2: I received an e-mail with the invoice, just as promised, and a smorgasbord of numbers. All together, I was paying for the subtotal of the bag, their commission fee, EMS, and the paypal fee. I'm not adding all the numbers together here, the total was painful, but I anticipated it would be. Now, from that large number, my deposit [ the first payment I sent to them ], was subtracted from it, since I'd already paid that portion of it in my first payment. The remaining total was the second payment I had to send to them. I did that the same day and received an e-mail within that day that my payment had been received and that my item had been shipped out. The date they gave me was 2/3/2012, but they're a day ahead of us, so that is probably something to keep in mind if they send you time-travel-tastic dates. Included in the e-mail was the EMS tracking number and the site where I could track the package from.
Feb 3-5: Everything went very smoothly while I was tracking it and the whole process had no problems up until the 6th.
Feb 10: Once my package got into the country on Feb 6, it sat in customs for a bit. I figured that was that, and it would be on its way to me very soon. Four days went by and I still hadn't seen my package. I decided to check the tracking site again to see what was going on, and the message in the Status section said it was in "Retention." I had no idea what that meant, but I figured it meant I was going to have to pick it up in person otherwise I would never get it.
I gave the post office my tracking number and they handed my package over to me, finally.
Now with the boring stuff out of the way, onto some pictures ~
My bag came to me in this giant box jammed with a surplus of packing material. I'm pretty sure 70% of the box was stuffing, which was great, because on one side of the box it had been really beaten up. There was also a cardboard strip across the width of the opening on the inside that I assume was put there to help the box keep its shape so something wouldn't crush it so easily.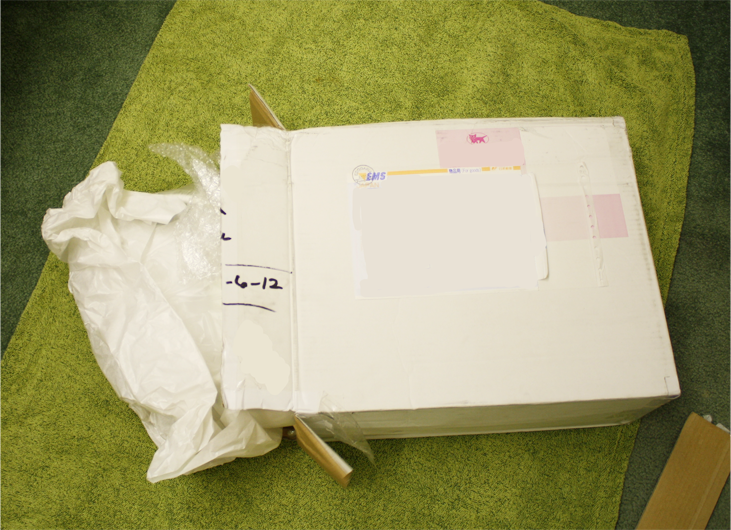 I also appreciated that they stuffed the inside of the bag, so it would keep its shape during its travel, along with wrapping the detail on the front of the bag with cardboard. On top of that, the entire thing was covered in layers of plastic.

It took a bit of time to get it free from its cage, but it was well worth the wait. This bag is exactly like the picture, wonderfully made, and is a nice eggshell white color. It has little gold "feet" on the bottom, so when it's placed on the ground it won't fall all over the place as much. The inside is extremely roomy as well. I can fit my sketchbook in here [ it's smaller than 8x11, I can't remember the exact size though ], my pencil case, cell phone, car keys, wallet, hand lotion, fold up headphones, Ipod, candy and probably a lot more things inside the two little pockets on the inside and the main part of the bag as well. There was a business card in one of the inside pockets, which you can see in the picture below.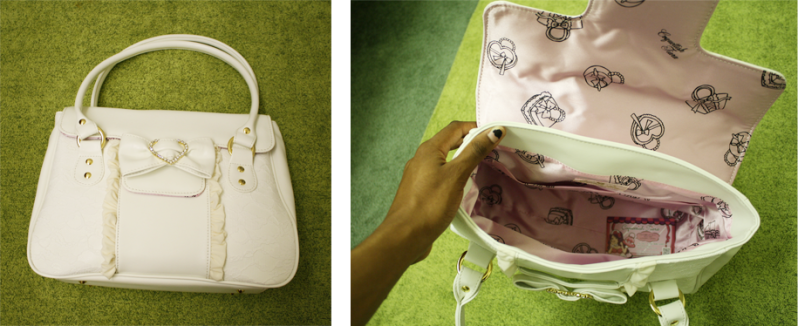 There's also a zipper pocket on the back that I can reach my hand all the way inside of.
It doesn't have a zipper closure at the top. Instead you have to pull the "flap" part at the top through the loop that's behind the bow and heart detail on the front. I was a little wary of this, but the hold is pretty nice due to the material it's made from.

Overall, I am very happy with my purchase. It's a nice sized bag for a Lolita that wants to carry around a little more than just her phone and a wallet without having to resorting to something the size of a trash bag.
Coquettish Tiara, for its prices, sent me a really great item of wonderful quality. No crooked seams, no loose threads, no dirt on any of the parts, absolutely perfect.
Japonica also had exceptional service, answered all of my e-mails promptly, politely and in legible English. My order details were organized, easy to read and understand. Nothing is hidden and there aren't [ or shouldn't be ] any hidden fees or surprises with them.
I will definitely be using Japonica's service from now on as well as ordering from Coquettish Tiara again in the future.
That's the end of my little review, I hope this was helpful to some of you! C: