I decided that I would do a review on the Metamorphose parasol I had that came to me in the mail today! I haven't seen any reviews for Meta parasols before (nor could I find them when I searched), so.... Without further ado, here's my first review!






(My proof is the can of Mountain Dew. I loves me some citrus-flavored beverage.)



1. Shipping - 3.75~4 / 5

Now, when I recieved the notification from my university that I had a package, I pretty much just fangirled. I was so excited to get it (Turns out I also had a shipment from Sock Dreams and my new petti, as well, but that's besides the point--I wanted this more!). Shipping was extremely fast. I ordered it only four business days before, and it was already there! (Then again, I was charged a LOT for shipping, so I suppose I should be grateful it arrived so quickly.) So after skipping accross campus (a feat in itself--it's February and freezing out, it was WINDY today), you can imagine how surprised I was to get this: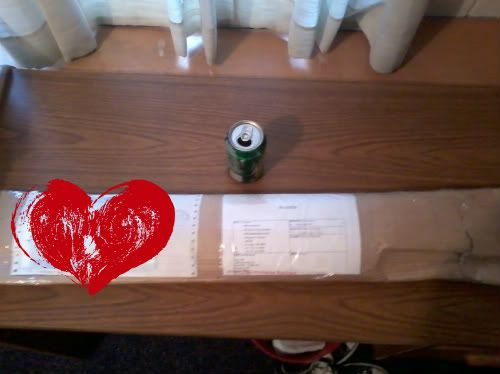 (Heart blocks out my address)

....Now, if you look on the far right hand side, you can see a rip. This one was covered over with tape--which tells me that it likely happened BEFORE shipping. That worries me a tad.... Plus, there was the fact that it was wrapped in very flimsy "cardboard" that is closer to thick paper. I understand that shipping in a hard cardboard box is more expensive, but I expected something a little... sturdier. When I looked on the other side, it got a little worse.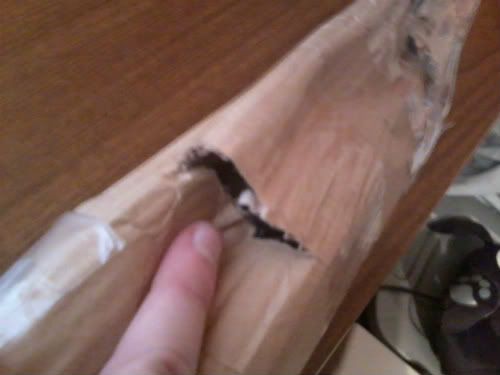 I found three rips around this size on the package along one edge. These were really the only defects in the outside packaging that I could find, but they were major flaws. There were also a few more rips along the bottom that had tape over them--again, telling me that they were likely there before shipping.

The rips were likely from customs, as pointed out from below; doesn't make it any less worrisome (the customs officers could have taped up all of the rips they made, rather than just a few; these were pretty sizable), but it isn't really Meta's fault (other than perhaps using a sturdier packaging).




The inside of the package appeared to be unharmed, however, and the parasol itself was wrapped liberally in bubble wrap. It was a major pain to get off, actually!

Overall, I had to take a few points off because of the packaging; it was just a little worrisome to me! I don't know if this is how all brands ship parasols (I know some won't even ship them to the States), but it was a bit scary for me.



2. Communication - 5 / 5



I really had no need to contact Metamorphose directly, since it was shipped so quickly. However, they sent me an order confirmation almost immediately, and a tracking number within hours after I placed my order! I ordered the parasol around 10 PM, and had recieved a shipping notice around 6 AM the next day. I was really impressed by how quickly they shipped it.



3. Quality 4.4 / 5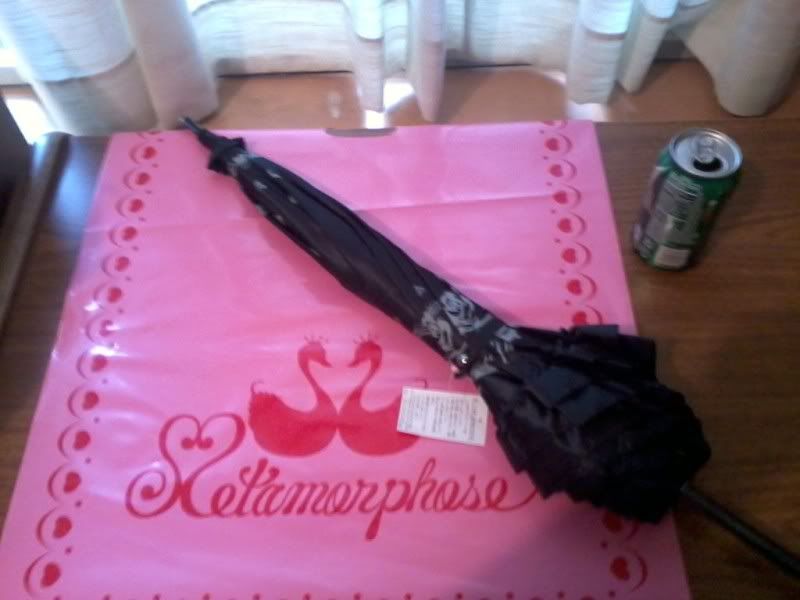 Once I had gotten through the packaging, I noted that the pink thing was actually one of their shop bags. It confused me a little, why they would bother to put one with a parasol, but it was cute, so I kept it. I'm sure I'll find a use for it sometime!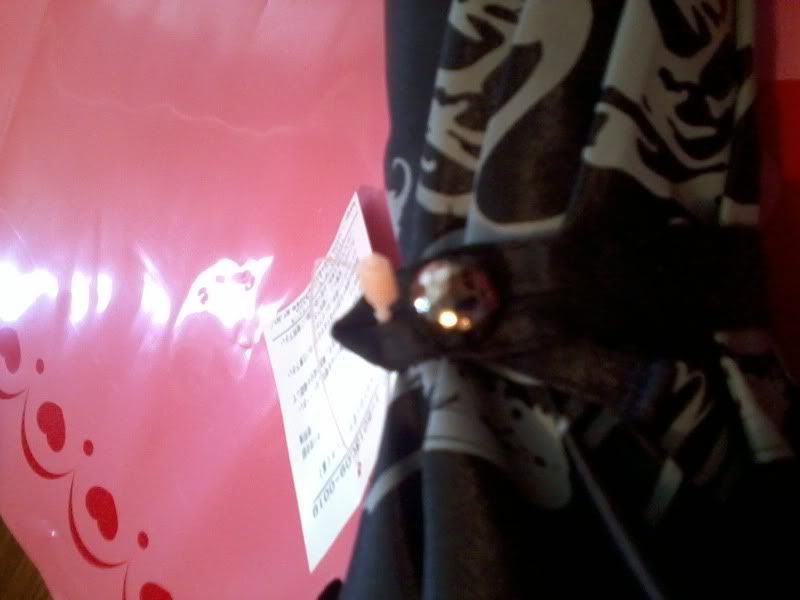 The closure of the parasol is a cute little bead. It has little dimples all over it that make it a little sparkly accent.... My camera really doesn't do it justice. It's actually surprisingly sturdy---they sewed it on very well. It's not going anywhere!!!!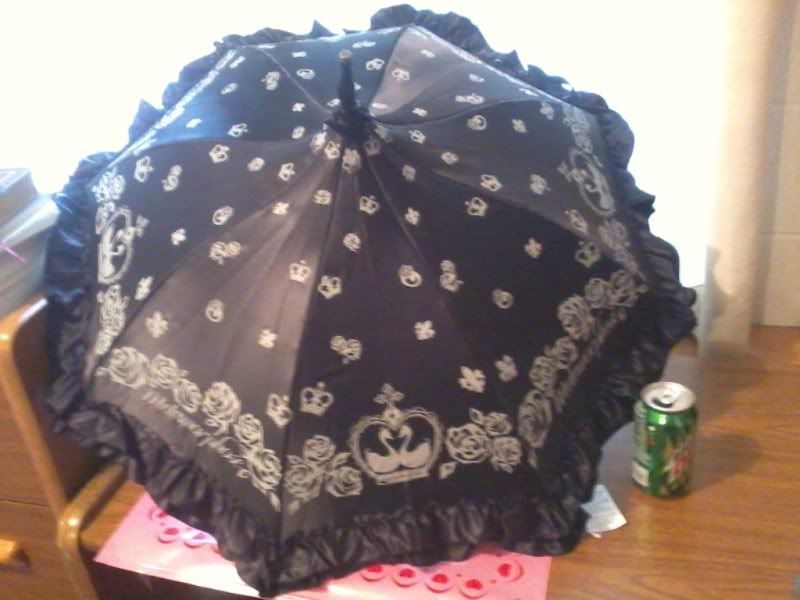 And this is the entire reason that I ordered the umbrella. The print is simply gorgeous! I love the swan logo and the roses, and the little crowns are just too cute! I like that the colors will go with just about anything in my wardrobe. It might be hard to tell, but the print contains little fleur-de-lis (not sure if I spelt that right) as well as the crowns. Very elegant, and very pretty! The print shows no signs of defects, and is perfect. The ruffles around the edge are also very even and well-made, and add an extra dash of cuteness.

The material is actually waterproof, so this doubles as an umbrella! It's very solid, and blocks out a lot of sunlight. I have very sensitive and sun-hating skin (I swear, I must be half vampire sometimes), so this will be perfect for me. I'm going to be spending a semester in Italy beginning at the end of the summer this year, so some extra sun protection will be really welcome!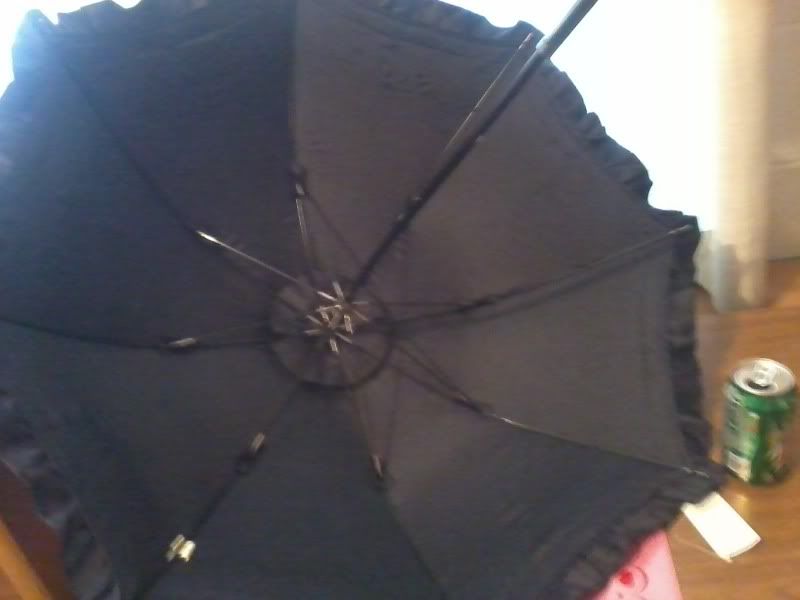 And here's the underside of the parasol. It's very lightweight, and this is what worries me a tad; I'm worried that it might be a tad too light. I'm almost worried that it will break!

There is also an ever-so-slight bend to the umbrella pole (the part that attaches to the handle, but further up, towards the web-part). I'm not sure if this is intentional or an effect of shipping it in that flimsy packaging; if I could have confirmation from someone else one way or the other, that would be great, but it doesn't really bother me.

The parasol is also a little smaller than I expected, but I actually like its size; it will make it a little less cumbersome in large crowds and small spaces, like Italian alleyways.



4. Overall Experience - 4.5 / 5



Overall, I'm satisfied with my purchase; it seems a tad expensive for what I recieved, but I suppose that's the curse of buying from brand! The order, including shipping, came to 8100 yen, which is roughly $106 US. I love the print and, overall, it seems like a great parasol; I won't be using it in the rain, though! Especially when I live in somewhere so windy. I'll probably only use it on calm days. Despite the shipping issues, Meta was very courteous and quick, and I would recommend them. I hope this review helps others!!!