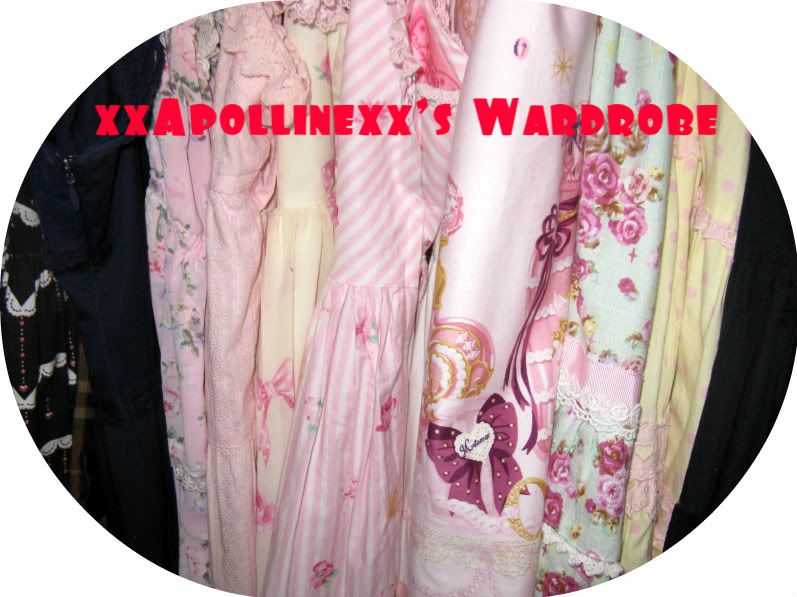 First off, I want to just say that I LOVE this theme! Looking at everyone's wardrobes this month has been incredibly inspiring, and so although mine can't compare to some of the more jaw-dropping ones that have already been posted, I thought I'd share it anyway. My wardrobe is not huge, but I am really proud of it, and I absolutely love it all!

For background, I have been in lolita for about five years, but I only had a few pieces until May 2010, when I finally had the funds and the ability to start amassing a wardrobe. My first brand piece was also bought at this time, so that is when I really consider myself to have "started" in this fashion. This collection is almost entirely made up of things I've collected since then.

I want to start by showing you where and how I store my things, because I always find that interesting! While I am at school, I am renting a basement apartment with my boyfriend. It's a two-bedroom place, but we've converted the second bedroom into a study/lolita room! :D Below are some pictures of my favourite place in our home.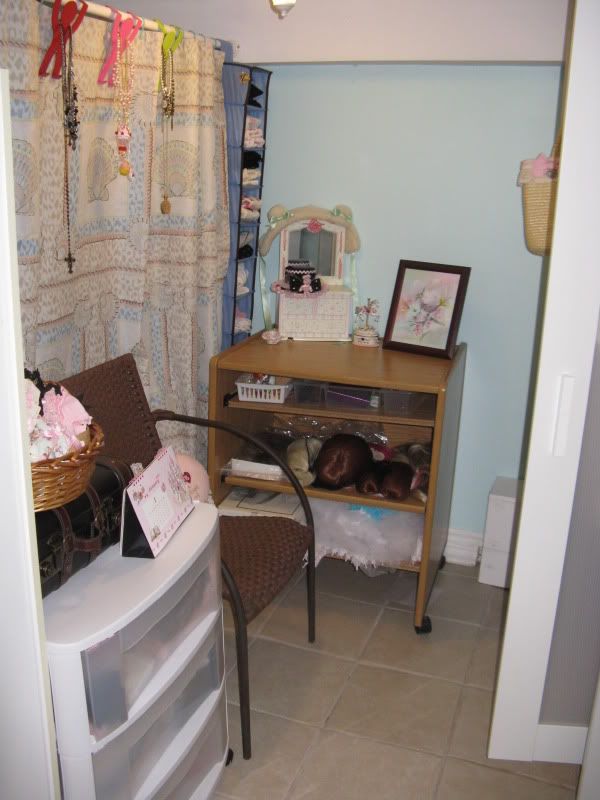 This is the corner of the room that is dedicated to my clothing. It's small, but functional.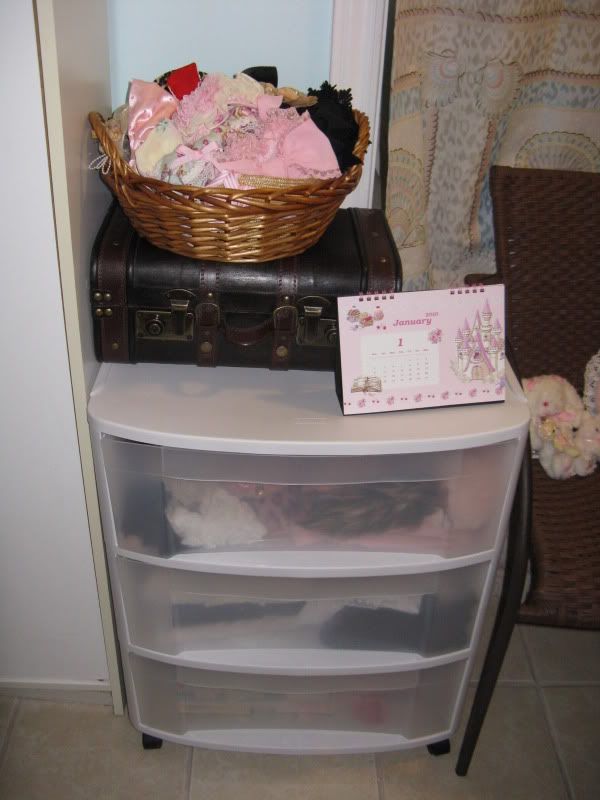 This drawer holds my accessories mainly.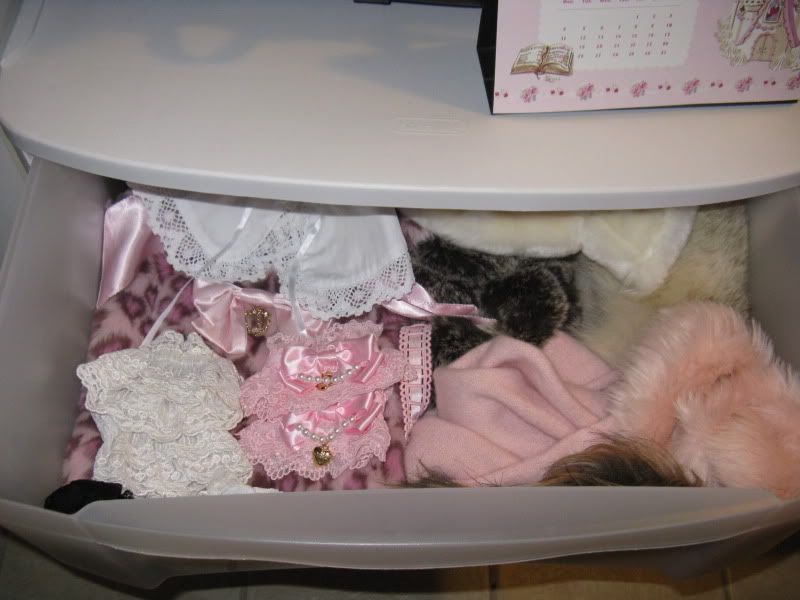 Top drawer is accessories, second drawer is blouses, bloomers and cardigans, and the bottom drawer is full of my lolita treasures, such as brand tags, penpal letters, and miscellaneous other things.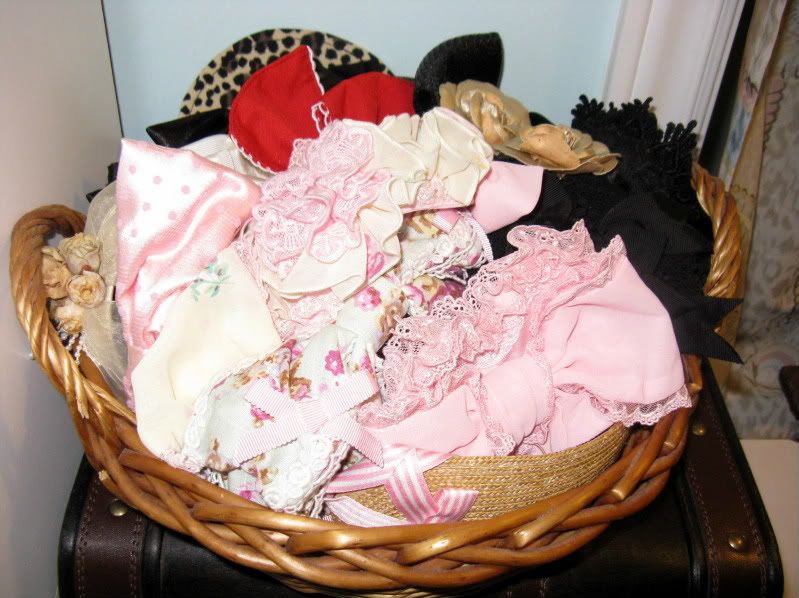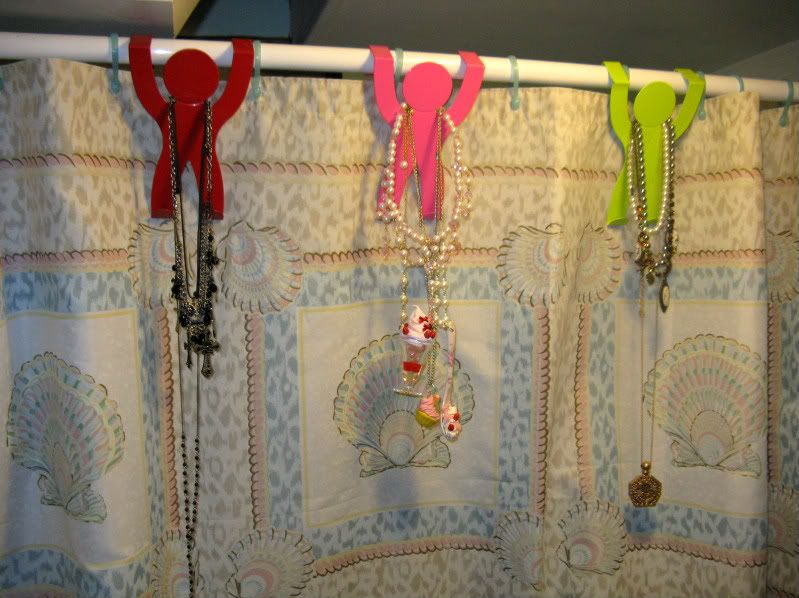 On top of the drawers is a basket where I store my headdresses. Along the back of my "dressing room" there is a shower curtain, which actually hides the ugly fire escape. XP I've hung some hangers on it, from which I hang my jewelry. Gothic on the red hanger, Sweet on the pink, and Classic on the green hanger!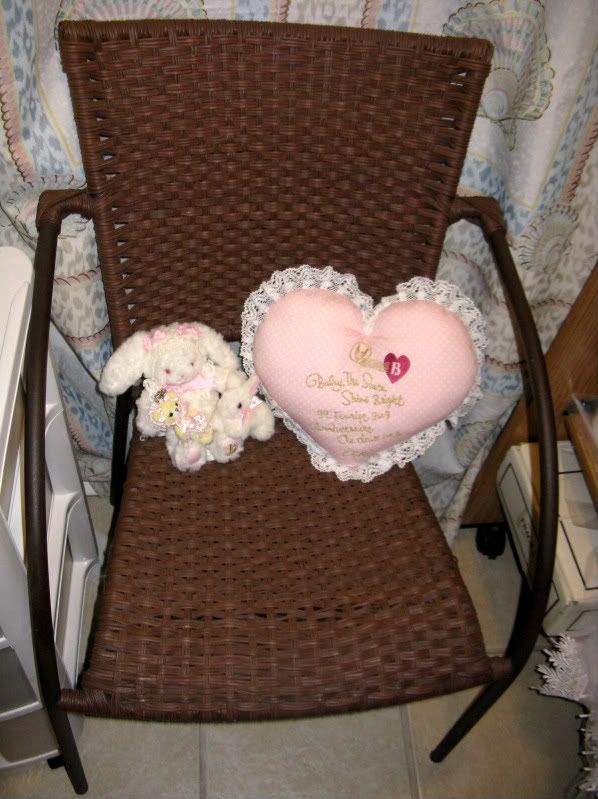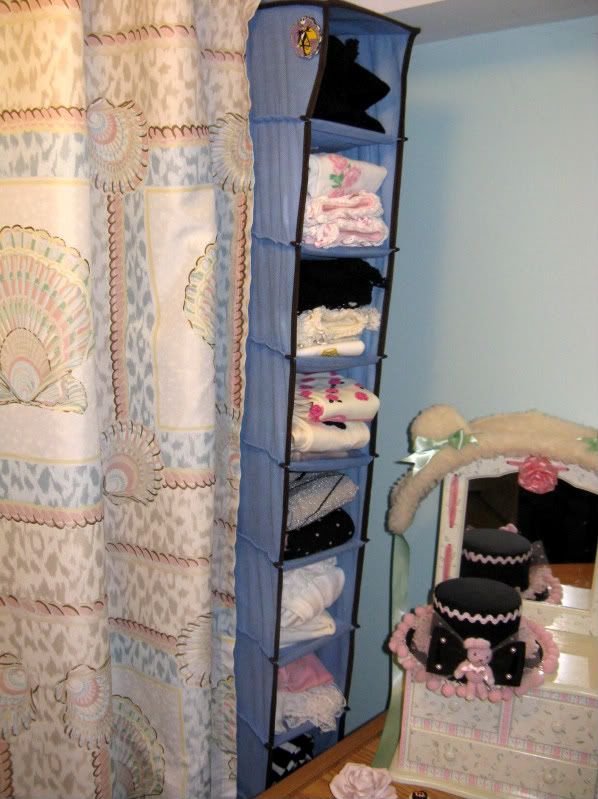 This chair holds my soft cute things - my usakumya, Sophie phone strap, and bunny bag charm, as well as a BtSSB collectable pillow. My socks hang to the right of the shower curtain, and there are a LOT of them - that thing goes to the floor! I love socks.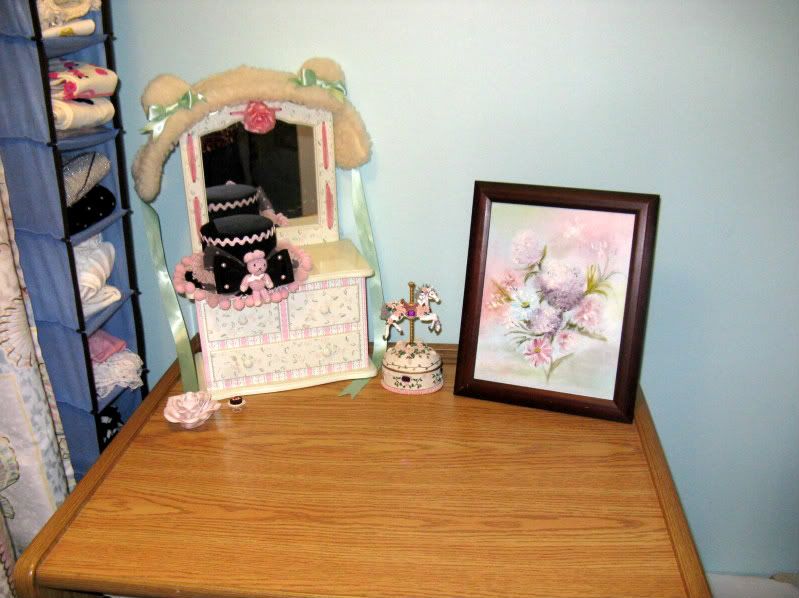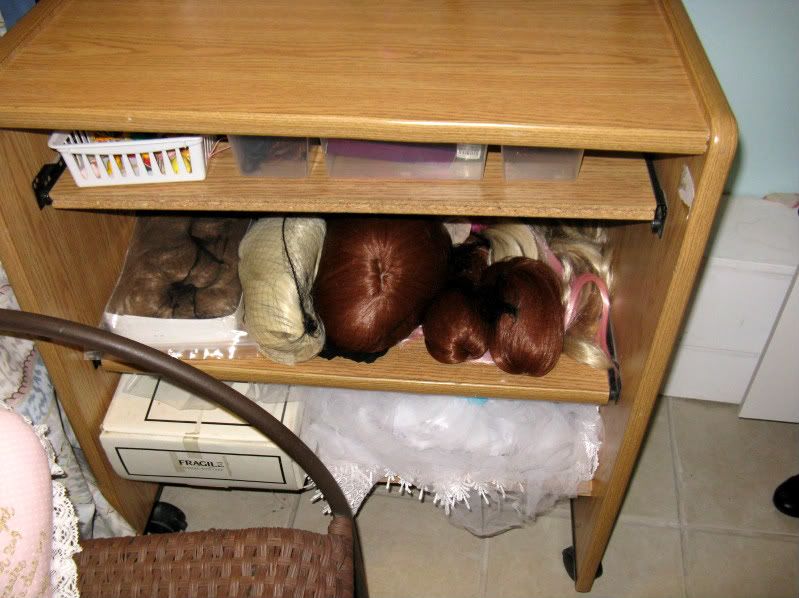 On top of this set of shelves, I keep my rings, bracelets, pins, and other jewelry which can't hang, as well as my more hard-to-store hair accessories. On the shelves, I store small hair accessories and make-up on the top shelf, wigs on the second, and petticoats on the third.




The best part in the whole room, of course...my wardrobe! <3 Very densely packed...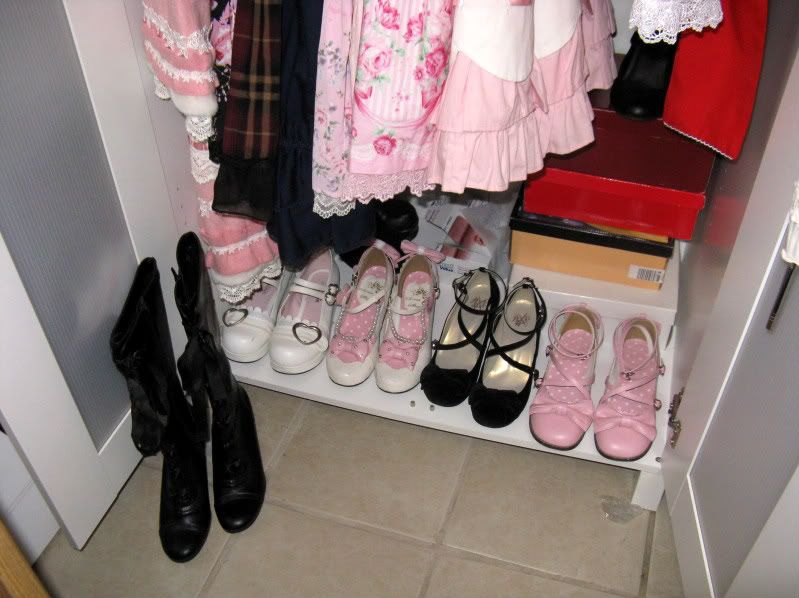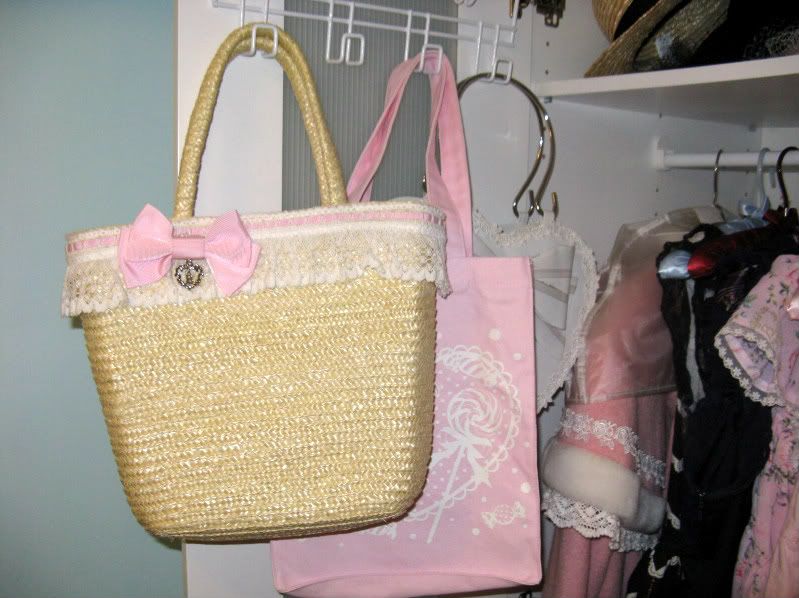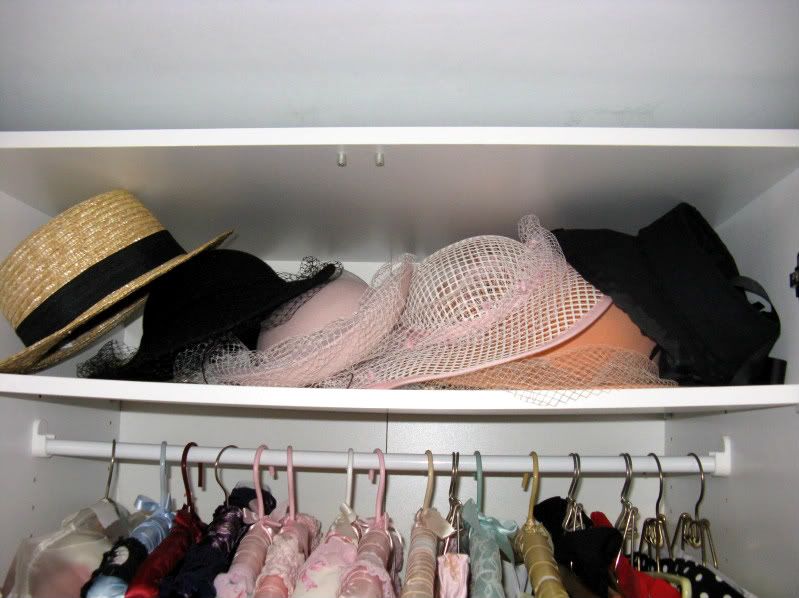 On the bottom I store my shoes, over the left door hang my purses, and on the top shelf are my hats.

Now onto the contents! Let's take a look at what's inside my wardrobe, shall we?

Dresses

Angelic Pretty


Tiara Rose JSK, Powder Rose OP, Ribbon Mille-Feuille JSK



Baby, the Stars Shine Bright




Angel Print Chiffon Babydoll JSK, Pocket Embroidery JSK, Karami JSK



Offbrand




K-Star BtSSB Replica JSK, Offbrand Plaid JSK

The replica JSK has really terrible quality (I bought it when I was starting out), but the fit of it is so flattering, I can't get rid of it! XP It is good for wearing when I don't want to risk my brand getting damaged. The plaid JSK was the first "lolita" thing I ever bought, and was such a great deal for the wear I've gotten out of it!



Skirts





Brand




Meta, Meta, AP, BtSSB
I never realized it before, but these skirts represent my four favourite colours in lolita! Pink, Yellow, Mint, and Black! (Although I also like red and navy)



Offbrand




Bodyline, ITS, ITS



Blouses/Cutsews





F+F, F+F, Bodyline, Offbrand, AP



Coat





Bodyline

Socks



Offbrand, Offbrand, Offbrand, Meta, Meta, AP, BtSSB, BtSSB, BtSSB, BtSSB, AP, Offbrand
As I mentioned before, I have a LOT of socks. These are just my brand pairs and a few of my favourite offbrand pairs. I also have a lot of tights, but those don't photograph well so they aren't pictured.



Accessories





Collars/gloves/muff/wristcuffs




Gloves Offbrand, AP wristcuffs, Handmade wristcuffs, Putumayo collar, BtSSB collar and muff set



AP Hair Accessories




Chiffon heart canotier, mini tophat, Powder Rose barette and headdress



Baby Hair Accessories




Ivory hair combs, Little Kitty Bouquet matching headbow, black floral canotier



Offbrand Hair Accessories




Lots from H&M, Forever 21, red bow is from the Bodyline skirt



Headdresses




Cute and Candy Clouds, Offbrand, Shirley Temple

Hats


Mostly inherited from my nana, the bonnet is handmade but this picture does it no justice :(



Miscellaneous





All BtSSB, except the white bunny in the bottom left, which was customized by me



Bags





Offbrand, BtSSB, AP, Midophi BtSSB replica

Shoes



Offbrand, Secret Shop, AatP, Offbrand, Bodyline, Secret Shop, Offbrand



Jewelry





Picture on the left: "Brand" jewelry - Ribbon Holic, BtSSB, AP, Ribbon Holic
Picture on the right: Offbrand/handmade by others
Picture below: Handmade by me

Coming in the mail

Tiara Rose Headbow, BtSSB Heart Buckle Shoes, BtSSB Usakumya headdress (in white)

So that's it! I hope you've enjoyed looking at my wardrobe! <3