This is my first Lolita order, so I'm very excited to share my experience!



I ordered from Fanplusfriend on November 9th. They shipped my package on November 25th and it arrived at my house early afternoon on November 29th. I'm a bit surprised; the package actually came before my estimated date. During the checkout process the site tells you the making time is 3-4 weeks and shipping is 3-4 business days, so I guessed it would come around December 5th, but they proved me wrong by a few days!



Sizes


I have read multiple reviews on Fanplusfriend regarding their sizes and they suggest to take 5 cm off your actual measurements. I did this on my order and I'm glad I did, because my coat fits nicely. Not perfectly, but comfortably. I would suggest taking at least 5 cm off your measurements, maybe more, because even though I did my coat is still a bit loose around my waist, so I have to tie the waist-belt tightly. 6+ cm off your waist measurements would be a good idea.
Also, be as detailed as possible! For custom made, I gave them my bust circumference, arm length, neck circumference, waist, hip, shoulder width, bust height, shoulder to knee, and shoulder to waist measurements. I was very detailed in my order and I'm happy because my coat is exactly the length I wanted.



What I Ordered


Here is the bag it came in.




After seeing the fancy Bodyline packaging on others' reviews, I was sad when this was the bag. xD But in all honestly it doesn't matter, the items are what I paid for, not a bag.

I ordered four items; one coat, one pair of socks, one pair of stockings, and a pocket watch.
Let's start with the coat first.




I ordered the Classical Lolita Thick Wool Double Breasted Fur Lapel&Cuff Coat in pink wool + white fur.
($175) I feel that's a good price, compared to the brand names.





I didn't turn the flash on for the photo so the color is a bit different in real life. I will say, though, that the coat looks just as it is in the original Fanplusfriend photo, color and everything.
The waist is kind of big, which I don't mind much, but my weight fluctuates so if I lose lbs in the near future I'm not sure how it will fit. :/

For some strange reason I was expecting the material to be different, I guess because the photo was so smooth, but the coat is just as they claim it to be.
It's very heavy! And really warm. After wearing it for a good hour my body started to heat up and I had to take it off, but I didn't sweat at all! Apparently, the lining on the inside of the coat is cool and prevents sweating, or something like that (?).
My dad even commented, saying it's made like a "men's coat"; thick and warm on the outside, cool on the inside. He seems to have taken an interest in my choice of clothing, which makes me happy that someone in the family thinks Lolita fashion is cool.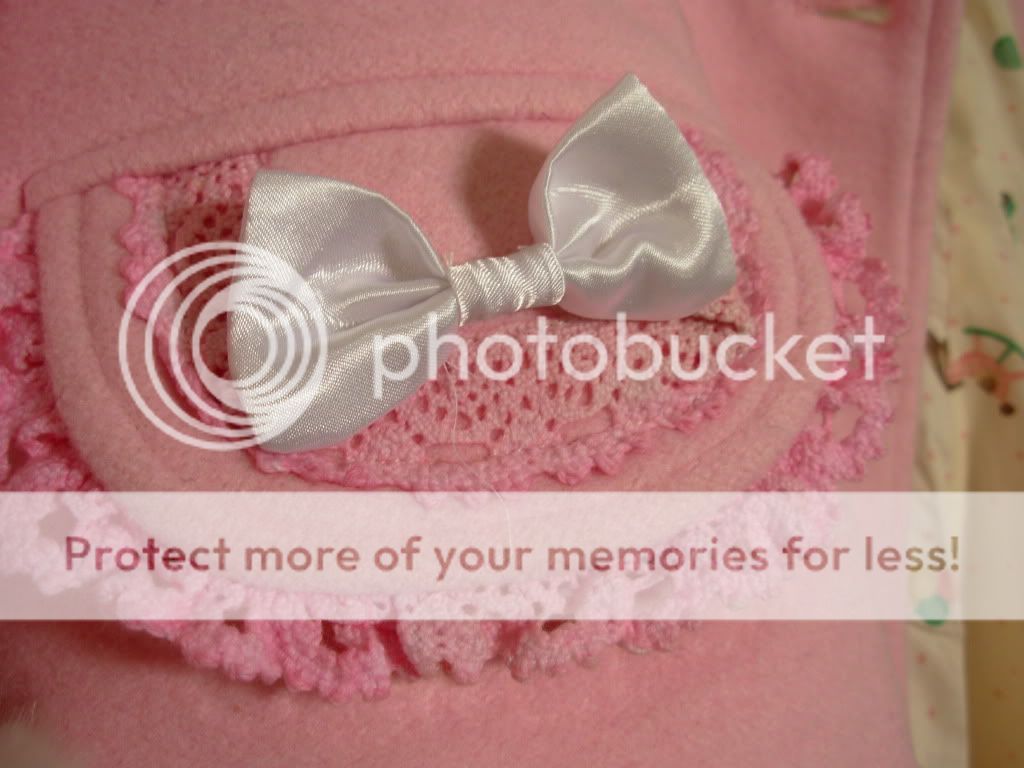 I love the fur cuffs, and the cotton lace is quite nice. The cuffs, fur collar, and bow on the chest are all detachable, but personally the coat looks cuter with them on. :3
The sleeves are a tad long for my arms, but they're doable.

Oh, and the fur is faux. Just wanted to make that clear.






Bad picture of me wearing it.



I also ordered black socks with a white stripe on the top (cost $3), which for some reason, after I received my package they were not on the website anymore. O.o




Lolita Pierced Bowknot Legging Tights*White ($3)




I didn't bother opening these, because I plan on wrapping everything for Christmas. Plus, I'm sure it looks like the picture.


Lastly, I ordered the Steampunk Gothic Golden Pocket Watch (Pandora Hearts). It was around $8.
The watch was sort of bought on the whim. I'd wanted one for a while so I decided to add it to my F+F cart. xD





It's really cute, and has a nice, audible tick. ^_^




My Ratings


Size: 8/10; a little tricky to get the perfect size, but easy to work your way around what you want.
Fabric: 9/10; I can't complain, it's soft and warm.
Shipping: 8.5/10; from what I hear, it's not as fast as Bodyline, but custom made orders take longer. The shipping cost was also expensive; $40. I'm satisfied with the shipping, though. ^^
Overall: 10/10! I love everything I ordered, especially the wool coat! If you want a fairly nice quality Winter coat that's not as expensive as the brand names, I recommend Fanplusfriend!

Thank you for reading, and I hope this review was helpful. ^-^