I'm choked with the cold right now so rather than waste a day I decided to do a quick review of some Taobao items from my latest order! I'm not going to bother saying much about Taobaospree's service as we all know it's stellar but I will say that, in light of UK customs tightening up on checking on the declared value of parcels, TBS now create a fake invoice when you mark down the value of goods, sneaky genius!

First thing though, the smell from this package is incredible! It's from the boots but I had to air everything in the box. It's not a terrible smell, just smells like lots of silica gel or something you could get a high from, it's probably the glue but I thought I'd let you know.




First up are the rather reekie boots. Other than than the smell these are really nice boots. Completely furry lined and unlike most Taobao shoes they have a pretty decent tread, both will be useful for our Scottish winters. As you can see they can be worn up or turned down to show off the fur and the bow band can slide on and off. My only complaint is they're a bit narrow but a very good buy at just £6!

You can get them here from EU size 34 to 42.




Next are these fur shoes. They are also furry lined and I really like them. I did wonder from the online pictures whether they were real rabbit fur or not (this wouldn't bother me, I eat rabbit but I know it could upset some people) but I can confirm straight away from the feel that it's 100% fake. The bows and fur pieces are a little bit wonky and the left shoe creaks suspiciously but they're very comfortable and what do you expect for £5.

You can find then here, 34 to 43.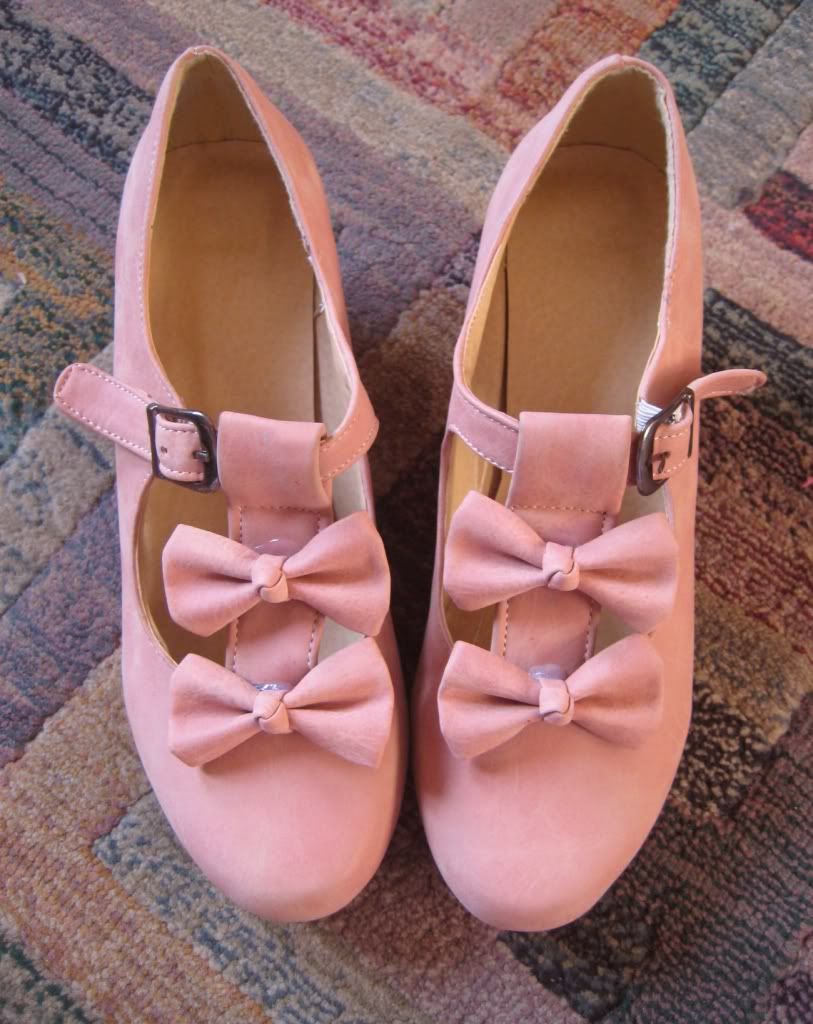 At £5.50, these shoes are certainly value for money but by no means perfect. They fit but aren't that comfortable and you can see the glue used for the bows but I'm pretty sure no-one is going to be close enough to your feet to notice it. They also have no tread at all, I took them for a walk around the house this morning and nearly ended up on my petti on the kitchen tiles.

I got them here but they no longer seem to be available.




Not a whole lot to say about these. The fawn fur one is really soft, fastened at the front with a big hook and eye and cost £8. The lace one is uses gorgeous lace and fastens at the back with a little hook and eye. It cost just under £2.

Fawn from here and lace from here.




For the hussar style cardigan, the anchor buttons and fake frogging are well attached and it's well finished. It only cost £4.50.

You can get one here, sadly it's only one-size.




And finally, a cutsew I got for £3. It looks like a dog's dinner lying flat as there's elastic up the sides but it looks fine worn. The lace at the collar is creamier coloured than it looks in my picture and slightly sparkly.

Bought from here, again one size.

Also, I apologize if this isn't allowed, but recently set up a Tumblr purely for uploading Taobao finds I believe are loli-able or mori-able. It's called Taobao Princess (yeah, sorry it's such a cheesy name). Feel free to follow!