The Petticoat Press: SPECIAL EDITION Part 2 of 2
October 24 to October 30
Issue 5
Brought to you by
xaynie &
colortheory - Newsletter Editors; Brand Ambassadors -
gensou_alice (MMM),
crystal_moon975 (Baby / AatP),
sheraccoon (IW),
beautifultwist (Meta),
mieke_chan (AP),
luxe_lion (JetJ); And our friendly mod team




Industry Insider - Interview with Tokyo Rebel!

Today, we're pleased to announce the start of a new monthly feature: Industry Insider! Every month, The Petticoat Press will bring you interviews with prominent figures within the Lolita Fashion Industry. For our inaugural edition,
colortheory "sat down" (via e-mail) with Jeff and Masayo, the owners of Tokyo Rebel - a store, located in New York City's East Village, that caters to Japanese Punk and Lolita fashionistas!

Four weeks ago, Tokyo Rebel was featured on NHK's Tokyo Kawaii TV program, which should be airing soon. They also celebrated an even more exciting event: the store's second birthday.



First of all, introductions! Tell us a little about yourselves. Where are you from? What are your favorite colors/foods/genres of music/bands/anything else you want to mention?

There are two owners, Jeff & Masayo. Masayo is from the Tokyo area. Her favorite band is X Japan and their various solo projects, but she also listens to Ayumi Hamasaki, Kalafina, 80's J-pop and western rock music. She handles all of our Japanese communications. She likes to keep other details private. Jeff (that's me) is a native New Yorker, born in Manhattan. I listen to an odd mix of old-school 1970's punk and classic rock, modern hard rock and electronic music, and Japanese pop and rock. I handle most of our English communications (although our shop assistants do some too). I have a lot of business management, web production and past retail experience, which is one reason we thought we could be successful opening this store.


What initially drew you to Japanese street fashion?

We're just personally drawn to anything that's outside the mainstream; just being different is enough to get us to at least take a look, at anything. So around 12 years ago Masayo took me to Harajuku for the first time, just to people-watch, and I was amazed at the stuff people were wearing. It was purely a visceral reaction. I thought people in New York were fashion-forward, but there was nothing like what I was seeing there in New York at that time.


What's the "story" of Tokyo Rebel? What made you decide to open a Lolita/Japanese Punk Fashion boutique in New York City? What challenges did you face?

We knew by around 2005 or 2006 that there were people from New York who were into Japanese fashion just from looking around online. And we knew no one was selling it here, because everybody was complaining that they had to get it through shopping services or pay out the nose for shipping the few brands CD Japan carried. So one day, we were looking at a KERA magazine and one of us just said "let's do this." Of course, at that time the dollar was still at 110 yen! So it wasn't quite as crazy as it sounds now, with the dollar at 76 yen.

It was very difficult. There are almost too many challenges to list, some of which are still problems and still outside of our control (like the exchange rate). In the beginning, convincing these small Japanese businesses to deal with an unproven American store that was not even open yet was not easy. And some of them didn't even know physically how to ship to the US; this whole idea of selling in the US is not familiar to them. But we wanted to do it right; we wanted the real thing, not some Chinese knockoff or something with the word "Harajuku" on it but made in America. So we took the time and did the legwork and eventually signed up all the brands we had initially approached. Today, we're actually well-known in the industry in Japan, so we've completely overcome at least that obstacle. A lot of Japanese business is based on trust. You have to build that up, and it takes time and effort.


How did you choose the location for the store?

Lolita may be cute, but it is alternative fashion both in Tokyo and New York. We knew we had to be in the East Village, just like most of the Tokyo brands' first stores had to be in Harajuku. There are a lot of other Japanese stores and restaurants in the E.V. (so you could make a whole Japan-themed shopping and eating day if you wanted to), there is obviously a giant university there, and the neighborhood has been the center of New York counterculture fashion going back to the 1970's.

Someday we may move closer to a subway station, but we're happy being in the East Village.


Can you describe some of the differences between the Lolita fashion scenes in Tokyo and in New York?

In Tokyo and Osaka, it's all about having the latest print or series and everything has to match. The designers see their job as designing entire coordinates, and the people who buy them mostly seem to agree. Here, there are some people who do buy full sets from us, but more people will mix and match new and old and items from different series or brands.

There is also a major difference in how "replicas" are treated. It's rare to see anyone wearing a replica in Tokyo, and the brands do all they can to keep them out because this is their livelihood. Replicas are considered bootleg merchandise by both the brands and by individual Lolitas.

One fun difference is that you do sometimes see full-on OTT sweet Lolitas in completely random places. On one of our trips a couple years ago, we saw one in a shopping mall in rural Ibaraki prefecture (basically the same area Momoko is from in Kamikaze Girls). We really wanted a picture for our store blog but we were too embarrassed to ask. She was just there shopping and eating at McDonald's; we didn't want to bother her. But she was like a real-life Momoko.


You have working relationships with several of the major Lolita brands, including (but not limited to!) Baby, the Stars Shine Bright and Alice and the Pirates, Innocent World, Victorian Maiden, Maxicimam, Putumayo, Atelier-Pierrot and local Lolita brand Morrigan NYC. Which is your most popular? Which brand or designer do you most enjoy working with?

Well, all of our brands fit a particular niche and have their own fans, but it's probably not going to surprise anybody that Baby, the Stars Shine Bright and Alice and the Pirates are our most popular brands at this point. But we try to keep a mix of brands so that all the major styles are represented, and we were actually a little surprised at first by the popularity of certain brands. If you look at the brands we had on day one vs. now, you'd probably be surprised to see which ones we still carry and which we don't. Some brands kind of fly under the radar even though they are very popular.

We have not met anybody at any of our brands that we didn't personally like. That includes brands we no longer stock. One of the fun parts of doing this is getting to hang out with these incredibly talented and creative people whenever we travel to Japan, and we wish we could do that more often. Some of the people in this industry are not what you'd expect in person! Makes it interesting. But we're not naming names :)


On a similar note, which brands are your personal favorites?

The boring but true answer: we love all of our brands! We don't really have a favorite. It might be different if there was more overlap between the brands we carry, but most of them are really doing their own thing and doing it well. As for brands we don't currently stock, we are really into Lumiebre parasols. Hopefully we can stock them someday.


Which Lolita substyles do you like best?

We like the ones we carry: gothic, sweet, classic and punk, not necessarily in that order. We actually carry the stuff we personally like; this is a business, but we wouldn't do anything we didn't want to do just to make money. So if we have it, it means we like it. Everybody has their own style that works best for them, so we just like to see people wearing their own style well. Punk Lolita, though, can be super cute and it doesn't get enough recognition in the US (it's way more popular in Japan, probably the most popular Lolita style at the moment).


NHK's Tokyo Kawaii TV recently filmed an episode at Tokyo Rebel, topped off with a tea party. What was that like? How did the network approach you about filming?

They approached us by email - we get a lot of solicitations through email and we don't respond to all of them, but when you see an email from Japan's biggest TV broadcaster, you pay attention.

The event itself was pretty amazing, actually, because NHK didn't seem to think we'd be able to attract enough people. Just days before the event, they told us to go all out trying to get as many people as we could. Well, the day of the filming turned out to be a monsoon; only a hurricane could have been worse. So we were all standing there before the filming thinking we might get 10-15 people if we were lucky. But we hit that number before we even reached the start time. And more and more people just kept showing up, to the point that we were wondering if NHK (who was really running the event at that point) was going to have to tell people to go home! The store was packed and we were way over the booked capacity at Cha-an teahouse. But in the end, NHK managed to film a lot of interviews at our store and they did squeeze everybody in at the tea house, and it was a fun, free event for everyone. We had more than 30 Lolitas turn out, at the last minute, in the middle of a work/schoolday, in the pouring rain. New York Lolitas are dedicated to the cause!

That episode should be on in Japan in late October/early November, so if you have the means, please watch for that!


Looking back, which event that Tokyo Rebel has hosted was the most fun for you (as the owners)?

They've really all been about equally fun. We've actually only hosted four big events, though three of those have just been in the last couple months. The first event with Misako Aoki in 2010 was incredibly stressful, but it turned out really well and everyone seemed happy with it. We had more than 100 people in our store that day. It's totally because of her that it turned out so well; she's just really nice and really loves her fans. And because she's so popular, it was a big deal and we were relatively unknown at that time - that helped put us on the map, both in the US and in Japan. We've obviously worked with her several times since then, and will continue to in the future whenever we find an opportunity.

The event with Baby's designers was great because we sort of had a template of what to do from the Misako event, so we were able to relax and enjoy it more and we got to spend a lot of extra time with the designers before and after the event. The tea party we did last month was fun because it was our first tea party and we had a lot more going on than at our earlier signing events, and to our knowledge nobody had ever done a Skype Q&A during a Lolita tea party with someone in Japan, so that was pretty cool.


What does the future have in store for Tokyo Rebel?

We've always got things that we're working on that we can't announce yet, so we'll see!


Do you have any advice for any of the aspiring Lolita/Japanese fashion entrepreneurs that may be reading?

That's a difficult question to answer. It depends on what you want to do. 50% of all new businesses fail, and this is probably the toughest kind of store to open and run because of all the logistical and cultural issues, not to mention the exchange rate. You need to be prepared for how hard it's going to be. If you just want to make some money selling Lolita products, it probably makes more sense to do something like selling accessories that you design that can be coordinated with a variety of outfits. That's a good way to have a little side business making money from the fashion you love.


Is there anything else you'd like to add?

We hope you will continue to support us through our third year of existence and beyond! We're working hard to bring you guys all the latest and best stuff from Japan, and we hope that we can continue to help this fashion grow in the United States and elsewhere. Please keep checking our web site and if you are near us in New York, please visit us sometime!


Tokyo Rebel is located at 170 Avenue B, New York, NY 10009 (USA)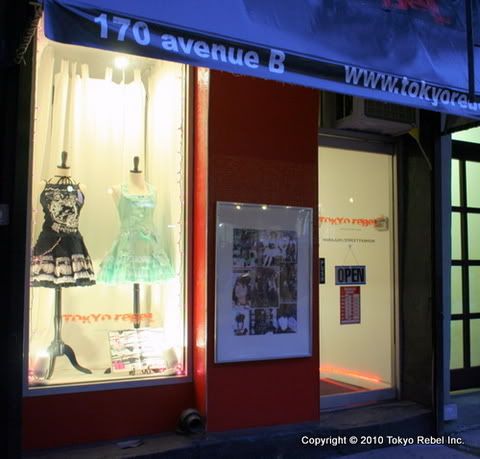 Happy Halloween, you guys! Don't gorge yourselves on too much candy, okay?