Introducing Australian Gothic Lolita clothing label Petticoats & Gallantry!
We've been around for 18 months, building the brand up within Australia, but now we're ready take on the world and go international!
Please follow through the cut to learn about the brand, our clothing and where we're heading. This is quite a heavy-image post, and contains various photos from our two major photoshoots, a couple of runway photos from our first collection launch, and a couple of pre-launch promo photographs.
Enjoy!



The Winter Wonderland Photoshoot
The winter wonderland set was hand made, photographed and edited by Aisha Diandria Photography (Melbourne)
The copyright and reproduction of these images remain with her. If you would like to use them please contact her or Petticoats & Gallantry admin. In most cases we'll be cool with it so long as they are not altered, and a link to the P&G website is given, but you must let us know!!




Products featured - Hooded Heart Scarf Red/Black (available in many other colours inc, custom colours) Also available with coffin shaped pockets with embroidered cross.
Blood countess JSK (Black) (also available in other colours.) Chiffon blouse - available in cotton spandex by request only


Products Featured - Of the Silvery Moon OP, Matching Hairbow and Faux Stranded Mink Fur Shawl


Zephora
Blouse + Zephora Skirt, Zephora Hairbow on headband. Black/Brown hand
dyed lace, limited availability. Custom Order Only.
Circa Nocturna Photoshoot
These photos were from the eve of the launch of our first collection down the runway of Circa Nocturna Fashion Parade.
Photography and editing by Attitude Chick (Melbourne) Backgrounds by AshenSorrow (Dev.Art)
Again, please don't steal the photos. If you must post them elsewhere, please don't alter or edit them, and you must include a link back to the P&G official website and a quick email to let us know!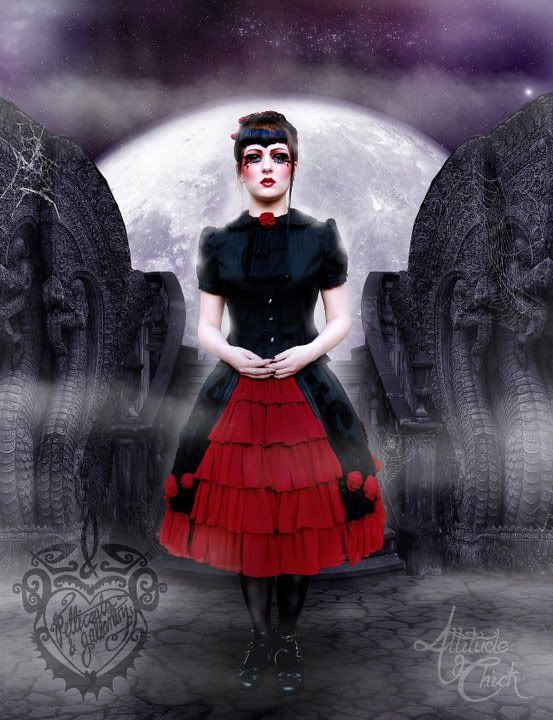 Product featured: Rose Skirt, Rose Cravat (avail custom order), Ruffle blouse

Products featured - Noire Fleur OP, Noire Stranded Faux Fur Capelet, Noire belt with Bow (custom order only)


Featured: Spotted JSK, Hooded Heart Scarf


Featured- Of the Silvery Moon JSK, Matching Hairbow, Megalithic Petticoat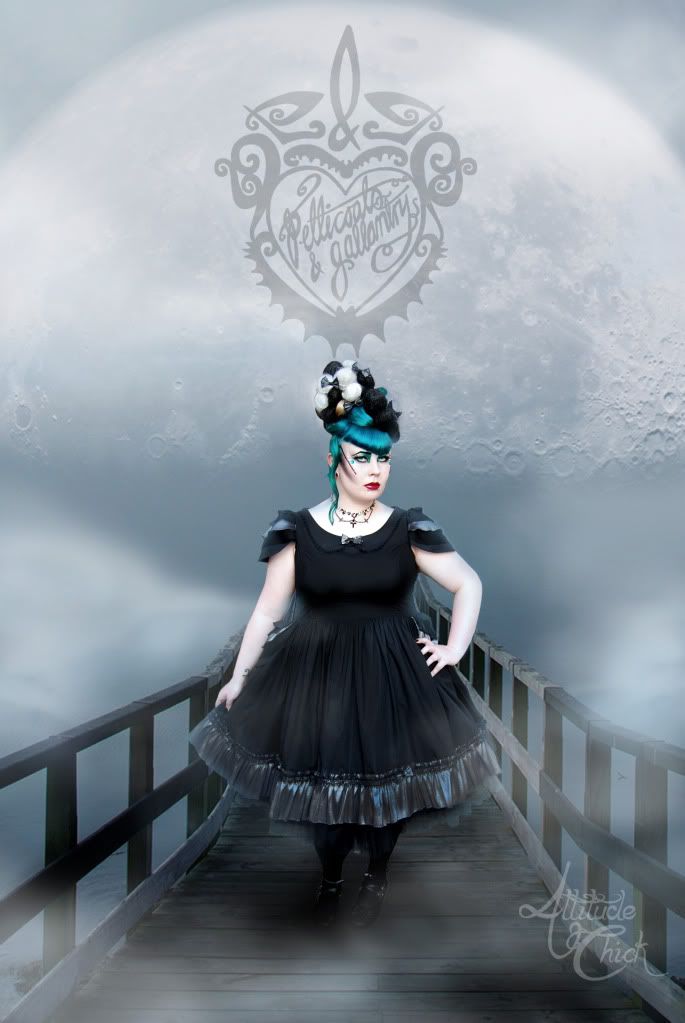 Featured- Moon Petal OP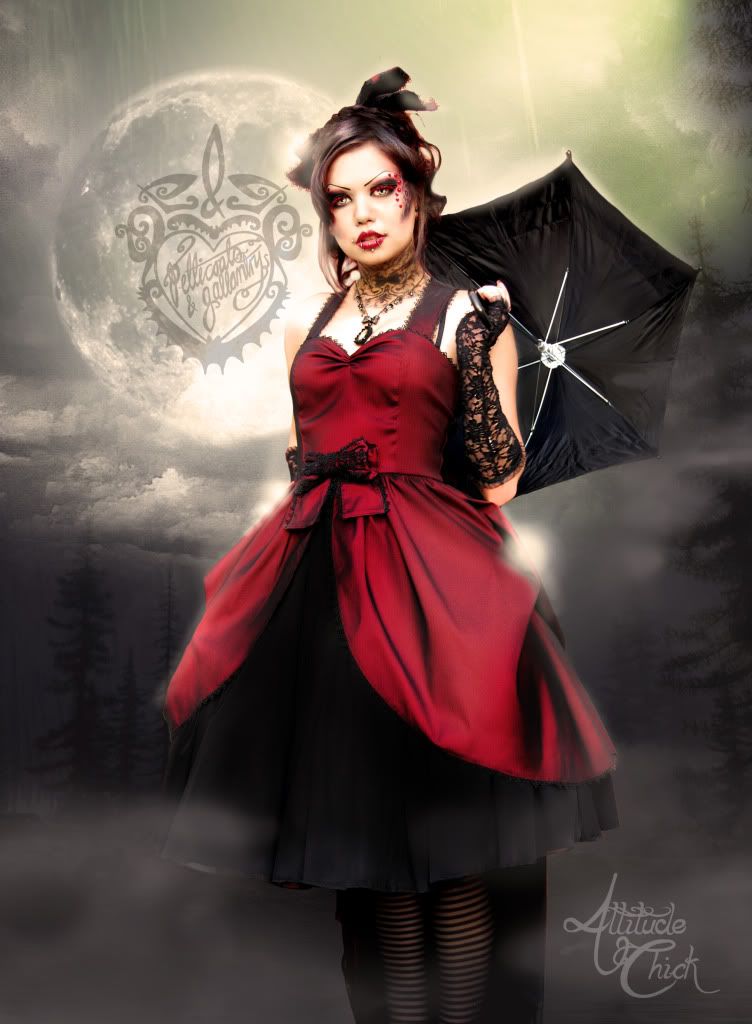 Featured- Blood Countess JSK with detachable train , and matching hairbow. (personal favourite!), Bespoke Decora Eyelashes
featured - Of The Silvery Moon OP, Diamante Decora Lashes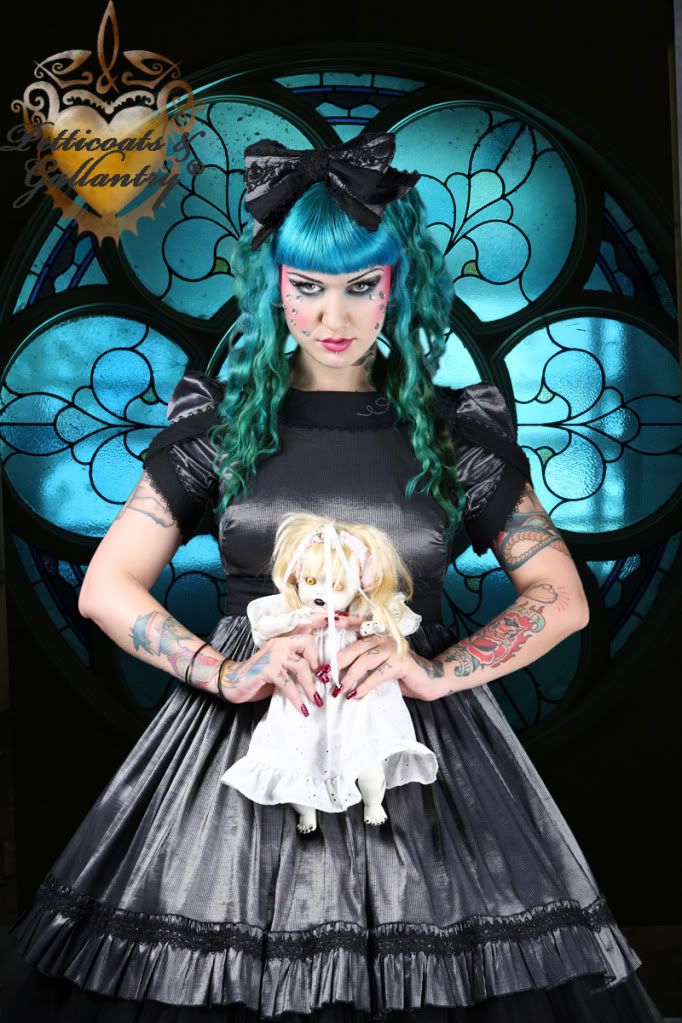 features: Of the silvery Moon OP, matching hairbow, Diamante Lashes
(Stained Glass Photography and Editing by Mark Boyle)


Couple of runway shots-


And..just a couple of early pre-launch photos that I think you'll enjoy as well.
Photo by Joseph Darmenia


Thats it!
Sorry theres so many photos! I hope you've enjoy them.
If you managed to get through them all and would like to keep up to date with Petticoats & Gallantry you are best to follow our facebook page.
Official website is www.petticoatsandgallantry.com.au
If you would like to contact us please contact us via email than through livejournal, it makes it easier for us to keep track!
For more information and a bio you can visit here
Admin at petticoatsandgallantry.com.au or clicky here to email directly.
As a special introductory offer exclusive to EGL on livejournal we'd like you all to have a 10% off coupon code valid till 30th Nov 2011
CODE: EGL
Much love from Melbourne Aus <3