Late last month i was lurking through Yj and Mbok and i found some items that i could not pass up. I decided that this time i would try japonica market, as i have heard good things about them, and i was not very pleased with celga's service from last time.
http://www.japonicamarket.com/
on the 21st of july i placed an order for bids on 3 different items, and then a few more orders over the space of 2 weeks. Im not going to put specific dates, because they were so quick that it doesnt make a differnce. Japonica market replied extremely promply, and everything made perfect sence.
They ask that you place the total of your maximum bid ammounts as the deposit. Once you send them the money (i used paypal) they will send you an email telling you they have recieved it, and telling you they will place your bid. If you are sucessfull in winning an auction, they will notify you straight away.
Each email you recieve from them contains all your bidding information. Dates of bids, total deposites, items won and lost, items that have been recieved and are ready to ship out. Its very easy to keep track of your auctions this way. Once i was done with placing bids, i asked japonica market to notify me when all my items had arrived at the warehouse, and to quote me for shipping.
Shipping ended up being about $80 USD (EMS) because i had so many items, but when you even it out, it is pretty good value per item. Anyway, here is what i bought.
The lovely big box they all came in
#1 Metamorphose black flower headress
Price: 2000 yen
JM commision: 800 yen
My pic
This headress matches an OP that i bought recently, and its something a bit different from what you usualy see so i like it.
#2 BTSSB black velvet headbow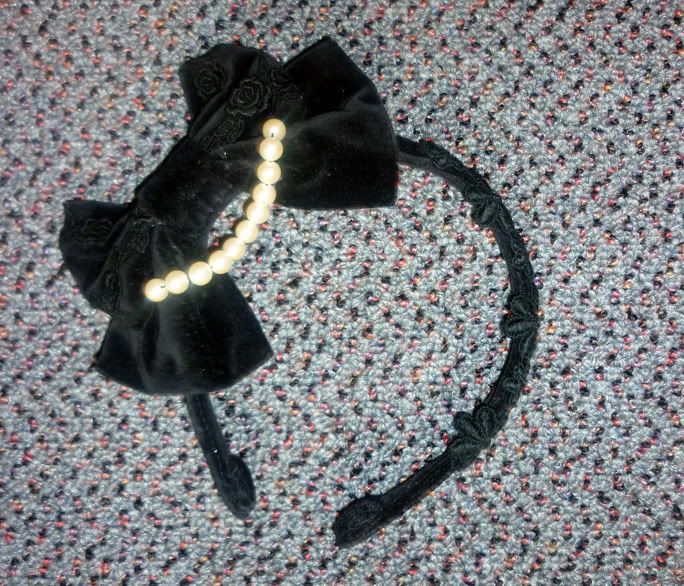 Price: 1500 yen
JM comission: 800 yen
Cute basic headbow, The pearl strand was a bit loose when it got to me, but nothing a few stitches couldnt fix.
#3 Metamorphose black velvet OP
Price: 7500 yen
JM comission: 1200 yen
my pic
The color of the lace really is a lot more cream/Antique white than in the pictures, but its still super lovely. The dress buttons all the way up the back with brass buttons, some one which where quite loose. I stitched the buttons on tighter, and moved the ones for the waist ties down, since they were much to high up to tie under your bust :S I am really please with this dress, but it does have a bit of a funny smell/ texture to it. Im wondering if you can wash velvet?
#4 Metamorphose lace moster hat
Price: 2800 yen
JM comission: 500 yen
My pic
I bought this hat because i really really love the oldschool style, and there is a picture from an old bible that i really want to re-create Some may think its hideouse, but i love it so much :P i would love to know what year it is from.
#5 Innocent world floral headband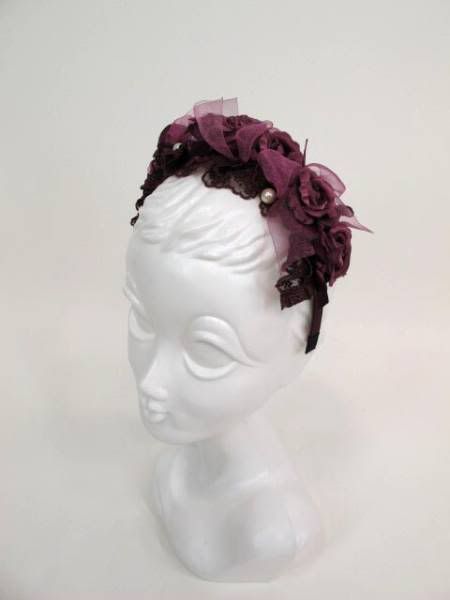 Price: 2800 yen
JM commision: 1000 yen
my pic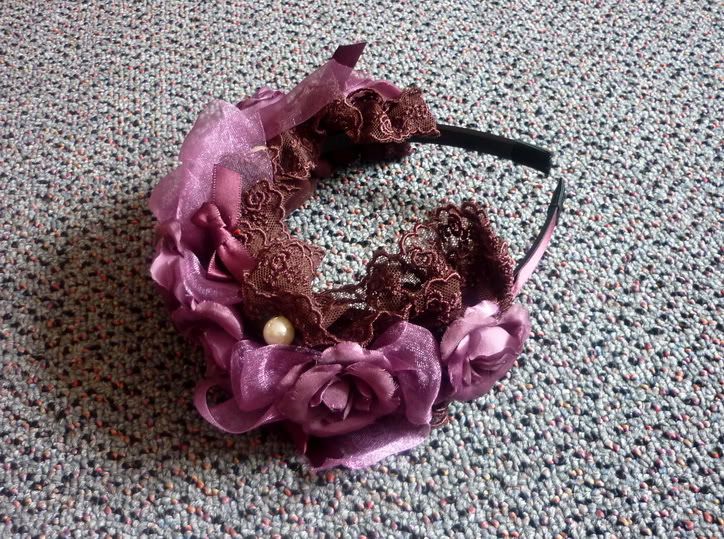 i purchased this to match a dress, its super nice, but some off the bows were loose. I just glued them back on.
#6 Metamorphose round lace headress
Price: 2000 yen
JM commision: 800 yen
my pic
This thing is soo cool :3 i think its pretty old, and its showin it a little. All in all a good buy though.
#7 BTSSB black and white basic JSK
Price: 5500 yen
JM commision: 1200 yen
my pic
My first baby dress actually, it has shirred sides and straps, But the back and front panels are plain, which is un-usual. Nice basic dress, and really flattering and comfortable.
#8 Metamorphose velvet and tartan jsk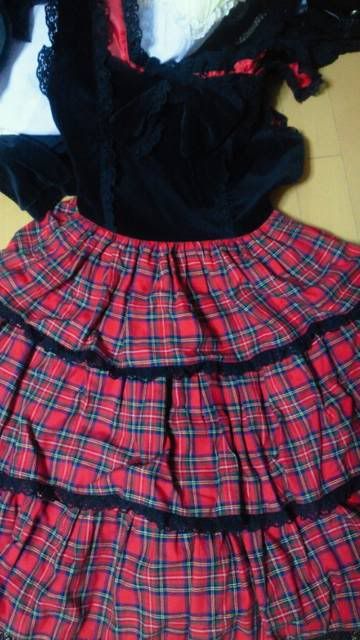 Price: 4000 yen
JM commision: 1000 yen
My pic
This dress was such a steal!!! I was worried it would be in really bad condition, but its great! Sometimes you just get lucky i guess.
OK. All in all i am really happy in japonica markets service. Super helpfull and quick with responses. The only thing i noticed, is that if you are buying small items, the comissions are pretty high in comparisson to the price you pay. All up i deffinatly got my moneys worth, and it was very stress free and easy. I highly reccoment japonica market.
Thanks for looking, i really hope someone finds this usefull :)