I had tinkered with the thought of doing a JetJ review once I completed this order since I hadn't seen any recent ones in the EGL memories. But was a bit hesitant, thinking not many would be interested. Though after seeing a wonderful array of JetJ posts made this week, I was feeling more encouraged and happy to show/share my experience with their pre-order process as a JetJ 1st timer. :)
Several weeks ago, I saw the Carte de la vérité print on
JetJ's website
and fell in love with it! I had a hard time deciding between the colors burgundy-wine and black. In the end, I chose black since it seemed to really make the cards pop. The site mentioned the print being ready to ship by August 22nd.
July 13, Wednesday
Using this great
ordering guide
by
pui_puni
I went ahead and submitted my order to JetJ. These days, JetJ allows you the option of selecting Paypal instead of the debit card/credit card process. Since I had read that overseas customers were having a hard time getting their cards to be verified by the processing service JetJ uses, I opted for Paypal instead.
July 14, Thursday
I received a confirmation e-mail from JetJ:
Dear (name)

Thank you for your shopping at Juliette et Justine.
We have received your order for the following item.

item: 11-009 カルト ドゥ ラ ヴェリテ
color: black
size: 1
amount: 1
price: \27300
shipping: \---
total: \---
payment method: PayPal

This email is to confirm that we received your order.
We will send you a PayPal invoice of the total at the
beginning of next week. Thank you!
Unfortunately, Monday came and went (and so did the rest of the week) still no word.
July 21, Thursday
Since I still had not received an invoice, I e-mailed JetJ to let them know, so that they wouldn't accidentally cancel my order due to non-payment.
July 22, Friday
JetJ immediately replied back with a heads-up e-mail about my bill and a Paypal invoice soon right after.
Dear (name)

We received your email.
Thank you for your waiting patiently for the invoice.
The detail of your order including shipping is as follows:

item: 11-009 カルト ドゥ ラ ヴェリテ
color: black
size: 1
amount: 1
price: \27300
shipping: \1680
total: \28980
payment method: PayPal

We will send you a PayPal invoice including shipping.
Your order will be ready to ship on around August 22nd.
We will let you know the tracking number of your percel when it is ready.
Please note that there will be duty and customs fee for oversee purchase.
The duty and customs fee vary according to tax laws of your country.
We are sorry that we cannot answer any questions about the duty
and customs fee.
If you have any questions, please call your local customhouse.
Excited, but broke (lol) I waited patiently for August 22nd to arrive. I received one more e-mail from JetJ the same day to let me know they got the Paypal payment.
Dear (name)

We confirmed your payment through PayPal on July 22nd.
Your order will be ready on around August 22nd.
We will let you know when it is ready. Thank you.
August 22, Monday
Precisely, on the dot! I receive an e-mail from JetJ letting me know they have shipped my dress and gave me the tracking number for the package. I was very impressed by how fast they mailed it right out.
August 24, Wednesday
Holy smokes, it's already here lol! Onward to the photos!
(I tried to shoot the photos the best I could despite the crappy sunset lighting. So I've taken a few pics with and without flash to show the dress details.)


Here is the package itself.
The box.


My pet being very curious about it's content (as was I!)
The seal on the box was really pretty, and different from their previous sticker design.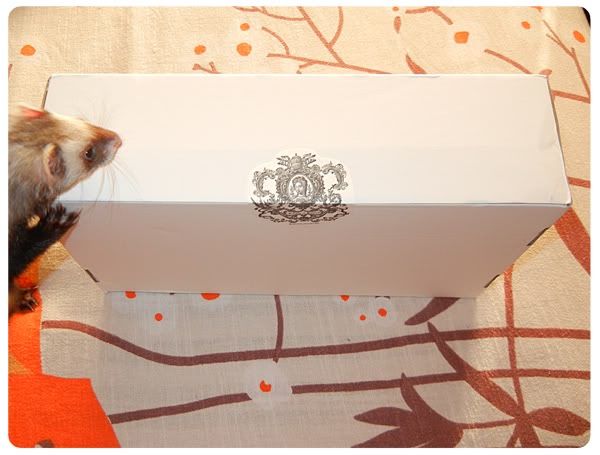 The dress wrapped up in tissue paper sealed with a fake flower and sticker.
Also included, was a plastic sleeve containing a print-out of the invoice and information on the print.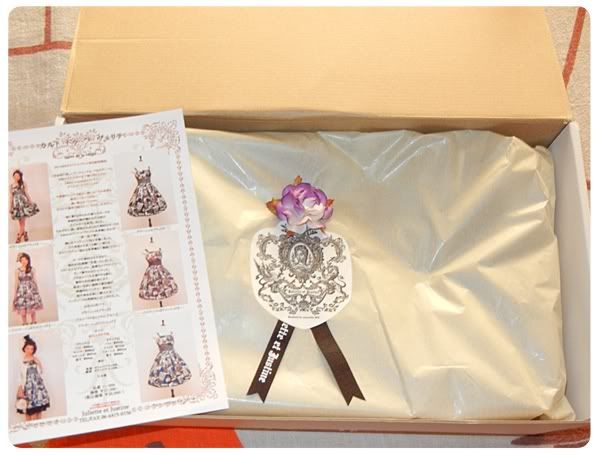 Ta-da!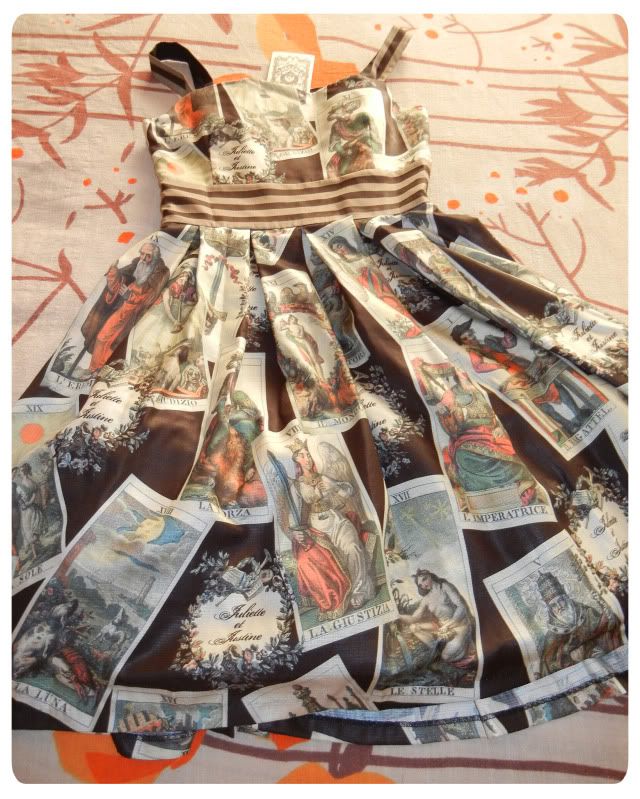 The texture of the print really surprised me-- in a good way! It has a tapestry look to it and the material itself is not as shiny as it looked on JetJ. The photos on the site also made the cards look very stark white, but in person it is more of an ivory with a touch of warm grey.
Here is a close-up of the print details (with camera flash.)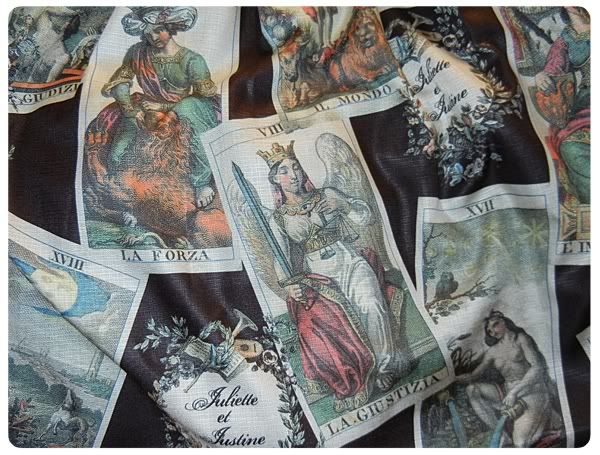 Another close-up on a different area of the jsk (without flash on.)
Texture on the dress (with flash.)


The dress is also lined.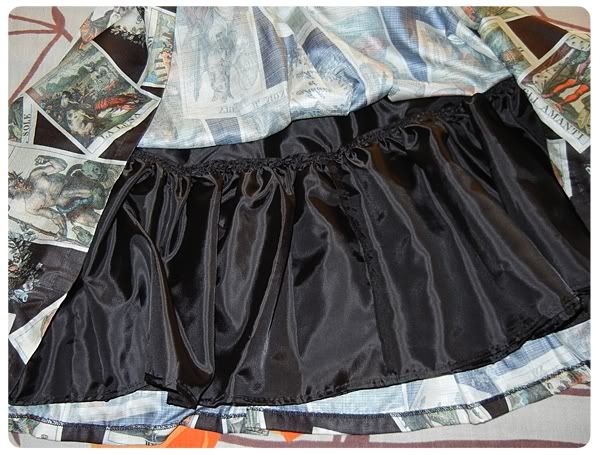 For the seamstresses, designers, and crafty lolitas out there, a close-up of the zipper area
where the surface design of the jsk on both sides line-up.
As for the fit, I would say it is true to JetJ's posted measurements (88cm bust, 68 cm waist, 94cm length) with the exception of the waist area which was just a hair larger.

I am a 27", 68.5cm waist, and really worried that it would be too tight or I'd have difficulties sitting down comfortably. I almost opted for the size 2 for this reason. However, the waist feels more like a 28", 71 cm-- so it fit a-okay with comfort for me. The bust area was what I expected, though a little large on me personally.

Overall 1-5, 5 being highest:

Communication: 4/5
Shipping: 5/5 (so fast!)
Packaging: 5/5
Product: 5/5

I will definitely be ordering from JetJ again. They were a delight to deal with, and apart from the small invoice delay, very communicative the whole way through. :D